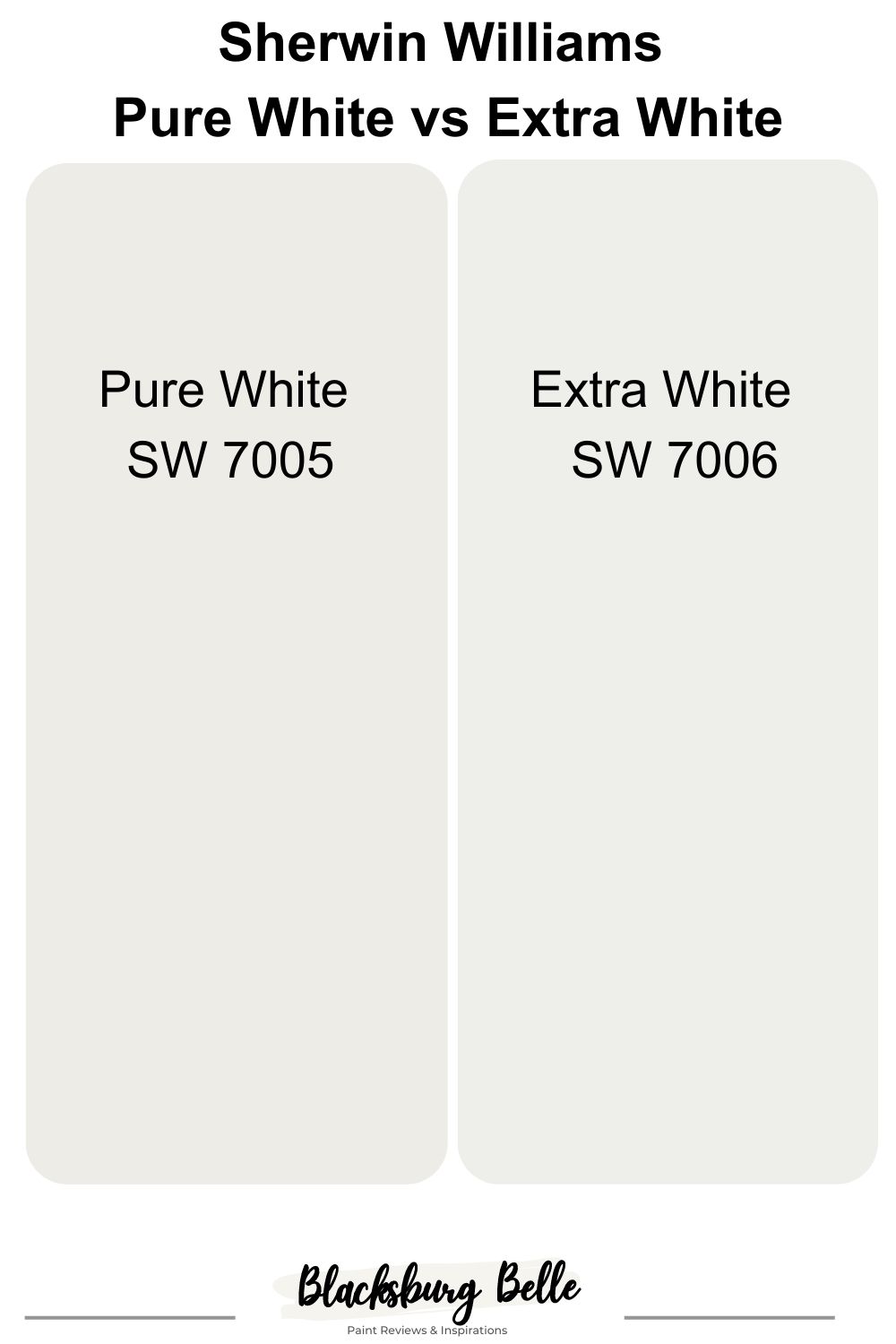 Pure White can look the same as Extra White, and differentiating them is not easy because they are both from Sherwin Williams. So, which white paint color is the better option for your decor?
Pure White SW 7005 is a slightly warm white with a hint of creamy yellow. On the other hand, Extra White is a somewhat cool white paint color with a hint of blue-gray. Unless you palace them close together, you may have difficulty telling them apart.
It can look tedious and an impossible task, but we are here to help you decide which paint is better for you. But before we go into details, let's give you a summary of where each paint works best.
When to Use Sherwin Williams Pure White or Extra White
While one white paint color is warm and the other is cool, these attributes are not readily visible. That is unless you have a trained eye for colors or paint. However, we can help you zero in on the one you want between Pure White and Extra White if you are stuck,
Use Pure White if:
You want a bit of warmth
You have a large space
You do not mind a hint of yellow showing through your white paint
Your decor has a warm color scheme and requires a bright white backdrop or complementary neutral
Use Extra White if:
Your decor already features some cool colors
You do not mind some blue-gray in your color
The room faces south and gets adequate sunlight
Stark whites do not put you off
These points are only pointers to how these colors work and when best to use them. Therefore, you can use them as a guide to differentiate between these similar white paint colors.
It will be easier to pick the right one if you know what you need it for and the existing or planned color scheme. Now, let's get to exploring the details that make each paint color unique before we get ahead of ourselves.
The Visual Distinctions: Sherwin Williams Pure White vs Extra White
We cannot get enough white paint colors, and Pure White and Extra White are some of the purest and best you will find. But when it comes to telling them apart, it may be difficult because of their obvious similarities. However, seeing them close together may go a long way in helping you in this aspect.
So, here is a picture of Pure White in a living room setup: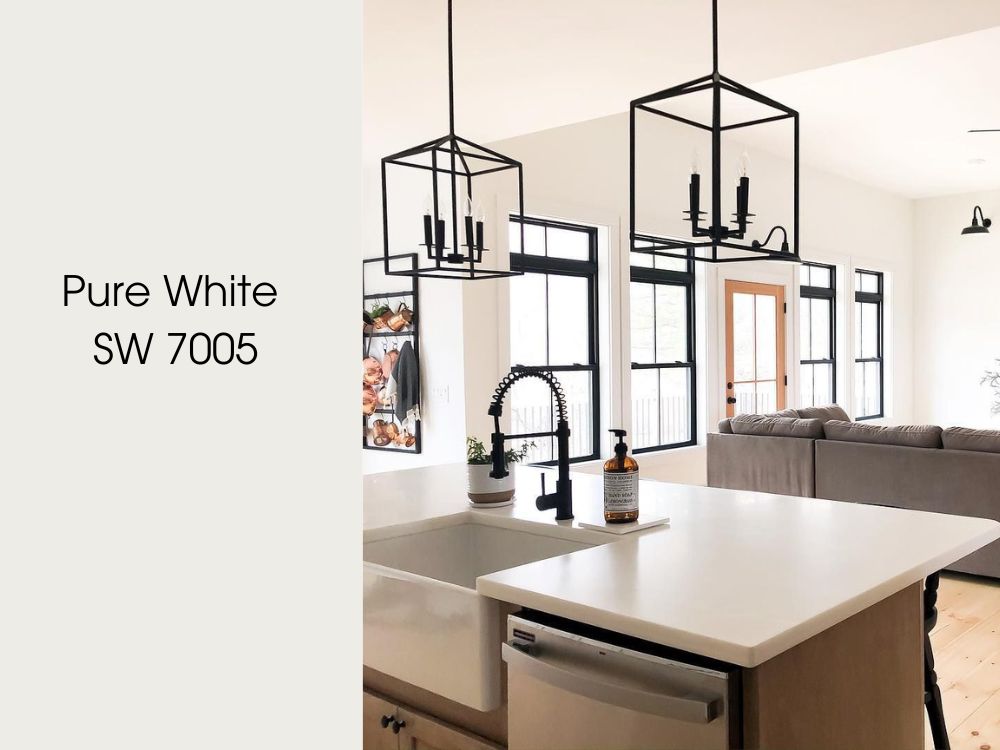 Compared to Pure White, this is what Extra White looks like in another room: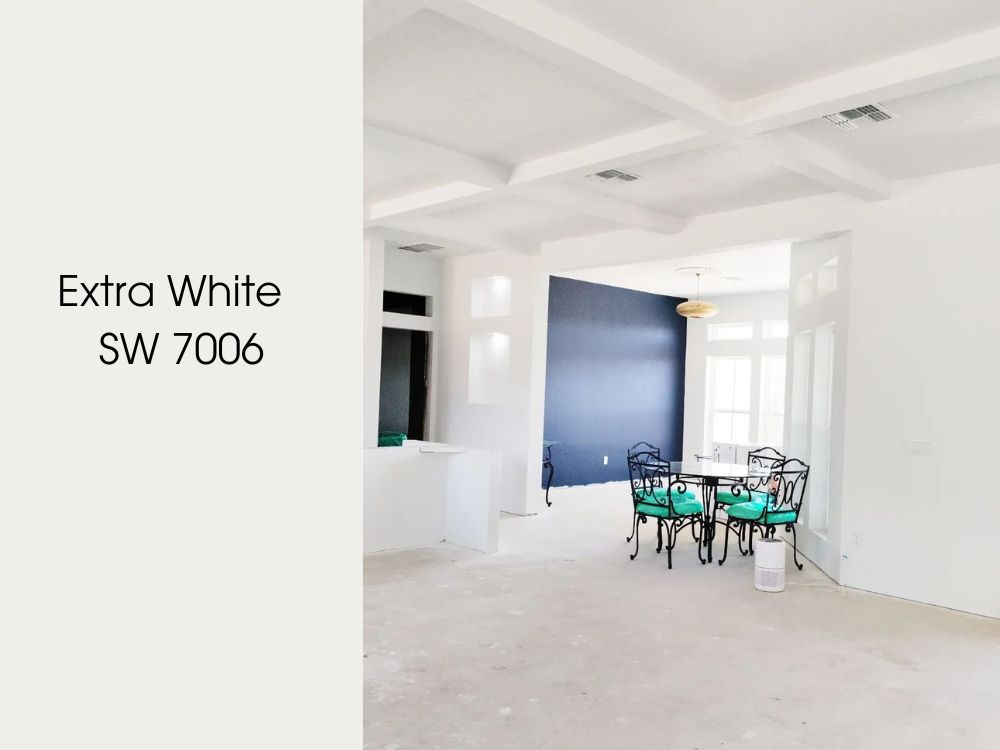 Although they look similar, the images above expose the warmth of Pure White and the coolness of Extra White. The lighting conditions are similar because both rooms have a lot of natural light. These conditions show what each color looks like, even with the infusion of other colors.
And this also means that Pure White is not as bright as Extra White. Warm colors tend to make a room look smaller and cozy, while cool colors tend to make a room look more spacious and serene. With this in mind, you can decide which works better for you.
You must also remember the undertones and how they should blend with other colors. Warm colors work better with warm colors, while cool colors work better with cool colors. But we must point out that sometimes, warm color schemes may accommodate some cool colors, especially if the orientation that the room faces allows for a lot of sunlight.
We have other aspects of these paint colors to analyze for further assistance in picking the right one. Let's explore them and see how they perform.
Sherwin Williams Pure White vs Extra White: A Quick Comparison
You may not know it but there are certain features of paint colors that make them unique. These attributes ease the process of differentiating colors, especially pretty similar ones like Sherwin Williams's Pure White and Extra White. What are these attributes? Let's look at the key ones.
| | | |
| --- | --- | --- |
| | Pure White | Extra White |
| RGB | 237, 236, 230 | 238, 239, 234 |
| LRV | 84 | 86 |
| Undertones | creamy-yellow | Blue-gray |
| HEX Value | #EEECE5 | #EEEFEA |
Emotional Effects: Sherwin Williams Pure White vs Extra White
Many of us do not know that colors are crucial to how we respond to any environment. Dull or dark colors without a hint of lightness can dampen the mood and ruin the day. On the flip side, bright colors can lift the mood and make everything feel much better.
That is how it is with paint colors. The brighter any decor is, the likelier it is to be welcoming. Pure White and Extra White from Sherwin Williams evoke calm feelings, allowing you to relax and let out the day's hassles.
However, Pure White is more inviting and cozier than Extra White because of its slight warmth. While it is a pure white paint color, the slight yellow undertones make it lean toward the creamy end of whites. So, it is not stark or too clean, which may be what you need at the end of the day.
Extra White, on the other hand, has more of a crispy look and feel. If you want a room to look bigger, this white paint is the better option. It also gives you a feeling of serenity and coolness due to its icy undertones of blue-gray. In other words, it is a clean white.
LRV of Sherwin Wiliams Pure White vs Extra White: Which Reflects More Light?
If you are in the dark about the meaning of LRV, it is an acronym for light reflectance value. It is term experts and interior designers use to determine a color's ability to reflect or absorb light in any room. The value works with a chart that goes from 0 to 100, 0 being pure black and 100 being pure white.
There are no pure blacks or whites, so we typically use a range between 2.5 and 94. This is to give you an idea of how bright these two white paint colors are. Then, you can know how much light to use with them, whether natural or artificial.
Sherwin Williams Pure White has an LRV of 84. This is a pretty high value which means it can reflect or throw back a lot of light into the room, despite its warmth. Keep this in mind when using it.
Extra White by Sherwin Williams has an LRV of 86. It is slightly higher than that of Pure White, but this seemingly insignificant margin makes a lot of difference when it comes to light reflectance. It also goes to show how bright Extra White is.
Sherwin Williams Pure White vs Extra White: Do They Have Similar Undertones?
Pure White has slightly creamy-yellow undertones, hence the warmth. In some rooms and photographed at a certain angle, you may not immediately see the color or warmth of Pure White, but the hues jump out at you when you view the color beside a truly white paint color like High Reflective White.
But Extra White has a cool cast to it because of its blue-gray undertones. Like Pure White, these undertones may not be clear at first glance. But with the right lighting and color blend, you will see the undertones. Compared to Pure White, Extra White is a whitey-white.
These two colors are very different if you can see them together. But used apart, you may not know they are different unless you have a keen eye for colors. But that also means that you may have difficulty using them together except you have a neutral color to tie them together.
A Closer Look at the Undertones of Pure White
It may help to see the undertones of this paint color at work. So, we have picked a real image to help you see how it performs with other colors and decor. This is how warm Pure White can be: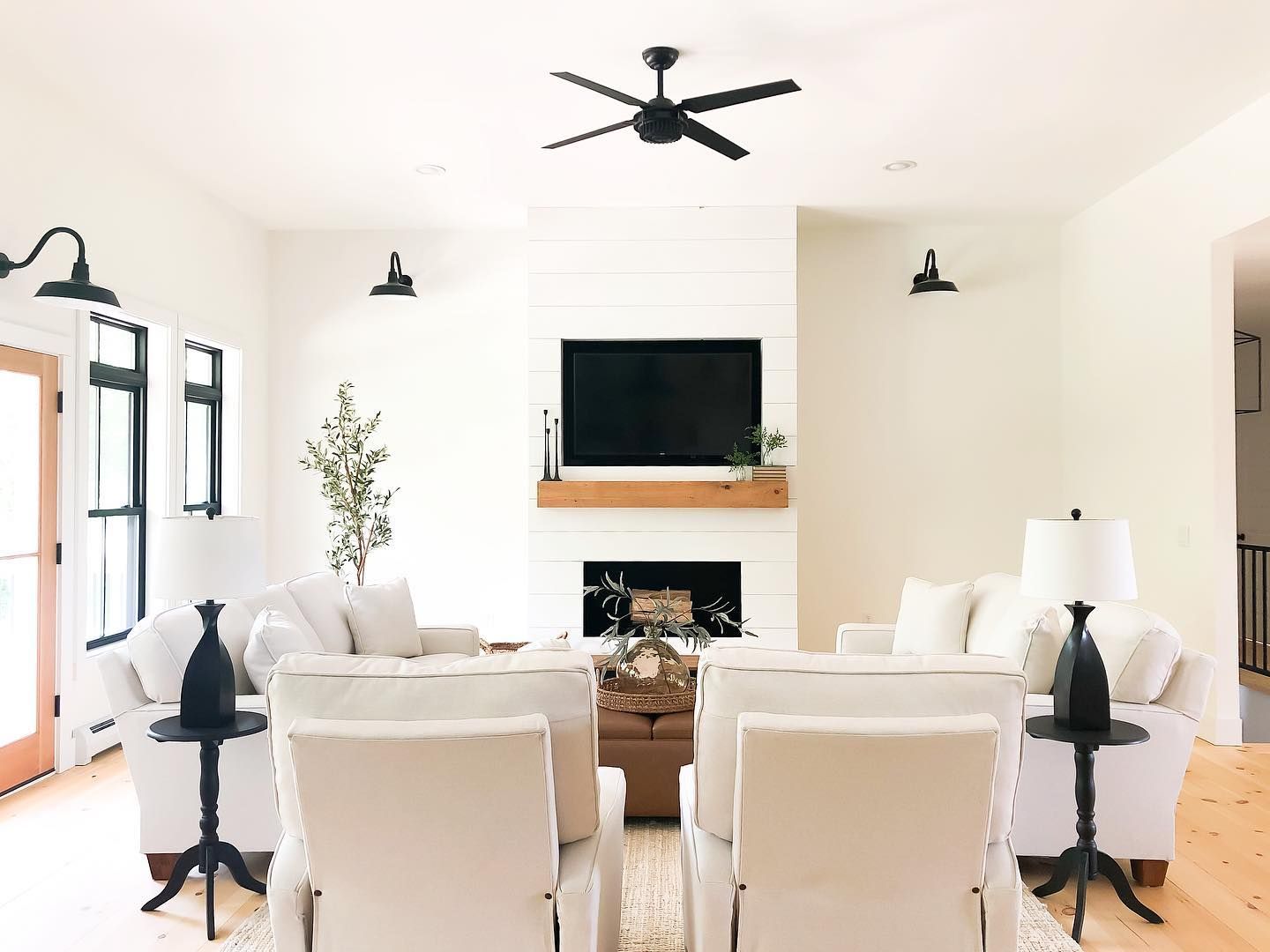 A Closer Look at the Undertones of Extra White
Compared to the creaminess of Pure White, Extra White looks stark and pure, almost too clean. This is not to say that it cannot throw out some sleight warmth in the right setting. But this next image shows you its slightly blue-gray cast.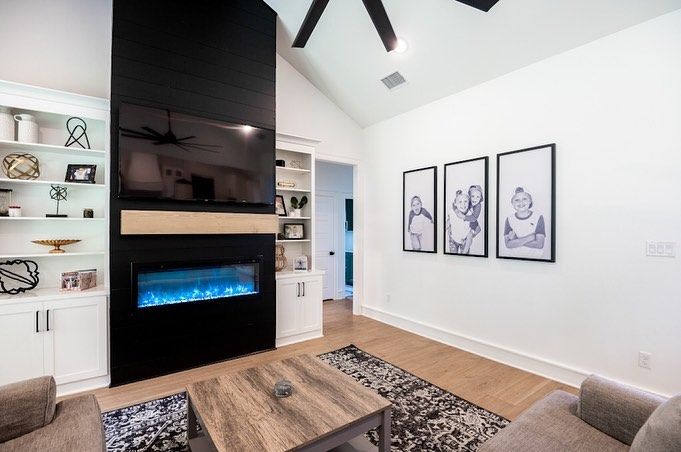 From the images, you can see that both white paint colors work well with wood tones. In fact, they bring out the best in them because wood tones are neutral. But what matters most in how you use either of them is the lighting.
The images show the colors exposed to a lot of natural light. So, using adequate lighting can go a long way in changing how you see these colors. You may notice in some settings that Extra hite shows some promises of warmth. But do not get carried away; it is a cool color.
And while they can stand alone in any room if you like that classic white decor, Pure White and Extra White also love companionship in the form of other colors. This is especially true of Extra White because of its starkness. Try blues, grays, purples, and cool pinks with it. Pure White would be more accommodating of warm colors like peach, orange, and brown.
Sherwin Williams Pure White vs Extra White: Are They Warm or Cool?
SW Pure White is a warm white paint color. This is because of its undertones of cream-yellow. It is whiter than off-white and cream paint colors, but it is still an obviously warm shade. Yellow and cream are warm hues on the color spectrum, so they change the tone of any color.
SW Extra White is a cool color due to its blue-gray undertones. Blue is a typically cool color, but gray can lean either warm or cool. In this case, it is a cool gray, and the blue is somewhat icy. This contributes to the crispiness and stark whiteness of the paint color.
Sherwin Williams Pure White vs Extra White: Complementary Colors
While white paint colors, including Pure White and Extra White, look great without other colors, they can look significantly better with more saturated colors. And part of the colors that make them work are complementary colors. These are colors that feature opposite the central hues on the color wheel.
There are many complementary colors for Pure White and Extra White, especially because they are white. But you must remember that they have different tones, so their complementary colors are unique. Let's show you some of them.
Complementary Colors for SW Pure White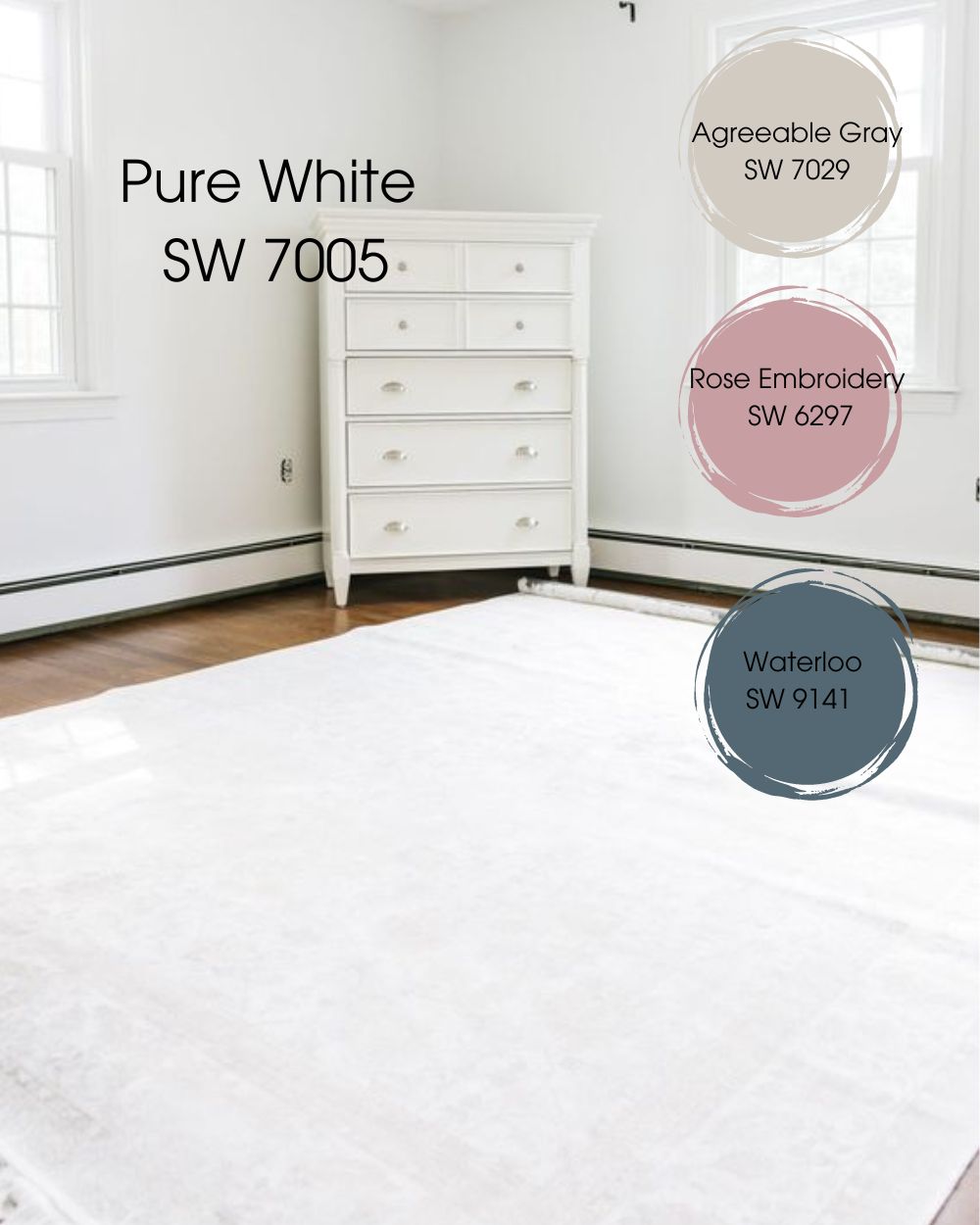 Since Pure White is a warm color, it is best to complement it with warm colors in different hues. Some of them include Agreeable Gray, Rose Embroidery, and Waterloo.
Agreeable Gray SW 7029 is a warm gray or greige paint color that is popular for its versatility and ability to tie colors together. It is the perfect neutral for the warm Pure White.
Rose Embroidery SW 6297 is a rose pink paint color, and its light red undertones make it the best warm splash of color for Pure White.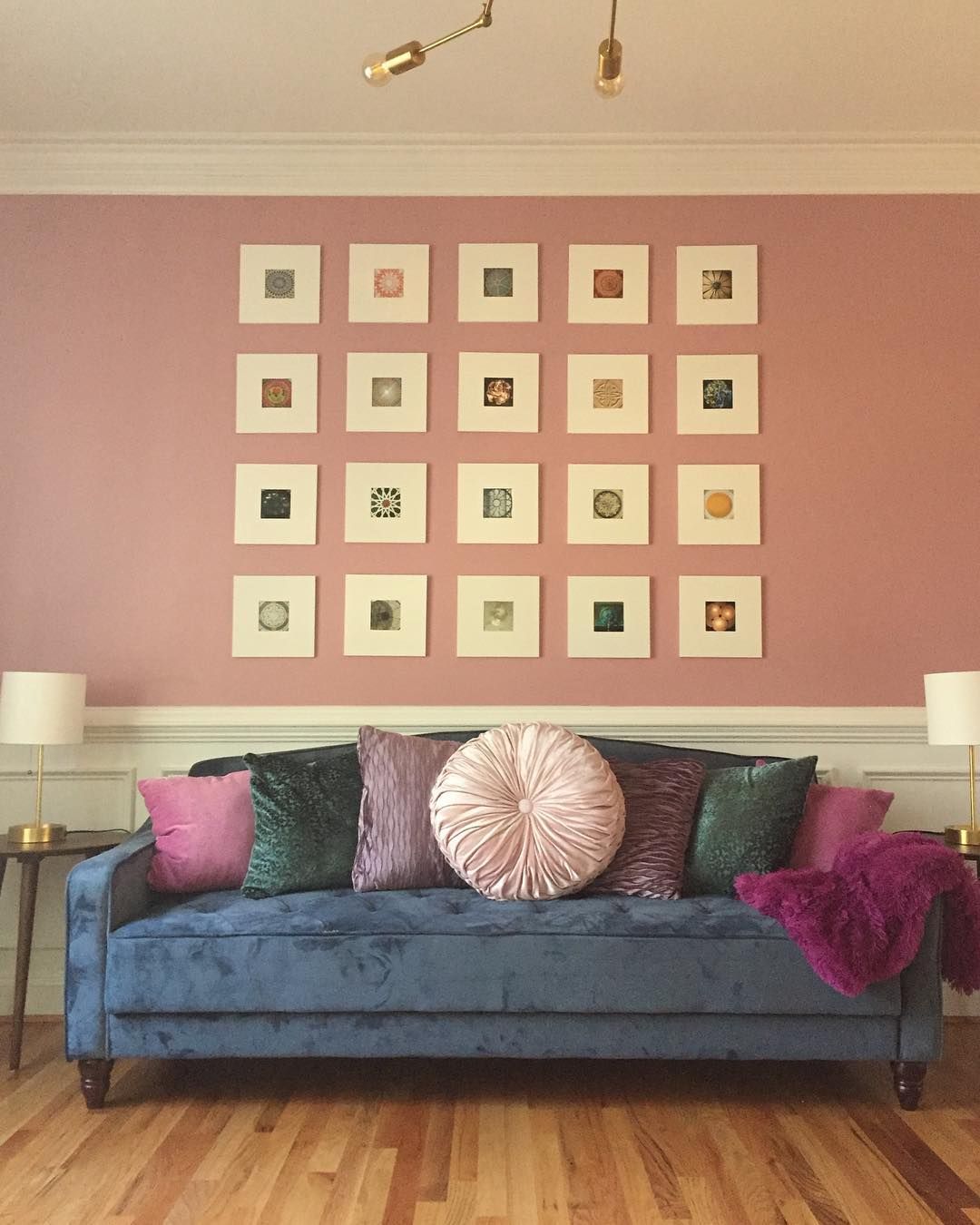 Waterloo SW 9141 is a deep blue with notes of warm gray that changes the color to a warm embrace, perfect for complementing Pure White.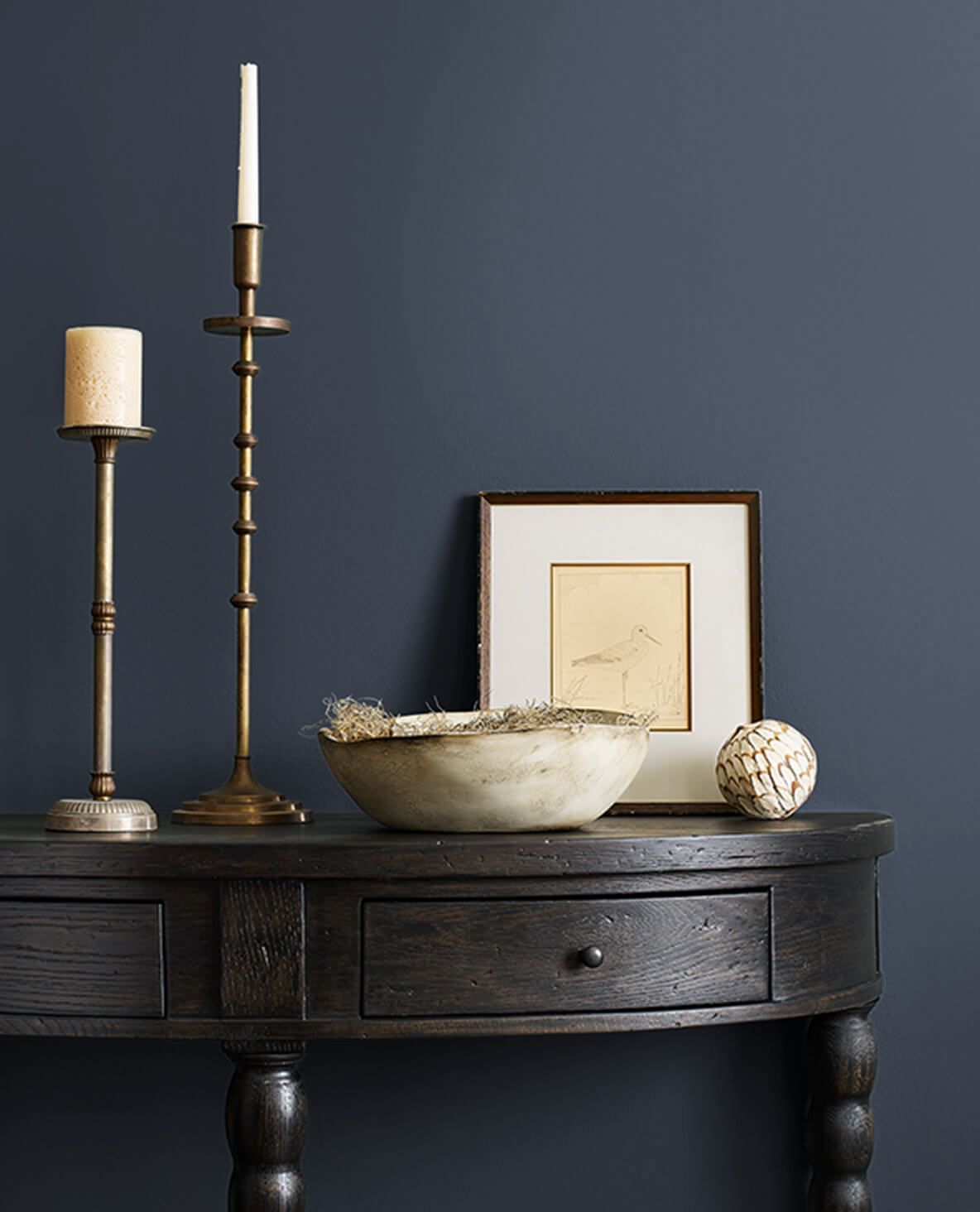 Complementary Colors for SW Extra White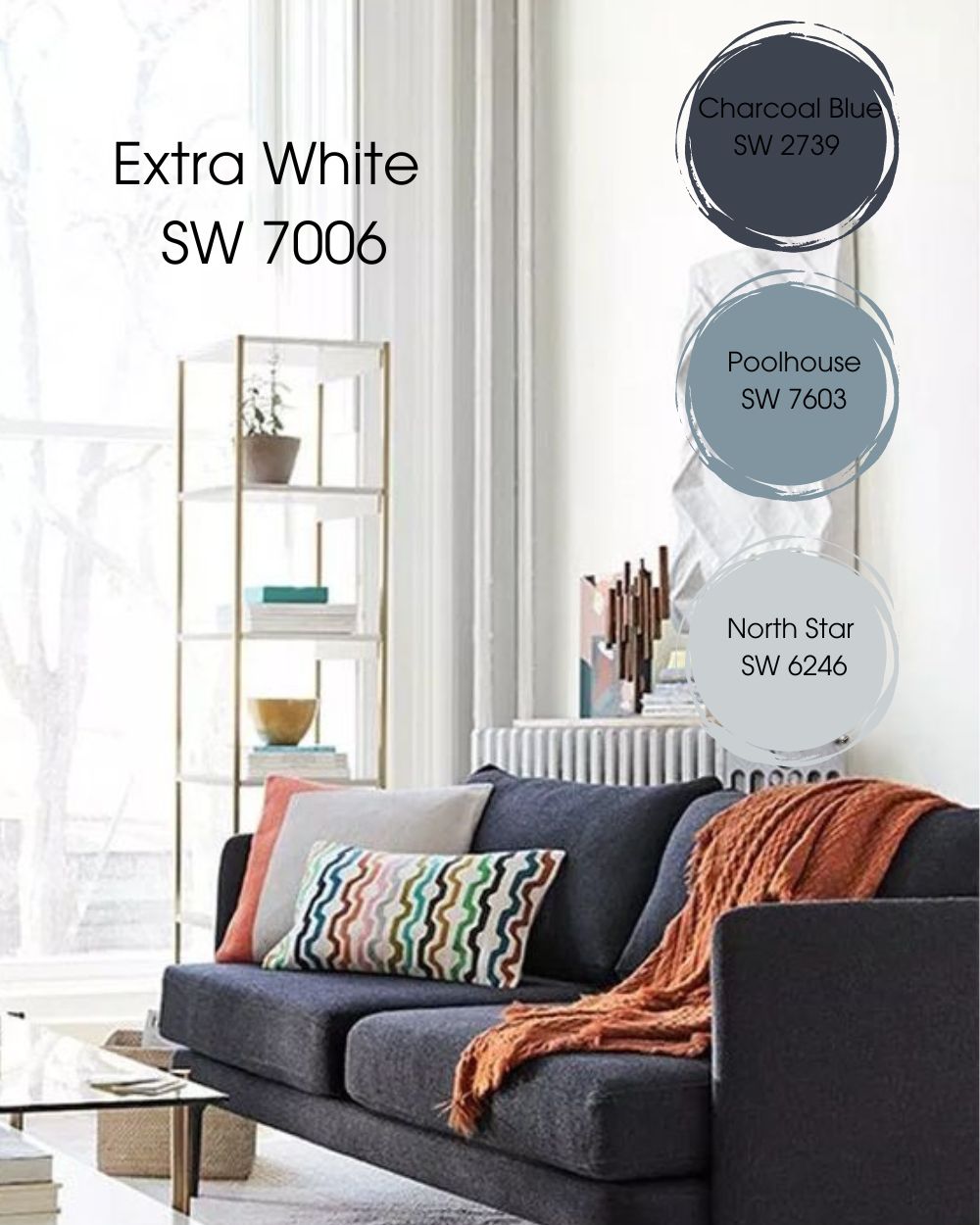 Like Pure White, Extra White can also work with many colors because it is white. However, unlike Pure White, this paint color is a cool one. Therefore, it works best with cool colors. Some of the best colors with which to complement it include Charcoal Blue, Poolhouse, and North Star.
Charcoal Blue SW 2739 is a dense and sophisticated shade of navy blue, almost black, that complements the cool cast of Extra White.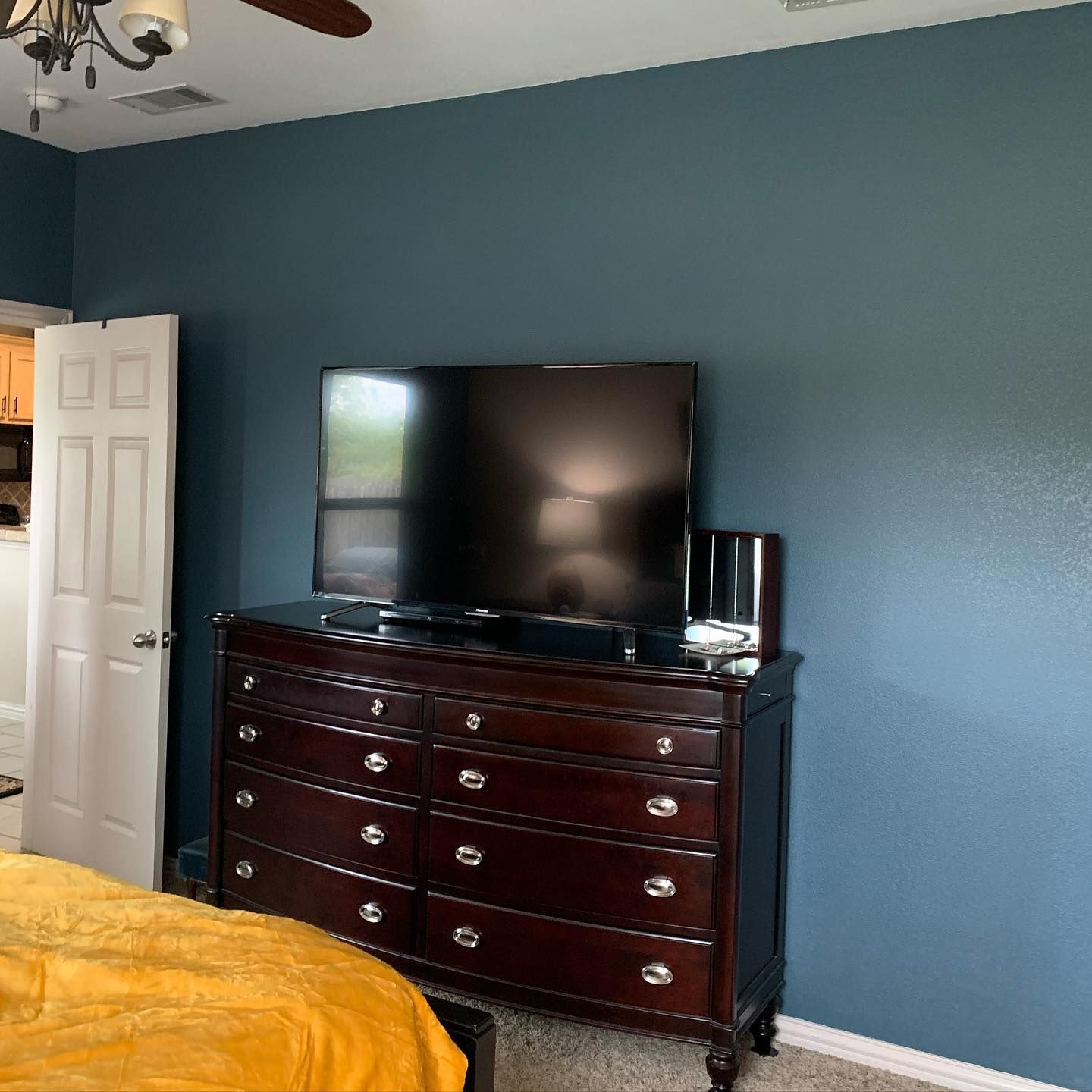 Poolhouse SW 7603 is a cool blue that features slate undertones that bring out the iciness from Extra White.
North Star SW 6246 is a light and fresh blue with slate gray undertones for the ideal coolness and color that bring the best out of Extra White.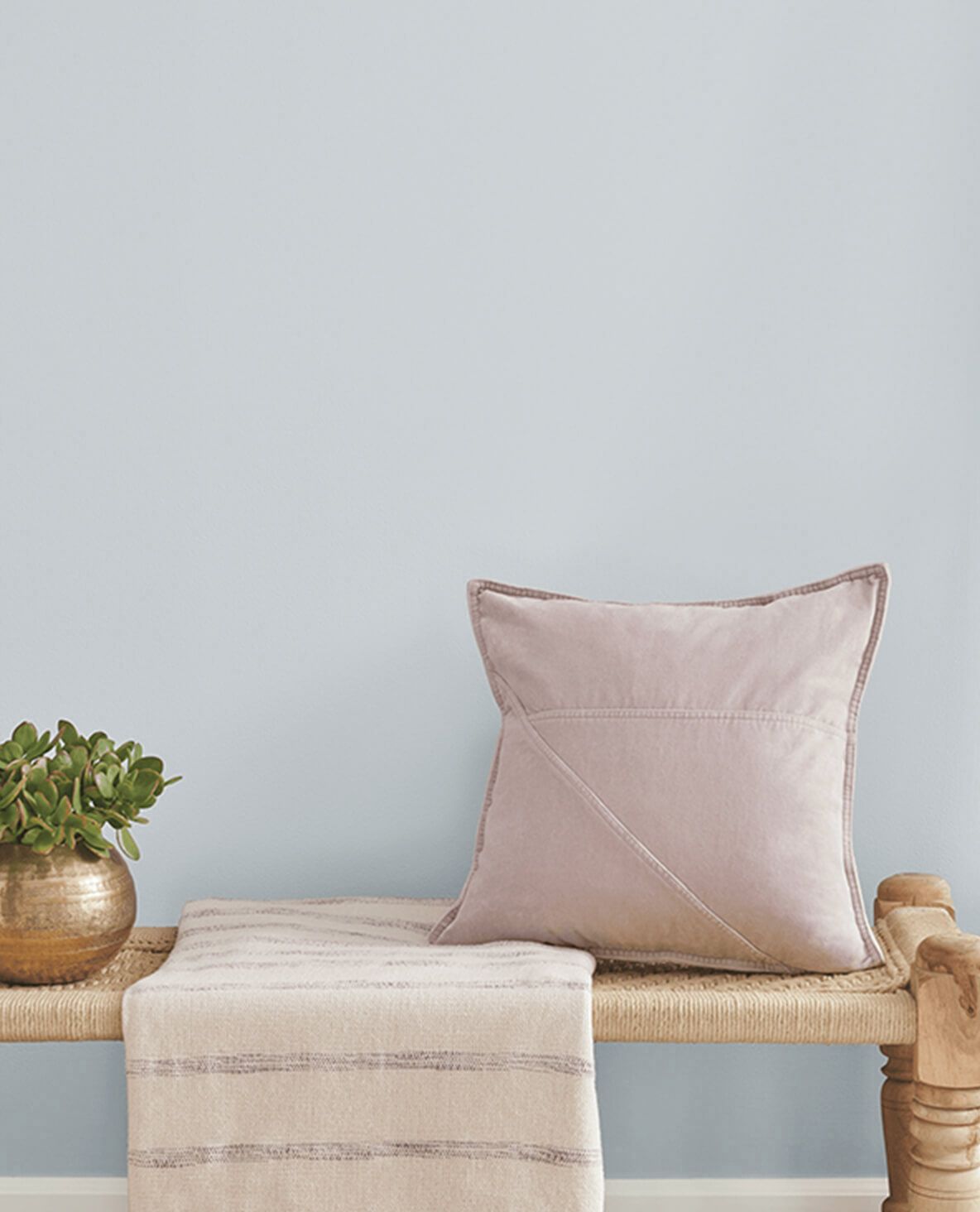 Sherwin Williams Pure White vs Extra White Color Palettes
Color palettes are necessary if you want to bring out the best in any paint color, regardless of the shade. These palettes typically include complementary colors, contrasting colors, and analogous colors. But you can choose to stick to one type if they look like they will clash.
It looks as if white blends with every color, but now that you know about undertones, it is crucial to find the best colors according to the tones. Want to know more about suitable color palettes for Pure White and Extra White? Come along with us.
SW Pure White Color Palette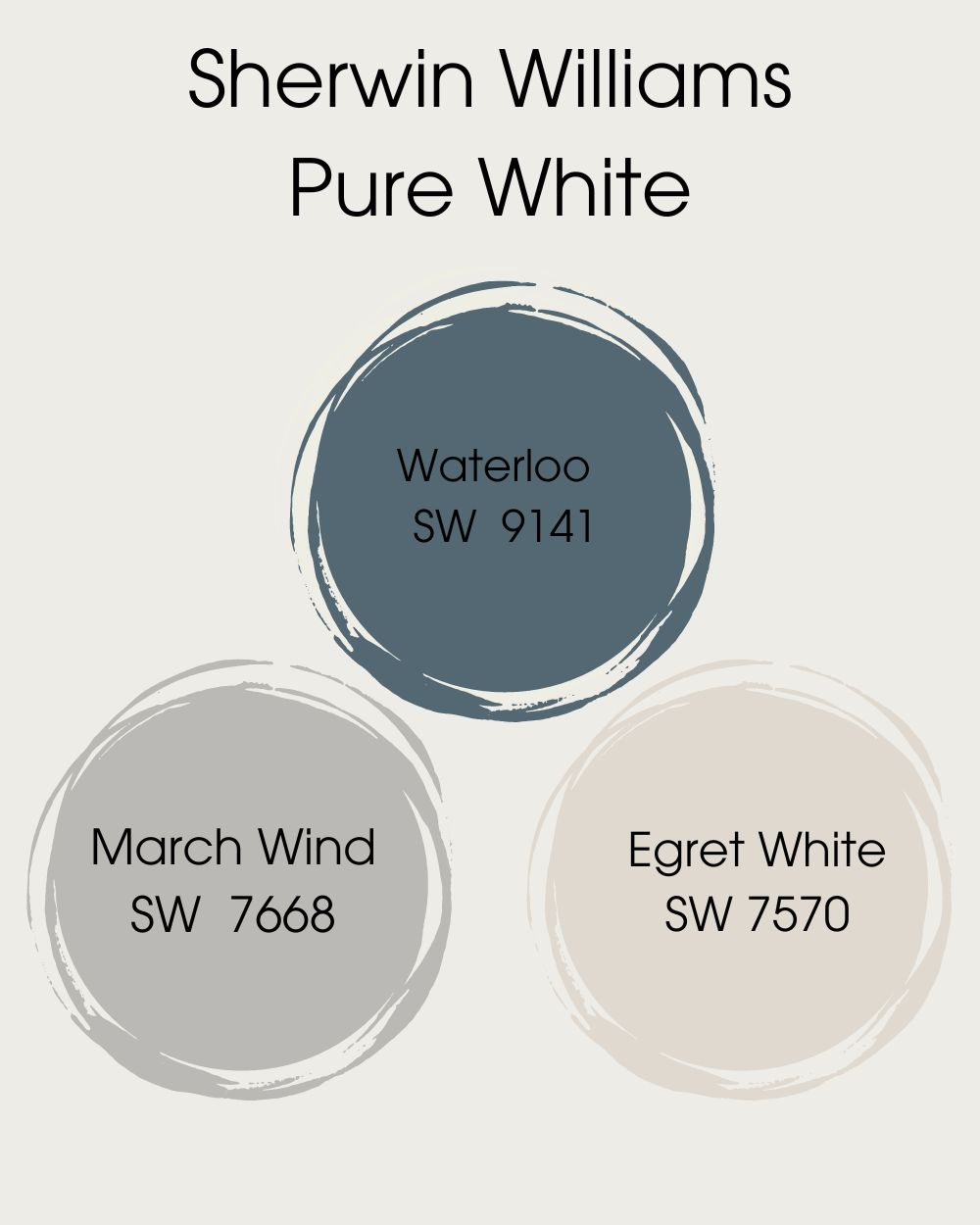 Being a warm color, Pure White will almost always go well with other warm colors. So, we put together different colors with warm tones to guide you in creating a great color palette. They include Waterloo, March Wind, and Egret White.
Waterloo SW 9141is a contrasting color to Pure White, although it is warm
March Wind SW 7668is a medium-toned gray color that works with Pure White for monochromatic decor
Egret White SW 7570is a warm white with slightly pink undertones for the perfect blend with Pure White
SW Extra White Color Palette
Extra White is a pretty bright color and because it is cool, it best to add cool colors to the palette. This applies whether you use contrasting, monochromatic, or matching colors. The best colors to add to the palette include Cascades, Alabaster, and Poolhouse.
Cascades SW 7623is a stunning dark blue with a melange of yellow, green, and gray undertones
Alabaster SW 7008is a warm white with undertones that blend with the gray in Extra White
Poolhouse SW 7603has slate undertones that perfectly complement the cool cast of Extra White
As mentioned, these color palettes are only guides to help you mix and match colors. What you choose will depend on the decor you want or what you already have. It helps if you try some of these colors first using samples to see what they look like with the white paint colors. Then, you can decide how to proceed.
Sherwin Williams Pure White vs Extra White on Cabinets
This guide is incomplete without examples of what these white paint colors look like in various parts of a house. Let's start with cabinets and move on to other key rooms and areas.
SW Pure White on Cabinets
Pure White looks great on cabinets, as all warm whites do. And because of its neutrality, it is quick to pick up other colors. Pair it with other warm colors and wood tones for the best results.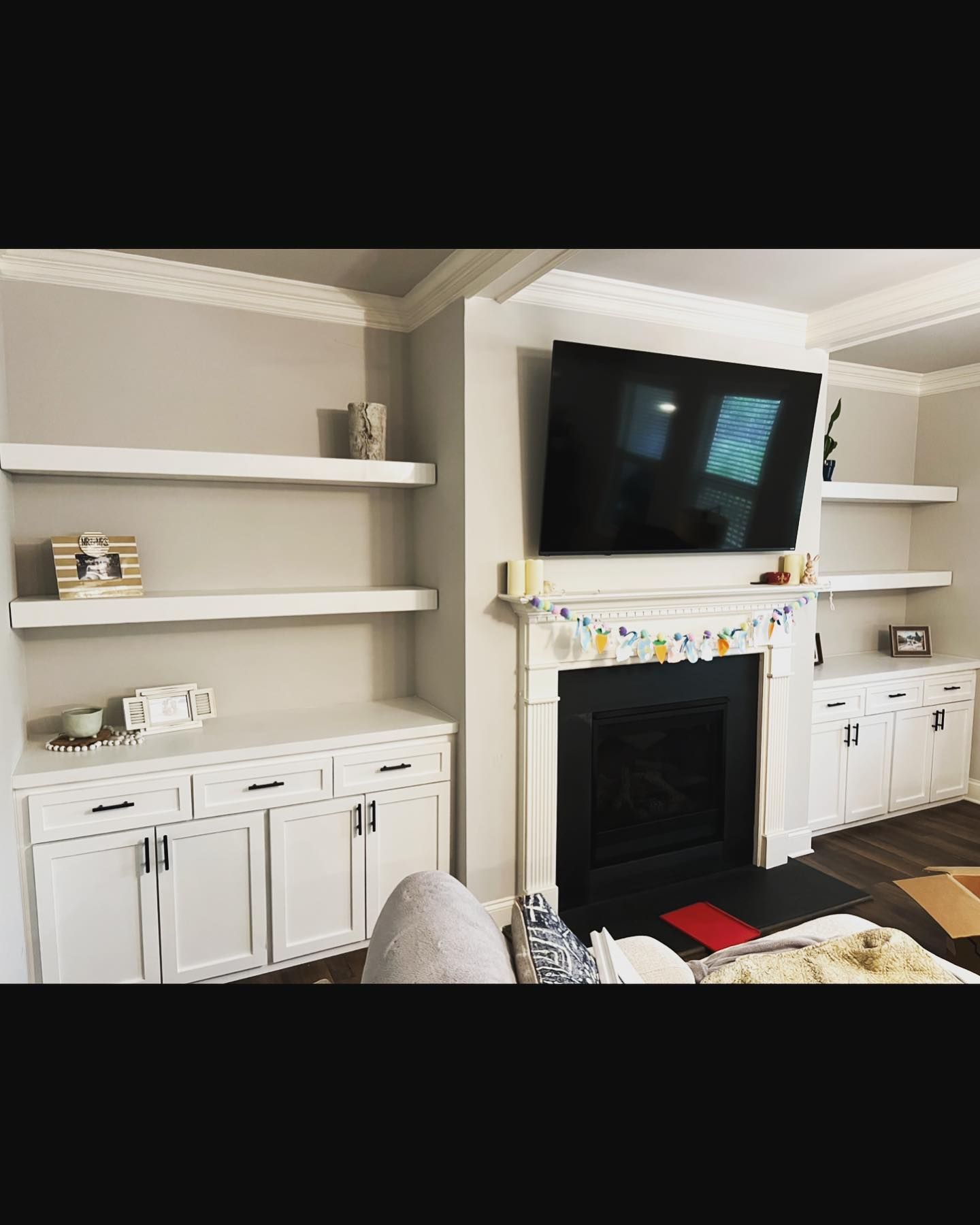 SW Extra White on Cabinets
Extra White is also an excellent cabinet paint color choice. Although it is a cool color, it works well with wood tones and brightens any space due to its high LRV. Check out this vanity to see how the paint color performs.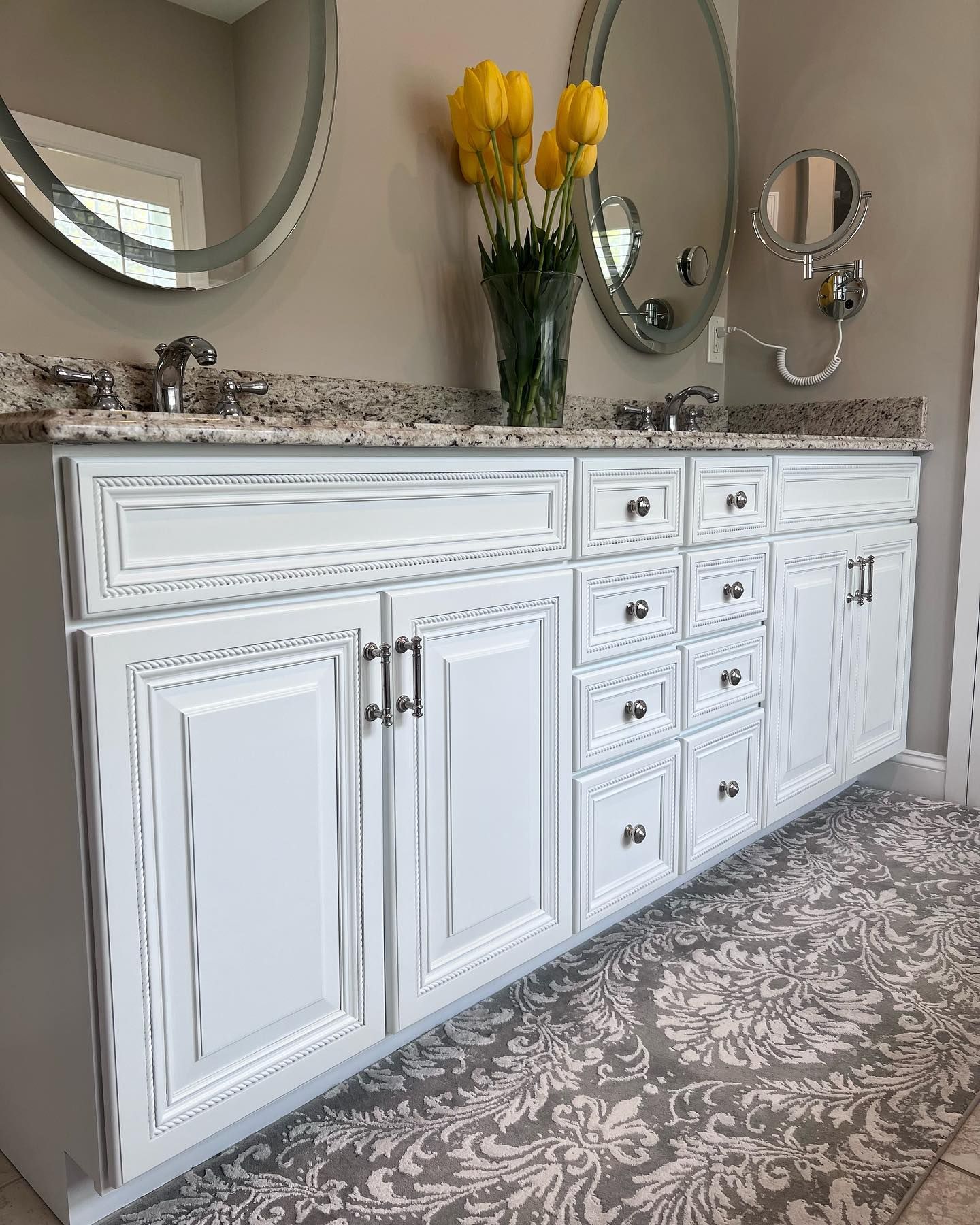 Sherwin Williams Pure White vs Extra White on Exteriors
You can use these white paint colors on exteriors as well as interiors. We want to show you some real pictures of these colors to help you decide if you fancy them.
SW Pure White on the Exterior
The following image is a gorgeous house made even better by being painted entirely in Pure White. Would dark or light trims be great? You see and decide for yourself.
SW Extra White on the Exterior
Extra White is also a great color for the exterior, although it is not as warm as Pure White. This next picture shows Extra White used on the exterior of a mostly dark-colored house.
Sherwin Williams Pure White vs Extra White on Doors
Doors are some of the best places to use white paint colors, whether cool or warm. Still in doubt? The following pictures are proof of what we say.
SW Pure White on Doors
This slightly creamy white looks stunning on doors, and this picture shows that it works well when used on trims as well.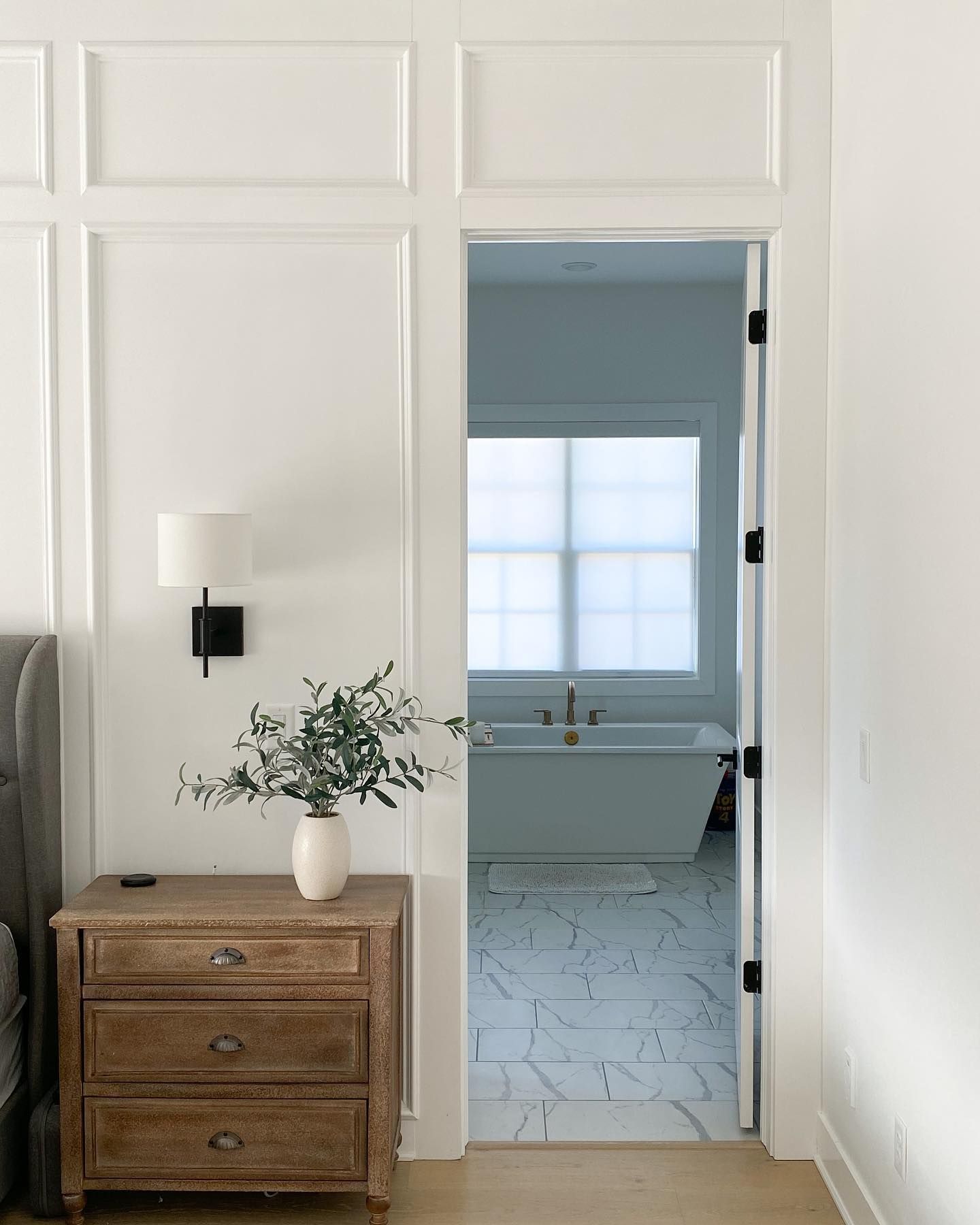 SW Extra White on Doors
Extra White is also a sweet color on doors, especially if you surround it with similar colors or darker and cool hues. Check out this hallway to get inspiration on how to use it for this purpose.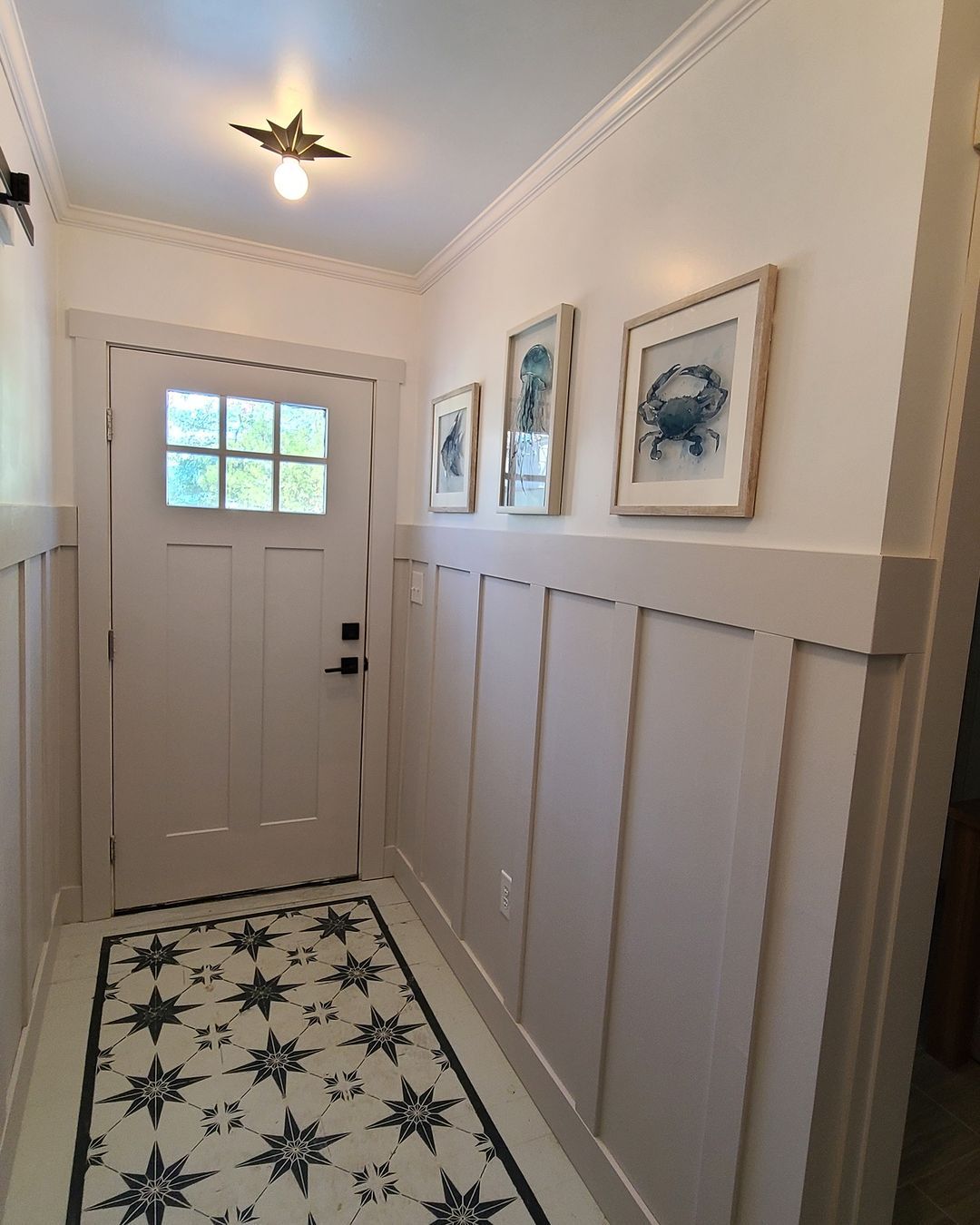 Sherwin Williams Pure White vs Extra White on Trims
Let's see what Pure White and Extra White do on trims and wainscotting since you can hardly go wrong with white trims.
SW Pure White on Trims
When paired with a greige or beige paint color, Pure White looks soft and beautiful. See how it appears in this room with greige walls.
SW Extra White on Trims
Extra White may look even better on trims because of its brightness, although it depends on the color. The best part of it is that it shines even with other white colors. See what we mean in the next picture.
Sherwin Williams Pure White vs Extra White on Interiors
Keep your decor bright and pristine with white paint colors. Pure White and Extra White are some of the best white paint colors to use if you want a clean white in a room.
SW Pure White on Interiors
Create a warm haven with Pure White without compromising on color. Use it all over the room or pair it with other warm colors.
SW Extra White on Interiors
As with Pure White, you can use Extra White alone in a room or pair it with cool colors. It comes out beautifully any way you choose to do it.
Conclusion
Keep your decor trendy and sparkling with the right white paint colors. You can choose Sherwin Williams Pure White or Extra White, but remember that each color performs differently due to its undertones.
While Pure White is a warm white with slightly yellow undertones, Extra White is a cool white with slightly blue-gray undertones. Remember this when choosing complementary colors or creating a color palette. You can also follow our guide as we have unloaded various colors that work with each white paint.
Painting and decorating do not have to be a difficult journey, and that is why we have simplified it for you. We will be here cheering you on your journey. We are also available for any further questions you may have concerning paint choices. Share them with us in the comments section.