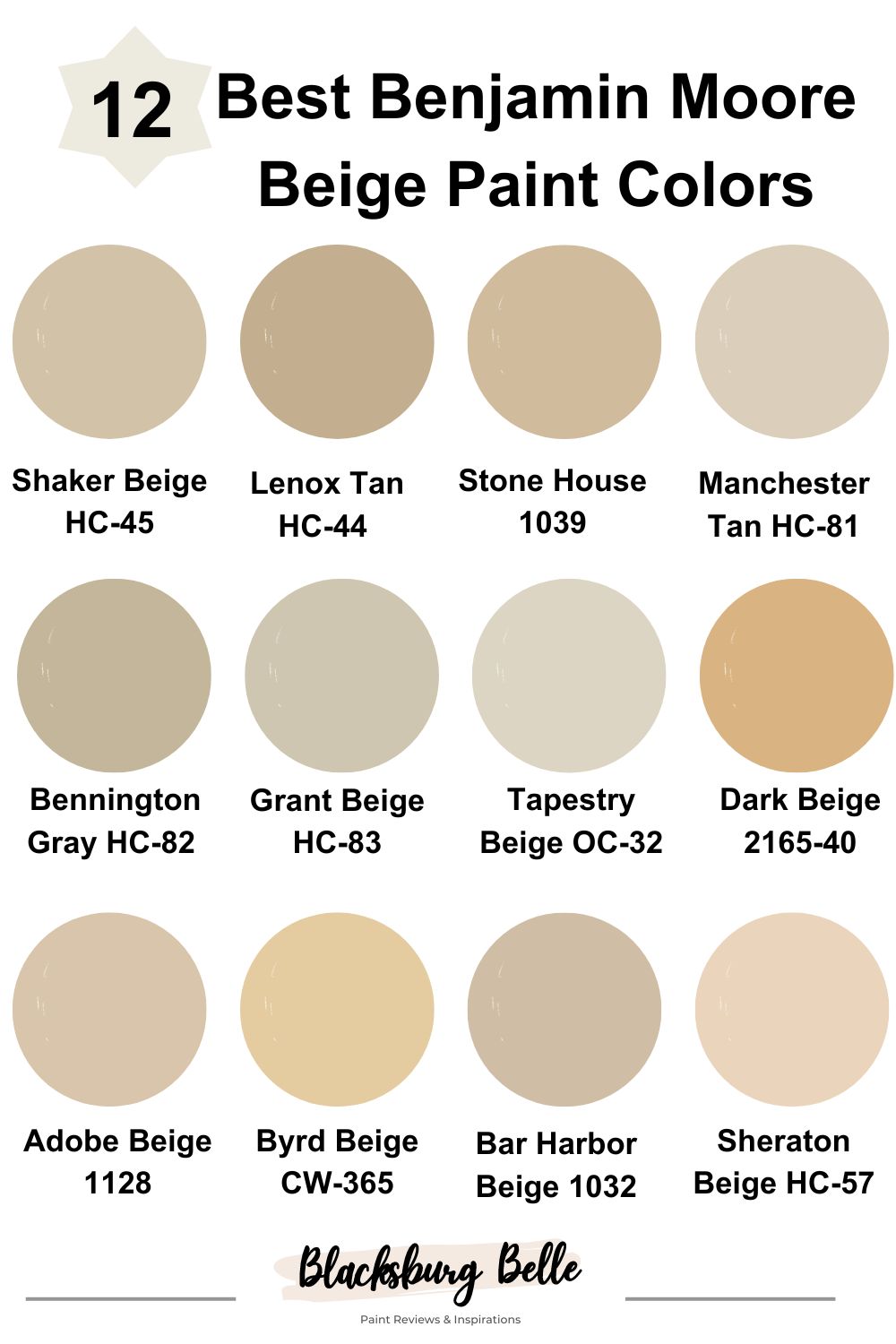 Designers are bringing back beige. It's time to hop on the train too if you are thinking of the best color to paint your home with in 2023.
Beige is the go-to paint color when you need neutrals, or to drown out undesirable features from your decor. We have listed 12 of our favorite Benjamin Moore Beige Paint Colors that would please any apt lover of Beige.
Quickly, take a look at some of the reasons you want to try out not just beige paints, but those made by Benjamin Moore:
Why Beige Is A Big Deal Paint Color
White paint used to be the neutral color of choice, but recently beige is making a comeback, and for this good reasons:
Beige Has More Appealing Tones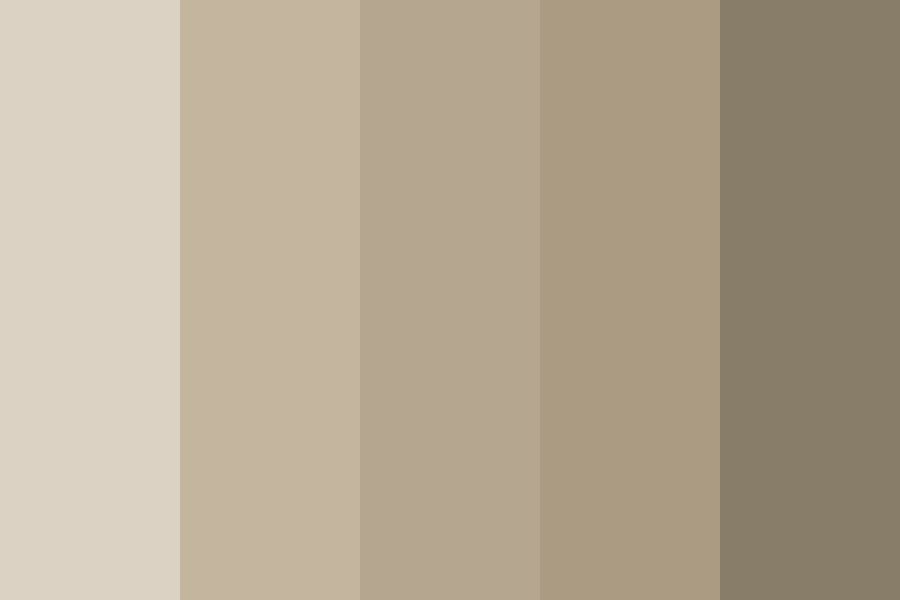 You have to agree that white colors—of any tone—can become cliché after a while. White can also lose its appeal, becoming bland and boring.
Beige is never this way. You'd be surprised to know that beige has a wide range of tones with a spectrum that is almost inexhaustible. In short, beige is a more versatile color than white.
With Beige, There's No Flatness
You've seen those rooms with all white walls how they usually feel like hospital rooms. A room with white walls requires more effort into making it feel interesting and one with other colors usually appears too busy to the senses.
In contrast, you will always find a beige tone worthy of maintaining balance in your room. With beige, you're not thinking of repainting because you are tired of seeing your walls so flat or busy.
Now that you understand a little of the joy that beige colors can bring you, take a look at the best Benjamin Moore beige paint colors for this year 2023.
12 Best Benjamin Moore Beige Paint Colors in 2023
1. Benjamin Moore Shaker Beige HC-45
| | |
| --- | --- |
| RGB | RGB(209, 194, 167) |
| LRV | 53.53 |
| Matching Colors | White Dove, Tate Olive |
| Undertones | Orange, pink |
Lovers of beige color are using the Shaker beige this year because it is the paint to beat when it comes to elegance. With an LRV of 53.53, this beige color exudes elegance and fresh presence in any room. It's got an undertone that vacillates between orange and pink depending on the light falling on it.
If you are an oldie then you must know this beige from the late part of the last century. It is 2023 and this color is still a gorgeous choice.
It is not an overly warm color. It has a soft look to it in a well-lit room and is also a great option for living rooms. The matching colors of the Shaker Beige include the White Dove and Tate Olive.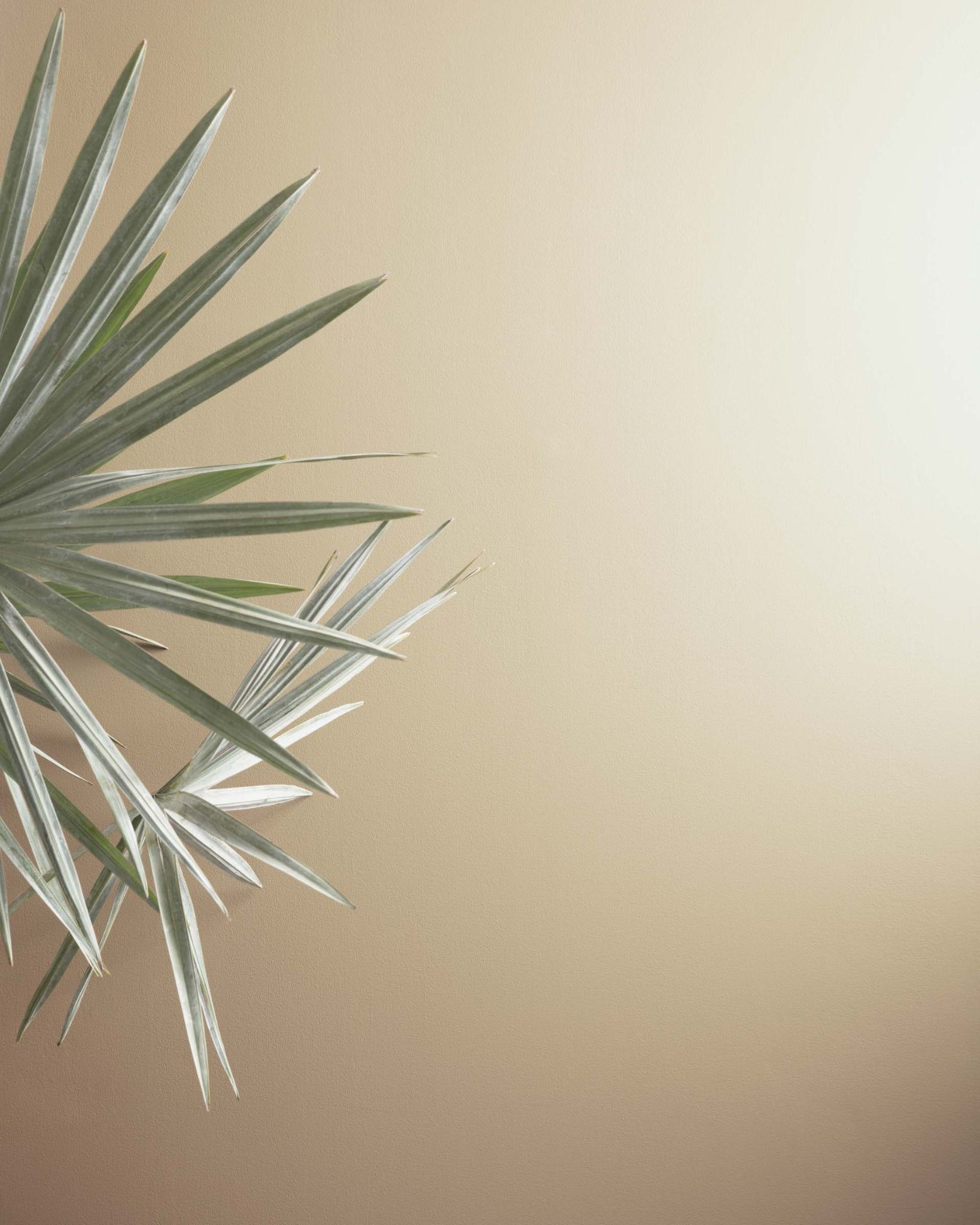 2. Benjamin Moore Lenox Tan HC-44
| | |
| --- | --- |
| RGB | RGB 195, 175, 143 |
| LRV | 43.14 |
| Matching Colors | Marble White, Knoxville Gray, Cloud White, Rockies Brown |
| Undertones | Orange |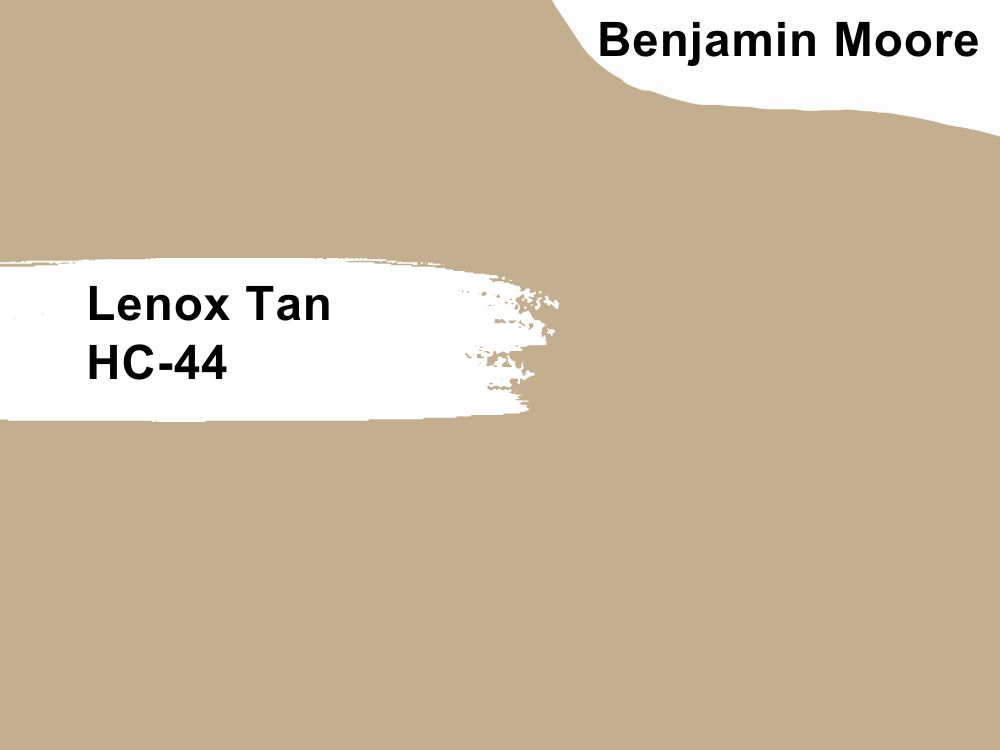 This beige has been described as khaki color. It is a color that bridges the gap between an epoch long gone and a modern one. With Lenox Tan, anything goes. From your furniture to things as small as your books, this color brings out the beauty in everything it touches. This beige has an LRV of 43.14.
This color is also one of the warmest beige you can paint with. It has an orange undertone. This versatile color doesn't discriminate between the gray fabrics of your furniture and the golden hue of the wood of your cabinets, it will match with them all. In your bedroom, the orange undertone is soothing, and ever abiding with the right light coming in.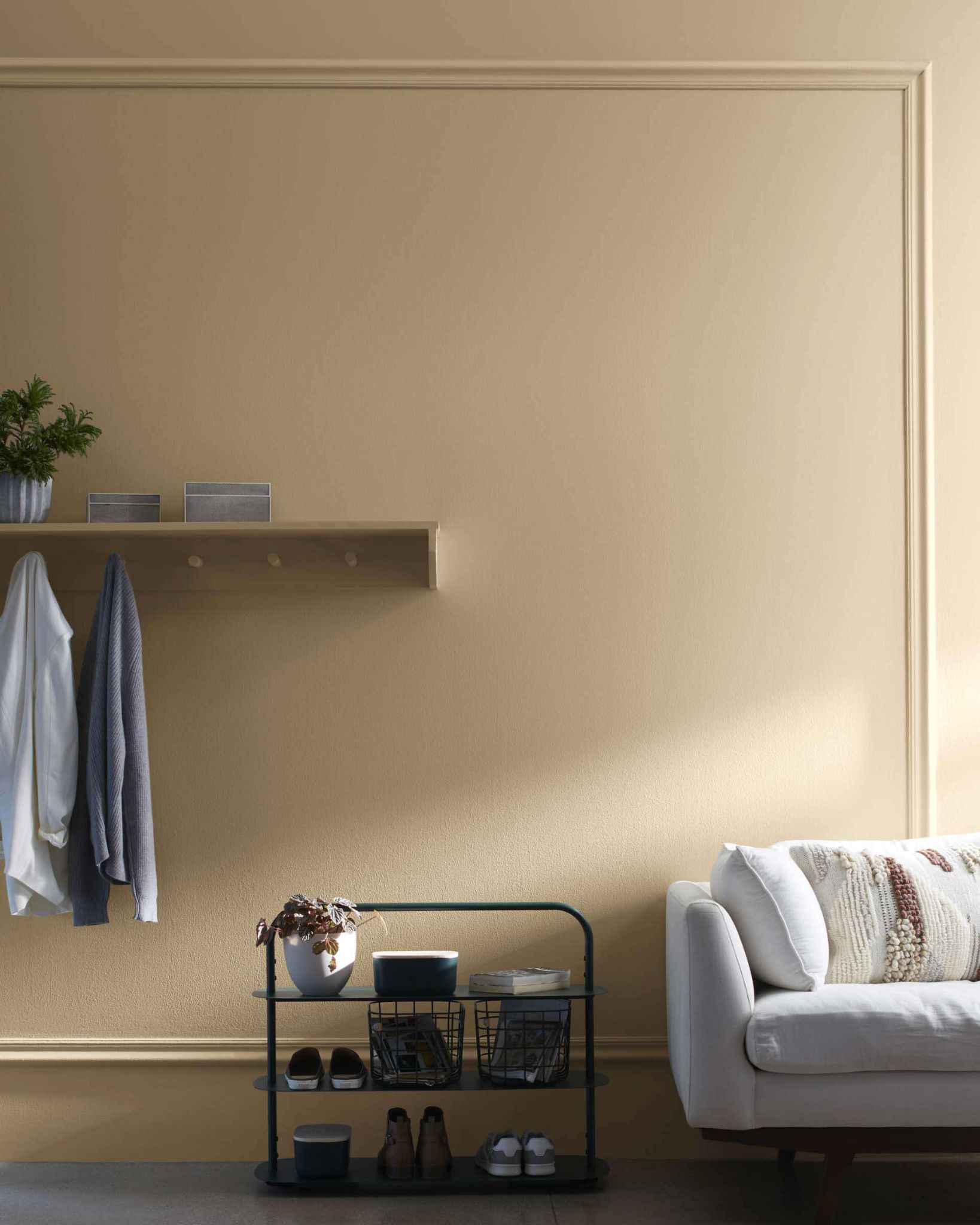 3. Benjamin Moore Stone House 1039
| | |
| --- | --- |
| RGB | 207, 183, 156 |
| LRV | 49.42 |
| Matching Colors | Chantilly Lace, Ivory Porcelain, White Dove, Incense Stick |
| Undertones | Orange and Pink |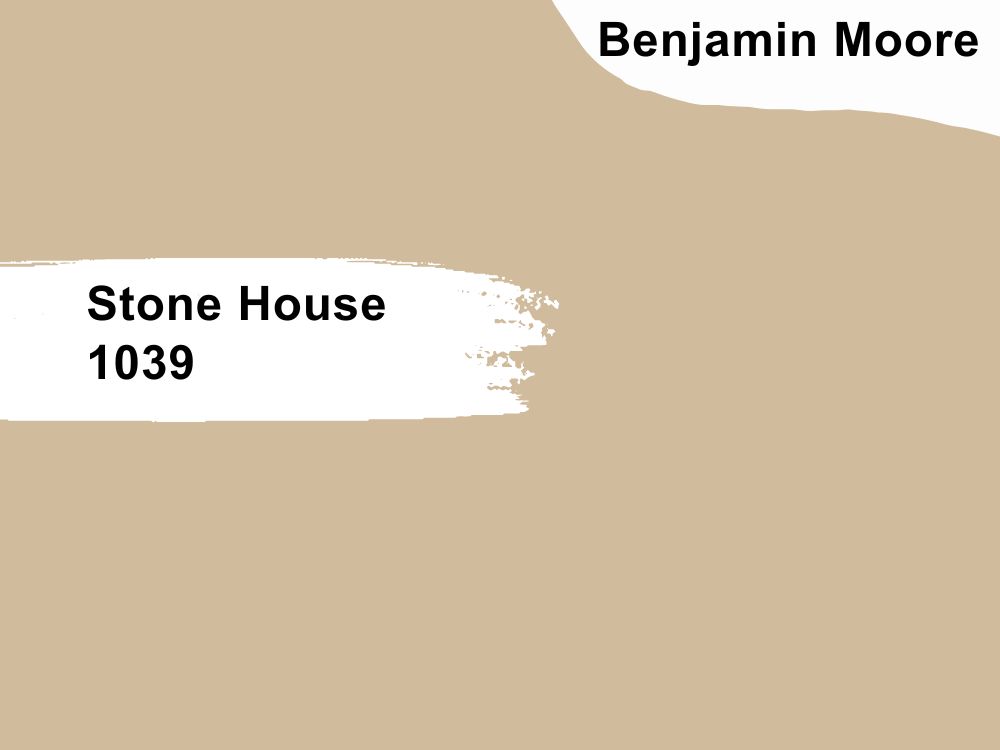 Stone House is the type of beige paint you can use anywhere. The shade of this paint is a tan like roasted almonds. It has an LRV of 49.42. With such a low LRV, this allows the paint to look dense on the wall and emit warm tones.
With the right lights, you can also notice undertones like orange or pink. As already noted, this paint sits pretty on any wall and looks good under a light on the compass. In addition, the Benjamin Moore Stone House 1039 Beige paint color is known for its ability to complement a wide range of interior design styles and color palettes.
4. Benjamin Moore Manchester Tan HC-81
| | |
| --- | --- |
| RGB | 219, 207, 187 |
| LRV | 63.24 |
| Matching Colors | Bleeker Beige, Georgian Brick, White Ice, Constellation |
| Undertones | Yellow |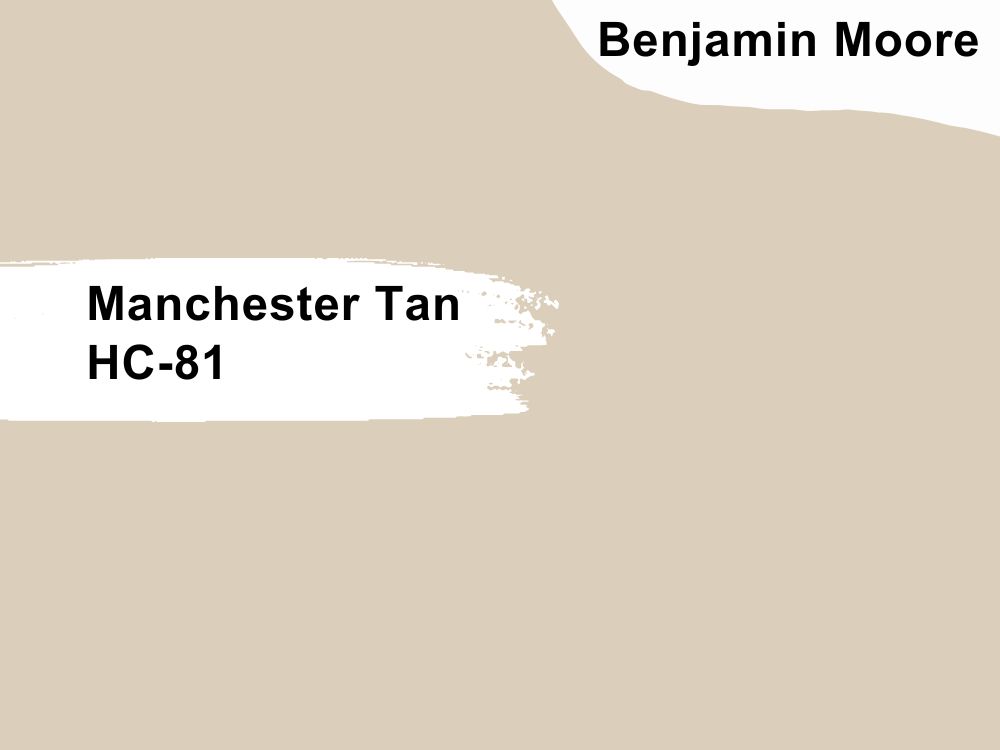 As the name suggests, this beige is lighter than most on this list. There's even a sophistication to this beige that makes it one of the best for living rooms and hallways with your pictures and paintings hanging on the wall. It is a paint that calls to the senses, a natural and warm tan. Use this tan in a room where the lighting is not so strong and experience stability of colors with an LRV of 63.24.
The Manchester Tan has a yellowish, almost distant undertone. If paired with a paint that has a pink undertone, the Manchester Tan will emit a tiny bit greenish undertone which is mostly detectable in a certain shade of light.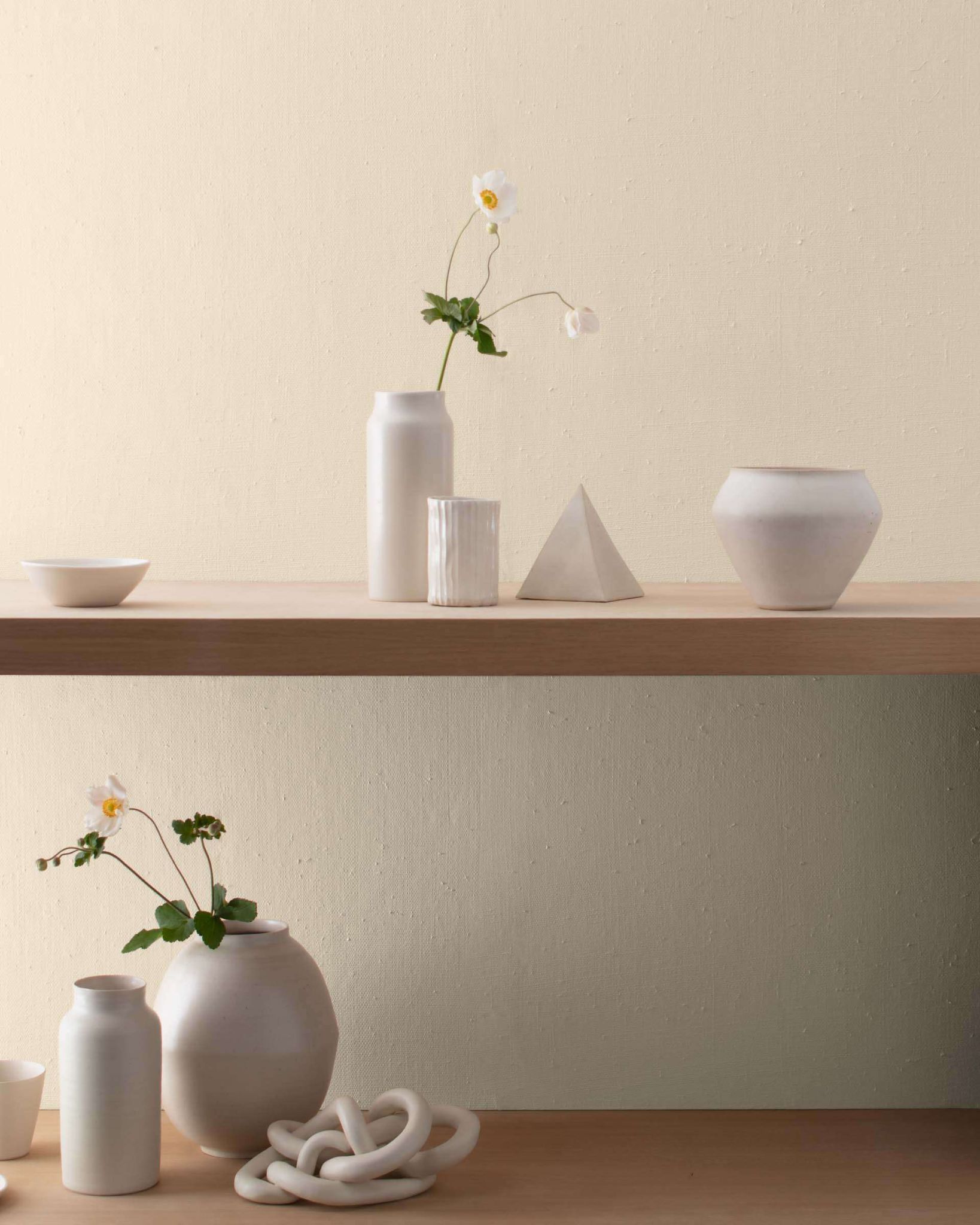 5. Benjamin Moore Bennington Gray HC-82
| | |
| --- | --- |
| RGB | 195, 179, 154 |
| LRV | 46.68 |
| Matching Colors | Creekside Green, November Rain, White Hall |
| Undertones | Green |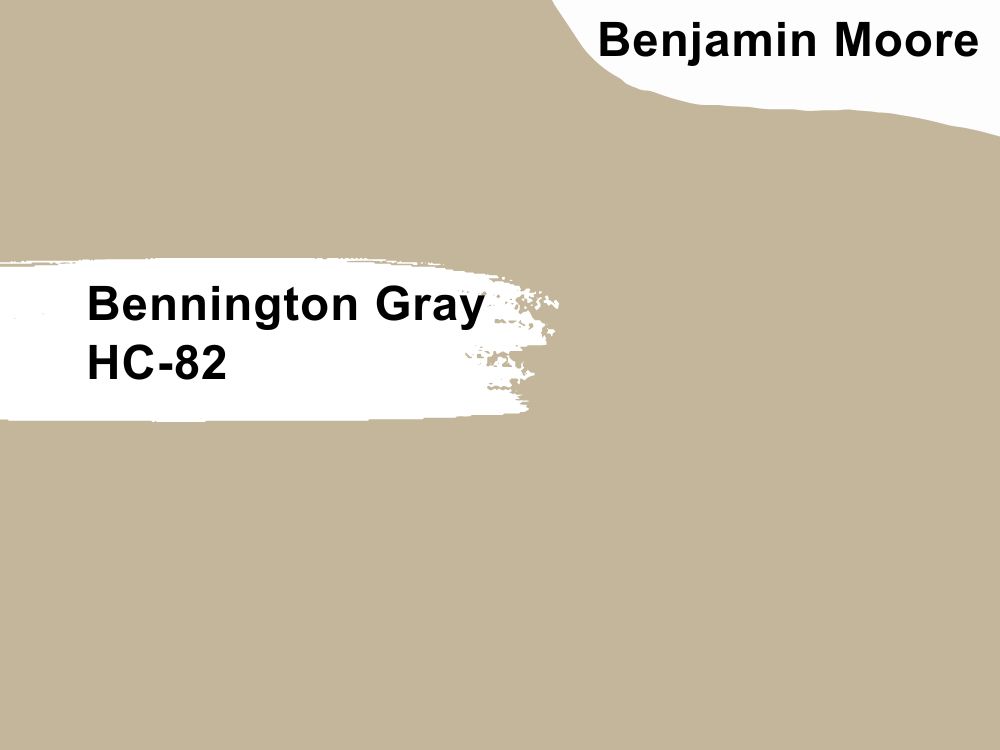 This is actually a beige-colored paint, not gray. However, it isn't your usual beige. It has warmer nuances than some beige that we have mentioned. The LRV of this paint is 46.68, which makes it a tad deeper cream than some beige.
In fact, this paint has been called greige for this reason. Yet, it is on the list because it is essentially a cream color with undertones of subtle green. Many gray paints have this undertone as well. For this reason, you have to pair this beige paint with colors like Creekside Green, November Rain, and White Hall.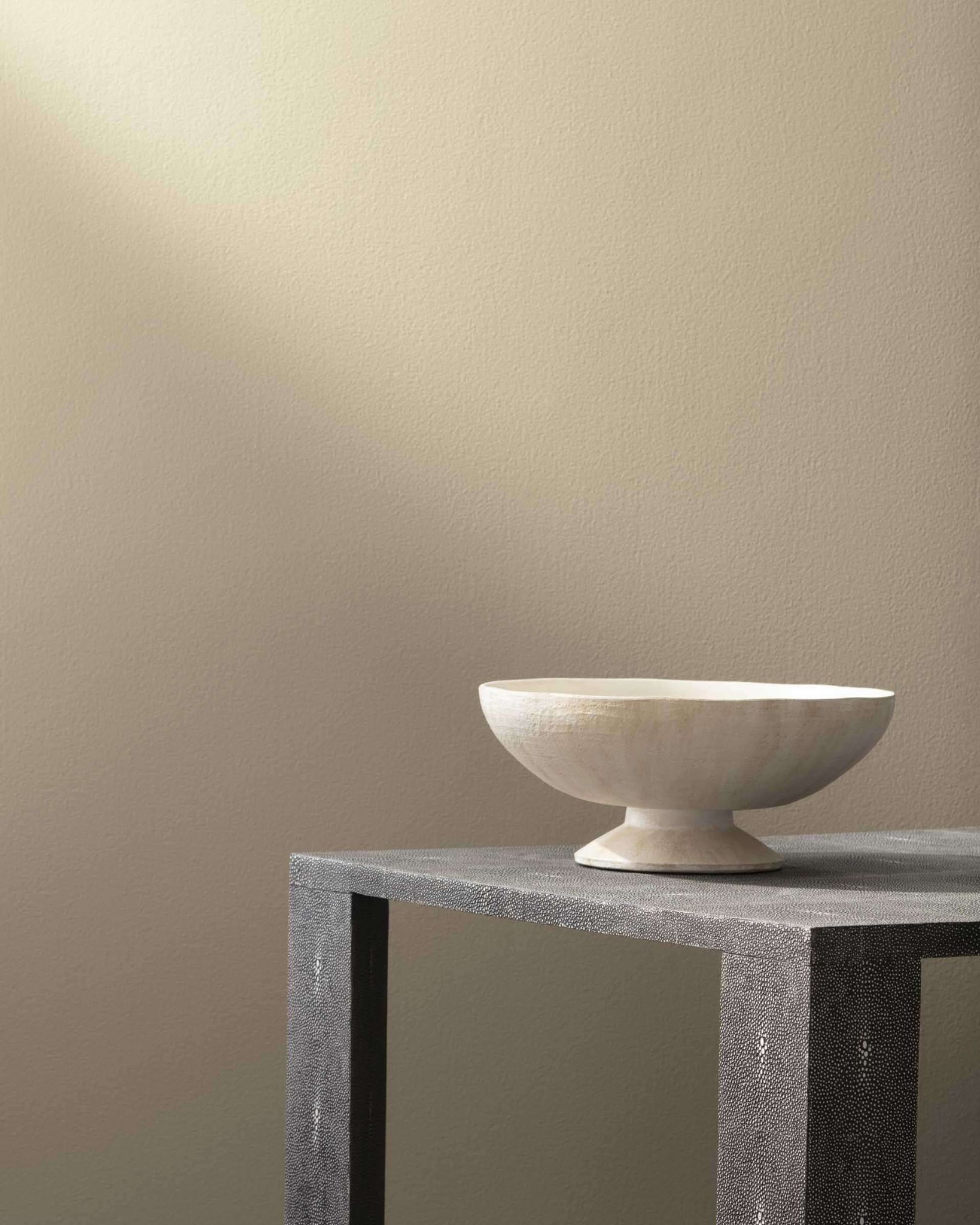 6. Benjamin Moore Grant Beige HC-83
| | |
| --- | --- |
| RGB | 207, 195, 175 |
| LRV | 55.81 |
| Matching Colors | Kendall Charcoal, Floral White, Bronze Tone |
| Undertones | Green |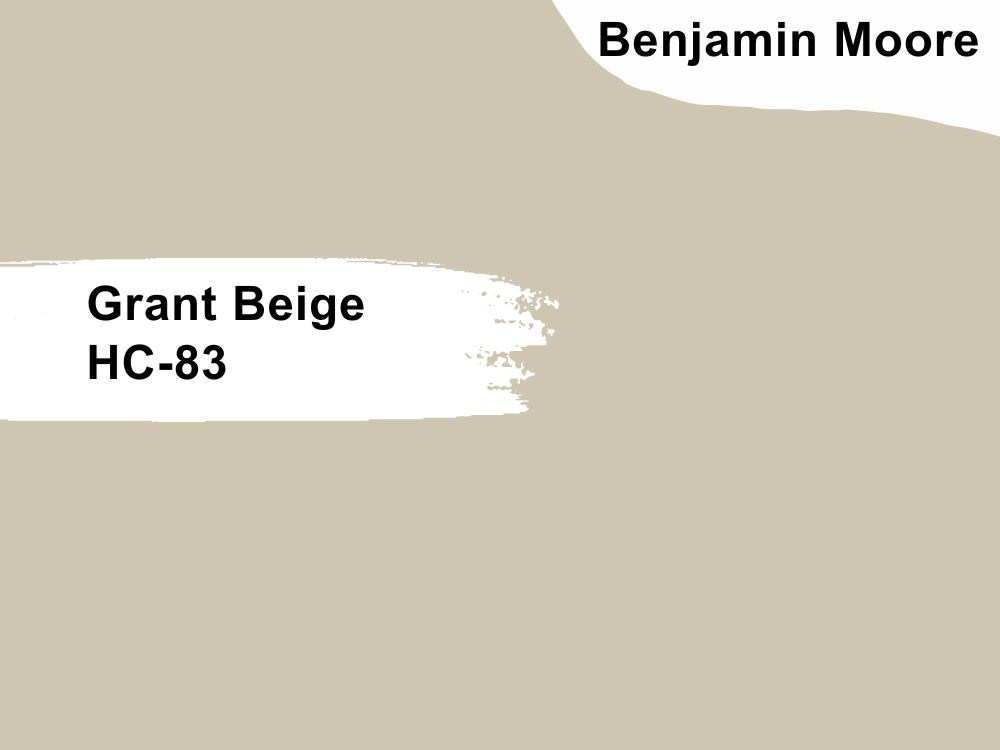 This beige has an LRV of 55.81 and for this reason, is a balanced beige color with a mix of both beige and gray undertones. It is a neutral paint that is considered by designers as one of the most versatile paints. This beige pairs perfectly with Kendall Charcoal, Floral White, and Bronze Tones.
This beige is also very balanced in its shade—not too dark or light due to its LRV. This bridge is not as tan as the Manchester Tan. In a room where the light is north facing, the Grant Beige will appear lighter than normal.
The important thing to note about this painting is, it is a darker beige. You'll only see its freshness in a good light. This beige is also great for rooms with wide windows and not so for hallways where the light is not so much.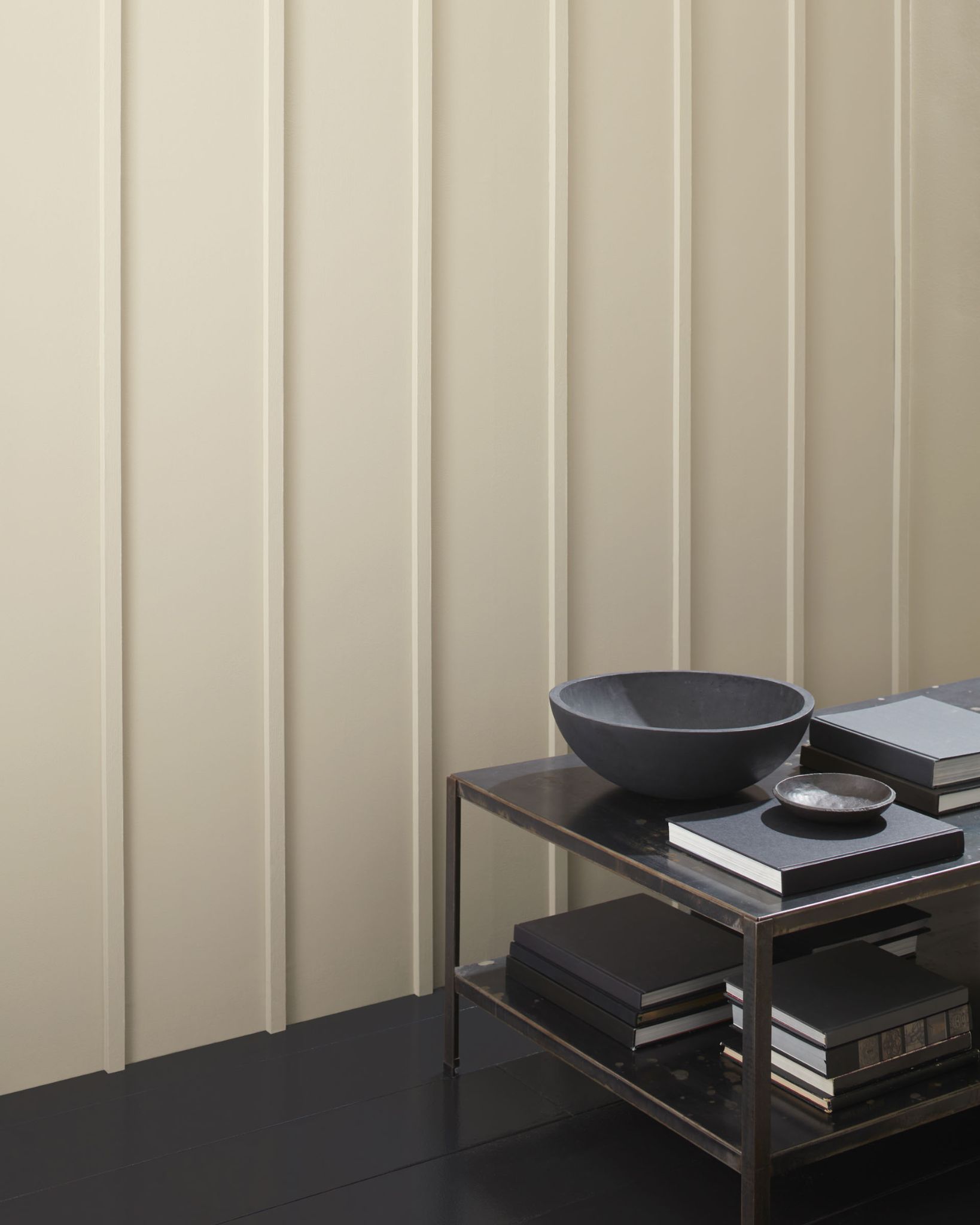 7. Benjamin Moore Tapestry Beige OC-32
| | |
| --- | --- |
| RGB | 220, 213, 196 |
| LRV | 66 |
| Matching Colors | Swiss Coffee, Storm Cloud Gray, Paper Mache, Jojoba |
| Undertones | Classic greige |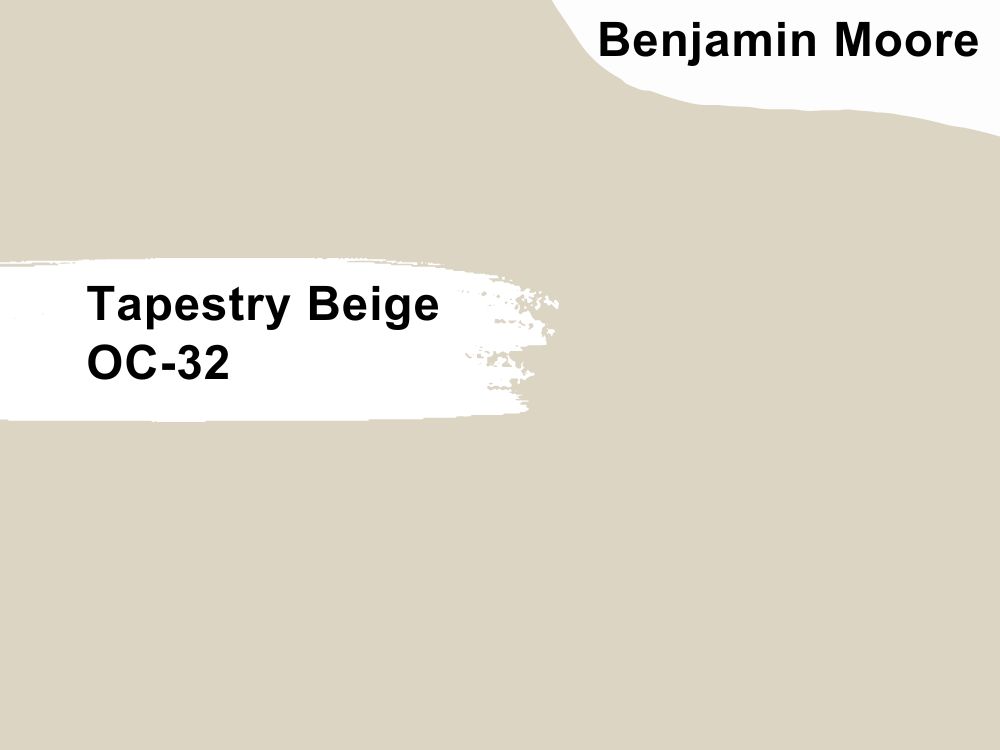 This beige is from Benjamin Moore's off-white collection. It has an LRV of 66 giving the color the ability to double as a greige too. This beige is able to alternate between warm and cool tones in the appropriate light situation. It pairs nicely with Swiss Coffee, Storm Cloud Gray, Paper Mache, and Jojoba, all from Benjamin Moore paints.
Some of the best places you can paint the Tapestry Beige are walls that are north and south facing, hallways that lack sufficient light. This beige can be paired in the kitchen on your cupboards and cabinets too.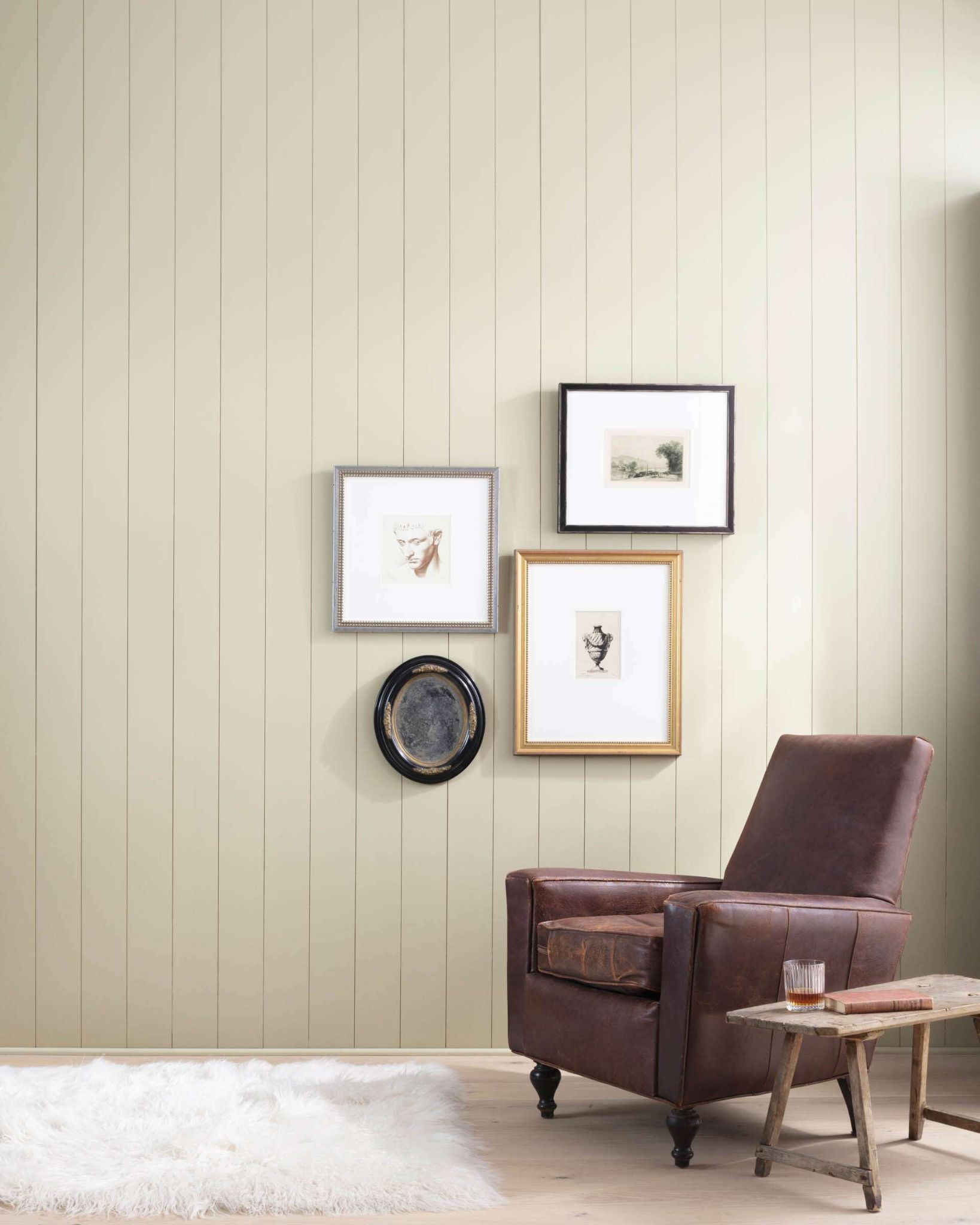 8. Benjamin Moore Dark Beige 2165-40
| | |
| --- | --- |
| RGB | 217, 174, 128 |
| LRV | 46.82 |
| Matching Colors | Simply White, Butter Pecan, Mayonnaise, Greenfield Pumpkin |
| Undertones | Yellow and orange |
This beige paint offers something more than the average beige color. It is also becoming a rave for designers this year. While this paint can serve as a neutral color in rooms it goes further to give a different vibe once it's painted on. This paint gives a yellow and orange tone that's capable of making walls appear richer. This is largely due to its LRV of 46.82.
Dark Beige can pair perfectly with Simply White, Butter Pecan, Mayonnaise, and Greenfield Pumpkin. The low LRV is what makes this beige darker than some of the paints on this list. You can paint cupboards and cabinets with this color and have Simply White as the trim, for a gorgeous look. Entire walls can be painted with this beige with a trim of Greenfield Pumpkin for a solid and warm look.
9. Benjamin Moore Adobe Beige 1128
| | |
| --- | --- |
| RGB | 217, 194, 170 |
| LRV | 55.41 |
| Matching Colors | Mountain Peak White, Opal, Manchester Tan |
| Undertones | Orange |
Folks now prefer the Adobe beige in their living rooms and hallways. It has an airy shade of brown with a touch of orange somewhere in the works, and it's all just bright enough so you don't miss the softness of the overall beige color. This is a balanced color between cool and warm with an LRV of 55.41. This makes Adobe one of the beige paints designers now use in kitchens for pairing on cabinets and stairway walls.
The blend of orange in this beige is why it makes a perfect match with Mountain Peak White, Opal, and Manchester Tan.
10. Benjamin Moore Byrd Beige CW-365
| | |
| --- | --- |
| RGB | 230, 198, 158 |
| LRV | 59.4 |
| Matching Colors | Capitol White, Massicot, Cloud White, Sparrow |
| Undertones | White, Yellow |
For the modern look, folks are jumping on the Byrd Beige. This color is bold, with an assertive touch of yellow ochre. Byrd Beige has an LRV of 59.4, making it the preferred color by many in the bedrooms where the decor needs to be soothing, yet not overbearing. Other colors like Capitol White, Massicot, Cloud White, and Sparrow make the best matching colors for Byrd Beige.
There is something musical in the way the Byrd Beige complements other colors in the rooms without being intrusive. Some designers also recommend painting exterior walls with the Byrd Beige especially if your house is going through remodeling. This complements the modern new look of your home.
11. Benjamin Moore Bar Harbor Beige 1032
| | |
| --- | --- |
| RGB | 205, 184, 162 |
| LRV | 51 |
| Matching Colors | Simply White, Spring In Aspen, White Dove, and Amazon Soil |
| Undertones | Gray |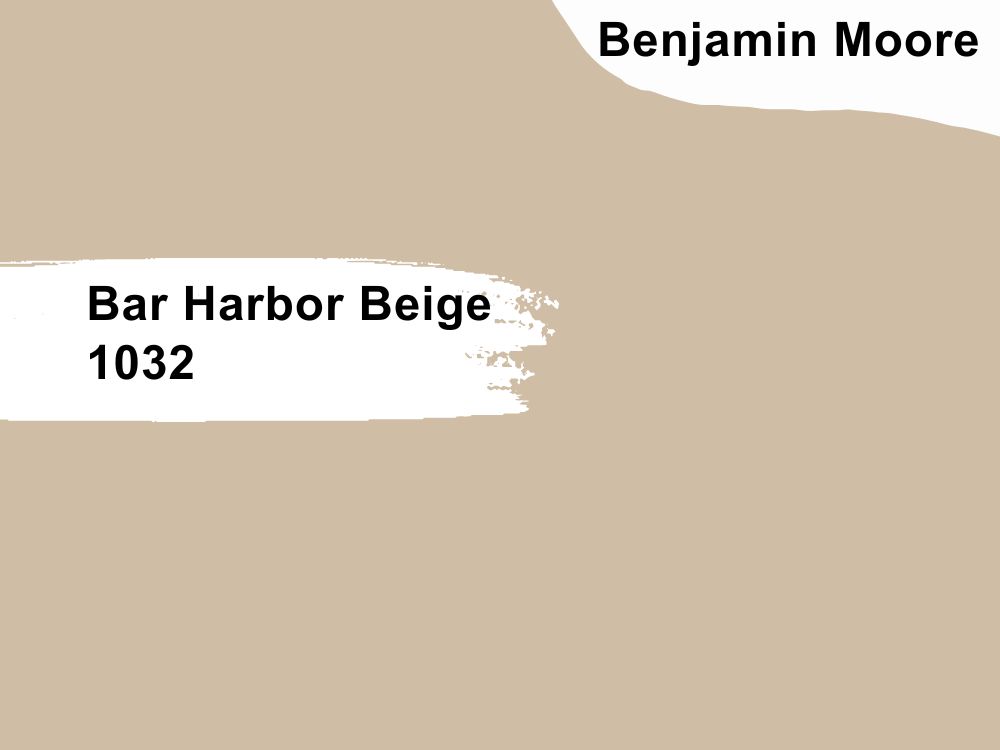 Designers love to use the Bar Harbor as a base for rooms and pair it with such colors as Simply White, Spring In Aspen, White Dove, and Amazon Soil. The LRV of the Bar Harbor Beige is 51. It has a dark tan shade and a touch of cool gray.
The full measure of its coolness can be seen when it is used as a neutral background and you have brighter colors around it. This is why you should use this paint in your children's room, or living room where there are features needing a different paint color. In the kitchen, this beige makes a perfect combination of cupboards and cabinets.
12. Benjamin Moore Sheraton Beige HC-57
| | |
| --- | --- |
| RGB | 235, 208, 186 |
| LRV | 66.52 |
| Matching Colors | Kingsport Gray, Frappe |
| Undertones | Orange-cream |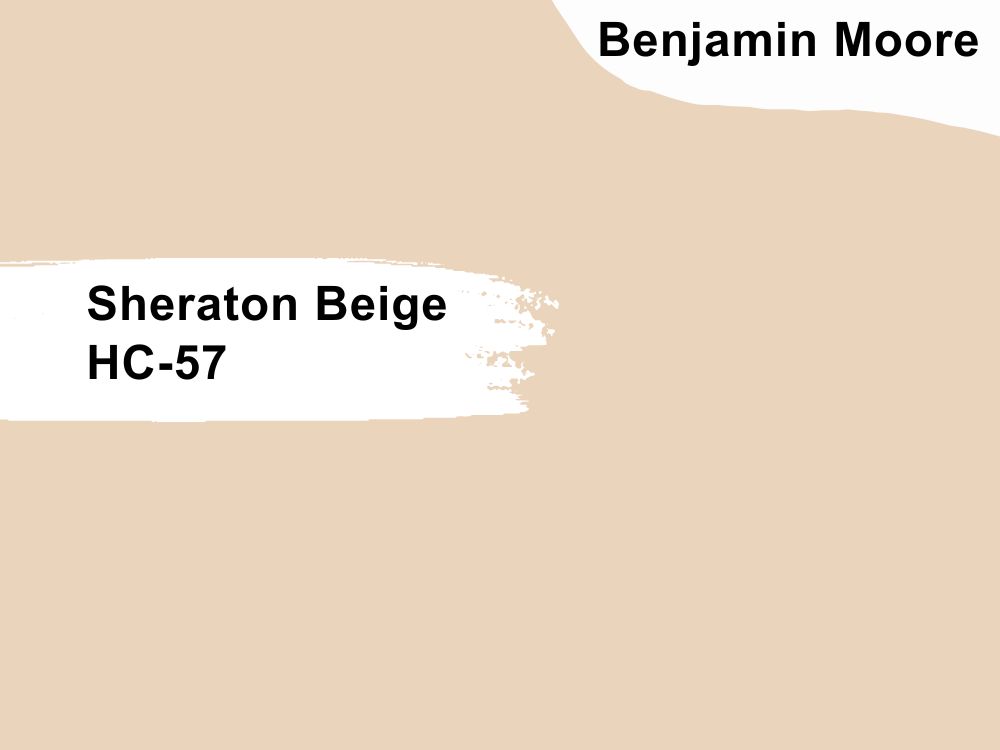 Sheraton Beige is a proud color and about the warmest on this list. It is one beige that has distinguished itself as the king of living rooms. Designers love to pair this color with Kingsport Gray and Frappe. The reason is not far-fetched. The Sheraton Beige exudes a delicate shade of orange, balanced off with a touch of cream.
The LRV of 66 pushes this beige out of the dark gray spectrum and brings it closer to the warm color that living rooms and hallways need. The Sheraton Beige honors all manner of lights to a great extent.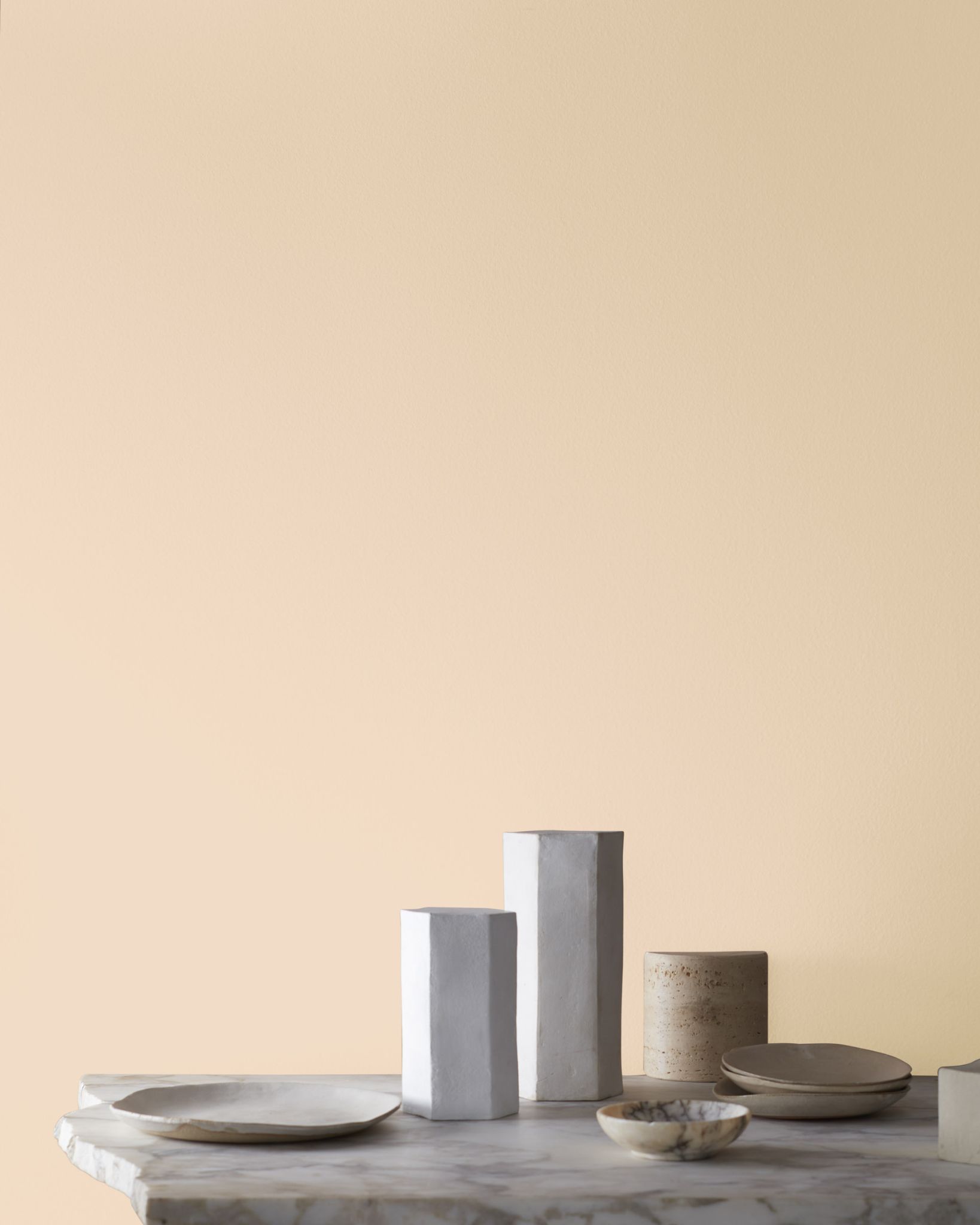 Conclusion
In 2023, you want to repaint your home, but you want to do it in style. The beige colors in this article from Benjamin Moore are the paint colors designers now recommend. As the article has shown, there is a shade of color for every temperament. No matter what your preferences are, there's a beige, just for you.