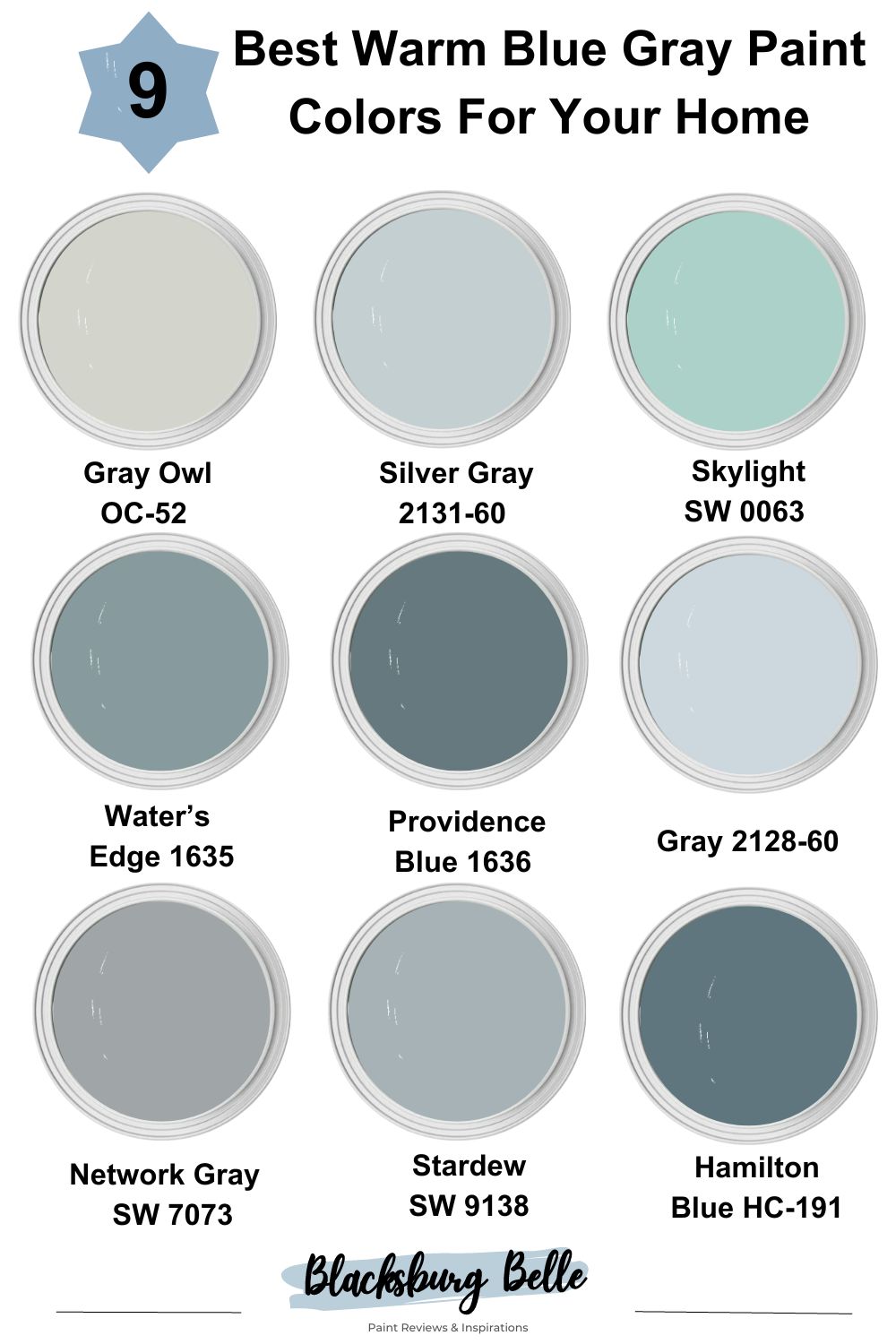 Finding blue gray paint colors that are warm can be a lot of work. Don't worry. This article has done the job for you.
Generally speaking, a paint color can either be warm or cool. Warm colors generally have red, yellow or orange shades in them. They are colors that can't help being bright without trying.
They inspire movement, smiles, and activity in rooms or spaces where they are used. You may have heard the talk about the yellow color causing people to want to eat rather than sleep. Warm colors are best suited for living rooms, hallways, and any such homes where you want to just get moving.
Cool colors are almost the opposite of warm colors. Cool paint colors have shades of blue, green, and violet. If you are trying to paint your home and have a hard time finding warm blue gray colors, this is because they are not so common. Blue is a cool color. Looking for a paint that has blue shades and is warm can be a tough job.
The strange thing about colors however is that even a cool color can behave differently when surrounded by warmer ones. Before we go into the list proper, what does blue-gray mean?
What Is Blue-Gray Paint Color?
The term blue gray has an interesting history. Blue Gray is a medium color, that is, this color is a balance between blue and gray. In fact, another name for this color is livid, from the Latin word lividus, which means, a dull leaden-blue color. It calls to the mind of people of old English the sight of beaten flesh. Since the skin color of Caucasians were pale, or pink when beaten the spot turns a dull blue.
So in simple terms, the paint color is a dominant blue, then a shade of gray is added to dilute it a little. When blue-gray paint is paired with another color, the blue-gray loses its identity and becomes a neutral color.
What Is LRV?
This refers to Light Reflectance Value. Every paint color has its own value on a scale of 0 to 100. Most paint producers like Benjamin Moore and Sherwin Williams show the LRV of their paints, but some like Farrow And Ball hardly do. The LRV of paint colors is important because they help you determine how the paint will react with the quality of light hitting your wall.
Now that you understand what the color blue-gray is, here are the best warm colors from different brands.
9 Best Warm Blue Gray Paint Colors For Your Home
1. Benjamin Moore Gray Owl OC-52
| | |
| --- | --- |
| RGB | 212 210 203 |
| LRV | 64 |
| Matching Colors | Super White, Hale Navy, Silver Satin |
| Undertones | Blue and green |
There aren't very many blue-gray paints that are warm, just like we established early on. The Gray Owl is one such paint that has blue undertones when surrounded by other colors. One of the coolest facts about this paint is that it can be used anywhere because of its dominant gray. It has an LRV of 64 so you can enjoy the brightness anywhere in the house.
It can be paired with Benjamin Moore's Super White, Hale Navy, Silver Satin, and Kendall Charcoal. This paint is versatile so expect some surprises when you use it in your kitchen where there are likely to be other earthy colors like the wood of your cabinets and cupboard. Also in living rooms the other elements of the decor; furniture, paintings, and curtains.
2. Benjamin Moore Silver Gray 2131-60
| | |
| --- | --- |
| RGB | 197 207 209 |
| LRV | 60 |
| Matching Colors | Distant Gray, Wild Flower, Steam, Kasbah |
| Undertones | Green and Blue |
This is one of the most beautiful blue-gray colors you can paint with. It is a warm color, but in a manner of speaking, one of the coolest of the bunch. If you think this paint should go on your living room wall, then you are perfectly right.
It's got a blue green undertone that's as refreshing as it is inspiring. With an LRV of 60, it is bound to light up everywhere should you choose to paint it on your hallways, rooms, and all the major places in your place. Then trim this color with Benjamin Moore's Distant Gray, Wild Flower, Steam, or Kasbah.
And yes, this color can also give you gray undertones in certain lights. You will never know exactly what to get until you see what a sample would give you. The gray is mixed with a soft blue undertone sometimes.
3. Sherwin Williams Skylight SW-0063
| | |
| --- | --- |
| RGB | 171 / 209 / 201 |
| LRV | 59 |
| Matching Colors | Dover white, Canvas Tan |
| Undertones | Blue, green |
From Sherwin William's Historic collection comes the Skylight. This blue-gray color is a darker one than most with an LRV of 59. This Sherwin Williams is a very sensitive color because, in a big room, it would seem grayer in a large room and darker in a smaller place. This paint has got versatility to it which means there's hardly a place in your house that can't be used. And in most lighting conditions too.
4. Benjamin Moore Water's Edge 1635
| | |
| --- | --- |
| RGB | 135, 154, 157 |
| LRV | 31 |
| Matching Colors | Dove Wing, Antique Jade, Simply White |
| Undertones | Teal, gray |
If your home has an ancient aura to it, or if it's a mix of that and a contemporary feel, this Benjamin Moore Water's Edge can add elegance to it. This paint is one of the colors with the lowest LRVs in the list at about 31. It is a paint with a deep blue that throws up undertones of blue.
This paint can't miss when paired with other Benjamin Moore colors like Dove Wing, Antique Jade, Simply White, and Natural Wicker. Imagine this color on your cupboards and cabinets. Or on your door with a trim of Simply White.
This paint can also show teal undertones. If your home is by the shore, this blue-gray can be a nice complement to the icy blue of the relaxed sea. It is no surprise this blue-gray is part of Benjamin Moore's Classic Color Collection.
5. Benjamin Moore Providence Blue 1636
| | |
| --- | --- |
| RGB | 102, 121, 127 |
| LRV | 18.09 |
| Matching Colors | Simply White, Beach Glass, Horizon |
| Undertones | Blue, Grey |
This is one of the blue-gray colors to beat. This blue-gray from Benjamin Moore is a stunning paint color that could become even more beautiful when you pair it with Simply white or Beach Glass. The undertone is a medium tone of teal.
The blue and grey undertones make this paint a warm blue-gray. Now, there are designers who contend that this color is blue-green, but that depends on the light that's hitting the paint. The green is as much an undertone as it is of its actual shade. This paint is most suitable for hallways and rooms where the objective is coziness and warmth. We would recommend using this in the kitchen cupboard or island.
Avoid using the Oval Room as an all-around color for your home. It comes out too strong as trims too. Better to have the recommended companion paints as the trims.
6. Benjamin Moore Beacon Gray 2128-60
| | |
| --- | --- |
| RGB | 205, 215, 221 |
| LRV | 66 |
| Matching Colors | Chantilly Lace, Vanilla Milkshake |
| Undertones | Blue |
This warm light blue-gray will instantly light up your rooms and walkways with an LRV of 66. It is clean, it is luminous and it is one of the most sophisticated paint colors on this list. It will pair beautifully with Chantilly Lace, Vanilla Milkshake, Frostine, and Flint, all from Benjamin Moore. If you need a blue-gray warm paint color that allows other colors around it to blossom, it is the Beacon Gray.
This paint acts as a neutral in places like bedrooms, living rooms, and kitchens. In kitchen islands, they stand out without crowding out the rest of the colors. The beacon is an exquisite blend of light blue and gray that's just the right sharpness. The warmth of this blue-gray flashes itself in a stairway when trimmed with Chantilly Lace.
7. Sherwin Williams Network Gray 7073
| | |
| --- | --- |
| RGB | 160 165 166 |
| LRV | 37 |
| Matching Colors | Site White, Gossamer Veil, Mineral Gray |
| Undertones | Blue |
Sherwin Williams's gray paints are known for acquiring undertones. Which is why this Network Gray is called so. The undertone here is blue. Some designers say there's more gray in this color than there is blue. At any rate, it is both. In our opinion, it is why the paint is called a blue-gray.
What users have enjoyed most about this Sherwin-Williams paint is that it is able to maintain a median range between gray and blue. And it is known to be a flexible color that utilizes the light available to it in a beautiful, minimalistic way. And it is strange that Network Gray is able to do this since its LRV is 37 which puts it in the arena of dark grays. To enjoy the beauty of this paint even more, give it adequate lighting.
Almost all designers agree that this warm paint works best on south-facing walls. If your living room is south facing, then you have yourself a winner in the Sherwin-Williams Network Gray. You will also see Network Gray complimenting the colors in your polished wood floors well. This paint is capable of creating contrasting visual shades in the materials around it.
8. Sherwin Williams Stardew 9138
| | |
| --- | --- |
| RGB | 166 / 178 / 181 |
| LRV | 43 |
| Matching Colors | Mountain Air, Patience, Coral Clay |
| Undertones | Blue and Green |
This blue-gray paint from Sherwin Williams is true to itself. It is a blue paint with a versatile nature, able to throw up undertones of gray. One thing to note about this slate blue paint color is that it can be warm, and it can be cool. It depends on the lighting. To get the most out of this paint, pair it with the following Sherwin Williams: Mountain Air, Patience, and Coral Clay.
The Stardew can be used in the living room. It looks perfect when trimmed with cool white paint. The LRV of this paint is 43. This paint can also have undertones of green in some light conditions.
9. Benjamin Moore Hamilton Blue HC-191
| | |
| --- | --- |
| RGB | 138, 153, 164 |
| LRV | 18 |
| Matching Colors | Stonington Gray, Chantilly Lace, Gray Owl, Distant Gray |
| Undertones | Blue |
This Benjamin Moore Hamilton Blue is the one with the lowest LRVs of 18 in this list, yet it is a warm color. This paint can go around your home, and still be able to blend with all the colors in your home, complimenting even your furniture. Black upholstery is one. The Hamilton Blue matches with Stonington Gray, Chantilly Lace, Gray Owl, and Distant Gray.
Like Sherwin Williams Stardew, Hamilton Blue is also able to balance cool and warm shades depending on the light available. What this means is that Hamilton Blue is warm when the light is right and when matched with colors that allow its gray undertones to flourish.
The best places in a home to paint Hamilton Blue are in the bedroom where it can create a soothing coolness, or in living rooms with south-facing walls where its warmth can be felt. When paired with white paint colors the Hamilton Blue can become brighter than when it's just by itself.
Your kitchen can get some of either the warmth or coolness of this paint when used with Chantilly Lace on the island.
Conclusion
The beauty of paint colors is enhanced greatly by the intensity and quality of light falling on them. Another factor is the surrounding colors, trims, and matching colors. It so happens that sometimes, your paint doesn't quite look like the examples in the glossy pictures online. To prevent this from happening to you, request samples from the brand. Also, find out the type of light falling on the wall. Determine beforehand the matching colors so that everything comes out beautifully.