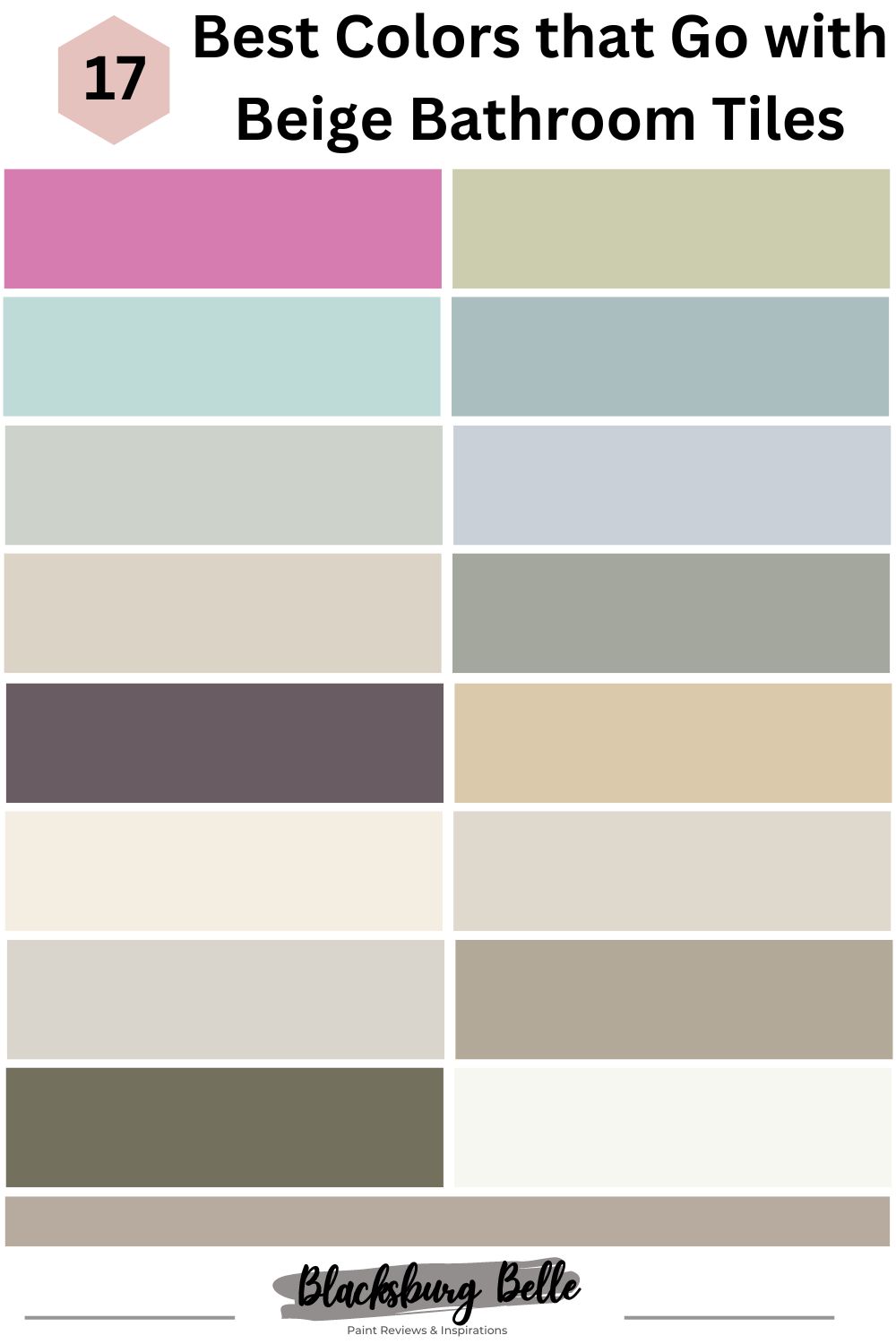 The color beige gets its name from the French. It is used for wool that has not been bleached, wool in its natural state. If you have seen natural wool, you'll understand it better when beige is described as light gray and yellowish brown. The color combines the colors gray, yellow, tan, and brown.
People often use beige when they would rather not have the uncompromising brightness of white in their spaces. Beige makes a space bigger and provides a neutral basis for combining many other colors in the same space. But here we are more interested in combining colors with beige tiles.
Before you choose an arbitrary color for the wall of your bathroom, you should read this article which will show you the 17 best paint colors that would match those beige tiles of yours.
How To Choose A Color For Beige Tiles In Bathroom
Some designers would go for white paint colors no matter what the undertone of the beige tile is. The major reason for this choice is that white creates some of the easiest contrast. Also, it is easier to add trimmings with other colors.
Others might want to create an atmosphere like the ones in commercial spas where the color combination has a minimalist tone. White paint color is the best way to help achieve this. You can further enhance the overall decor of the bathroom by doing the following:
Soft Colors In Furnishings
Add a sprinkle of furnishings here and there in your bathroom. Choose floor mats, blinds, and curtains that add some color blends with the wall and tile.
Add House Plants
Most house plants are green. If the color you choose for the wall has some green undertones, it would make perfect sense to add houseplants in a spot where it serves as a transition between the wall and tile color.
Add Mosaic On The Wall
Installing some mosaics on your wall is one way to enhance the look in the bathroom. Make it one that shares some tone inherent in the paint color on the wall or the beige tile. For example, orange-colored mosaic is commonly used by designers to compliment the tones in warm beige tiles.
17 Best Colors That Go With Beige Bathroom Tiles
1. Benjamin Moore Raspberry Mousse 2076-40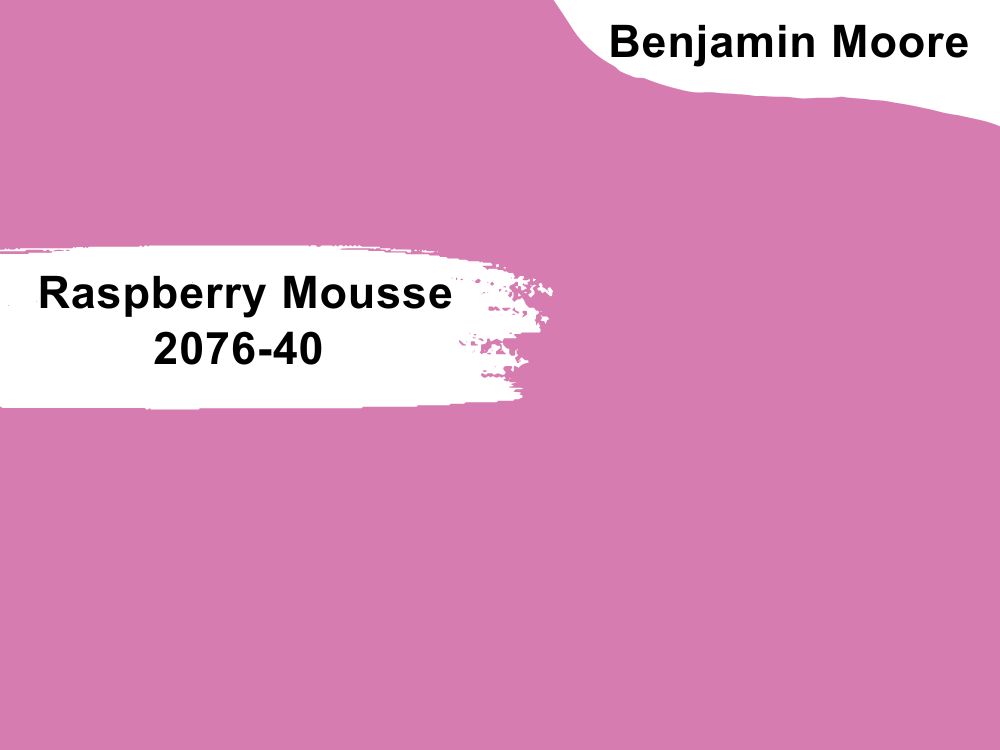 | | |
| --- | --- |
| RBG | 205 129 177 |
| LRV | 33 |
| Undertone | Violet |
This paint comes with a perfect LRV of 33 for just the right amount of light reflectance for a bathroom with a beige tile.
Now the undertones of a pint paint and beige paint may seem contradictory. To manage the two amazing colors, endeavor to choose a beige color that is warm. The lighter the beige color, the better the match. Further, you can tone things down in the bathroom and make it less dramatic by incorporating white into the fray. This creates a smooth optical transmission from one color to the other.
Sometimes the beige tiles are not necessarily on the floor. It can be on the wall. When the beige tile is on the wall, let there be a white paint color between the pink and the beige. For example, the ceramic of the bathroom stall can be this transmission line we speak of.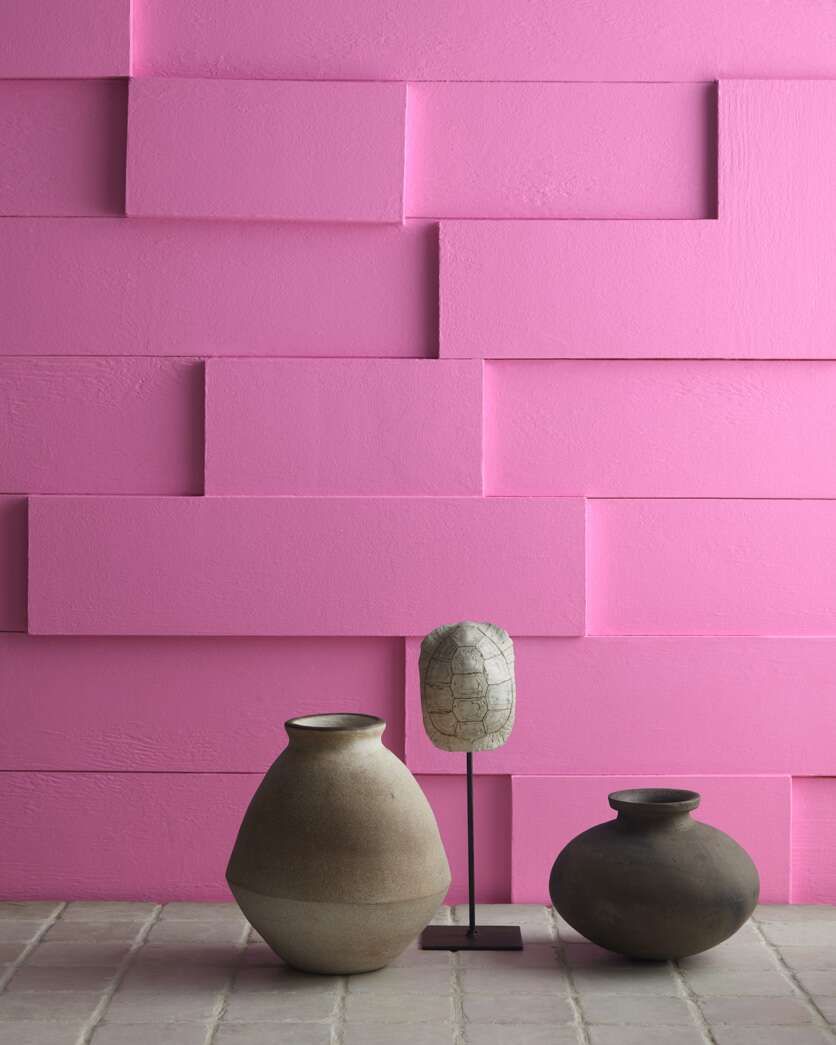 2. Benjamin Moore Guilford Green HC-116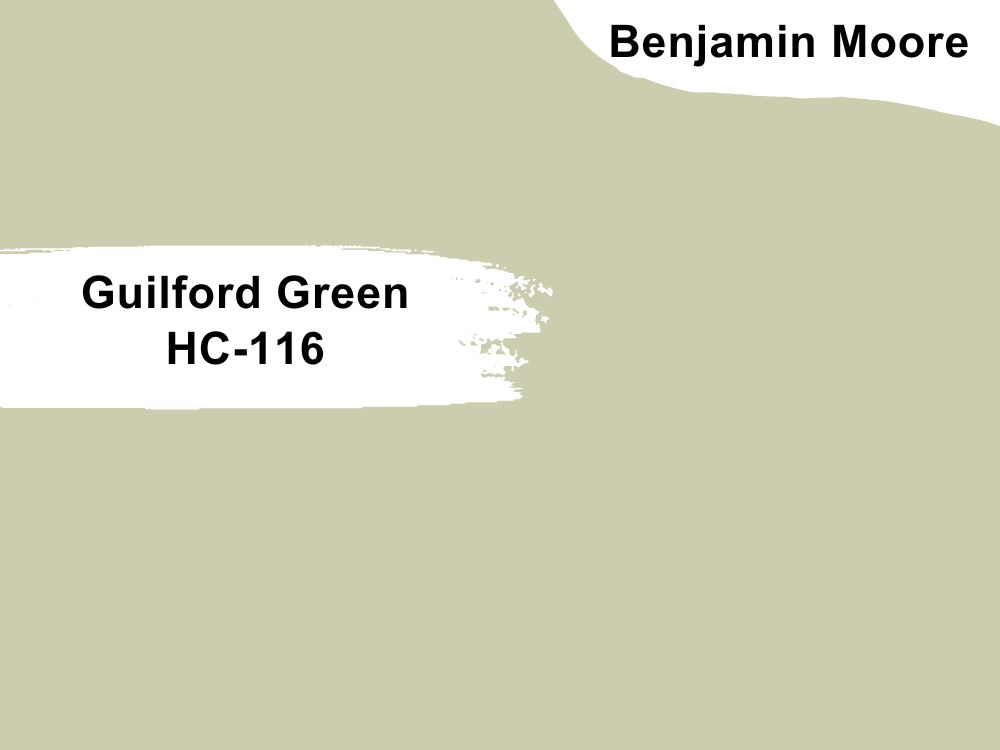 | | |
| --- | --- |
| RBG | 206 202 173 |
| LRV | 57 |
| Undertones | Gray, Blue |
Guilford Green is a soft olive green color with a soothing aura for bathroom floors. This color isn't just for rooms alone but is a great match for beige bathroom tiles. This green paint delivers an aura like that of a spa in your bathroom.
Green paint gives a sense of relaxation, which is actually how you'd want to feel in your bathroom. Of course, let it not be just the beige and green colors in your bathroom. You can mix things up a bit by adding Benjamin Moore's Wickham Gray, or Palest Pistachio as part of the trims or on the cabinets if there are any. These colors are used sparingly to add some character to your bathroom decor.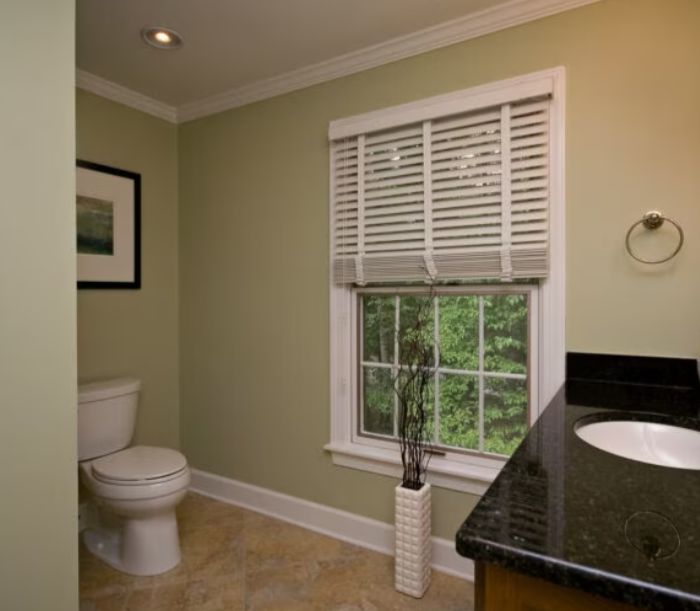 3. Sherwin Williams Meander Blue SW 6484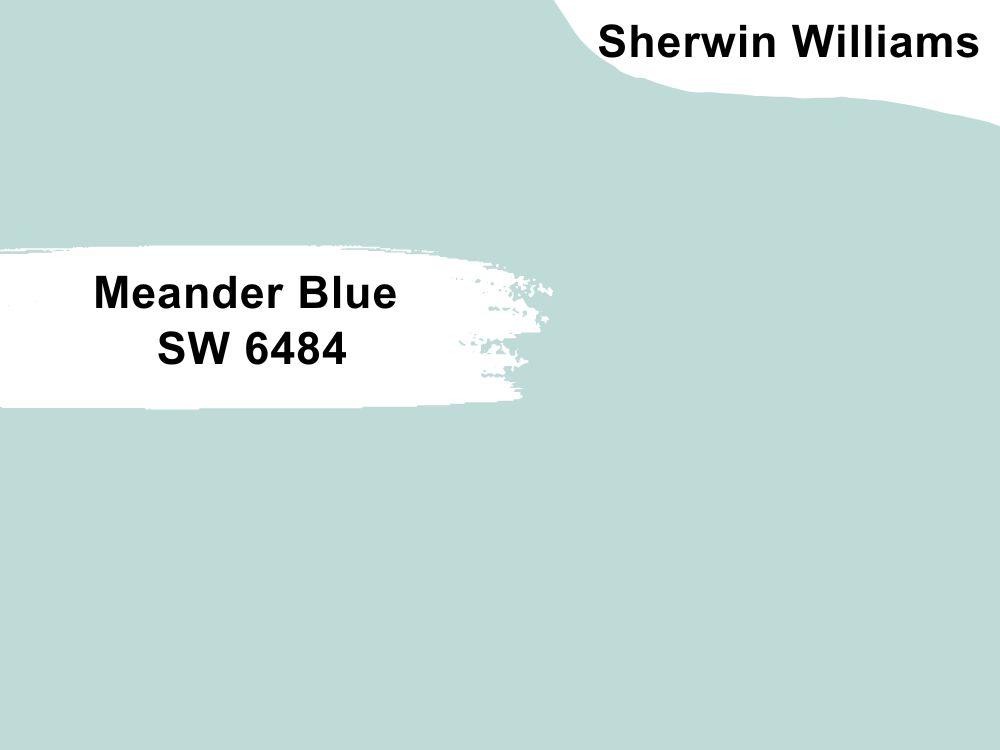 | | |
| --- | --- |
| RGB | 190, 219, 216 |
| LRV | 66 |
| Undertone | Green |
The Meander Blue Sherwin Williams paint is a catchy color. It's a blue color that is very ideal if your bathroom is rather small and you'd like the illusion of space. But beyond this little perk from the Meander Blue, if the tile on the bathroom floor is beige, then you've found yourself the right companion.
This blue makes matching it easier with not just the beige tile because of its green undertone. You can sprinkle your bathroom with a touch of Sherwin Williams Glimmer, Shell White, or Dusted Olive for more effect.
The beige tile gets all the attention of course, along with the blue paint. It is a collaboration really, and it comes out fine for a feminine effect. The LRV of 66 makes sure the Meander Blue keeps the bathroom less saturated while complementing the beige on the floor or wall.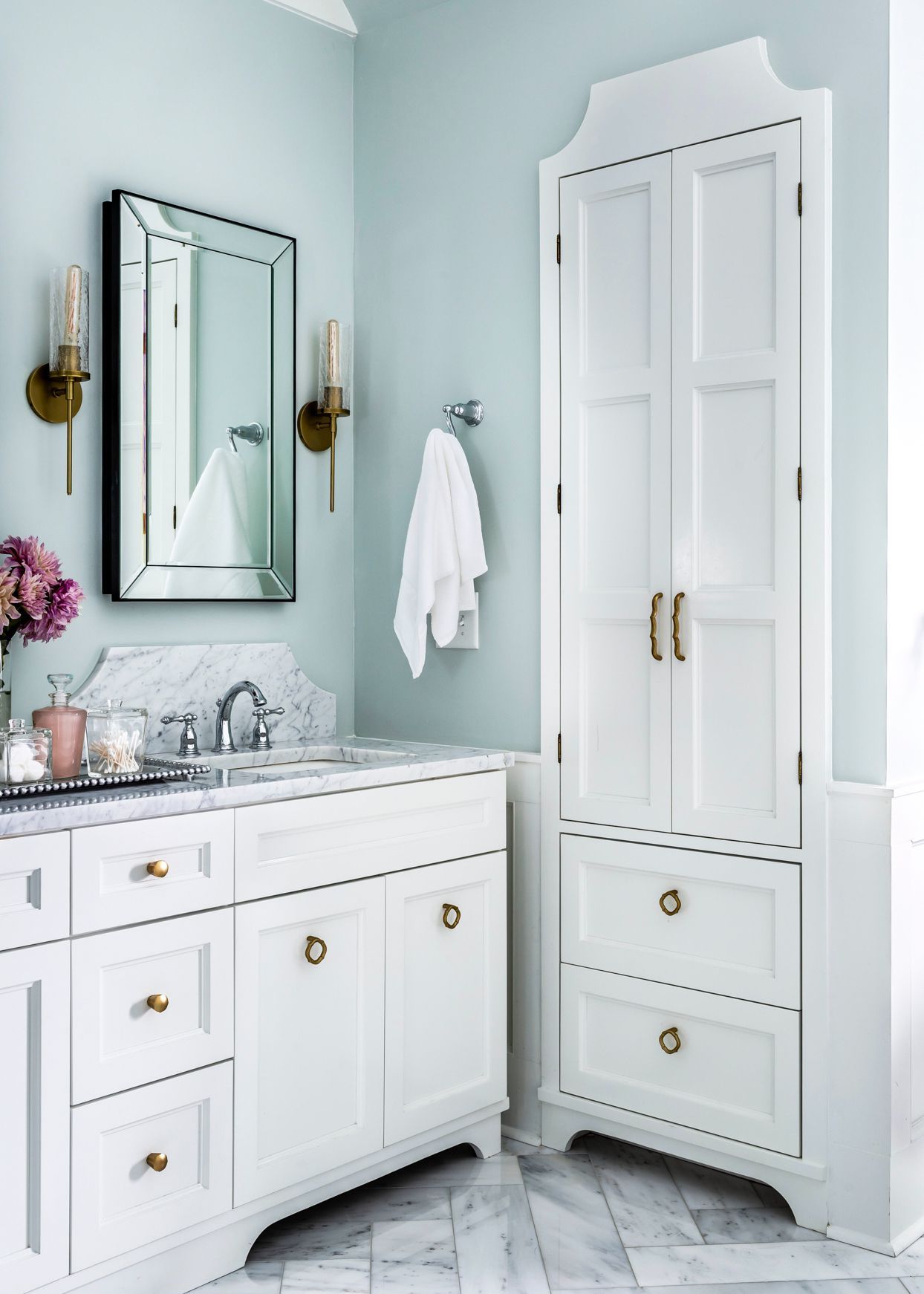 4. Sherwin Williams Rain SW 6219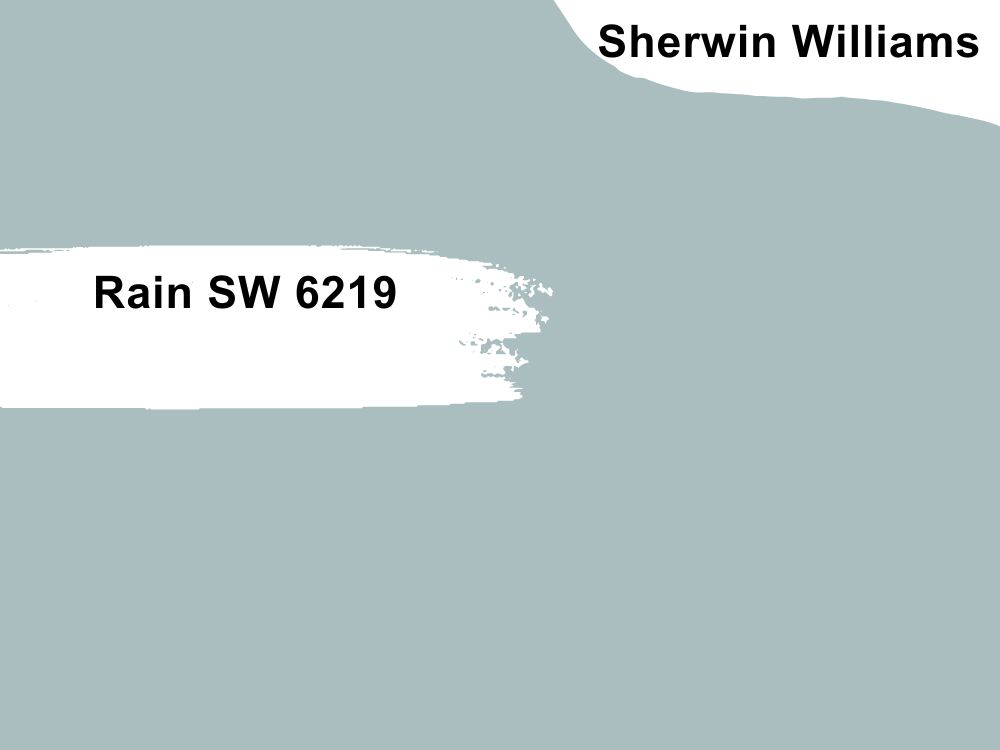 | | |
| --- | --- |
| RBG | 171 / 190 / 191 |
| LRV | 49 |
| Undertones | Green |
Calm and restful are the words to describe this Sherwin Williams Rain. It is a blue color that matches beige tiles well in bathrooms. It emits green and gray undertones which makes matching it with not just the beige tiles but other colors a delight. The thing about matching colors in a place like a bathroom is being able to go the minimalist's way. The less colors, the better.
This blue paint is neutral which makes the point made earlier a good one. So if you're thinking of a color to match with your beige tile this is it. But if you wish to add just a pinch of creativity, you may add trimmings of Sherwin Williams Topsail, Extra White, or Dovetail around the door or have these other colors represented in the rug.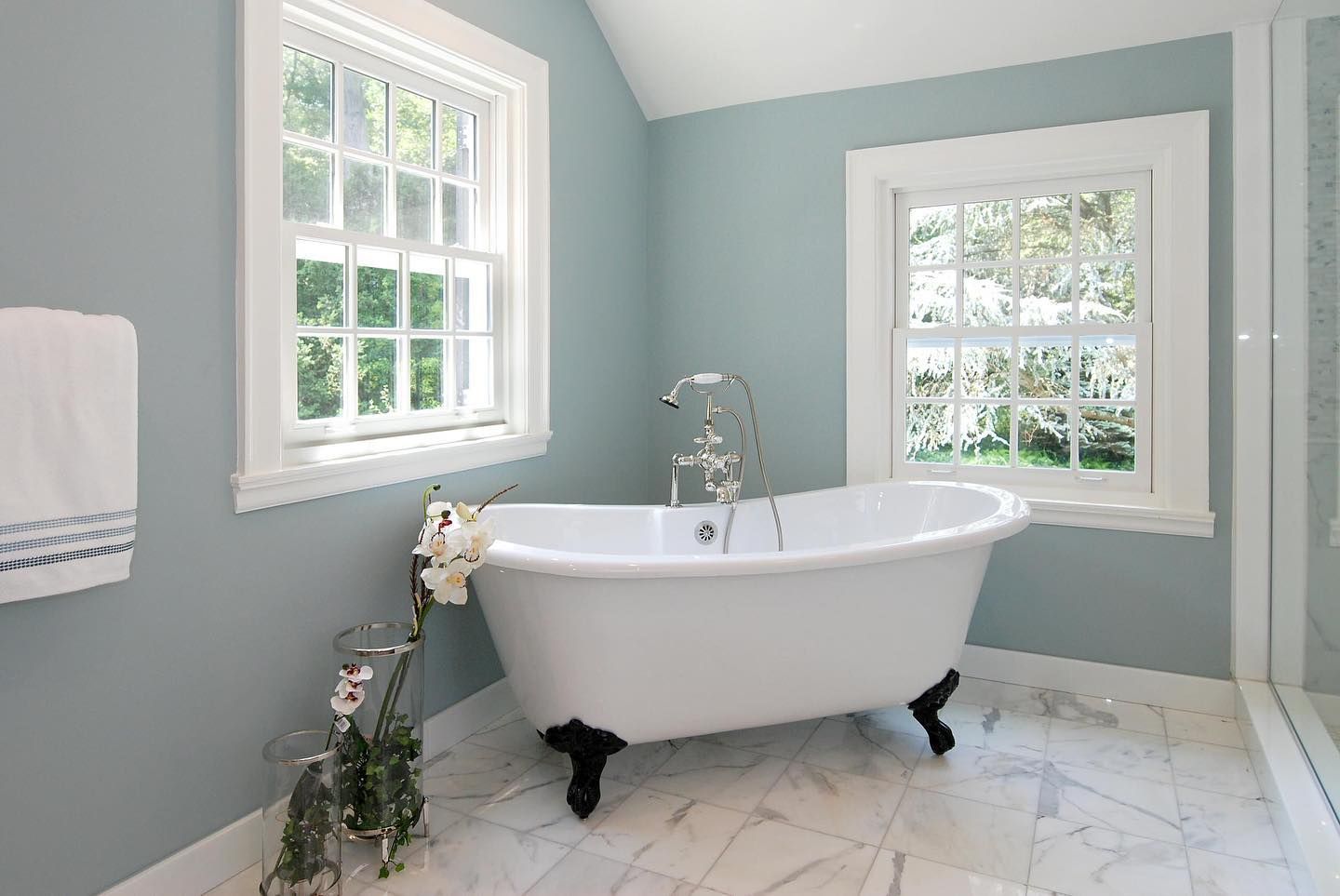 5. Sherwin Williams Sea Salt SW 6204
| | |
| --- | --- |
| RGB | 205 / 210 / 202 |
| LRV | 63 |
| Undertone | Blue |
Try a green paint with the beige tile on your bathroom floor. You'd be surprised at how beautifully it comes out. The Sea Salt is a cool green of muted undertones. Yes, it will match your beige tile, but also matching it with a trim of white like the Sherwin Williams Spare White is a great way to complete the look.
If the tub in your bathroom is pure white, you can trim it with Sherwin Williams Summit Gray. The Sea Salt gives a beachside vibe while the beige gives off an earthy tone. The combination of the two is what any bathroom needs.
6. Benjamin Moore Violet Mist 1437
| | |
| --- | --- |
| RGB | 201, 208, 216 |
| LRV | 61 |
| Undertone | Violet |
"Suggestive of pearls," that's how Benjamin Moore described the jewel that is Violet Mist. You have never seen a more beautiful purple paint color in a bathroom. Think of feeling at home in your bathroom, just lounging in your tub of warm water.
This color calls to mind what a modern bathroom would feel like. Your beige tiles have never met a better companion than this Benjamin Moore Violet Mist. The LRV of 61 helps keep the Violet Mist slinky yet natural. This purple color is ideal for a bathroom with sparse decor. Add a matching color like Gray Mountain and Seashell on the cabinet on the wall or the lower half of the wall.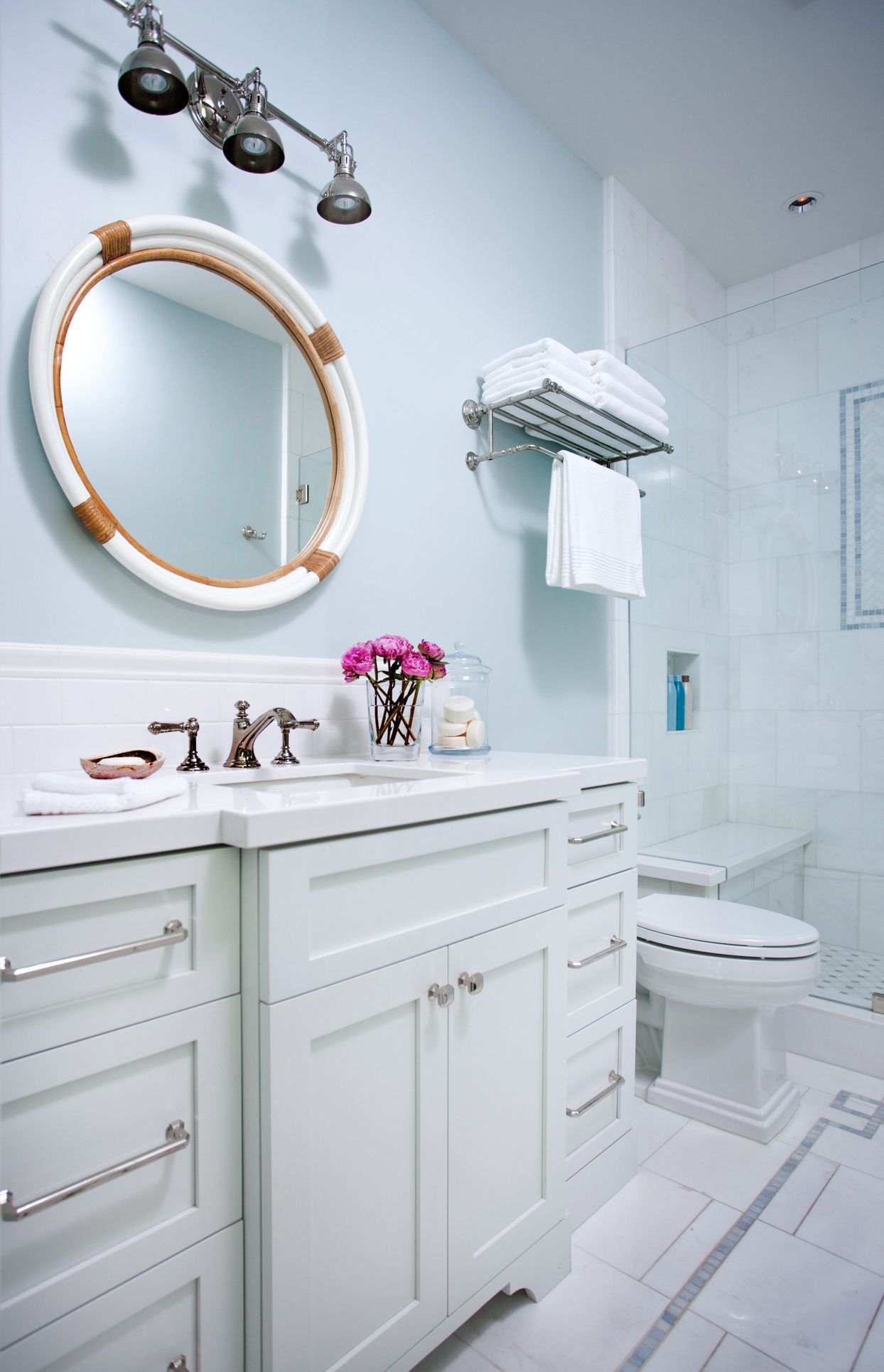 7. Benjamin Moore Natural Cream OC-14
| | |
| --- | --- |
| RGB | 219 211 197 |
| LRV | 65 |
| Undertones | Orange, peach, pink, yellow |
If you have wondered what greige would look like on your wall, it's time to try it on your bathroom wall. Make it a bathroom with a beige tile on the floor or anywhere on the wall. Greige is a color that combines gray and beige.
If you are worried that the two colors are the same, the gray in the tone helps to set an alluring, unforgettable contrast that you won't get tired of seeing. To create even more contrasts, trim the door or paint the door a shade of other colors like the Granite or Boothbay Gray, both paint colors from Benjamin Moore, of course. In the image below you can see the owner's creativity in the mix of colors to balance things off with the colors.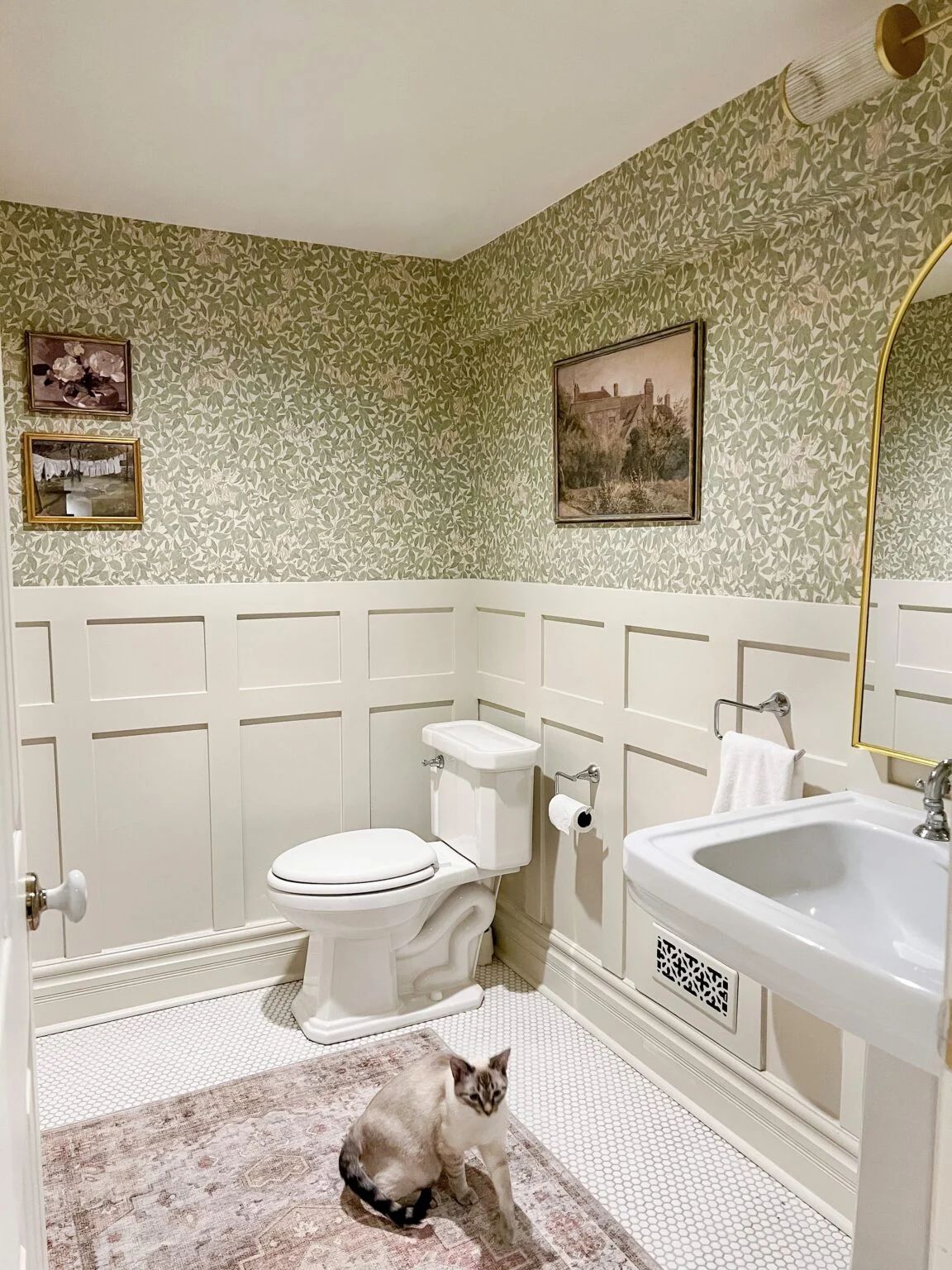 8. Benjamin Moore Sabre Gray 1482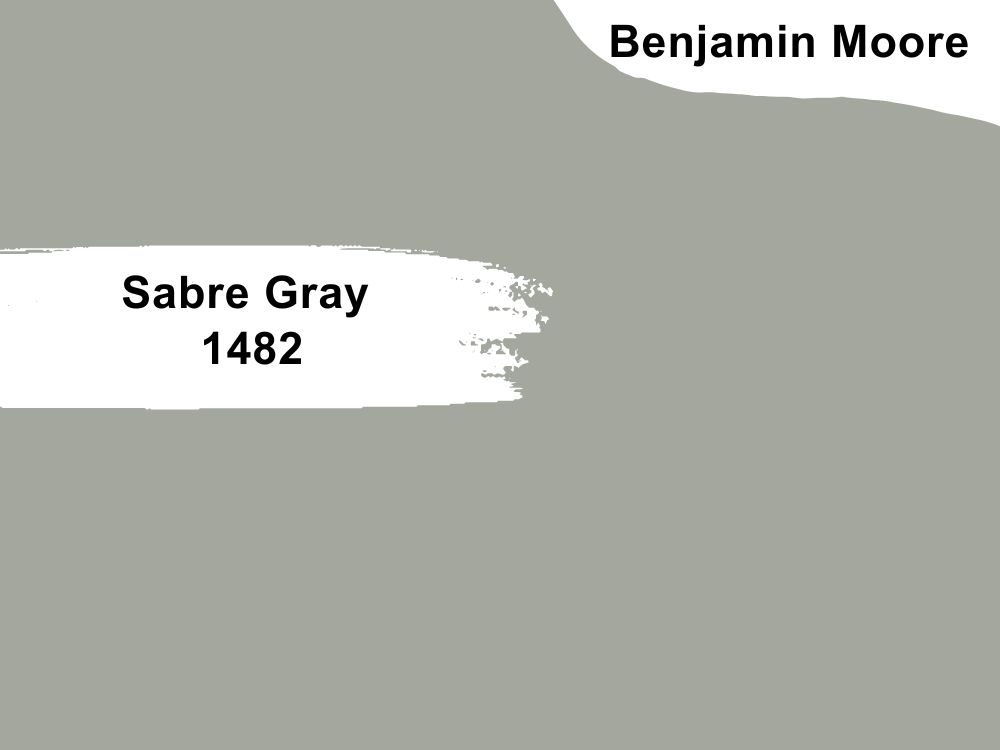 | | |
| --- | --- |
| RGB | 164, 167, 158 |
| LRV | 38 |
| Undertones | Green, Gray |
Here's another gray paint to match your beige tile. The Sabre Gray is a deeper one at 38 LRV. The darker the light that hits this gray, the deeper the color of it. If your beige tile color is light then the Sabre Gray is the paint for you. It is a mid-tone gray that exudes confidence.
Of course, you may not have much use for this steeliness in your bathroom, but you sure can use some depth and coolness as you chill out in the bath.
You either have a dash of this Benjamin Moore's Sabre Gray on the wall cabinets or on the whole of the walls. If you are going for a minimalist design in your bathroom it's best to limit yourself to neutral colors like Cascade Mountains and Collectors Item, both paints from Benjamin Moore. You can have white trims in your door or window frame, or both.
Let your design reflect your personality, it's your bathroom. Then let the Sabre Gray do the rest.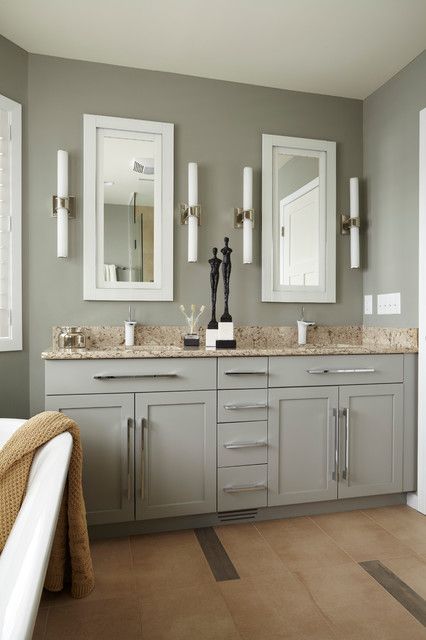 9. Sherwin Williams Expressive Plum SW 6271
| | |
| --- | --- |
| RGB | 105 / 92 / 98 |
| LRV | 12 |
| Undertone | Gray |
The name of this painting describes well the ability of colors to affect our moods. This painting is a member of the family of the color Purple by Sherwin Williams. The Expressive Plum is able to evoke drama and yet appeal to the eyes.
You'd be surprised by how much this rather dramatic color can be calming when paired with a beige tile color. Use this plum to give some restiveness to the beige of your tiles. The thing about this color even in little quantities, it can balance off the rather boring effect of beige.
So if most of the floor or other parts of your bathroom are covered in beige, this purple shade is enough to spice things up. It is a balanced shade of purple so you don't worry about who the color is for, men or women.
10. Benjamin Moore Putnam Ivory HC-39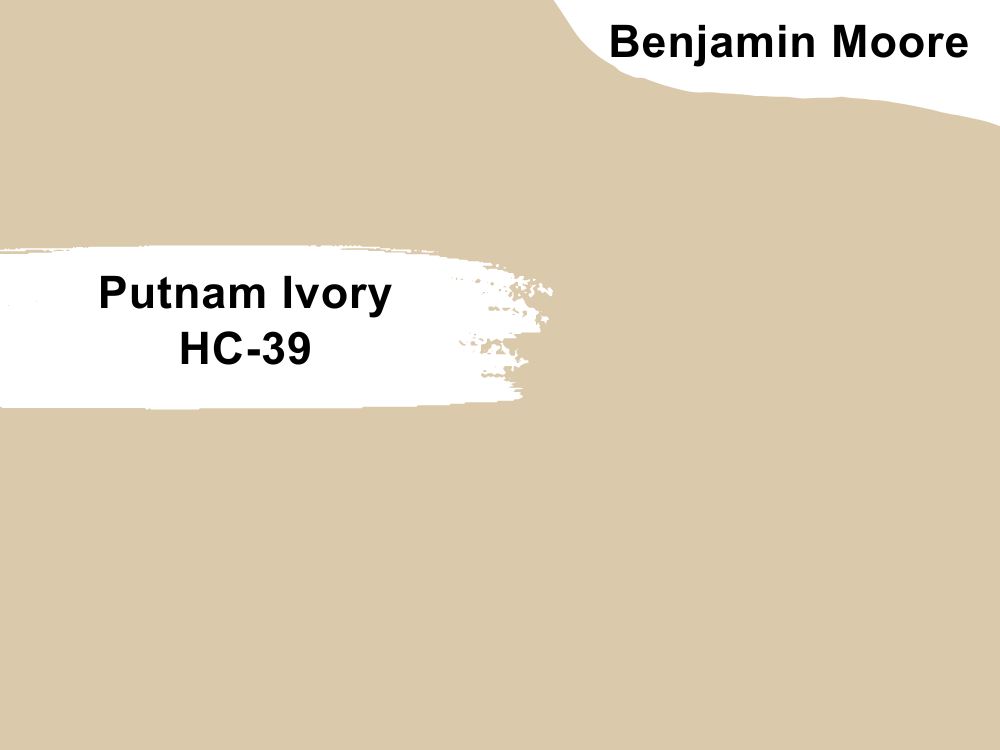 | | |
| --- | --- |
| RGB | 219 198 170 |
| LRV | 58 |
| Undertones | Yellow |
Think beige on beige, but with peach undertones to save the day. Surely, this combination may be the last one on your mind, but hear us out. This beige from Benjamin Moore comes with strong undertones—peach, and even some yellow where the light is right.
We know your beige tile already has some yellow undertones. Yet, before choosing the Putnam Ivory, make sure the beige in your tile is lighter. As you can see in the image below, the pairing is pulled off quite well. With the right trims like Simply White, or White Dove, you can experience the beautiful adaptation that you see in the image below.
You can even make your bathroom look more interesting by using the Texas Rose or the Plymouth Brown as trims too.
11. Benjamin Moore Cloud White OC-130
| | |
| --- | --- |
| RGB | 243, 238, 225 |
| LRV | 85 |
| Undertones | Cream |
This is an off-white paint color. It is soft and balanced in its creamy shades. For a warm and cozy bathroom with beige tiles, you need the Cloud White. The Cloud White is a gorgeous color to have in your bathroom.
This is a painting with the ability to stand alone. If you wish you can have only the Cloud White over the beige tiles on the floor. The creamy undertones of the paint would provide a soft glow that keeps the room from getting boring.
Even your bathroom can need some depth that gives it a status higher than just a place to spend only a few minutes of the day. This color has an LRV of 85 making it a very bright color no doubt.
12. Benjamin Moore Pale Oak OC-20
| | |
| --- | --- |
| RGB | 222, 216, 205 |
| LRV | 70 |
| Undertone | Gray |
This paint color is true to its name because it is a paint color that is able to create a converging presence in any room, even bathrooms. Like the oak tree itself, the Pale Oak emits a strong presence. If your tiles have an orange or pink undertone, then this taupe paint from Benjamin Moore is a great option.
Pale Oak is a taupe, a color that's neither completely beige nor gray. It is why the color matches well with the beige tiles. The LRV of Pale Oak is 70 making it a very bright color. This means if your bathroom receives plenty of bright light the beauty in this paint color will become almost invisible.
So before choosing it would do some good to know how much light—natural or artificial—your bathroom gets.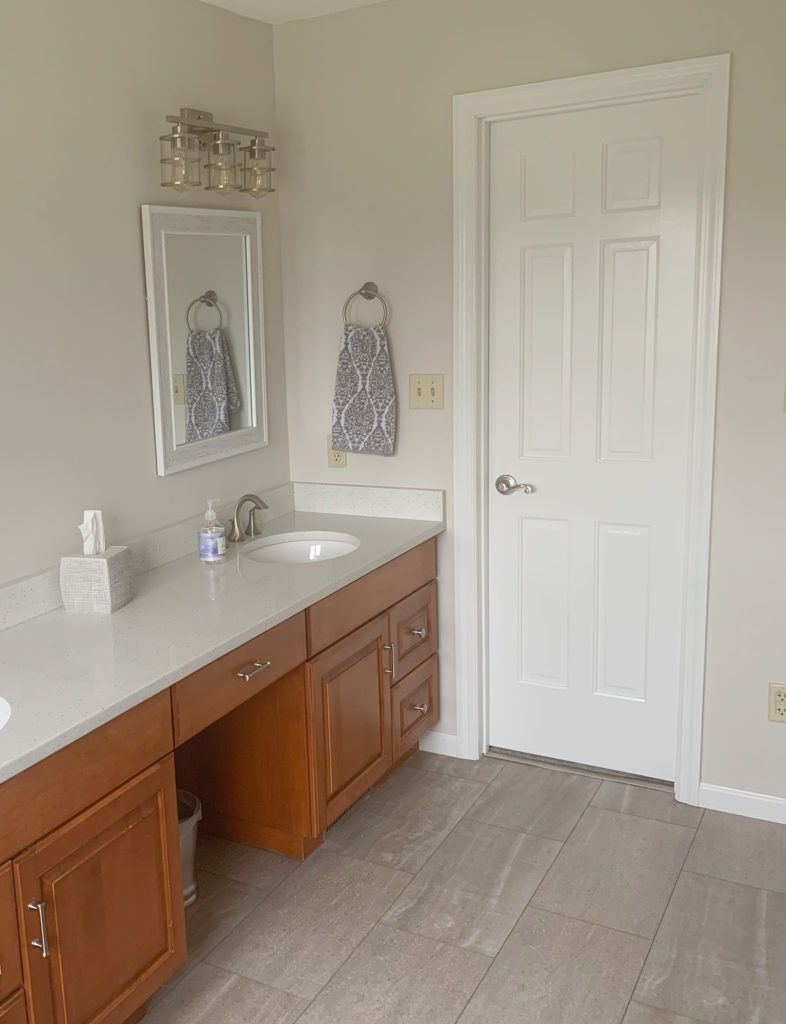 13. Benjamin Moore Balboa Mist OC-27
| | |
| --- | --- |
| RGB | 218 213 204 |
| LRV | 67 |
| Undertones | Violet |
This is a shade of gray that goes with all types of colors so it should not be difficult to match this with your beige tiles or any other color in the room. It is not a severely bright color at 67 LRV. You can have this color on the vanity or on the wall.
You can trim this gray color with Cloud Cover or Barista, both from Benjamin Moore. This paint color is also a greige with a gorgeous, soft undertone of violet in both dark and well-lit spaces. You'd find this color commonly used on room walls.
14. Benjamin Moore Kid Gloves CSP-175
| | |
| --- | --- |
| RGB | 179 169 152 |
| LRV | 41 |
| Undertone | Gray |
This Benjamin Moore taupe color is a luxurious, serene color. If you have a fairly small bathroom with beige tile on the floor, consider using Kid Gloves. The soft shades of the Kid Gloves make a small bathroom feel less so.
The coziness makes up for the almost similar color. When choosing this paint though, be sure the beige in the tile has yellow undertones. This complements the gray undertones in the Kid Gloves.
15. Sherwin Williams Pale Sage Green SW 2851
| | |
| --- | --- |
| RGB | 115 / 112 / 94 |
| LRV | 16 |
| Undertone | Green, Silver |
This is one of the less popular but pleasing combinations on this list. Since beige itself is a versatile color, using this color constitutes no hassle. The way to make it even more appealing is to have some trimmings in the overall decor.
For example, if you have a cabinet in the bathroom it can be painted Sherwin Williams Roycroft or Dover White. This combination balances things off in the whole outlook. As the name suggests, you are reminded of dried sage leaves when you see this color. This is a warm mid-tone paint with a shade of gray in it. Combined with the beige in your tile, the aura is organic and natural.
16. Sherwin Williams Perfect Greige SW 6073
| | |
| --- | --- |
| RGB | 183 / 171 / 159 |
| LRV | 42 |
| Undertone | Slightly Red |
Greige is a combination of gray and beige, so it is only fitting that this Perfect Greige from Sherwin Williams makes it into this list. This mid-tone gray paint color gives your bathroom a warm welcoming appearance. In dark bathrooms, this gray will become darker giving it a slightly red undertone.
This shade creates a soothing compliment to the beige of your tiles. You can even take things further by creating other effects by trimming other parts of the bathroom with Heron Plume, Aesthetic White, or Hushed Auburn all from Sherwin Williams.
Take things even a step further by including other affectations like mosaic tiles in the wall somewhere. Do this to create more visual appeal.
17. Sherwin Williams High Reflective White SW 7757
| | |
| --- | --- |
| RGB | 247 / 247 / 241 |
| LRV | 93 |
| Undertones | Blue |
Lastly, if the beige of your tile is a cool color then this High Reflective White is a great pair. Let it be a well-lit bathroom though, to allow the full range of undertones to show through.
As you can see in the image below, the crispy white color on the wall compliments the beige color on the floor perfectly. Also, don't ignore the effect that other elements in the bathroom have on how beautiful it turns out. For example, in the image below the white tub appears as a transition between the white of the wall and the beige on the floor.
Final Thoughts
Creating a bathroom that is cozy and inviting takes some forethought. This article helps you to make the best choice in paint colors to match your beige tiles, even if you have no experience prior. Other than the paint color, the type of light hitting the walls of your bathroom is also important. Some bathrooms have artificial light to compliment the natural one. Others use wood in the cabinet and door to create a mix of shades that helps compliment everything.