Cream, like white, is timeless and classic. But did you know there are various shades of cream? You may have a tough time telling the difference between one and another unless you place them side by side on a pure white background.
So, how do you select a suitable cream paint color to match your decor and not look too washed out? You do not have to because we have researched and found the 21 best cream paint colors from Benjamin Moore and Sherwin Williams.
What Are the Common Cream Paint Color Undertones?
Cream paint colors commonly have yellow undertones. Sometimes you may notice that a cream paint color of choice has slightly golden undertones, somewhat different from yellow. That is why cream usually is a warm color. In other words, you will hardly find a cool cream paint color.
Where Can You Apply Cream Paint Colors?
You can apply cream paint colors to any wall or room in your house. Cream paint is also an excellent exterior paint color choice. It is a versatile neutral that works with any decor, and although it is a warm color, it usually has a high reflectance value (LRV) to accommodate all colors.
Cabinets, entire rooms, accent walls, trims, kitchens, and just about any space you have to paint. It can add warmth and coziness to your home, making your home inviting and welcoming.
21 Best Cream Paint Colors for 2023 to Create an Amazing Decor
Here is our list of the best cream paint colors for 2023 from Benjamin Moore and Sherwin Williams.
11 Best Cream Paint Colors from Benjamin Moore
1. Maritime White OC-5
This is a beautiful and sophisticated cream paint color that changes the look of any room. With slightly gray and beige undertones, Maritime White blends well with all decor types, whether you are going rustic or leaning toward modern times. You cannot go wrong, whatever you choose.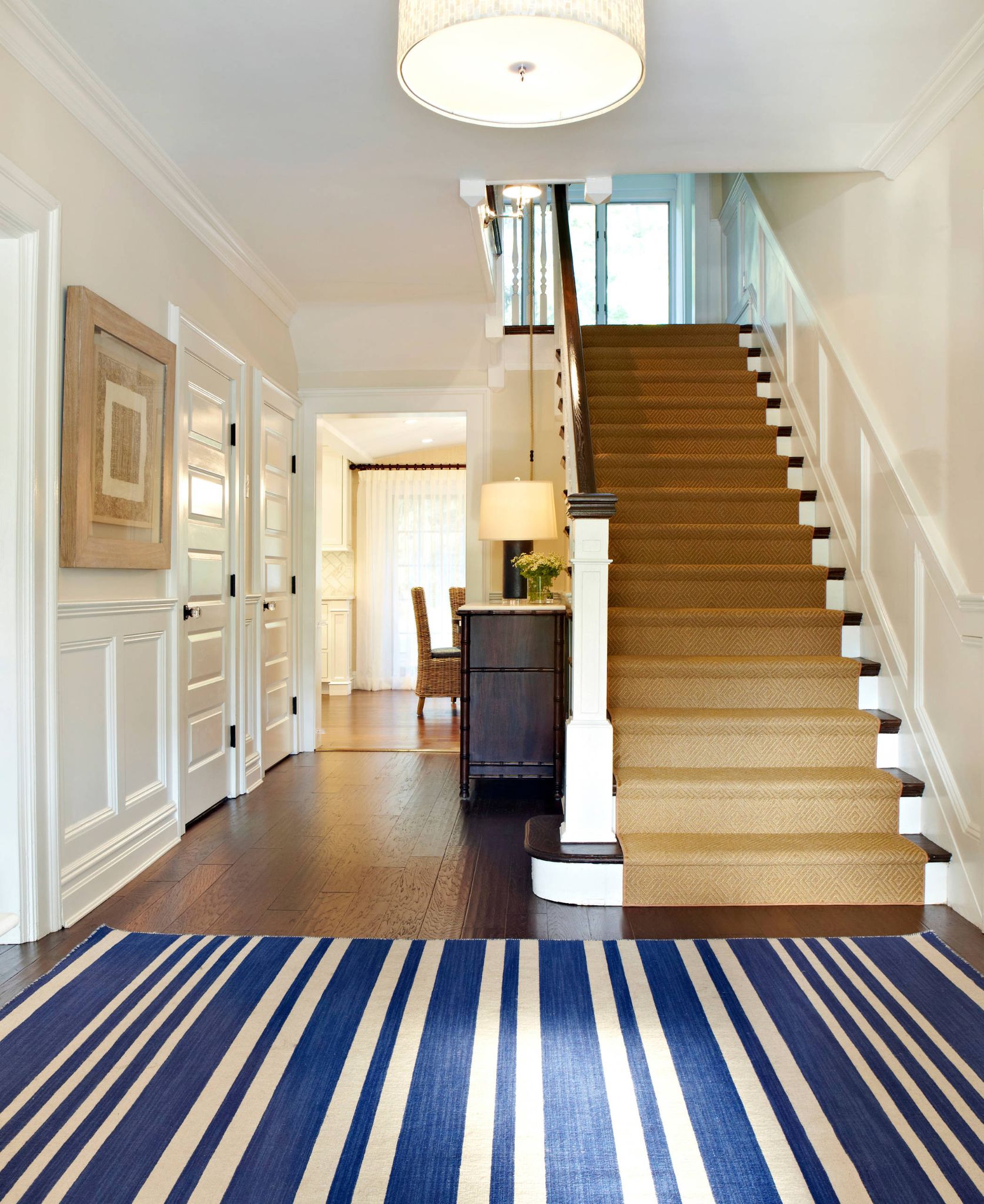 With an LRV of 71.6, this paint color reflects a lot of light, whether natural or artificial. It also has an RGB color code of 229, 222, and 206 respectively. You can coordinate it with Bennington Gray, Weston Flax, Nocturnal Gray, or Swiss Coffee.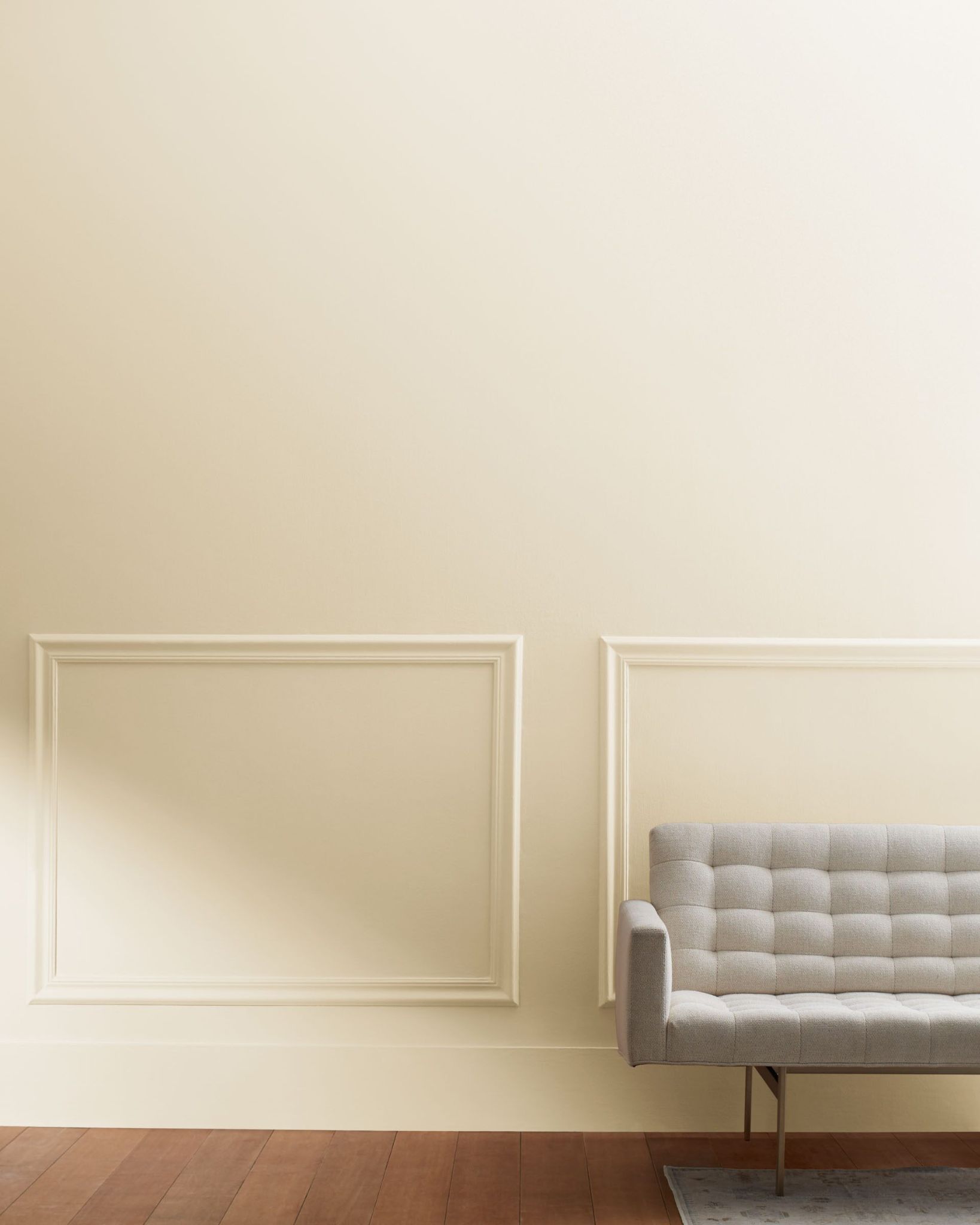 2. Soft Chamois OC-13
Soft Chamois is a versatile color that can pick up the tint of the strongest shade closest to it. Although it has subtle greige undertones, it may appear gray in some lights or beige in others. But if you place it close to a green color, you may begin to notice a green tint to the color. The same applies to other colors.
From the picture above, you can see how warm Soft Chamois gets in bright natural light. Because of its warmth, it works well with earthy or wood tones. You can coordinate it with Mink, Annapolis Gray, Saybrook Sage, or Tapestry Beige. It has an LRV of 77.4, which is high, and an RGB color value of 232, 229, and 216 respectively.
3. White Down OC-131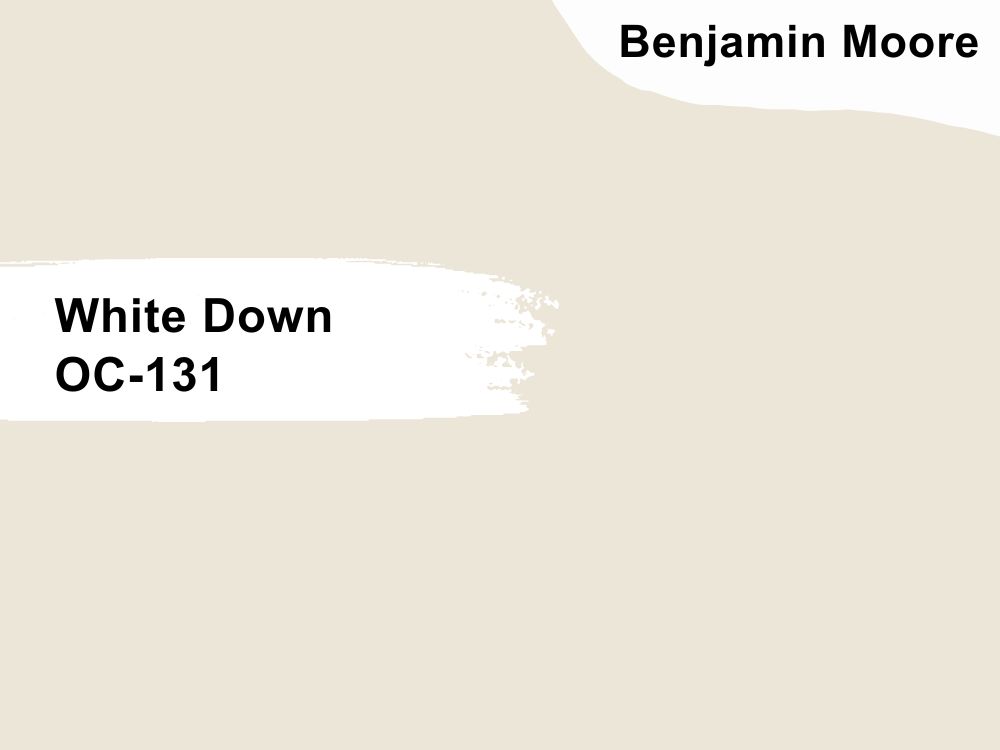 White Down looks like an off-white paint color and is remarkably similar to Soft Chamois. A soft cream color, White Down is one color that you can work into any decor without having to worry about how it will blend. It can stand in the place of white if you want a bit of color.
You can use it as the paint color for the entire house or work in some darker hues. With an LRV of 76.69 and an RGB color balance of 235, 230, and 215 respectively, White Down goes great with other Benjamin Moore colors like Imperial Gray, Steam, Revere Pewter, and Simply White.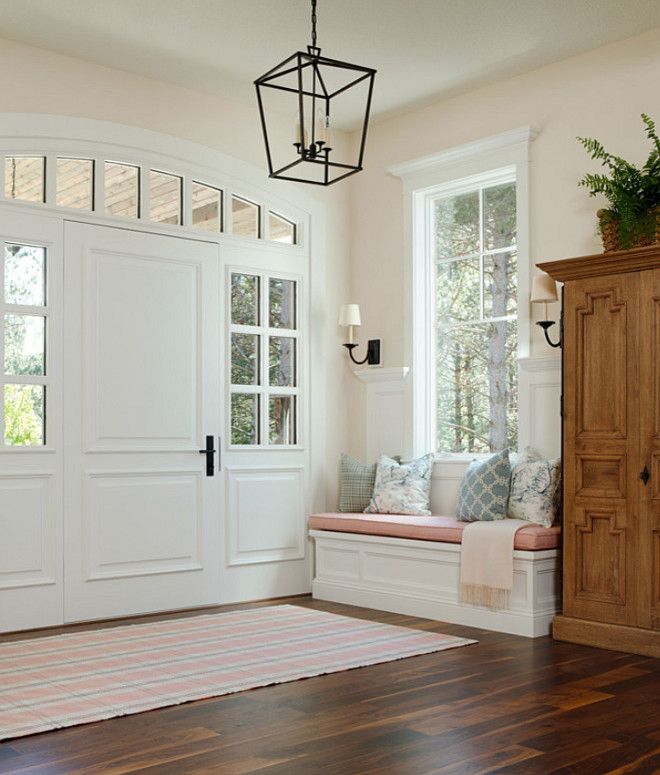 4. Swiss Coffee OC-45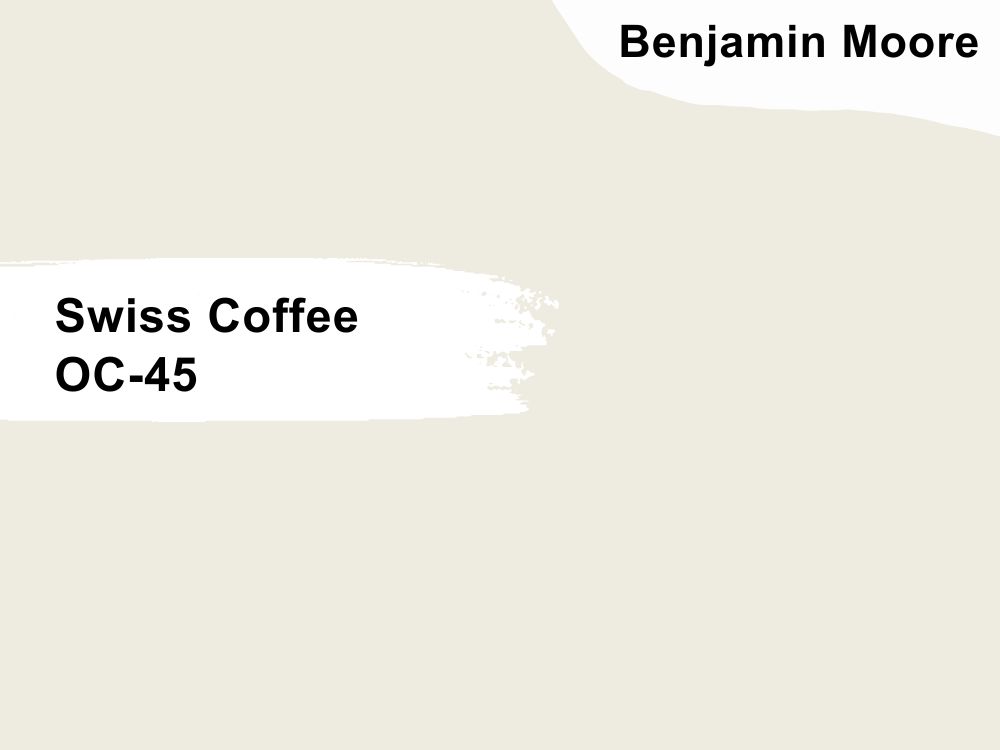 For a wonderful result in your paint search, you may want to compare this color with other similar ones such as Icicle and Dune White. Swiss Coffee is a great addition to any decor or you can use it as a standalone color. Whichever you choose to do, the result will always come out looking spectacular. This is especially true when combined with wood tones.
It does not matter the color you choose to match with Swiss Coffee; it is a versatile neutral color that shies away from blandness. So, match it with colors such as Fossil, Lush, White Drifts, and Newburg Green. It has an LRV of 81.91 and an RGB color code of 238, 236, and 225 respectively.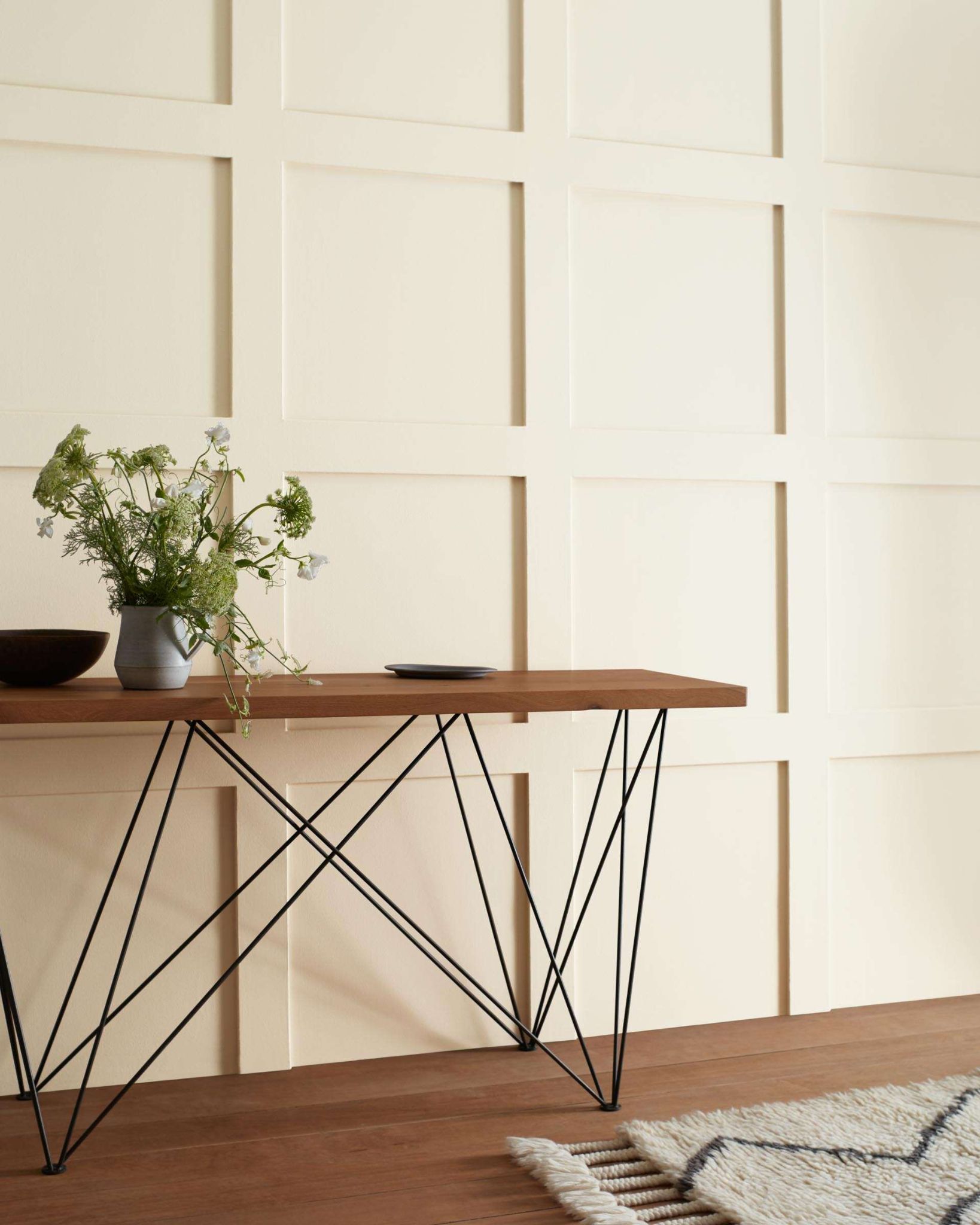 5. Vanilla Milkshake 2141-70
It is not every day that you find cream or off-white paint colors with gray or blue undertones. That is why Vanilla Milkshake is an excellent color to add to a warm or cool decor. It looks like a cool white but appears warm under some lights.
You can use it as the paint color of choice for cabinets, walls, trims, or even a nursery. With an LRV of 80.97, consider coordinating it with Gray Timber Wolf, Imperial Gray, White Heron, and Chantilly Lace. Vanilla Milkshake has an RGB color code of 236, 236, and 227, an almost perfect neutral.
6. Cloud White OC-130
A perfect balance of color and brightness, Cloud White is your go-to color if you want a bright white with a hint of creaminess. It can boost the appearance of a room with its obvious warmth. Add it to existing decor or make it the paint color for a new house, whether interior or exterior.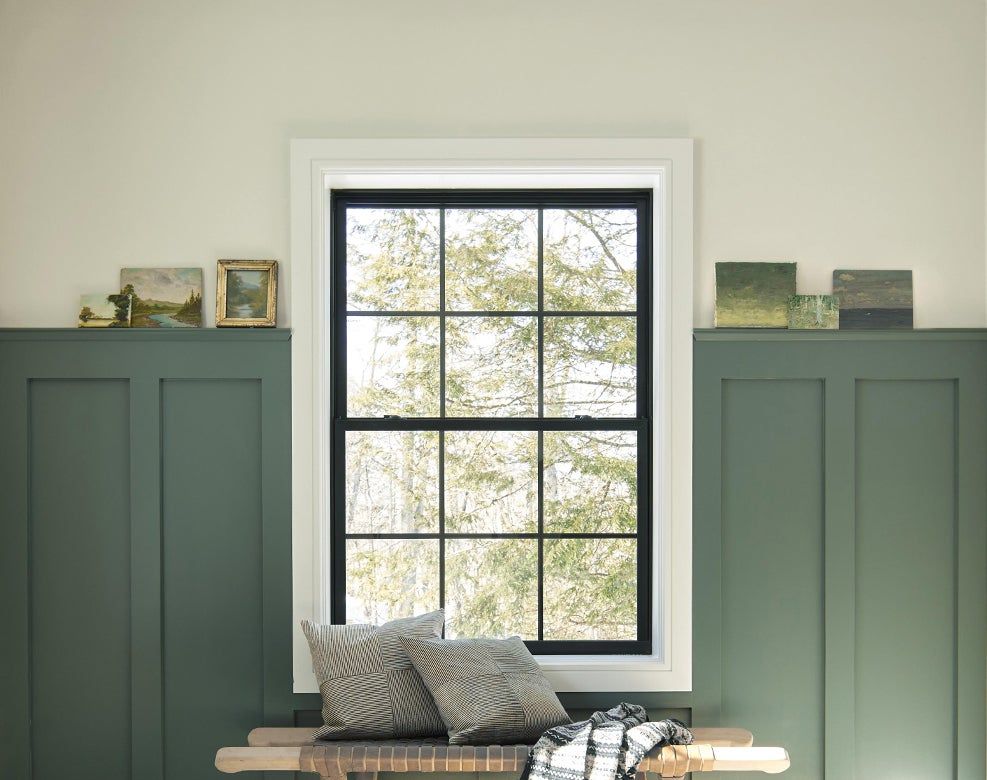 Cloud White has an RGB color code of 242, 241, and 230 respectively, with an LRV of 85.05. So, consider coordinating it with Champion Cobalt, Yosemite Yellow, Pale Oak, and White Down. Check out this sitting room decor from Swatts & Co Design Studio to see how this color works with darker colors.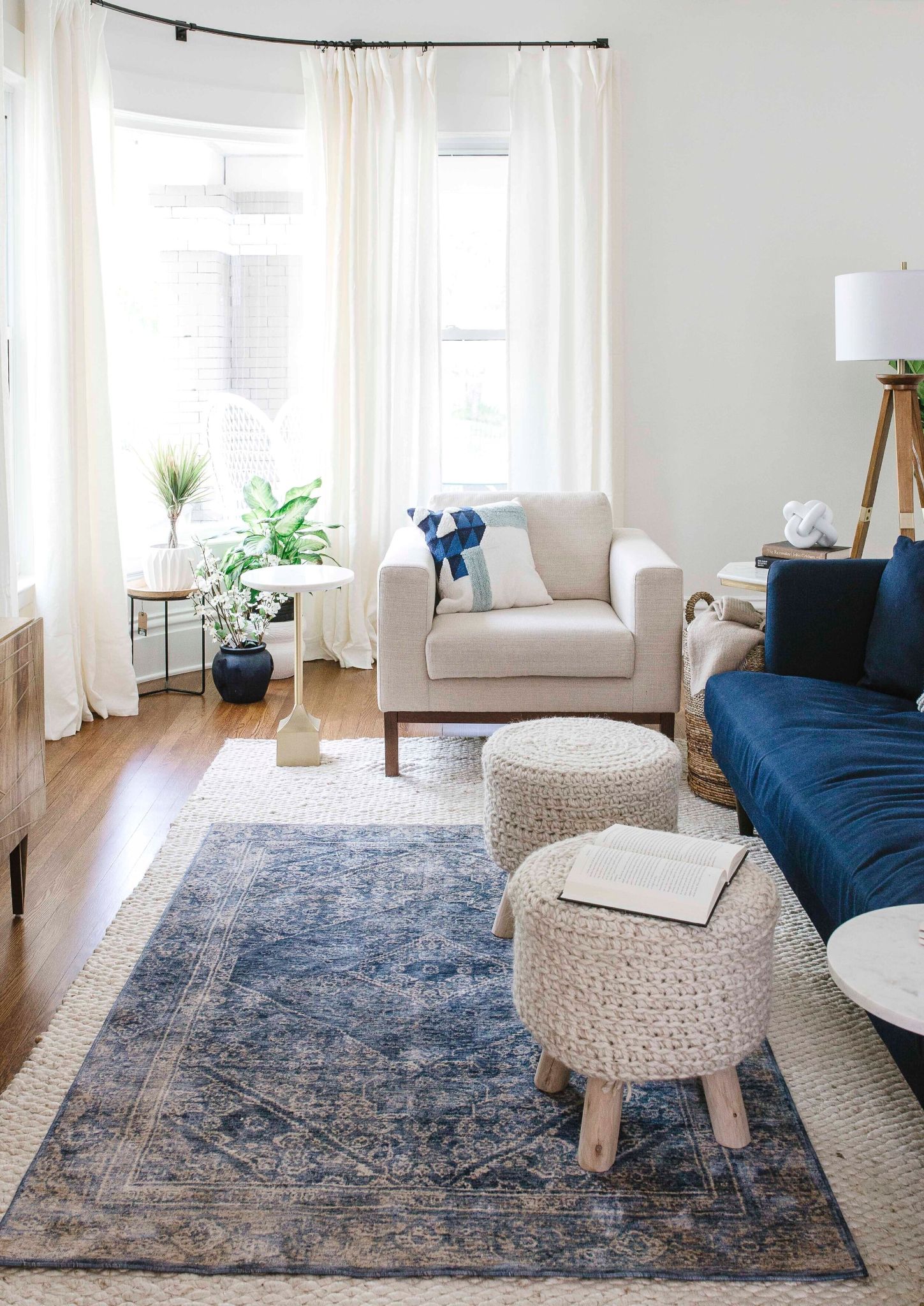 7. Indian White OC-88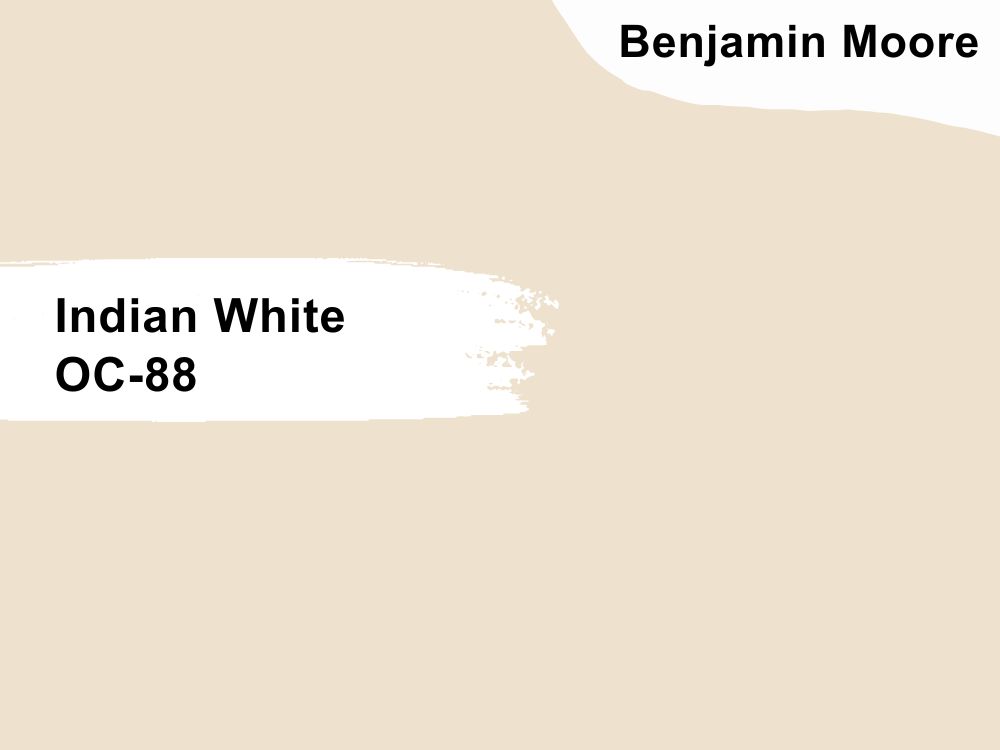 Similar to an off-white paint color, Indian White exudes an amazing amount of warmth. Paired with wood tones or soft shades of brown, you will be pleasantly surprised at how much this paint color will glow. And it still shines even if you pair it with other light neutrals.
With a high LRV of 75,44, Indian White reflects enough light without appearing stark. It has an RGB color value of 238, 226, and 207 respectively, so match it with Benjamin Moore's Province Blue, Chantilly Lace, Soft Cranberry, and Mountain Peak White for the best results.
8. Ballet White OC-9
At first glance, you may not notice the gray in this sweet and warm color. The obvious hues are yellow hidden just below the surface. However, the color is not overwhelmingly warm, and that is because of the hint of gray in it.
Ballet White has an LRV of 71.97, which is somewhat lower than some other colors on our list. With an RGB color code of 229, 222, and 208 respectively, colors like Kendall Charcoal, Puritan Gray, Pashmina, and White Dove coordinate well with it.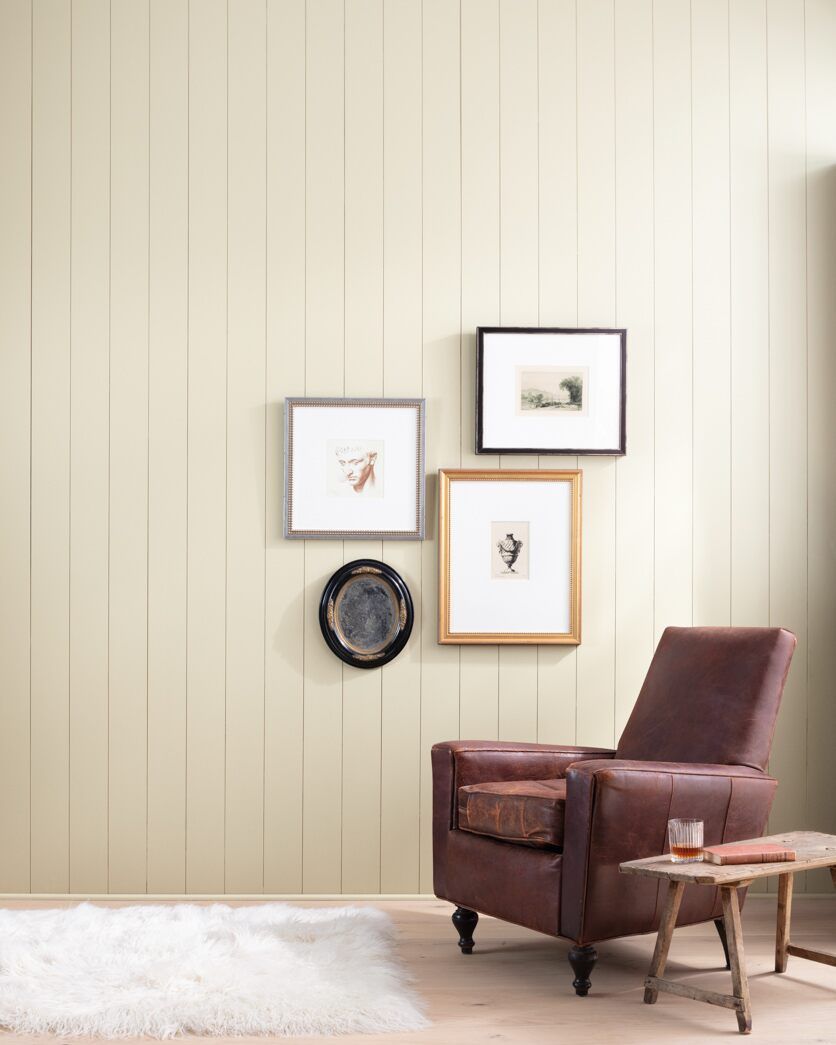 9. Navajo White OC-95
Cream will always be a timeless color, and Navajo White is proof of this. Appearing as an off-white paint color, you will notice a hint of yellow that gets brighter in bright lights. That is why it is an excellent choice for living rooms, dining rooms, hallways, trims, and bedrooms.
Navajo White has an LRV of 78.26 and an RGB color code of 238, 231, and 213 respectively. You can match it with colors such as Thicket, Bennington Gray, Simply White, and Chantilly Lace from Benjamin Moore. You can also use wood tones or other muted tones to complement this color.
10. Timid White OC-39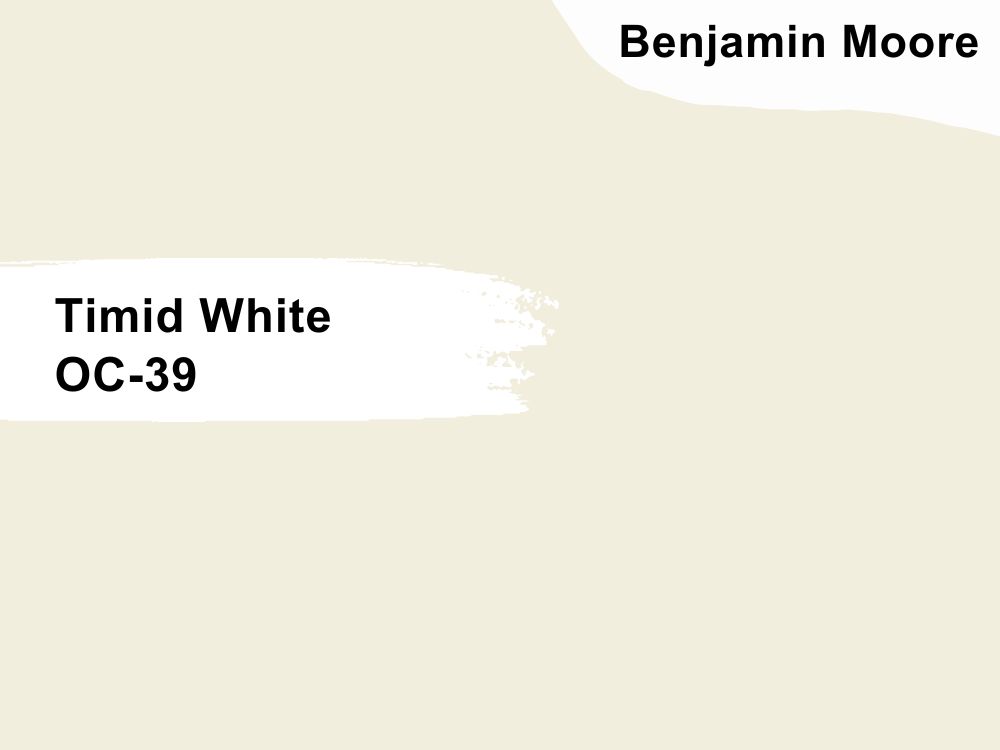 What is cream without a bit of gold? This warm paint color gives a pleasing and delicate look to a room. And with the slight color peeking out from under the surface, it looks selective of other colors or decor. But it is neutral and warms up to cool and warm color schemes.
It has an RGB color code of 242, 238, and 221 respectively, and an LRV of 82.45, which is quite bright. Pair it with other Benjamin Moore colors such as Ashwood Moss, Sharkskin, Gentle Cream, and Monroe Bisque.
11. Gentle Cream OC-96
Showing a bit of bisque hue, Gentle Cream is such a soft and delicate color that makes a room warm. It also adds depth and sophistication to your decor, especially with muted reds and oranges. Similar colors make the paint cozy and inviting.
It has an LRV of 71.32 and an RGB color code of 234, 219, and 196 respectively. To get the best out of Gentle Cream, coordinate it with Brookline Beige, Golden Straw, Vanilla Ice Cream, or Simply White.
10 Best Cream Paint Colors from Sherwin Williams
1. Creamy SW 7012
This paint color is a perfect cream that works well with warm hues and wood tones. If you want to create a rustic look with a touch of sophistication, Creamy should feature in your decor. The best part of it is that it fits cabinetry, accent walls, bedrooms, entryways, and similar rooms.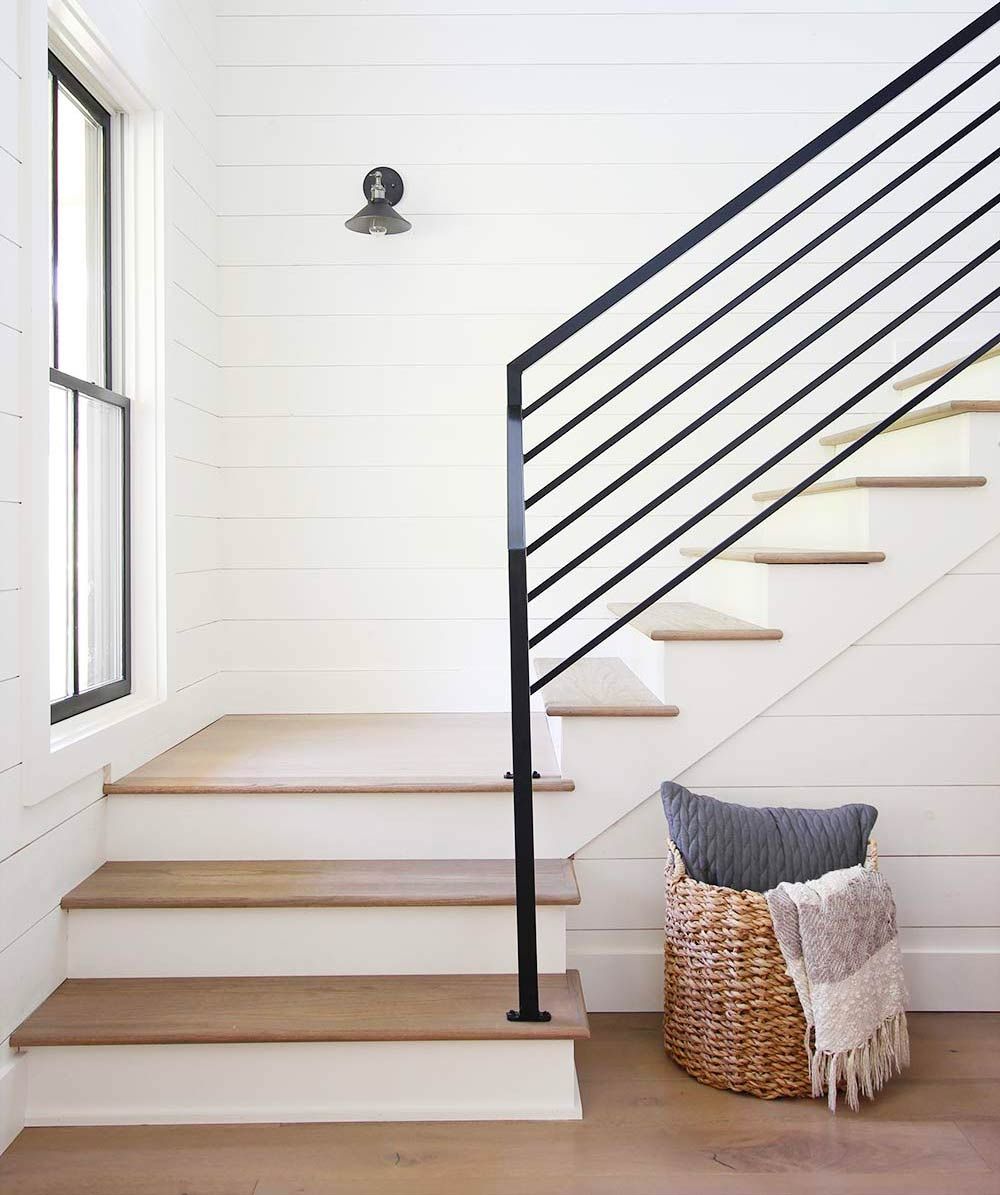 With an LRV of 81 and an RGB color balance of 239, 232, and 219, Creamy pairs well with warm tones like Reynard or a slightly different shade like Studio Taupe. You can try other colors to see what else complements this paint color in your decor.
2. Casa Blanca SW 7571
Casa Blanca is a clear cream color that draws you in and wraps around you. Warm and cool color schemes seem to clash, but this color may blend with cool colors because of the slight gray in the undertones.
Coordinate it with colors like Melange Green, Black Bean, and Creamy. Its LRV of 76 and RGB color codes of 237, 225, and 206 explain how balanced Casa Blanca is. Use it on kitchen cabinets, entire walls, or accents if you do not want to go all warm cream in a room.
3. Antique White SW 6119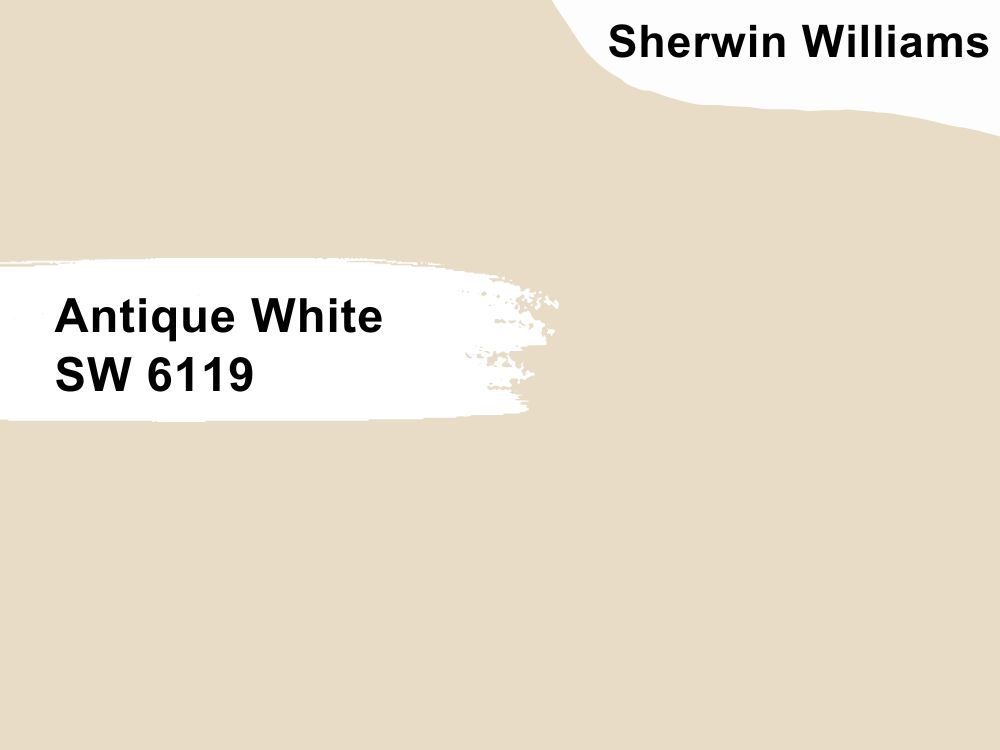 Warm up your space with this creamy deliciousness. This paint makes you want to run your hands over the walls or cabinets. And since it has such a rich hue, you may want to use a warm white or brown to make the color pop.
With an LRV of 72, Antique White is bright but not too high on the light reflectance value chart. And with an RGB color code of 232, 220, and 198, it is clear the color has some good balance of all the primary colors. Coordinate it with Fallen Leaves, Whole Wheat, and Creamy.
4. Dover White SW 6385
This is typically called an off-white paint color but the yellow and cream hues change it to something really warm, more cream than white. Dover White makes a room look and feel airy, which is something you want for your living room or bedroom.
Dover White can appear cool in some lighting, although it is a warm color. With an LRV of 83, it is best to pair it with saturated color. And with an RGB color code of 240, 234, and 220, coordinate this color with Waterloo and Dakota Wheat.
5. Greek Villa SW 7551
On its own, Greek Villa looks so white but when placed beside a true white paint color, you can see the faint yellow/beige hues in it. Nevertheless, it performs well as a white or off-white paint color if you are not crazy about plain white.
Greek Villa has an LRV of 84 and an RGB color value of 240, 236, and 226 respectively. Because of this, it is best to match it with saturated colors like In the Navy and Illusive Green.
6. Navajo White SW 6126
Add some brightness to your decor without going overboard with Navajo White from Sherwin Williams. And while it looks docile, it can become powerful when paired with wood tones and similar colors.
With an LRV of 72 and an RGB color code of 233, 220, and 198 respectively, Navajo White is a great alternative to soft yellow and off-white. Coordinate it with Rita's Rouge, Row House Tan, and Creamy for glowing and beautiful decor.
7. Crème SW 7556
Under some lighting, crème appears more yellow than cream. So, you may want to avoid using it in a south-facing room. However, the color appears like a warm cream color in a cooler room.
It has an RGB color balance of 244, 232, and 210 and an LRV of 82. Pair it with Crewel Tan, Curio Gray, and Dover White if you want to see more beauty in this color. Alternatively, use deep colors to make this warm cream pop.
8. Steamed Milk SW 7554
You cannot go wrong with Steamed Milk if you want a neutral paint shade with a bit of color. It is not an overwhelming color but balances out other deep and warm colors in your decor. We like it because of how soft yet powerful it is.
Consider coordinating it with Blithe Blue, Cocoa Whip, or Marshmallow if you want some diversity and geniality. Other shades of blue and red also work with this color, especially if you combine all of them. It has an LRV of 76 and an RGB color balance of 236, 225, and 209 respectively.
9. White Snow SW 9541
This paint color is not completely cream, but it is not white either. White Snow is a shade between white and off-white, and its lack of undertones leaves it bare. The hues you see in this paint color depend on the elements in the room and the lighting.
It has an LRV of 90, which is quite high because it is close to the white end of the light spectrum. And with an RGB color code of 245, 244, and 238, White Snow is a perfect neutral. Match it with blue, gray, and wood tones to get the best out of this color.
10. Alabaster SW 7008
Alabaster is one of the most popular Sherwin Williams because of how neutral it is. This almost perfectly neutral paint color blends with all, and we mean all, decor types and color schemes. This is despite the beige undertones.
With an LRV of 82 and an RGB color code of 237, 234, and 224 respectively, consider matching it with Dakota Wheat and Townhall Tan. These colors and more vibrant colors are excellent to complement this soft paint color.
Final Thoughts
Selecting a cream paint color does not have to be a tedious task. Just go through our list of the best cream paint colors from Benjamin Moore and Sherwin Williams, and you are sure to find one or more to fit your decor.
From Navajo White and Gentle Cream to White Snow and Alabaster, the options are simply excellent. However, test samples of each paint you choose before going all out so you know what truly matches your decor. This is especially applicable if you want to upgrade an existing decor.
Do you have any experience with any of the cream paint colors on our list? Do not hesitate to share pictures and stories with us in the comments section.