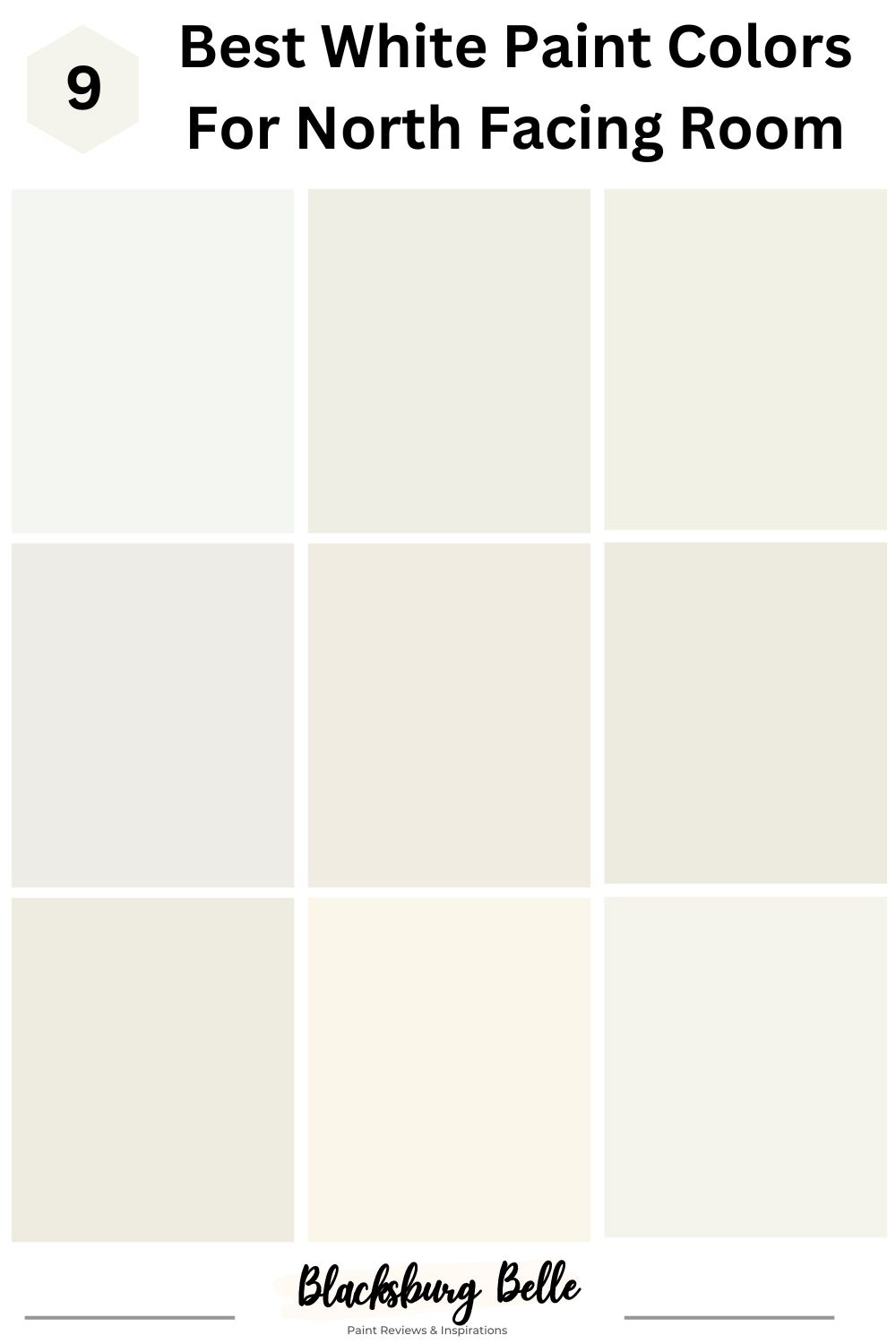 White colors are very versatile and would work in any room regardless of their direction. However, it's more complicated for the northern-facing room as the colors in this space get very little light, and if they eventually do, you'd likely get a blue touch to that color.
This phenomenon has become a source of worry to most house owners as they almost don't know what to do with those spaces. But help is finally here; in this read, we'll give you the 9 ultimate white colors that are perfect for your north-facing room.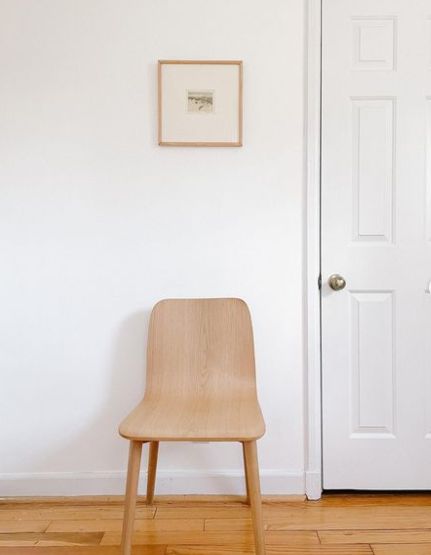 A few Facts About North Facing Rooms
To better understand this article, we can give you a few facts about north-facing rooms and what you should look forward to.
North-facing rooms receive zero direct sunlight during the day. It can feel dark and dreary if you have few windows in this space. Direct light from the sun would be yellow; for northern light, the reflections are from the northern sky and surrounding elements like the greenery in your garden.
Northern light is very cool, it draws out the cool tones in your paint, but this isn't in a good way.
The reflected light influencing the act of northern light doesn't cast strong shadows or give high contrast. The lack of light and sharp shadows dislocates the drama and creates a calming effect.
Why White for my North Facing Room?
Various white varieties are available, from creamy whites to bright whites, clean whites, warm whites to off-whites. The most significant characteristic of white color is its brightening feature and how it works with almost every other color, whether as an accent wall or a trim.
White colors are also excellent for both the inside and outside of your home. You can only agree that for dark, gloomy rooms facing the north and their setup, no other color can salvage the situation like white.
We advise that you stick to the warmer variants of white colors to help cancel the coldness and coolness in a northern-facing room. If you use something too cold, your white may read as gray or blue, which may still look dull.
The Physics of Warm Light and Northern-Facing Rooms
The red, orange and pink undertones in warm white will help you lift the face of white color in your dull/dark/cold northern-facing room. This system isn't rocket science or as complicated as people say it.
By their physiology and on the color wheel, red and orange are contrasting colors to green and blue, which are predominantly cool; this setup translates exactly to real life; while the blue light from the northern light does its thing, it has little to zero effects on these warm hues, as it has nothing (no cool tones) to latch on to.
Pause a bit: you may encounter a strange acronym during your reading. LRV, short term for Light Reflective Value, is a scale designed to measure how bright or dark a color is and how much light it reflects. The scale runs from 0-100, with 0 being the darkest and 100 being the lightest.
9 Best White Paint Colors for North Facing Room
These white colors will add brightness to your north-facing room and absorb the cool light emitting from the direction and turn it into the most beautiful, artistic sight you've ever seen. For your convenience, we'll group them according to their brands in order to give you a wider pool to pick from.
Benjamin Moore White Paint Colors
Benjamin Moore's paint colors are well loved and chosen by many, as they are known to serve quality with their paints. Another interesting fact about Benjamin Moore is their expansive and extensive range of colors that services all color cravings and desires.
1. Benjamin Moore Chantilly Lace
Benjamin Moore Chantilly Lace is regal, royal and full of warmth for your space. This color is so diligent that it helps brighten up the dullest space while giving room for you to add extra personality and flair.
Another good thing about Chantilly Lace is that it has very few undertones and mirrors surrounding elements, but somehow it still manages to read warm. Absolutely magical if you ask us.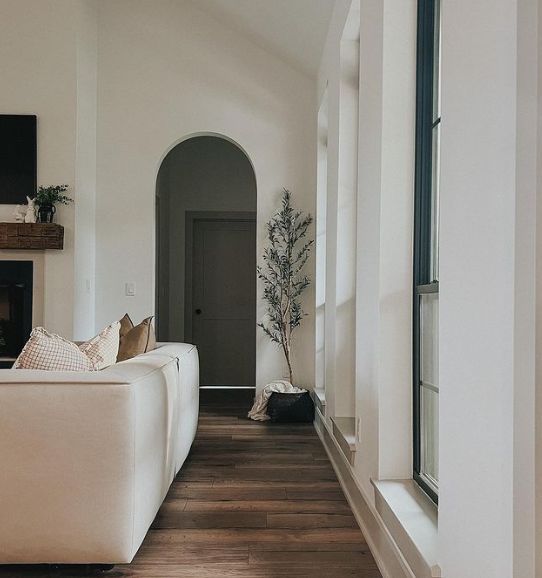 This color has an LRV of 92.2, tipping it at the brightest end of the scale. The warmth in it is undeniable, as in the case of this living room. Alabaster works well with wooden tones, off-white upholsteries and some bits of greens.
2. Benjamin Moore White Dove
Benjamin Moore White Dove has an LRV of 83.16 and has a yellow undertone, as any warm white color should. While it's not really pronounced on its own, you'll surely see this sharp contrast beside other brighter whites.
White Dove is definitely a beauty in this living room, especially with the surrounding off-white chairs and brown coffee table. Add an interesting lamp and frames to maximize the use of space in this room.
3. Benjamin Moore Cloud White
Benjamin Moore Cloud White is another warm white with an LRV of 85.05. It has a gorgeous, soft yellow undertone that's not so in your face but also in no way near cool. You instantly feel cozy in your room when you use this color on your walls.
Benjamin Moore Cloud White works well with wooden tones, brass materials, wooden tones and black accessories, just the way it is in this picture. We love how the gray cabinetry pops in this modern kitchen.
Sherwin Williams White Paint Colors
The possibility of getting the outcome you desire with Sherwin Williams paint color is second to none, thanks to their impressive quality and array of options that have served American homes for years.
4. Sherwin Williams Pure White
Sherwin Williams is the second-best white paint color from Sherwin Williams and is twice as warm. Pure white is a soft, flexible, versatile white with a mild warm touch and an LRV of 84. The striking feature of this color is that it's not stark white; it's also not too creamy, and it's somewhere right in the sweet spot.
You'd be shocked to find a whiff of black in this color and then a hint of yellow; all of it works together to give it that soft warmth. But we must warn you, like any typical white, this color will likely pick up on surrounding elements, which is why you must support it with complimentary warm décor.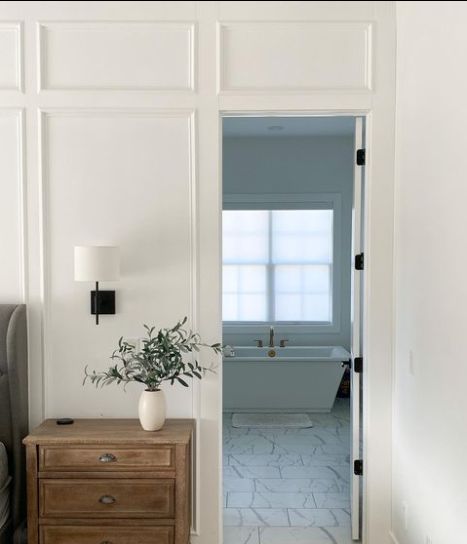 So think of it as if you have a big orange couch in a living room with Sherwin Williams pure white on the wall; your paint will instantly reflect a bit of orange, so get busy with those orange tones and curtains, friend!
The brown chest drawer in this room appeals to the yellow side of Sherwin Williams's pure white, causing it to lean warmer, which is exactly what we need it to do. The downside of this color is how uncomfortable it may get during warmer seasons, but not to worry, it'll always get the blue light out of the way.
5. Sherwin Williams Greek Villa
The belle of the ball and unarguably the perfect choice for a north-facing room, Sherwin Williams Greek Villa is a warm white paint color that balances the cool light coming from the north; in the afternoons, this color looks warmer.
Sherwin Williams Greek Villa has an LRV of 84 and undertones of white, just like most warm white colors. This color, however, performs poorly with other whites due to the presence of undertones that may cause a clash, so the best bet is to make all the surfaces the same color.
When you compare Pure White and Greek Villa, you notice they have similar depth and LRV, but Pure White is warmer. Keep your space busy like the picture by adding grays, wooden tones, and a bit of black to even out the tones.
6. Sherwin Williams Alabaster
Sherwin Williams Alabaster is the OG of warm whites as it comes heavily packed with yellow undertones that immediately light up your space and turn it into a creative haven. The option of this white for your walls isn't even up for debate, and you can also pair it with warm and cool accessories.
Alabaster has an LRV of 82, which means when you pair it with lots of artificial light in a north-facing room, you'll get a solid reflection that'll help your space perform better. The black tones in this room create a sharp contrast, and we love how the plates serve as extra accessories in this space.
Sherwin Williams Greek Villa is a tad brighter and cleaner than Alabaster because it has a slightly higher light reflective value when placed side by side.
Behr White Paint Colors
Here for our low-budget lovers, Behr paints colors are a round peg in a round hole, but there's a given. This color isn't big on durability, so if you intend to use it for the long term, you should reconsider, but nevertheless, they have a wide range of colors for you to select from.
7. Behr Swiss Coffee
Behr Swiss Coffee is widely preferred among lovers of creamy whites because it gets the job done. This color has an LRV of 84 and incredible creaminess, making your room a warm delight and disperse traces of moodiness courtesy of northern light.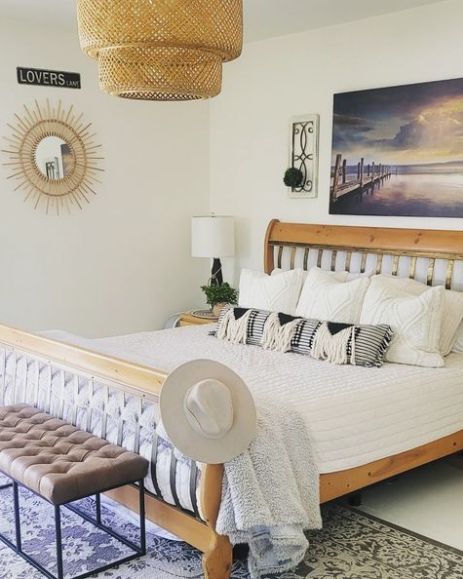 Swiss Coffee is a soft, warm white that acts like pure white, but it's really much yellow when you compare it to sleek white. This color acts very close to Sherwin Williams Alabaster and Benjamin Moore Cloud White, which is also a very popular warm white.
Combine Swiss Coffee with warm tones as they're very grounded and will make your space seem warmer, like this bedroom. Throw in some warm whites to match the wall and get a very interesting center rug for more personality.
8. Behr Sleek White
Behr Sleek White is a warmer, bright white with yellow undertones and a gentle neutral base that keeps it normal and then lets it pair well with other colors. Sleek White has an LRV of 92, and as much as its yellow undertones may clash against bright accessories, we'd advise you to take the risk regardless; the neutral base is there for a reason, anyway.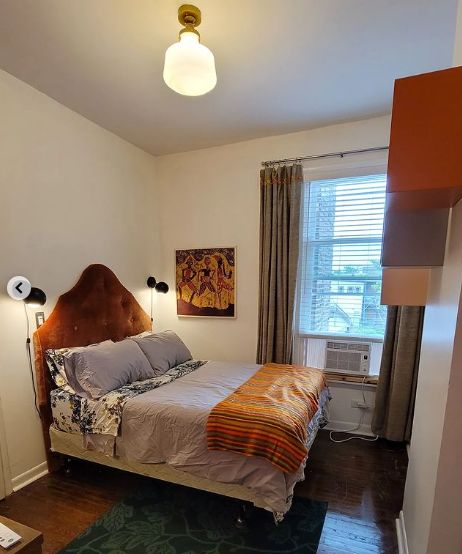 Pair your sleek white space with wooden tones, oranges and some highly pigmented pink. Trust us when we say you need these bright hues to salvage the gloominess that may plague your room due to the strong feedback from the northern lights.
9. Behr Polar Bear
Behr Polar Bear instantly reminds us of the famous furry animal and their regal white coat- thanks to the reflective ability of the transparent white covering on the dark skin of this bear that mirrors the surrounding snow properties.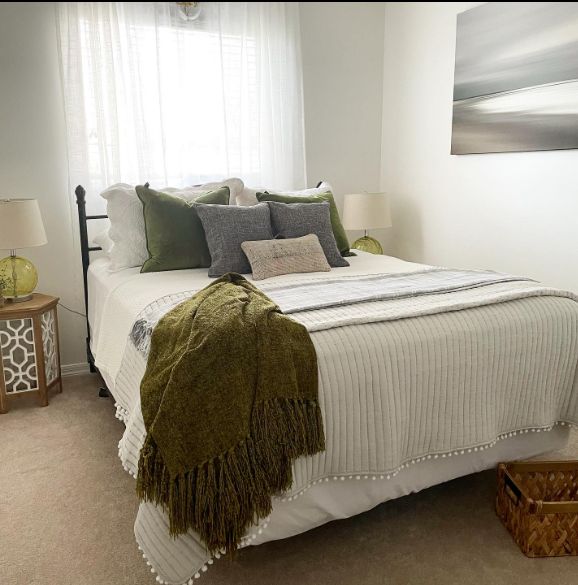 Behr Polar Bear is way different from that anyways, but it's also a bag full of tricks in its ways. This white paint color has an LRV of 90 and reads not too warm or cold; it's a balanced white that also picks up on surrounding elements- your cue to warm things up with the décor.
What's the Perfect Paint Finish for North Facing Rooms
The paint finish is one of the focal points of any paint job as they essentially leave a lasting impression in the mind of your visitors and can improve the quality of your paint color. With North-facing walls, however, the finish may not be a serious issue as a color with a higher shine can thrive due to its subtleness and coolness.
The most important things to consider before settling for a finish are the durability and the level of washability required to maintain that space and keep it in good shape. Based on research, the most common options homeowners have settled for in finish include the following-
Eggshell finish that comes with little shine, little durability and can only allow you to wash it for a limited period or several times.
The satin finish is perfect for living rooms due to its luxurious touch and medium shine. You can also wash satin finish walls to an extent, and they boast of average durability- lifespan can be extended depending on the quality of finish and maintenance routine. This color is also good in kitchens, bathrooms and high-traffic areas.
A semi-gloss finish is maybe okay for northern-facing spaces, as they let you wash them and are durable. But this type of finish is commonly found in bathrooms, laundry and spaces that generally experience an influx of people.
The gloss finish is absolutely shiny, very washable and durable enough for long-term use. This color can be used for exterior trims and waterlogged areas.
How to Make a North-Facing Room Work
In addition to using warm colors, the following tips and tricks will help you make the most out of your north-facing room. It's amazing how much the right decoration can uplift the face of a gloomy paintwork or space- every little detail is important.
The first way to fix things in a north-facing room is to embrace the natural light. What this means is that you should open your curtains and blinds to receive more natural light; after all, the little light you're getting is insufficient; why block it off?
Consider involving a mirror in the detailing. These shiny, reflective objects will help you bounce around the hint of lights you're getting. Be strategic with your placement; however, let them stay adjacent to a light source, be it the window or the lamp.
Bump things up a notch by adding more reflective objects, not necessarily mirrors, at this point; grab every shiny AESTHETICALLY PLEASING accessory you can find. Be careful not to overwork your space in the process.
Go all in with deeply pigmented and saturated hues with your whites. Think of a big orange centerpiece or yellow couch to add life and personality to that cold place. What this does is support the white in days of insufficiency; you'll have a bright, happy space all year long.
Sampling Your Paint Colors
You're almost a pro at handling the gloominess of the north facing room. But we must emphasize the importance of sampling these paint colors before you fully commit. You certainly don't want to leave any stones unturned when dealing with a space as unique and unconventional as a north-facing room.
Sampling has now been made easy with these new 12×12 readymade paint strips on the market. SAMPLIZE paint strips come in your preferred colors, so you don't have to purchase a full bucket of paint to try out colors, which will mess up your space.
When using SAMPLIZE paint strips, we encourage you to leave them on for two-three days to see how they really fare under the lighting conditions in a north-facing room.
Conclusion
Now that you know the right colors for your north-facing room, the next important step is decorating them lightly, as we explained in this article. You must always remember the place of accessorizing rightly, as this will help elevate the ambiance of your space.
Many people run away from working with north-facing rooms or need more inspiration to decorate; all that is in the past now- relax, read up, and, as always, remember to sample your paints before making the final commitment.