Choosing the right paint colors for any room in your house is crucial. While it may look like a simple choice, you will find that the color of choice may have different shades, making it confusing. In such a case, neutrals are our saving grace, but do you know which neutrals work best?
The obvious choices are the typical whites and grays, which may be too simple or common. And that is part of the reason we like mushroom paint colors; they are neutrals but do not exactly play into the most recognizable ones.
Let's look at the 19 most popular mushroom paint colors from Benjamin Moore and Sherwin Williams to get you on the path to finding the most unique neutrals for any room.
What Is a Mushroom Paint Color?
A mushroom paint color is a shade that combines brown or beige and gray. This color is similar to greige but has more brown or beige than gray, whereas greige has more gray than brown or beige. That also means the mushroom paint color is usually more warm than cool.
However, it is easy to confuse mushroom colors with greige or beige. These colors overlap and sometimes, they look more taupe than any other color. The best solution is to find a real mushroom, whether online or in reality. Then, compare the color to the paint of your choice to determine if you are on the right track.
Where Can You Use Mushroom Paint Color?
As we already mentioned, mushroom paint colors are neutrals that can accommodate any other color. Because of this, you can use it for different surfaces.
They fit accent walls and other walls, cabinets, and furniture. As long as it is a vertical surface, a mushroom paint color is one of the best colors to use.
Understanding Undertones
However, before opting to paint any part of your house with a mushroom paint color, it is crucial to understand how undertones work. Undertones are the hues you notice under colors that change how they interact with other colors. Undertones also determine whether a paint color is warm or cool.
Neutrals generally have a brown or grey undertone; the same applies to mushroom paint colors. If a mushroom paint color has a brown or beige undertone, it is a warm color. Warm mushroom paint colors fit well with other warm colors, but they may fit better with cool colors.
For mushroom paint colors with slightly gray undertones, they are termed cool. These colors also work with other cool colors, but those with some warmth may complement them better. Therefore, we suggest that you decide what look you want for a room before choosing the mushroom paint color for different areas.
Not everyone will like mushroom paint colors, although they are neutrals. Neutrals are usually timeless, never getting old or out of fashion. However, it may not be everyone's choice as some people may prefer the usual grays or whites. If unsure, use a sample in the chosen room to see how well it works.
19 Most Popular Mushroom Paint Colors in 2023
The following are the best and most popular mushroom paint colors for your interior and exterior decor in 2023:
10 Best Benjamin Moore Mushroom Paint Colors
1.Mt. Rushmore Rock AC-39
Warm mushroom paint color with beige undertones
If you want an earthy and playful tone to your decor, Mt. Rushmore Rock is your best bet. It has a clear beige undertone?and can be a perfect background for other vibrant colors. Consider coordinating it with white, blue, or green to get the best results out of it.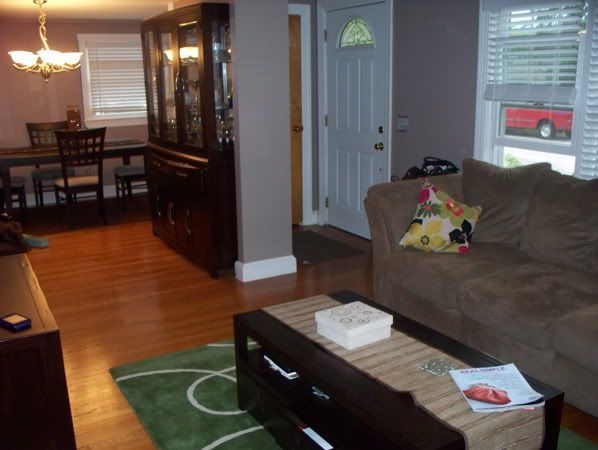 Viewed under bright natural light, the color is obvious. But in a dimly lit room, Mt. Rushmore Rock looks pale and gray?instead of the warm tone it is. It has an LRV of 32.49 and an RGB color code of 170, 155, and 142 respectively.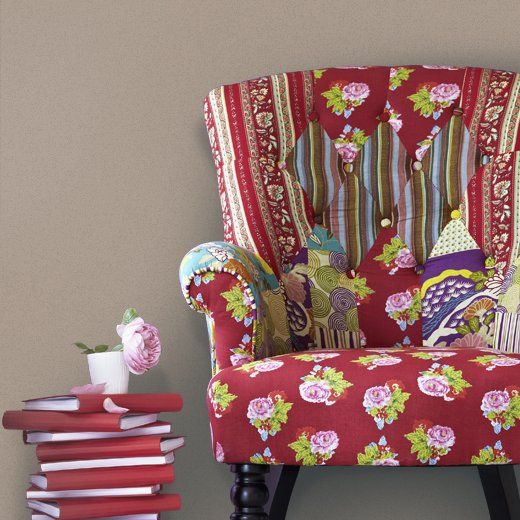 2.Plymouth Rock 1543
Warm mushroom paint color with gray undertones
This paint color gives the impression of cool and warm at the same time, and this may have something to do with the mixture of gray and beige. It creates a warm and cozy environment, remaining the same with shifting light.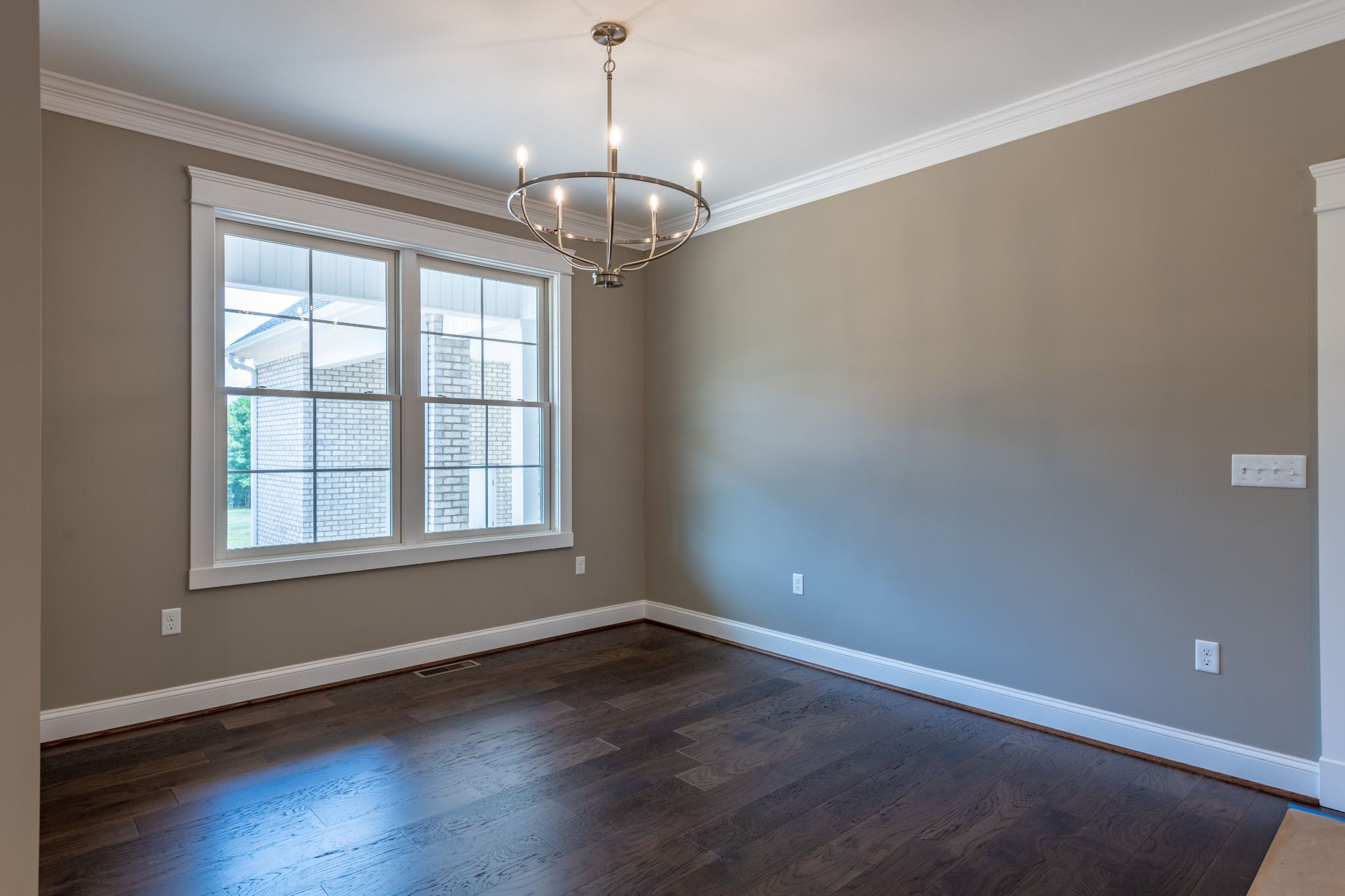 Plymouth Rock pairs well with other neutrals such as white?and holds up well with vibrant colors like red or peach. It has an LRV of 42.66 and an RGB color balance of 182, 175, and 163 respectively. So, you can coordinate it with Rustique, Glacier White, Morning Dew, and Cloud White.
3.Gloucester Sage HC-100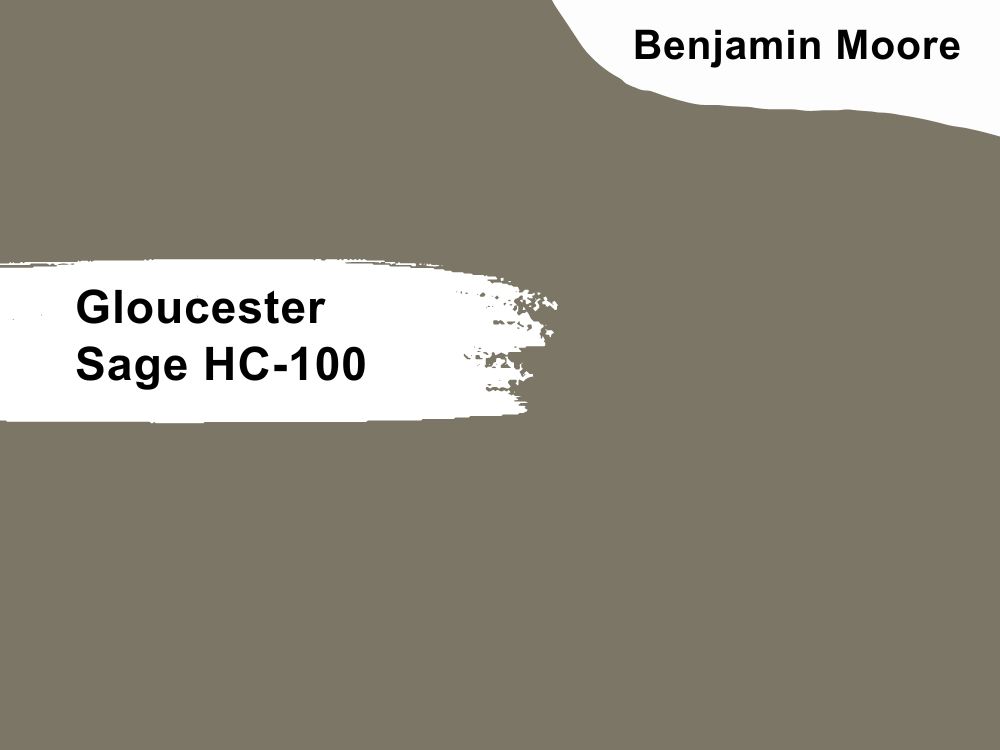 Warm mushroom paint color with slightly green undertones
If you want a bit of color without overdoing it, Gloucester Sage is the answer for you. This soft mushroom shade has a slightly green hue that takes it from a bland neutral to a wonderful moss color that still fits any decor.

You can use this paint color in your powder room or decorate your front door with it alternatively paint your cabinetry, accent walls, or entryway this beautiful shade to create sophisticated decor. Gloucester Sage has an LRV of 19.25, and an RGB color code of 123, 118, and 101 respectively. Its matching colors include Soft Satin, White Opulence, Saybrook Sage, and Cloud White.
4.Quincy Tan HC-25
Neutral mushroom paint color
We know this color is a perfect neutral – peep its RGB color balance of 191, 174, and 140 – but it looks so warm and inviting. Quincy Tan is a mushroom color that can fit the warm or cool decor, so it is a blank page that tickles your creativity.

This color is perfect for any room and exterior of a house. So, consider using it in your living room, kitchen, bedroom, children's room, or dining room. Then, you can add other colors to complement it or enhance its hue. Its LRV of 42.53 is enough to reflect light, so coordinate it with Cromwell Gray, Elephant Tusk, Cloud White, and Seashell.
5.Coventry Gray HC-169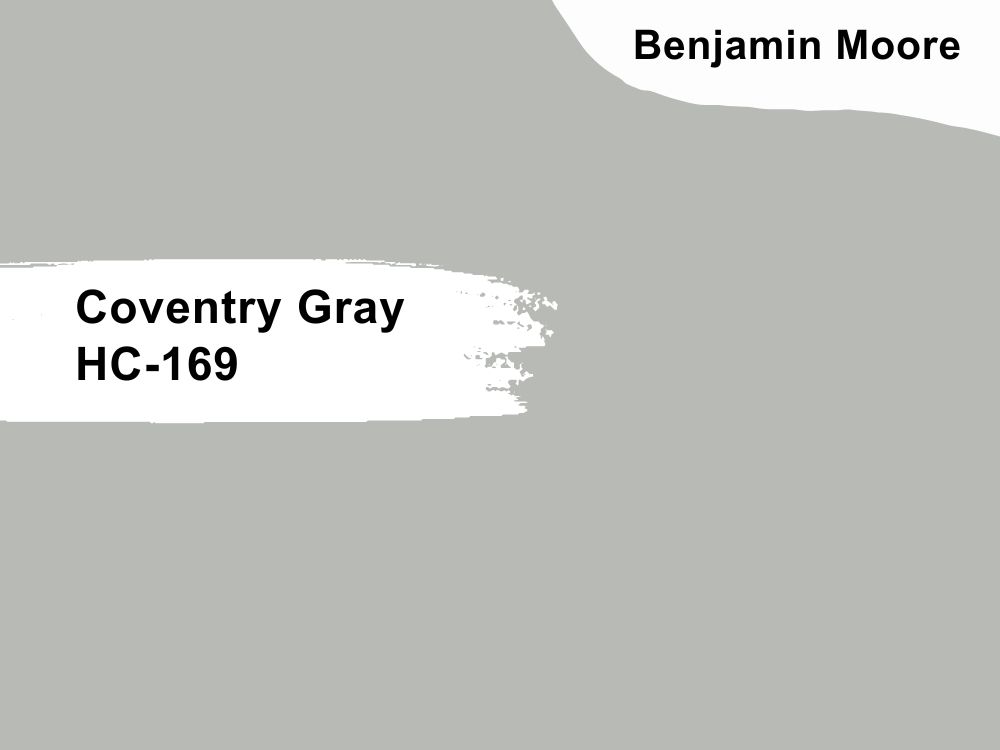 Cool mushroom with neutral undertones
Ok, we know this color appears gray at first glance. And it cannot get any more gray than this, but it has a certain look that reminds you of earthy tones. This is especially obvious when you combine it with gold, light/wood brown, or brass. These shades can change the hues of Coventry Gray to produce a hue similar to the color of light clay.
Because of its medium neutrality, this paint color is fit for any use. Set it as a backdrop for your decor, and add bright colors. You cannot go wrong with Coventry Gray since it is so laid back. It has an RGB color code of 184, 186, and 186 and an LRV of 48.18. The best colors to match it with are Yorktowne Green, Temptation, Steam, and Silvery Moon.
6.Natural Cream OC-14
Neutral mushroom paint color
Oh, this is such a gorgeous color and brings immense sophistication to any decor, and we mean ANY. It appears cool sometimes and warm at other times, depending on the lighting and decor. But you cannot make a decor mistake, regardless of what you choose to pair with this color. Take a look at this almost neutral kitchen decor by Julie Blanner?to understand what we mean.
Natural Cream has a light reflectance value (LRV) of 64.78. That means it can reflect much light, regardless of the lighting. It also has an RGB value of 219, 211, and 197 respectively. You can coordinate it with colors such as Boothbay Gray, Granite, Thunder, and Cloud Cover.
7.Gray Huskie 1473
Warm mushroom paint color with gray undertones
Combining neutrals is a trend that everyone loves because of how clean and crisp it makes a room. The best part is that all neutrals have varying shades and hues, and placed side by side, they exhibit unique traits. The same is true of Benjamin Moore's Gray Huskie. It may look bland when alone, but the color stands out when used with a darker gray?or white.
Do we need to tell you how beautiful it looks as an exterior paint? It makes the house look stately. You can also combine it with dark browns, blues, and vibrant colors such as yellow. Gray Huskie has an RGB color code of 182, 180, and 172 respectively. Try coordinating it with these special colors: Old Blue Jeans, Vintage Wine, Oystershell, and Seapearl.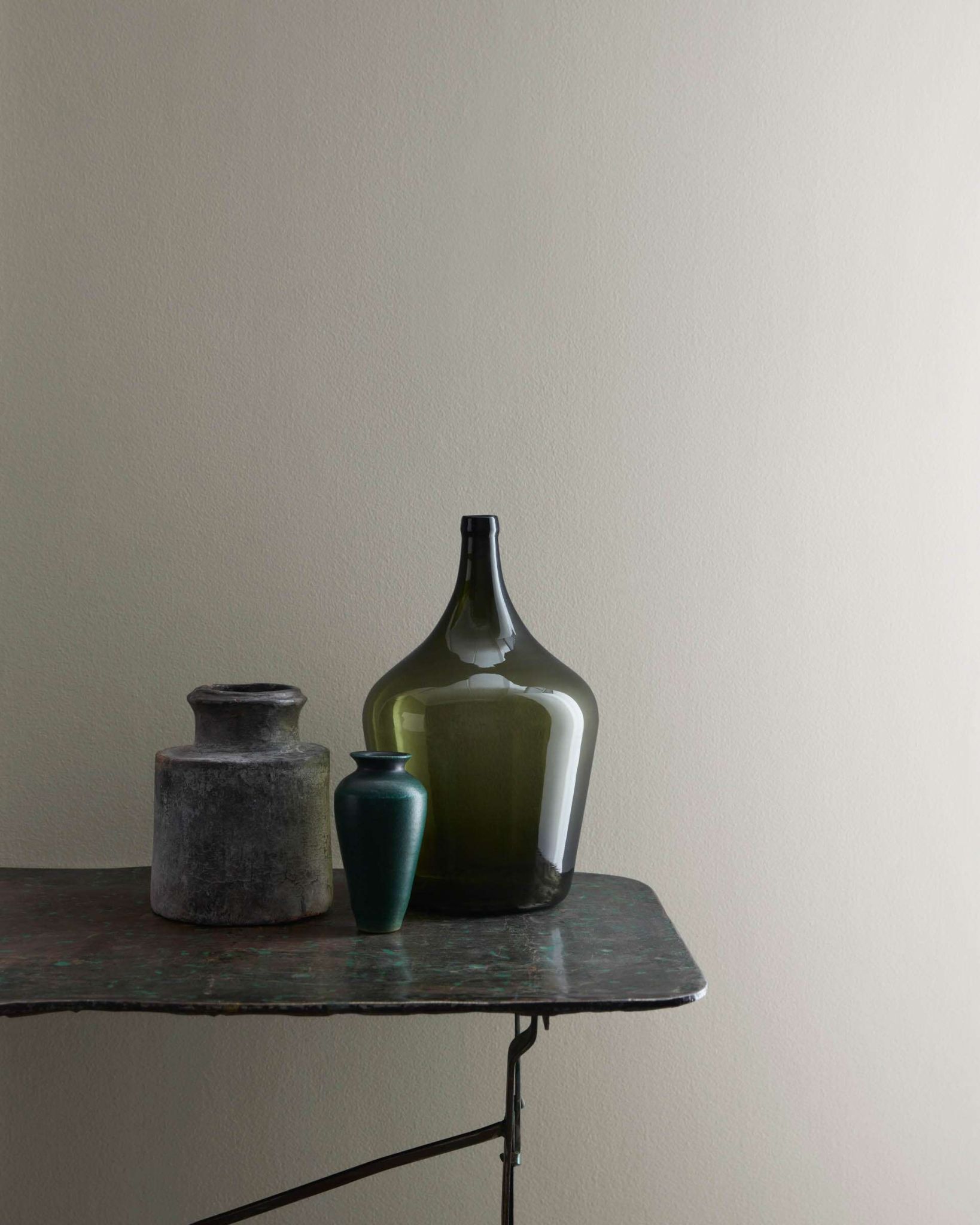 8.Pashmina AF-100
Mid-toned mushroom paint color
Mid-tone means this paint color is neutral. It has a perfect balance between warm and cool, and light and dark. With an LRv of 44.2, Pashmina is close to the mid-point of the light spectrum without overdoing it. That also means it fits with cool tones and warm tones, making it a perfect choice for any decor.

You can use it with Providence Blue, White Dove, Cinder, Deep in Thought, or colors that bring out its beauty. Pashmina has an RGB color balance of 187, 178, and 161 respectively, so you can understand its neutrality.
9.Bleeker Beige HC-80
Warm mushroom paint hue with gray undertones
Looking at this beige tone, you can see a slight yellow/brown tint?to it. This creates a warm, inviting, and cozy feeling. However, there is also a slight gray tilt that tones the warmth to prevent it from being too yellow.

The best matching colors include Dinner Part, Chantilly Lace, Night Horizon, and Newburyport Blue. There are other colors you can coordinate with it to create a perfect balance. Bleeker beige has an LRV of 51.66 and an RGB color balance of 205, 192, and 168 respectively.
10.Smokey Taupe 983
Warm mushroom hue with gray tones
Remember how we said mushroom paint colors are similar to taupe and greige? This is the evidence; this warm mushroom looks like taupe but has gray under it. While seemingly dull, Smokey Taupe has an LRV of 54.53, which means it reflects enough light to be bright. When seen under a lot of natural lighting, this color looks almost off-white.

But under different lighting, it presents its true face as you can see in this sitting room decor. Smokey Taupe is a striking color if you pair it with the right colors, such as Mink Violet, Briarwood, White Down, and Cloud White. It also has an RGB of 205, 196, and 181 respectively, making it very similar to Bleeker Beige, although with more blue in it.
9 Best Sherwin Williams Mushroom Paint Colors
1.Pinky Beige SW 0079
Warm mushroom paint color with beige undertones
Mushroom paint colors do not have to be just the usual neutral shade. It can have a bit of color, like the pinky Beige that falls in the red hue family. If you want neutrality with a tinge of bright color, you cannot look further than Pinky Beige. It is a great color for interiors, bringing some earthiness with style.

It has an RGB color balance of 201, 170, and 152 respectively, and an LRV of 43. Consider pairing it with Medici Ivory or Spalding Gray?to make it pop even more.
2.Natural Choice SW 7011
Creamy mushroom paint hue
No, it is not white but a shade of taupe that reminds you of freshly grown mushrooms in the wild. Natural Choice is the natural alternative for whites and off-whites?if you want the slightest hint of creamy color or warmth. It pairs well with whites and grays, but you will find that beige and brown set it off beautifully.

It has an LRV of 73 and although high, this color is perfect for making your house stand out in a neighborhood when used as an exterior paint. Natural Choice has an RGB color balance of 227, 222, and 208 respectively. Consider coordinating it with Sensuous Gray or Analytical Gray.
3.Balanced Beige SW 7037
Neutral mushroom paint color
Just as the name says, Balanced Beige is a balance of cool and warm tones. It has a beige undertone, which adds some character to the paint. And because of its color, it works well with any setting or decor, regardless of what was already existing.
Balanced Beige has an LRV of 46 and an RGB color code of 192, 178, and 162 respectively. You can coordinate it with Stucco, Alabaster, Peppercorn, or Aesthetic White. It also works well with dark brown, black, or red.
4.Loggia SW 7506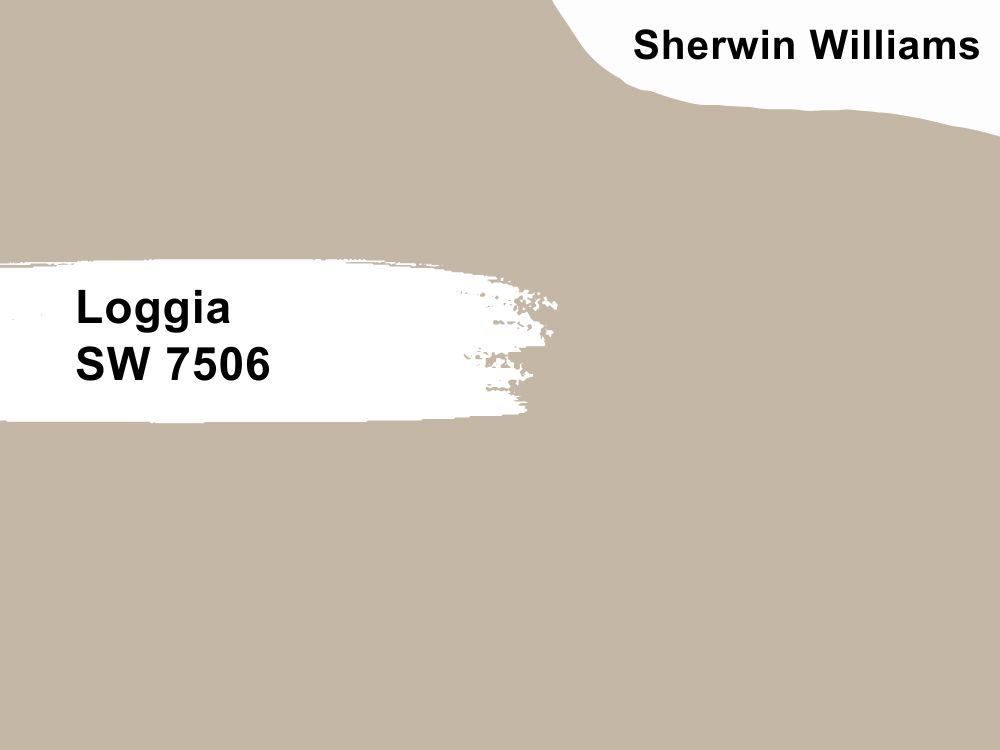 Warm mushroom paint color with neutral tones
It reminds you of stone gray but with none of its coldness. Loggia is a warm mushroom color that welcomes you, but a bit of gray keeps it from being too warm. It is an all-around color that blends with other colors, especially orange, blue, or red.

Combine it with colors such as Toile Red, Moth Wing, and Aesthetic White if you want to see how beautiful it is. Loggia has an RGB color balance of 196, 183, and 165 respectively, and an LRV of 48. You cannot go wrong with your decor if you use Loggia as an accent or backdrop.
5.Minimalist SW 9611
Warm mushroom paint color with beige undertones
This color gives your home a warm and welcoming feel?because of its slight earthiness. Pair it with pure white, wood brown, or powder blue to see how elegant it is.
Minimalist has an LRV of 52, above the mid-point, and an RGB color code of 202, 190, and 173 respectively. Colors like Toile Red go well with it. Use it for your bedroom or your baby's nursery with a hint of baby blue.
6.Mushroom SW 9587
Warm mushroom paint color with gray tones
It does not get any clearer than this; the paint is named Mushroom. It is the perfect shade, hue, and color of the typical mushroom. So you can use it as a reference if you ever get confused about what paint color is mushroom.
With an LRV of 57 and an RGB color balance of 208, 199, and 183 respectively, Mushroom pairs well with Sleepy Blue, Alabaster, or Iceberg. Deep earthy tones also blend well?with it.
7.Stick & Stones SW 7503
Warm mushroom paint color with brown undertones
You will notice a hint of gray and brown in this spectacular shade of mushroom. A favorite for interior designers and decorators, Stick & Stones made it to our list because of how well it fits cabinets. It is also a lover of dark grays and whites, although it is a neutral color.
Coordinate it with White Duck, Natural Tan, or Westhighland White, or all three, depending on your decor choice. Stick & Stones has an LRV of 31 and an RGB color value of 164, 150, and 137 respectively.
8.Shiitake SW 9173
Warm mushroom with a bit of gray
This color is amazing with all the warmth it brings. But it loves light, so you may want to use it in a well-lit room to enjoy its beauty. Shiitake reminds you of a comfortable chair in front of a stone fireplace on a cold day.
Coordinate it with light blue; blue fits well with Shiitake?as you can see in the decor below. You can also coordinate it with Dark Clove, Urban Jungle, or Aesthetic White. It has an LRV of 51 and an RGB value of 200, 188, and 171 respectively.
9.Realist Beige SW 6078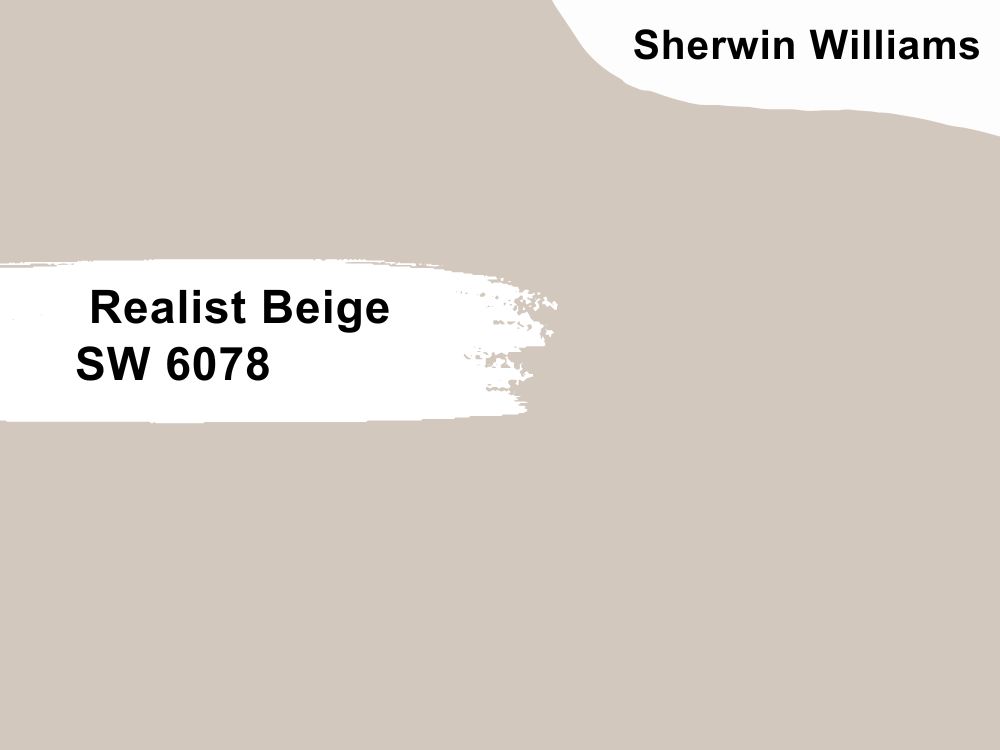 Warm mushroom paint hue with brown undertones
Realist Beige fits in the orange color family and the reason is obvious. There is a slight orange/red hue to it, although the more obvious undertone is brown. This color makes Realist Beige such a warm color that you do not need another to complement it.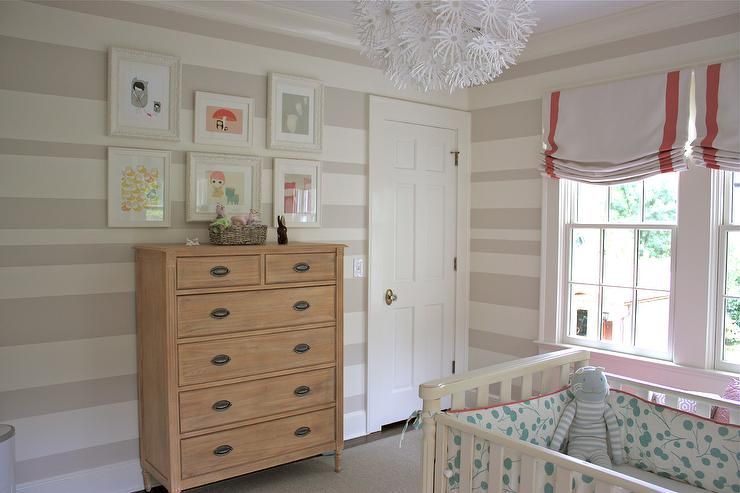 However, it works well with Rojo Dust, Sticks & Stones, and Everyday White. Try to create a balance with this color by painting accent walls a brighter color or using furniture and upholstery in vibrant colors. It has an LRV of 59 and an RGB value of 211, 200, and 189 respectively.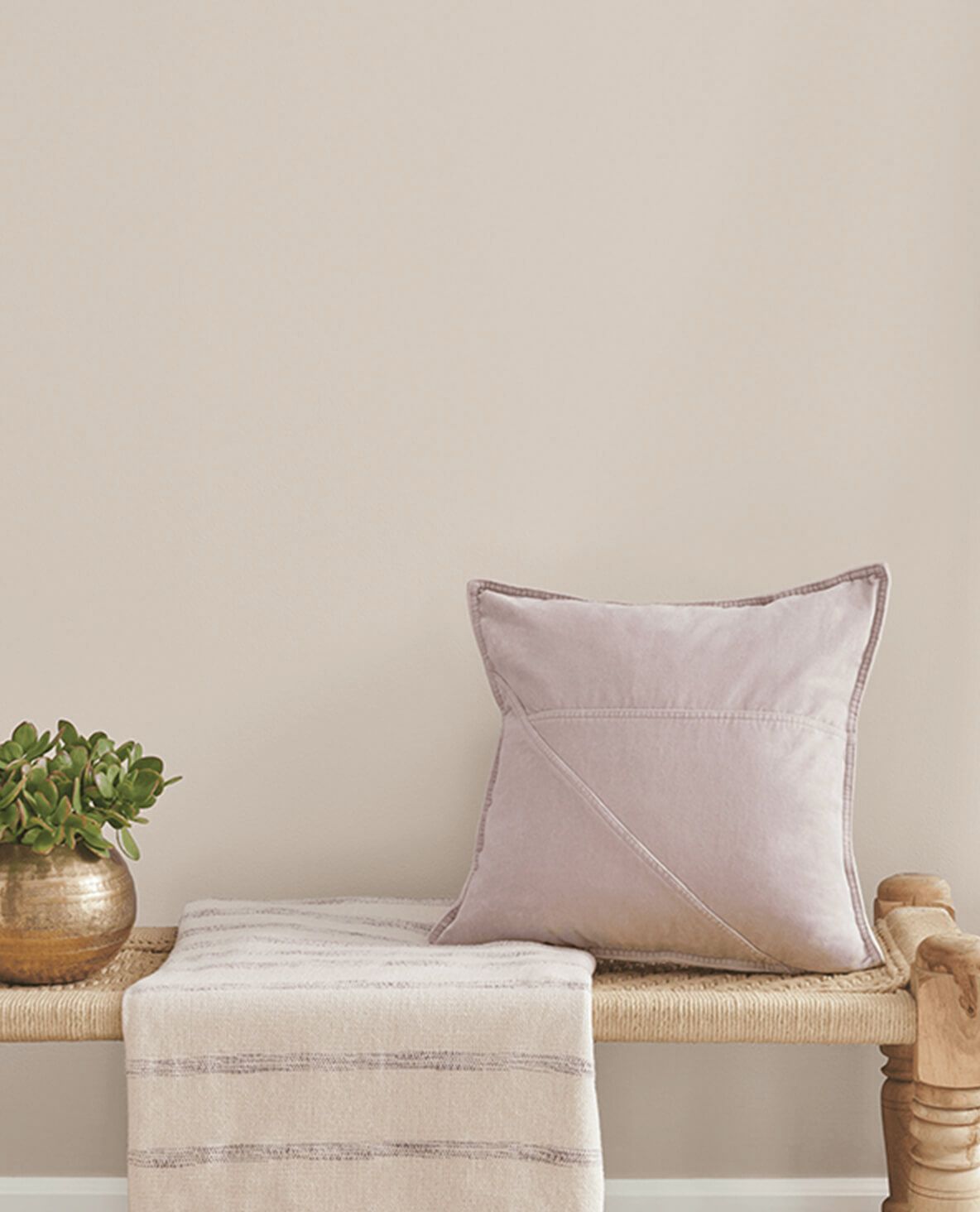 Final Thoughts
Mushroom is a delightful color and can change the tone of any room if you know how to coordinate it with other colors. Since it is neutral, it works with pastels, muted tones, earthy tones, and vibrant colors.
There are many mushroom paint options, but we have narrowed the list to the best and most popular ones from Benjamin Moore and Sherwin Williams. Remember to share your thoughts and pictures of your new decor with us in the comments section.