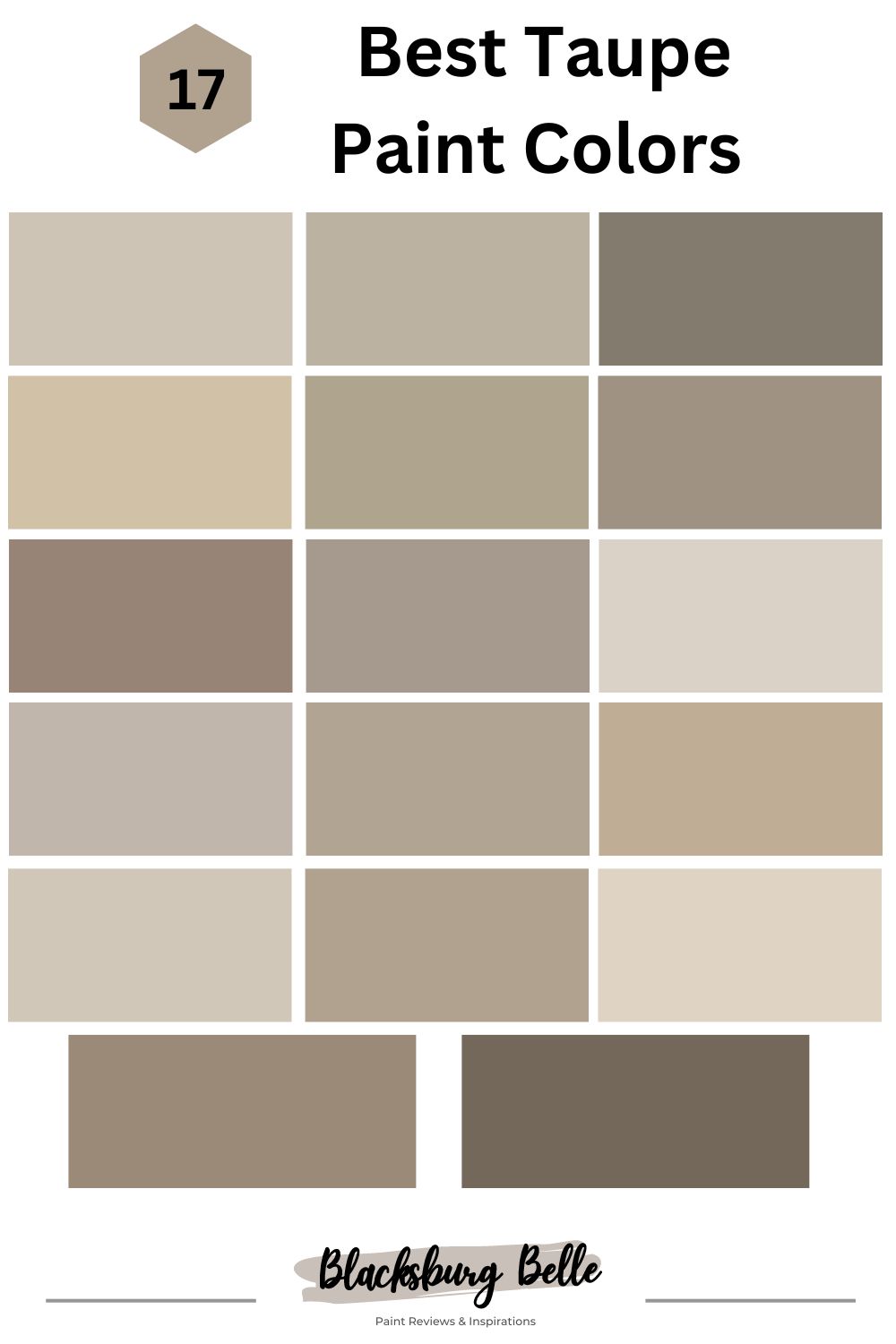 Taupe paint colors are age-old and will also be classic. This is because they always fit any decor and present a cool and calm face, especially light neutrals. However, there are so many shades with different undertones that finding the perfect color for that decor is almost a challenge.
So, how do you select the best taupe paint color from many choices? You are not alone if you ask this question. Fortunately, we have done the hard part of the job by picking the 17 best taupe paint colors, going from light to dark. Our choices are from the top brands: Benjamin Moore and Sherwin Williams.
What Is a Taupe Paint Color?
Taupe is a color that combines gray and brown in different amounts. You can find taupe paint colors ranging from the color of mushrooms to that of a deep tan. Factors like the lighting, decor, and elements in a room will affect the shade of the taupe and its undertones.
Sometimes, it can look more like beige or gray, depending on the amount of brown or gray in it. Of course, the red, green, and blue (RGB) color code also determines the specific shade of taupe you have. If you want to know whether your choice of taupe paint color has warm or cool tones, check the color code and undertones.
What Are the Common Undertones of Taupe Paint Colors?
You will find some taupe paint colors with red or pink undertones, which move them to warm tones. Other taupe paint colors may have bluish undertones, making them cool colors. Some of these colors look delicate and soft due to the hues in them, while others look earthy and full.
Depending on the lighting in a room, taupe may appear to have slightly purple undertones. That means it has more of a pink hue than red, although they are all within the same color class. You may want to check your existing decor or other color elements in a room before selecting any taupe paint color. The same is true for the lighting in any room.
Where Can You Use Taupe Paint Colors?
Because they are neutrals, taupe paint colors fit any room, whether it is a kitchen, bathroom, living room, bedroom, dining room entryway, stairwell, front door, or cabinets. However, as we have mentioned, taupe colors can be light or dark, warm or cool.
The cool paint colors may favor small rooms because of how crispy they can be. That way, they do not overwhelm a room with too much coolness. But warm taupe paint colors perform better in large rooms because of how inviting and cozy they become. However, you can use these paint colors in any room to complement different colors, even vibrant ones.
If you opt to use taupe for the walls in any room, you may want to use wood tones, creamy neutrals, and brass to complement it. These increase the color's richness and remove blandness.
Vibrant hues such as emerald green, brilliant red, turquoise, bright teal, and fuchsia also blend well with taupe. You can also consider using muted tones like terracotta or pastels for the same purpose.
17 Best Taupe Paint Colors for Your Decor: From Light to Dark
We list and describe the best taupe paint colors from Benjamin Moore and Sherwin Williams that work in any decor, whether the paint colors are light or dark.
1. Smokey Taupe 983
Light taupe paint color with slightly red undertones
This warm taupe is an appealing color and fits living rooms. This does not say it is not great for other rooms, but it adds a warmth that makes family time better than usual. You can also use it for a visitor's room, bedroom, or kitchen to add that cozy and welcoming feel to the room.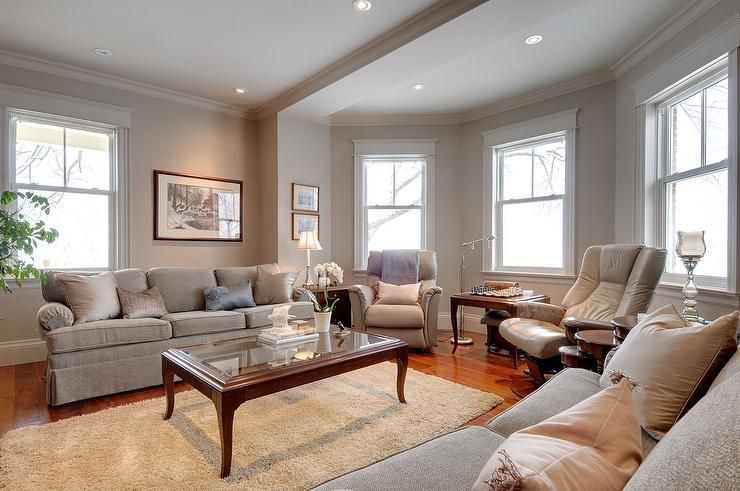 With enough lighting, Smokey Taupe appears lighter than it is, especially with an LRV of 54.53. It has an RGB color code of 205, 196, and 181 respectively. Match it with other Benjamin Moore colors like Mink Violet, Briarwood, White Down, and Cloud White.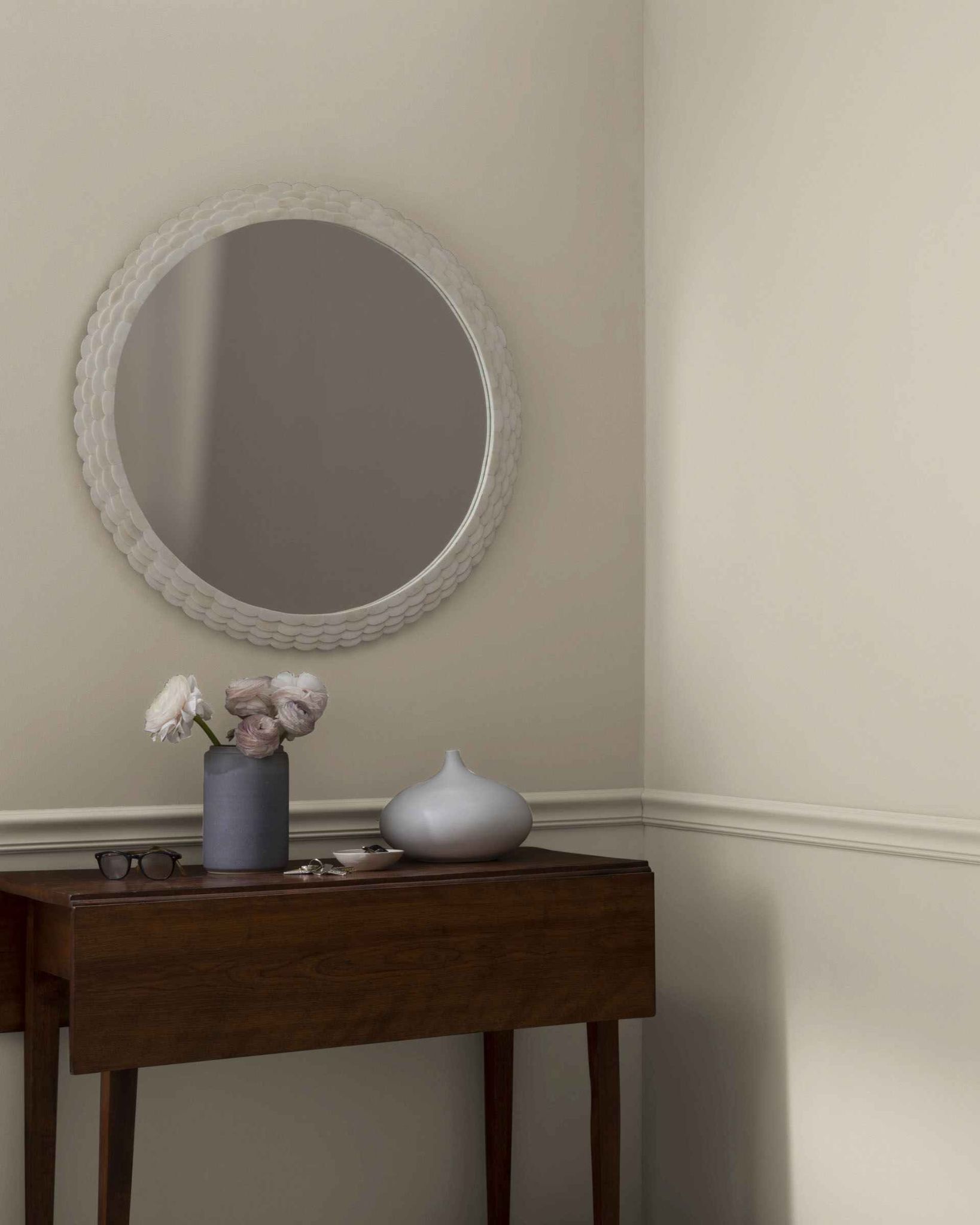 2. Pashmina AF-100
Mid-toned taupe paint color with green undertones
It is only in some types of lighting that you will see the green in this color. Although it is slightly similar to Revere Pewter, Pashmina appears to deliver more depth and color intensity. We like it because it is balanced between light and dark taupe and fits into warm or cool color schemes.
It has an LRV of 44.2, which is below the middle point of the light reflectance spectrum. It is closer to the black end of the spectrum than the white end. With an RGB color code of 187, 178, and 161, coordinate Pashmina with colors like Providence Blue, White Dove, Cinder, and Deep in Thought from Benjamin Moore.
3. Sparrow AF-720
Dark taupe paint color with brown undertones
This paint color is a rich and deep hue, and with its earthy tone, it is best to pair it with light neutrals like white or wood tones. It is an excellent backdrop for an all-white decor as it adds depth and character to it. This depends on how you like your decor, as this taupe color adds warmth and coziness.
Coordinate it with April Showers, Floral White, Pashmina, and Fossil, all light neutrals from Benjamin Moore. With an LRV of 21.14 and an RGB color code of 131, 124, and 110 respectively, you can understand how saturated Sparrow is.
4. Shaker Beige HC-45
Warm taupe paint color with peachy tones
The shade of this paint color makes it look more peach or light orange than taupe. In fact, some classify it as light orange or vibrant beige. With lots of natural lighting, Shaker Beige presents its true face and looks amazing with other neutrals.
That is why colors like Tate Olive, Bone White, White Dove, and Mountain Peak White are excellent choices to coordinate the color. In other types of lighting, the color looks like it has a bit of yellow under it. Shaker Beige has an LRV of 53.53, surprisingly higher than you would expect. It also has an RGB color code of 209, 194, and 167 respectively.
5. Brandon Beige 977
Cool taupe paint color with a hint of green
There is a hint of mossy green under this shade of taupe that brings it alive. It reminds you of the outdoors in a good way and adds life to any decor. Although it leans slightly toward a cool tone because of the undertones, the type of lighting used per time can significantly affect it.
With an LRV of 37.86 and an RGB color value of 175, 165, and 143 respectively, it is best to coordinate Brandon Beige with Prescott Green and White Heron or Straw Hat and Dove Wing. You can also choose other neutrals or matching colors for this taupe according to your decor.
6. Weimaraner AF-155
Warm taupe paint color with brown/gray tones
Taupe can look brown or gray and still pop. Weimaraner is proof that brown tones can come alive in different decor types, especially when lighter colors complement it. This kitchen arrangement from Pinterest shows how the color can show purple hues in some lighting.
Weimaraner has an LRV of 30.99, low enough to explain the deep shade even in bright lighting. And with an RGB color code of 159, 146, and 130 respectively, this taupe paint color works best with Dusty Trail and Glacier White or Thunder and Lychee.
7. Driftwood 2107-40
Deep mid-tone taupe paint color
You may not know it, but light neutrals are not the only colors that look great on trims. In this house exterior on Pinterest, Driftwood is the color on the trims, which makes the house look unique, although there are different elements at play in the setting.
Driftwood is a rich deep shade of taupe with neutral tones, so it works well in cool or warm decor types. But you may want to lighten it a bit with Atrium White and Soft Satin or White Diamond and Metropolitan, all from Benjamin Moore. The color has an LRV of 25.29 and an RGB color code of 151, 132, and 119 respectively.
8. Ashley Gray HC-87
Warm taupe paint color with slightly violet undertones
Gray on taupe does not look like much in a decor. Interestingly, this taupe paint color pairs well with grays and whites to create an airy, fresh, and clean look. This is especially true because of the hint of violet that appears in this color under the right light. See how Decorpad uses it in this nursery setting.
Ashley Gray has an LRV of 33.45 and an RGB color code of 165, 154, ad 141 respectively. Wood tones and earthy browns also work well with this shade of taupe, but light colors like Gray Timber Wolf and Lacey Pearl or Queen Anne Pink and Sand Dollar complement it beautifully.
9. Taupe of the Morning SW 9590
Light taupe paint color with slightly pink undertones
At first glance, you will notice a slightly red/pink undertone, especially when you place it side by side with mid-toned taupe colors. However, it gives a hint of gray and brown when compared to taupes with slightly green tones. Taupe of the Morning is versatile and such a beautiful choice for any room.
This soft shade of taupe has an LRV of 65 and an RGB color code of 218, 210, and 198 respectively, which is an almost perfectly neutral code. Coordinate it with Warm Putty, Gray Beige, Alaskan Skies, and Windrush. Consider pairing it with wood tones and other light grays for the best effect.
10. Versatile Gray SW 6072
Warm taupe paint color with gray undertones
Taupe can look great with whites and browns if you know how to pair them well. This minimalist setting from Decorpad is an example of how to blend white with Versatile Gray and make it look good. Different shades of brown also make the decor look warm and earthy.
With an LRV of 48 and an RGB color code of 193, 182, and 171 respectively, you may find this color works well with Swing Brown, Popular Gray, and Heron Plume, all from Sherwin Williams.
11. Perfect Khaki SW 9612
Warm taupe paint color with slightly yellow tones
Depending on the lighting in a room and other elements, this Sherwin Williams Emerald Designer Edition paint color may appear too deep and full. As a result, you may find it overwhelming to some extent. However, it is only somewhat deep with a subtle yellow tone. This can change to gray under another light.
And because of its neutrality, it can work with other taupe shades and gray with whites. Alternatively, use it as a backdrop and add colors to make it look sharper. Perfect Khaki has an LRV of 38 and an RGB color code of 178, 164, and 146 respectively. Consider matching it with Alabaster and Panda White.
12. Antler Velvet SW 9111
Wam taupe paint color with yellow/orange undertones
Antler Velvet is part of the yellow color or hue family, which explains its bright color. However, it shows more of an orange hue than yellow, although this is subject to lighting and surrounding elements.
The best part of this color is the softness it adds to any decor and how it makes everything look natural. This is especially true when paired with wood tones. Antler Velvet has an RGB color code of 192, 173, and 150 respectively, with an LRV of 43. Coordinate it with Autumnal, Kilim Beige, and Divine White.
13. Accessible Beige SW 7036
Warm taupe paint color with gray undertones
Accessible Beige is a popular paint color and not only in the beige family. It is close in popularity with Agreeable Gray because of how neutral and versatile it is. You cannot go wrong with this color, and it is part of our taupe paint color list because of how well it combines gray and brown.
With an LRV of 58, consider coordinating it with colors like Sherwin Williams' Cadet, Sanderling, and Aesthetic White. Accessible Beige has an RGB color code of 209, 199, and 184 respectively.
14. Tony Taupe SW 7038
Warm taupe paint color with mushroom undertones
Tony Taupe brings to mind earthy tones and mingling with nature. It is a rich color that blends with all shades, especially with wood colors. The color creates an airy and fresh look in a room with lots of natural lighting and white neutrals.
Sometimes, Tony Taupe looks like a mid-tone gray. With an LRV of 37, which is relatively low, and an RGB color code of 177, 162, and 144 respectively, coordinate it with Half-Caff, Touch of Sand, and Aesthetic White. It is a great paint choice for exteriors as well as interiors.
15. Natural Linen SW 9109
Warm taupe paint color with greige undertones
Popularly known as a beige paint color, Natural Linen can double as a taupe with a bit of bright color. It works well with brown tones, especially wood, and brings a lively mood into a room. Use it in your entryway, living room, bedroom, nursery, cabinetry, or dining room.
It has an LRV of 66 and an RGB color code of 223, 211, and 195 respectively. Because of this, consider pairing it with Gris Morado, Antler Velvet, and Divine White.
16. Sycamore Tan SW 2855
Deep taupe paint color with gray undertones
Without a doubt, Sycamore Tan is the perfect neutral for exteriors and interiors. We know that not all neutrals work well with exterior decors, but this paint color is an exception. If you pair it with grays, whites, and browns, the result is usually spectacular, as you can see from the exterior of this house from Plan-Home.
This deep color needs light shades to complement it. So use Sherwin Williams colors like Brandywine and Patience, or light neutrals to coordinate Sycamore Tan. It has an LRV of 27 and an RGB color code of 156, 138, and 121 respectively.
17. Brainstorm Bronze SW 7033
Deep taupe paint color with a hint of green
It does not look like it, but Brainstorm Bronze has slightly green tones that deepen its hues. With an LRV of 14, this color is more brown than any other color and is saturated. So, consider using it only on accent walls or trims, or use a considerable amount of white to avoid overwhelming the decor in any room.
It has an RGB color code of 116, 104, and 90 respectively, explaining the deep shade and tones. Coordinate it with colors like Independent Gold, Cottage Cream, and Incredible White for the best results.
Final Words
Everyone has a different taste and style, and this affects the chosen decor. We have reviewed some of the best Benjamin Moore and Sherwin Williams taupe paint colors, from light to dark, but your choice will depend on personal style and preference.
While taupe looks excellent with white and light gray, especially dark taupe paint colors, you can opt to combine dark colors with any chosen taupe shade. All you have to do is go through our list and select different shades to complement each other. Alternatively, use other colors according to the overtones or undertones to make the color work.
Getting the right taupe paint color is exciting, and we would like to share your thoughts and experience. Let us know in the comments section.