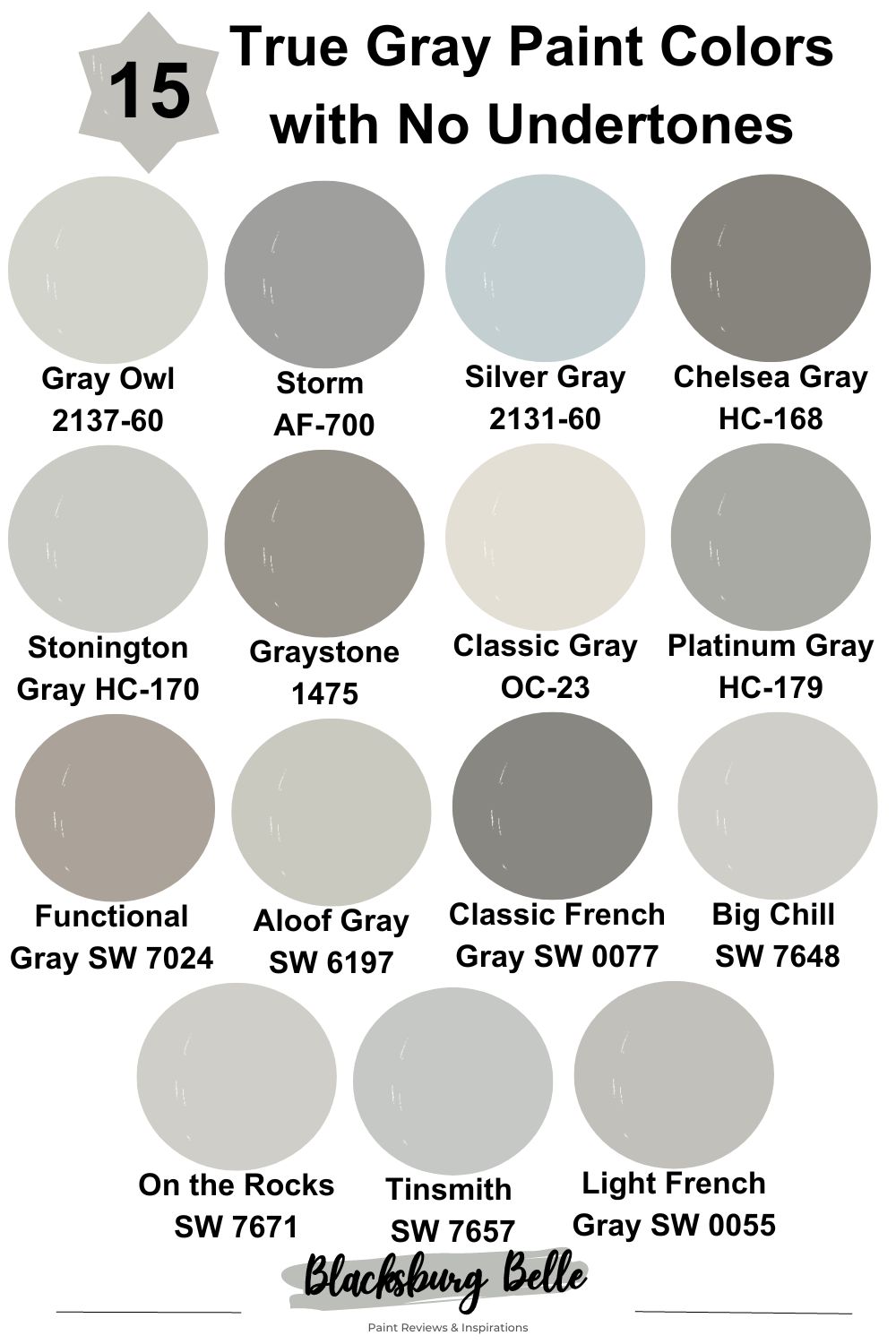 Gray is one of the most forgiving neutrals. It is not as stark as the brightest white and not as warm as the warmest black. It is the perfect shade between the two colors without compromising on color.
However, there are many shades of gray, and picking out a true gray paint color is not as easy as it looks. But we are here to give you the 15 best true gray paint colors with little or no undertones. Our list makes it easier to select one without sifting through the hundreds of available options.
What Is a True Gray Paint Color?
A true gray paint color refers to gray with an equal mixture of black and white and no other color. Many gray paint colors have an addition of other colors, no matter how little. These colors ad the extra hues you see in gray paint colors, giving them undertones.
Sometimes, a gray paint has more white than black, and other times, it has more black than white. When there is more white than black, the gray appears lighter. And when there is more black than white, the gray appears darker. Of course, these shades appear in varying degrees.
Are There Gray Paint Colors Without Undertones?
There are not as many true gray paint colors as regular grays, so finding one may not be an easy task. It is more challenging to find true gray paint colors without any undertones. The reason is that gray is a color gotten from a mixture of black and white.
And while these two extreme colors are complete neutrals, they are gotten from a mixture of some primary and secondary colors. Yellow, blue, and red produce black, while blue, green, and red produce white.
Consequently, you will always find undertones in gray paint colors; the only difference is the degree. In other words, some gray paint colors have minimal undertones, but they are always there. For example, you may find blue or green undertones, which means the gray paint color is cool. If the undertones lean toward beige or yellow, the gray paint is warm-toned.
What Affects the Undertones in True Gray Paint Colors?
We would not be playing fair if we did not tell you that lighting and the environment can make a true gray paint color appear to have a bold undertone. In certain lighting, a gray paint color that would have looked neutral appears to have more green in them than gray. At other times, it may look more blue than green or gray.
The same is true when you use some colors in your decor or match the paint with such colors. Warm colors may make a true gray paint look more blue than neutral. And pairing a gray with clear purple undertones with a true neutral may make the latter appear to have green undertones.
This does not mean that the gray paint color changes; it remains the same. However, factors such as lighting, surrounding colors, and decor can drastically alter how you see the color. Therefore, keep this in mind when selecting a true gray paint color.
It is always a great idea to place a swatch of the gray paint of your choice beside the white paint. This will bring out any undertones in the gray paint, no matter how minimal. We advise that you make this type of comparison before picking one color.
15 True Gray Paint Colors with No Undertones
With the above in mind, here is our list of the 15 top true gray paint colors without clear undertones from Benjamin Moore and Sherwin Williams.
8 True Gray Paint Colors with No Undertones from Benjamin Moore
1. Gray Owl 2137-60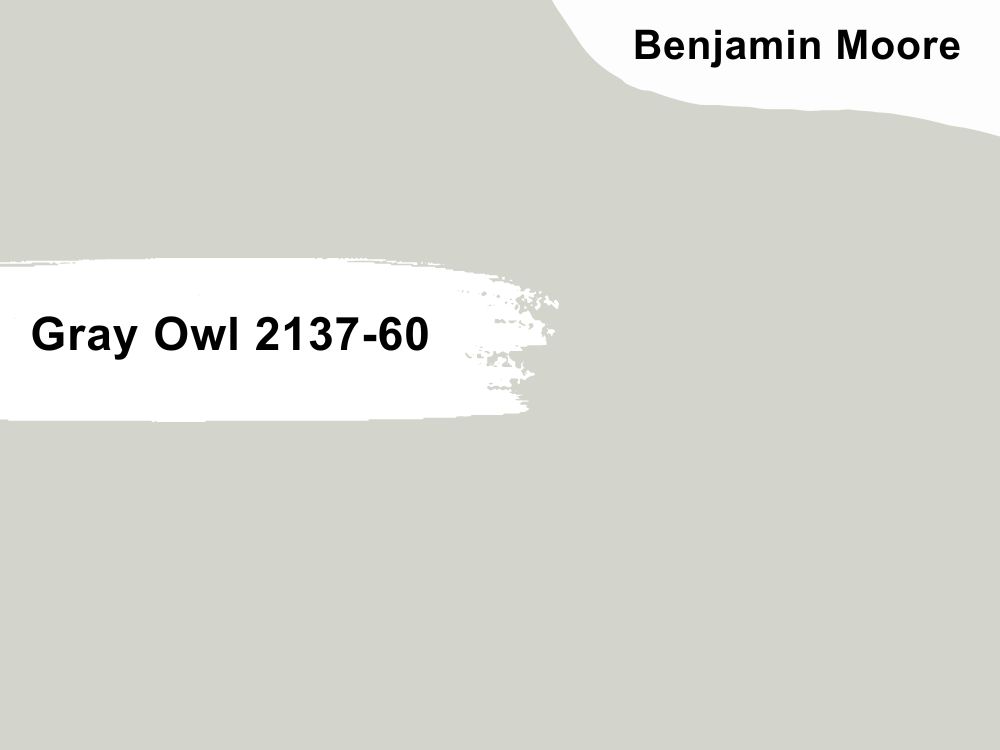 This light gray is a great neutral to use anywhere and with any color. As one of the best true grays from Benjamin Moore, Gray Owl does not reveal any undertones, even when paired with blue. However, it may appear a little warm when hit by sunlight.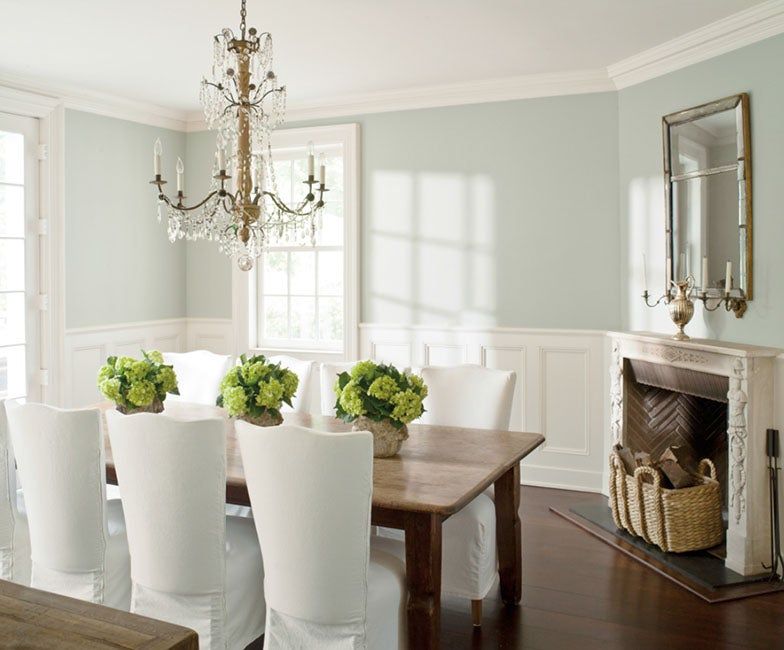 It makes it to the top of our list because of how neutral it appears in any decor. Gray Owl has an RGB color balance of 212, 210, and 203 respectively, and an LRV of 64.51. Match with colors that include Paradiso, White Heron, Midsummer Night, and Taos Taupe.
2. Storm AF-700
This cool gray paint color is an amazing and recommended addition to your living room or kitchen. It is an excellent paint choice for the exterior of your house. Storm can lighten or darken with different lighting, but it has no overwhelming undertones.
With an LRV of 35.6, Storm is a medium gray that does not overwhelm any decor. Match it with colors such as Gray Owl, which is a lighter gray, or White, Flint, and Etiquette, all from Benjamin Moore. Storm has an RGB color code of 145, 146, and 132 respectively.
3. Silver Gray 2131-60
So, this color has a bit of a blue-green undertone, but we call it a true gray because of how the colors interact with each other. In most lighting, Silver Gray appears neutral, so it can fit many other colors. However, the undertone is there; consider using it with caution.
Consider coordinating it with colors such as Wild Flower, Kasbah, Distant Gray, and Steam. Silver Gray has an RGB color value of 196, 207, and 210 respectively, and an LRV of 60.27.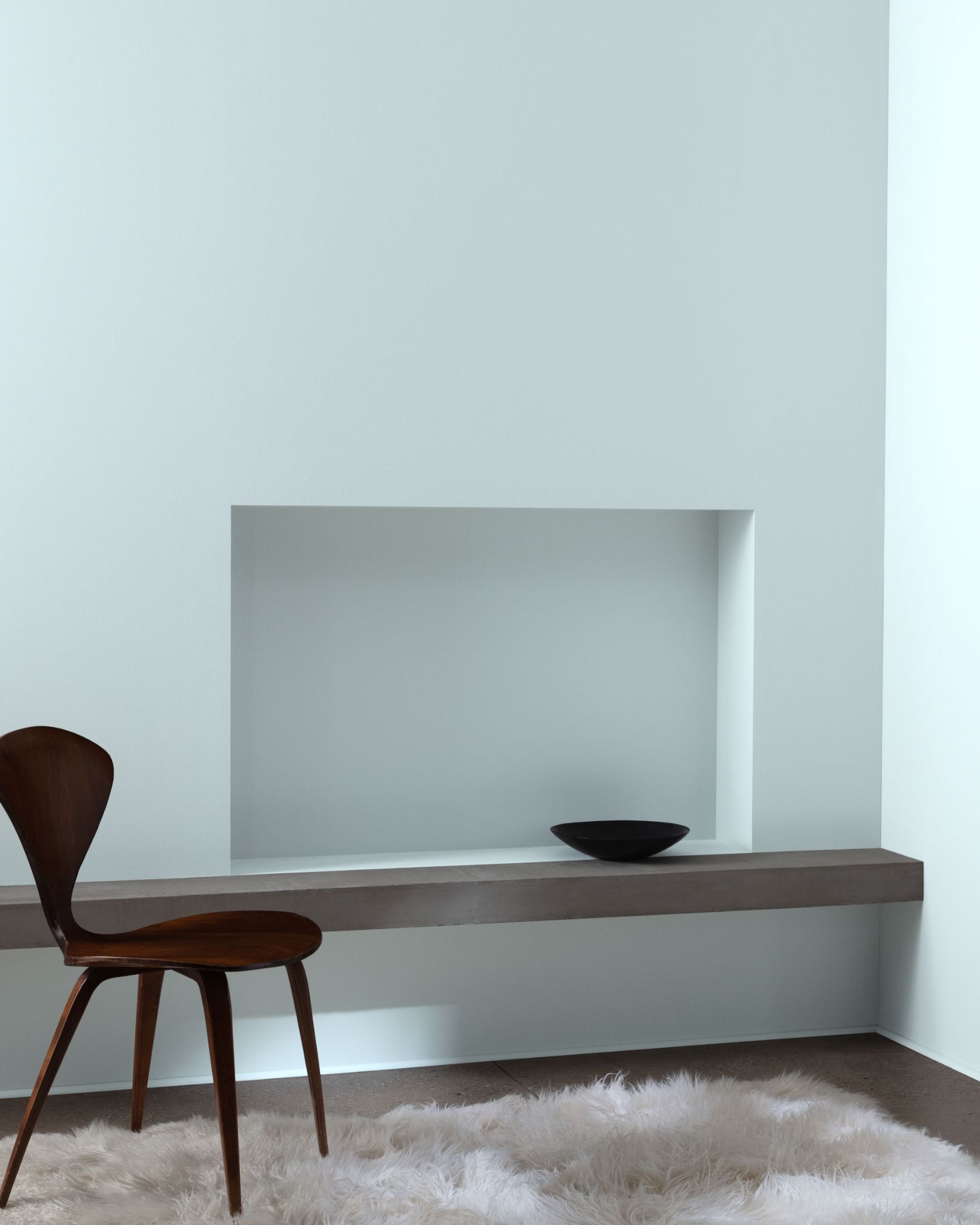 4. Chelsea Gray HC-168
Chelsea Gray is such a rich color, with its slightly brown-violet undertones. These undertones are not readily obvious, but you cannot ignore them in certain lighting. Nevertheless, the gray paint color is great for your kitchen cabinets, accent walls, and home exterior.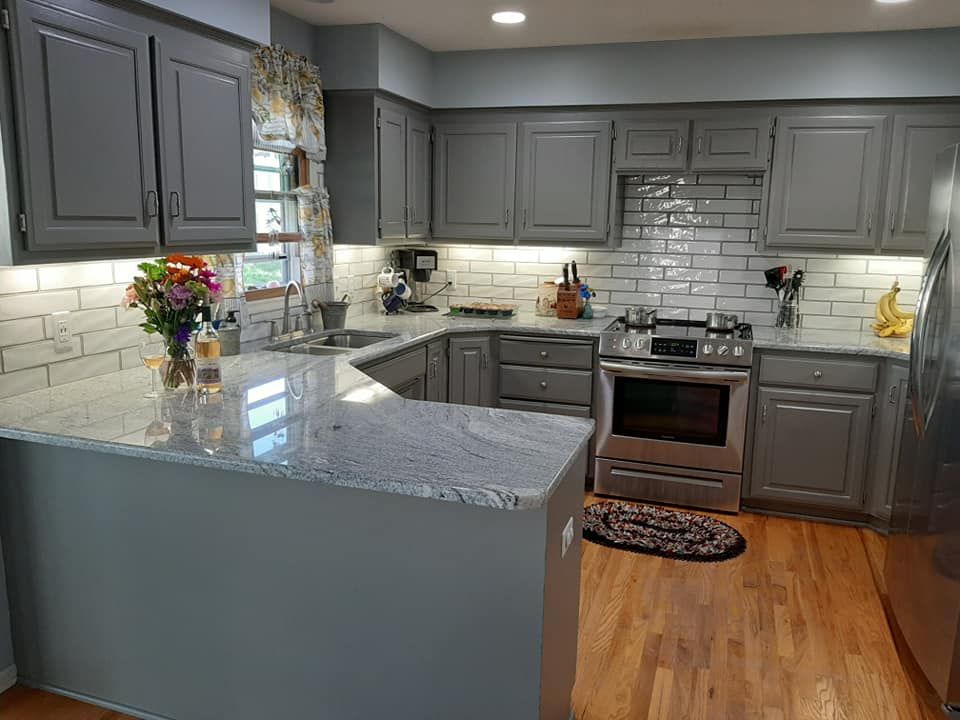 Pair it with lighter grays or bright colors such as Lemon Chiffon, Sanctuary, Concord Ivory, and Angelica. Whites and off-whites match it best because of its low LRV of 23.33 and RB color code of 134, 132, and 124 respectively.
5. Stonington Gray HC-170
Do you want to go neutral? It cannot get better than using Stonington Gray. This paint color has neutral undertones and presents a face similar to the color of stone, although it has none of its coldness. Because of this, the color is perfect for any decor and matches every color. You just have to know how to work it into your decor.
The best colors to coordinate it with are Decorator's White, Lychee, Chantilly Lace, and Puritan Gray. Stonington Gray has an LRV of 59.36 and an RGB color balance of 202, 203, and 197 respectively.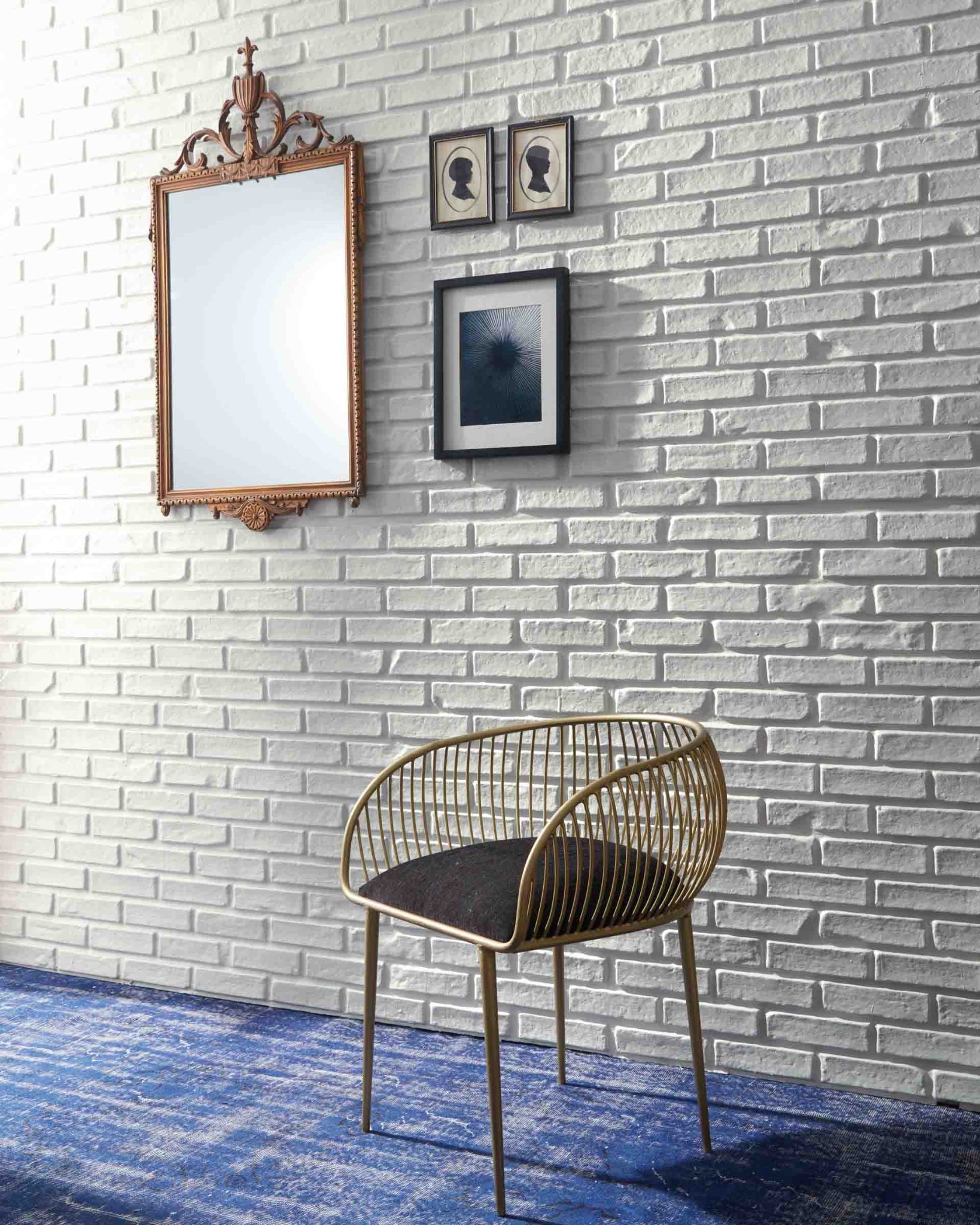 6. Graystone 1475
A mid-tone gray that never disappoints, Graystone is your go-to if you want to set an elegant and sophisticated backdrop. In dim lights, this color may appear to be unyielding. But with a bit of light, it softens and becomes one of the best true grays with which you can grace your house. It is ideal for exteriors as a trim color or entire house color, and interiors.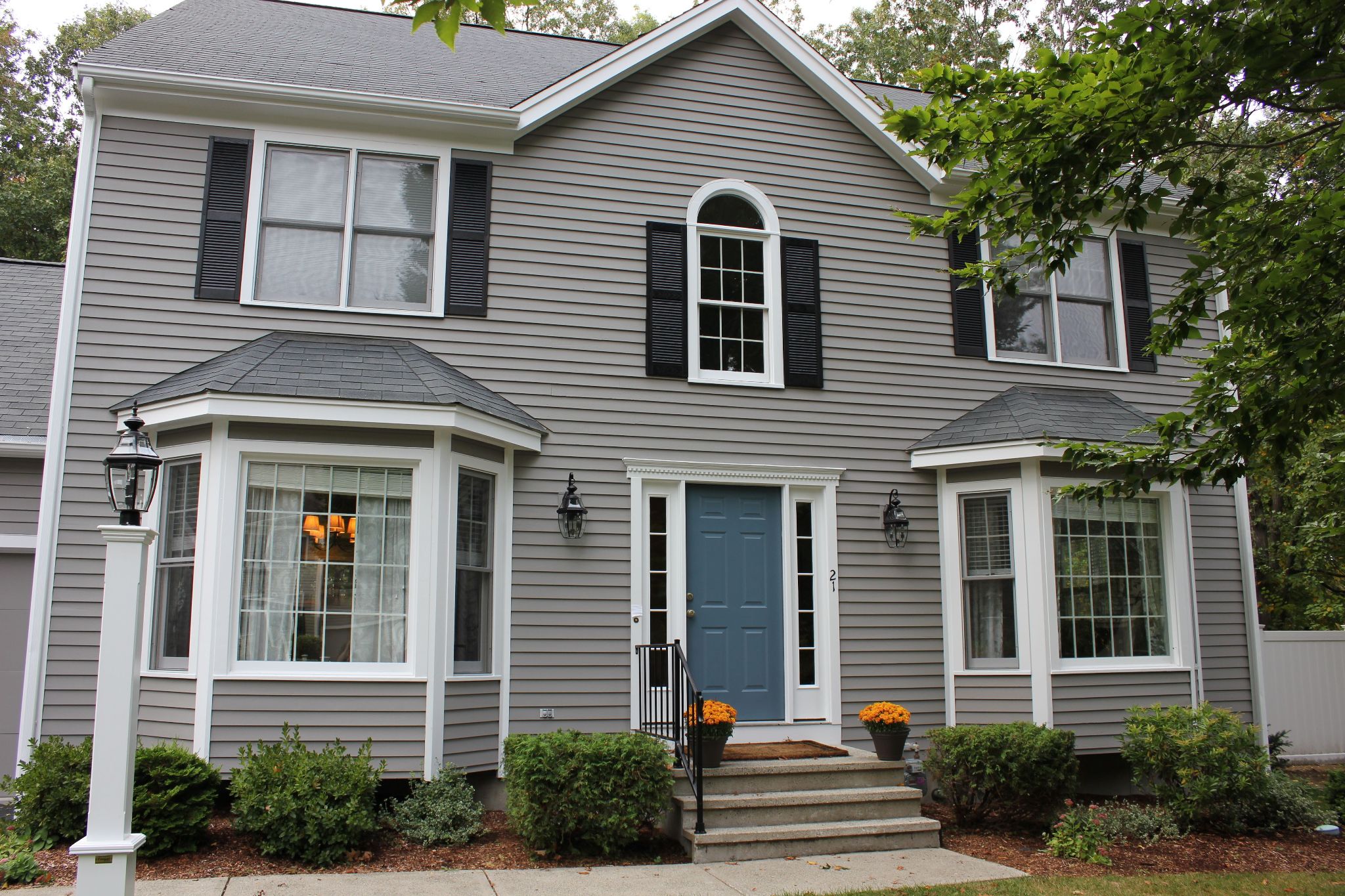 Graystone has an LRV of 30.5, which is relatively low, and an RGB color balance of 153, 149, and 140 respectively. You may want to coordinate it with Firenze, Fossil, Providence Blue, and Classic Gray to get the best results.
7. Classic Gray OC-23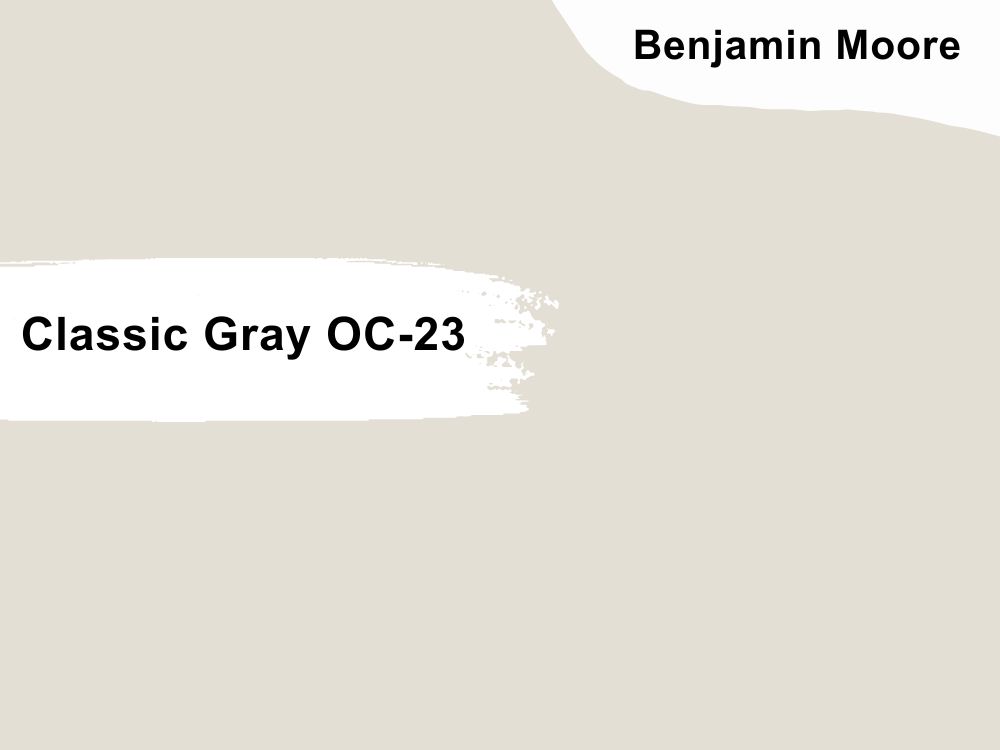 Some of these neutrals are a perfect replacement for other neutrals, and this is one of them. Classic Gray is so light that it can pass for off-white. Its versatility makes it popular with interior designers and others looking for the best neutrals.
It is a bright color that works with little or bright lighting. It has an LRV of 73.67 and an RGB color code of 227, 223, and 213 respectively. Match it with colors such as Indian River, Stone Brown, Simply White, and Stone Harbor.
8. Platinum Gray HC-179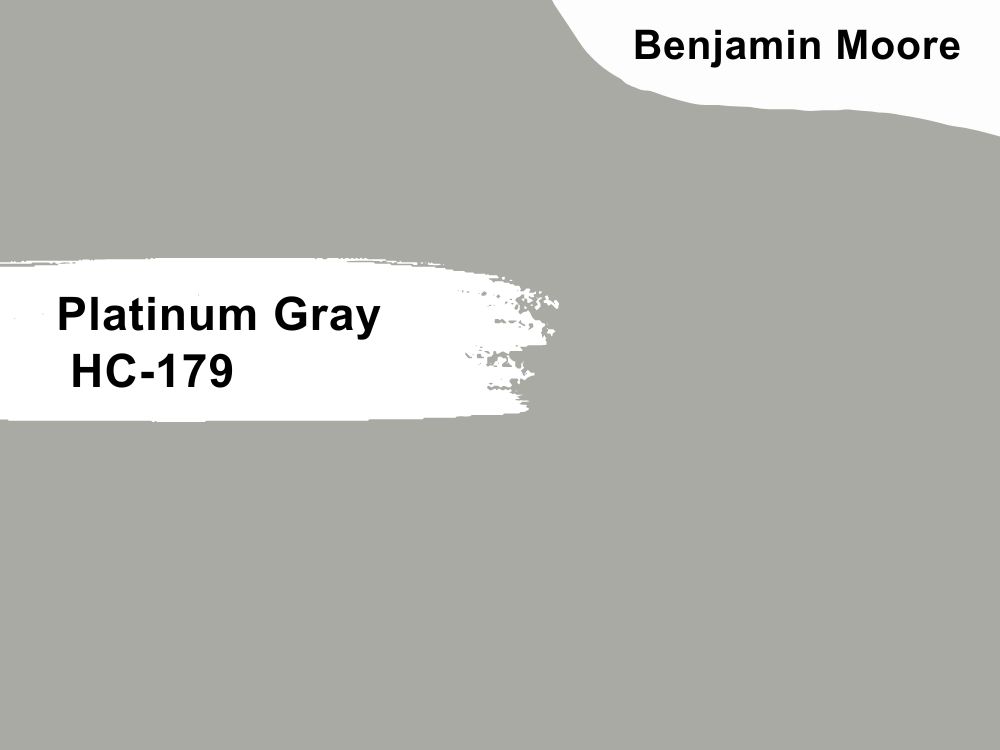 Use this color as a great backdrop for your decor, especially if you are just starting to decorate. It is a mid-tone gray and its neutral undertones are what you need to set the tone for all decors. Vibrant colors or pastels match Platinum Gray, so use it in any room of the house, including the kitchen or living room,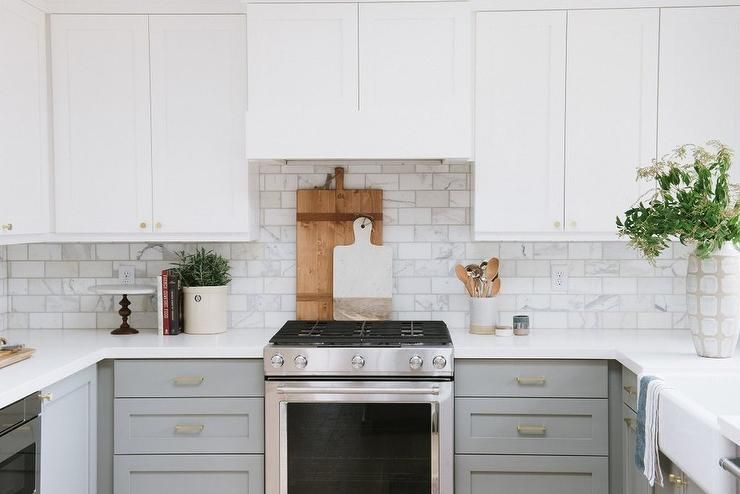 With an LRV of 39.64 and an RGB color value of 169, 170, and 164 respectively, Platinum Gray works well with other neutrals and light colors. So, coordinate it with White Wisp, Seapearl, Lavender Blue, and Philipsburg Blue.
7 True Gray Paint Colors with No Undertones from Sherwin Williams
1. Functional Gray SW 7024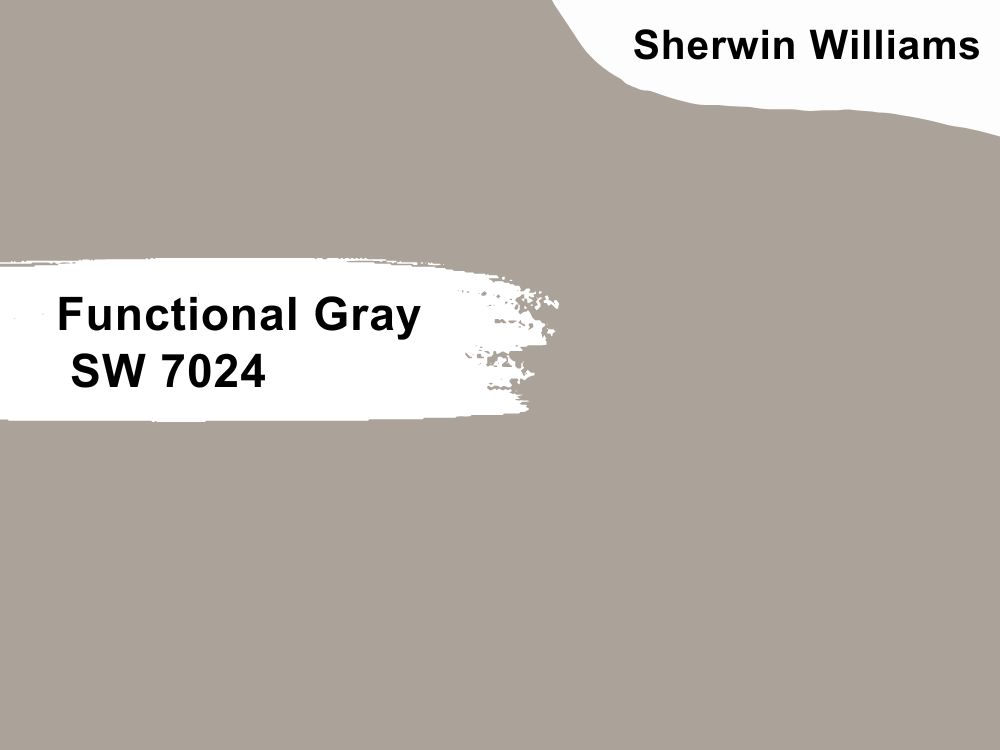 Imagine how your dining or living room will turn out if you choose this neutral gray as a backdrop. Pair it with a light gray, white, or pastel to create an airy and soft decor. It is a stately color, and the gray-clay undertones add to its solidity. You can see that Decor Pad does a good job combining it with light colors.
You may notice a bit of warmth when you have a lot of artificial light, but that does not mean the color itself changes. It has an LRV of 37 and an RGB color value of 171, 163, and 154 respectively. Coordinate it with Grapy, White Heron, or Simple White.
2. Aloof Gray SW 6197
This paint color shows a hint of green but nothing overwhelming. It is an excellent neutral that warms any room, so consider it as a paint color option for cabinetry, walls, and any room.
It has an LRV of 58, which is slightly above the middle point of the light reflectance spectrum. With an RGB color balance of 201, 201, and 192 respectively, Aloof Gray is almost a perfect neutral on the color spectrum. Coordinate it with Primavera, Cast Iron, and Frosty White.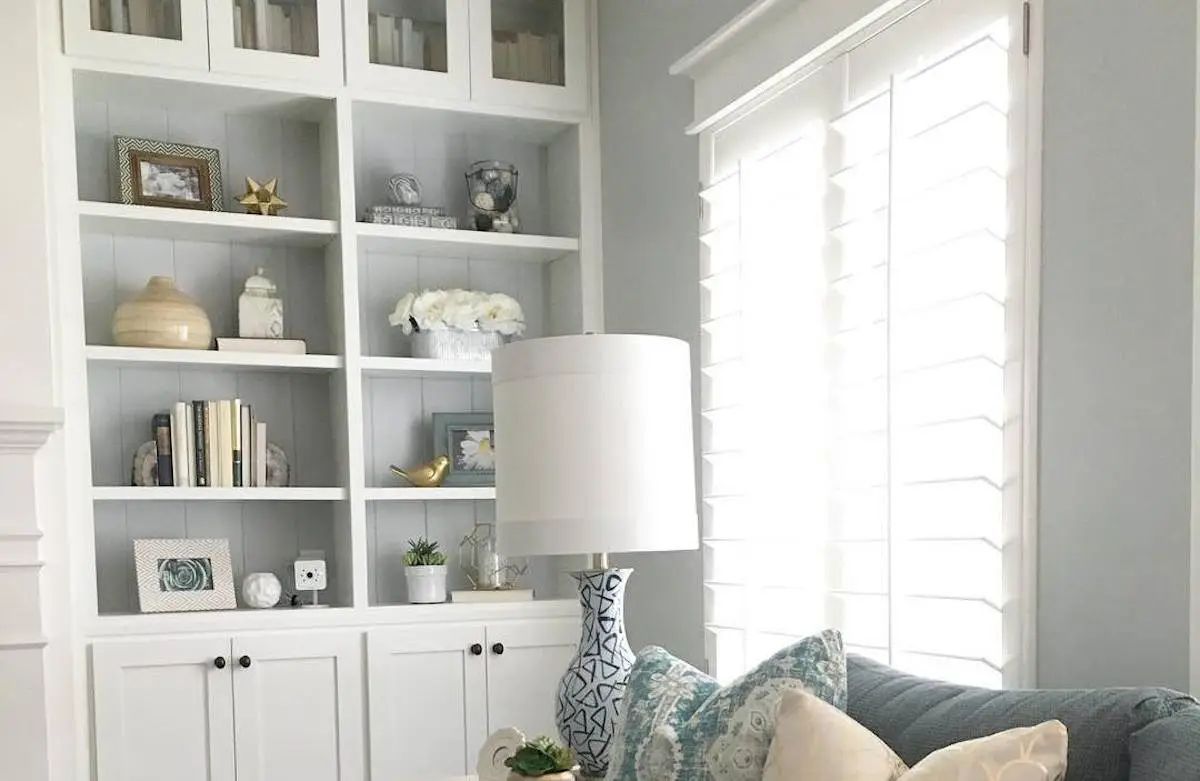 3. Classic French Gray SW 0077
Consider this color for your kitchen cabinets, accent walls, or house exterior because of its deep color. With an LRV of 24, Classic French Gray is a saturated color that may look too somber when used for an entire room. However, soften it with white if you opt to use it in bedrooms, living rooms, or your study.
It has an RGB color code of 136, 135, and 130 respectively, a testament to its neutrality. This makes it ideal for exteriors or trims if you have a light-colored house or room. You can pair it with Charcoal Blue or First Star if you want an excellent result in your decor.
4. Big Chill SW 7648
Sherwin Williams categorizes Big Chill as a white paint color with gray undertones, but it is more gray than white. Its lightness makes it an excellent substitute for white or other light neutrals, so you may keep this option in mind when decorating your hallways, nurseries, bedrooms, dining rooms, or living rooms.
Check out how Home Bunch combined colors to complement Big Chill in this dining room set. You can model yours after it or coordinate the paint color with Blonde, Extra White, or Tin Lizzie. It has an LRV of 62 and an RGB color code of 208, 206, and 201 respectively.
5. On the Rocks SW 7671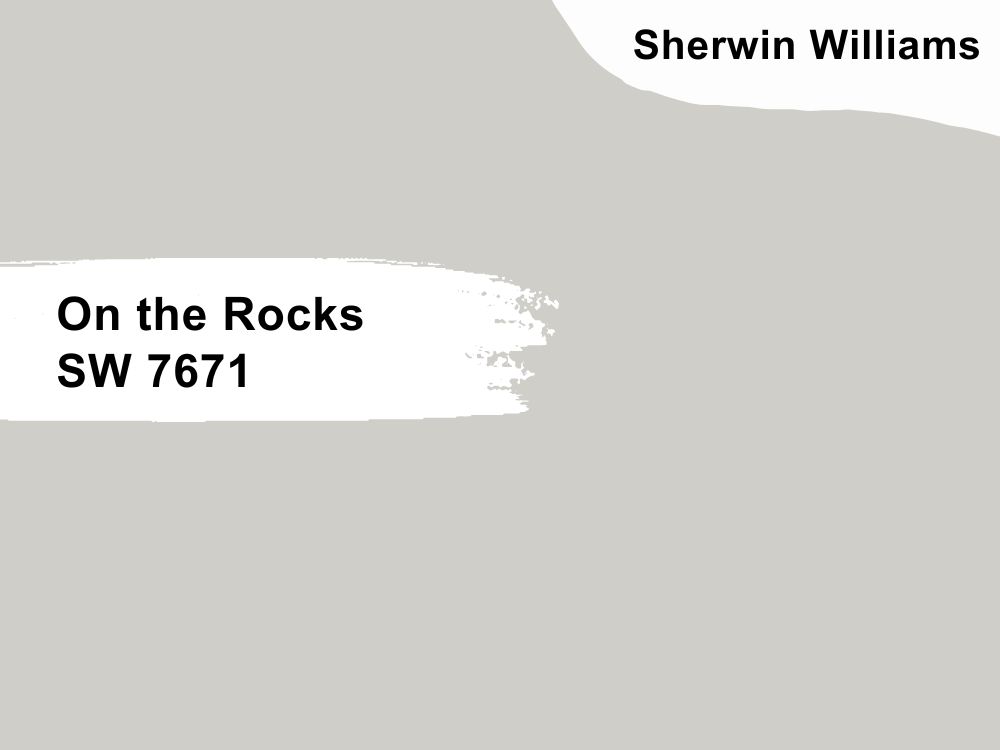 Under the right lights, On the Rocks has a cool undertone that does nothing to interfere with its beauty. As a true gray, it has a great balance on the color spectrum and is versatile enough to blend with various hues.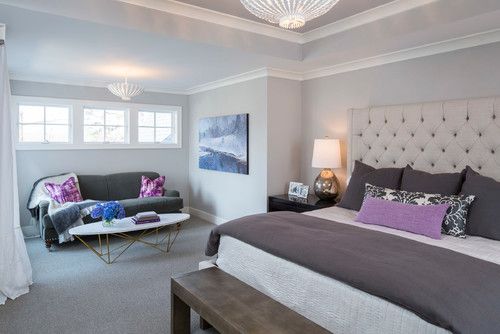 With an LRV of 62 and an RGB color code of 208, 206, and 200 respectively, On the Rocks is close to the perfect neutral. Pair it with Almond Roca, Greek Villa, or Extra White to make it pop.
6. Tinsmith SW 7657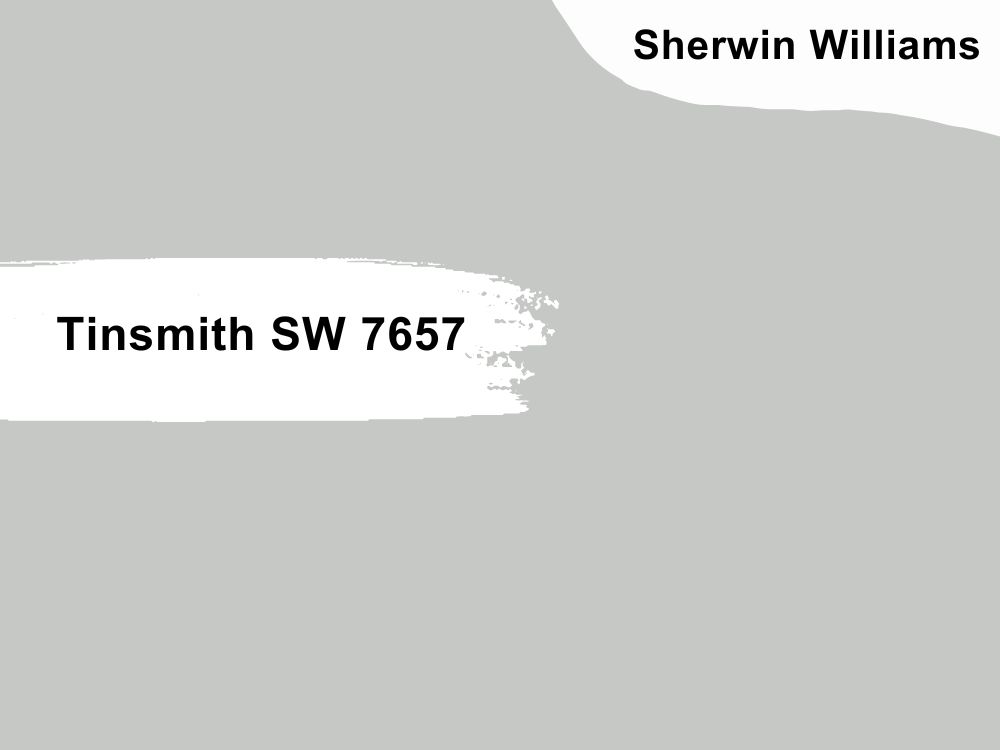 As a light gray paint color, Tinsmith has a slightly cyan undertone that makes it appear cool. This hint of color adds character and a vibe to the color, and it produces calmness and serenity in any room. It may work best in a bedroom or nursery because of how soothing it is.
You cannot go wrong with this lovely shade of gray, so consider coordinating it with Whirlpool, Snowbound, or Eider White. Tinsmith has an RB color value of 197,200, and 196 respectively.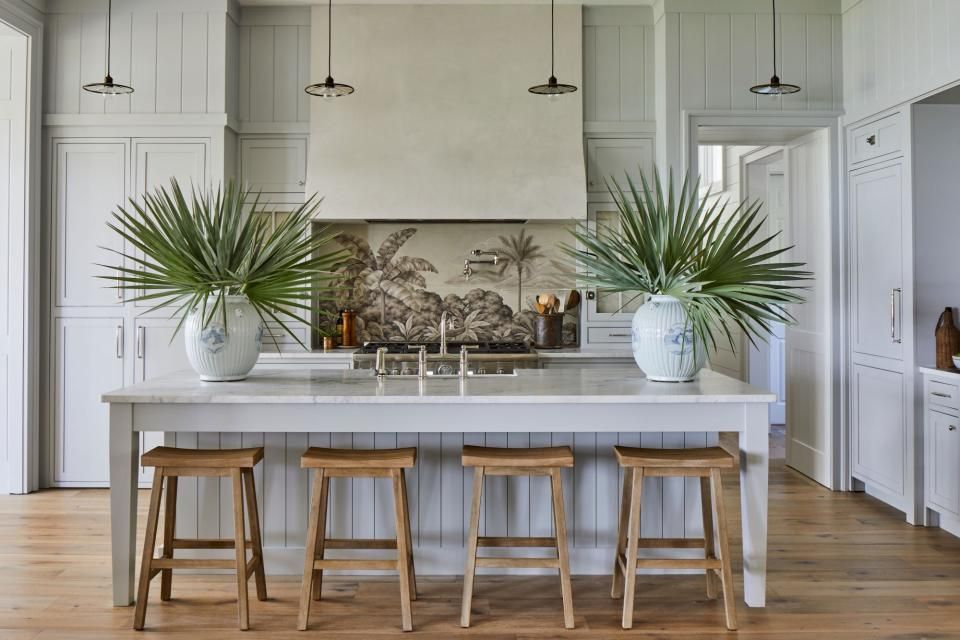 7. Light French Gray SW 0055
This mid-toned true gray paint color balances between warm and cool, which means it can blend into warm and cool decors. While it is a light gray color, it has a certain robustness that makes it interesting.
Make it work even better by coordinating it with Sherwin Williams paint colors such as Gentle Grape and Origami White. Light French Gray has an LRV of 53 and an RGB color balance of 194, 192, and 187 respectively.
Conclusion
It might have been tedious to find the perfect true gray paint color with no obvious undertones before now. But we have made the job easier by selecting the top of the cream and showing you how well they work in different types of decor.
You can even combine darker grays like Chelsea Gray and Classic French Gray with lighter ones like Stonington Gray and Aloof Gray. Get creative with these neutrals and turn your house into a cozy home with the right colors.
We are excited to hear all about your experiences with these and other true gray neutrals from Benjamin Moore and Sherwin Williams. Share them with us in the comments section.