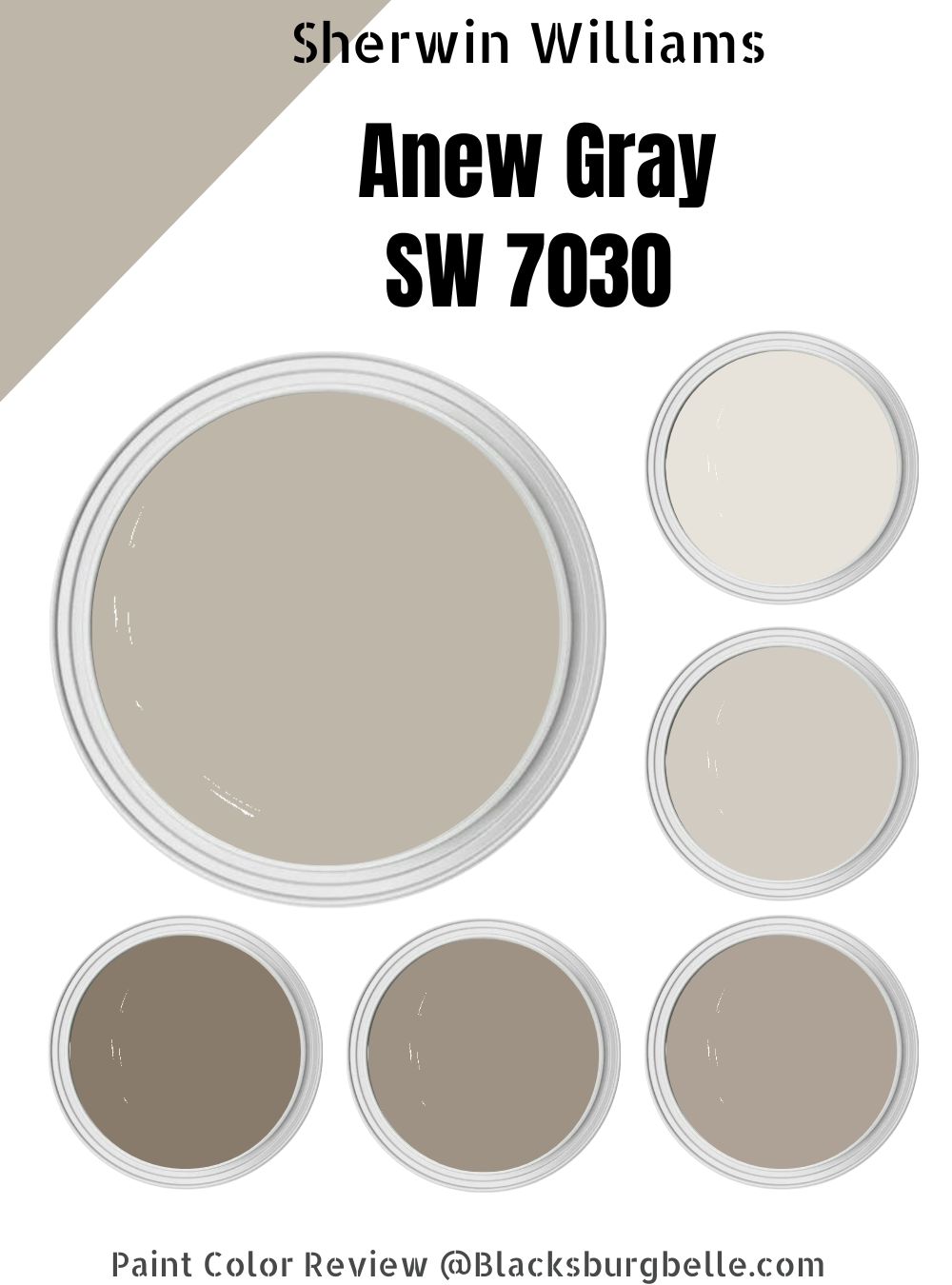 Having trouble picking a new paint for your new house or remodeling project? In the face of so many options and imminent confusion, I'll show you why Sherwin Williams Anew Gray is an excellent choice for your home in this comprehensive review.
As someone with an incredible interest in colors and interior decoration, it's crucial to select the best, most unique, and versatile colors on the market to review to aid your decision-making process.
This review will help you understand the statistics, setup, and how to incorporate this versatile hue into your living area.
What Color is Sherwin Williams Anew Gray
| | |
| --- | --- |
| Manufacturer | Sherwin Williams |
| LRV | 47 |
| RGB | 191, 182, 170 |
| Hex Code | #BFB6AA |
| Color Collections | Color ID (Minimalist), Living Well (Renew), Top 50 Colors, Finest Whites & Neutrals (Cool Neutrals) |
Another Griege beauty that offers the best of both warm and beige tones. It's a medium to dark gray hue that works in every room. Greige colors are a mix of gray and beige, which craftily blends the chaotic undertones of the respective colors to bring a more neutral shade to life.
Due to its LRV, this color boasts an impressive depth that can make a small room appear smaller and draw in space in a large room. I personally recommend that people who desire an intimate feel in their spaces use this color and couple it with lots of artificial and natural light.
RGB of Sherwin Williams Anew Gray
The RGB system assumes that each color comprises three components, red, green, and white, which are then added to create a more extensive range of other colors. When you add these colors in equal proportions, you arrive at a pure white,
For Sherwin Williams Anew Gray, its RGB is 191, 182, and 170, respectively, with a Hex Value of #BFB6AA.
LRV of Sherwin Williams Anew Gray
LRV is a valuable tool for choosing paint colors that will balance a room's natural and artificial light and create the desired atmosphere or mood. An understanding of LRV will enable you to make more informed decisions about the colors you use in your home and help you create beautiful, livable spaces that reflect your style.
Anew Gray has an LRV of 47, which puts it in the light-medium range. Strong enough to pass the message without being overwhelming. However, most greige colors are usually brighter than Anew Gray, so if you use them side by side, Anew Gray may come across as slightly darker.
Is It A Warm Or Cool Color
Anew Gray is a warm color, and this is due to the influence of the beige turn in its shade. Setting out under darker lighting conditions, you may notice that this color looks cooler due to its gray properties.
What Are The Undertones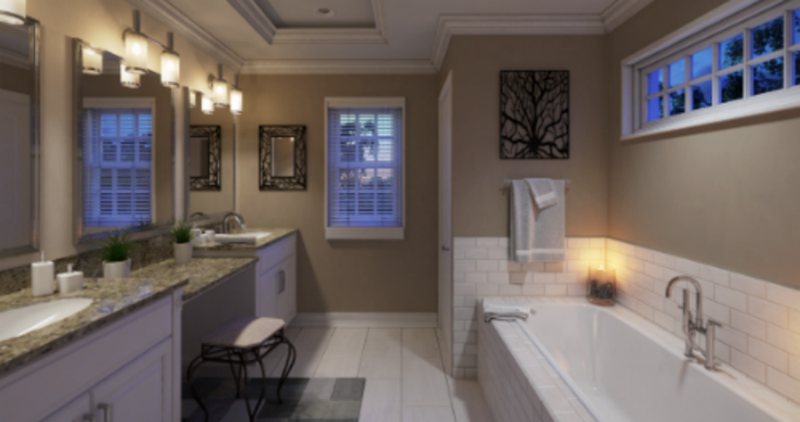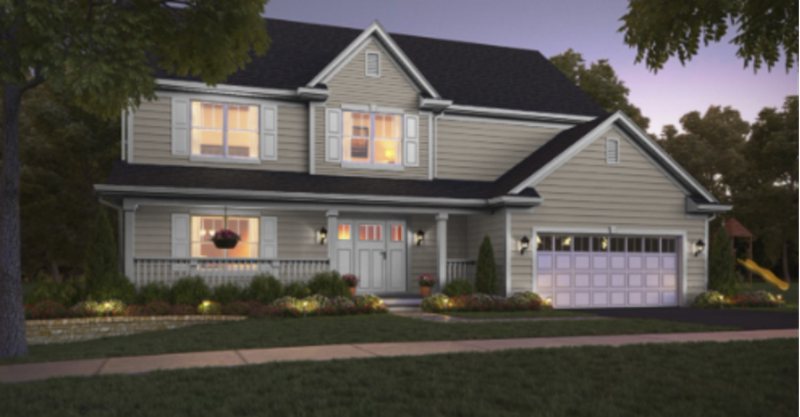 If you don't take a close and careful look at Anew Gray in any space, it'll come across only gray with no undertones in sight. That's how natural it is. But don't let this fool you, as the subtle and lovely hints of violet and green come out when it does decide to grab an undertone (notice the green undertone in the exterior above).
It also has purple undertones that are usually found in most gray shades. However, you may notice more of its beige than the gray side when comparing it to other colors.
Sherwin Williams Anew Gray Color Strip
Sherwin Williams's Anew Gray color strip includes many of the brand's top greiges. The trick to creating a suitable light color strip is gradually adding shades of white to the anchor color until you get a true white. However, for this review, I'm going three colors away from the anchor hue, which should make a significant difference.
To get a dark color strip, you add measured touches of black to the anchor color till you arrive at a true black. For this review, I'm going three colors lower for you to get an idea of what a color strip feels like.
Light Color Strip
| | | | |
| --- | --- | --- | --- |
| Color Name | Code | Location Number | Tone |
| Toque White | SW 7003 | 256-C3 | |
| Incredible White | SW 7028 | 256-C4 | |
| Agreeable Gray | SW 7029 | 243-C1 | |
Sherwin Williams Toque White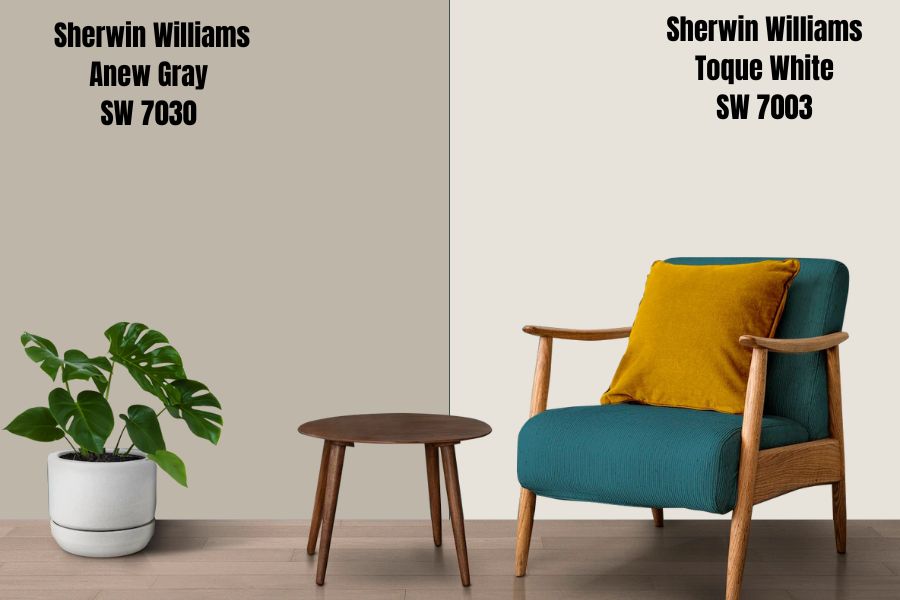 The purple undertone in this white gives a calm and relaxing touch. It's a sophisticated white that leans more towards gray and greige, and it's excellent for intimate spaces like your bedroom or bedroom, or you can use it as trims and accents on your walls.
It has an LRV of 76, which means it's on the highly reflective side, making it suitable for places with less space as it'll instantly give an illusion of a larger, airer, and widened room.
Sherwin Williams Incredible White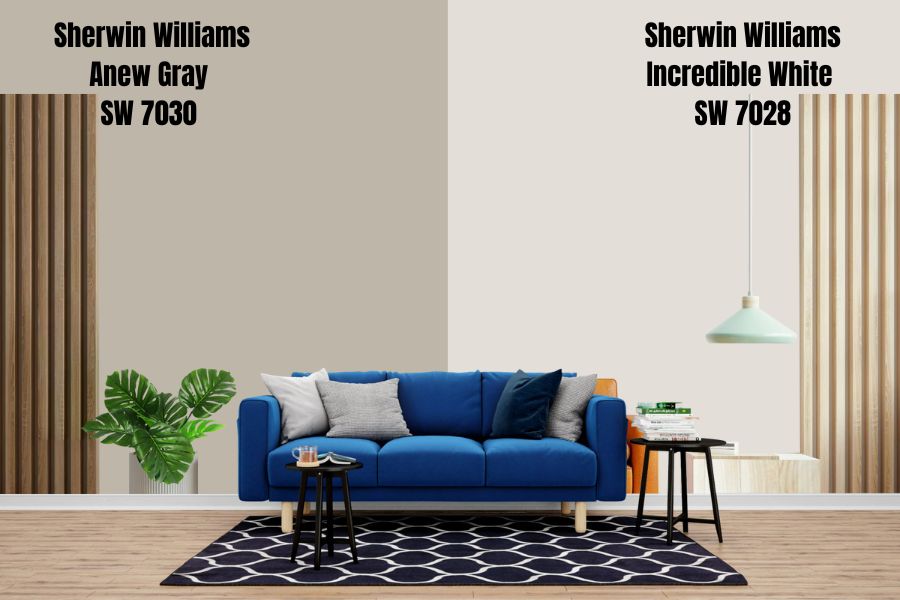 This is a warm paint color with an LRV of 74 and a hint of taupe undertone, pink, and purple. It sits nicely between gray and beige, making it a candidate in the GREIGE category. One thing is sure; the color combines all features of GREIGE and TAUPE to give an excellent result.
Sherwin Williams Agreeable Gray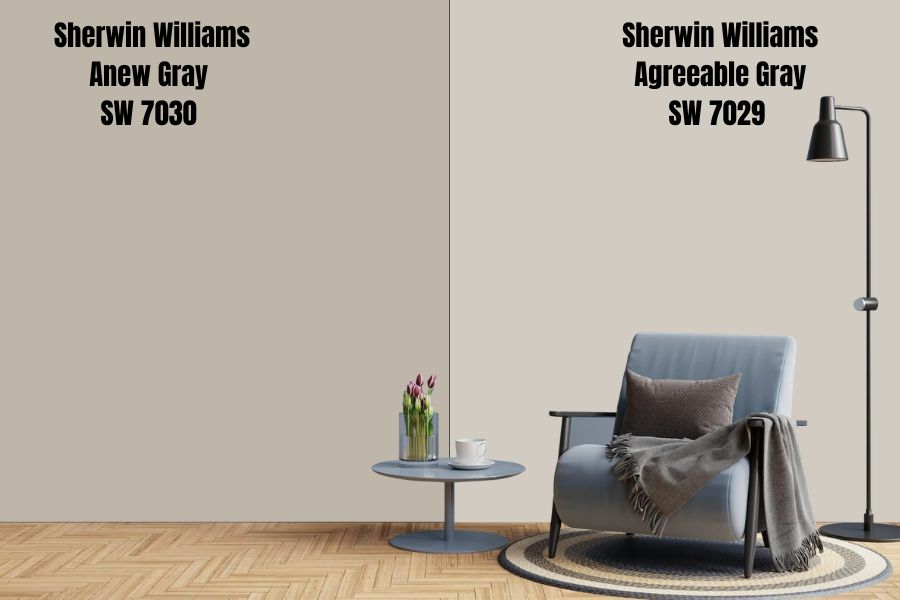 Agreeable Gray is a soft gray with a bit of brown, giving it a violet undertone. It successfully combines warm and cool tones, earning it the perfect natural gray title. This color has an LRV of 60, putting it in the medium category and the ideal match for any color.
Dark Color Strip
| | | | |
| --- | --- | --- | --- |
| Color Name | Code | Location Number | Tone |
| Mega Greige | SW 7031 | 243-C3 | |
| Keystone Gray | SW 7504 | 243-C4 | |
| Warm Stone | SW 7032 | 243-C5 | |
Sherwin Williams Mega Greige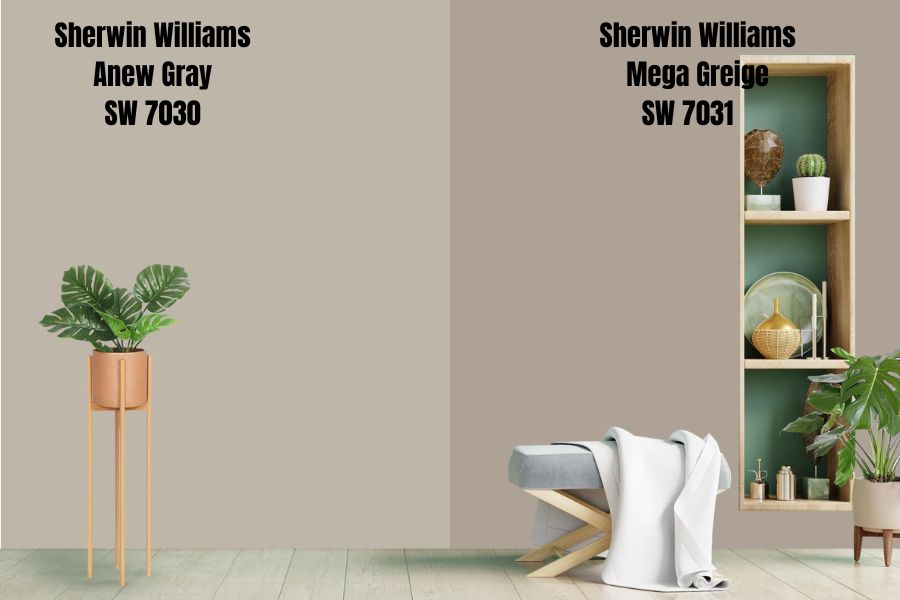 The name should give you all the confirmation you need that this color means business. It's a bold color that stays neutral enough in the shadows to create a charming and warm aura in any space.
The versatility of this color is incredible with its deep gray undertones that appear almost green under some lights. It has an LRV of 36 and finely combines lightness and darkness. It's suitable for exterior use as it maintains its character under the brightest of sunlight and works well with natural hues and clean whites.
Sherwin Williams Keystone Gray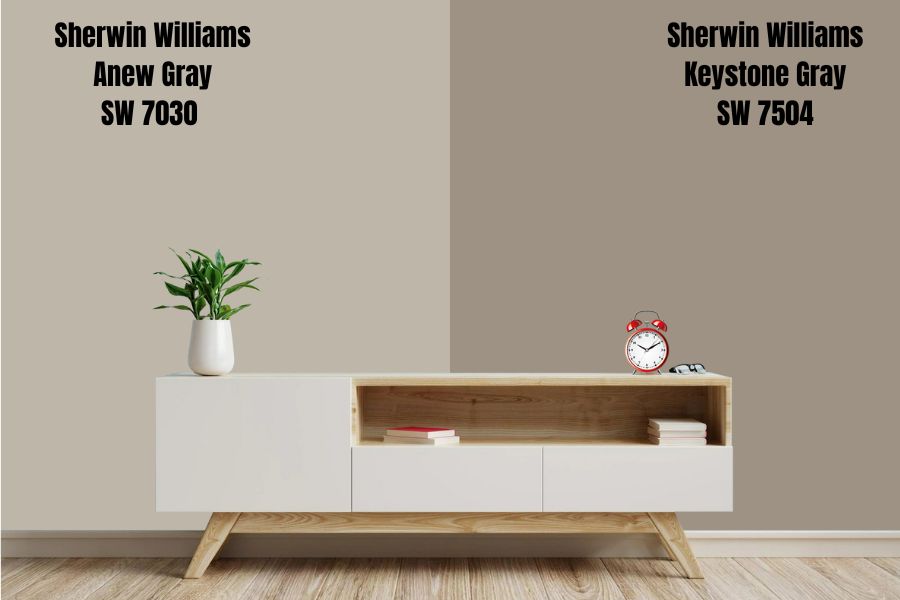 Keystone Gray is a warm color with elements of beige and gray which perfectly works with its warm base to create an accurate, neutral color. It has an LRV of 29, fitting for any color in the medium range.
It has so much depth that you can easily forget the little green winks that pop up. Its minimal undertones make it a top choice for homeowners who want a soft color in their space.
Sherwin Williams Warm Stone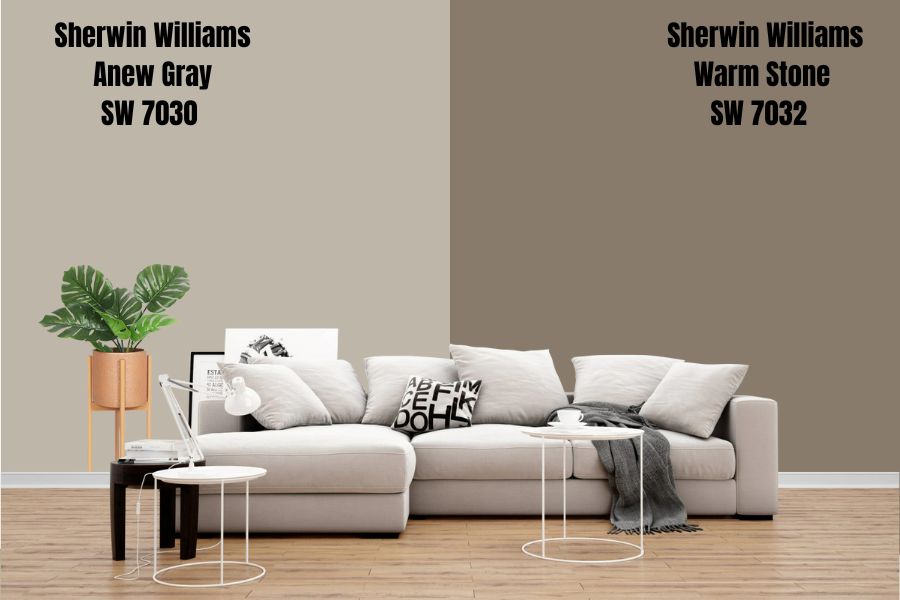 Warm stone brings a warm effect into your home due to its deep gray that leaves off the perfect vibe in your living space. It's a neutral-warm mid-tone gray-beige for the exterior of your home with an LRV of 20.
It brings a sophisticated, intimate, relaxed vibe into a large sitting room and makes a better sleep when used in the bedroom.
Sherwin Williams Anew Gray Color Palette
Creating a color palette is a serious job if you are trying to revamp your space or repaint your room. This process involves identifying the colors that complement your anchor color.
Once you have addressed the issue of the color palette, the rest of your work becomes easier. This is because you have successfully created an inviting space on paper that you can interpret in your homes and homes that you wish to.
Coordinating Colors For Anew Gray
There are two types of color palettes each homeowner usually works with, whether you're an expert or not, and they're monochromatic and contrasting decorations.
Monochrome Decoration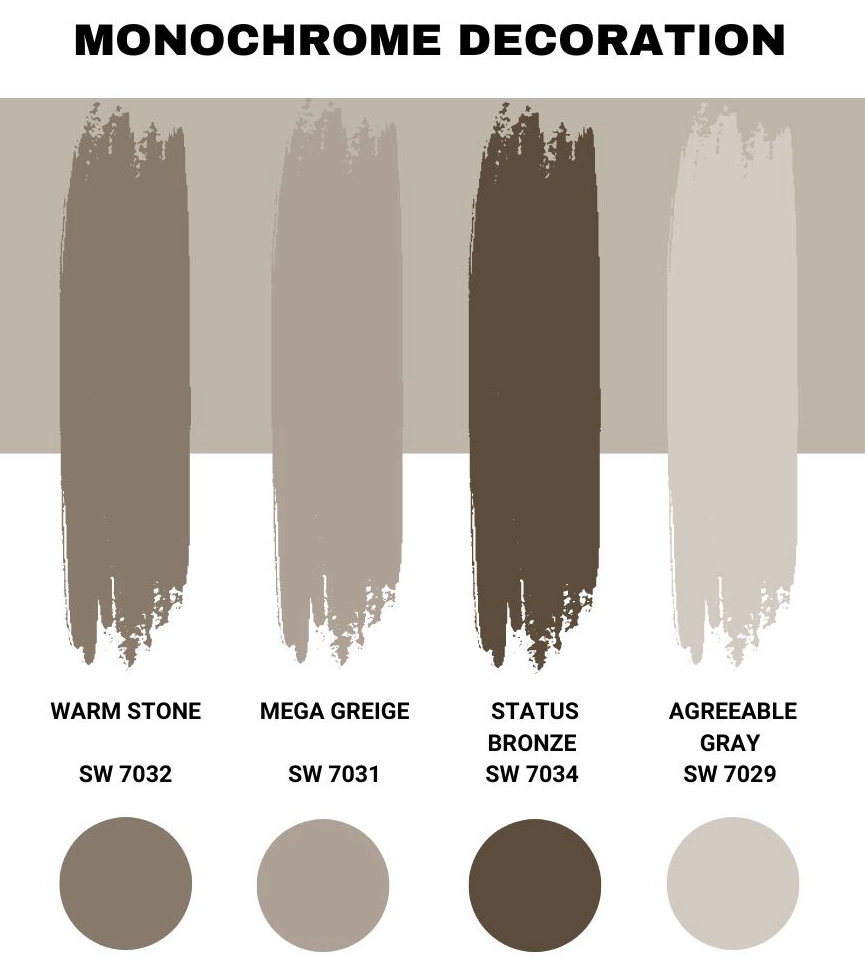 Using a monochromatic color strip can be a great way to create a harmonious and cohesive look in a design or artwork. It allows you to use a range of colors that all work well together and creates a sense of unity and continuity.
These colors are perfect for more modern homes that desire a minimalist feel in their homes because they're from the same anchor color with slight variation in overall hue and undertones; this decoration will not overwhelm your space and still get the job done. I've selected four lovely grays from the Sherwin Williams grays collection, including Sherwin Williams Warm Stone, Mega Greige, Status Bronze, and Agreeable Gray.
Upon close observation, you'll understand that these colors have rich beige undertones to them, and they complement Anew Gray perfectly.
Monochromatic color strips can create the illusion of depth or highlight a specific area of a design or art piece. For example, by using a range of light and dark shades of the same color, you can create the illusion of depth and movement.
Contrasting Decoration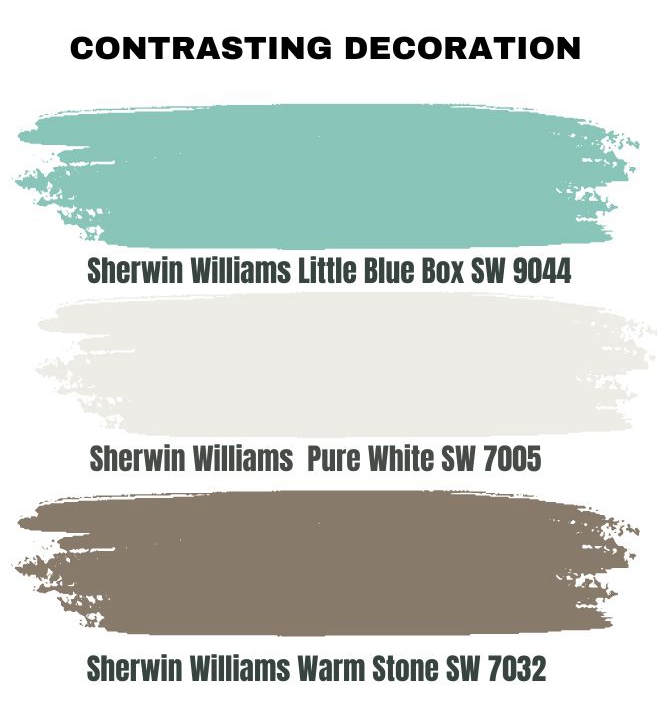 If you love seeing more colors in your home, contrasting decoration may be the way. Most importantly, you fully understand the relationship between your primary hue and your contrasting colors of choice.
If you also decide to color block, you have the floor. I recommend Sherwin Williams pure white and Little Blue Box.
Sherwin Williams Anew Gray Complementary Colors
Complementary colors are opposite each other on the color wheel. When you mix the colors on the complementary color wheel, you eventually arrive at a definite black or white, allowing you to play with colors.
For Sherwin Williams Anew Gray, I recommend Sherwin-Williams backdrop, incredible white, Tempe Star, and Sherwin Williams meditative.
What Trim Colors Go with Sherwin Williams Anew Gray
For interior decorators and painters' white colors are usually the go-to for trims. I recommend Sherwin-Williams pure white and reflective white as excellent trims, especially inside the house. You can pair your Anew Gray with black or brown accents for home exteriors.
Trims are essential because they help to add dimension, personality, and creativity to your paint. Adding trims is a great way to mix colors without being overwhelming.
Sherwin Williams Anew Gray Color Comparisons
As much as I'd like to reiterate that brands don't make two colors the same way, some shades are closely related to Anew Gray from the Sherwin-Williams shelf. This may be an aspect of undertones, light reflective value, or the feel on the house's walls.
Let's check out some colors that can give Anew Gray a run for its money.
Sherwin Williams Anew Gray Vs. Agreeable Gray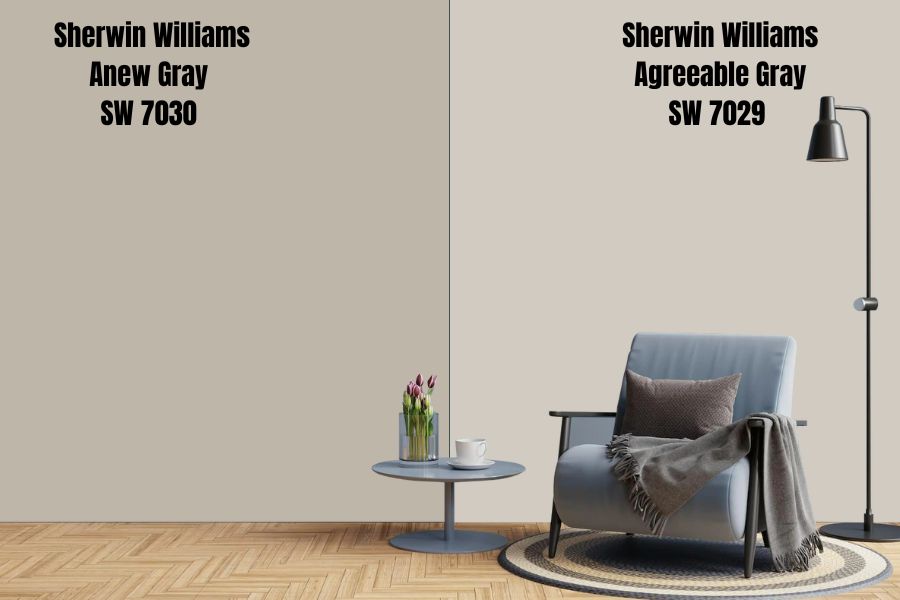 Agreeable Gray stands next to Anew Gray on the color strip, the only difference being that the former is a bit lighter than the former with an LRV of 60. If you love Anew Gray but can't handle the depth or the darkness, then Agreeable Gray is the best option, especially if your living space is relatively small.
Sherwin Williams Anew Gray Vs. Revere Pewter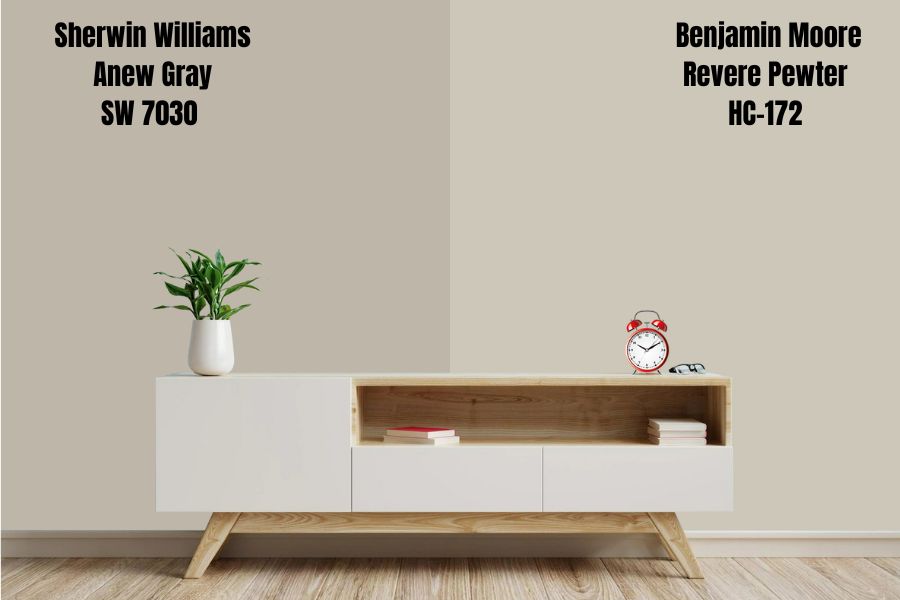 Revere pewter is a gray color from Benjamin Moore with warm undertones that come across as beige or yellow and an LRV of 55.51. Its earth, natural, and rustic that instantly brings in a muddy feel when used in any space.
While Anew Gray comes through with the purple undertone, Revere Pewter winks with green undertones, and I won't personally recommend you use them in a space together.
Sherwin Williams Anew Gray Vs. Amazing Gray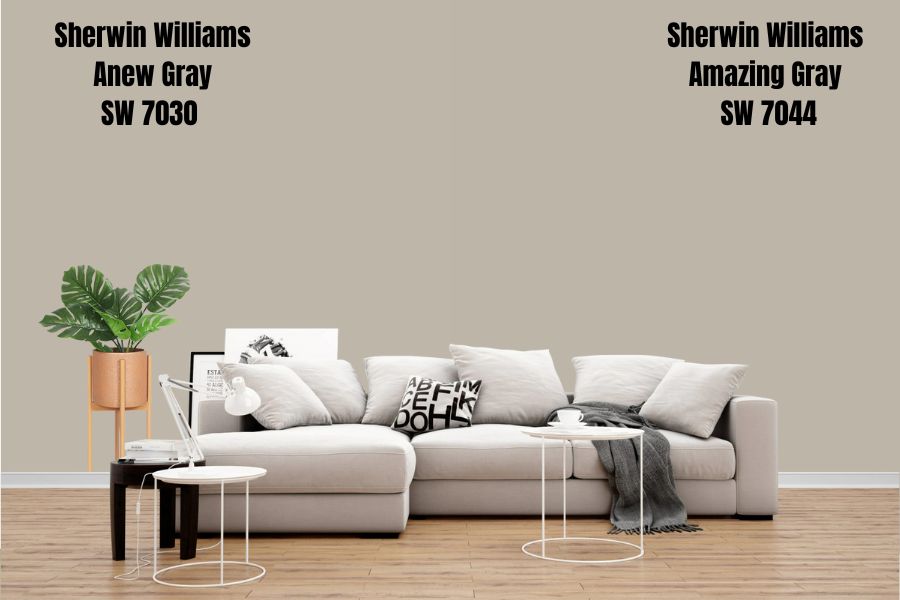 These colors are so similar that they even share the same LRV of 47, which means they also share the same degree of lightness. However, Amazing Gray has a few drops more black than Anew Gray, which means if you use them side by side, you'd still notice a slight difference.
Amazing gray also has more hints of green than Anew Gray, which means it covers more range of color than Anew Gray in any space.
Sherwin Williams Anew Gray Vs. Mega Greige
With an LRV of 37, this color sits tightly in the dark range, and the points difference between it and Anew Gray is not a fuss when you use them side by side. It's an excellent choice if you're looking for a color with depth and extra dark touch. This color is not for you if your space lacks natural light.
Sherwin Williams Anew Gray Vs. Mindful Gray
Sherwin-William Mindful Gray is a cool color with an LRV of 48, which shows more of its gray when placed side by side with Anew Gray, and they have almost the same degree of brightness.
Mindful Gray's green undertones may clash with Anew Gray's dominant purple overtone, and it also takes the cake regarding versatility and ability to blend with other accent colors.
Sherwin Williams Anew Gray Vs. Worldly Gray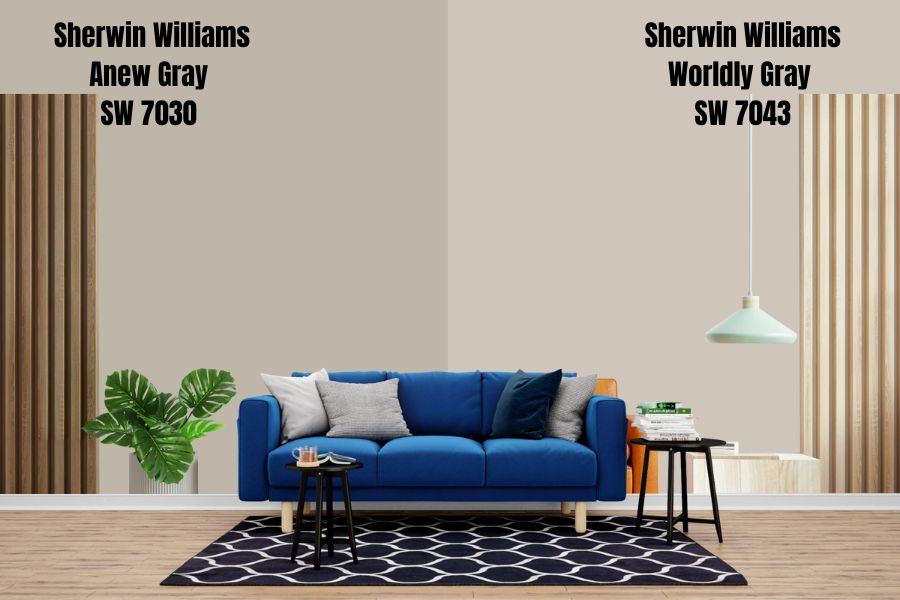 This neutral gray color adds a neutral feel to any space it's applied. It has an LRV of 57, which means it's a mid-toned gray that is necessarily not the lightest in the room, but you're sure it's not the darkest too.
It's an excellent warm gray paint that comes through in any space with its rich green and violet undertones. While they may not appear immediately, surrounding factors like light, décor, and other elements can draw them out.
Worldly gray is 10 points higher in LRV than Anew Gray, which means when you use them together, you'll get a good contrast in their play.
Sherwin Williams Anew Gray Vs. Accessible Beige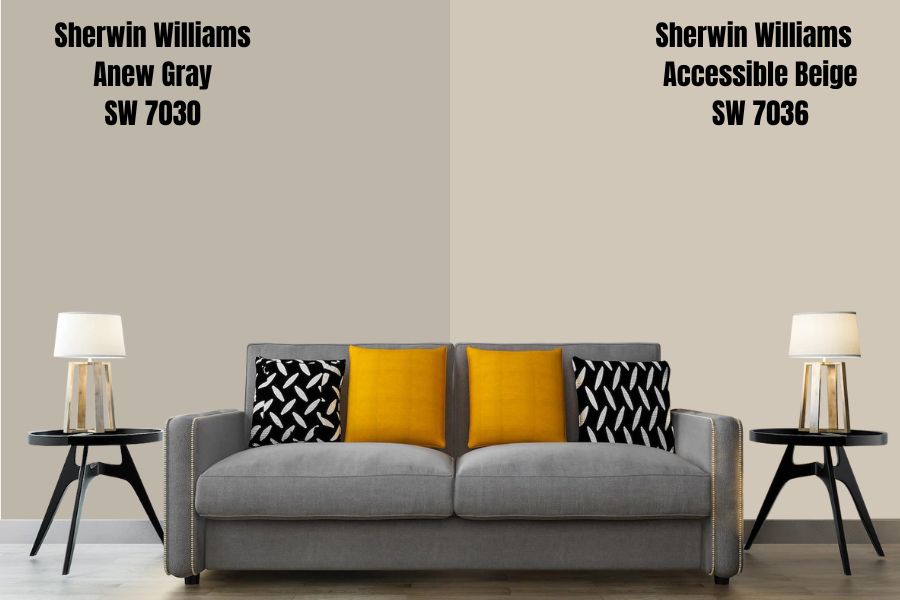 Sherwin Williams Accessible Beige is a light warm gray paint color with an LRV of 58, putting it somewhere around the middle of the scale while Anew Gray has an LRV of 47 meaning that the both of them work side by side perfectly. This color has obvious yellow undertones and some sneaky greens that come out in the southern light.
It's an excellent choice for the main rooms in the house, your exterior, and even kitchen cabinets. Combine it with white trims, and you're good to go.
Sherwin Williams Anew Gray Vs. Requisite Gray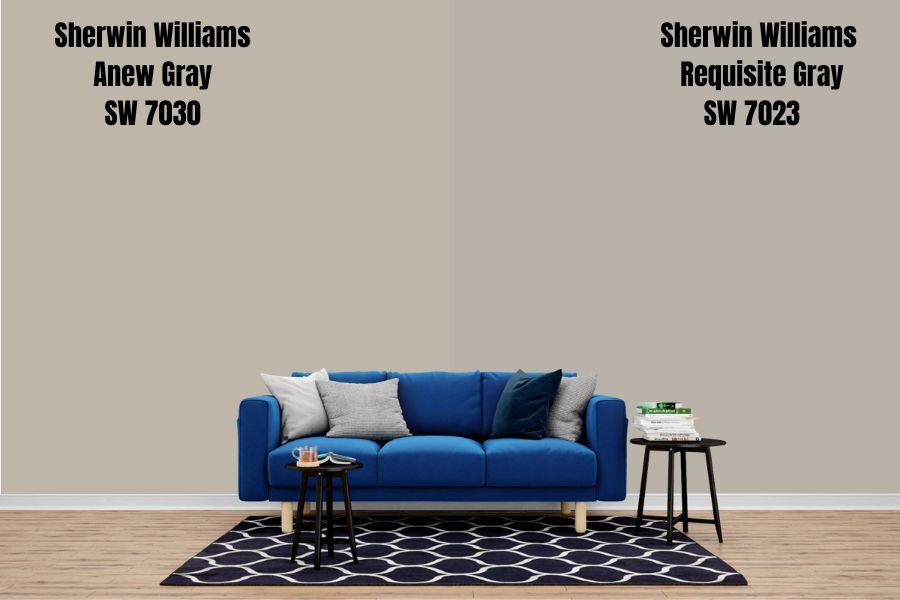 Requisite gray is warm as warm can but still holds back from completely entering the TAUPE category. This one has an LRV of 45, putting it in the medium category with a great depth that works perfectly in rooms with enough supply of natural light just like Anew Gray.
Every color has undertones; Requisite gray is no exception, with its string violet undertones that can be a bit overwhelming, too, if you're color sensitive. But it pairs amazingly well with interior finishes in the same shade.
Sherwin Williams Anew Gray Vs. Colonnade Gray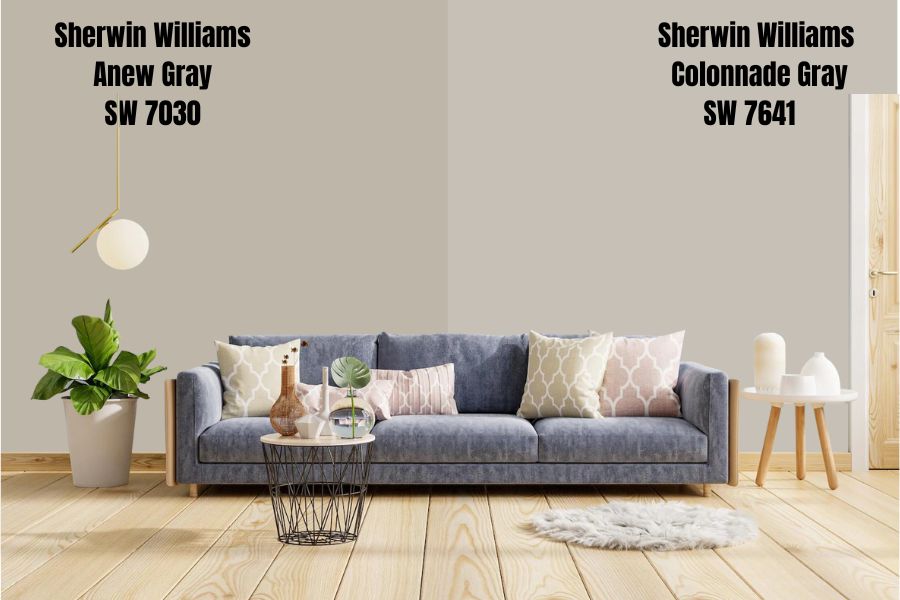 Collonade Gray is one fantastic creation from the stables of Sherwin Williams and also looks like Anew Gray in spaces which means they may not do well on the same wall. However, you can salvage that from their undertones perspective, as Anew Gray has hints of beige undertones.
Anew Gray Benjamin Moore Version
If you cannot find Sherwin Williams Anew Gray on any of the shelves, you can choose an alternative in one of Benjamin Moore's selections of greiges.
Benjamin Moore Himalayan Trek
Also known as the Cape Hatteras Sand, this is one of the finest mid-tone neutrals from Benjamin Moore. It has subtle warm gray undertones and an LRV of 47.05, which makes it suitable for large spaces and the exterior of homes.
Benjamin Moore Plymouth Rock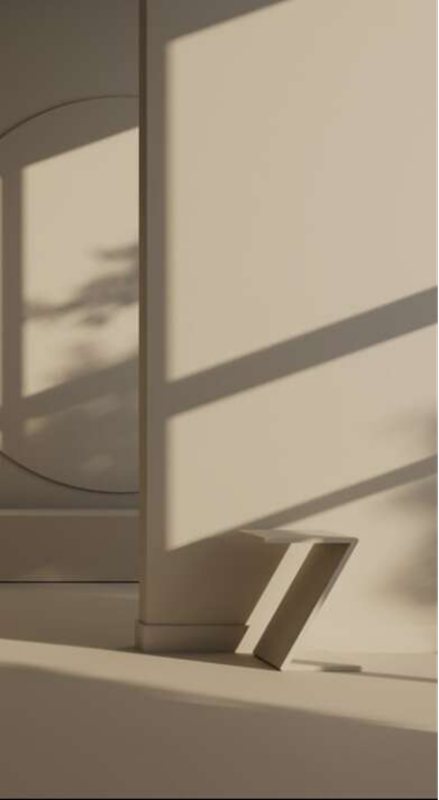 This one is an elegant and timeless taupe with dark brown undertones and is also known as Valley Forge Tan and comes with an LRV of 42.66, putting it in the medium category. Match it with crispy whites and reds for a beautiful play of colors.
Benjamin Moore Edgecomb Gray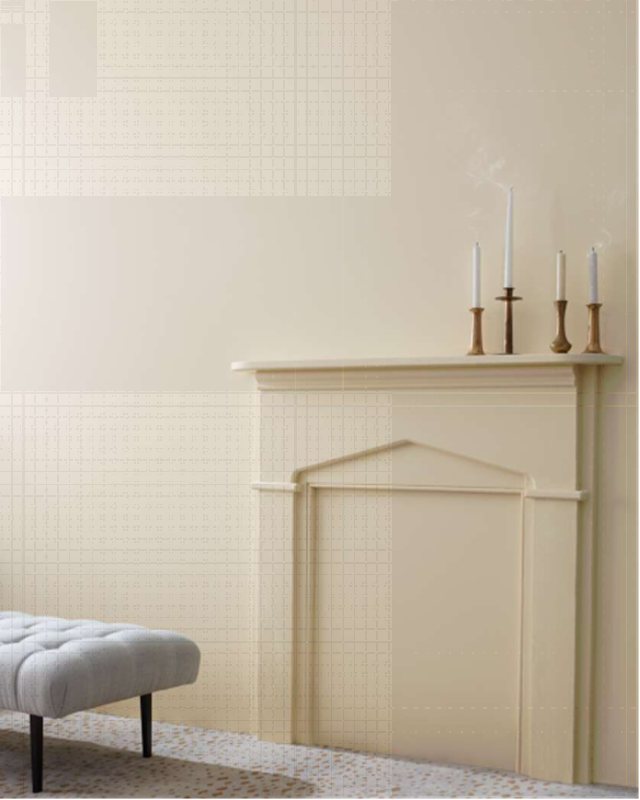 Edgecomb Gray reflects more light than Anew Gray, which means it'll perform better as a primary color for the entire space than Anew Gray, which has a lower LRV (Edgecomb Gray has an LRV of 63.88).
You can also use this as a coordinating color with a new green in space for more fascinating results.
How Does Light Affect Anew Gray
The way light affects the appearance of Sherwin Williams Anew Gray (SW 7030) can have a big impact on the room's final look. Because Anew Gray is a warm gray paint color with a light undertone, it can look different in different lighting conditions.
This subtle warm color works well in a north-facing room, especially if you find gray too cool. For south facing rooms, the grays help to cool down the effect of the golden sunshine without taking over the warmth you're meant to get from the color.
It's always recommended to test the paint color in the room before making a final decision. Also, try it in natural and artificial light to see how it behaves, and adjust the lighting in the room, if needed, to complement your chosen final color.
Best Rooms To Paint Anew Gray
This versatile color can work anywhere in your home, provided you understand the basic concept of trims to pair with it, lights, and furnishings. Always remember that undertones can make this color appear differently in various rooms in the house.
Anew Gray Living Room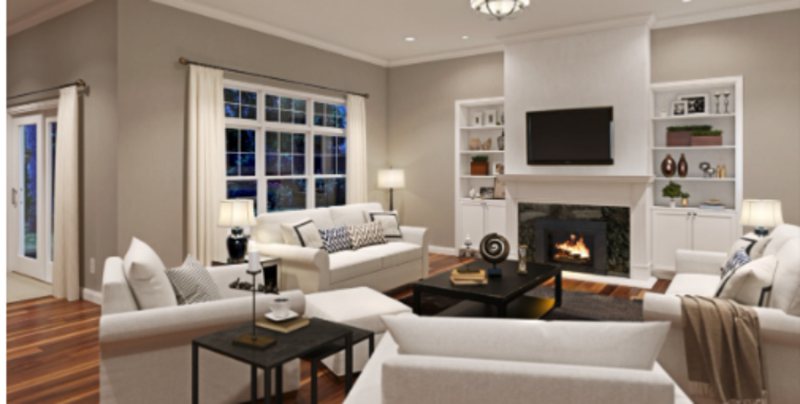 Your living room is one of the best spots in your home to apply Anew Gray. This color has a lot of depth and sophistication while maintaining its softness. You're walking into a space that has fully mastered the art of blending into any of your moods and still keeps a striking, independent personality.
If your sitting room receives a lot of natural light, you can get hints of violet from the cool light from the north side. You may not see any more undertones as the day goes by or at a different time of the day.
Combine it with soft browns, creams, other neutral-looking grays, a bright white fireplace, and blue throw pillows to draw out the violet undertones, and go bold with a dark brown door or shelf around the corner.
Anew Gray Kitchen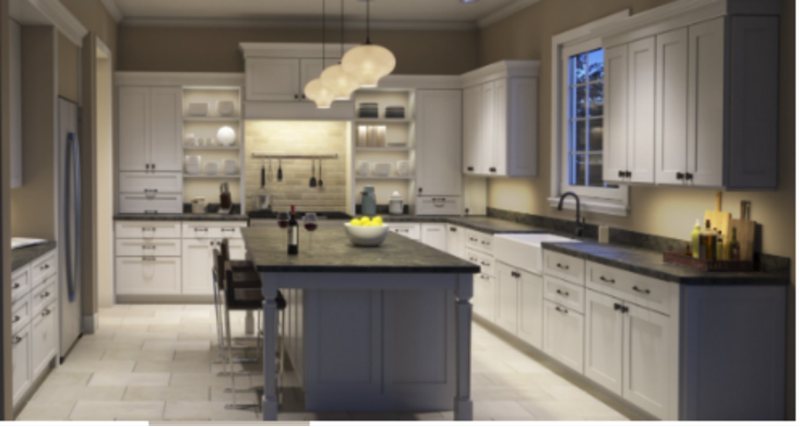 This color introduces warmth and character to your kitchen. Its warm tones can work perfectly with the wooden floors of your kitchen, the brass hardware, and the wooden cabinets. Throw in some gold accents like a gold-coated kitchen lamp, gold detailing on the handles and edges of the cabinet, and a pop of color for the kitchen chairs like light blue, cool greens, and creams.
Anew Gray Exterior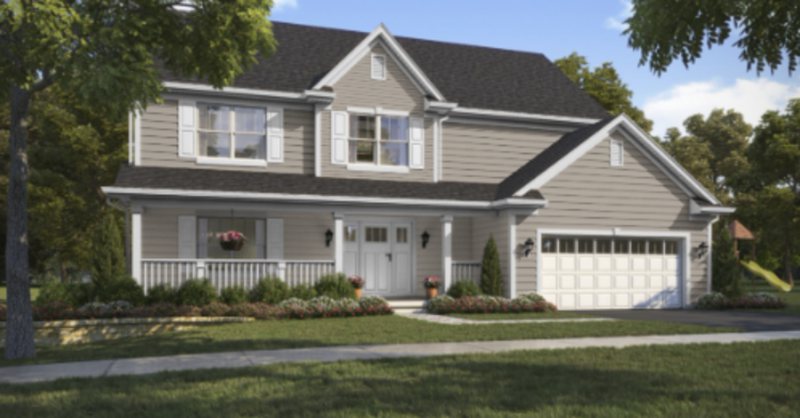 Yes! I think it's an excellent idea to use this color in your home exterior; it even looks better paired with white trim. But before you make that decision, remember that the sunlight outside will make your color less saturated, and if you don't mind this, I permit you to go all out,
Anew Gray Bedroom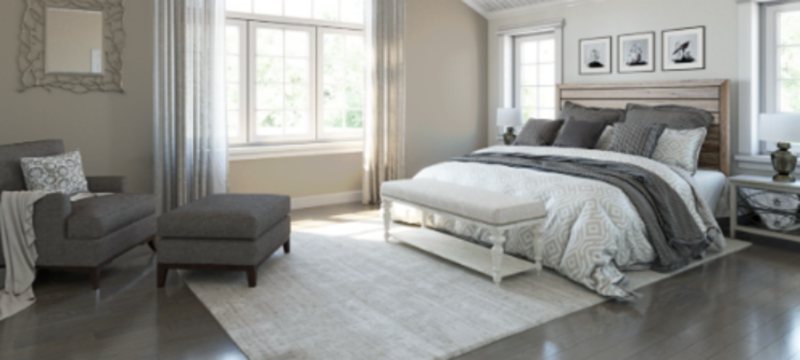 Your Anew Gray beige tones will definitely come out more in your bedroom, and if you like the moody vibe that follows, this color is the one for you. The depth and undertones create the perfect intimate environment for a good sleep.
You can decide to go monochrome by pairing it with other beiges or grays. This color also works with white trims, center rugs, furniture, and bedding to create a super cozy space.
Anew Gray Bathroom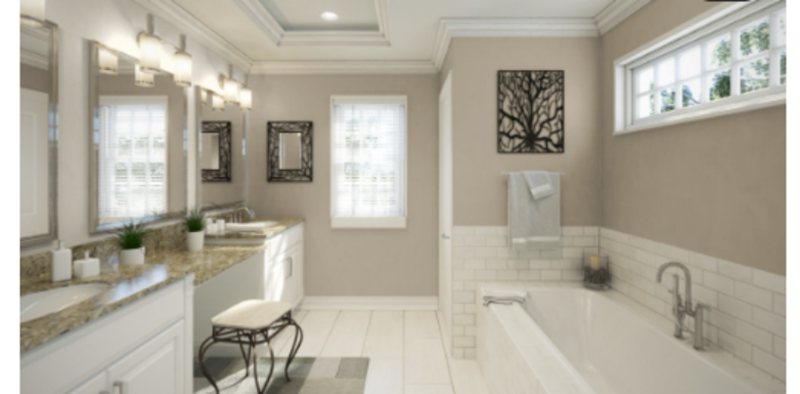 Pair your Anew Gray with bright whites and warm tiles to draw out the grays. I totally recommend warm interior lights in this setting as the icing on top of your flawless bath experience.
Sampling Your Paint
Sampling paint colors before committing to a full gallon can be a great way to ensure that you are happy with your final color selection. One popular method of sampling paint colors is to use a product called SAMPLIZE. SAMPLIZE is a peel-and-stick paint sample that allows you to try out different colors on your walls without needing paint brushes or rollers.
To apply the sample to your wall, you will need to clean the area where you would like to place the sample, ensuring that it is free of dust and debris. Then, peel off the backing of the SAMPLIZE sample and stick it to the wall. The adhesive is strong enough to hold the sample in place, but it will not damage the paint underneath when you remove it.
It's recommended to put more than one SAMPLIZE sample of the color you have selected in the room, near windows, and in different lighting conditions. This will help you get a sense of how the color will look throughout the day and how it'll look next to your other finishes and furnishings.
Final Thoughts
Now that all is said and done, I have established that Anew Gray is perfect for lovers of neutrals who also want warmth and depth in their space. When used appropriately, this color can absorb lots of sunlight and still stand out in the room.
Its versatility is one of the things I love most about it, which lets you use it as a trim or accent color for various palettes. It works great with other colors and can stand as a solid option for an all-neutral palette.