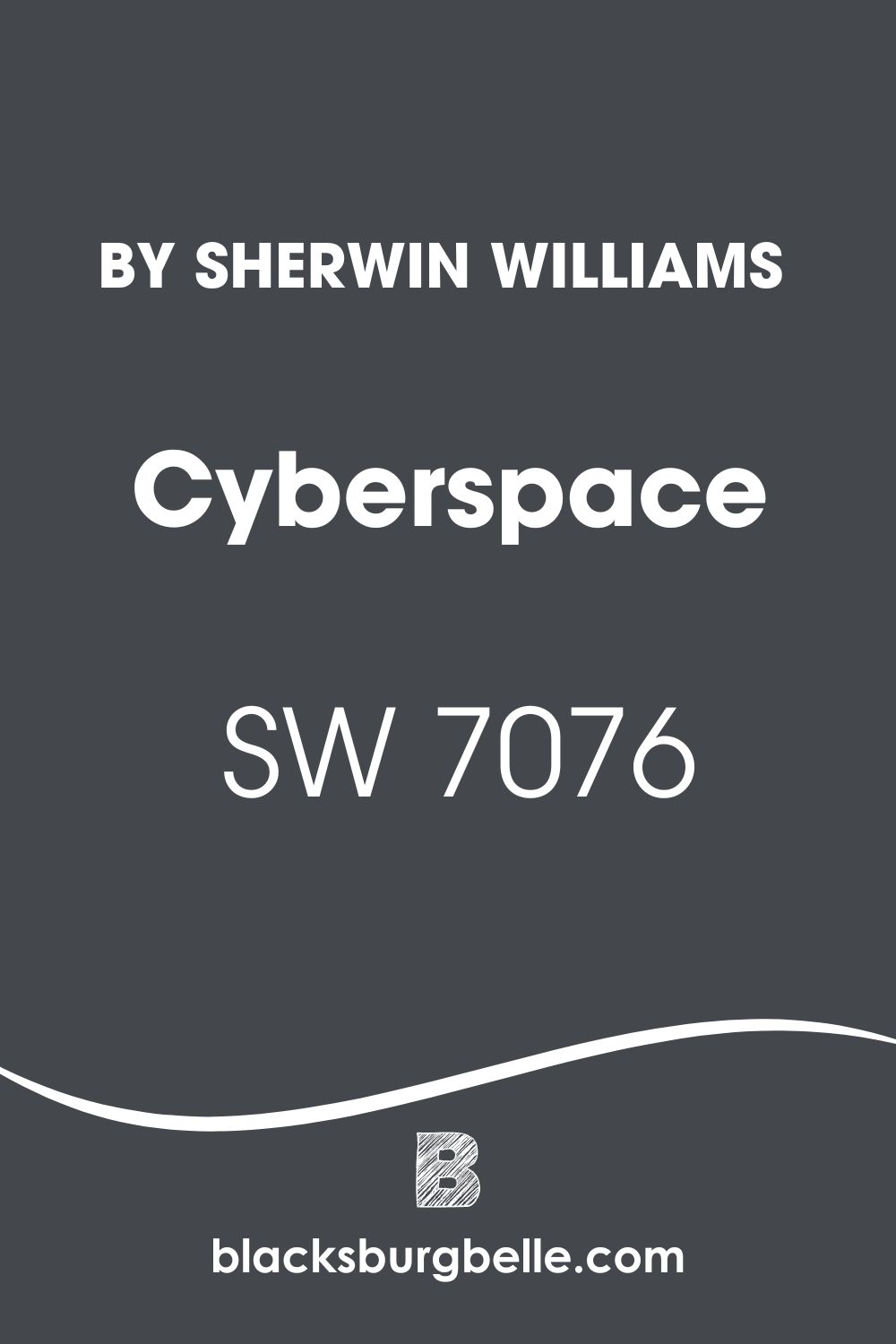 Sometimes we all want an escape from the bright and airy, and need something deeper and darker on our walls. Cue Sherwin Williams Cyberspace SW 7076 to give us a deep charcoal black to really sink into!
Far from just being a mundane dark color, I'd go so far as to say it's not really a charcoal black as much as it is a gorgeous deep navy with gray undertones that has real character. Don't just look at it and think it's a color reserved for edgy teenagers, you'll be surprised how classy and calming this color can really be!
If you don't want to take my word for it, then, listen to the experts at Sherwin Williams, who named Cyberspace SW 7076 their color of the month back in October 2021!
Although that was almost 2 years ago, I am here to show you just how relevant this paint truly is, and why you shouldn't sleep on Sherwin Williams Cyberspace.
When to Choose Sherwin Williams Cyberspace?
I've been on a real color adventure with Sherwin Williams Cyberspace, trying to find the perfect ways in which to use this paint. Not only have I been scouring the internet to find the best inspiration that I can, but I've also got my trusty paintbrush out too!
Here's a quick breakdown of when to choose Sherwin Williams Cyberspace.
Create Some Class
If you are looking to create a space that oozes luxury and sophistication, then Sherwin Williams Cyberspace definitely has your back!
Consider pairing it with a crisp white, and use bronze or cold accents to really up the luxe factor.
Wood's Best Friend
One thing that I have learned about Sherwin Williams Cyberspace is the fact that this color seems to be a match made in heaven with almost any color and type of wood under the sun!
Whether it's a warm-toned wood, a light pine, or even a deep oak, this color complements it perfectly, really helping to tie a room together.
All About the Accent
Even if you are not brave enough to coat an entire room in it, don't count Sherwin Williams Cyberspace out when it comes to creating an accent or feature wall.
The mesmerizing qualities of this paint mean that it can really draw the eye to a focal point in a room, such as a fireplace, mirror, or piece of artwork.
Crisp and Clean
When paired with white walls or trim, Sherwin Williams Cyberspace becomes uber crisp, helping to create a streamlined and clean look in any space.
Try using it in a kitchen or a bathroom where it can capitalize on the straight lines of countertops and tiling to create a really sleek and put-together room every time!
More Versatile Than You Might Think
Although some people might be put off by the dark nature of this paint, it's actually a crazily versatile paint that can work in all sorts of spaces!
Need to update your bathroom? No problem. A relaxing bedroom? It's got you covered. Do kitchen cabinets need an overhaul? Say less!
And that's only just looking at the inside of your property, don't count out Cyberspace when it comes to the exterior too! Whether you use it as a trim, for your front door, or as the main exterior paint expect to be amazed by what it can bring!
If this has piqued your interest, then keep on reading and I'll give you the full scoop on Sherwin Williams Cyberspace SW 7076 and why it's the perfect new color for you to play with!
What Color is Sherwin Williams Cyberspace?
Although the name Cyberspace immediately conjures up images of technology and the internet, when I look at this color it reminds me of a different type of space. Doesn't it just remind you of the night sky and outer space?
The cool tones of Sherwin Williams Cyberspace definitely conjure up images of flying through space, helping to bring out the astronaut in all of us.
If you still don't get what I mean, take a look at this image which I think truly captures what this paint color is about.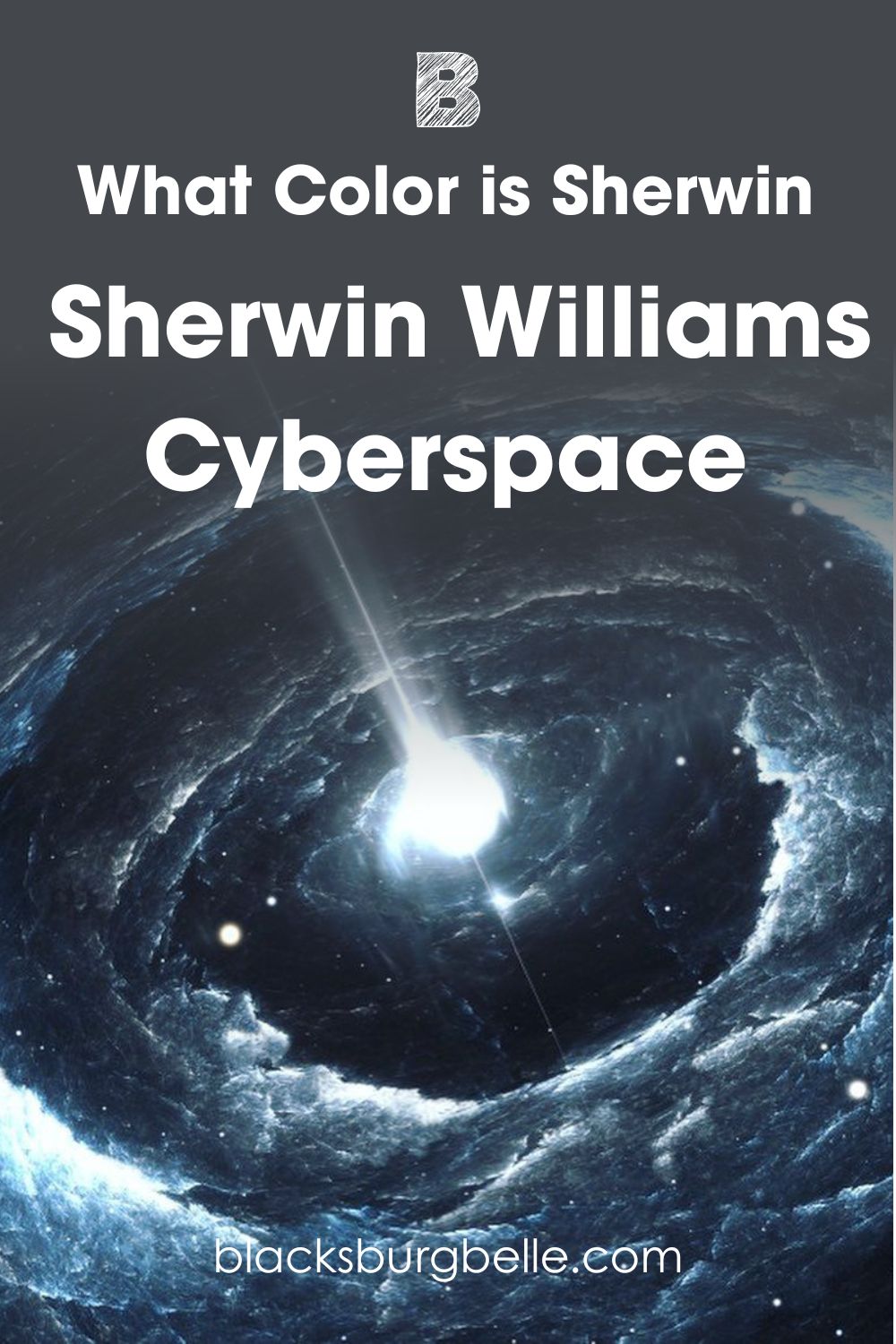 If you look between the waves of this amazing nebula, you'll see that gorgeous cool dark navy color that you get in Sherwin Williams Cyberspace.
I don't know about you, but when I look at this picture I not only feel a sense of wonder, but it's also quite calming, too. Coincidentally, that's the exact same vibe that I get from Sherwin Williams Cyberspace SW 7076!
Snapshot of Sherwin Williams Cyberspace Specifications
For those of you who need a few more technical details about this paint, don't worry! I've got the full lowdown on the specifications of Sherwin Williams Cyberspace for you in this handy table.
Sherwin Williams Cyberspace SW 7076
RBG
R: 68 G: 72 B: 77
Hex Value
#44484D
LRV
6
Undertones
Gray
The LRV of Sherwin Williams Cyberspace
If you are not all that versed in the world of paint, you might not have heard of the term LRV before. Don't worry, because it's actually quite simple! LRV stands for light reflective value and helps us to know how much light a color reflects. The traditional scale goes from 0, reflecting no light at all, so black, to 100, where you find white with the highest reflective value.
It's worth noting though that no paint color is truly black or pure white, as there is always a level of pigment in the manufacturing process. This means that when looking at paint, the darkest color you can get comes in at 2.4, and the brightest at 94.
The LRV of Sherwin Williams Cyberspace SW 7076 sits at just 6. This definitely puts it at the darker end of the scale and even Sherwin Williams themselves call this a charcoal black.
Don't let its dark pigment scare you though, there are plenty of reasons to love this paint!
Undertones of Sherwin Williams Cyberspace
The debate is on as to whether Sherwin Williams Cyberspace is a charcoal black or a very dark navy, and as a result, this will be reflected in what color you see as its undertone.
Those that consider it a charcoal black will likely see a cool blue undertone to the paint, while others deeming it a dark navy will see gray as the undertone.
While this might seem confusing, this is actually great news as it means that you can choose to see whichever of these two colors as the undertone. In fact, depending upon where you put this color may depend upon what one you see.
I've found this fairly neutral image of Sherwin Williams Cyberspace SW 7076. What color stands out to you as the undertone?
Is Sherwin Williams Cyberspace Too Dark?
With an LRV of just 6, you might be wondering whether Sherwin Williams Cyberspace SW 7076 will make a space look gloomy and dark.
However, when it is used in the right way, it actually becomes quite an inviting color, especially when paired with the right accents.
Take a look at this picture. See how it doesn't look all that dark, and the navy coming through really lifts the space? I don't know about you, but I would be more than happy to sit back and relax in this living room!
Remember that lighting is a key factor in whether any color, not just one that is low on the LRV scale like Cyberspace, appears dark. This is especially true in rooms that have little to no natural lighting, or North-facing rooms that see less light than other sides of the house.
Sherwin Williams Cyberspace is Warm or Cool Color?
Sherwin Williams Cyberspace SW 7076 is classified as a cool color. This is thanks to the navy notes within it that put it in the blue range rather than in the warmer range of reds and yellows.
Some people can be intimidated by cool colors, especially ones as dark as Cyberspace. However, it's worth remembering that all colors have the potential to transform a space when you use them in the right way.
Cold-toned colors by nature are also calming and relaxing, which explains why it is incredibly easy to get yourself lost in this paint color.
Sherwin Williams Cyberspace Color Strip: Lighter or Darker Exploration
It might be that Sherwin Williams Cyberspace ticks most of the boxes when it comes to your new paint color, but it is not quite right for what you are going for.
Luckily, I went ahead and looked at the Sherwin Williams catalog to find some paint colors that are a few shades lighter or darker than Cyberspace, to help you to find your ideal match.
See my list below, ranging from lightest to darkest, with Sherwin Williams Cyberspace in the middle as a yardstick for you.
Sherwin Williams Software SW 7074
Sherwin Williams Web Gray SW 7075
Sherwin Williams Cyberspace SW 7076
Sherwin Williams In the Navy SW 9178
Sherwin Williams Anchors Aweigh SW 9179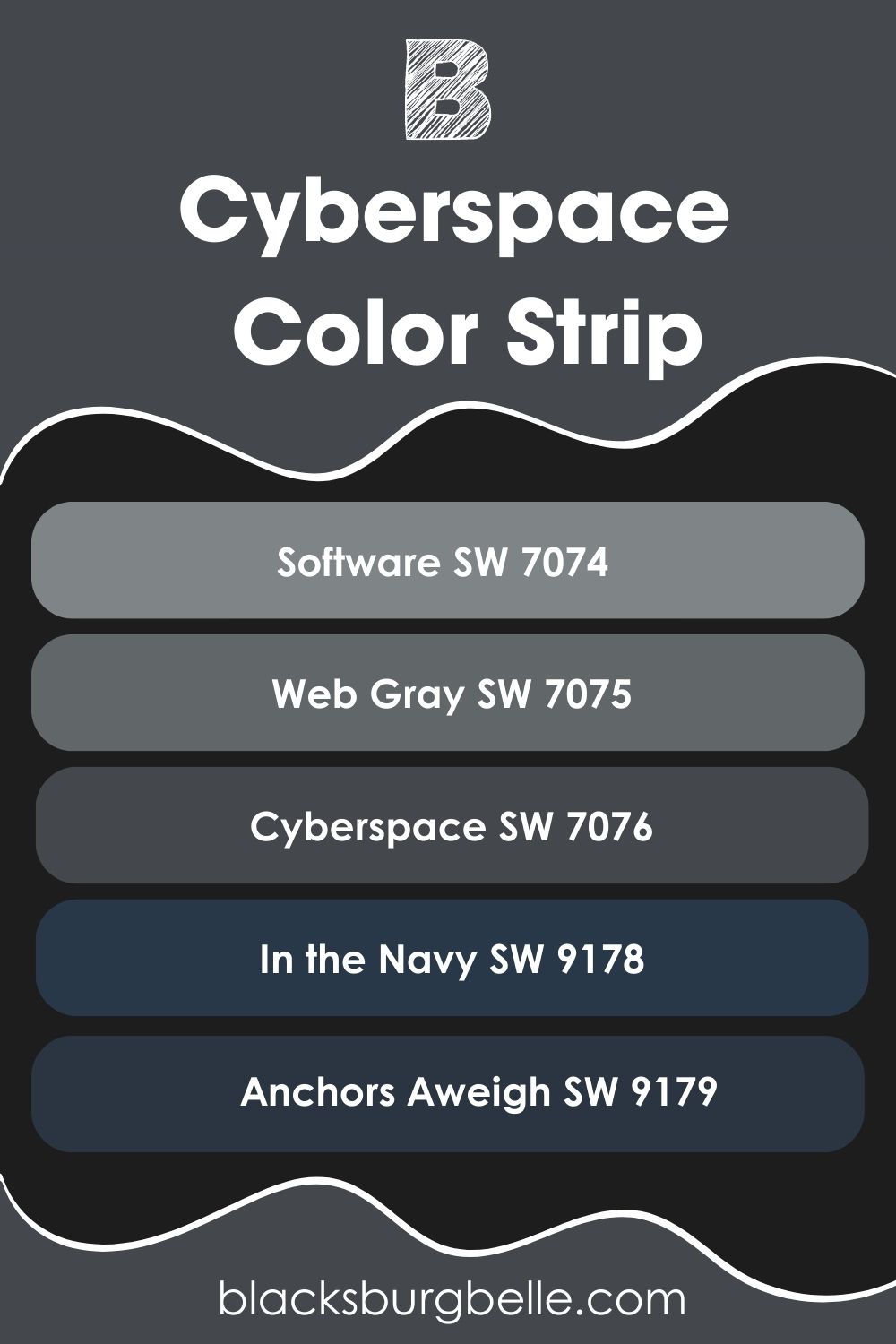 Sherwin Williams Cyberspace Complementary Colors
You might be wondering what some of the best colors are to sue with Sherwin Williams Cyberspace. One of the best ways to find a great paint partner is to look for its complementary color on the color wheel.
To find the complementary color, you simply look across the color wheel from the original color in a straight line. Don't worry if this sounds too complicated, as I've gone ahead and done the hard work for you!
The complementary color to Sherwin Williams Cyberspace is a warm dark gray color. Think about a super dark greige and you'd be on the right lines! The paint that best matches this description from Sherwin Williams is called Black Fox SW 7020.
It's worth noting both these colors are on the dark side, so you might not want to use them both together too heavily. If that's the case, you might enjoy the next section, where I discuss some of the coordinating colors of Cyberspace.
Sherwin Williams Cyberspace Coordinating Colors
There are some colors that are a match made in heaven when it comes to pairing them with Sherwin Williams Cyberspace. I've listed my top 3 below for you along with what makes them work so well.
Site White SW 7070:This cool-toned white has a blue undertone to it, making it a perfect pairing with the blue notes within Cyberspace.
Network Gray SW 7073:This medium gray helps Cyberspace to sing, which is great for when you really want its darker color to stand out in a space.
Shell White SW 8917:This warm peachy white helps to bring out the best in Cyberspace, creating a contrast that helps to lift, rather than to clash.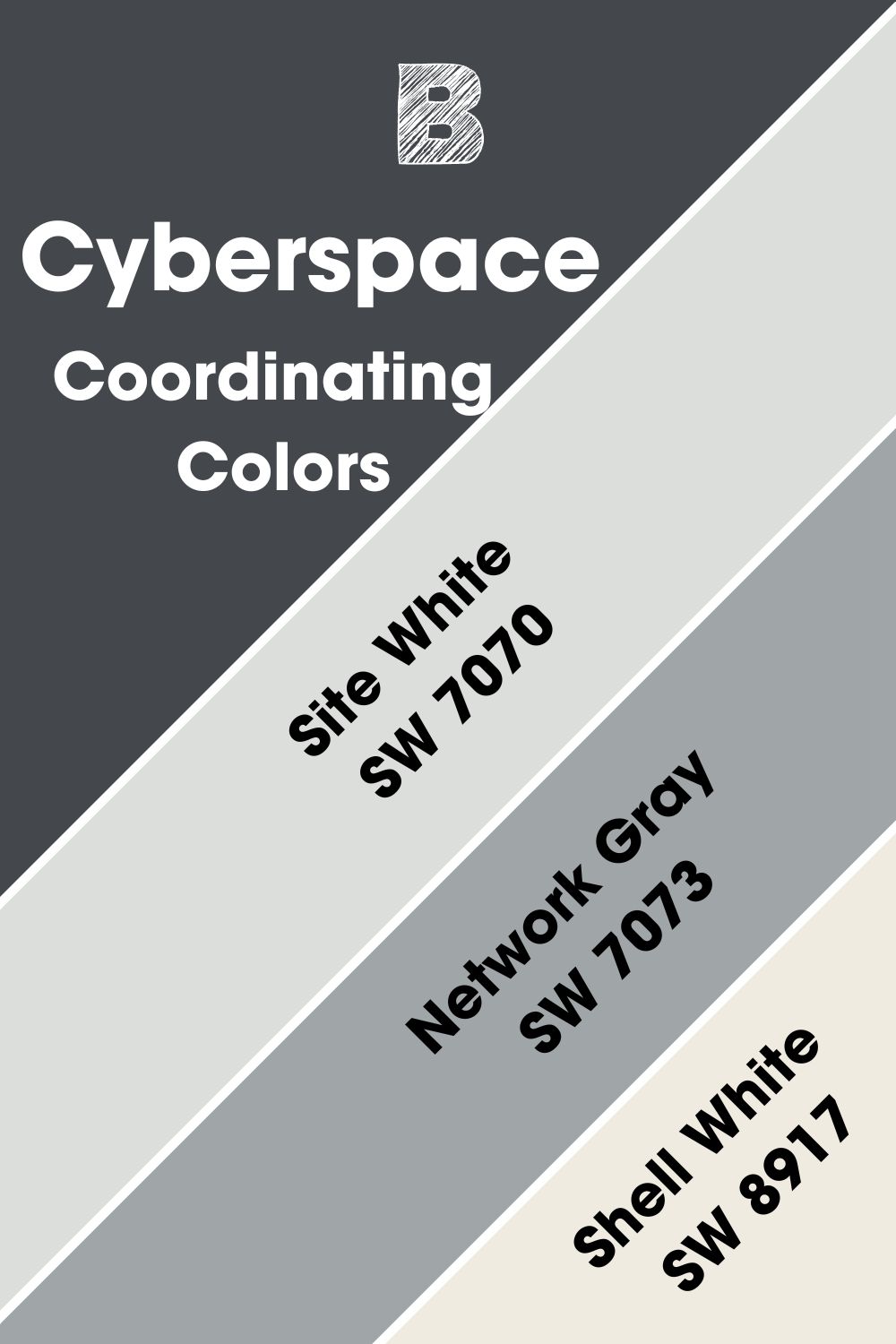 Sherwin Williams Cyberspace Color Palette
There are lots of different ways to help Cyberspace to pop within a color scheme in your next design project. Here are 3 color palettes that go perfectly with Sherwin Williams Cyberspace for you to try.
Contrasting Color Palette
Mariner SW 6766: This bright robin's egg blue provides a playful contrast to Sherwin Williams Cyberspace, helping it to really pop!
High Reflective White SW 7757:This super bright white is the perfect antithesis to Cyberspace, making for a really crisp look especially when paired as a wall color and trim.
Salon Rose SW 0061: This dusky pink from the Sherwin Williams Historic collection is super eye-catching, especially when used as an accent color on furniture.
Coordinating Color Palette
Origami White SW 7636: This cool white has slight violent undertones that work well with the navy notes of Cyberspace.
Lullaby SW 9136: This light blue has a slate-gray undertone that mirrors that of Cyberspace, making it a lighter complement in a scheme.
Windy Blue SW 6240:This dreamy blue is as easy to get lost in as Cyberspace itself! It's no wonder that they are perfect partners.
Monochromatic Color Palette
African Gray SW 9162: This color sits a few shades lighter than Cyberspace, and works perfectly with its darker navy notes.
Salty Dog SW 9177: This deep navy color gains extra richness when you put it with Cyberspace, helping to boost its versatility.
Moscow Midnight SW 9142: This deep blue has a real tranquility to it making for a gorgeous feel when used with Cyberspace.
Sherwin Williams Cyberspace vs Other Paint Colors
Sherwin Williams Cyberspace vs Hale Navy
Aside from being from two different paint companies, Sherwin Williams and Benjamin Moore respectively, Hale Navy also sits lighter than Cyberspace on the LRV scale at 8. More of the navy blue also shows through in Hale Navy, while Cyberspace is described as a charcoal gray.
Sherwin Williams Cyberspace vs Iron Ore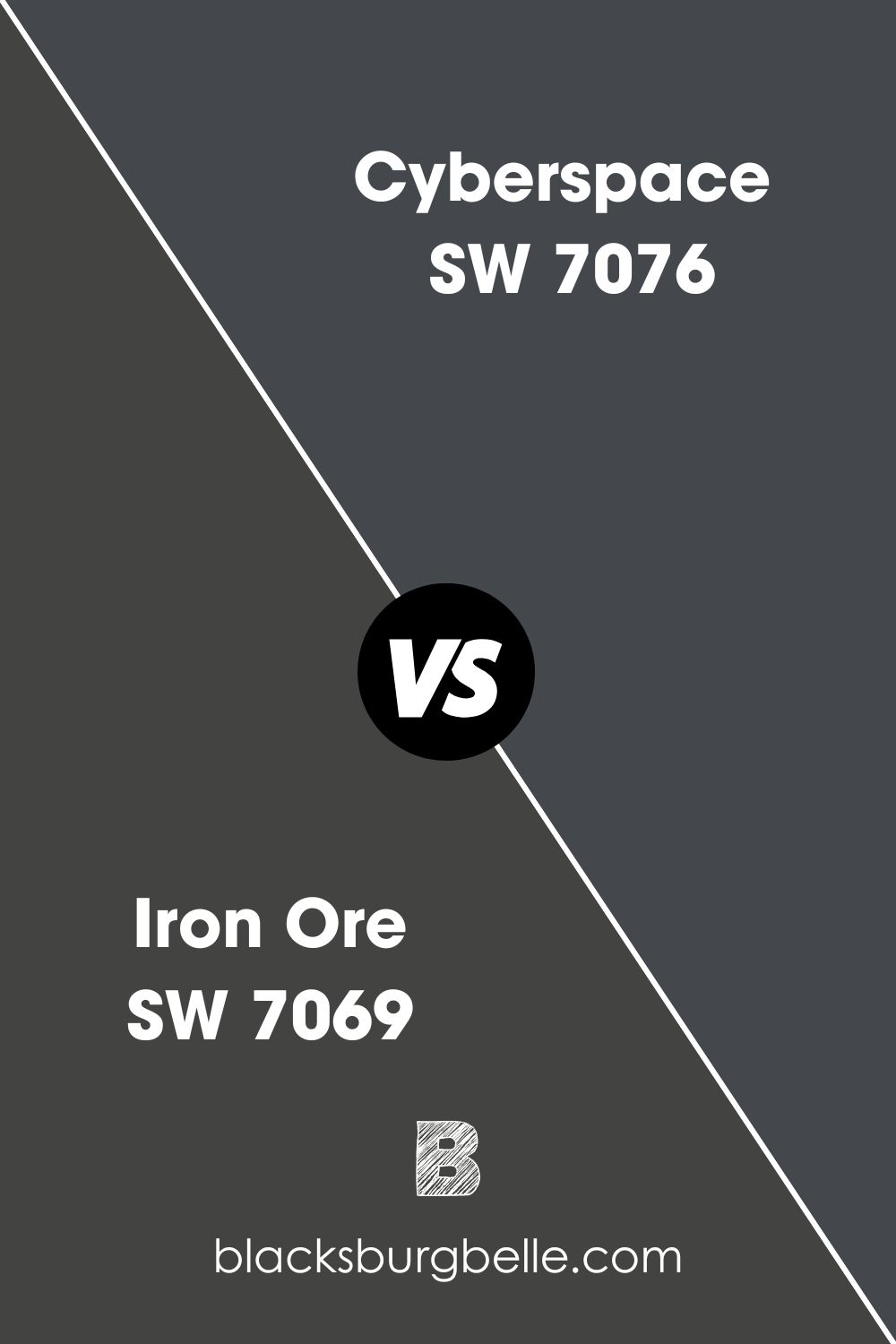 These two colors from Sherwin Williams are incredibly similar, both sitting at the same LRV and both with charcoal notes. However, while Cyberspace is navy blue, Iron Ore has green undertones to it.
Sherwin Williams Cyberspace Benjamin Moore Equivalent
If you are more of a Benjamin Moore fan than into the Sherwin Williams paints and still love this shade, don't worry!
There's actually an identical paint from Benjamin Moore to Sherwin Williams Cyberspace SW 7076, even down to the hex code.
They are not called the same thing, so if you want those Cyberspace vibes from the Benjamin Moore catalog, take a look at the paint color called Black Horizon 2132-30.
Where Can You Use Sherwin Williams Cyberspace?
Sherwin Williams Cyberspace Kitchen Cabinets
Sherwin Williams Cyberspace is perfect for creating a really sleek and modern kitchen. This picture that I've found also demonstrates beautifully how this paint color works with other shades and textures.
Not only does it not feel out of place with that rich warm wood, but it also creates a sleek contrast with the white countertops and tiling. Can I also shout out how it makes the chrome work of that fridge look?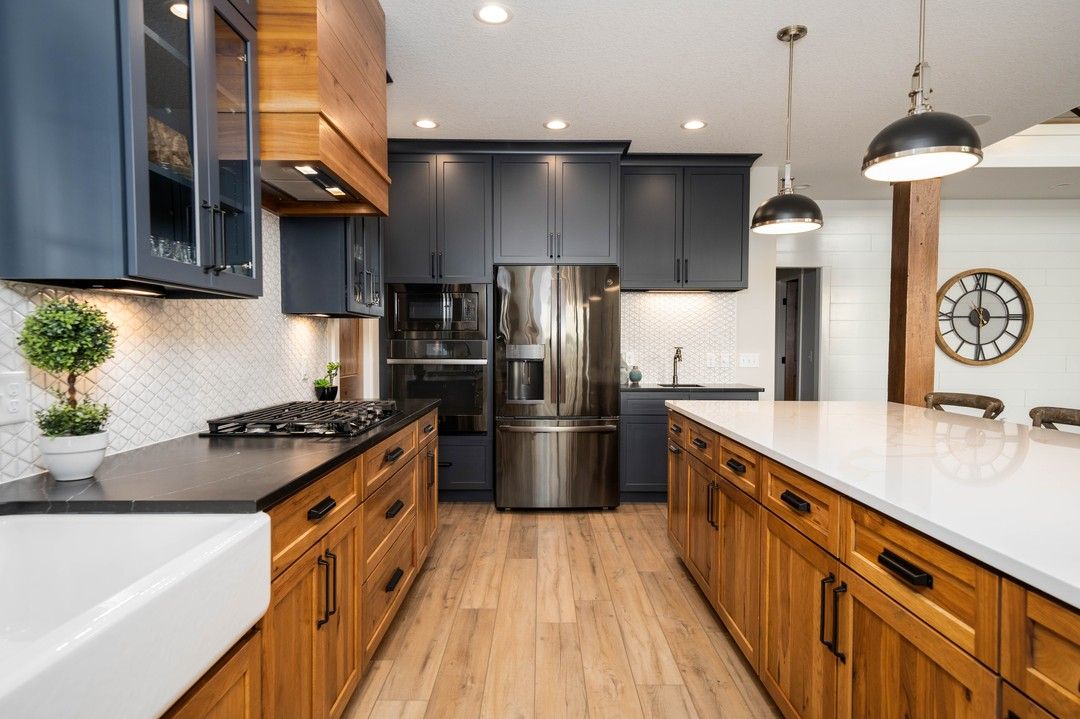 Sherwin Williams Cyberspace Exterior
If you needed any more proof that in the right situations, Sherwin Wiliams Cyberspace isn't too dark of a color, take a look at the exterior of this property. If you are thinking about what color trim with Cyberspace exterior and don't want to go for white, take inspiration from the color Silver Gray from Sherwin Williams used here.
Alternatively, try using Cyberspace SW 7076 as the trim to a lighter color. In this example I've found, the deep blue color on the trim, shutters, porch, and garage doors with the lighter white paint helps to build a farmhouse vibe!
Sherwin Williams Cyberspace on Furniture
Especially if your room is rocking white or light-colored walls, adding Sherwin Williams Cyberspace as an accent color on your furniture can create a really classy contrast. This is especially true when used on cabinets and paired with bronze or gold for the handles and hinges.
If you are struggling to see what I mean, look at these two pictures I've found where Sherwin Williams Cyberspace has been used to full effect. Doesn't it just ooze luxury and sophistication?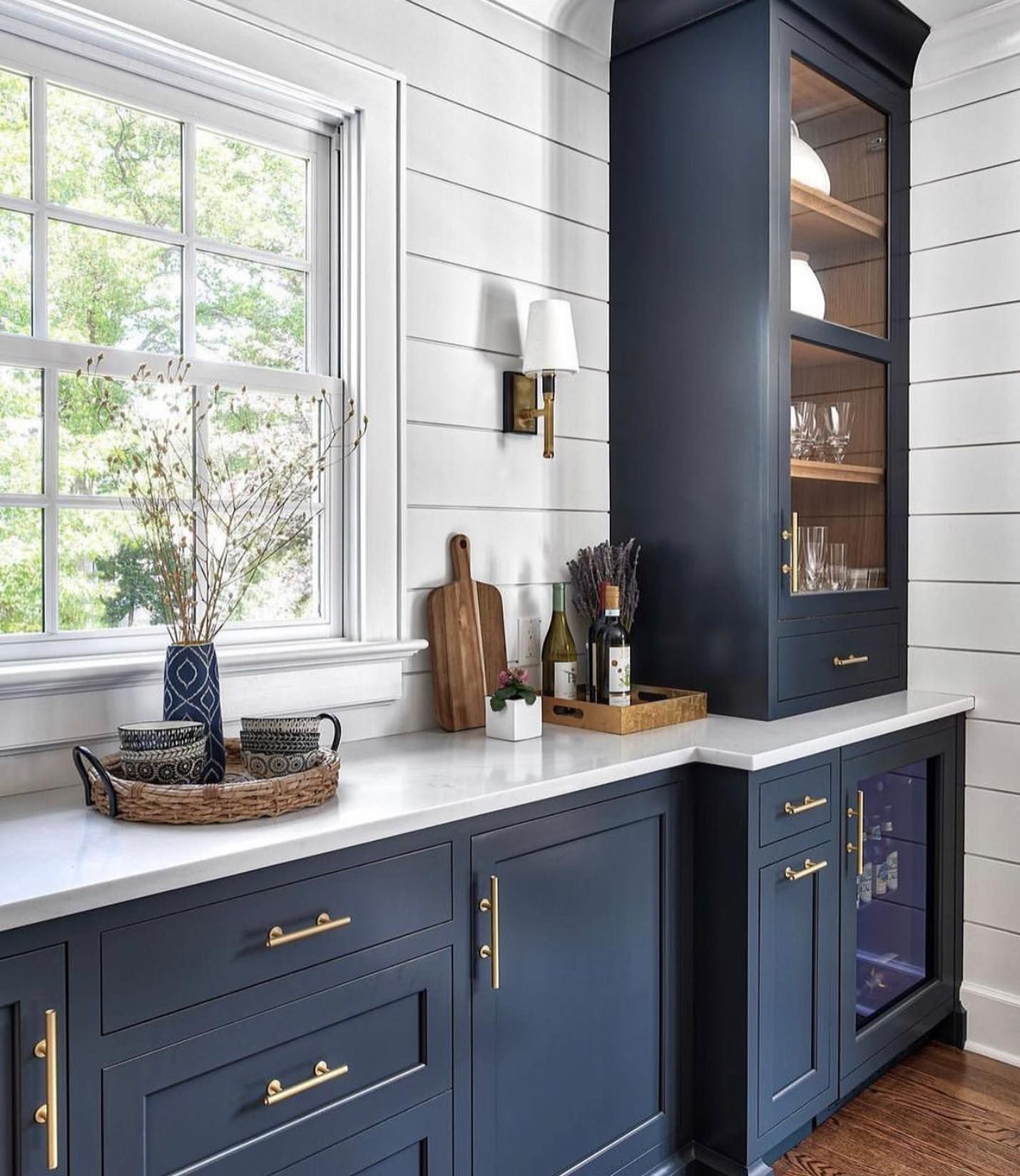 Sherwin Williams on Walls
If you're wondering what trim color goes with Cyberspace walls, you really can't go wrong with a crisp white. Take a look at how Sherwin Williams Cyberspace has been used as an accent here, with the white paneling. It goes to show you don't always need a meticulous color scheme to make this paint shine!
Sherwin Williams Cyberspace Bathroom
The deep navy blue of cyberspace can really add to the relaxing maritime vibes when used in a bathroom. It really helps to showcase the slanting ceiling in this inspiration picture I've found, and I am loving the bronze accessories, too!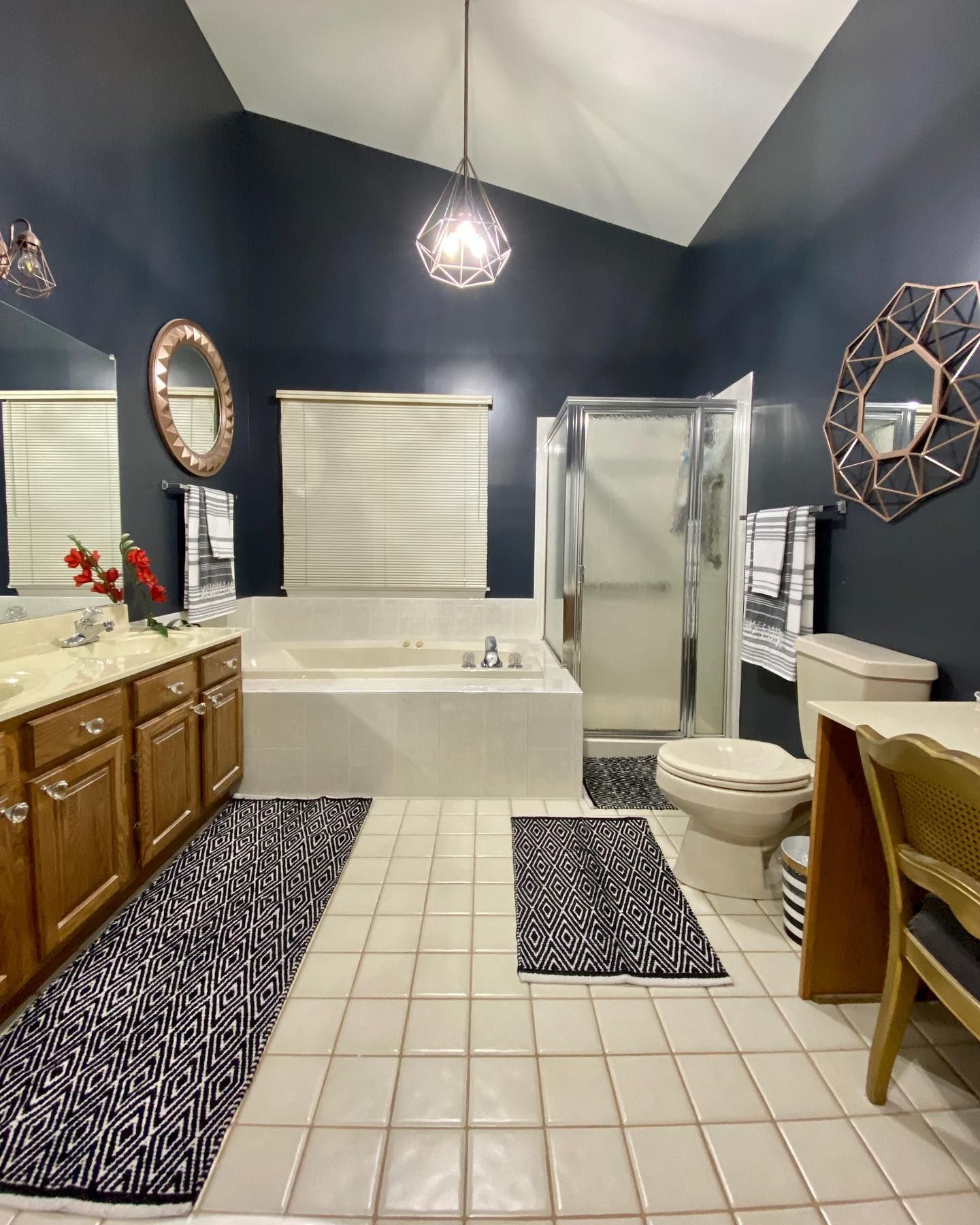 Sherwin Williams Cyberspace Living Room
I am seriously in love with this living room and the way that Sherwin Williams Cyberspace is used as an eye-catching feature wall here. Its dark coloring actually doesn't make the room look gloomy, and in actual fact is helping to highlight just how bright and inviting it is!
Sherwin Williams Cyberspace Bedroom
There is something about the way in which Cyberspace SW 7076 works with wood of all kinds that I absolutely love. In this bedroom, it creates just the right amount of tranquility and moodiness when placed on the accent wall behind the bed without becoming too gloomy.
Sherwin Williams Cyberspace Dining Room
Ramp up the sophistication factor and try using Sherwin Williams Cyberspace in your dining room. The white of the ceiling and table helps to keep things light and airy during the day, and the deep hues of Cyberspace can create a really intimate venue for entertaining once the sun goes down.
Sherwin Williams Cyberspace on Doors
For a bit of quick and easy curb appeal, try giving your front door a coat of Sherwin Williams Cyberspace. However, don't be content to only use this color outside, it also makes for a real feature inside on hallway doors or to match a room's walls for a seamless look.
Conclusion
All in all, if you are looking for a dark color with a lot of character behind it, then Sherwin Williams Cyberspace SW 7076 is definitely the way to go!
Personally, I love the way that this color can act like a chameleon, either becoming quite tranquil and reflective, super classy and elegant, or even working with other shades to make a space feel really bright!
Even if you aren't brave enough to put it on all of your walls, I really d recommend trying this color out as an accent, especially on furniture. You'll be able to see the drama that this paint creates in person, and who knows, it might persuade you to experiment with it more!
Don't just take my word for it though, pick up a sample and enter Cyberspace!