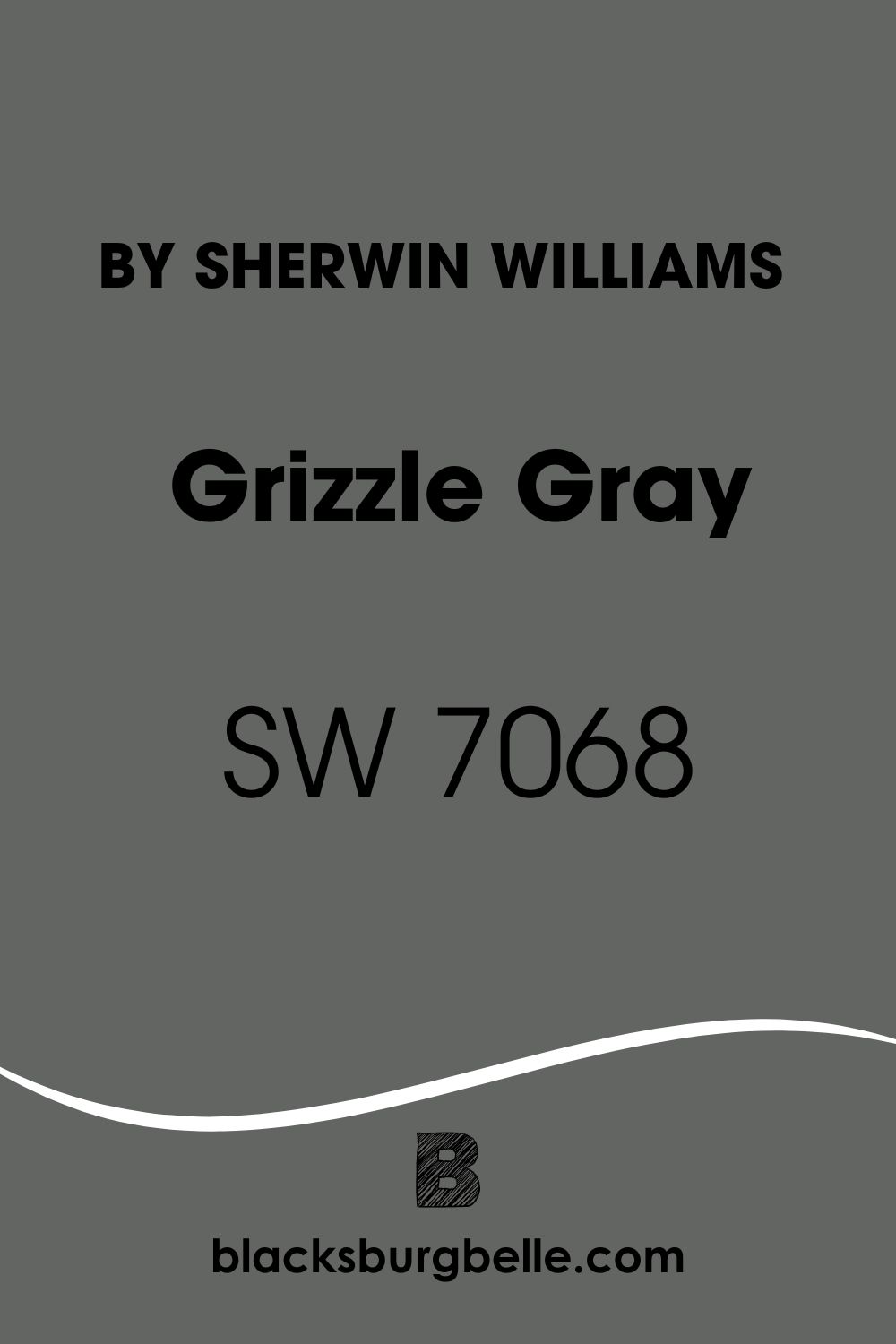 Do you want to modernize your space but don't know where to start? Let me introduce you to Sherwin-Williams Grizzle Gray (SW 7068). This cool neutral has a hypnotizing teal undertone, transforming its charcoal gray surface into two colors.
I discovered it in Sherwin-Williams Expert Pick while researching the best dark gray paints to use in the summer. Its versatility adds a dramatic vibe to any dull space. So, what's not to love?
If you need further convincing, don't worry. I highlighted all parts of Grizzle Gray in this article, including the specifications, color palette, lighting, and practical usage.
When to Choose Sherwin-Williams Grizzle Gray?
Grizzle Gray is for the vintage soul and style nomad. To use this color, you must be daring yet reserved.
Ready for a Chilled Vibe?
It has a neutral charcoal gray front to match your calm nature but there are also two dark tones ready to jump out at any time.
Need A Moody Low-Light Environment?
You'll never worry about energy surges with Grizzle Gray because it has a low reflection capacity even with additional lighting.
Playing with Gray?
With Grizzle Gray you have more than two options when working with gray neutrals. You don't have to settle for gloomy like the rain or bright like a fog tone.
Thinking of a Kitchen Renovation?
Grizzle Gray kitchen cabinets suit traditional and urban designs depending on your flooring and countertops. Pair it with white walls for a clean look, brown floors for a vintage look, and white or light gray tiles for a modern vibe.
Ready for an Exterior Makeover?
Say no to bland exteriors by painting your outer walls, sheds, doghouses, treehouses, or garage doors Grizzle Gray. It does a nice job of blending in yet asserting its presence.
Camping Lover?
Outdoor activities are more fun when you use this camouflage teal-gray on your farmhouse exterior. It also suits wooden camp houses and would blend in any forest.
What Color is Sherwin-Williams Grizzle Gray?
It's easy to imagine a paint color's look when you hear the name, and Grizzle Gray isn't different. This multi-toned neutral got its name because of its charcoal surface. Also, when you think of grizzle being a mixture of black and white hair, it makes sense.
See what Grizzle Gray looks like under natural sunlight before we get into the color's details.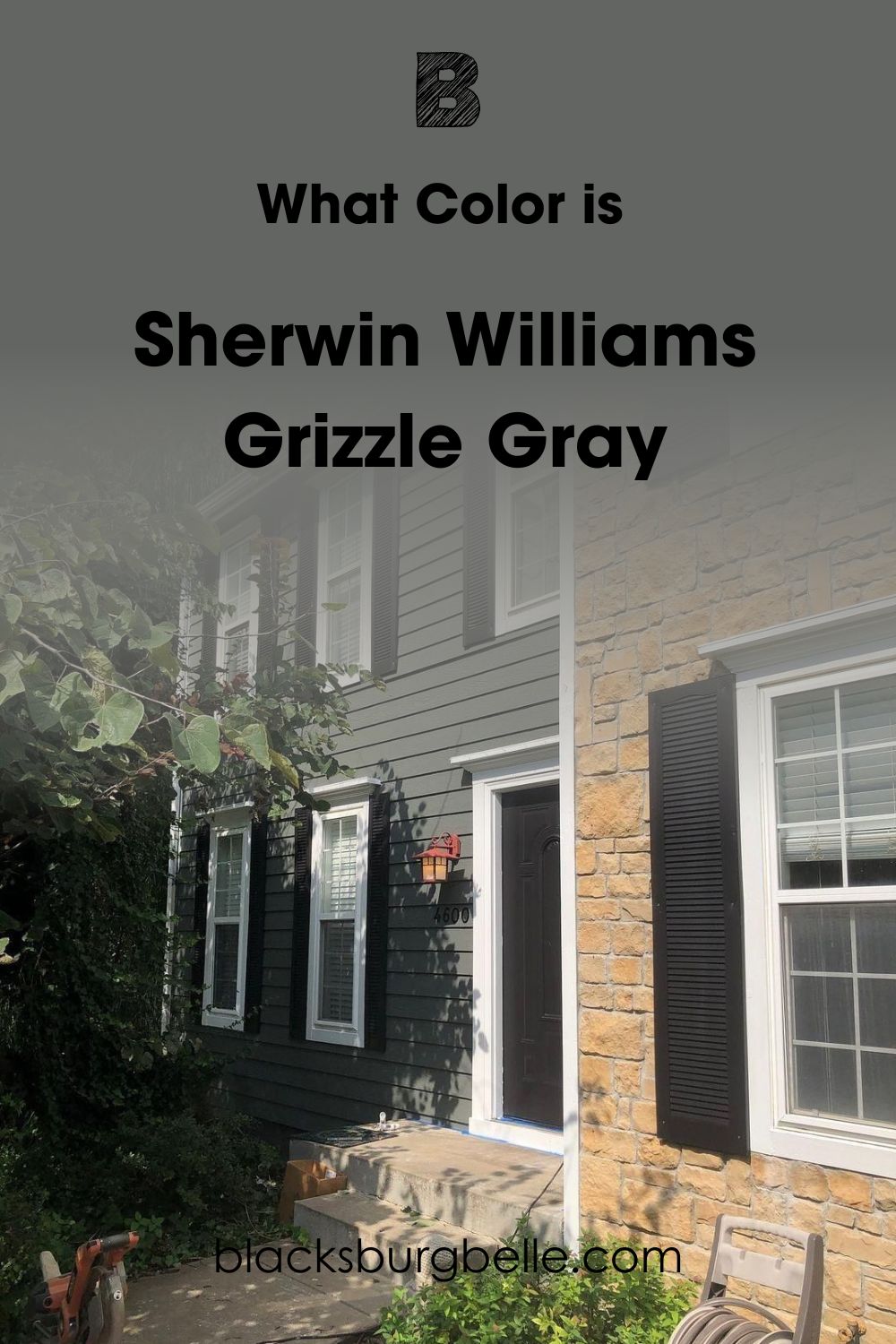 The first thing about Grizzle Gray that caught my attention is its undertones. It's one of the few gray paints with multiple tints that give users various options in one swipe. If you're an adventurous designer, you'll love a three-in-one neutral over a two-in-one variant.
Because of its bold undertones, Grizzle Gray isn't dull. Instead, it infuses a quiet but strong energy into its environment.
You'll notice that most houses with Grizzle Gray exteriors and designs are in the early 1900s and late 1800s style. So this dark gray paint is for people who want to embrace modernity without compromising tradition.
Avoid Grizzle Gray if you're not into intense neutrals. Its stern vibe will dampen your cheerful energy unless you're soulful and reserved.
Let's take a look at the specifications that make up Grizzle Gray.
Snapshot of Sherwin-Williams Grizzle Gray Specification
One glance at this specification table for Grizzle Gray tells you everything you need to know about the color.
| | |
| --- | --- |
| Name | Grizzle Gray (SW 7068) |
| RGB | Red 99 | Green 101 | Blue 98 |
| Hex Value | #636562 |
| LRV | 13 |
| Undertones | Green & Blue (Teal) |
The LRV of Sherwin-Williams Grizzle Gray
We're starting with the Light Reflectance Value (LRV), which we measure on a scale of 0 to 100. Pure black has an LRV of 0, and the brightest white reflects 100 percent. But with paint, instead of 0 – 100, we have 3 – 97 because undertones prevent pure black or white.
Grizzle Gray is close to black, so its LRV is 13.
You'll see dark paint once you look at the color's position on the scale. That means Grizzle Gray is moody on its own and won't brighten your space. To capture its alternate tints, you must use additional lighting and natural sunlight.
Stick around to learn how lighting and undertones work.
Undertones of Sherwin-Williams Grizzle Gray
Grizzle Gray (SW 7068) has a teal undertone that splits into a dark green or deep blue. Undertones are the alternate colors that occasionally overcome a paint when it interacts with light.
If you've ever argued with a friend about a paint's color, you've experienced undertones. You won't be wrong to call Grizzle Gray a green-gray tone when your friend insists it's a blue-gray paint.
That's because it contains both colors and can sway depending on the lighting. I'll explain how that works now, but first, see what Sherwin-Williams Grizzle Gray looks like.
Lighting Effect On Grizzle Gray
You can use natural light to highlight the teal undertone in Grizzle Gray if you find the best-reflecting position. Firstly you'll need a compass to identify the four cardinal points, North, West, South, and East. If you don't have a compass, let's get old-fashioned.
Stand outside your house and face the sun during sunrise (6:45 am – 7:00 am) or sunset (6:30 pm – 6:45 pm). The sun rises in the east and sets in the west, so stretch your left hand towards it. In the morning, that's east, but in the evening, that's west.
Your front faces the north, and your back is in the south, leaving your opposite hand in the west or east, depending on the time of the day. Enough of the geography lesson. Let's discuss the relevance.
The sun reflects the most in the south from morning to noon. Eastern reflection becomes hot between noon and afternoon, while west-facing rooms get the most light from late afternoon until sunset.
If you want a midpoint, north-facing rooms are your best bet. They get steady reflections throughout the day. That's the only spot where Grizzle Gray will retain its moody charcoal tone without fear of its teal undertone showing.
Does it look Green?
When direct sunlight hits Grizzle Gray from the south or east, the color shows a deep army green tone. This dining room wall is a good example because it highlights Grizzle Gray in a south-east facing room.
The top of the wall remains charcoal gray, but the base receiving direct sunlight transforms into green.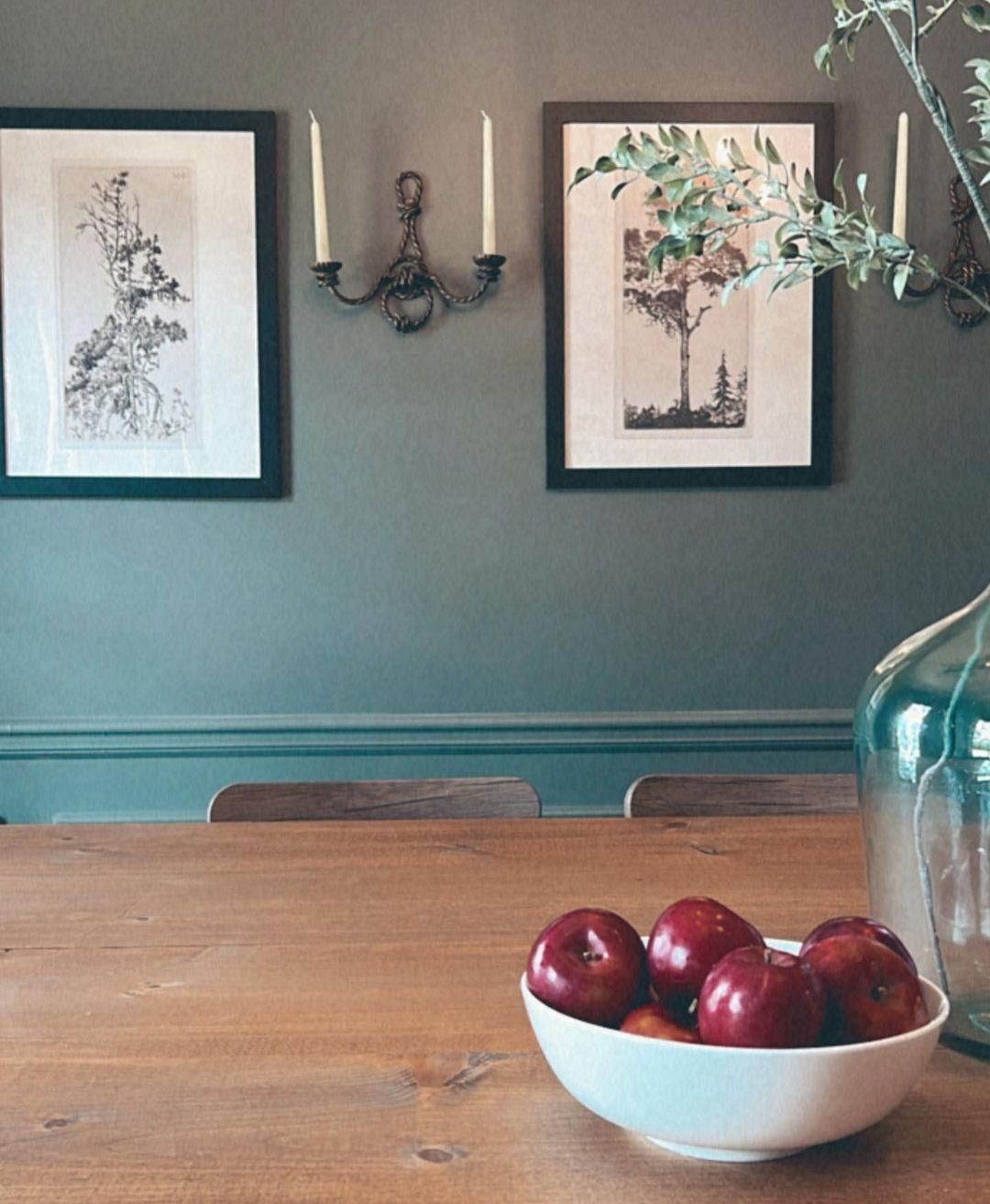 Does it look Blue?
Grizzle Gray will turn blue in west-facing light, especially when paired with blue's triadic colors, yellow and red. This doghouse has Grizzle Gray on its exterior, while a creamy yellow highlights the interior and window trim.
Because it has a straight roof, the sunlight bounces onto the ground and redirects to the fence and grass. The residual reflection highlighted the deepest undertone, a smoky navy blue that I instantly loved.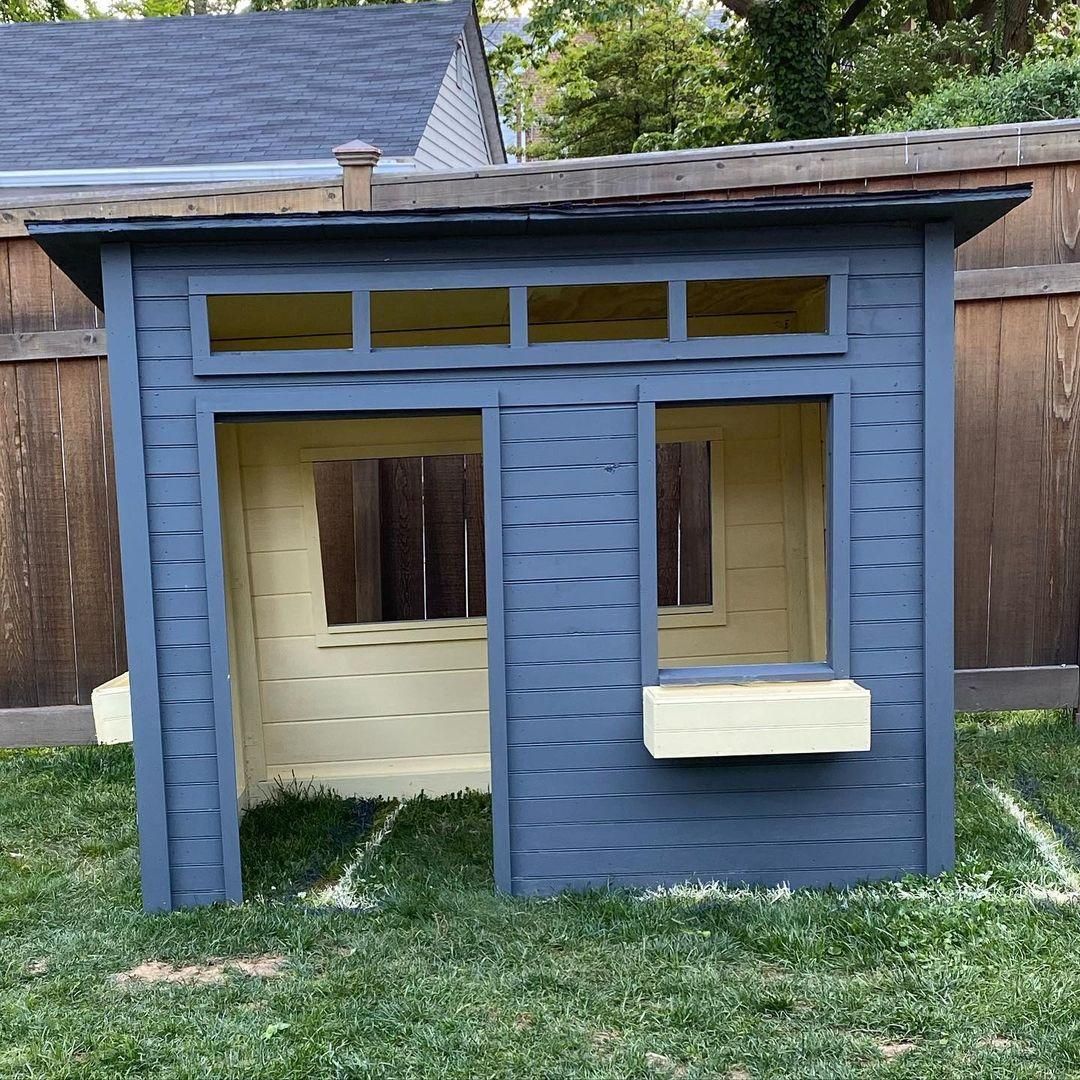 Is Sherwin-Williams Grizzle Gray a Warm or Cool Color?
Sherwin-Williams Grizzle Gray is a cool color that adds a brooding aura to the environment. It's not like other cool, calming colors, and it's not a cozy tone. So, what's the vibe from Grizzle Gray?
Grizzle Gray in your space says, "It's crunch time!" There's no time for relaxing and lazing around with this color. Instead, you'll always feel like there's more work than time to complete it. That's why too much Grizzle Gray in your space isn't good for inspiration.
But the brooding vibe will reduce if you brighten it with more reflective colors. And that brings us to the fun part of this review. It's time to explore Grizzle Gray's color palettes!
Sherwin-Williams Grizzle Gray Color Strip: Lighter or Darker Exploration
Before we get into the color palettes, let's talk about alternative dark to medium-dark gray paints for Grizzle Gray. If you want a softer dark gray, choose Cityscape, but for a medium-dark tone, Tin Lizzie is yours.
If Grizzle Gray is not broody enough, go for Peppercorn, but if you're in the mood for a relatively reflective medium-dark gray, buy Gray Matters.
Sherwin-Williams Gray Matters (SW 7066)
Sherwin-Williams Tin Lizzie (SW 9163)
Sherwin-Williams Cityscape (SW 7067)
Sherwin-Williams Grizzle Gray (SW 7068)
Sherwin-Williams Peppercorn (SW 7674)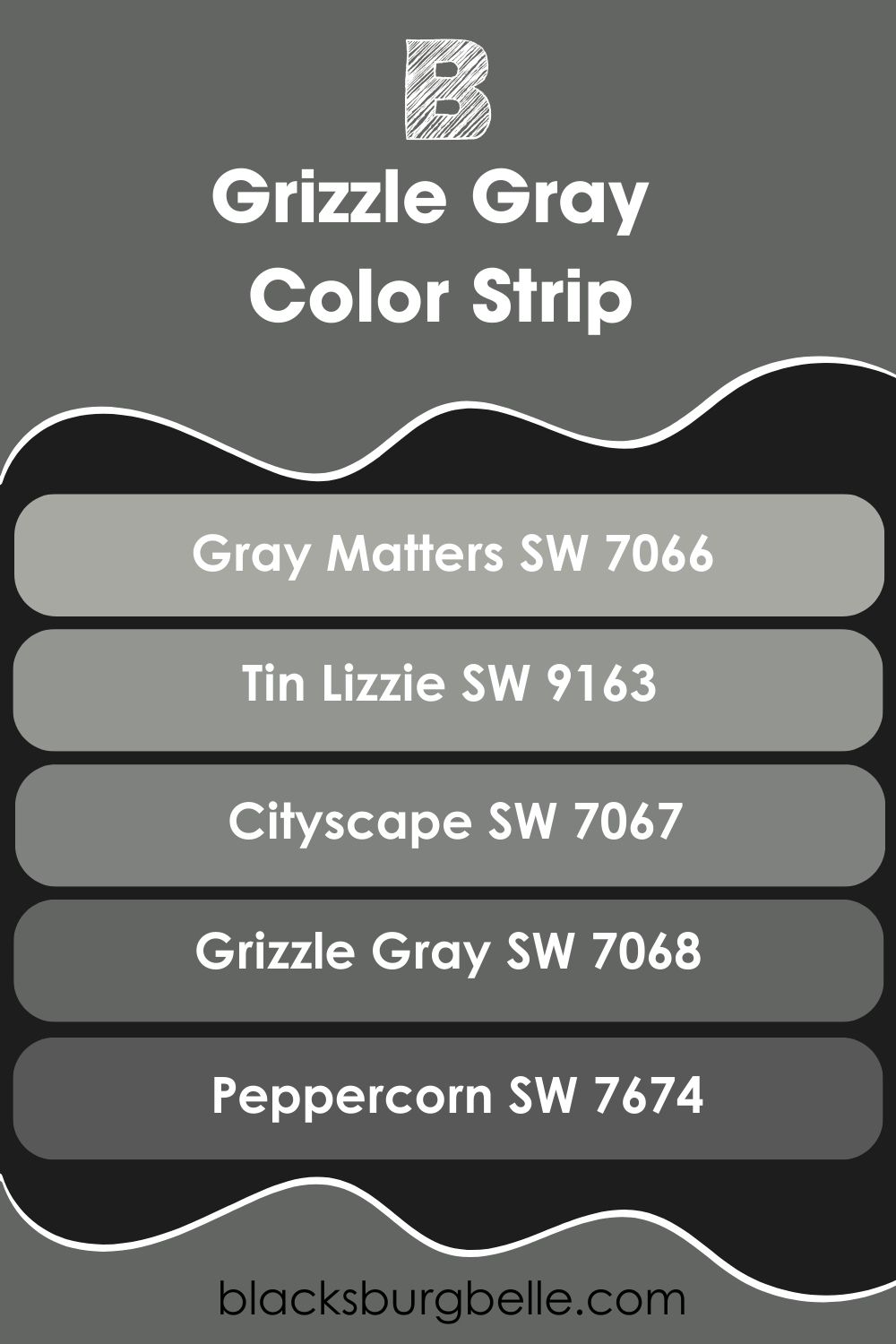 Complementary Colors for Sherwin-Williams Grizzle Gray
Every color has a complementary tone that makes the pair look like they were made for each other. That's because the contrasting auras create balance. One is calm, while the other is warm, like blue-orange, green-red, and purple-yellow.
With neutrals like Grizzle Gray, it's harder to find a complementary color because of the multiple undertones. But that's also what makes it fun. You can use Grizzle Gray's hex value (#636562) to find the perfect pair or explore its undertones.
Cloak Gray (SW 6278) is the closest tone that complements Grizzle Gray based on Hex Value. It's a deeper gray shade with a magenta undertone that matches Grizzle Gray's teal tint. Other complementary colors include:
Sherwin-Williams Framboise (SW 6566):A dark magenta with red undertones to complement Grizzle Gray's green undertone.
Sherwin-Williams Ruby Shade (SW 6572):Soften the broody energy in Grizzle Gray with this reddish-purple paint.
Sherwin-Williams Rustic Red (SW 7593): An earthy red-orange to highlight the dark blue undertone in Grizzle Gray. Best used outside in west-light.
Sherwin-Williams Grizzle Gray Coordinating Colors
You've seen a glimpse of what pairing Grizzle Gray looks like with the complementary palette, but there are several more popular themes to explore. Check them out and decide which one best fits your vibe.
Analogous Theme:Pairs three colors placed side-by-side on the color wheel for a unique vibe ex: Blue/Green/Lemon and Red/Orange/Yellow.
Complementary Theme: Create a burst of contrasting energy with opposite colors.
Triadic Theme: Pick three equally spaced colors to form a triad ex: red/yellow/blue and purple/green/orange.
Split Complementary Theme: Use the adjacent colors of Grizzle Gray's complementary color. Blue-green matches red and orange as the shades beside Red-orange.
Monochromatic Theme: Add white and black to your anchor color to create tints and shades of one hue.
Use triadic, analogous, and split complementary palettes for bold designs. They're best in spaces that require high energy and human interaction. Use complementary and monochrome palettes for tame and minimalist designs.
Because Grizzle Gray is a dark neutral color, it's best to use bolder palettes to highlight its undertones. Check out the colors I selected for you.
Coordinating Colors for Sherwin-Williams Grizzle Gray
Sherwin-Williams Nebulous White (SW 7063):Trim your Grizzle Gray walls with this blue-tinted white paint for a soothing aura.
Sherwin-Williams Passive (SW 7064):This medium-light gray paint with an LRV of 60 maintains Grizzle Gray's neutrality while adding coolness to the broody hue.
Sherwin-Williams Foxy (SW 6333):Use this earthy red-orange to add warmth and vibrancy to your Grizzle Gray space.
Sherwin-Williams Grizzle Gray Color Palette
Other bold palettes for Grizzle Gray include:
Triadic Palette
Sherwin-Williams Leather Bound (SW 6118): You can't go wrong with this golden-brown yellow paint accenting Grizzle Gray walls.
Sherwin-Williams Borscht (SW 7578): Pair this rich red violet with Grizzle Gray for an exotic and regal look.
Sherwin-Williams Pearly White (SW 7009):A soft white paint that won't mess with the gloomy vibe from Grizzle Gray and its other triads.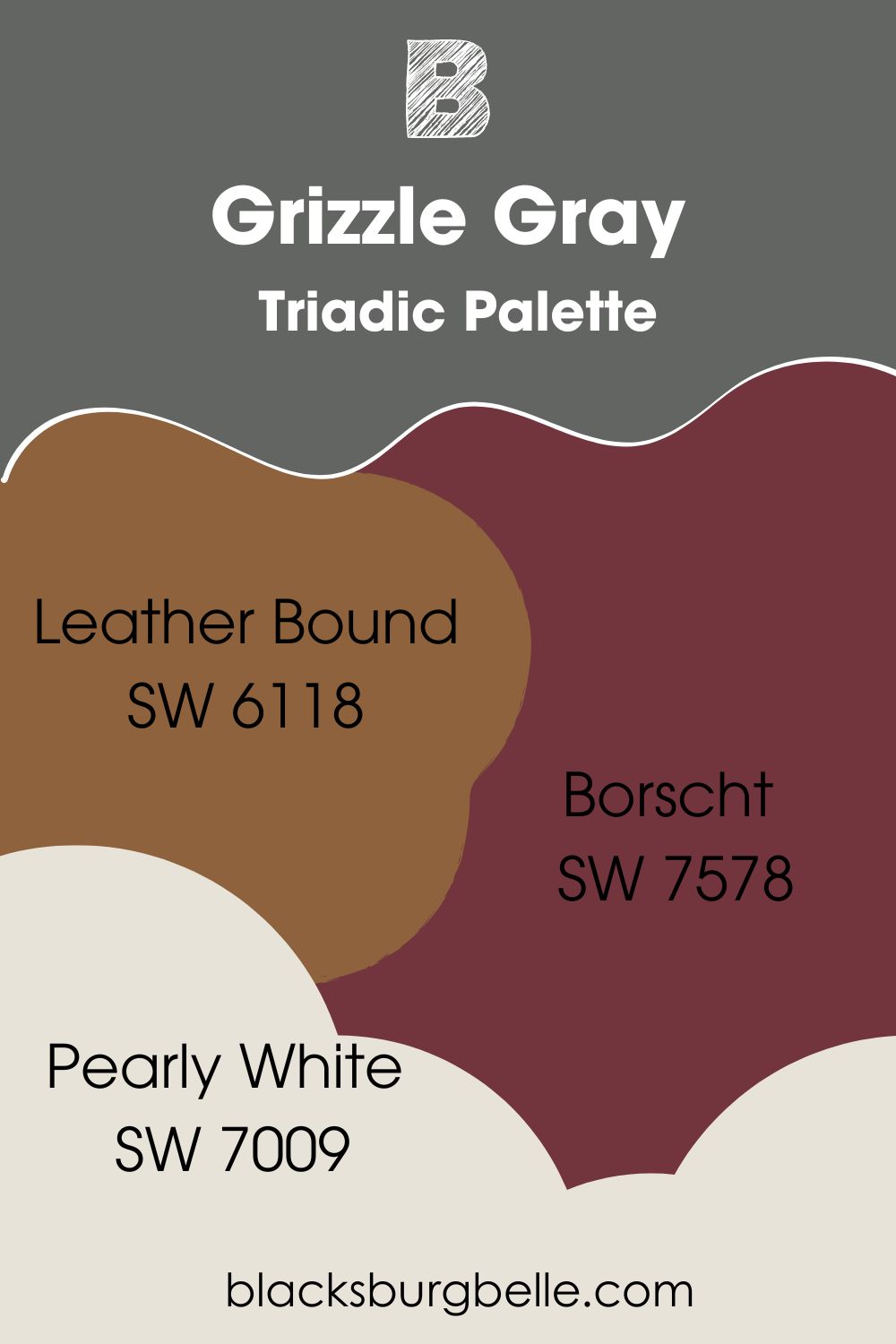 Analogous Palette
Sherwin-Williams Celery (SW 6421):Use this medium-light greige paint with yellow tints to match Grizzle Gray's blue-green undertone for your trims.
Sherwin-Williams Oceanside (SW 6496):Highlight the blue undertone in Grizzle Gray with this dark-toned aqua blue.
Sherwin-Williams Rookwood Sash Green (SW 2810):Soften the mood with the faded tone of this dark green color.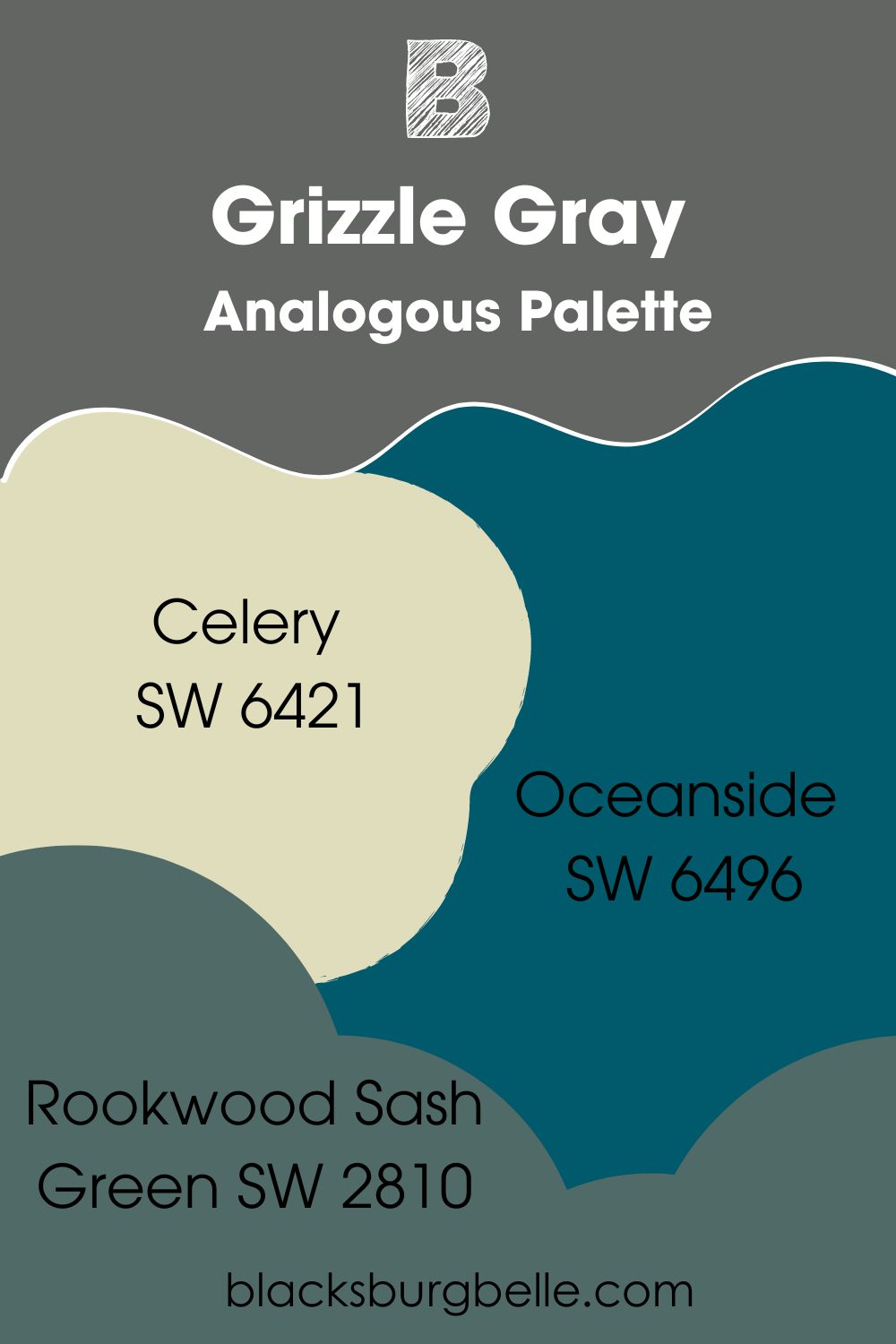 Monochromatic Palette
Sherwin-Williams Argos (SW 7065):A mid-toned stony gray paint to add a hazy wintery look to Grizzle Gray's darkness.
Sherwin-Williams Tin Lizzie (SW 9163):Use this medium-dark steely gray to brighten Grizzle Gray but tone down the lightness in Argos.
Sherwin-Williams Gray Matters (SW 7066):An Grizzle Gray's monochromatic palette gives your space a confident but reserved aura.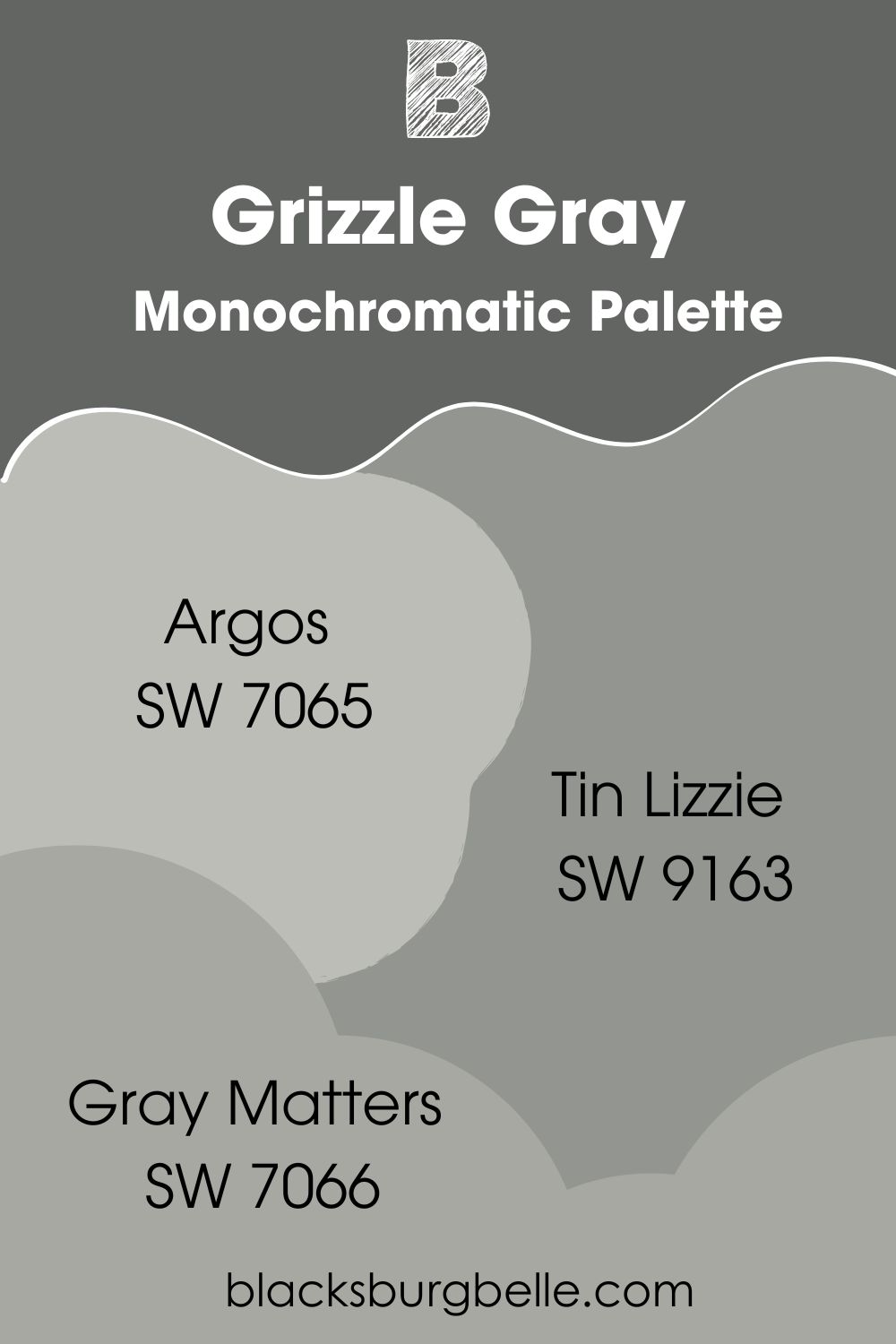 Sherwin-Williams Grizzle Gray vs. Sherwin-Williams Gauntlet Gray (SW 7019)
If you love greige neutrals, choose Sherwin-Williams Gauntlet Gray, which has an LRV of 17, making it warmer and lighter than Grizzle Gray.
Sherwin-Williams Grizzle Gray vs. Sherwin-Williams Peppercorn (SW 7674)
Sherwin-Williams Peppercorn is broodier and darker than Grizzle Gray because of its 10 LRV.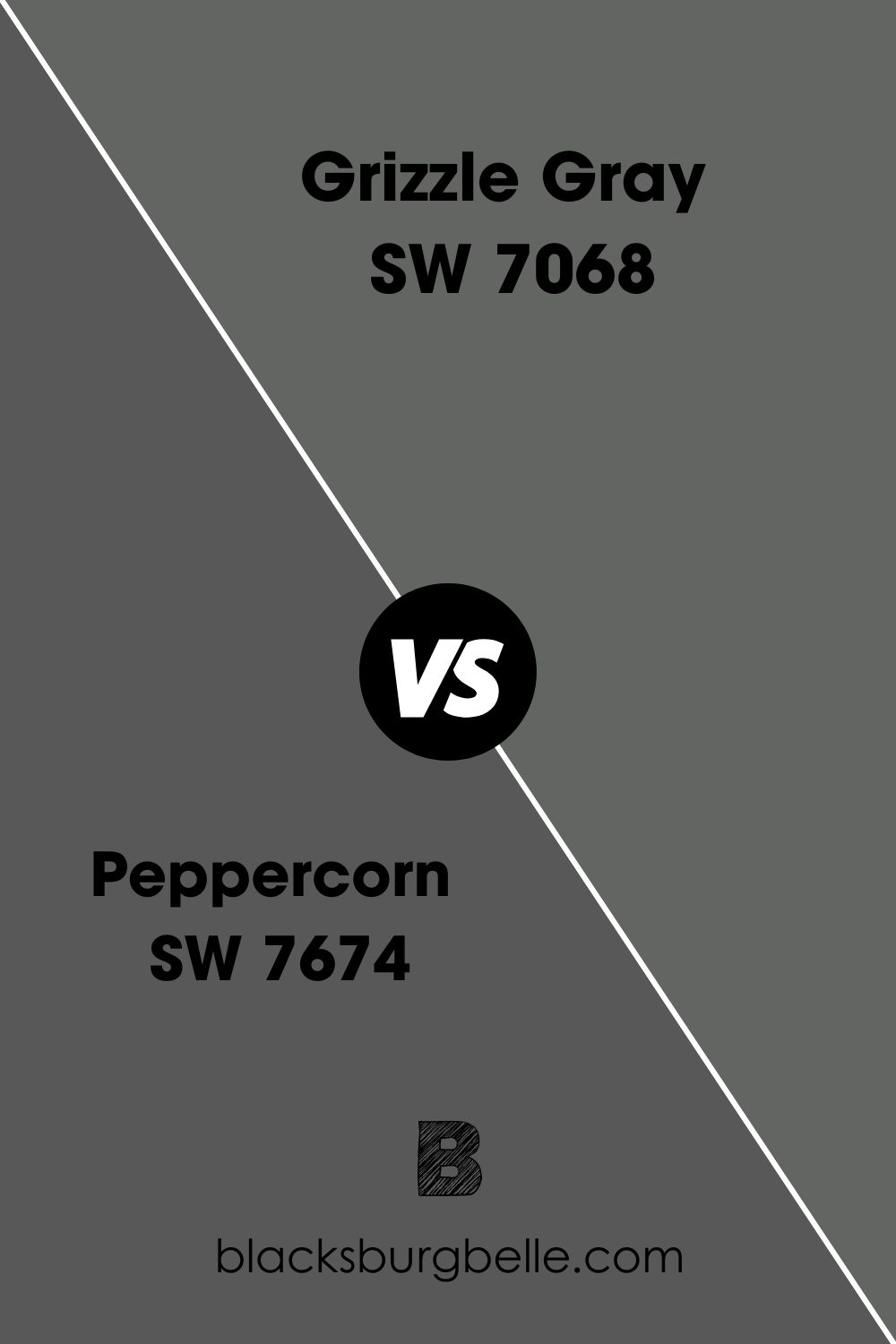 Sherwin-Williams Grizzle Gray vs. Benjamin Moore Kendall Charcoal (HC-166)
Benjamin Moore's Kendall Charcoal has an earthy taupe and green undertone with no blue tints and is a little lighter than Sherwin-Williams Grizzle Gray.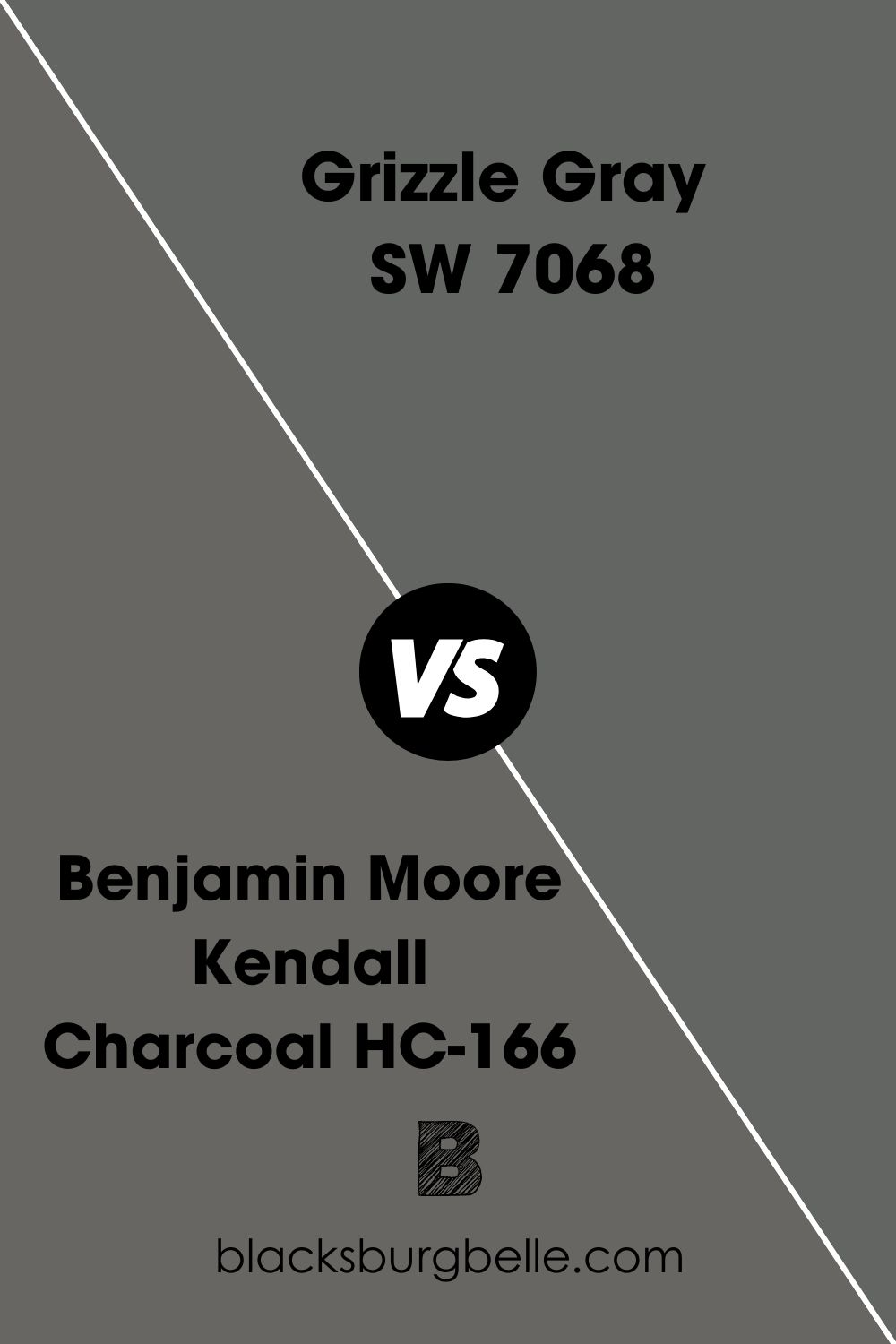 Sherwin-Williams with Other Brands (Benjamin Moore, PPG, Behr, Valspar, and Farrow & Ball)
Sherwin-Williams is the only brand with a paint color named Grizzle Gray, so there's no room for confusion or mistakes. But if you're looking for similar shades from other top brands, check out the following:
Behr's Charcoal
Benjamin Moore City Shadow
Farrow & Ball's Down Pipe
Valspar's Sable Eveningand
PPG's Gunmetal Gray
They're all dark-toned green-gray paints like Sherwin-Williams Grizzle Gray but have slightly different LRVs.
Where can you use Sherwin-Williams Grizzle Gray?
As a neutral paint, you can use Sherwin-Williams Grizzle Gray anywhere! And when I say that, I really mean it because the color suits every surface from walls to furniture, woodwork, stonework, floors!
Check out some inspirations on using Grizzle Gray below.
Sherwin-Williams Grizzle Gray on Walls
Grizzle Gray here is on a laundry room wall paired with white fixtures and a golden-yellow wooden floor. You can tell the owner of this closet is a serious and organized person, from their color choice to the fixtures.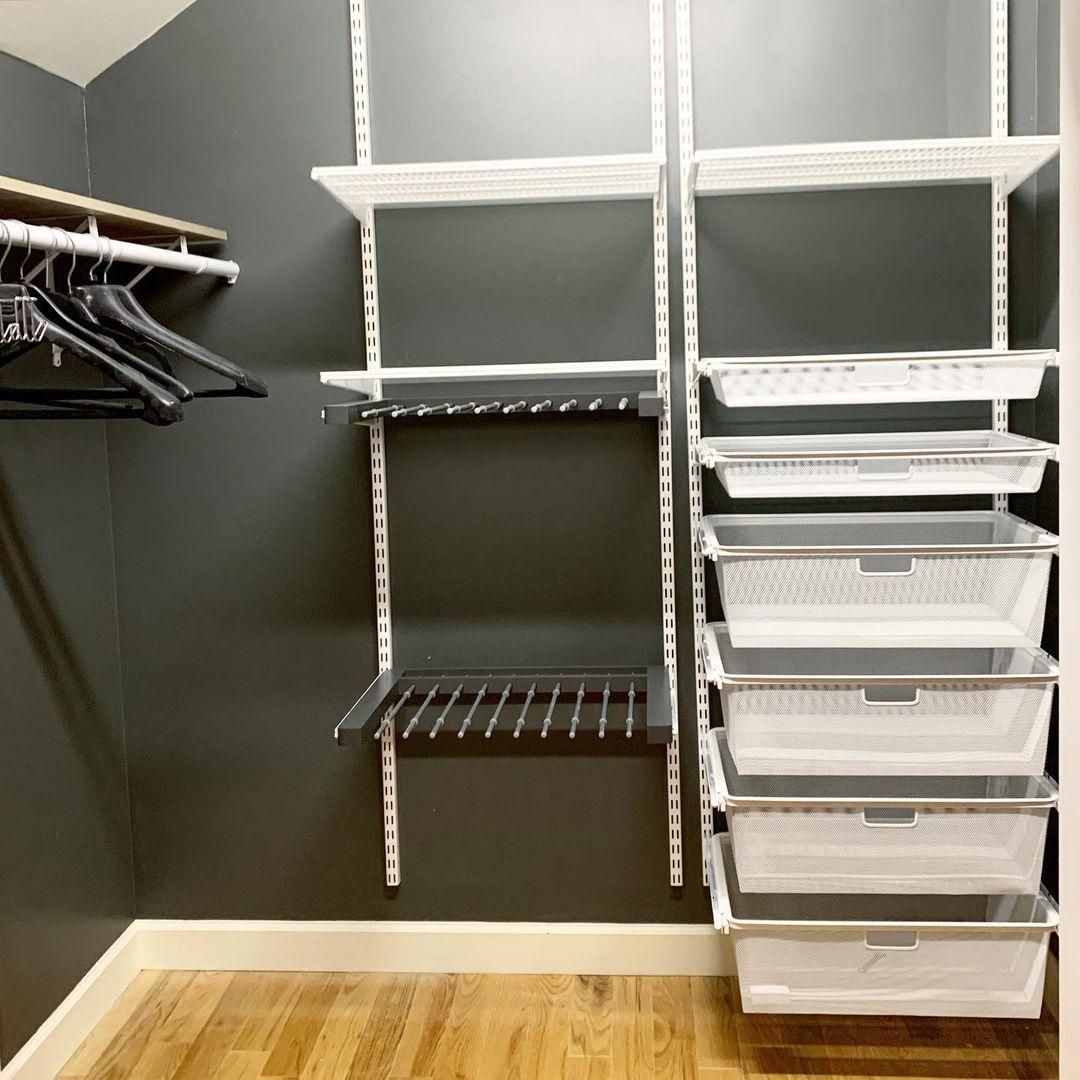 Image Credit: @happilyeverreno
Sherwin-Williams Grizzle Gray in the Living Room
Using Grizzle Gray in the living room is a gamble because most people want cheerful colors in the family space. But the shadowy tone livens up if you pair it with the right colors, like white curtains and bright orange leather furniture.
The off-white interior decor, including the patterned carpet, adds a charming warmth to the cold tone.
Sherwin-Williams Grizzle Gray in the Bedroom
Moody bedrooms seem overkill unless you pair Grizzle Gray walls with white and red decor. It'll make your space feel like every day is Christmas, especially when you're generous with the festive red.
Also, note that this room has adequate lighting from all angles to highlight Grizzle Gray's green undertones.
Sherwin-Williams Grizzle Gray as an Accent
Using Grizzle Gray in bits is my all-time favorite style. It's such a bold tone that the littlest application would become the star in the room, like this dining room corner. Grizzle Gray is on the accent wall to match the greige side walls and mismatched chairs.
The natural light hitting the surface and reflecting from the mirrors emphasize the dusty green undertone.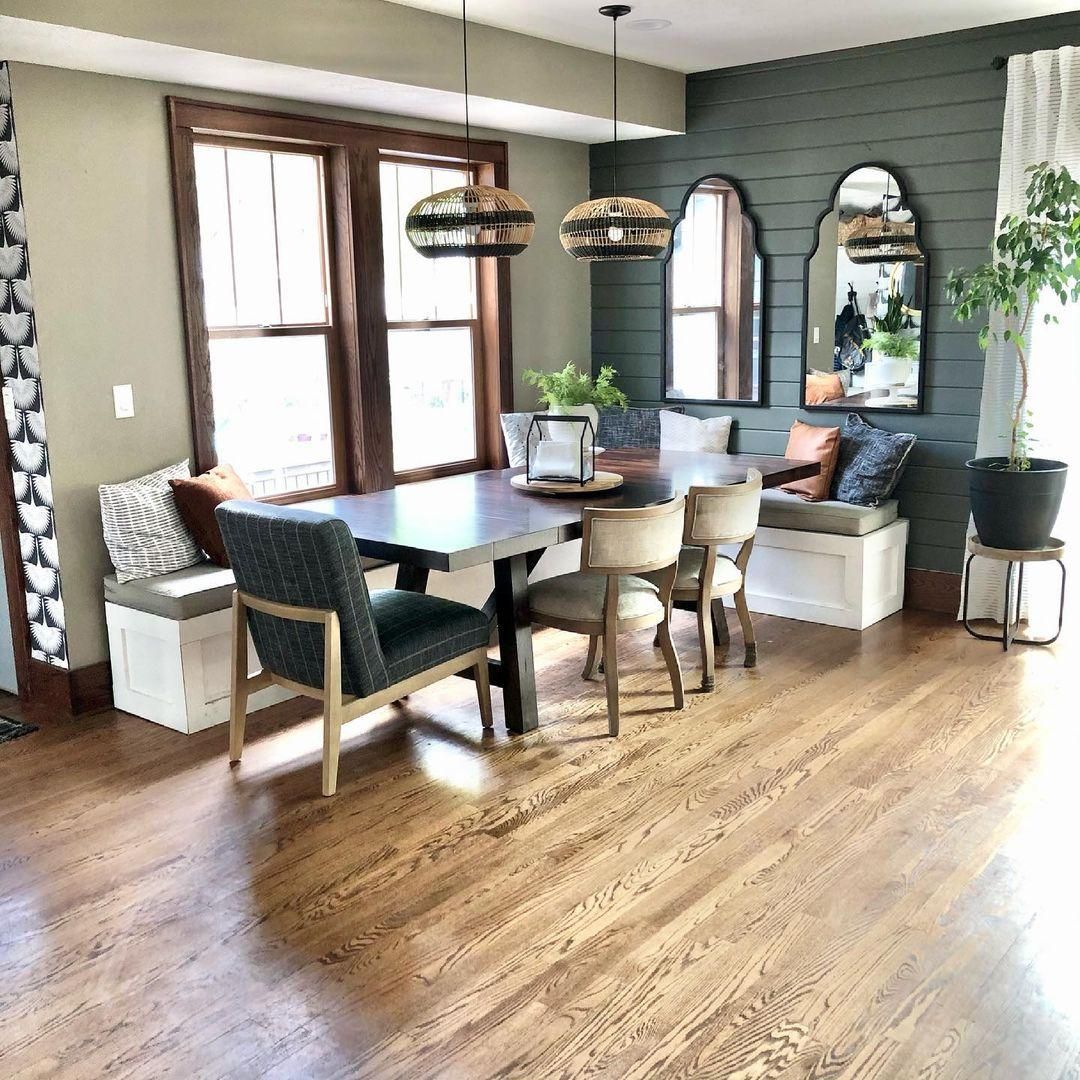 Sherwin-Williams Grizzle Gray on the Floor
One great way I learned to accentuate Grizzle Gray is by using it on the floor! Yes, it gives your front porch a unique and inviting look despite being a cold tone.
Because Grizzle Gray is a charcoal gray paint similar to cemented pavements, it's not far-fetched that people love it for their floors.
Take it up a notch and extend your Grizzle Gray floor painting to your front steps. As dull and muted as it looks, it gives this vintage-style home a welcoming aura.
Sherwin-Williams Grizzle Gray on Cabinets
Cabinets make great accents in the bathroom and bedroom, but especially in the kitchen. Grizzle Gray on cabinets fits like Peanut Butter and Jelly to Sandwich. It gives the wooden furniture a modernized and classy look.
You'll notice that the best pairing color for Grizzle Gray cabinets is white on the walls and countertops. Then you can use different shades of brown for the floorboards to maintain a homely look. If you want a fully modern kitchen, use white/off-white tiles or floorboards.
Also see how different lightings give the island and wall cabinets different shades despite being one color.
Sherwin-Williams Grizzle Gray in the Bathroom
You can make your home bathroom look like a luxurious spa or hotel with Grizzle Gray. Paint the charcoal gray color on your cabinets and pair it with monochrome hues. Use white on the walls and tiles, then settle for lighter gray on your floor.
Nothing says expensive elegance like minimalism.
Sherwin-Williams Grizzle Gray on Doors
Grizzle Gray doors would always stand out whether they're inside or outside. The color is at its best when highlighting a white, off-white, or lighter gray wall like in this entryway.
Or you can give it an old-fashioned makeover with floral wallpapers on Grizzle Gray doors extending to wainscoting.
Sherwin-Williams Grizzle Gray on Furniture
Seeing the last picture triggered my nostalgia for painted furniture. I love how Grizzle Gray transforms an ordinary piece of woodwork into an artistic artwork. See how this dining area comes alive with Grizzle Gray dining chairs matching the dishware credenza.
That way, you can keep the walls crisp and clean with tinted white and lighter gray paints.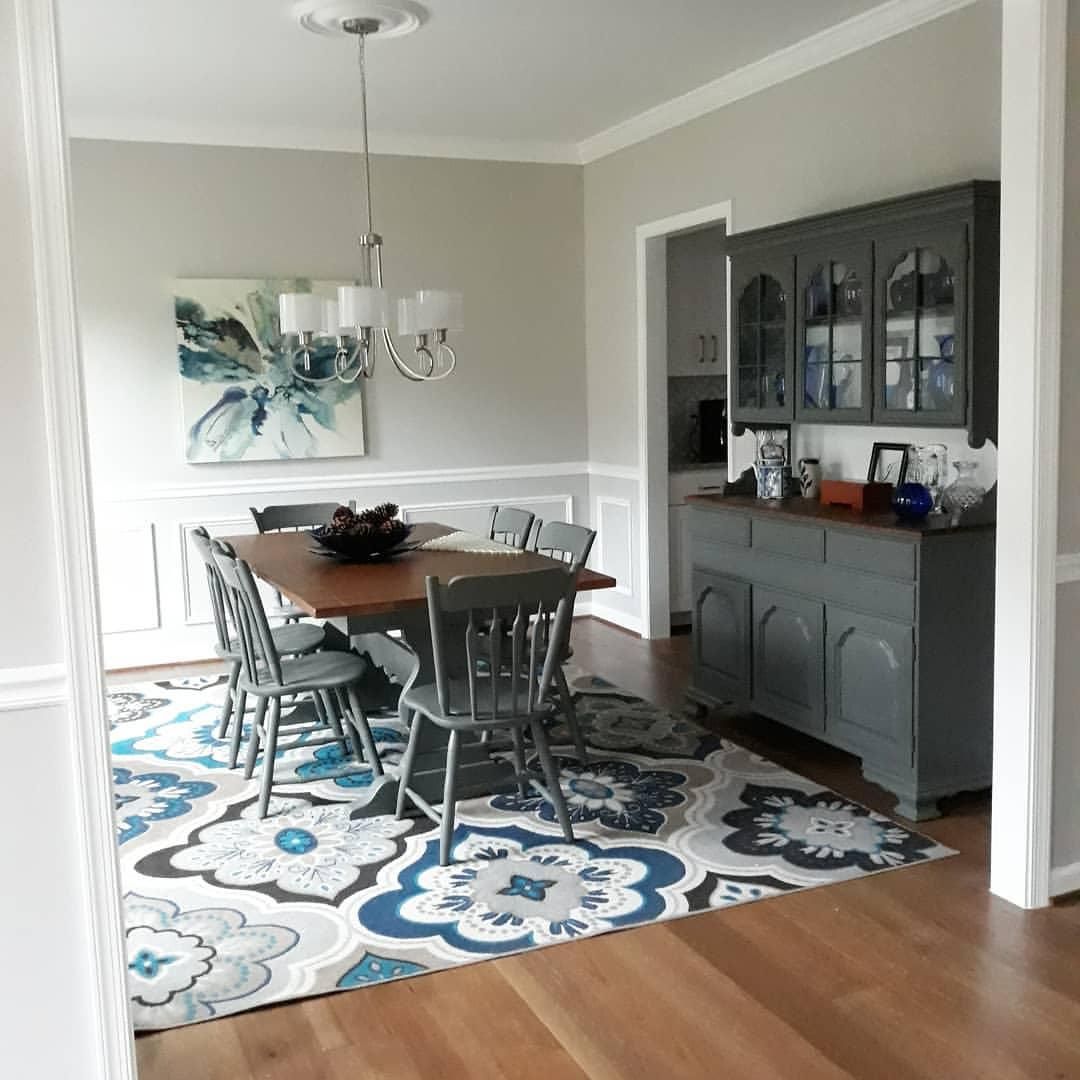 Exterior woodwork like this garden shed also improves your backyard aesthetic. Especially if it's attached to an All-American white siding house.
Sherwin-Williams Grizzle Gray in the Office
If you're easily distracted, use Grizzle Gray on your office walls. The color's stern tone will give the room a moody aura that says, "All Work and No Play." If you want a little "play," add white doors and cheerful artwork to balance both vibes.
Sherwin-Williams Grizzle Gray on Exteriors
I learned that Grizzle Gray camouflages your house when used on exteriors with enough greenery in the environment. The natural color of the leaves will boost the green undertone in the charcoal gray and turn its other two colors into invisible tints.
That's why this antique-styled camping/farmhouse stands out amongst the modernized tall buildings of the 21st century. Adding the firetruck red door is a nod to the classic American front door, which says "You're Welcome."
Conclusion
I enjoyed reviewing Sherwin-Williams Grizzle Gray because it sparked nostalgia with its nod to vintage and pre-war designs. It's definitely the color to choose if you're an old soul living in the 21st century.
I also loved that its color palettes included many earthy tones. Here are some quick tips to help you when designing with Sherwin-Williams Grizzle Gray:
It has a teal undertone
It's 100% dark
It's not a mood booster
Please share your thoughts in the comment box below and show me pictures of how you styled your Grizzle Gray paint.