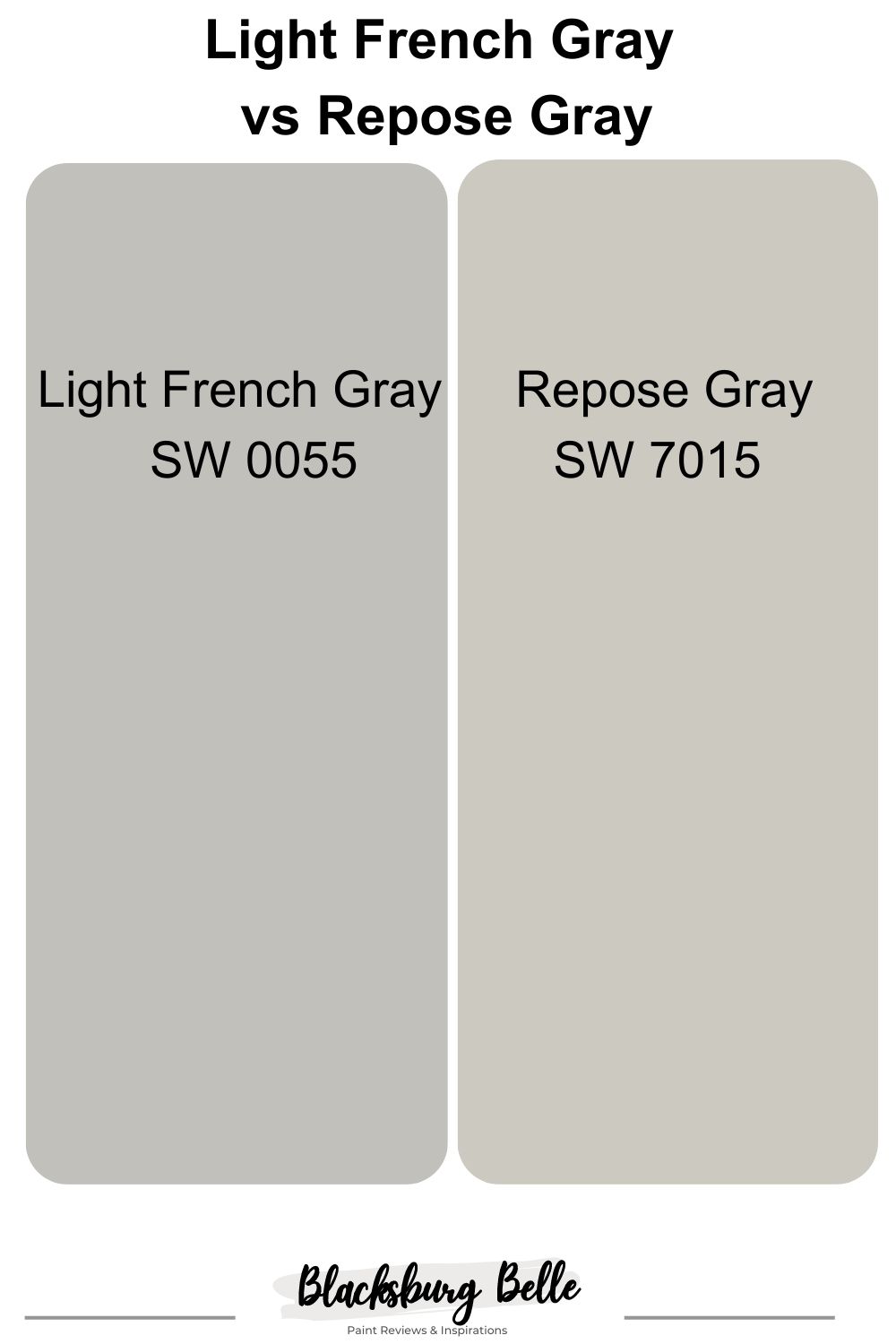 Sherwin Williams Light French Gray and Repose Gray are two very unique and popular paint colors that will get you confused about which to choose.
What Is The Difference Between Both?
The main difference between Light French Gray and Repose Gray is that Light French Gray is cooler while Repose Gray is warmer and lighter.
They can both cover for each other as they are versatile and similar in some type of way. There's a lot to know about these colors but particularly some key differences between them which is why we are here.
Comparing Light French Gray And Repose Gray: A Visual Showcase
Here's the famous Light French Gray painted on the walls of a room.
Below is another image of a door painted in Repose Gray.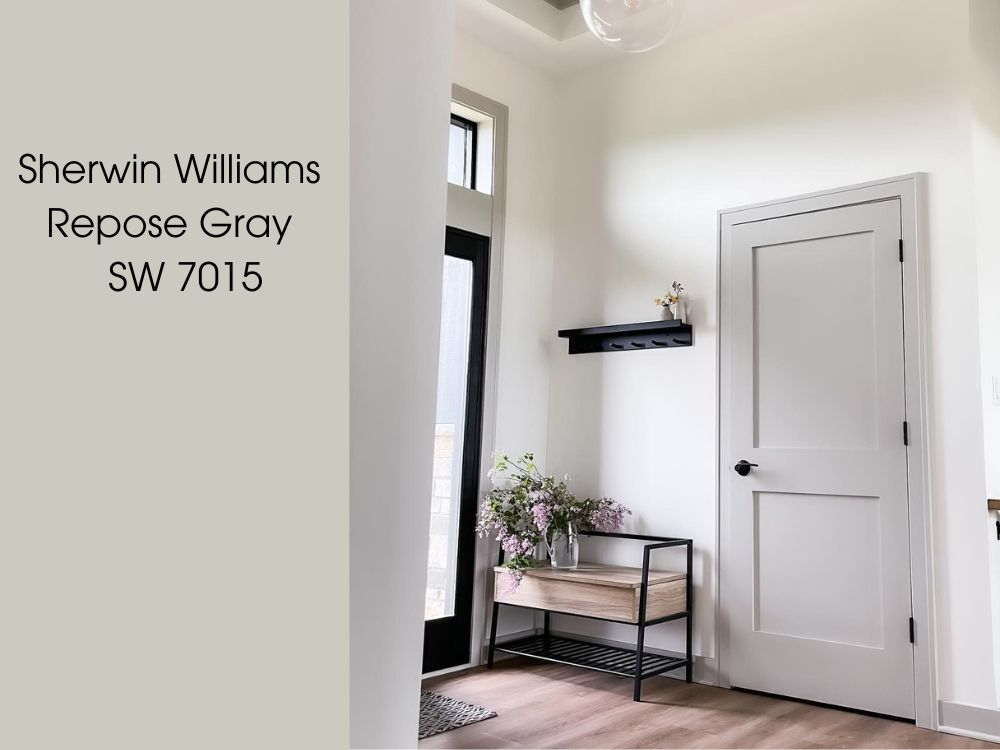 Straight away you can spot the differences between both colors. While both of them remain gray colors, Repose Gray appears to have a blue-purple finish that makes it seem brighter than Light French Gray.
Light French Gray has a more green undertone and feels more earthy than Repose Gray, both colors however are beautiful and work great in any situation.
Below is another example of Repose Gray used for this home ceiling,
Repose Gray can appear differently based on the lighting in the room.
On the other hand, Light French Gray maintains its cool nature, below you can see the green undertones have become a little bit lighter.
Emotional Effect: Light French Vs Repose Gray
Don't be shocked if I tell you colors have effects on our mood as humans.
The colors you pair with Light French and Repose Gray can influence the way you feel. They can either bring joy, excitement, calmness, or sadness to your home.
The subtle cool nature of Light French Gray is bound to envelop you with its brightest charm. Its calmness and elegance rejuvenate you the moment you step foot into your house. It brings a sense of harmony within its surroundings.
Repose Gray will have you completely elevated, giving you an electrifying and contagious positive energy. Imagine walking into your room sad and having the four walls of your repose gray room smiling broadly at you, telling you it's all going to be alright.
When to Choose Light French Vs Repose Gray?
If you want to know how or when to choose any of these two beautiful paint colors, here is a summary for you.
Go With Light French Gray;
You love the color purple, then choose Light French.
If you dislike beige or tan, this color is for you.
If you are looking for a not-too-stark cool-toned gray, Light French is a go.
For a color that stays more true to itself in any form of lighting which is ideal for exteriors, choose light french Gray.
Go with Repose Gray If;
You admire Greige, I'm sure Repose Gray will suit your taste.
You have warm wood finishes, crisp whites, and matching stone or quartz countertops. You should also consider pairing it with flooring, countertops, and decor that have similar undertones.
You want a warm and not-too-heavy color that will bring just the right amount of light to complement any dark supporting color.
You want a warm and not-too-heavy color that will bring just the right amount of light to complement any dark supporting color.
Side-by-Side Comparison of Sherwin Williams Light French Gray vs Repose Gray
While both colors might seem quite alike, they do have a couple of differences as you can see in the table below, their LRVs are not the same, the undertones aren't the same as well.
| | | |
| --- | --- | --- |
| | Light French Gray | Repose Gray |
| RGB | 194, 192, 187 | 204, 201, 192 |
| LRV | 53 | 58 |
| HEX Value | #C2C0BB | #CCC9C0 |
| Undertones | Purple | Blue, Greige, Violet |
Light French Gray has Red 194, Green 192, and Blue 187, while Repose Gray has: Red 204, Green 201, and Blue 192.
The numbers here tell you the amount of Red, Green, and Blue color in it. Repose Gray has more Red, Green, and Blue than French Gray, making it a bit off-gray and Greish.
LRV Of Light French Gray Vs Repose Gray: Which is Brighter?
LRV means light reflective value, and it tells you how much light a color reflects on a scale of 0 – 100. The LRV of pure black is 0 while that of pure white is 100.
In the paint world, no paint color is purely black or white. So we would be working in a range of about 3 – 93.
The LRV of Light French Gray is 53.
The LRV of Repose Gray is 58.
What this means is that Repose gray reflects more light than Light French gray. Though the difference can be slightly noticeable sometimes, these two colors can give out different hues when exposed to lots of natural or artificial light.
Light French Gray may have you thinking it's a light paint color, but it falls in the medium-dept range.
Light French Gray Vs Repose Gray Undertones
Undertones are a very important factor to consider when choosing colors. This is because they make a color read a certain way on your walls. Some paint colors have strong undertones while some have multiple.
If you take a closer look you'll notice that the undertone for Light French Gray is purple which comes out strong, especially in warmer light. It is likely to also give out a strong bluish undertone in cool light.
Repose Gray has multiple undertones which are blue, purple, greige, green, and brown can give a more blue and slight purple outlook in a north-facing room with lots of exposure. But is likely to look lighter in a south or west angle with little or no noticeable undertone.
Light French Gray Undertones: A Closer Look
In the image below, you can easily see how the location of a room, and enough or little light can influence the appearance of any of the paint colors making their undertones different, hidden, or visible.
The faint purple undertones are visible on one side of the wall of this living room area, if you moved further away, Light French Gray would appear to have green undertones too. There's also a sort of light blue undertone emanating from the walls of the living room area.
Repose Gray Undertones A Closer Look
While Repose Gray remains a primary color in the gray family, under certain lighting situations you can spot different undertones that could be utilized to create the perfect ambiance in any room.
In the image below, you can spot the greige undertones on the far end of the walls.
Also, on the wall area just below the stairs, you can see the slightly blue and purple undertones. These extra hidden colors play a vital role in the overall brightness of Repose Gray.
Light French Gray Vs Repose Gray – Cool or Warm
Light French Gray and Repose Gray can both pass for a neutral gray color. They can look neutral or warm depending on the lighting and other factors.
Although Light French Gray looks more like a cool-toned gray.
Repose Gray changes like a chameleon and can get you confused. Even though it's a warmer color than Light French, it can also look more like gray or greige.
Light French Gray Vs Repose Gray Complementary colors
The right complementary colors elevate the main colors to a more ravishing height. Light French and Repose Gray have the same complementary colors because they are both from the same color family.
A nice dark blue hue complements these two neutral grays. Earthy and neutral colors however best complement them as well.
Light French Gray Complementary Color
Below is the ideal complementary color for Light French Gray, this color when paired with Light French Gray brings out the best in it despite being on the far opposite side in the color wheel.
Downing Slate SW 2819: This color from Sherwin Williams is under blue. It is a deep saturated gray that very well complements Light French Gray if used correctly.
Repose Gray Complementary Color
The unique shade of grade called "Repose Gray" has almost the same complementary color as Light French Gray, there's only a slight difference in the undertone.
Cosmos SW 6528: A cool blue color with unique undertones that brings life to a space when used to complement Repose gray.
Light French VsRepose Gray Coordinating colors
One unique thing about these two popular colors is that they both go with everything. Whatever color palate you throw at them, these two would still work perfectly with them.
I've decided to go with soothing colors
Sherwin Williams Iron ore – This dark gray charcoal paint color contrasts well with the majority of these colors. I won't say it's a black color because of its appearance, but it could pass for a smoky soft black.
Sherwin Williams Whitetail – This color isn't quite popular among decorators and homeowners. It's a creamy off-white with an inviting yellow undertone. Pairs well with cool brown or cocoa-whip. But I can assure you that Whitetail would look gorgeous with either Light French or Repose Gray.
Light French Vs Repose Gray Color Palettes
The versatility and neutrality of these gray paint colors make them timeless and easy to adapt with different colors giving off a different feel.
Light French Palette
Though Light French is a friendly color, you will still need to stay within its neutral family and give it a perfect match. These are colors that go hand in hand with Light French Gray.
Origami White – This creamy neutral paint color provides a good contrast to the depth in Light French Gray.
Gentle Grape –Light French Gray coordinates with Gentle Grape, This light purple paint color also coordinates well with Light French.
Pure White –is a neutral white paint color that has a very subtle gray undertone. It sometimes serves to soften any starkness in any color and is a perfect palette for Light French.
Repose Gray Color Palette
Not minding how exciting Repose Gray appears to be, some colors give out a soothing modernized blend when matched with it. Considering its undertone will greatly help when choosing an ideal color palette. Some of these colors match up well with Repose Gray.
SW7014 Eider White – This is a cool white tone with a gray undertone. It's quite a bright color due to its LRV which is 73. When matched with Repose Gray, they create a bright and relaxing aftermath.
SW 7642 Pavestone –Pavestone can firmly embrace different colors. This color with Repose gray will strongly evoke a warm and welcoming presence. A perfect combo for your living room.
Can You Use Light French Gray with Repose Gray?
Because the difference between these two colors is not much, you can use them both hand in hand. The fact that they both come from the same color family and also have the same complementary color makes them compatible.
It's fascinating to have these two colors lie side by side without throwing you off.
The image below is an example of both colors merged together with Light French Gray on the far right and Repose Gray on the far left.
Light French vs Repose Gray on Cabinets
Gray cabinets always look stunning, especially in traditional or modern styles.
Light French Gray on Cabinets
Light French gray gets along pretty well with any countertop or backsplash color. A cool-toned white trim is an option to consider. You can't go wrong with it giving a sleek and family-friendly vibe.
Repose Gray on Cabinets
Repose gray will get your cabinets all cozy and excited. It pairs beautifully well with both cool and warm colors. Its classy look makes it an ever-trendy paint color. No wonder It continues to be one of the best paint colors for cabinets.
Light French vs Repose Gray on Walls
We are also going to take a look at how these two colors turn out on interior walls.
Light French Gray on Interior Walls
With much being said about Light French paint color, you don't need to have doubts about it pairing well or not on your interior walls.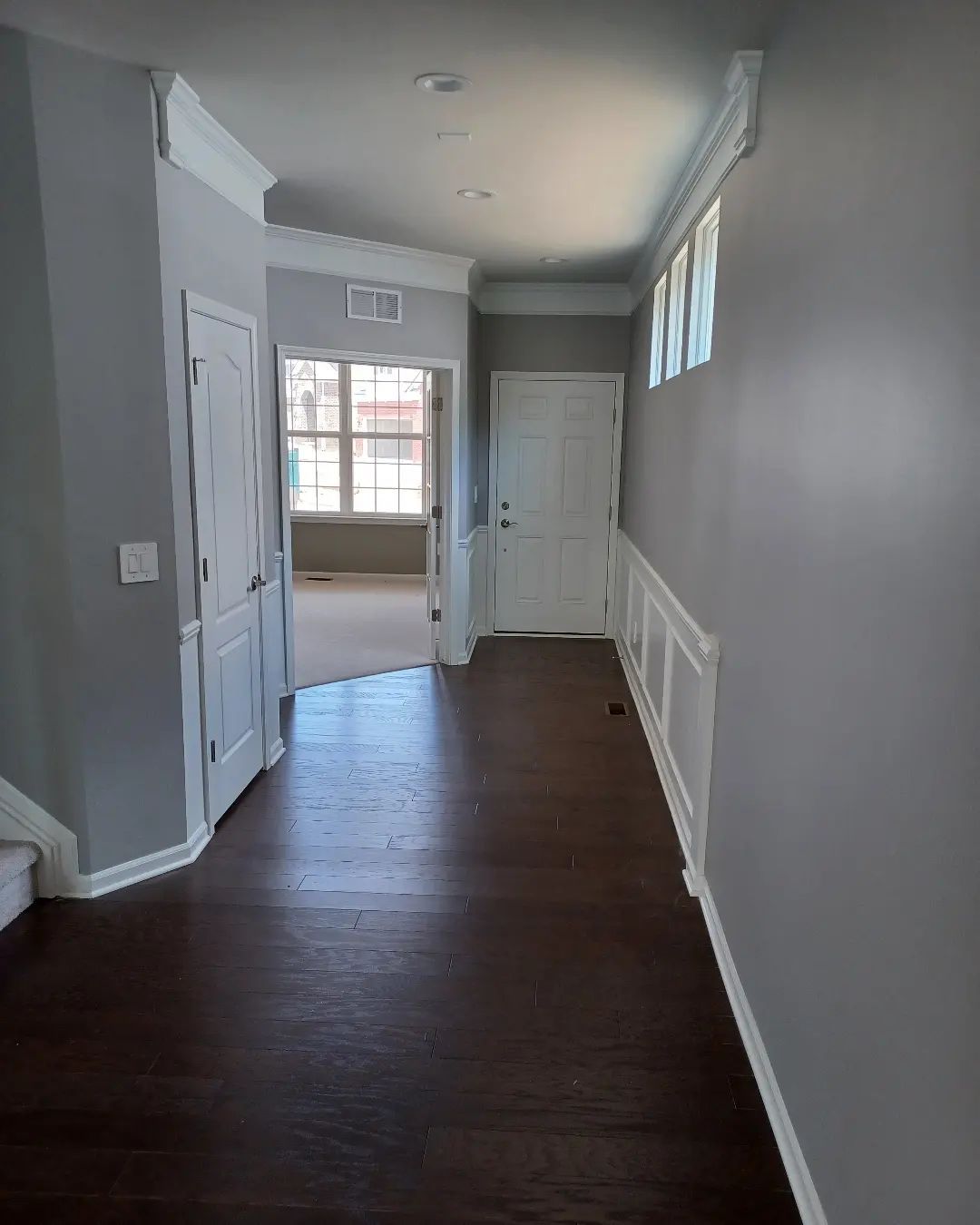 It's beautiful, right?
Well, you can't have your living room, bedroom, hallway, dining walls, kitchen or bathroom looking anything less than gorgeous with Light French on it.
Repose Gray on Interior Walls
Even though Repose Gray is known as a gray paint color, it is not a complete gray because it has a little hint of warm brown which is why it is mostly considered for its warmth. It is closer to a greige paint color than a true gray. However, it looks gray on its own.
Repose gray has a knack for making any space feel instantly welcoming and alluring.
How well will it fit on the interior wall?
Well, I'm sure this picture has answered your question.
Light French Gray Paint vs Repose Gray for Exteriors
Ever wondered how these colors will look on exterior walls? Let's dive right in and see how our favorite grays stack up.
Light French for Exterior
The beautiful neutral tone of Light French Gray makes it an amazing color for exterior walls. Most homeowners and decorators go for grays like this because it never fades or gets worn out due to external conditions like rain or sunlight.
Here is what I mean, the home below is painted Light French Gray and does have a unique and crisp feel.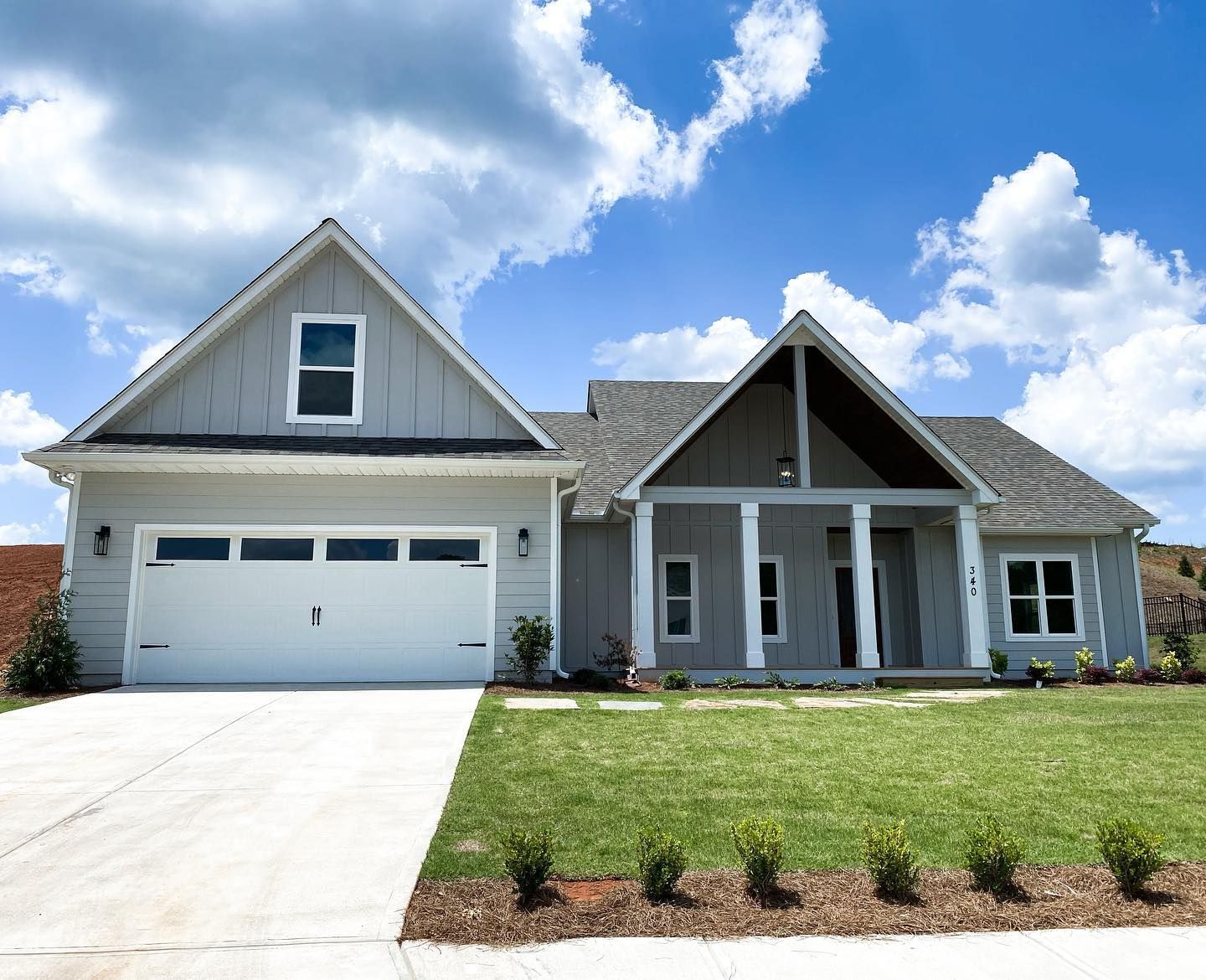 Repose Gray for Exterior
This is perfect for those looking for a modern farmhouse, coastal beach, southern architecture style, and even traditional styles.
You shouldn't expect it to look exactly as it looks inside a room. This is because of the amount of natural light on the outside being reflected on the area, so it's going to look brighter.
You can as well tone it down with a darker paint shade of your choice but be sure to get the perfect outcome you would love for your home.
Light French Gray vs Repose Gray for Trims
Don't worry I won't forget the trims!
Trims are a really important part of the home most people don't pay attention to. It adds a different kind of elegance to any space.
Light French and Repose Gray both do wonders when used with trims. Now let's look at their individual effect on trims.
Light French Gray for Trims
Light Gray on trims are a modern aesthetic growing in popularity. It doesn't matter what paint color you have on your walls, trust Light French Gray to blend and adapt perfectly well.
Repose Gray for Trims
You could go for a more modern look by using Repose Gray on all the trims and accents. It automatically updates your home without making any drastic changes. You only need a fresh coat of paint to spice it all up anytime.
Light French vs Repose Gray on Woodwork
Moving forward, let us take a glance at how these colors will gracefully blend in on woodwork.
Light French Gray With Woodwork
I actually prefer and would recommend Light French Gray with your woodwork rather than a true gray. Its soothing hue is a perfect complement to that of the woodwork.
In the picture below, I'm sure you can see how well the Light French cabinets bring out the true beauty of the woodwork not minding their different shades.
Repose Gray With Woodwork
Repose Gray has a wonderful balance of cool tones, making it a bit farther from true gray. This is a great choice if you're looking for a bright color to pair with really dark toned woodwork.
You can see how calm, refining and elegant this combination turned out to be right? You don't have to do too much for Repose Gray to proudly show off its true nature.
Whichever color you decide to pick, you should have it at the back of your mind that specific conditions can affect the appearance of any color.
When selecting a color for your space, it's important to keep in mind that various factors can influence how it appears. Regardless of the shade you ultimately choose, understanding the impact of specific conditions on color perception is crucial.
Light French will suit a well-lit room better than Repose Gray which will give off a warmer, richer, and neutral look.
Final Thoughts
Sherwin Williams Light French Gray and Repose Gray are two unique paint colors with different and distinct personalities. While Light French has a strong and more dependent nature, Repose Gray has a softer disposition.
Whether you are considering Light French Gray or Repose Gray for your walls, cabinets, trims, or exterior, just bear in mind they're a beautiful versatile paint color that works well on any space and is sure to give you the look you want in your entire home.
My goal is to provide you with all you need to know for your final decision, and I hope we've achieved the reason why we are here.
But be sure to test out the colors in your space to see how light affects it before giving it a final go.