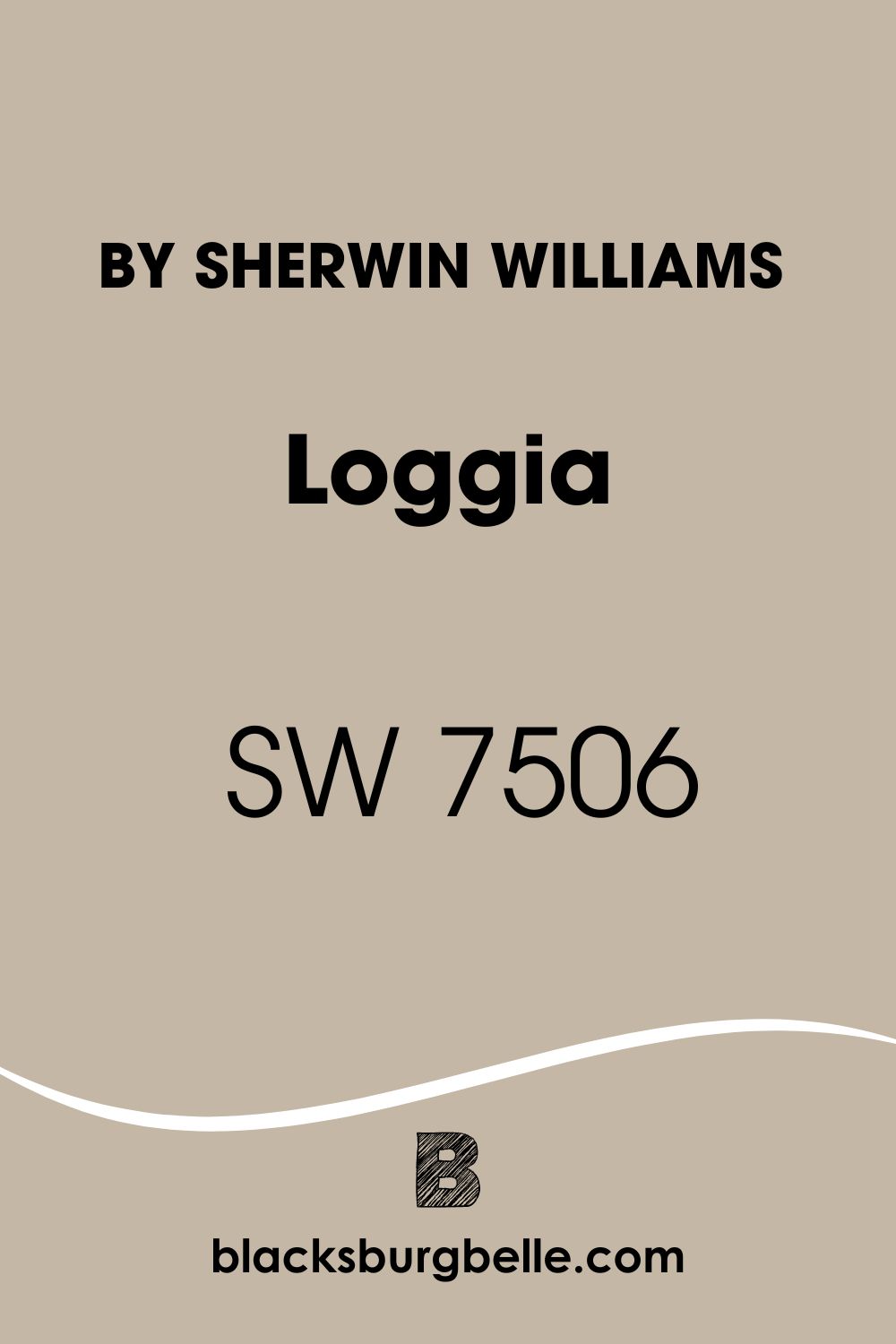 Are you having trouble deciding whether or not Sherwin Williams Loggia is the best neutral paint color? You're not alone because there are several similar colors; if it is not popular, you may not be open to using it.
However, I've created this guide to show you every aspect of this neutral paint color. You will see its undertones and LRV, how it interacts with light, and how to use it with other colors and in your home. Let's get right to it, shall we?
When to Choose Sherwin Williams Loggia
You may be concerned about using Loggia; it's not the most popular paint color. However, you would be amazed at how well the color turns out. Let me give you a few ideas of when t choose Loggia for your decor.
Need a new cabinet color?
Loggia may look dull and laid-back, but it looks great on cabinets. It accommodates different choices of wall paint colors because of its depth. Try off-whites or warm whites on the walls if the cabinets are painted in Loggia.
Have a lot of light?
This paint color is light to medium in shade and may appear too dark and drab. In other words, Loggia needs a lot of natural light to make it work. The good news is that it doesn't look washed out in bright sunlight.
Looking for a new entryway color?
This warm color is ideal for an entryway if you want to create a welcoming vibe when you come home.
New outdoor color?
While it may not be your first choice, Loggia can work as an excellent color for the exterior of your house. This is especially true if you want to put the house up for sale.
Loggia can be a sweet color if you use it well, and if these ideas get you going, your problem is solved. However, I've got more to show you for an informed decision and inspiration.
What Color Is Loggia?
You may not have known it before, but Loggia is a covered exterior corridor or gallery in a house, typically at an upper level. The passageway can also be on the lower level of the house, although it is not common. This corridor usually has one or more sides open to the outside but has supporting columns.
There's no indication of the reason behind this paint color's name. But it's part of the Living Well (Unwind) color collection, and a loggia is one place you can relax and unwind. The color may be reminiscent of the open gallery style.
Sherwin Williams Loggia SW 7506 is a mid-tone stone gray paint color, also called beige or light tan. It brings a certain presence to a room and throws a light color that stops it from being stark or boring.
A Snapshot of the Specifications of Sherwin Williams Loggia
The following chart details the characteristics of Loggia that make it a unique paint color. These characteristics include undertones and LRV.
| | |
| --- | --- |
| | Sherwin Williams Loggia |
| RGB | 196, 183, 165 |
| LRV | 48 |
| Undertone | Yellow |
| HEX Code | #C4B7A5 |
The LRV of Sherwin Williams Loggia
If you're not familiar with this term, LRV means the light reflectance value of color. It refers to the amount of light that color reflects on a scale of 0 to 100, 0 being the value for pure black and 100 being pure white.
However, paint colors don't usually have absolutes, that is, black or white. As a result, the scale is slightly different. Paint colors use a scale of 2.5 to 94 to check the light reflectance value.
Sherwin Williams Loggia has an LRV of 48, just a little shy of the middle point. That means the paint color reflects some light but not enough to call it a bright color.
The Undertones of Sherwin Williams Loggia
Undertones are one of the most crucial aspects of any paint color because of how they can change them. Sherwin Williams Loggia has a slightly yellow undertone. Even saying that is an overstatement because the undertone is barely there.
Loggia doesn't lean toward orange like the traditional tan or beige colors. It goes a different way to take on a little yellow. Here is Loggia as it typically is.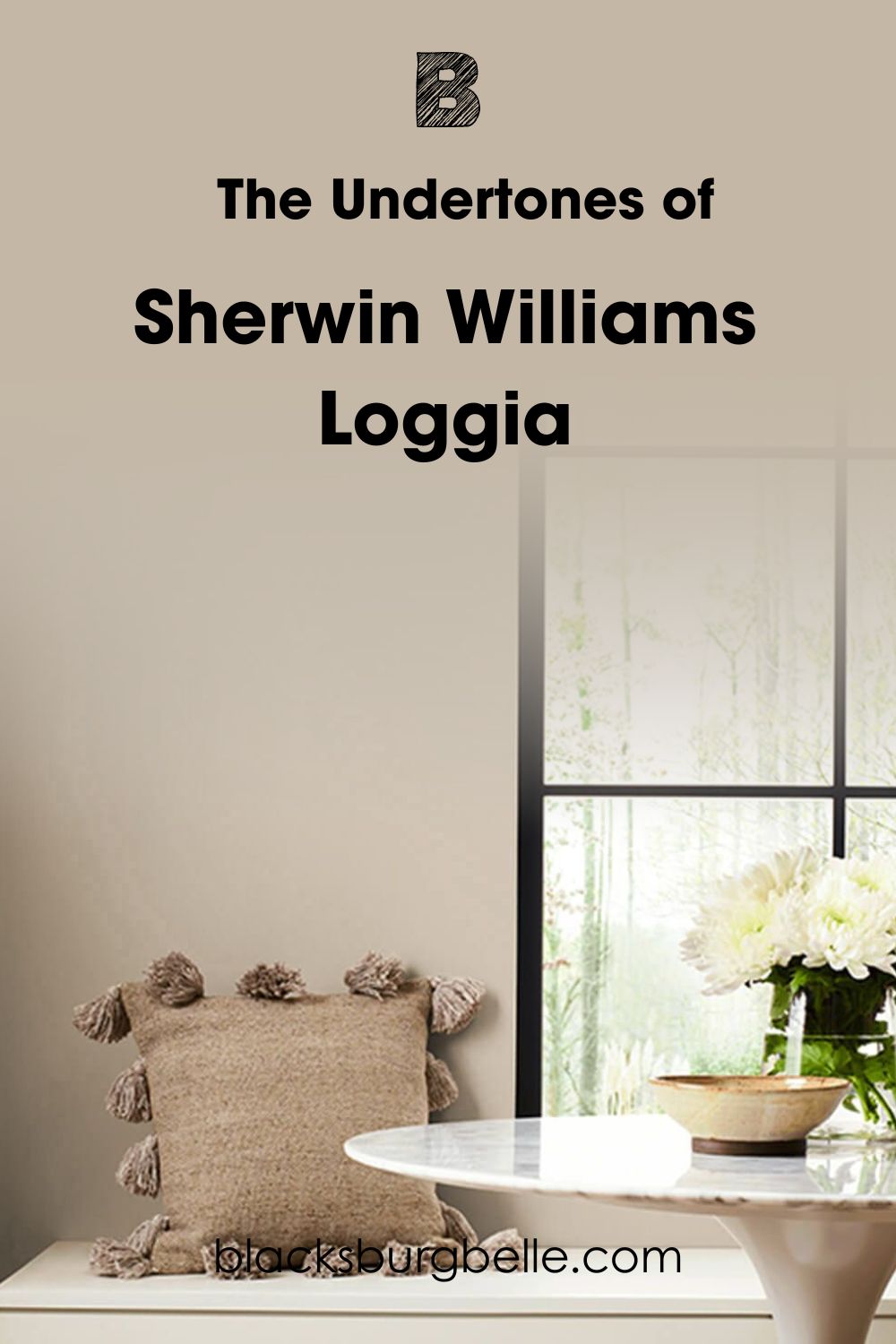 It can look truly warm and solid, showing no undertone. However, here is the same color with a wink of yellow, although it may have something to do with the lighting at that time.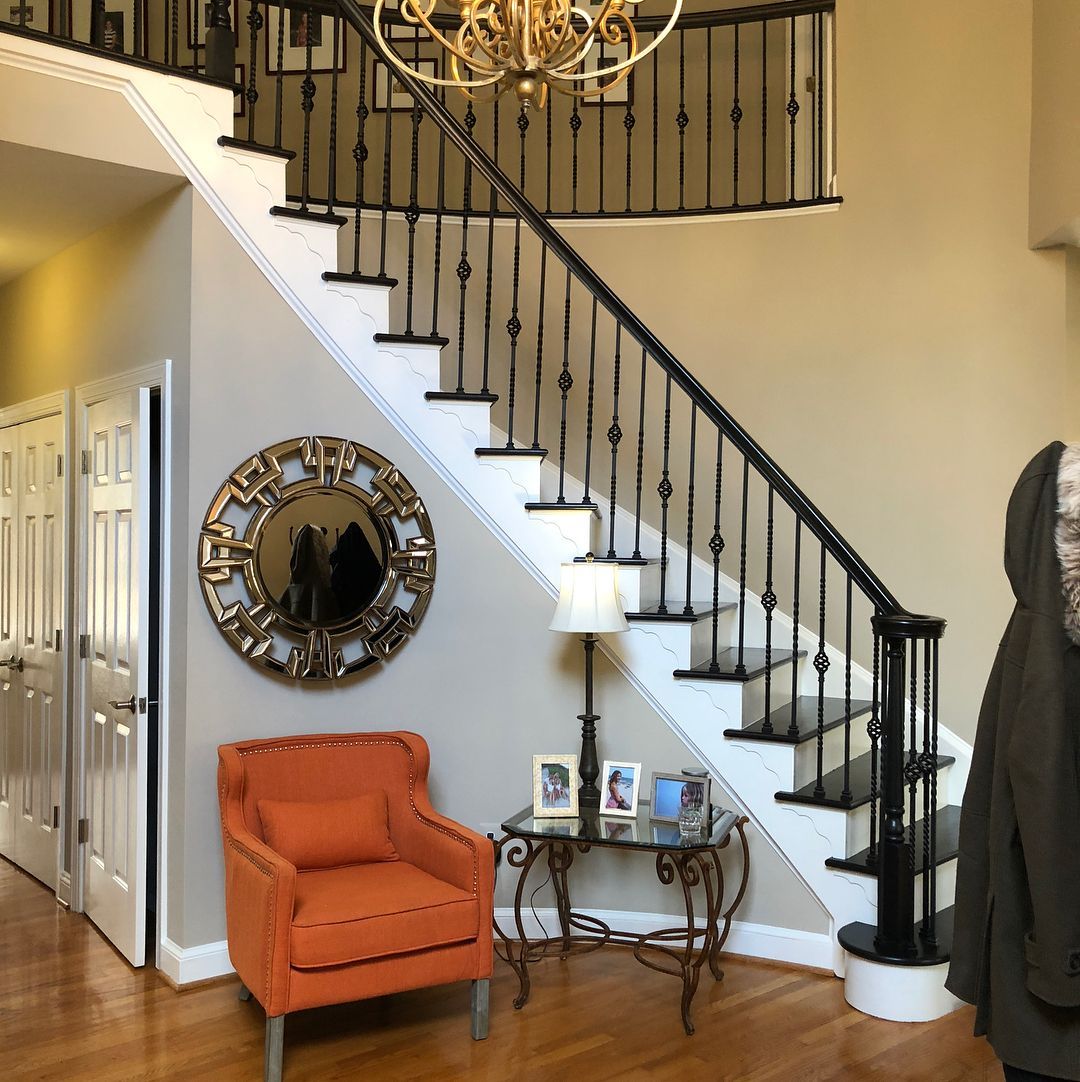 You can see the undertone leaning a little green in this next picture: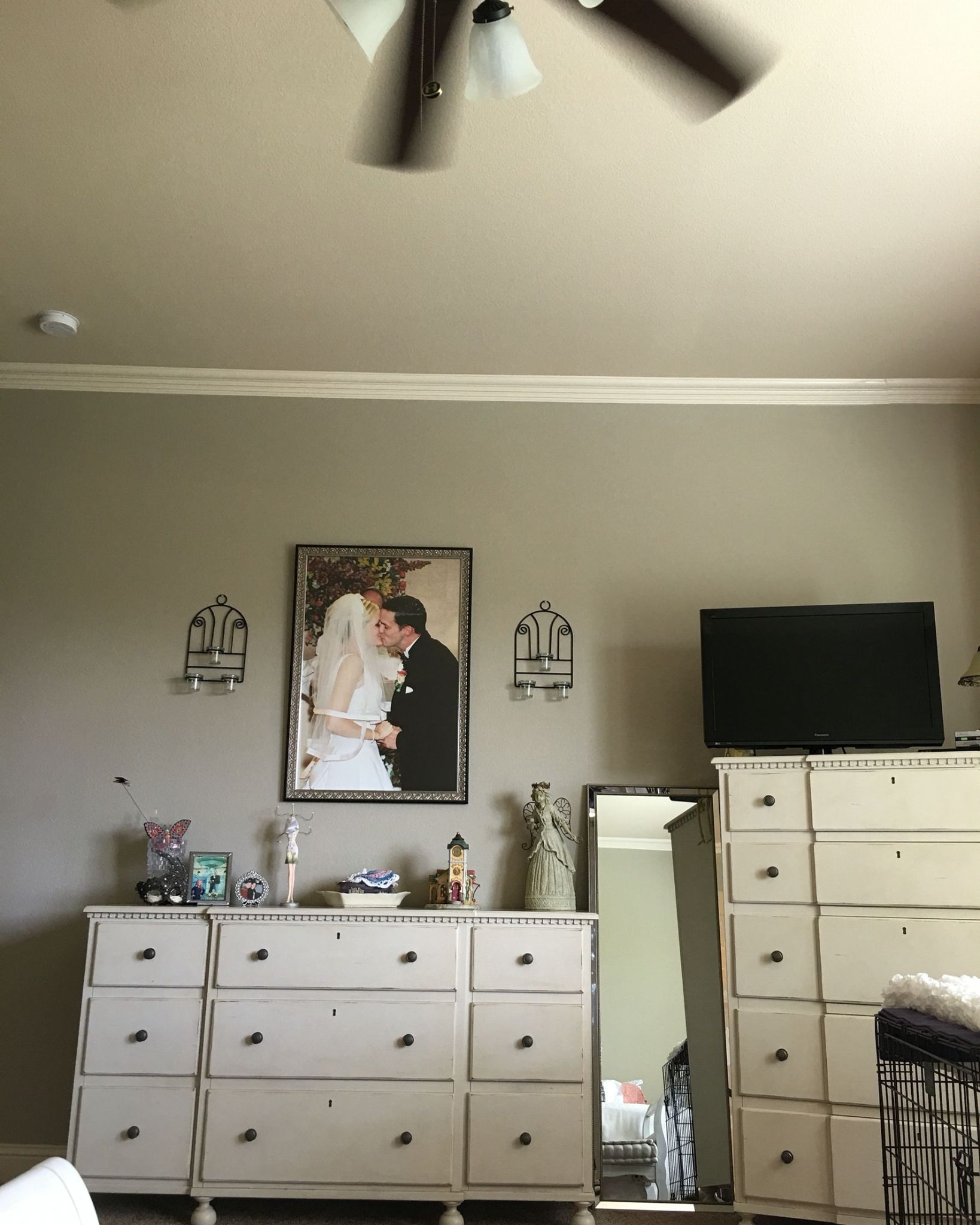 The undertone may look a little yellow when paired with a bright crisp white. Also, the lighting can be a primary determinant of how the color appears. Now, let's talk about lighting.
How Does Lighting Affect Sherwin Williams Loggia?
The paint color can look bright, warm, and inviting in direct sunlight but dull and cold without sunlight. If you use it in a south-facing room, you will love coming home because of the color and warmth. But in low or cold light, you may notice Loggia looks more gray than beige or tan.
This is Loggia without direct sunlight: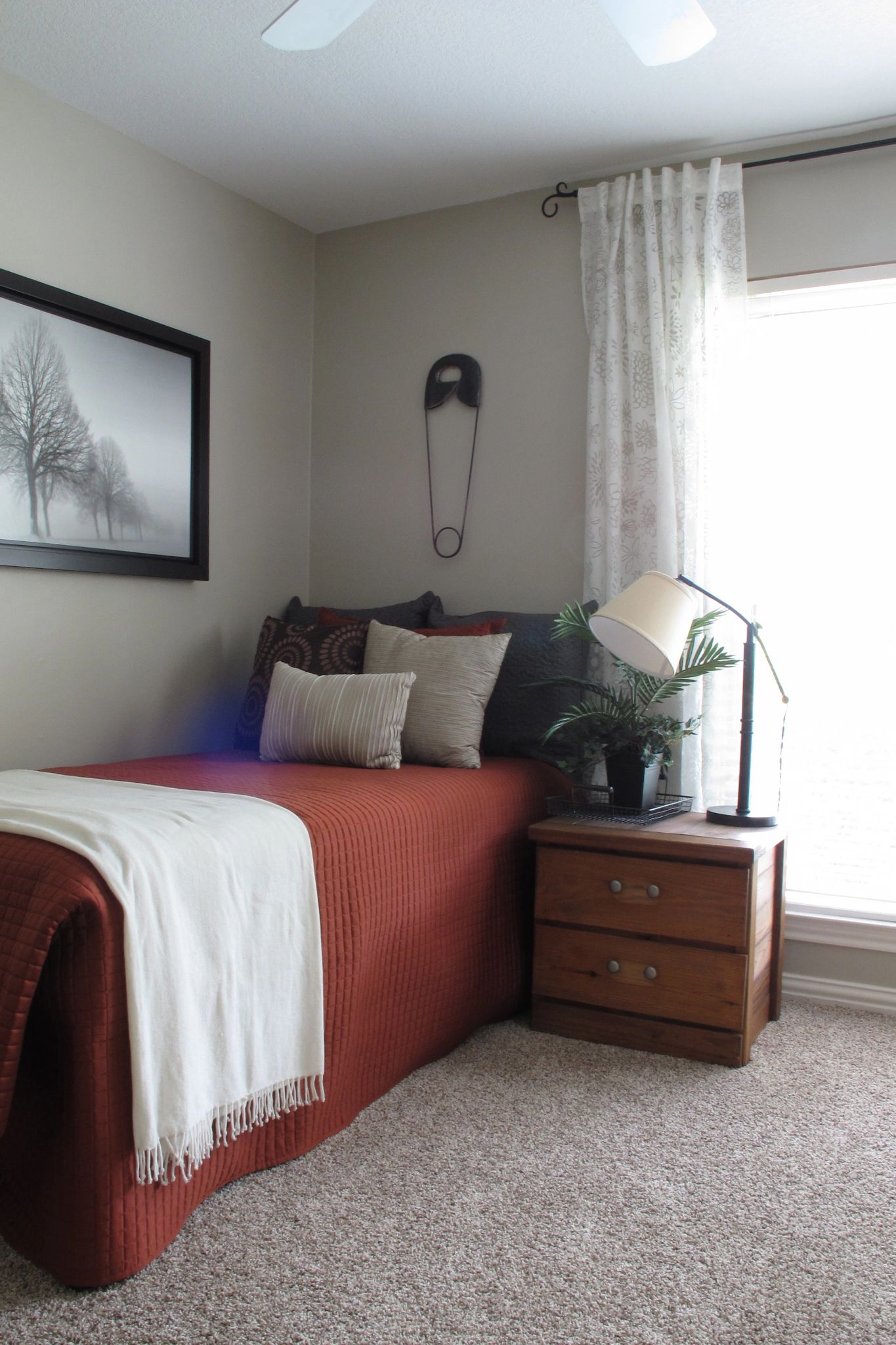 And here it is with a brighter light hitting it. The color shows a hint of yellow and green: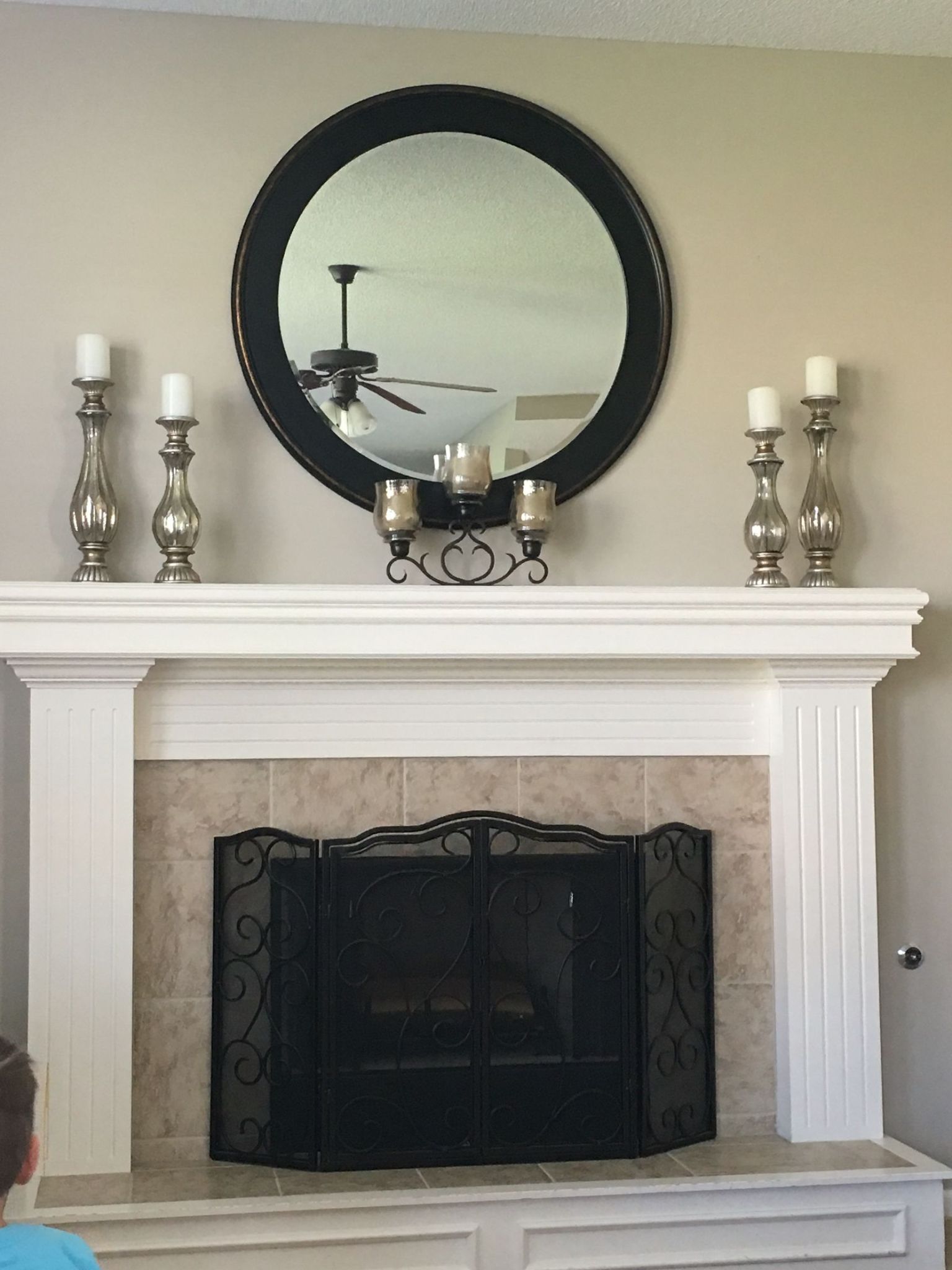 The same effect applies to artificial lighting conditions. Loggia can look warmer than usual when the lighting is yellow, but it can take on a brighter and less warm look in bright white artificial lighting.
Here, it looks like warm greige in the late afternoon light and the warm yellow artificial lighting: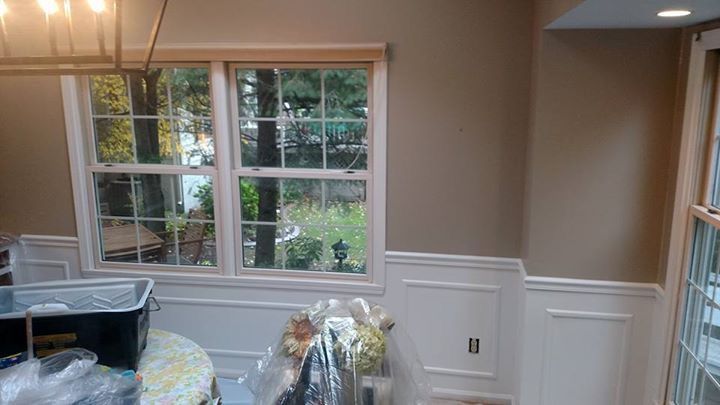 And Loggia looks slightly different with the brighter artificial lighting in this living room: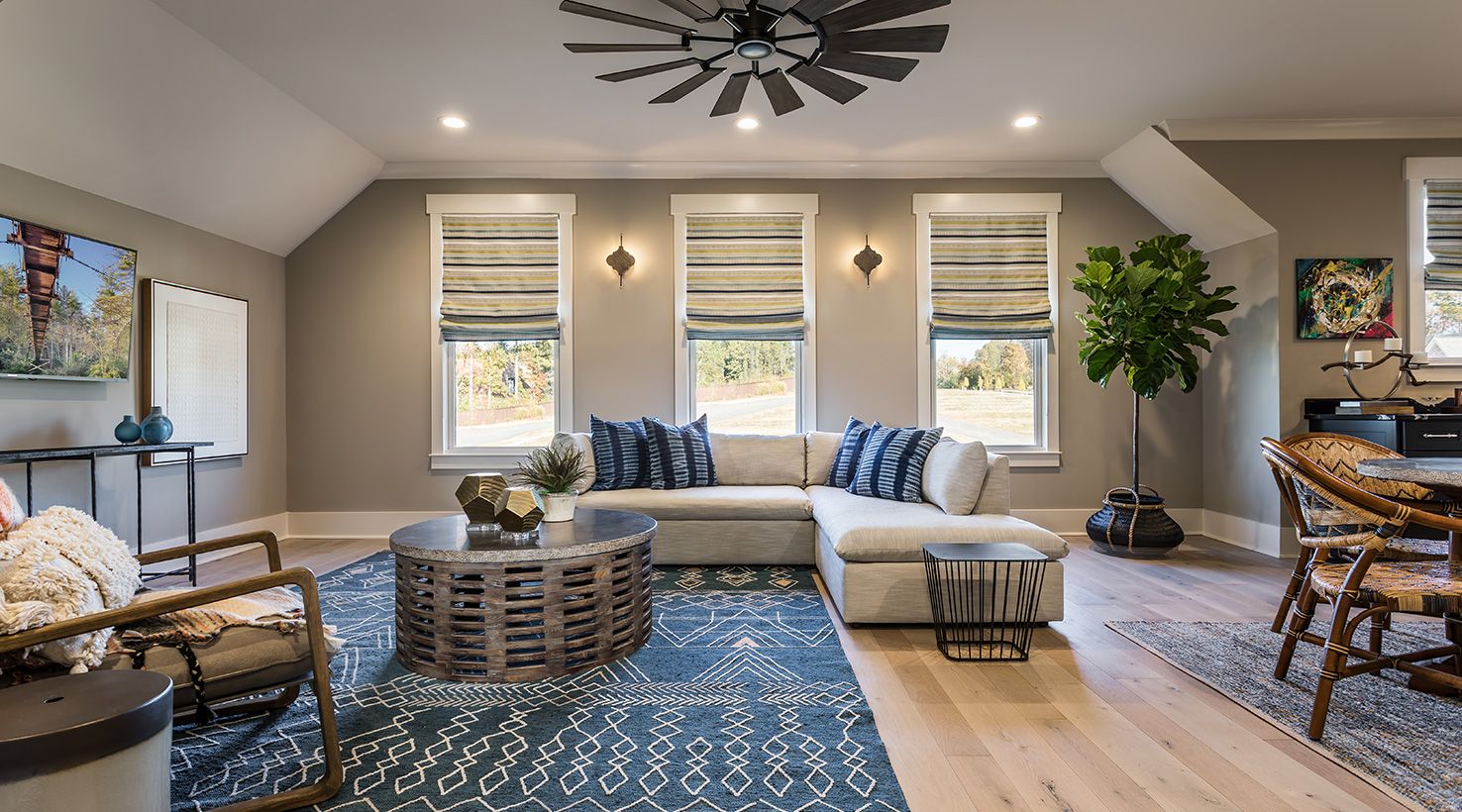 How Does Loggia Feel in a Room?
The paint color feels warm and inviting, as most beiges feel. If you use it with good lighting, you will love coming home to it. But if there's not enough warm natural lighting, consider using it with artificial light.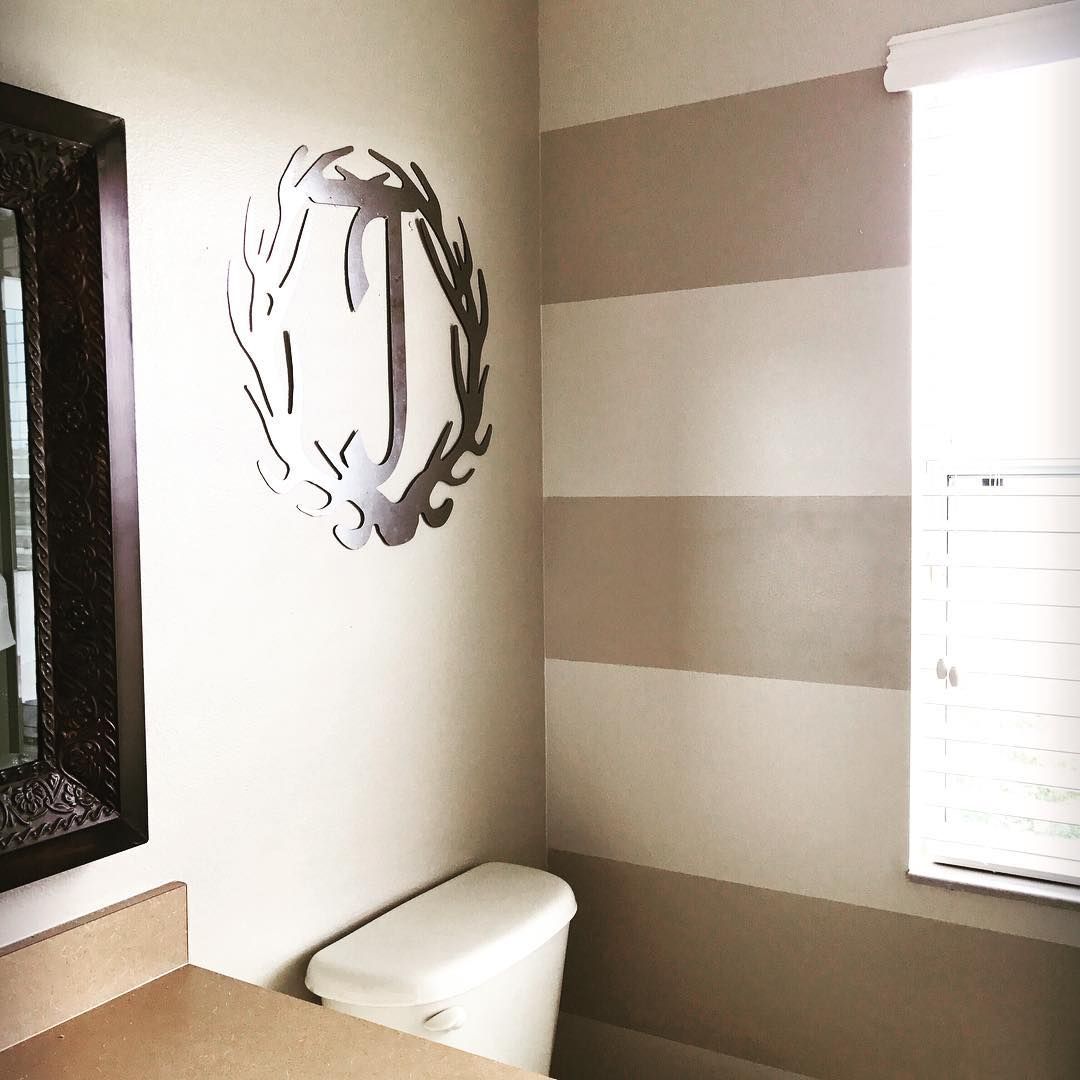 Sherwin Williams Loggia: Warm or Cool?
Loggia is a warm gray paint color. Sometimes, it looks like beige or pale tan, but mostly gray. Try Loggia if you want a neutral paint color that doesn't sacrifice color while maintaining versatility.
Sherwin Williams Loggia Color Strip: Lighter to Darker Exploration
If you find that Loggia does not precisely meet your neutral color needs because it's lighter or darker, look no further. I've picked a few colors from the same strip, arranging them from light to dark shades to give you alternatives.
Sherwin Williams Shiitake SW 9173
Sherwin Williams Loggia SW 7506
Sherwin Williams Stone Lion SW 7507
Sherwin Williams Taupe Tone SW 7633
Sherwin Williams Sanderling SW 7513
Sherwin Williams Loggia Complementary Colors
These are colors that face each other across the color wheel. Pick any color, check the shade 180 degrees away from it, and you have its complementary color. Both colors cancel each other to give a grayscale shade. Examples include red and green or blue and orange.
Loggia is gray, but grays don't typically appear on the color wheel. However, this is not your usual gray because of its shades. Therefore, it has a complementary color, a medium shade of blue-purple color. Sherwin Williams' Awesome Violet SW 6815 is the closest color to this shade.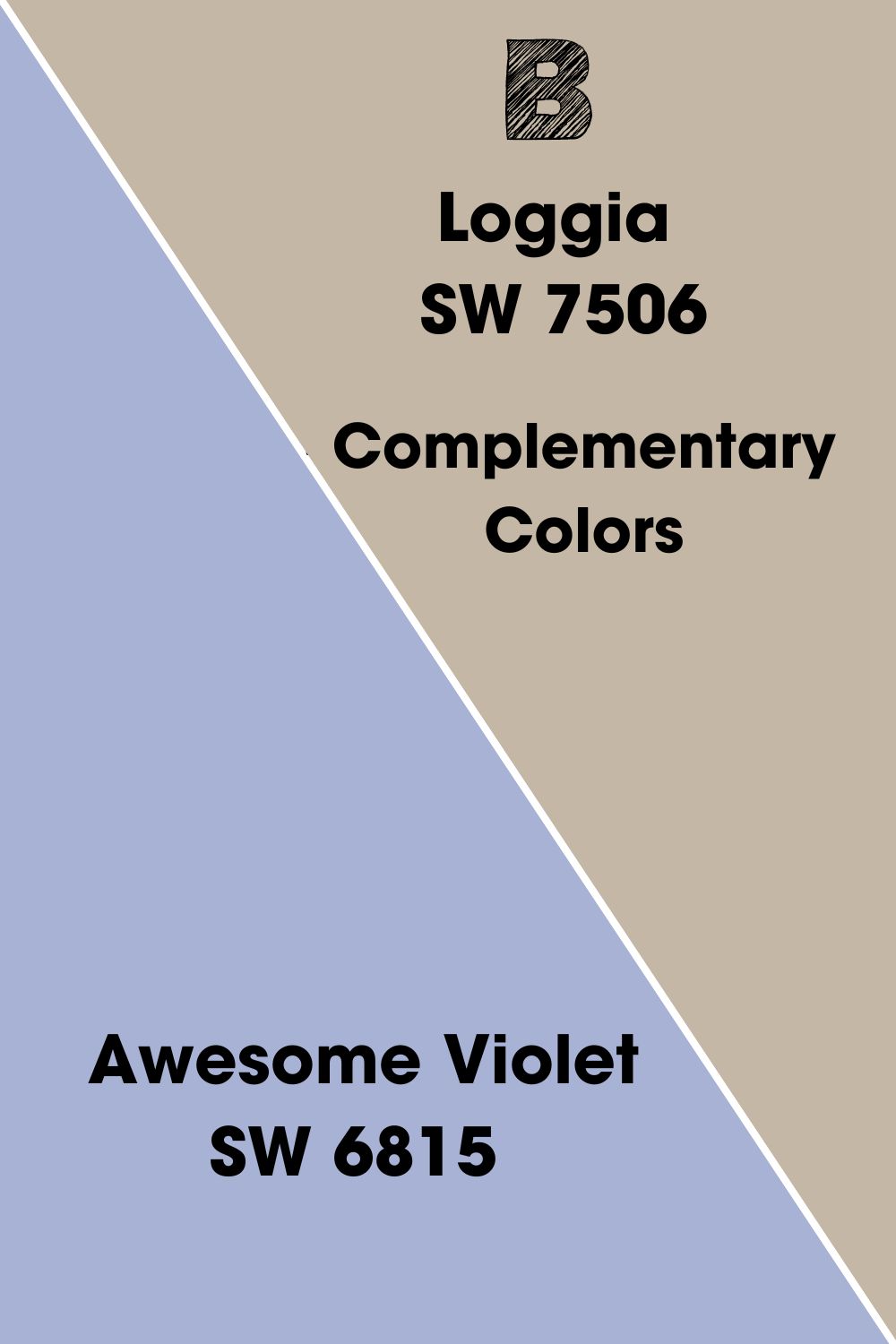 Sherwin Williams Loggia: Coordinating Colors
You may already know what coordinating colors are; they flow seamlessly in a color scheme, regardless of shade. But while neutral colors typically pair well with other colors, they also have a few shades that work best with them. For Loggia, these colors include Toile Red, Moth Wing, and Aesthetic White.
Sherwin Williams Toile Red SW 0006: A deep red paint color with an earthiness that grounds and keeps it from being too bright.
Sherwin Williams Moth Wing SW 9174: A medium beige whose ray undertone makes it neutral and fit to pair with Loggia.
Sherwin Williams Aesthetic White SW 7035: A cool white with a violet undertone that brings a cool tone to an otherwise warm decor.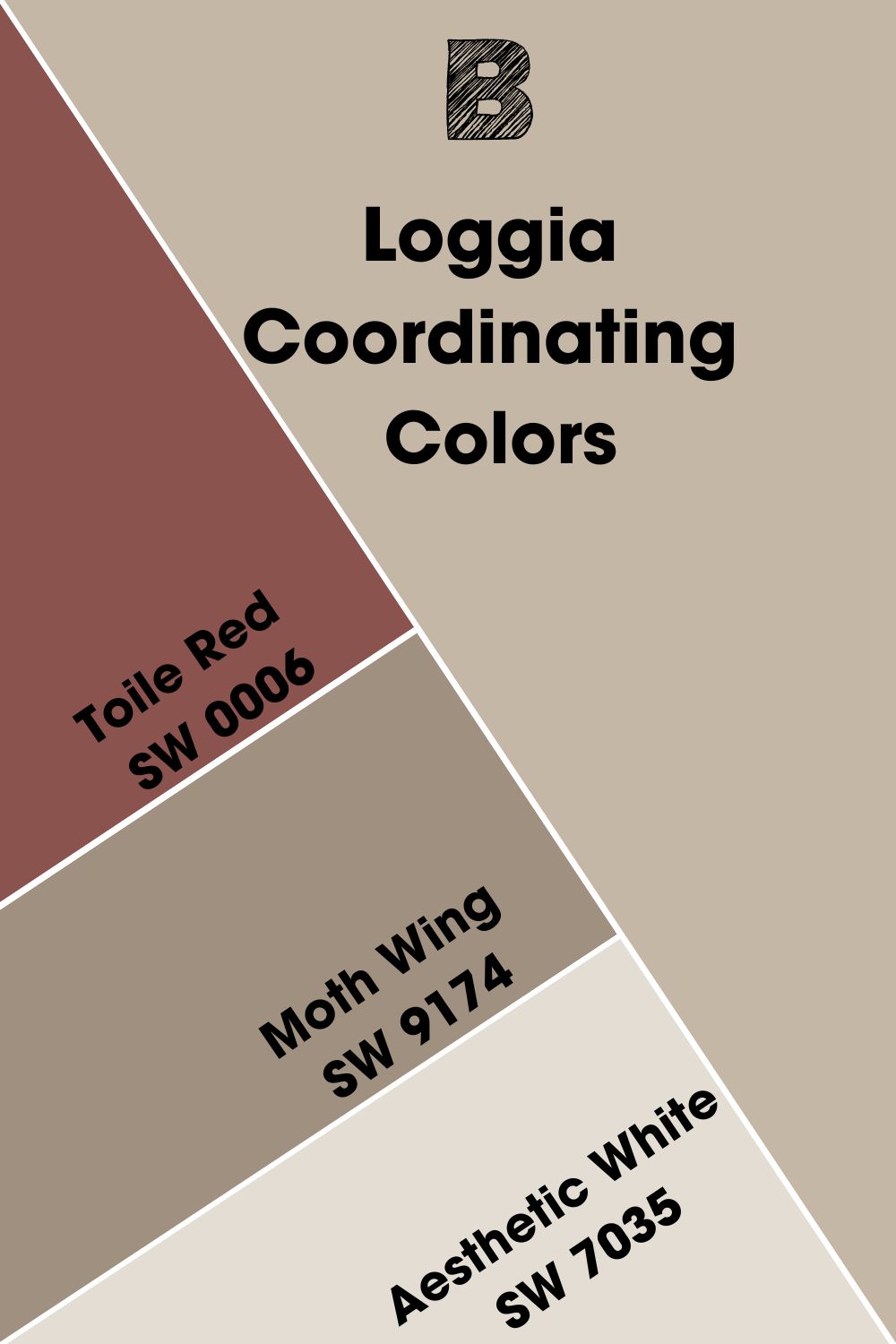 Sherwin Williams Loggia Color Palettes
These palettes allow you to pick and combine colors for your decor. You can incorporate different shades until you have colors that flow together nicely. A contracting palette, for example, allows you to add striking colors to contrast each other.
Contrasting Color Palette
Downing Slate SW 2819: This Historic color is true to its name, having a slate blue hue that brings a steely sophistication to any decor.
Rivers Edge SW 7517: A light greige paint color that brings a bright but soft glow, especially when paired with the heavier and darker Loggia.
White Heron SW 7627: A cool white that may work as a ceiling color when you use Loggia as the wall color.
Monochromatic Color Palette
Tavern Taupe SW 7508: A deeper shade of Loggia that softens the central color, which is Loggia.
Taupe Tone SW 7633: A warm taupe with a stone gray undertone that pairs well with the neutral Loggia.
Shiitake SW 9173: A beautiful light tan color that softens the Loggia shade with a soft glow and creaminess.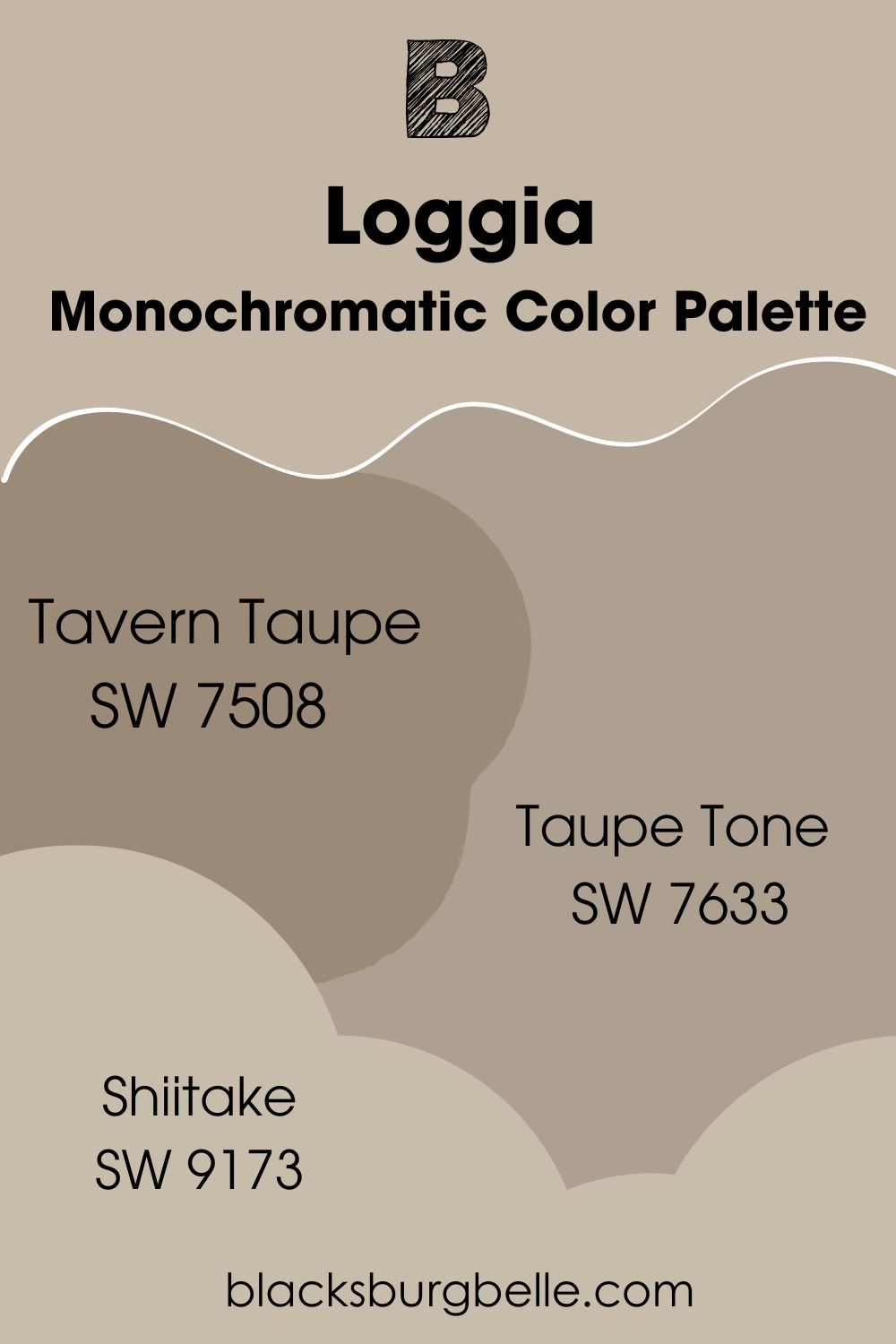 Coordinating Color Palette
Aesthetic White SW 7035: A cool white with a violet undertone that brings a cool tone to an otherwise warm decor.
Moth Wing SW 9174: A medium beige whose ray undertone makes it neutral and fit to pair with Loggia.
Toile Red SW 0006: A deep red paint color with an earthiness that grounds and keeps it from being too bright.
Sherwin Williams Loggia vs Similar Paint Colors
Let's look at a few colors that are similar to Sherwin Williams Loggia and see how they compare.
SW Biscuit vs SW Loggia
Biscuit is a pretty bright white paint color with an LRV of 74. Loggia has an LRV of 48 and is a slightly muted gray.
SW Balanced Beige vs SW Loggia
Balanced Beige has a slightly lower LRV of 46 compared to Loggia's, which is 48. It also has no readily visible undertones, although it can lean a little orange-red or green.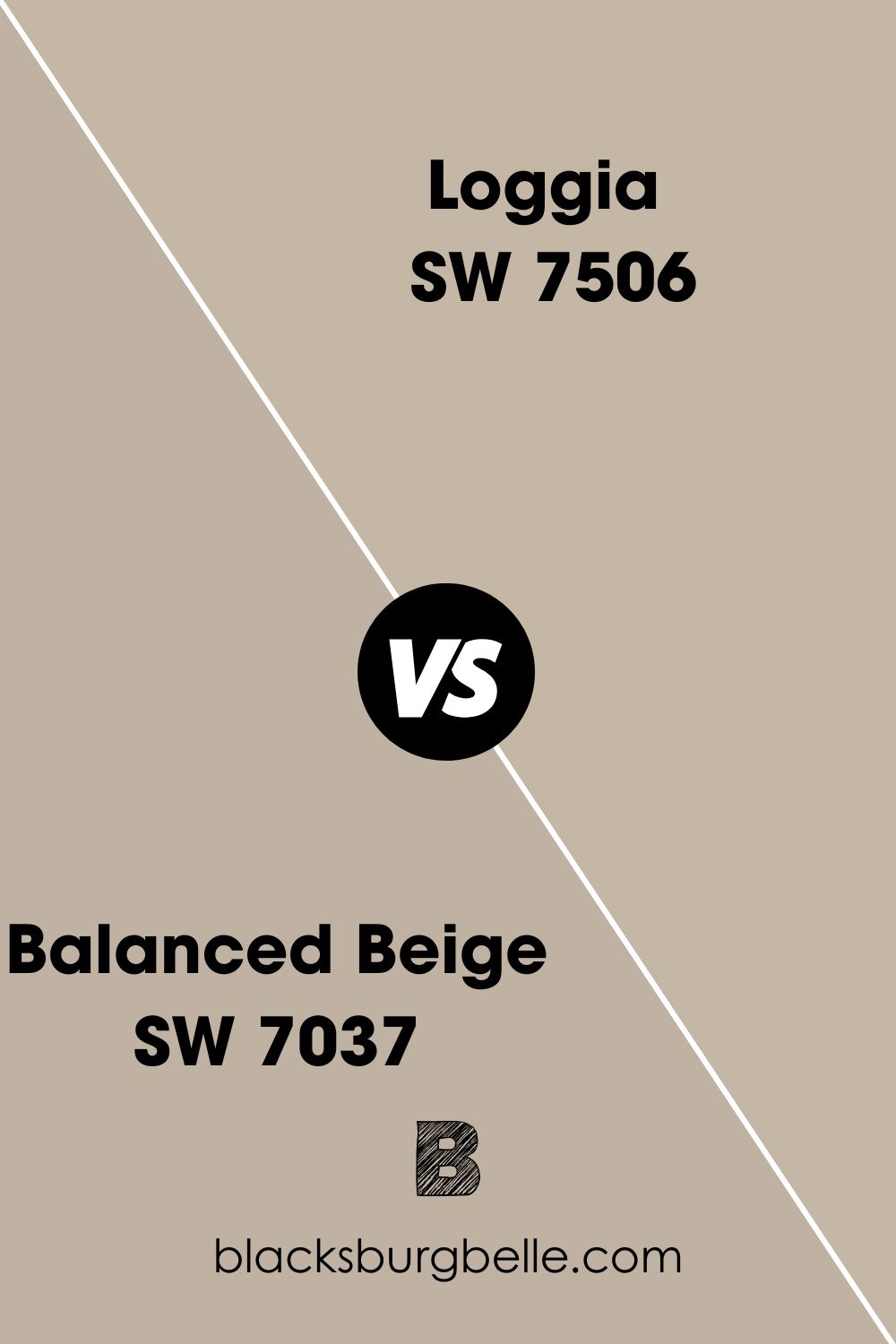 SW Shiitake vs SW Loggia
Shiitake is a lighter version of Logia, having an LRV of 51. However, while it is a neutral color, it may show a slightly red or green undertone. Fortunately, they are hardly there.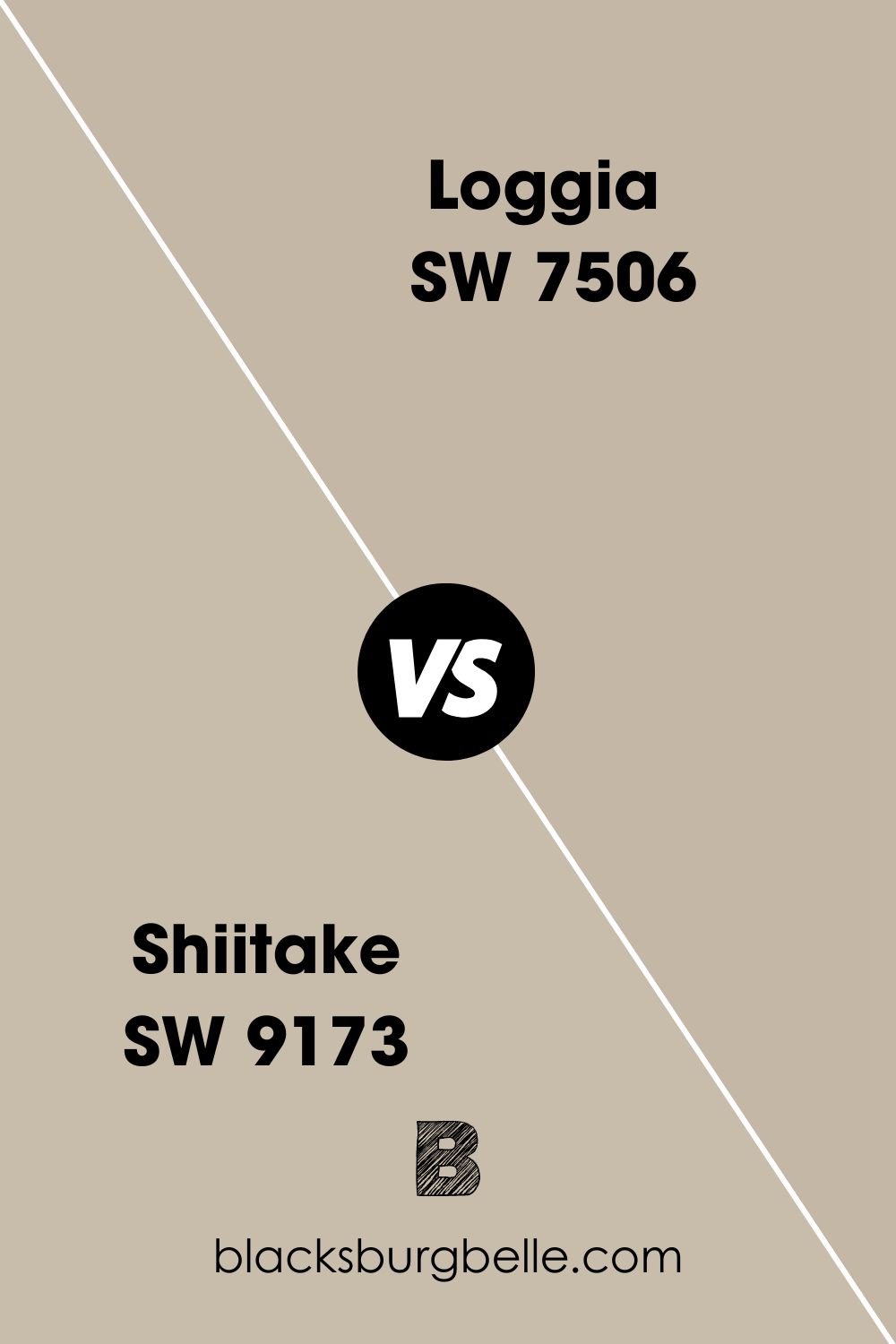 Benjamin Moore Paint Color Equivalent for Sherwin Williams Loggia
There is no equivalent paint color to match Sherwin Williams from Benjamin Moore. You may find something pretty similar but nothing exactly like it.
However, Benjamin Moore's Stone Hearth 984 resembles Loggia, with their red, green, and blue (RGB) code being almost the same. Gallery Buff CSP-225 is another Benjamin Moore paint color that looks like Loggia.
Where Can You Use Sherwin Williams Loggia?
The neutral paint color fits any room, including bathrooms and nurseries. You just have to know other colors to use with it and the right lighting conditions. Let's take a look at some photos for ideas.
Sherwin Williams Loggia on Kitchen Cabinets
Kitchen love has never looked better than this photo of newly-painted cabinets. They completely changed the look and vibe of the room from what it was when the cabinets were orange.
Sherwin Williams Loggia in a Bathroom
Loggia looks great in a bathroom because of its neutrality. You can use any color on the vanity and throw in accessories in different colors without worrying about the walls.
Best Ceiling Color for Sherwin Williams Loggia Walls
A warm white or slightly cool white looks ideal for the ceiling when the walls are done in Loggia. While you can experiment, you don't want to get tired of the room within a few months because of the ceiling color. White is your best bet to match this shade.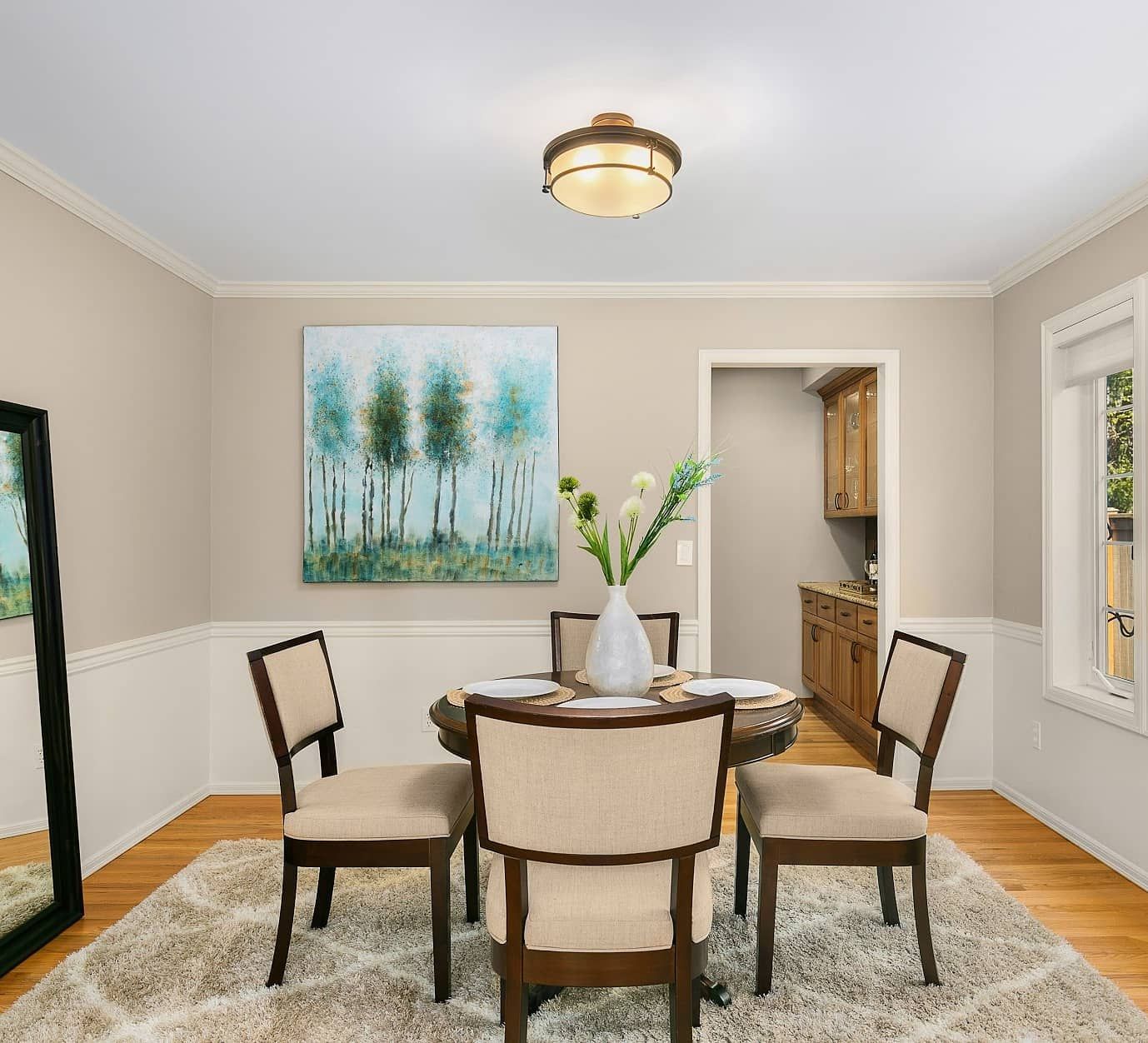 Best Trim Color for Sherwin Williams Loggia Walls
Again, I would choose white because of how it makes Loggia look even more bodied than usual.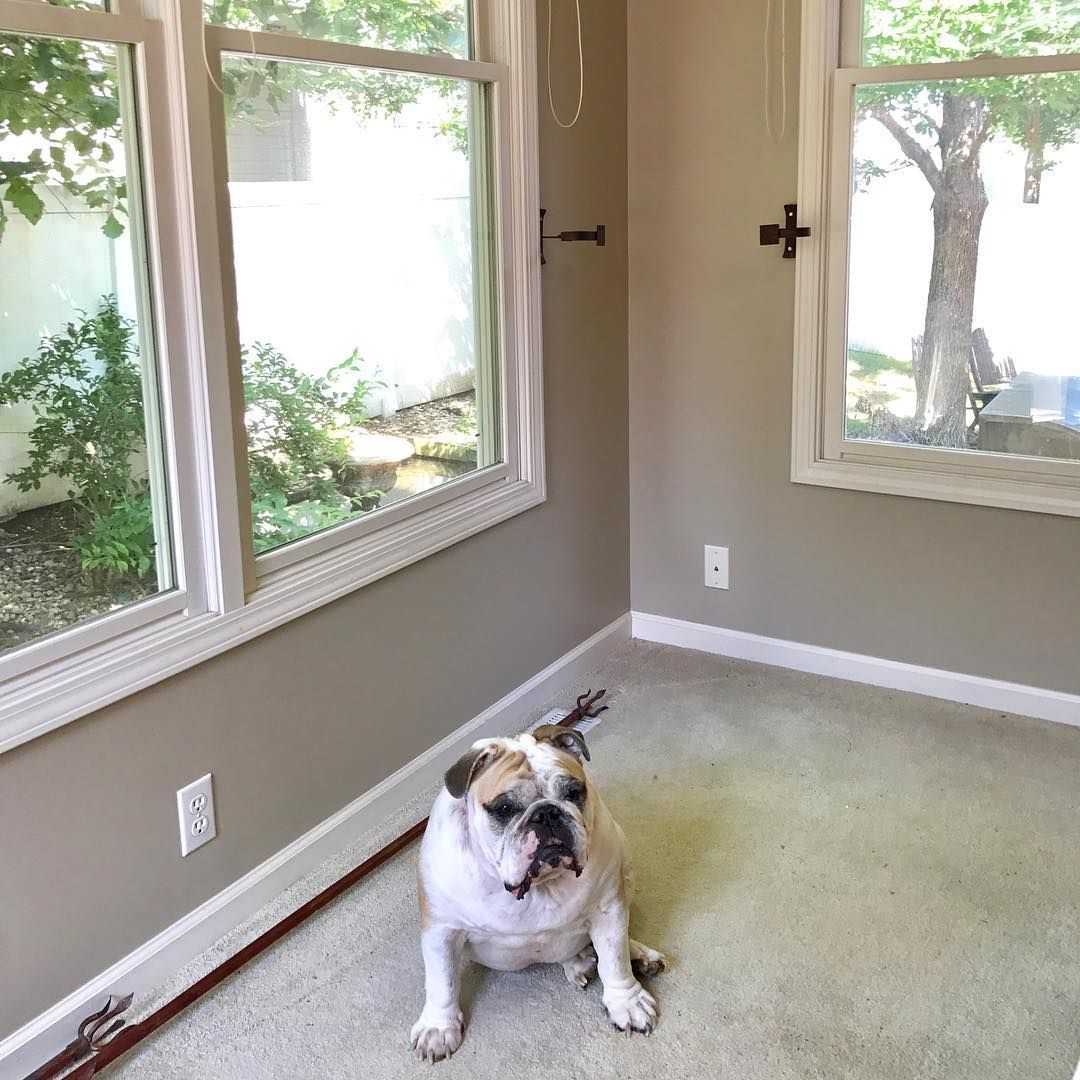 Sherwin Williams Loggia on a Door
Loggia can be an excellent color of choice for your front door. It may also work on interior doors, but you must remember it loves light.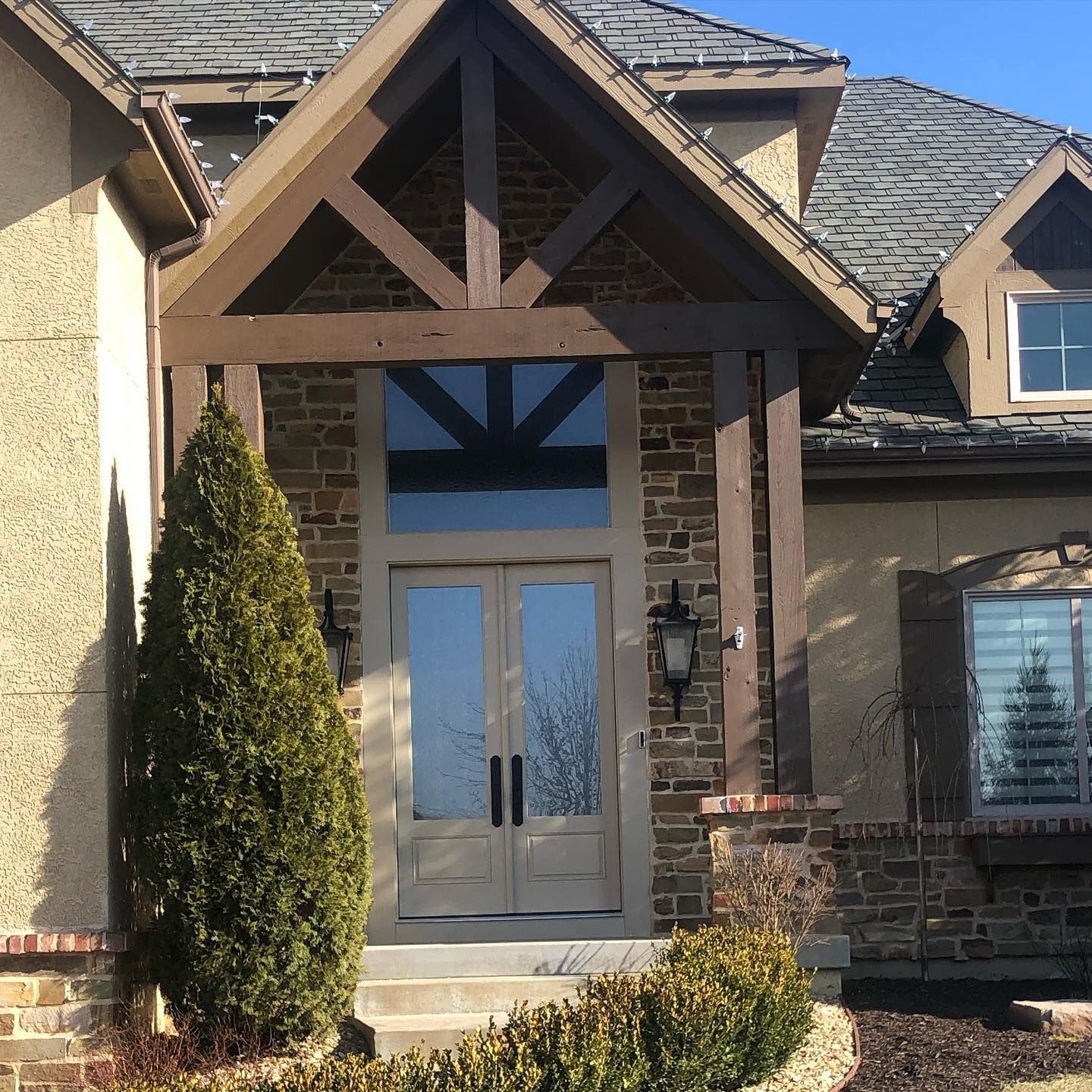 Sherwin Williams Loggia Against Dark Wood
Loggia looks creamy and soft against this dark wood bureau. You may want to consider it a paint color of choice if you have bright lighting and dark wood in a room.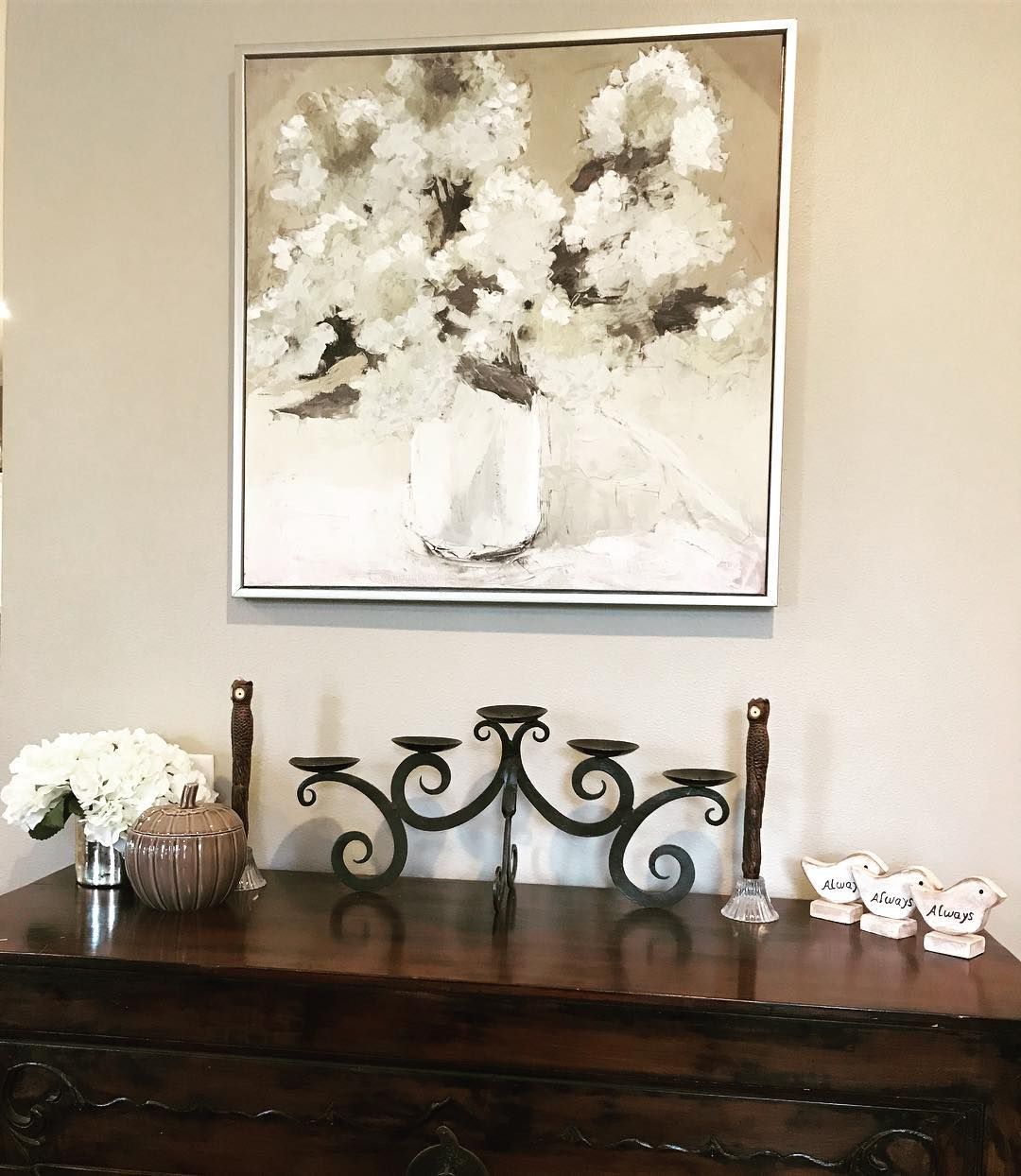 Sherwin Williams Loggia in a Bedroom
You can make the most of this neutral paint color if you use other neutral shades and bits of bright colors. This next photo is a predominantly neutral bedroom that still looks inviting.
Sherwin Williams Loggia in a Living Room
White and Loggia will always look stunning when paired right. Check out this living room for inspiration.
Sherwin Williams Loggia on Exterior Trim
With a darker wall color, Loggia can work as a trim color. This is especially applicable if the walls are gray, black, and white bricks.
Sherwin Williams Loggia on Exterior Walls
Check out how warm and creamy Loggia looks on these exterior walls.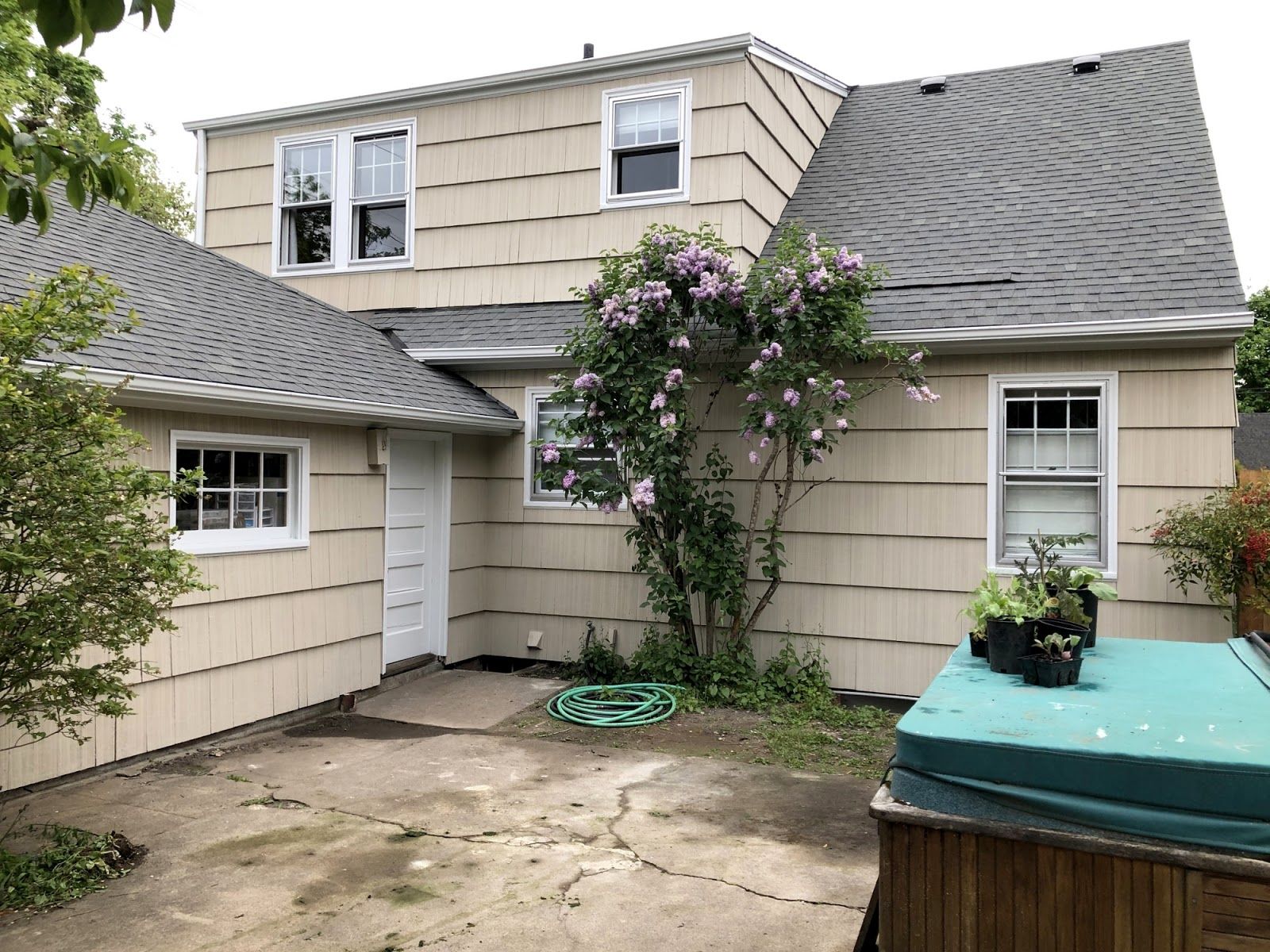 Conclusion
There you have it: all the aspects and characteristics of Sherwin Williams Loggia. It is a neutral paint color with a slightly yellow undertone that may sometimes lean green. The paint color has an LRV of 48, making it a medium-neutral color. Some call it gray, some beige, and others tan.
This guide shows you how to pick colors to add to a color palette, depending on the specific color scheme you want. Get creative with this color, and you may become a trendsetter. Whatever you choose to do, have fun painting, and remember that I'm rooting for you!