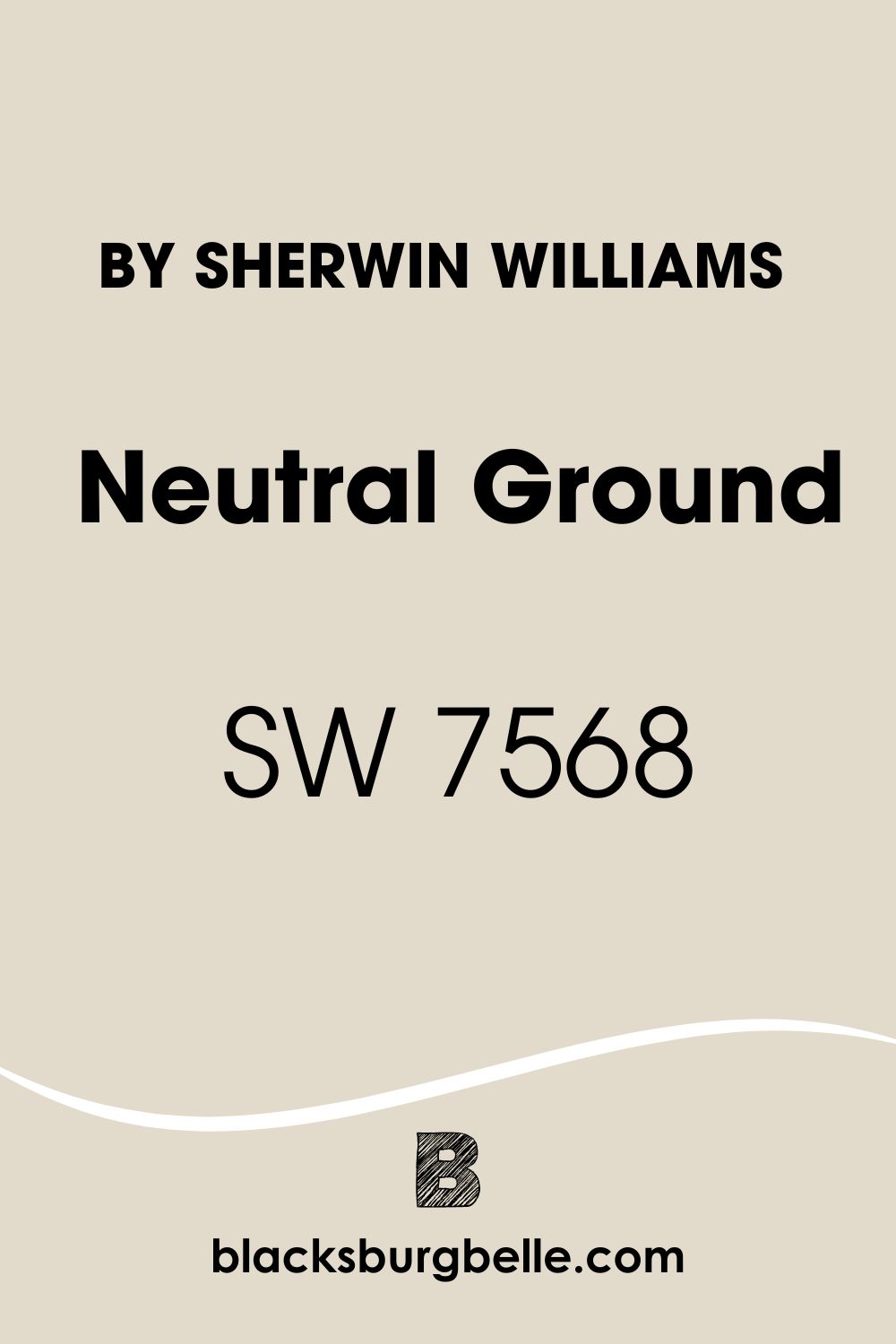 Although there are plenty of neutral paints out there to choose from, sometimes it can be tough to find the right one for the job.
Cue Sherwin Williams Neutral Ground SW 7568 which could be the answer to your neutral paint woes! This bright and warm color has some khaki undertones that really give it a welcoming and homely feel.
As a result, it's no wonder why Sherwin Williams has named this paint one of their expert picks from their catalog.
So, as usual, I've been exploring this paint to the fullest, so let's get into the action so you can see what Sherwin Williams Neutral Ground can offer you.
When to Use Sherwin Williams Neutral Ground?
I've been scouring the internet far and wide for the very best inspiration, as well as getting stuck in myself with Sherwin Williams Neutral Ground to figure out the best qualities of this color.
Here are my highlights of why you should be using Neutral Ground.
Get That Cozy Vibe
With its warm undertones, and as it is off-white, this makes Sherwin Williams Neutral Ground such a gorgeously warm and cozy color. Pair it with other natural colors and textures such as linens, wool, and wood to really up the relaxation factor of a space such as a bedroom or living room.
Subtlety at its Finest
Sometimes you don't need to shout to make yourself heard. This is certainly true in the case of Sherwin Williams Neutral Ground, which is able to transform a space without being a highly saturated or loud color.
Let the Neutrals Have the Spotlight
Neutral Ground is the perfect partner for many other neutral shades, and helps to highlight the hidden potential of these colors. Somehow, with a little bit of Neutral Ground magic, these colors seem to come to life creating a natural aesthetic.
Not Just For Walls
If you are looking for an alternative to white on your trim, ceiling, or window and door frames, then give Neutral Ground a try! It even works well with cooler, and lighter colors without feeling too out of place.
Great in Colder Weather
Thanks to its warm undertones, Neutral Ground works great in properties that don't see much natural light, such as those in the North, colder, less sunny regions, and in North-facing rooms. The same can be said for when it is used as an exterior paint.
Living it Large
Sherwin Williams Neutral Ground SW 7568 also has the amazing quality of being able to make a room appear larger. This makes it great for extending the length of hallways, or what could be quite a cramped kitchen feel much more free and open.
So, that's my highlights, and as you can see, there is already so much to love about this color!
For a neutral shade, there is still a lot to be said about this paint color. Stick with me as we carry on exploring this paint together as I give you all the key details you need to know about Sherwin Williams Neutral Ground SW 7568!
What Color Is Sherwin Williams Neutral Ground?
A name such as Neutral Ground might not give you much to go by, so I'll try to encapsulate all this color is for you.
As the name suggests, Sherwin Williams Neutral Ground is a true neutral color, although that's not to say that it's bland in the slightest.
Its warm khaki undertones actually remind me of unbleached and dyed linen, and I've found a picture for you below to truly illustrate what I mean in more detail.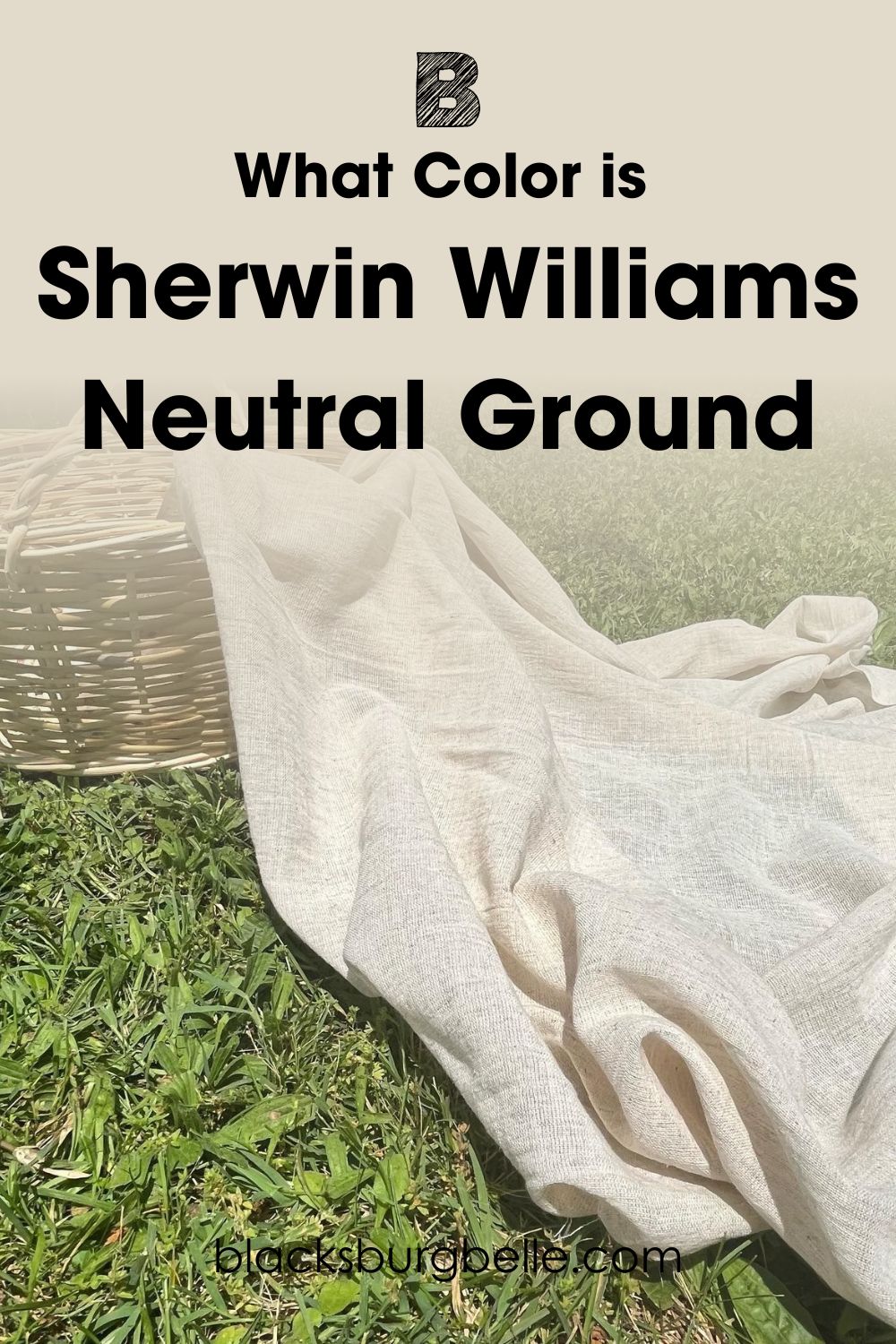 As you can see here, even in this simplest of fabric there is still a depth and a warmth. In fact, I feel it also shows the undertones of Neutral Ground really nicely!
So, if you are looking for a color with the coziness and freshness of a natural linen, then Sherwin Williams Neutral Ground might just be the paint that you are looking for.
Snapshot of Sherwin Williams Neutral Ground Specifications
For those of you wanting the full technical details about this paint, don't worry! I've created this handy table to illustrate all of the key information about Sherwin Williams Neutral Ground.
Sherwin Williams Neutral Ground SW 7568
RGB
R: 226 G: 218 B: 202
Hex Value
#E2DACA
LRV
70
Undertones
Khaki
The LRV of Sherwin Williams Neutral Ground
If you are not all that versed in the world of paint, you might not have heard of the term LRV before. Don't worry, because it's actually quite simple! LRV stands for light reflective value and helps us to know how much light a color reflects. The traditional scale goes from 0, reflecting no light at all, so black, to 100, where you find white with the highest reflective value.
It's worth noting though that no paint color is truly black or pure white, as there is always a level of pigment in the manufacturing process. This means that when looking at paint, the darkest color you can get comes in at 2.4, and the brightest at 94.
Sherwin Williams Neutral Ground has an LRV of 70. This means that it teeters on the edge of being white, but definitely isn't on the lighter end of the scale as far as whites go. In my personal opinion, I would consider it to be off-white.
Undertones of Sherwin Williams Neutral Ground
Sherwin Williams lists the undertone of Neutral Ground SW 7568 to be khaki. This is a tan color with a slight yellowish tinge, and I can definitely see what they mean.
However, some people have also picked out greige and even green among its undertones. I can get where they are coming from with the greige vibes, but I personally don't pick up on the green. In fact, I even see a little dusky pink in there!
Don't just take my word for it though, take a look at this picture and see what undertones pop out to you.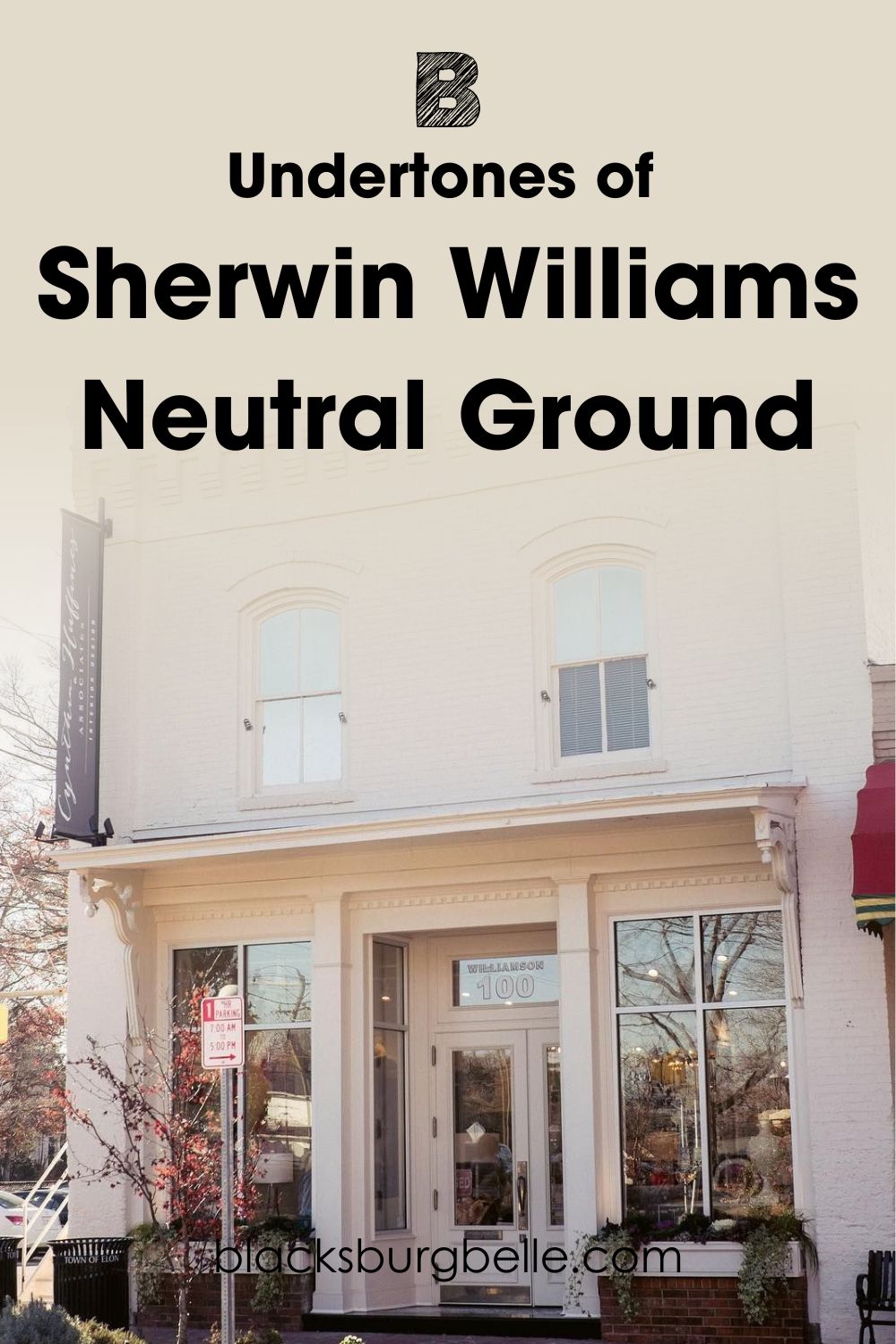 Is Sherwin Williams Neutral Ground Too Beige?
I know I've spoken about the fact that Sherwin Williams Neutral Ground is definitely not a crisp white. And, with its tan and khaki undertones, you might be wondering whether it actually looks too beige!
I am here to put your fears to rest and let you know that its LRV is actually what helps Neutral Ground from becoming too beige of a color. To show you what I mean, take a look at this inspiration picture I've found which highlights the amazing qualities of this paint.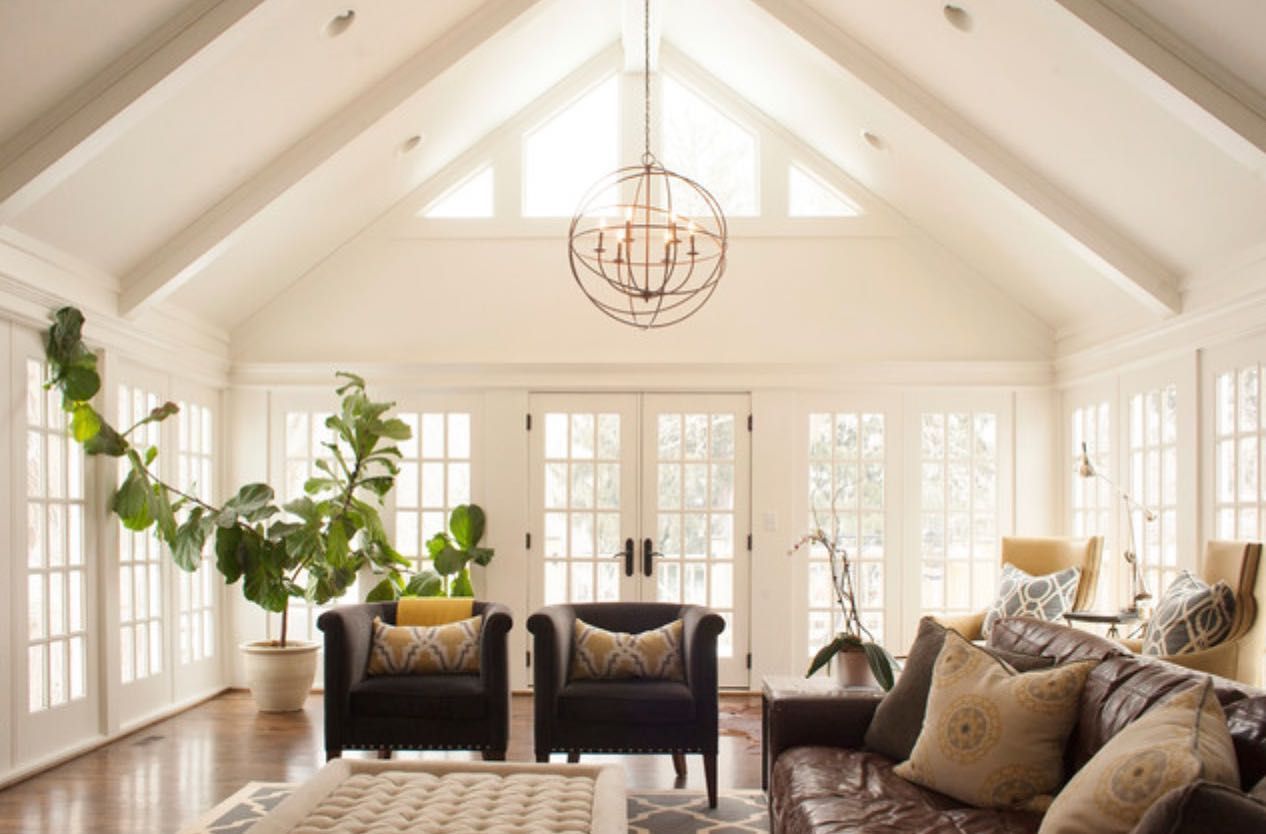 Here you can see that it truly is an off-white, and has much more creamy undertones to it than beige.
However, it is worth noting that any color can change completely depending on the lighting that it is in. You may find in a darker room with not much natural light Neutral Ground has more of that beige edge, but it should never be anything too extreme.
Sherwin Williams Neutral Ground is Warm or Cool Color?
This is a pretty easy one to answer, as Sherwin Williams Neutral Ground SW 7568 is definitely a warm neutral. This is helped by its yellow and khaki undertones, which help it to lift a space and keep it feeling nice and cozy.
If you need a color that provides a fuzzy feeling without being too much of a statement, then Neutral Ground is ready and waiting for you!
Sherwin Williams Neutral Ground Color Strip: Lighter or Darker Exploration
Of course, you may find that Sherwin Williams Neutral Ground just isn't quite the right fit for you. And this is perfectly OK!
If you like what Neutral Ground offers but just wish it was a tough lighter or darker, I've gone through the Sherwin Williams catalog to find similar colors for you. I;ve arranged them in the list below from light to dark, with Neutral Ground itself in the middle as a measure.
Creamy SW 7012
Aged White SW 9180
Neutral Ground SW 7568
Canvas Tan SW 7531
Patience SW 7555
Sherwin Williams Neutral Ground Complementary Colors
You might be wondering what some of the best colors are to use with Sherwin Williams Neutral Ground. One of the best ways to find a great paint partner is to look for its complementary color on the color wheel.
To find the complementary color, you simply look across the color wheel from the original color in a straight line. Don't worry if this sounds too complicated, as I've gone ahead and done the hard work for you!
As you would guess from a warm color like Neutral Ground, its complementary color is on the cool side.
The complementary color for Neutral Ground from Sherwin Williams is Breathtaking SW 6814. This light blue purple is a cooling contrast to the warm khaki notes of Neutral Ground.
Sherwin Williams Neutral Ground Coordinating Colors
If you are looking for a bit more harmony rather than contrast, then there are plenty of paints from Sherwin Williams that love to be best friends with Neutral Ground in a color scheme. I've placed my top 3 below, along with some key facts for you.
Alabaster SW 7008:This brighter white with creamy yellow undertones works incredibly well as a light accent to Neutral Ground.
Shell White SW 8917: This peachy white again works wonders with the warm undertones of Neutral Ground, helping to lift spaces such as kitchens and dining rooms beautifully.
Home Soapstone SW 9126: This darker neutral shares a lot of similarity to Neutral Ground in its undertones, and can help you to create a super cozy and calming space. Consider using it in a bedroom or living room to ramp up the comfort factor.
Sherwin Williams Neutral Ground Color Palette
If you want even more ways to help Sherwin Williams Neutral Ground to shine in your home, I've created 3 color palettes for you to try!
Contrasting Color Palette
Breathtaking SW 6814:This blue-purple creates a striking accent when used with neutral ground. Try making it a feature wall, or even experiment with table legs or the inserts of box shelving and cabinets.
Lighthearted Pink SW 6568:This bright, slightly cool pink creates a playful vibe when paired with Neutral Ground.
Lacewing SW 6729: This minty green helps to add a bright freshness to any room, helping to build on Neutral Ground's welcoming feel.
Coordinating Color Palette
Honed Soapstone SW 9126:This warm, dark taupe pairs really well with Neutral Ground to create a cozy accent.
Subdued Sienna SW 9009:This rich terracotta shade ups the earthiness of a room, helping it to feel natural and inviting.
Shell White SW 8917:This white with its slight peach undertone picks up the rich tones of all the colors in this palette while providing a light contrast to some of the more richer colors.
Monochromatic Color Palette
Ethereal White SW 6182:This slightly cooler white helps to add an enticing glow when added to a color scheme with Neutral Ground.
Irish Cream SW 7537: This rich white has orange undertones which help to bring extra warmth to the tan and khaki notes of Neutral Ground.
Threaded Loom SW 9512: This mid-toned neutral works in tandem with Neutral Ground to pull the light and dark elements of a room together.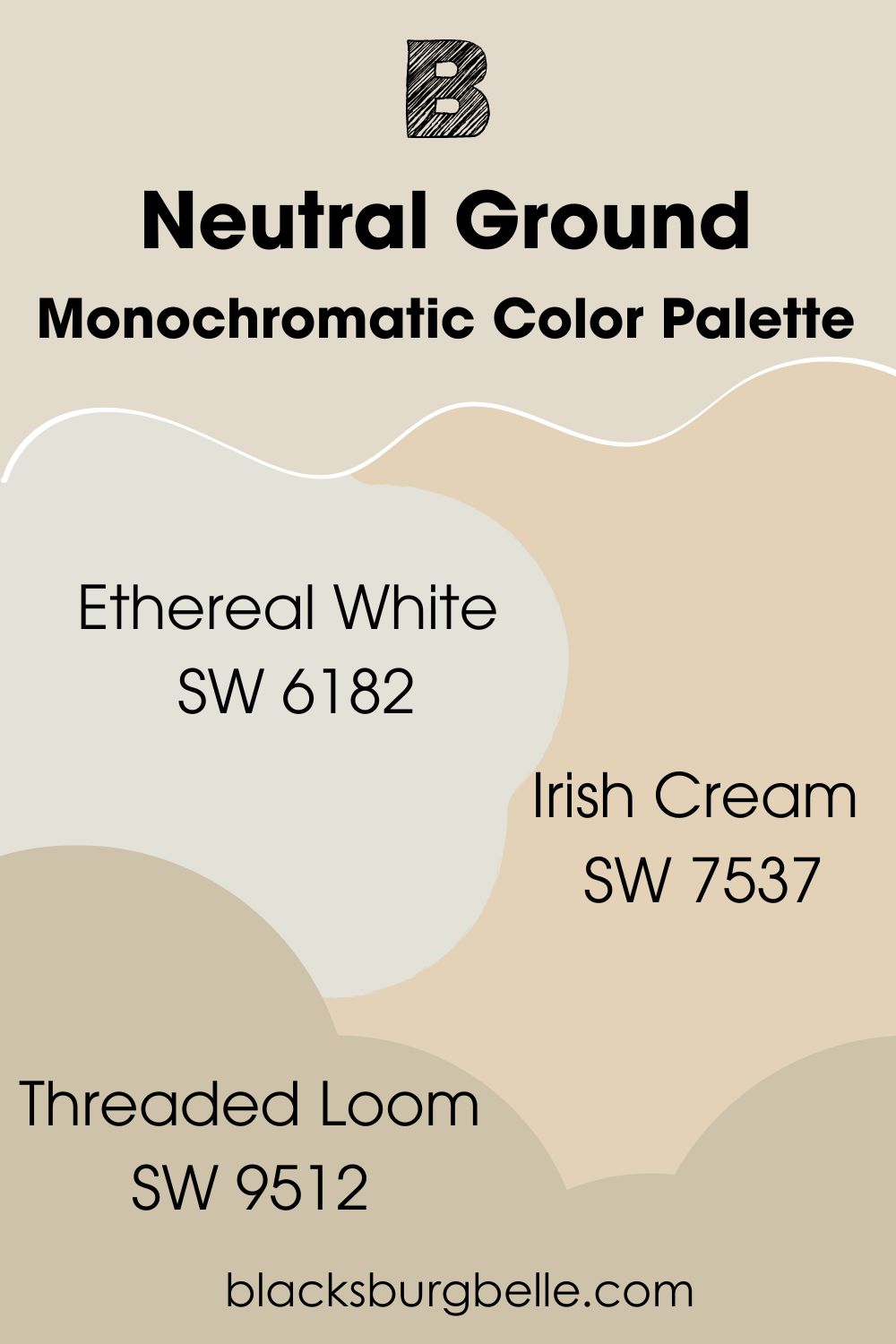 Of course, this is just the tip of the iceberg! I really do suggest looking at the Sherwin Williams paint catalog to see what sort of looks you can come up with!
Sherwin Williams Neutral Ground vs Other Paint Colors
Sherwin Williams Natural Choice vs Neutral Ground
Natural Choice sits slightly lighter than Neutral Ground, with an LRV of 37 as opposed to 70. However, the main distinction between these two colors is their undertone. While Neutral Ground has khaki and tan notes, Natural Choice learns more on the orange and yellow side.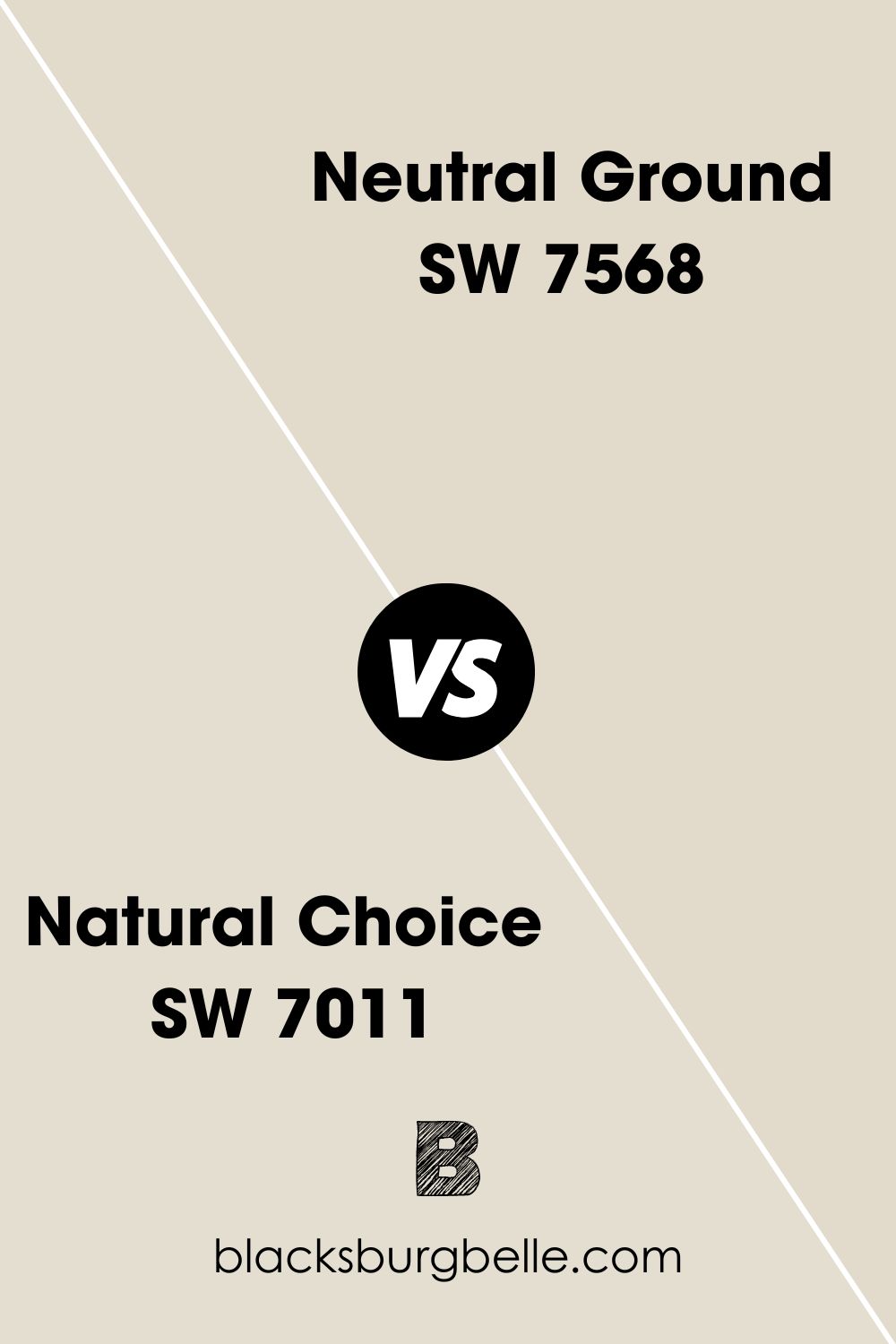 Sherwin Williams Shoji White vs Neutral Ground
Shoji White is lighter than Neutral Ground by 4 points on the LRV scale. While both colors are considered warm, Shoji White leans on the greige side, with this gray really coming through in certain lighting conditions.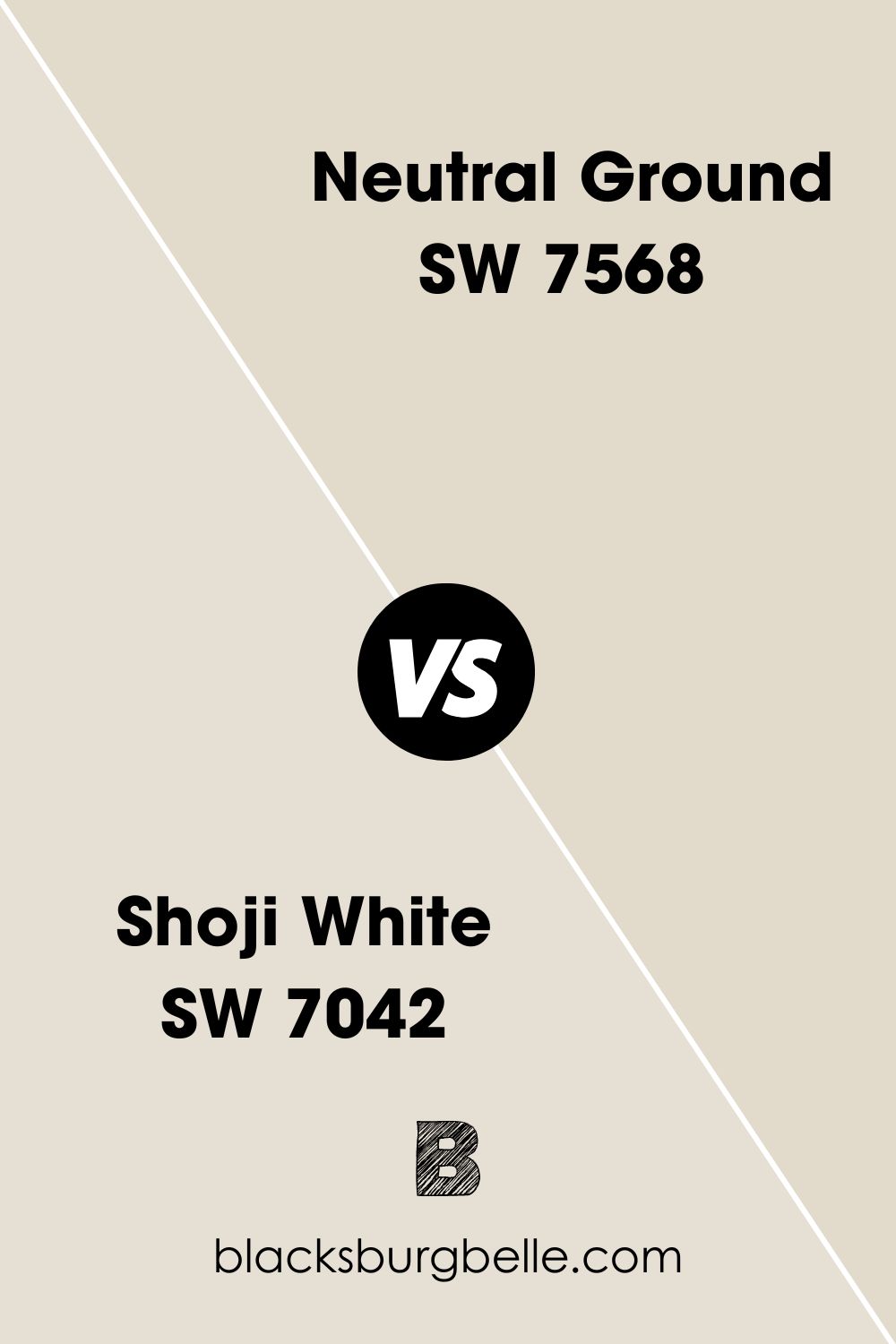 Sherwin Williams Neutral Ground Benjamin Moore Equivalent
I know some of you out there are true Benjamin Moore fans as opposed to lovers of Sherwin Williams paint. If you love the color of Neutral Ground by Sherwin Williams, you are surely looking for a great alternative!
I've been going through the Benjamin Moore catalog for you and I have found the best equivalent paint to Sherwin Williams Neutral Ground SW 7568.
The paint you want to be looking for is Sonnet AF-55. However, it's worth noting that the undertones of this paint are more on the pink side, but it is the closest color match.
If you really like the khaki undertone though, then you might want to try Cream Fleece 233, although this is slightly darker than Neutral Ground.
Where Can You Use Sherwin Williams Neutral Ground SW 7568?
I've done a roundup of some of the best use cases for Sherwin Williams Neutral Ground. Take a look at some of my top recommendations below, with some gorgeous pictures to boot!
Sherwin Williams Neutral Ground Bedroom
I can think of no better place to unwind and relax than in the comfort of your own bedroom. So, why not let Sherwin Wiliams Neutral Ground ramp up that relaxation factor for you?
In this example I've found, I love how the lighting and the pink accents really bring out some rosy notes in the paint color, making for an understated but still chic look.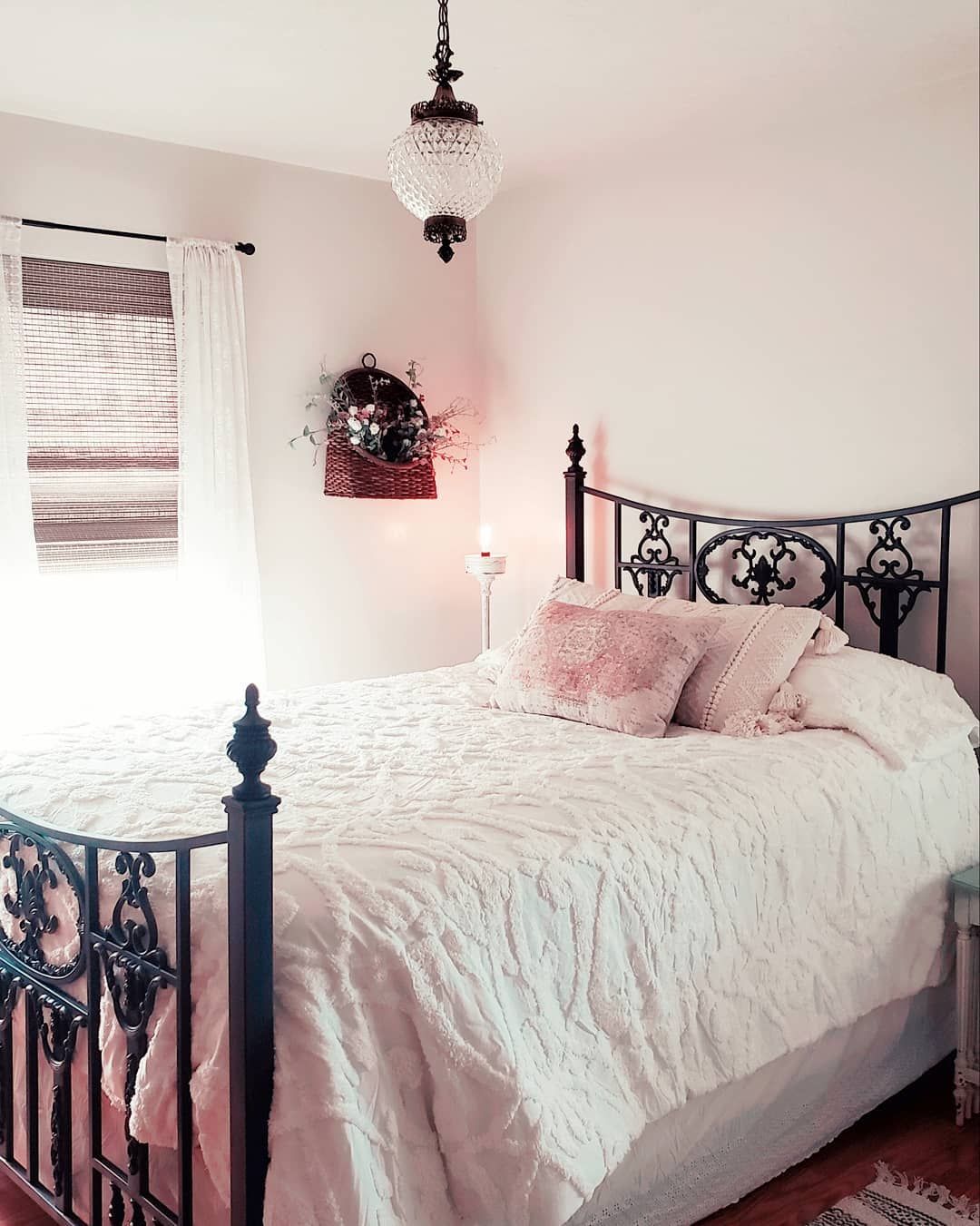 Sherwin Williams Neutral Ground on Doors
Especially if the main exterior paint you have gone for is a dark color, Neutral Ground SW 7568 makes for a perfect exterior trim color or even on your front door! In this example, it creates a warming entryway when framed by the exterior color of Sherwin Williams Software.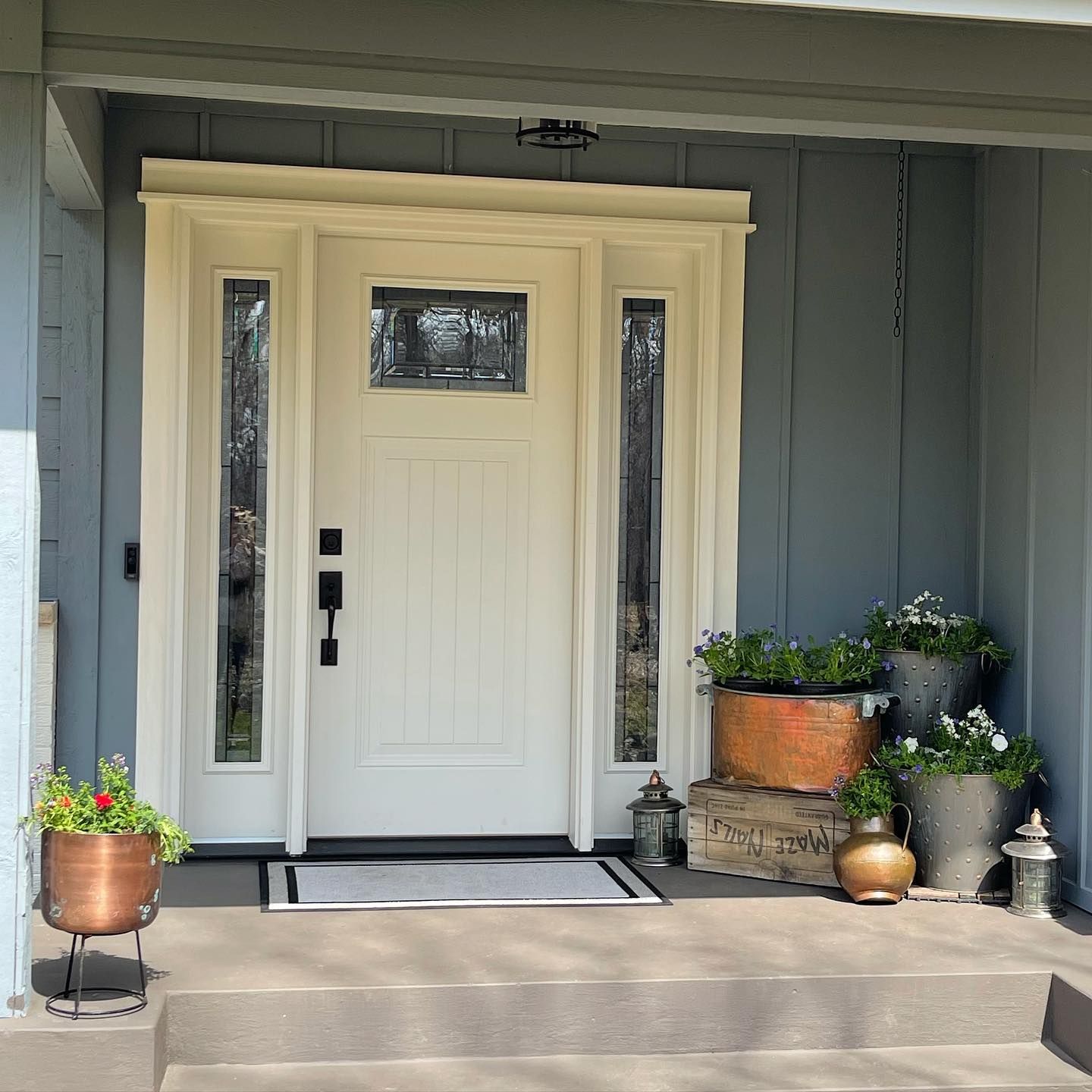 That's just on the outside though, so don't count this paint out when you get to color your interior doors, either! Start that warm and inviting vibe going as soon as you touch the door handle!
Sherwin Williams Neutral Ground on Kitchen Walls
In a subdued and peaceful color scheme for a kitchen, Neutral Ground works perfectly as a wall color. It has just enough depth to allow the cabinets, which have been painted in Sherwin Williams Greek Villa, to really pop without being too overbearing.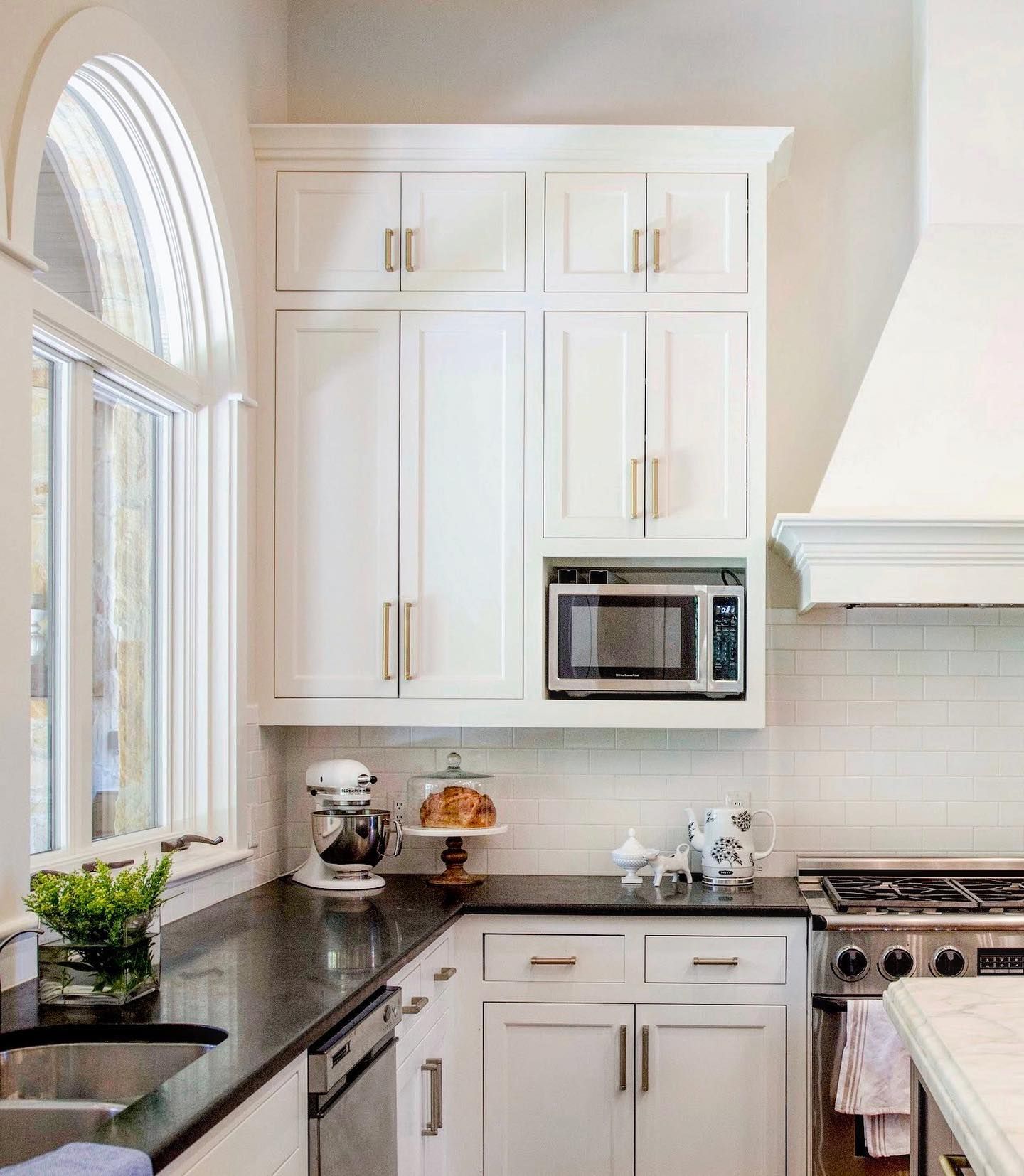 Sherwin Williams Neutral Ground Bathroom
If you want to give your bathroom a farmhouse or French countryside feel, then look no further than Neutral Ground SW 7568. It really helps to provide a cozy and romantic feeling, while still being light and airy.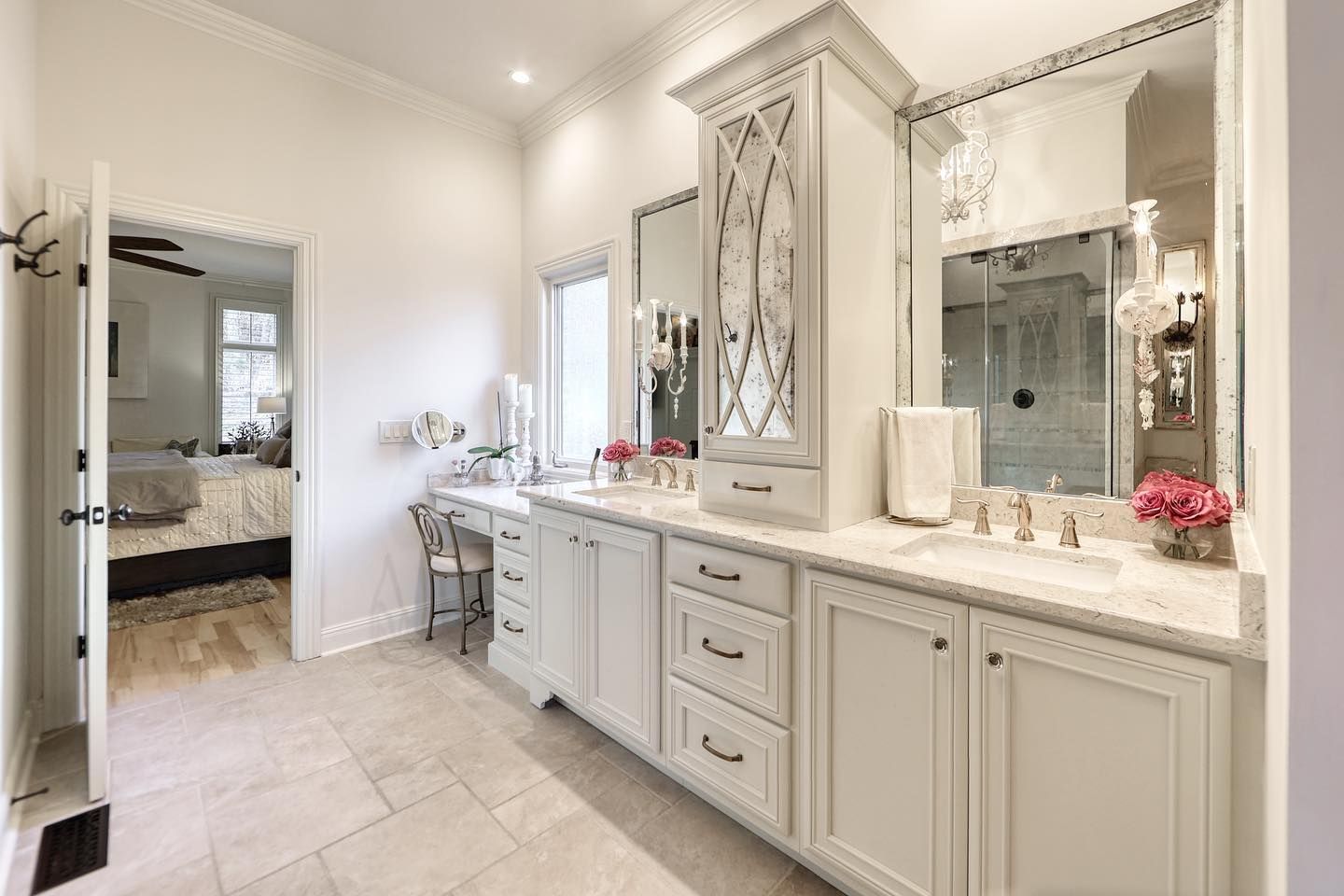 Sherwin Williams Neutral Ground Living Room
Not only does this example really highlight how warming Neutral Ground can make a living room feel, but it also shows us the depth of this color in different lighting conditions. We can see the warm, crisp whiteness of Neutral Ground where it sits closest to the window, and then on the other side of the TV unit, the color starts to mellow out into a soft and inviting tone.
You can almost see the gradient of the lighting conditions of Neutral Ground on the wall as you cast your eyes across it!
Sherwin Williams Neutral Ground Exterior
Neutral Ground can also look amazing when it is placed on the exterior of a property. I love how it subtly pops with a dark-colored trim, and how it really makes the cool bright blue of the door stand out!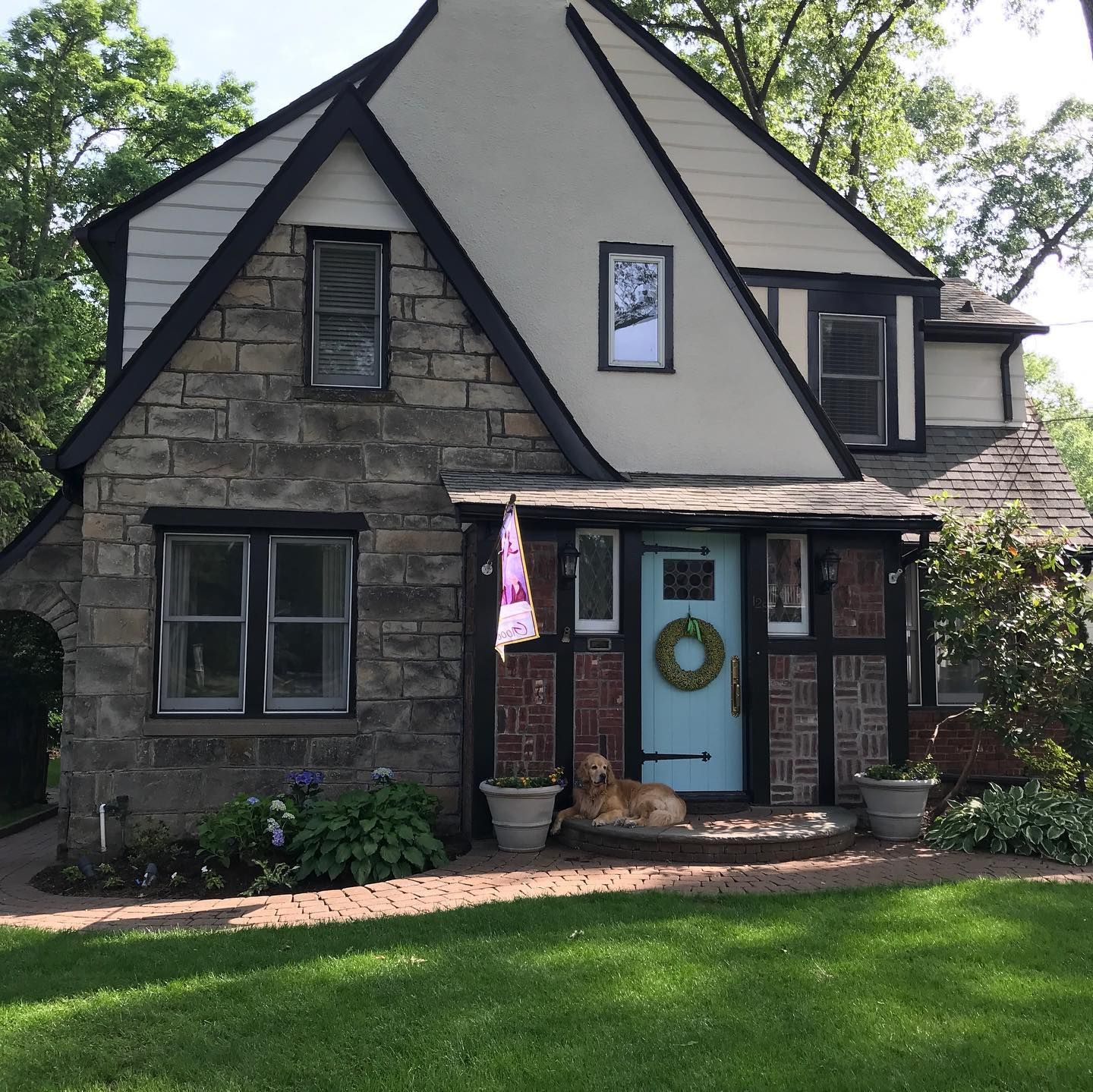 Sherwin Williams Neutral Ground Dining Room
If you are looking for a light and airy entertaining space, then look no further than Neutral Ground. This is especially true if the dining room has a lot of natural light, whether from windows or even a skylight works wonders.
Sherwin Williams Neutral Ground Trim and Ceiling
Don't just look at Sherwin Williams Neutral Ground as a color to solely be used on walls. This example below demonstrates how well this paint can be used as a trim, even against a similarly light color. For good measure, not only has it been used on the trim, but the ceiling too! Talk about a versatile color!
Sherwin Williams Neutral Ground Exterior Brick
I know I showed you this inspiration picture earlier when I was talking about undertone, but I want to give it a shout-out again because of the way it depicts the gorgeous way that Neutral Ground looks on exterior brick facing.
Alternatively, if you have a brick fireplace in your home that needs a freshen-up, why not consider giving it a coat of Neutral Ground?
Conclusion
In summary, although its name doesn't sound all that special, Sherwin Williams Neutral Ground is a color that you really shouldn't sleep on.
Not only is it amazing at working with a range of other colors in a variety of schemes from warm to cold, but it also works just fine on its own to create a cozy and inviting space. There are no limits on where you can use this color, it truly is happy inside and out, and anywhere from your hallway to the bathroom!
As always though, I urge you not to just take my word for it. Head out there, grab a sample, and try this paint for yourself to see what calming magic you can conjure up with Sherwin Williams Neutral Ground SW 7568.