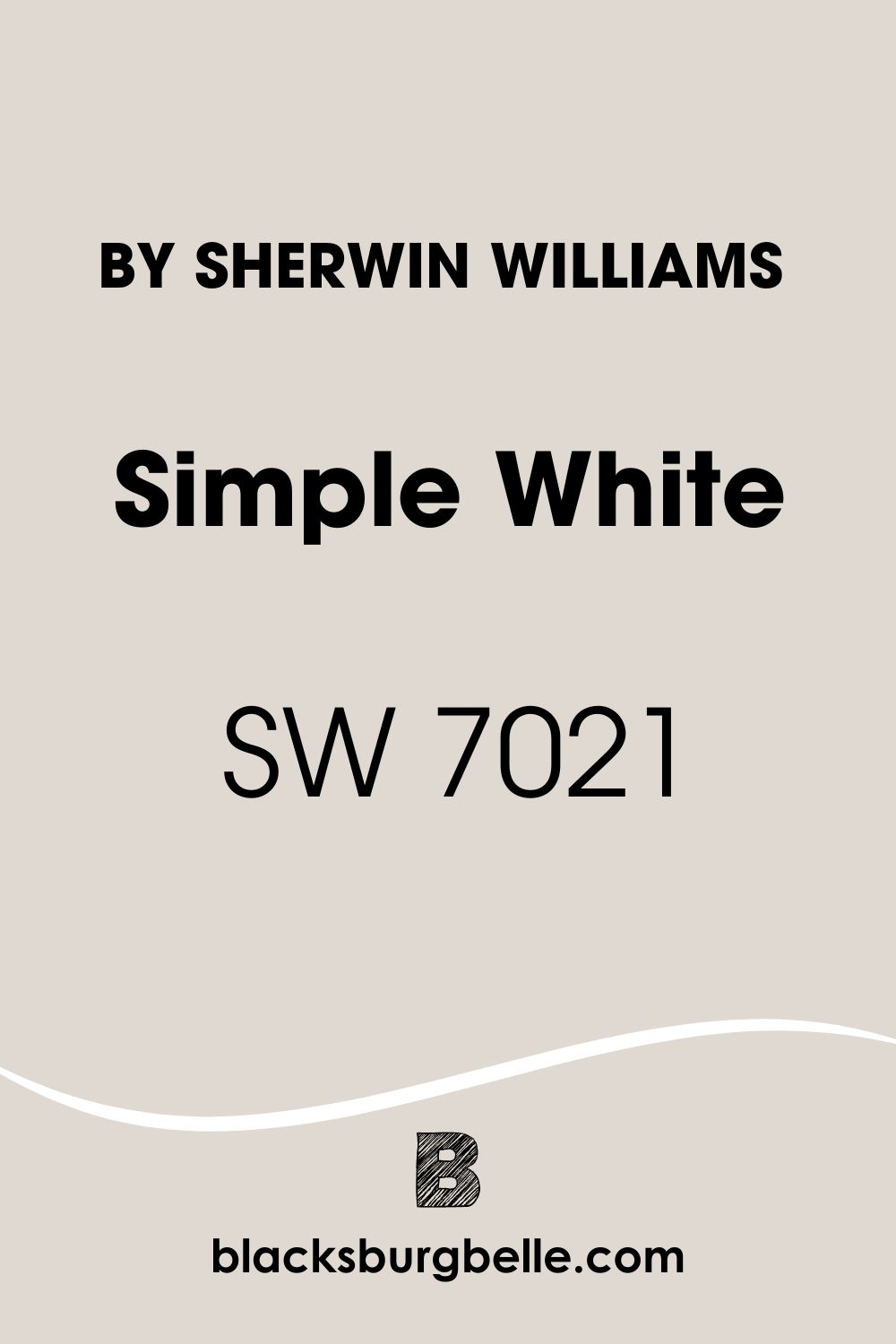 Are you looking for that elusive white that's slightly different from the rest? You should consider Sherwin Williams Simple White SW 7021. You probably confuse it with Simply White by Benjamin Moore, but they are not the same.
SW Simple White is a pretty unique shade of bright white with cool undertones. It can show some depth at unexpected times, but that only makes it perfect for some decor types. So, let's see what this paint color is all about and whether it's right for you.
When to Choose Sherwin Williams Simple White
Since it's not such a popular white paint color, you may be wondering whether you've made the right choice. If you've picked Simple White, I want to show you a few times and places where it works.
Have a cool color scheme?
Simple White is a pretty cool white that doesn't look crispy. However, it is a great color to add to a cool color scheme if you want some neutrality.
Looking for a smooth backdrop?
If you pick vibrant colors as part of your color palette, Simple White can act as an excellent backdrop to get everything together. But ensure the colors all flow seamlessly by keeping the tones similar.
Thinking of redoing your bedroom?
Simple White is a cool color for a bedroom because it helps promote relaxation. Keep your bedroom fresh and crisp with this color. You can add bolder colors using accessories for some versatility.
These points should get you going, and if they are enough, your paint color dilemma is sorted. However, there're a few more things to reveal about Simple White that may help you make it work better.
What Color Is Simple White?
There are an amazing array of white paint colors from different manufacturers. Your painter can overwhelm you with options when they pick colors you should consider.
Of all the white paint colors, Simple White is one of the least known ones. But there's more to this color than meets the eye.
Simple White SW 7021 is a bright white paint color whose cool undertones make it perfect for any decor with cool tones and vibrant colors.
I know the same can be said about other white paint colors, but every color brings something unique to the decor. As whites go, this one has relative depth and is anything but boring.
A Snapshot of the Specifications of Sherwin Williams Simple White
Knowing the details of anything makes it easy to understand it. So, the following is a chart that shows these specific details about paint colors as they apply to SW Simple White.
| | |
| --- | --- |
| | Sherwin Williams Simple White |
| RGB | 223, 217, 210 |
| LRV | 70 |
| Undertone | Violet |
| HEX Code | #DFD9D2 |
The LRV of Sherwin Williams Simple White
LRV means the light reflectance value of color and indicates, on a scale of 0 to 100, how much light the color reflects. Pure black has an LRV of 0, while pure white has an LRV of 100. But paint colors don't have pure white or black, so the scale is different, between 2.5 and 94.
Simple White has an LRV of 70. This is not the best LRV for a white paint color; some are considerably brighter. However, the value is high enough to keep the paint color bright in any room, whether well-lit or not.
The Undertones of Sherwin Williams Simple White
If you're not familiar with colors, it can get confusing trying to learn why some look different from the rest, even when they are about the same shade. The answer is the undertones, which mean the subtle color visible under the main color.
Simple White has cool violet undertones. This is what gives the white color a different cast and depth, especially in some lighting conditions. As mentioned, it's not the brightest white in the market, so you may notice that it looks slightly muted.
But if you look closely, you'll notice a hint of color showing its face. The undertones are not very obvious, but you must keep this in mind when using the paint color. It may become more obvious when you use a brighter white on the trim with Simple White on the walls, just like the picture above.
Does Simple White Change with Different Lighting Conditions?
Every paint color looks different in various lighting conditions. This includes natural and artificial lighting. If you want to get the best from Simple White, use it with a lot of bright lighting. That is not to say it doesn't work with low lighting. However, its brightness is best when there's a good amount of light.
Rooms facing north have no direct sunlight, so the lighting may be low or cool. Cool colors may not be the best for such rooms, but nothing says you can't try to incorporate them into the decor. But warm colors are ideal for them.
Those facing south have the best sunlight because it's direct. Cool colors can work in such rooms, but the same is true of warm colors. West and east-facing rooms are also great because you can use any color scheme. But note that such rooms don't have direct sunlight all day, only in the evenings and mornings respectively.
This next picture is of a room with low light. But it's not so low that Simple White looks muted; it simply looks like an off-white or cream.
In the next picture, the paint looks warm and creamy under bright and white artificial light. This is slightly different from what it looks like in the previous picture.
If you're not a fan of the undertones, which are pretty subtle, try to use Simple White with a good amount of light. It usually presents its true face and hides most, if not all, its undertones under such lighting conditions.
But when paired with blues, purples, and reds, Simple White looks amazing and its undertones are more visible. You may find that it's an excellent addition to the colors you already have.
How Does It Feel in a Room?
Simple White is a great color, I must say. It can look fresh and airy but can also turn cozy and warm if the setting is right. You want to use a white paint color that makes you comfortable and meets all the needs you have. So, here is an example of how cozy Simple White can be in warm lighting.
Sherwin Williams Simple White: Warm or Cool?
Every paint color has a tone; some are warm and others are cool. A few are pretty neutral, showing only minimal undertones, even in the best lighting conditions. Warm colors are popular, but cool colors are surprisingly spectacular when used right.
Simple White is a bright white paint color with cool violet undertones. That makes it a cool color and ideal for cool color schemes.
Sherwin Williams Simple White Color Strip: Lighter to Darker Exploration
If you find that Simple White is not the exact shade you want, or you need a brighter white, I have more to show you. I've picked a few whites with higher LRVs to give you room to navigate and find what you want.
Sherwin Williams Arcade White SW 7100
Sherwin Williams Ibis White SW 7000
Sherwin Williams Cultured Pearl SW 6028
Sherwin Williams Nice White SW 6063
Sherwin Williams Everyday White SW 6077
Sherwin Williams Gauzy White SW 6035
Sherwin Williams Simple White SW 7021
Sherwin Williams Simple White Complementary Colors
These colors are 180 degrees apart from each other, or opposite on the color wheel. They can be any color as long as they are directly opposite each other. The most popular ones are red and green, blue and orange, and purple and yellow.
The color that complements the peculiar shade of Simple White is a pretty light shade of cyan blue. And the best fit from Sherwin Williams is Starry Night SW 6540. Close to it is Benjamin Moore's Violet Sparkle 1422.
Sherwin Williams Simple White Coordinating Colors
If you want to see the best from Simple White, use coordinating colors. These can be any color, but they typically work well with each other because of certain similarities. What are the best-coordinating colors for Simple White? Try Functional Gray, Pure White, and Snowbound.
Sherwin Williams Functional Gray SW 7024: A solid and deep gray paint color with a warmth that complements the relative softness of Simple White.
Sherwin Williams Pure White SW 7005: A much-brighter white with warmth from its yellow undertone that brings something different to the decor.
Sherwin Williams Snowbound SW 7004: A cool white whose gray undertone works well as a trim color for Simple White walls.
Sherwin Williams Simple White Color Palettes
These palettes allow you to get creative and use colors to your satisfaction. You can create any palette you want, but you must remember that Simple White is at home with other cool colors. However, that shouldn't stop you from exploring until you find the perfect balance.
Monochromatic Color Palette
Nice White SW 6063: This white paint color is lighter than Simple White but fits well with it if used on trims.
Everyday White SW 6077: Another white that is lighter than Simple White but is from the same collection, so blends well with it.
Gauzy White SW 6035: This color is pretty close to the Simple White shade, so you can use it in the same decor.
Coordinating Color Palette
White Heron SW 7627: An off-white paint color with gray and beige undertones that hold up well with Simple White.
Requisite Gray SW 7023: A neutral paint color that works with just about anything.
Snowbound SW 7004: One of the most popular white paint colors because of its cool versatility.
Contrasting Color Palette
Lakeside SW 9683: A light blue with a gray cast that sits pretty in any decor, bringing softness with it.
Serious Gray SW 6256: A medium gray paint color with blue undertones that read purple sometimes, perfect for Simple White.
Pure White SW 7005: A bright white paint color for trim or ceiling when you use Simple White on the walls.
Sherwin Williams Simple White vs Similar Colors
Here, I compare several other similar colors to Simple White to see if there is a difference.
SW Simple White vs SW Windfresh White
Simple White has an LRV of 70, while Windfresh White has an LRV of 69. This is the primary difference; they are practically the same color even when used side by side.
SW City Loft vs SW Simple White
City Loft has slightly green undertones that may change with different lighting conditions. But it has the same LRV of 70 as Simple White.
SW Drift of Mist vs SW Simple White
Drift of Mist has green undertones, which makes it different from Simple White with violet undertones. And it is slightly more muted than Simple White because of an LRV of 69.
SW Incredible White vs SW Simple White
Incredible White is pretty similar to Simple White because it has a hint of pink-purple in it. But with an LRV of 74, it is noticeably brighter than Simple White.
Benjamin Moore Paint Color Equivalent for SW Simple White
There is no exact equivalent paint color from Benjamin Moore to match SW Simple White since every color is unique. However, you can easily compare Simple White to Benjamin Moore's Balboa Mist OC-27.
It is a pale warm gray paint color with an LRV of 65.53 and slightly violet undertones. So, you can understand how much it looks like Simple White, although it's gray.
Where Can You Use Sherwin Williams Simple White?
This paint color is versatile enough to be used in any room. You can also try it on furniture, as long as you pair it with the right colors.
Sherwin Williams Simple White on Kitchen Cabinets
These cabinets look warm and creamy, with only a hint of violet. Simple White may be that white paint color that you need for your kitchen.
Sherwin Williams Simple White on Dressers
This dresser is pretty and simple, but the undertones look great against the blue-green wall behind it.
Sherwin Williams Simple White in Living Rooms
I deliberately picked a room where artificial lighting is used to show Simple White. We already know what it looks like under natural lighting.
Sherwin Williams Simple White in Kitchens
Is this a color you want to use in your kitchen? You decide for yourself, but I think it makes a kitchen feel fresh and airy, qualities that make for a beautiful room. Consider using it on the cabinets if unsure of the walls, just like in this next picture.
Sherwin Williams Simple White in Bedrooms
White is usually a good color for bedrooms, and I recommend it for these rooms because of its relaxing vibe. You can add whites to complete the look.
Sherwin Williams Simple White in Bathrooms
Like in a bedroom, your bathroom can benefit a lot from Simple White. It is beautiful, uniquely hued, and versatile. Try it as a backdrop for other colors, even vibrant ones.
Sherwin Williams Simple White on Exterior Walls
This paint color is recommended for the exterior of a house. How you use it depends on your style, but pair it with brighter whites like SW Pure White on the trim. Or use black or dark gray for a striking effect.
Conclusion
Sherwin Williams Simple White is not as popular as other white paint colors. But you can agree with me that it's a pretty color that should get more attention than it currently gets. With a violet undertone, this cool white shows more depth than many others and performs well in many spaces.
You can use Simple White in bright rooms or others with low light because of its relatively high LRV of 70. However, it looks its best in bright light. Try pairing it with purples, blues, dark grays, cool bright whites, and blacks. It may also look great with red because of the violet undertone.
Get creative and paint to your satisfaction. And tell others how great this understated white paint color is. I look forward to seeing your designs and pictures and don't hesitate to ask any questions in the comments section.