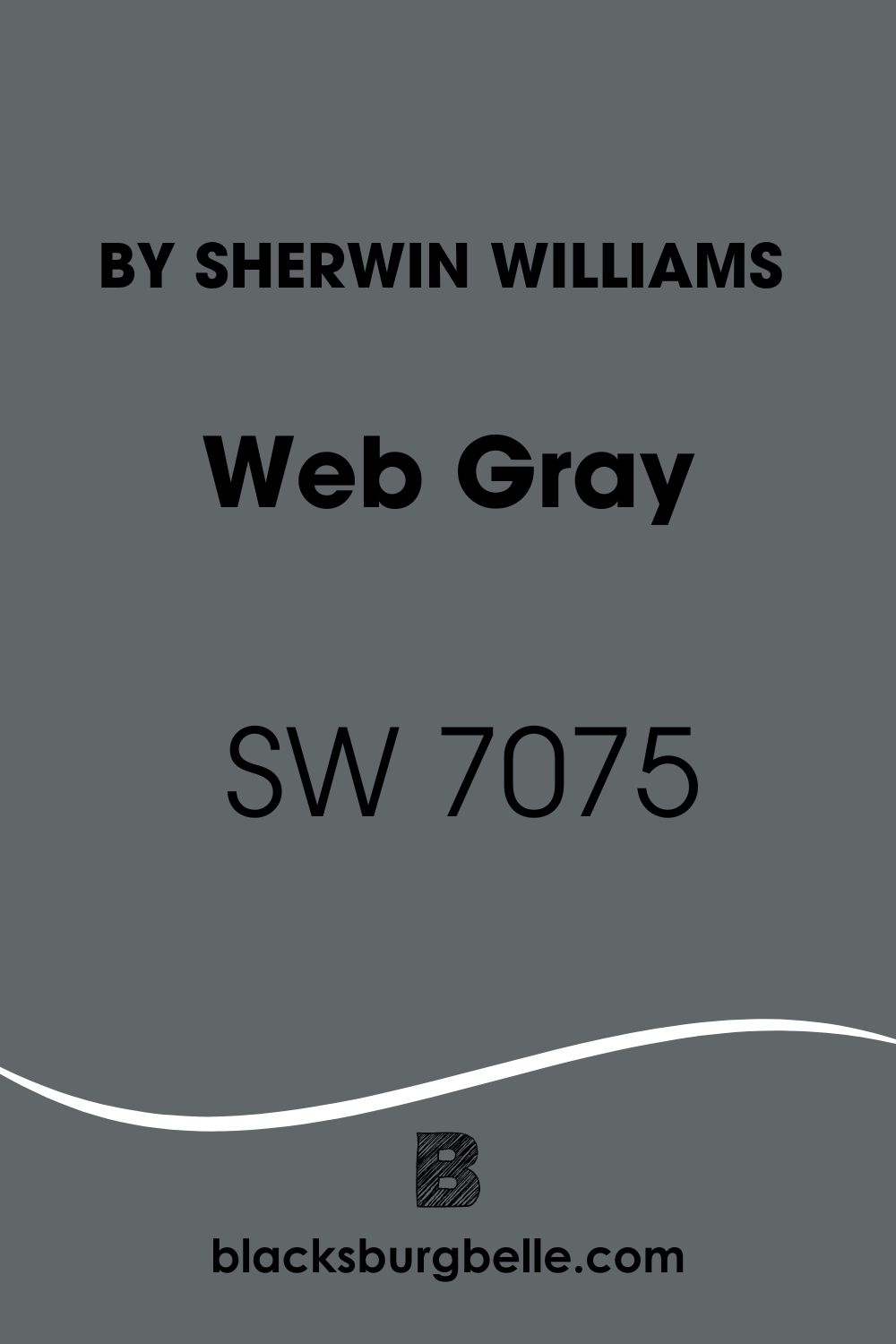 You've probably heard of the coziness of some warm dark gray paint colors. However, have you experienced the wonders of the cool dark ones? Sherwin Williams Web Gray is one of such amazing colors. And don't worry, I've decided to tell you about it!
As Sherwin Williams puts it, Web Gray offers impressive depth and dimension. This is one of several reasons people start loving it after trying it out. Thinking of your furniture or accent wall? The dark gray can give that perfect touch to your space.
Well, let's find out why the paint color deserves much more recognition than it currently has among homeowners. We'll do this by exploring its attributes, specifications, undertones, color pairings, and more.
When to Choose Sherwin Williams Web Gray (SW7075)
Yes, there are several deep gray paint colors out there. However, do you know the right time to choose Web Gray? Well, after checking out the paint color and running through several pictures, I've got the answer for you.
Choose Sherwin Williams Web Gray SW7075 if:
You want a dark gray with cool tones.
You don't mind strong blue undertones in your space.
An attractive and relaxed vibe sounds good to you.
Your space has abundant lighting to prevent the paint color from looking gloomy.
You want a neutral that can cool your space without overwhelming the other colors.
What Color is Sherwin Williams Web Gray?
Web Gray is a dark gray paint color with charcoal undertones and a cool look. You can notice its charcoal undertones right away. Fortunately, they contribute to its depth and stable look. Web Gray has no hidden surprises. Don't we love honest colors?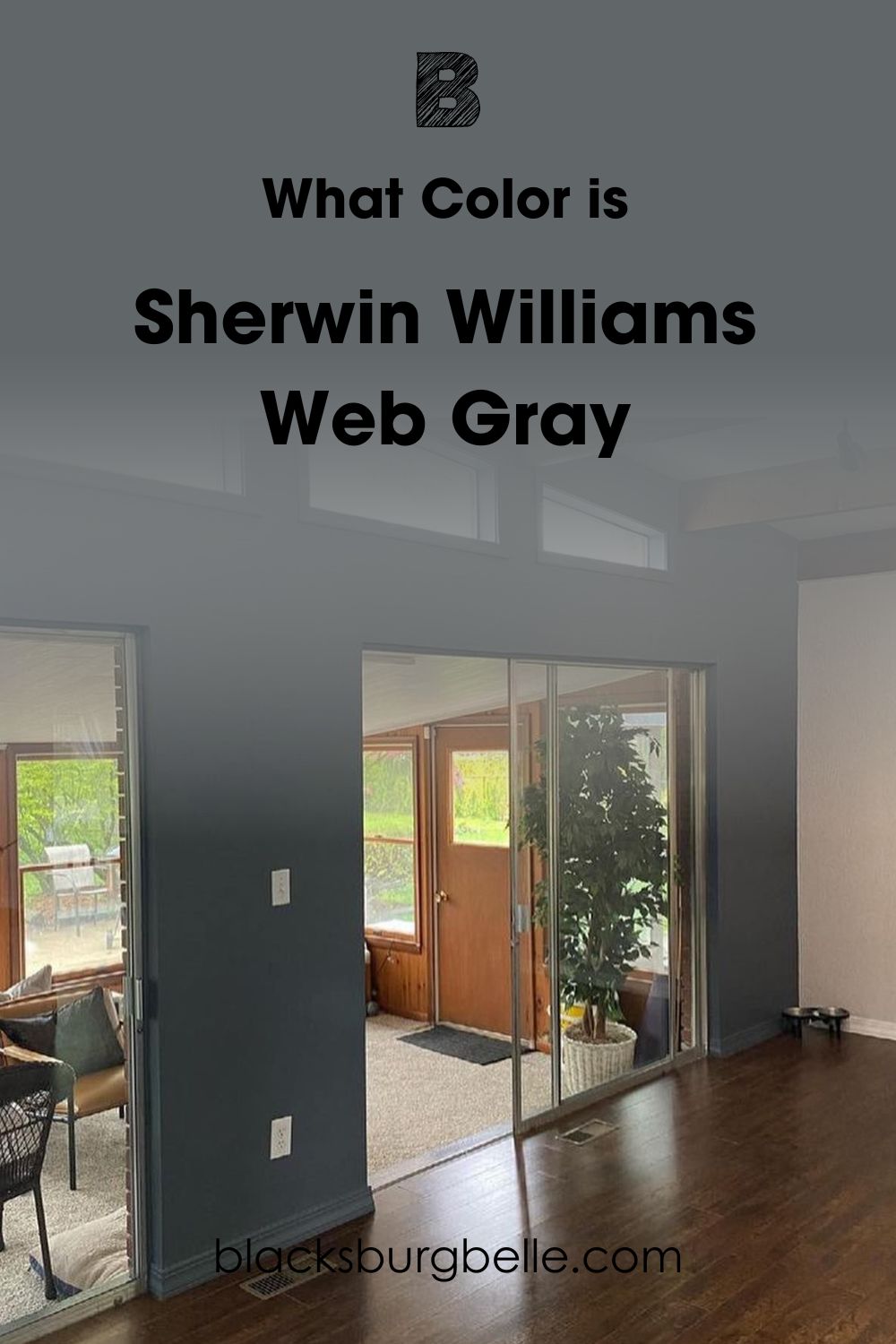 The paint color has a way of looking deep without sucking the light and color from your space. This doesn't mean it doesn't look better with abundant light. Sherwin Williams Web Gray blends sophistication and style with a homely feel to give an almost irreplaceable vibe.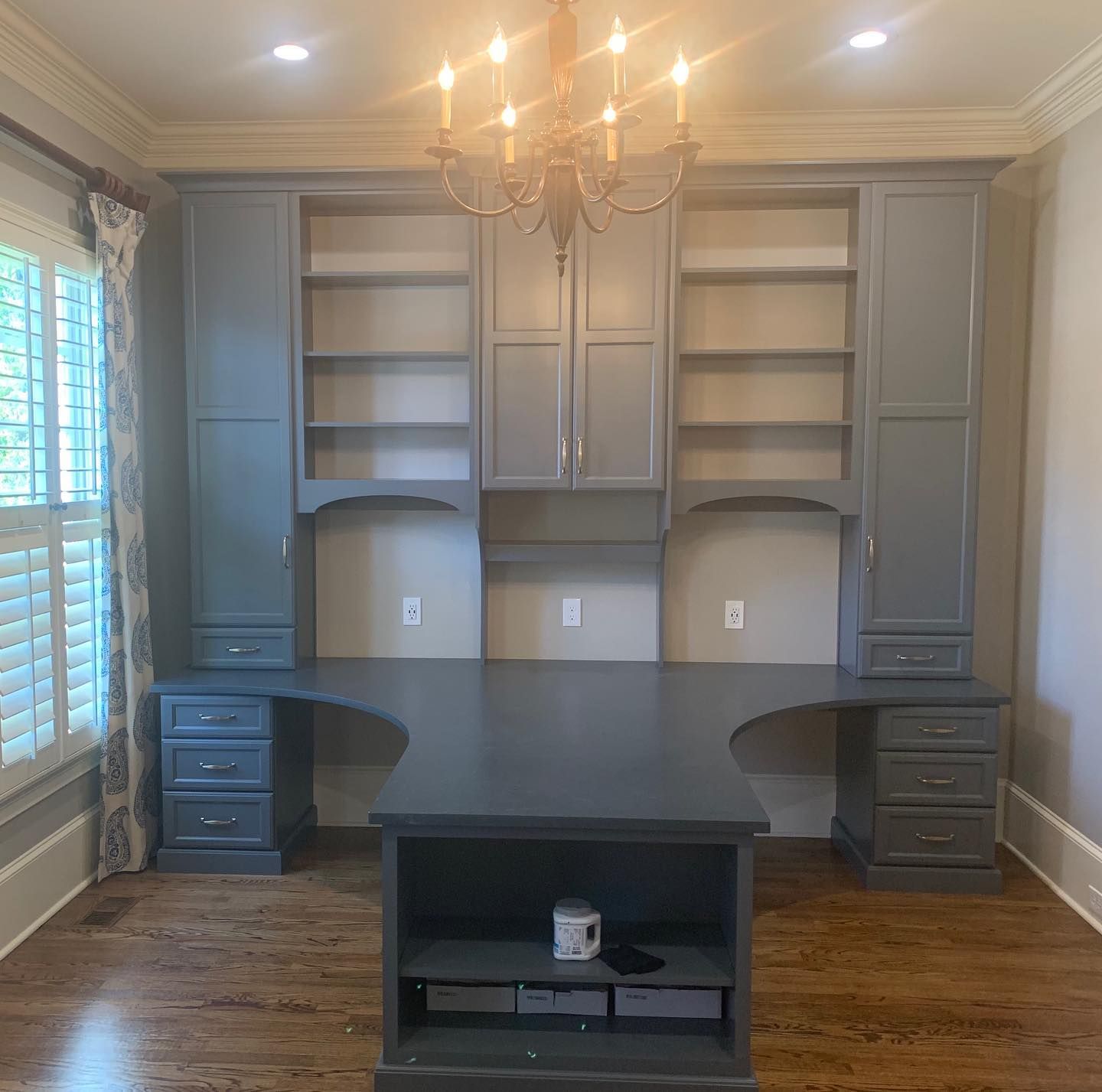 What's more? The dark gray looks amazing on walls and furniture alike. This increases its versatility in a home or space. If you don't like having limited options on the number of viable surfaces, consider Web Gray.
Snapshot of Light French Gray Specifications
Before we continue, let's look at Web Gray's specifications. These vital attributes form the basis of every paint color out there.
| | |
| --- | --- |
| Specifications | Web Gray |
| RGB | 97 / 102 / 105 |
| HEX Value | #616669 |
| LRV | 13 |
| Undertones | Blue (with chances of little green) |
The LRV of Sherwin Williams Web Gray (SW 7075)
LRV refers to Light Reflectance Value. It is a crucial property of every paint color because of what it represents. A paint color LRV indicates how much light the color reflects. It runs on a scale of 0 – 100, with 0 representing true black and 100 representing true white.
Since no paint color can be truly black or white, the rest fall within 3 – 94 on the LRV scale.
Sherwin Williams Web Gray has an LRV of 13. This makes it a dark paint color that reflects less light than it absorbs. As such, the paint color works best in areas with abundant lighting. Using it in dim-lit spaces can give a moody look.
Undertones of Web Gray
Several things come together to give a paint color its uniqueness. And undertones remain one of them. They are the subtle colors that show up depending on lighting or color pairings. While some paint colors hide their undertones well, Web Gray doesn't.
Sherwin Williams Web Gray has mainly blue undertones. They are largely responsible for the paint color's cool and relaxing look. You will easily discern them in bright/adequate light.
However, the dark gray can sometimes show a blue-green undertone. But this only happens in the presence of warm colors or lighting.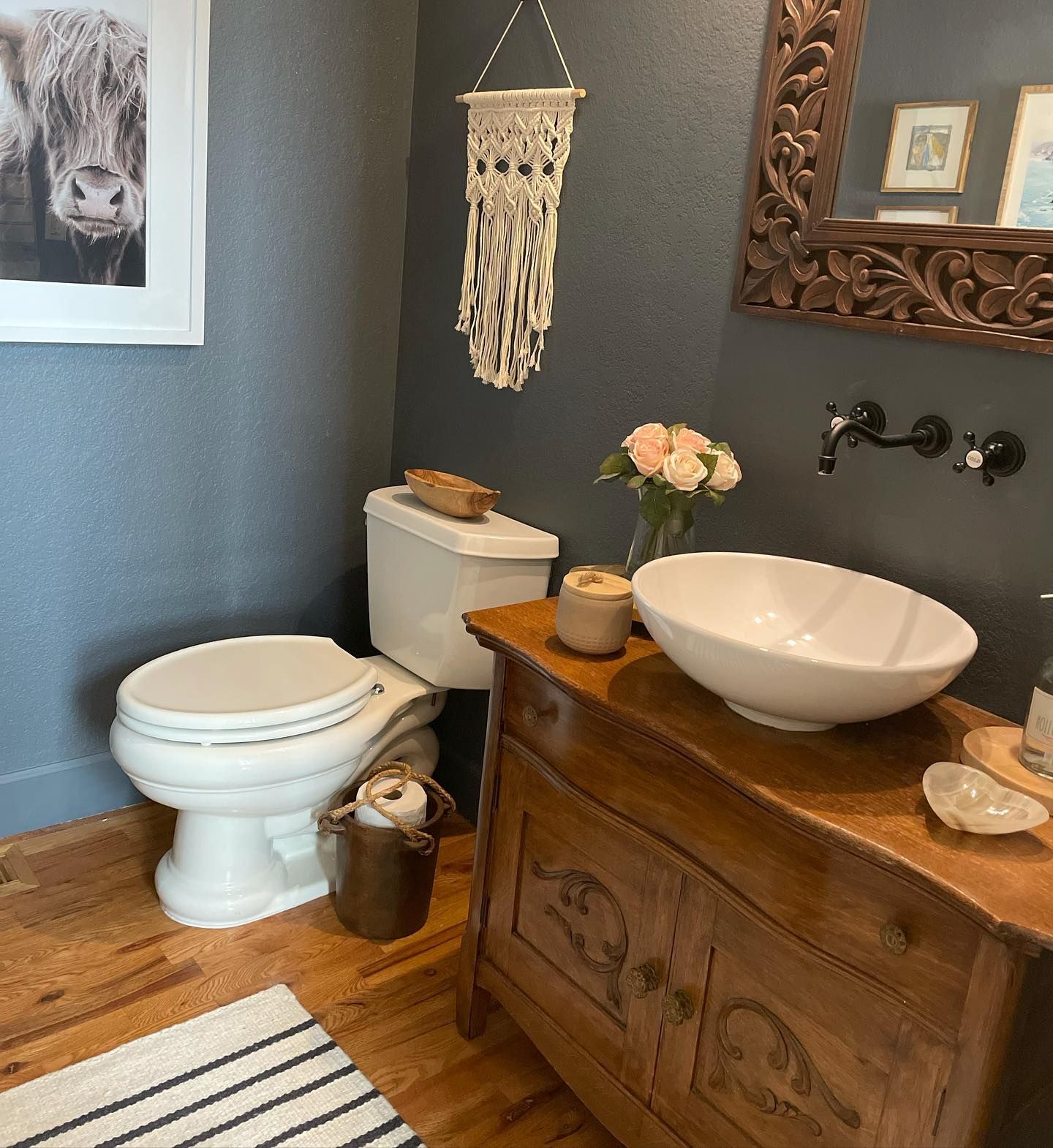 Notice the green undertones on the left side of the picture. However, they are almost non-existent on the right wall.
Does Web Gray have Strong Undertones?
Yes, Web Gray has strong blue undertones. However, it has stronger gray tones. This makes it more of a dark gray than a deep blue paint color.
Fortunately, the paint color doesn't overwhelm other colors in the space. Instead, it assumes some sort of a background role or anchor for other brighter colors.
Will Web Gray Look Black on My Walls?
Sherwin Williams Web Gray will only look black in spaces with little to no access to light. In such spaces, it can give a moody vibe. This is the main reason why I recommend using the paint color in bright areas.
Adequate lighting brings out the color's undertones. This allows it to maintain its unique look.
Is Web Gray a Warm or Cool Color?
Sherwin Williams Web Gray is a cool paint color. As I mentioned, it has strong blue undertones that firmly put it on the cool side. The paint color does a good job of retaining this look, even in warm lighting.
Web Gray can never look icy or cold in north-facing rooms or cool lighting. The paint color's depth and gray tones make this possible. This means that you always know what to expect from the outstanding neutral.
It pairs nicely with both warm and cool colors. Using it with warm paint colors will give a balanced feel to your space.
Sherwin Williams Web Gray Color Strip: Lighter or Darker Exploration
I've got good news for anyone who wants either a lighter or darker version of Web Gray. The paint color has a color strip containing up to six similar colors of different shades. While this opens up your options, it also gives a way to have a monochromatic palette.
So, what are the other colors in this strip?
Sherwin Williams Gray Screen SW 7071
Sherwin Williams Online SW 7072
Sherwin Williams Network Gray SW 7073
Sherwin Williams African Gray SW 9162
Sherwin Williams Software SW 7074
Sherwin Williams Cyberspace SW 7076
Note that all the members of this strip read cool, with similar undertones but different LRVs and shades. Gray Screen is the brightest with an LRV of 59, while Cyberspace is the darkest with an LRV of 6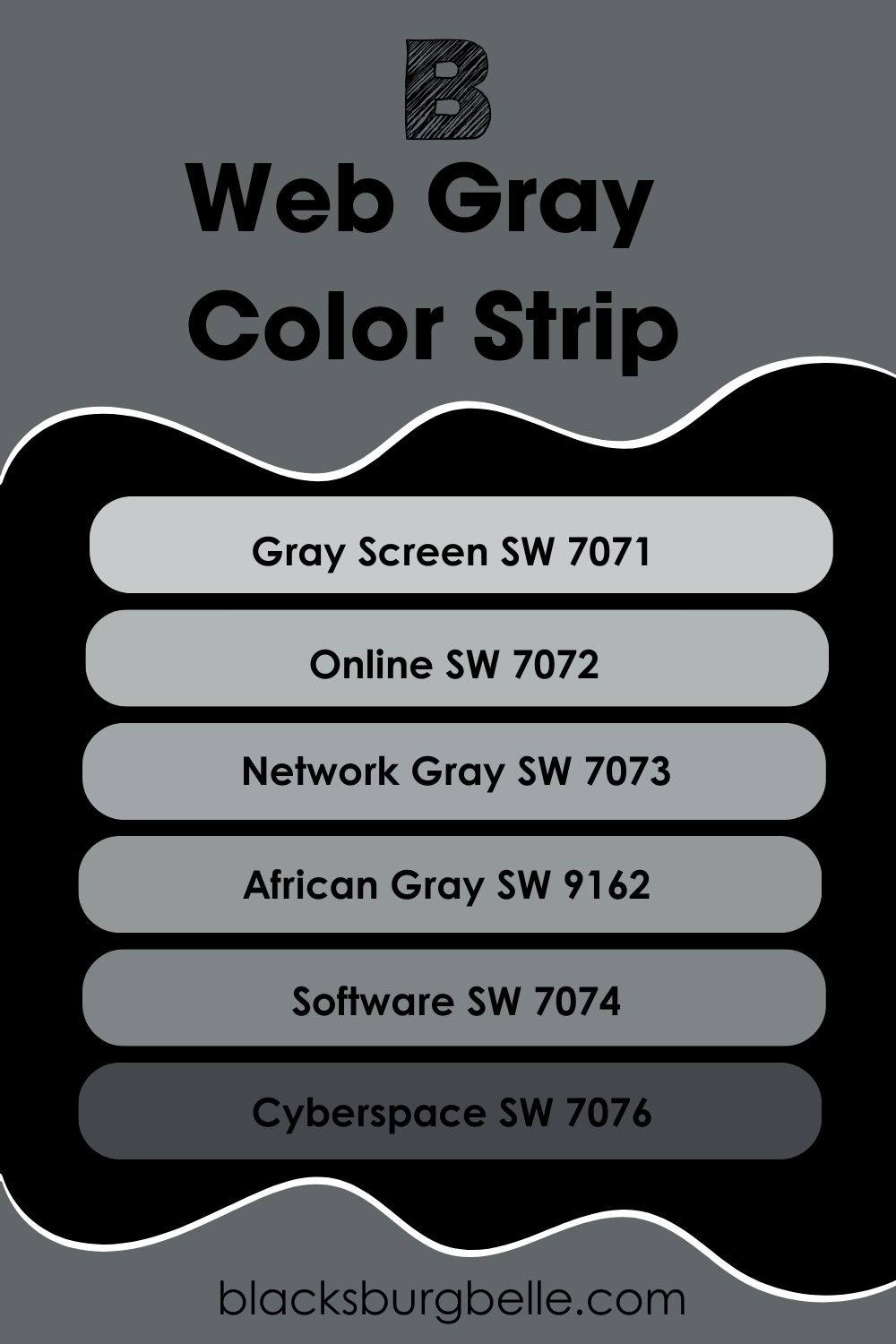 Sherwin Williams Web Gray (SW 7075) Complementary Colors
It is important to know your main color's complement. This refers to the color that sits opposite it on the color wheel. A complementary color contrasts best with your color and can help it look better when paired correctly.
Sherwin Williams Web Gray's complementary color is Folkstone.
Sherwin Williams Folkstone (SW 6005)
Folkstone is a dark greige paint color (a blend of gray and beige) with an LRV of 14. It has good depth and energy thanks to its violet and red undertones. At first glance, the paint color can come off as dark brown.
However, you will start noticing its red tones and will never be able to unsee it again. Just like Web Gray, Folkstone works best in well-lit areas too. In addition to that, you should try to use it in large spaces.
The reason is that Folkstone can shrink a space the same way as Web Gray would.
Sherwin Williams Web Gray (SW 7075) Coordinating Colors
While you can have just one complementary color or hue, you can have several coordinating colors. These guys pair wonderfully with your main color for a better effect and vibe. There are up to 5 types of coordinating color schemes.
These types include:
Triadic Color Coordination
Analogous Color Coordination
Complementary Color Coordination
Monochromatic Color Coordition
Split Complementary Color Coordination.
For Web Gray, the following paint colors coordinate best with it.
Sherwin Williams Site White SW 7070: This bright white paint color has blue undertones. It reads cool and pairs nicely with deeper gray paint colors like Web Gray. It has an LRV of 73.
Sherwin Williams Greek White SW 7551: Greek Villa is a warm white paint color with sunny vibes. It can brighten any space and contrasts nicely with Web Gray. The bright white has an LRV of 84.
Sherwin Williams White Raisin SW 7685: This yellow paint color infuses energy and cheerfulness into any space. It has an LRV of 57 and will draw attention anywhere you choose to use it.
Sherwin Williams Web Gray Color Palette
Web Gray has pretty good versatility and fits into several styles and decor. The following palettes are viable and give different overall vibes. You can adapt any of them depending on your preferences.
Contrasting Palette
Daphne SW 9151: Sherwin Williams Daphne is a cool medium-toned blue paint color. It has gray undertones and an enticing vibe. The paint color brings a sense of calm to any space and has an LRV of 32.
Green Onyx SW 9128: This muted green gets its warmth from its yellow-gray undertones. It has a relaxed and attractive vibe that makes it look charming in any space. Green Onyx has an LRV of 31.
Carley's Rose SW 9002: Sherwin Williams Carley's Rose is a beautiful muted red with an LRV of 22. It has gray undertones, which reduces its energy. However, they also give it a relaxed and attractive feel in any space.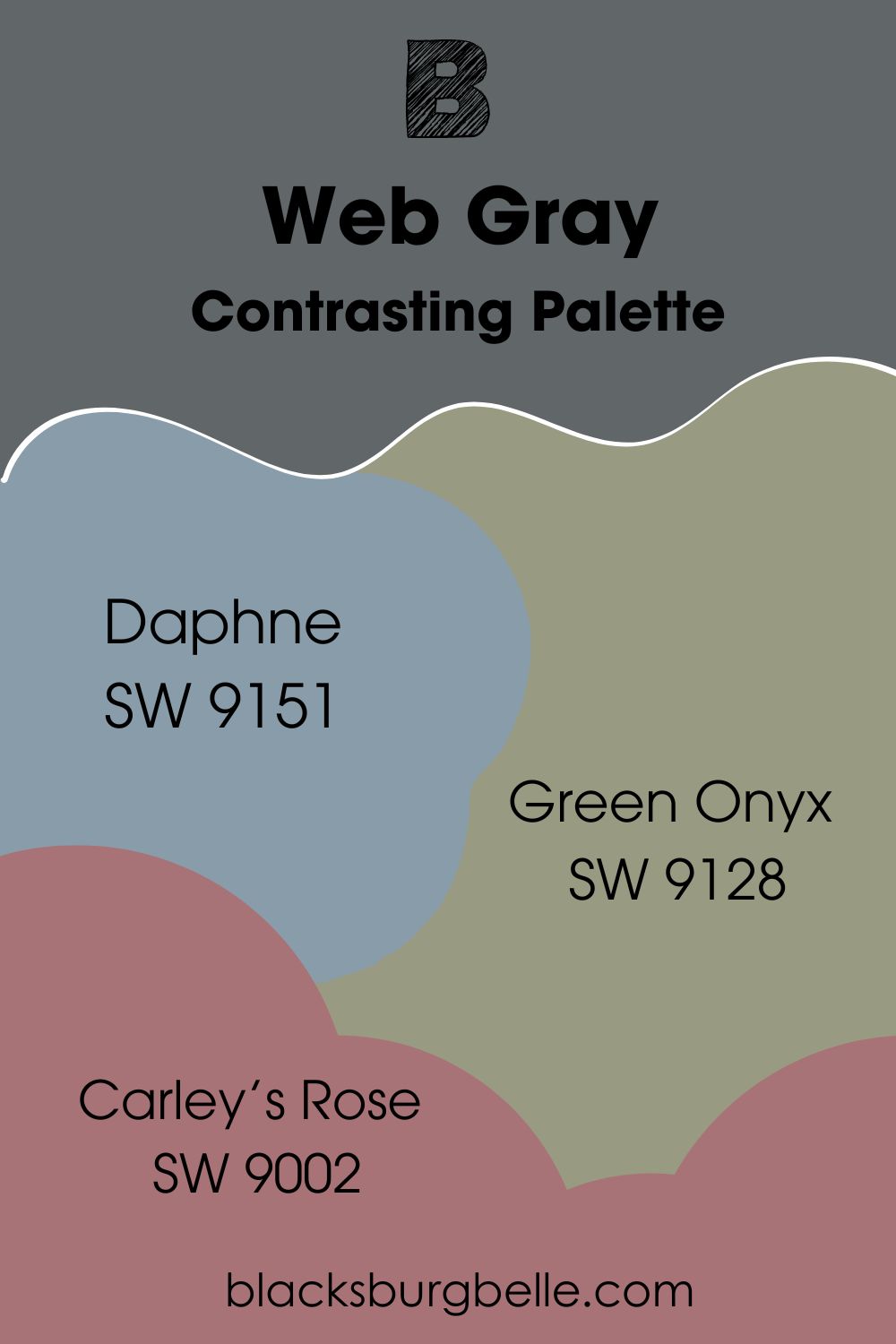 Coordinating Palette
Site White SW 7070: This cool white works well with Web Gray, thanks to their similar undertones. Also, pairing it with the dark gray makes it possible to use the deeper color in spaces with less lighting.
White Raisin SW 7685: Pairing this color with Web Gray gives a balanced and attractive vibe. White Raisin prevents the palette from looking bland by adding more color to it.
Greek Villa SW 7551: This white reads warm, but compared to White Raisin, it has way less intensity. It brightens up the palette without making it look icy or cold. Its soft yellow undertones may sometimes disappear, especially in bright light.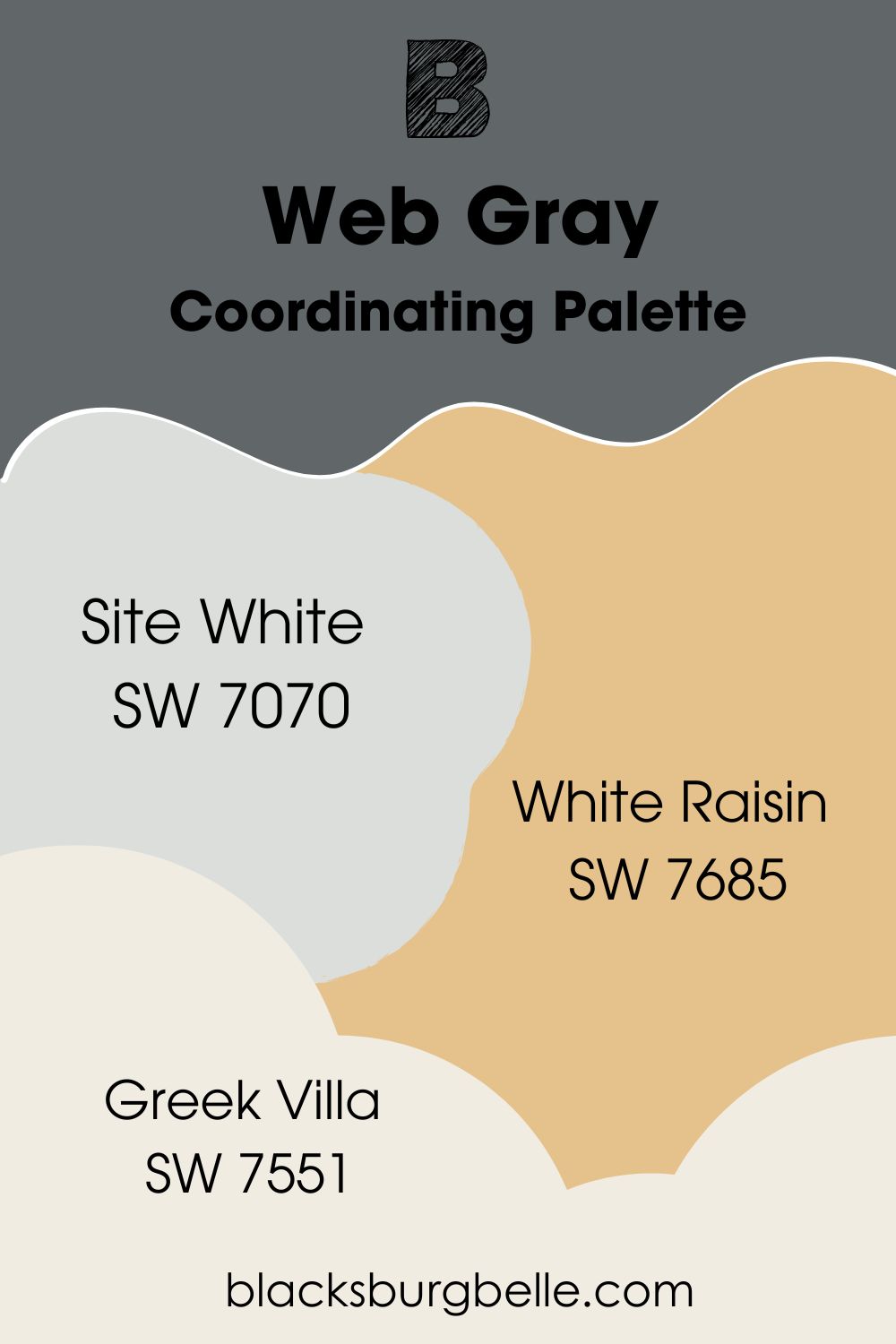 Monochromatic Palette
Gray Screen SW 7071: This cool gray is the brightest member of this palette and Web Gray's color strip. It has an LRV of 59 and mild blue undertones. Gray Screen is more popular in bedrooms because of its relaxing vibe. It lights up this palette, preventing it from looking gloomy.
Network Gray SW 7073: While Network Gray works well with warm, bright colors, it also looks amazing with cool dark neutrals. It has an LRV of 37, which puts it in the medium range on the scale.
Cyberspace SW 7076: This is the darkest color on this palette and the color strip. Cyberspace is a cool deep neutral that looks wonderful on accent walls and entryways. However, you should use it sparingly, especially in interior spaces. Remember to illuminate the space adequately.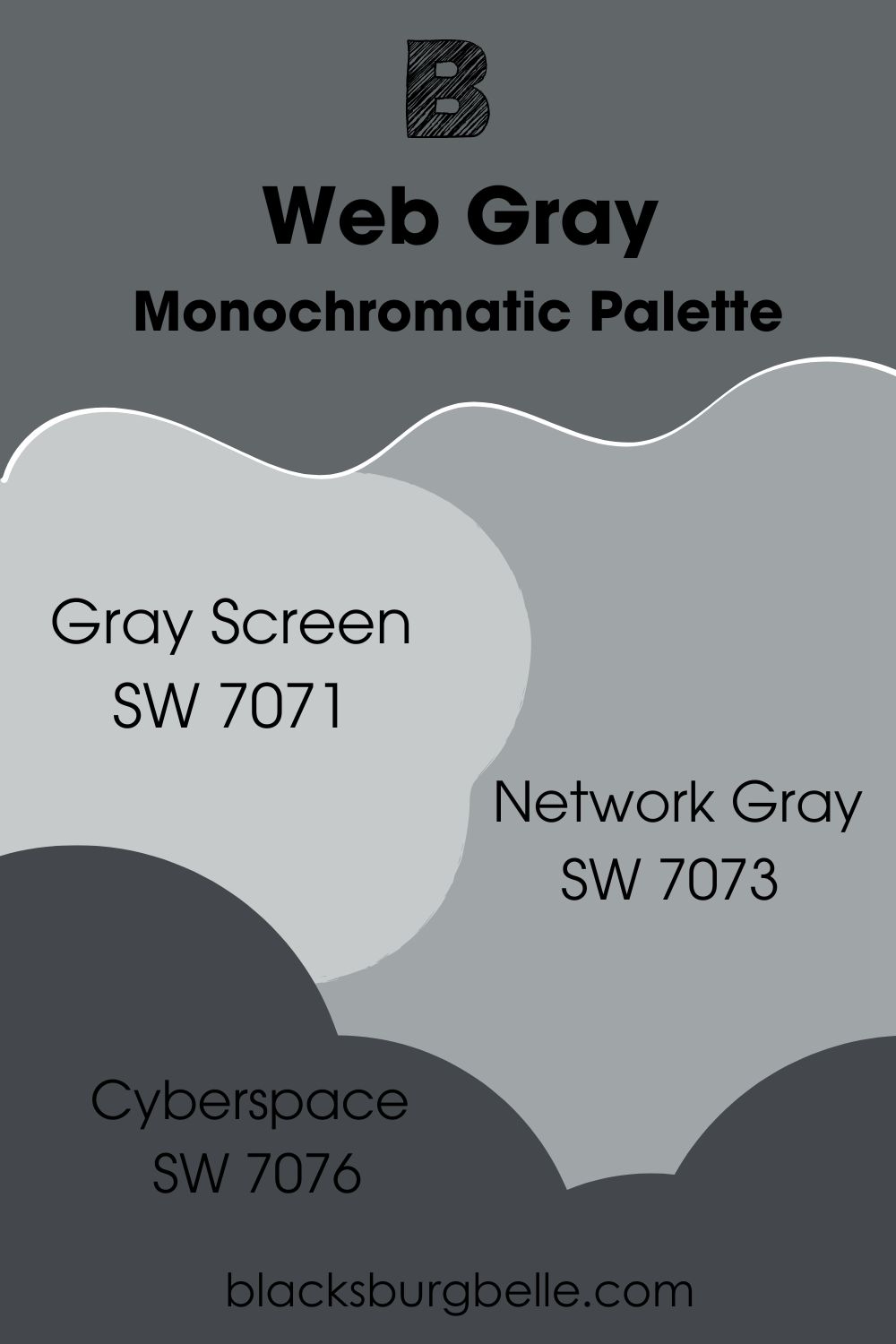 Sherwin Williams Web Gray vs. Similar Paint Colors
What other paint colors look similar to Web Gray? Let's check some of them.
SW Web Gray vs. SW Peppercorn
The main differences between these two dark neutrals are their depth and temperature. Sherwin Williams Peppercorn is deeper than Web Gray with an LRV of 10. While it is a balanced neutral, Peppercorn has brown tones that make it warm compared to Web Gray.
Generally, SW Peppercorn has a higher versatility than Web Gray. It is also the more popular of the two.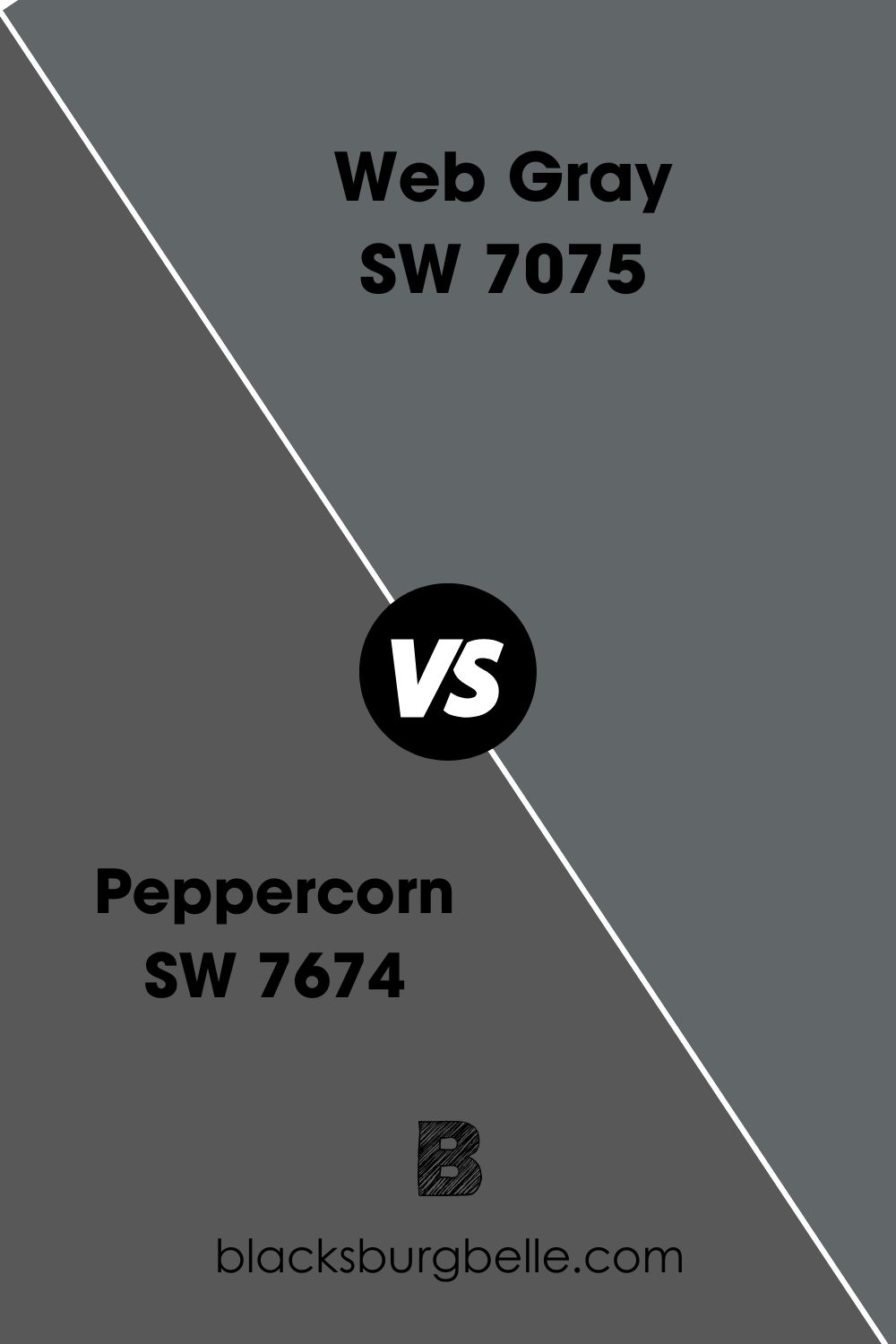 SW Web Gray vs. SW Night Out
Web Gray is slightly deeper than Night Out, even though they have an LRV difference of only 1. Also, Night Out appears a little bit filmy compared to Web Gray. As such, it is the less popular one of the two.
This doesn't mean that Night Out isn't an excellent option too.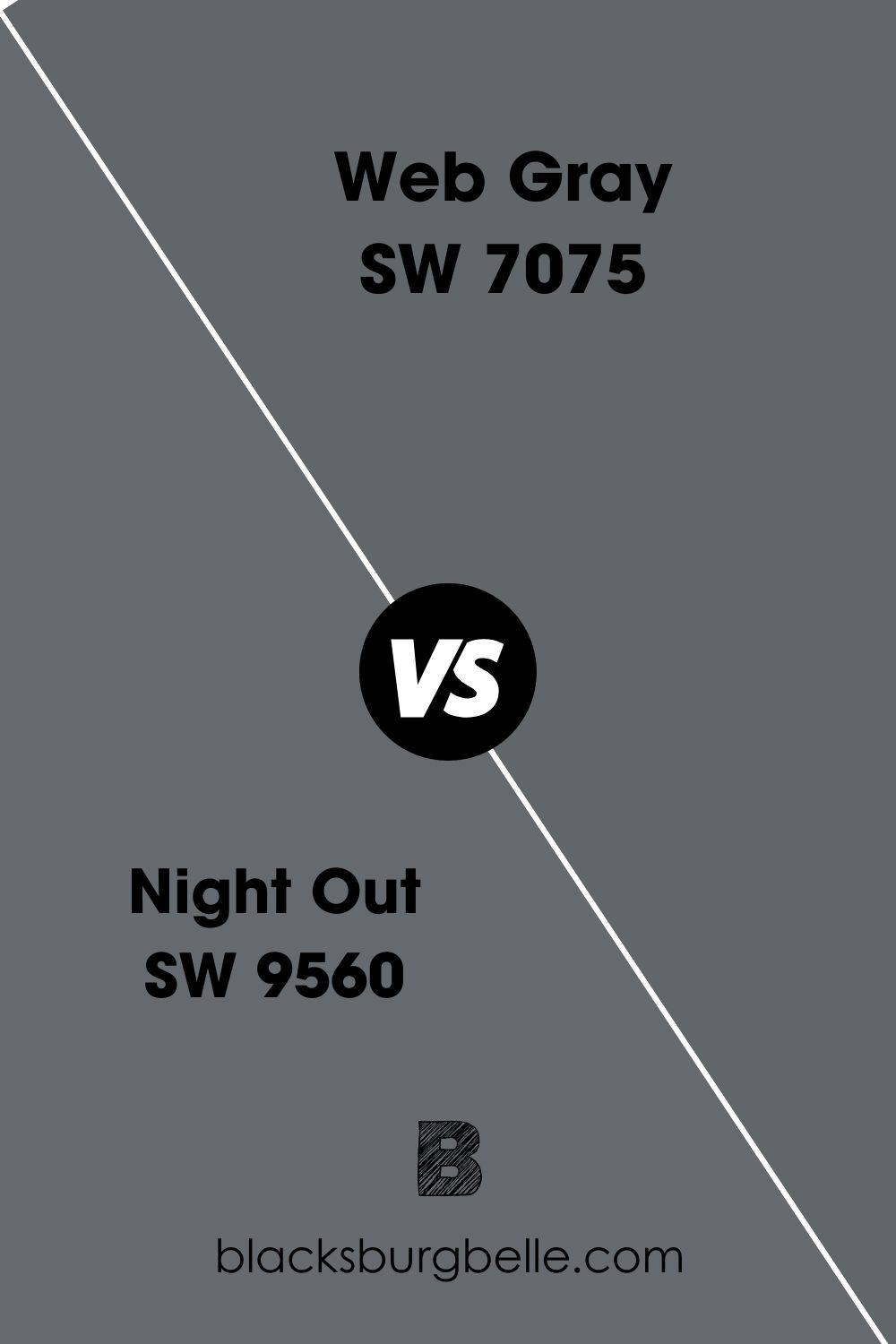 SW Web Gray vs. Gibraltar
Although both paint colors also have an LRV difference of 1, that isn't the main point of their difference. Gibraltar has stronger blue tones, while Web Gray has more gray tones. This makes the latter more neutral than the former.
Gibraltar adds more color to a space. It has a lesser tendency to look moody, even in dim-lit areas.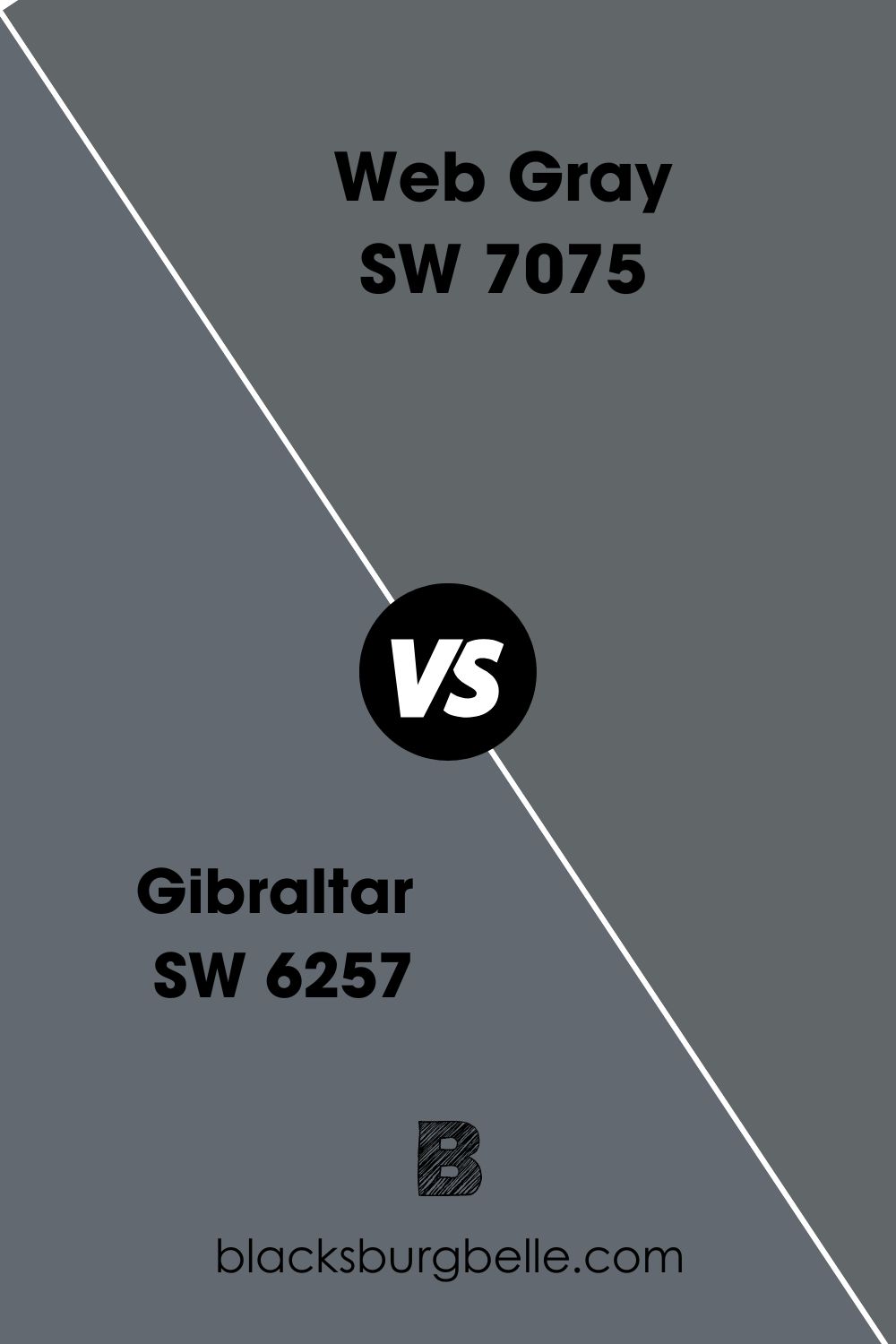 SW Web Gray vs. Wall Street
Just like the case with Gibraltar, Wall Street has more blue tones than Web Gray. Also, it has a filmy look with an LRV of 14. While Web Gray looks good with pretty much any bright white, Wall Street performs better with cool whites like SW Ice Cube.
Fortunately, it looks good with warm colors like SW Lanyard and Shell White. You can explore these options for a balanced vibe.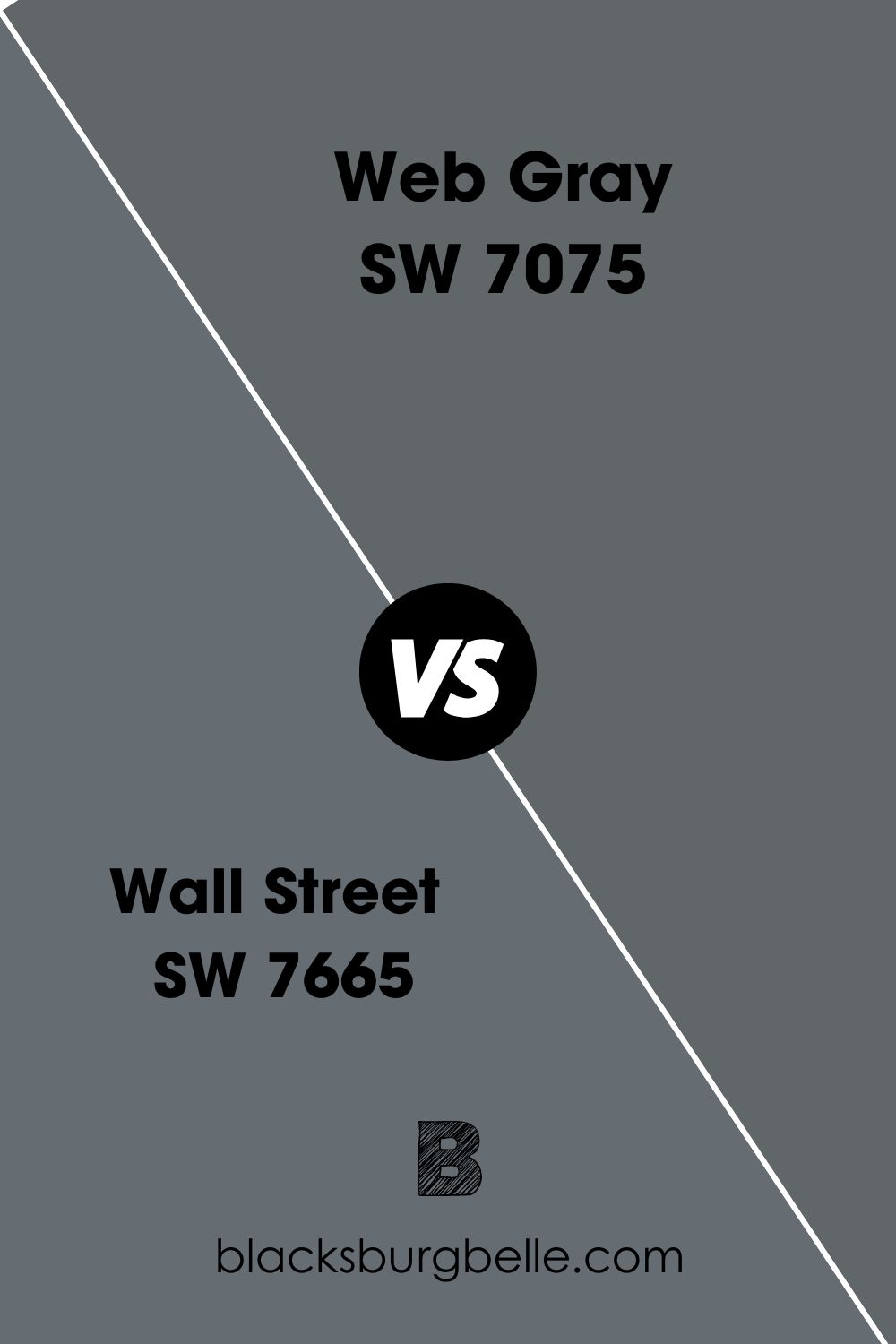 SW Outerspace vs. Web Gray
Sherwin Williams Outerspace has a lower LRV of 12. It has deeper tones than Web Gray but reads cool too. However, Outerspace leans more towards blue than Web Gray. This reduces the number of palettes it can fit into compared to Web Gray.
If you want something close to Web Gray in depth but with a bit more blue, consider Sherwin Williams Outerspace.
Sherwin Williams Web Gray Benjamin Moore Equivalent
A Benjamin Moore paint color with the same name as Web Gray does not exist. However, I found something close to an equivalent.
Benjamin Moore Stormy Sky 1616
Stormy Sky's description, "Blue undertones bring depth to this mid-tone hue, channeling storm clouds on the horizon," says it all. The dark gray paint color has an LRV of 13.75 and cool undertones, just like Stormy Sky.
Both paint colors have around the same depth, thanks to the negligible difference in their LRVs. You could also say they have similar versatility. However, Sherwin Williams Web Gray is the more popular one among homeowners.
Like Web Gray, Stormy Sky pairs nicely with warm and cool colors too. Despite this versatility, it works best in well-lit areas. You can use it on accent walls or cabinets.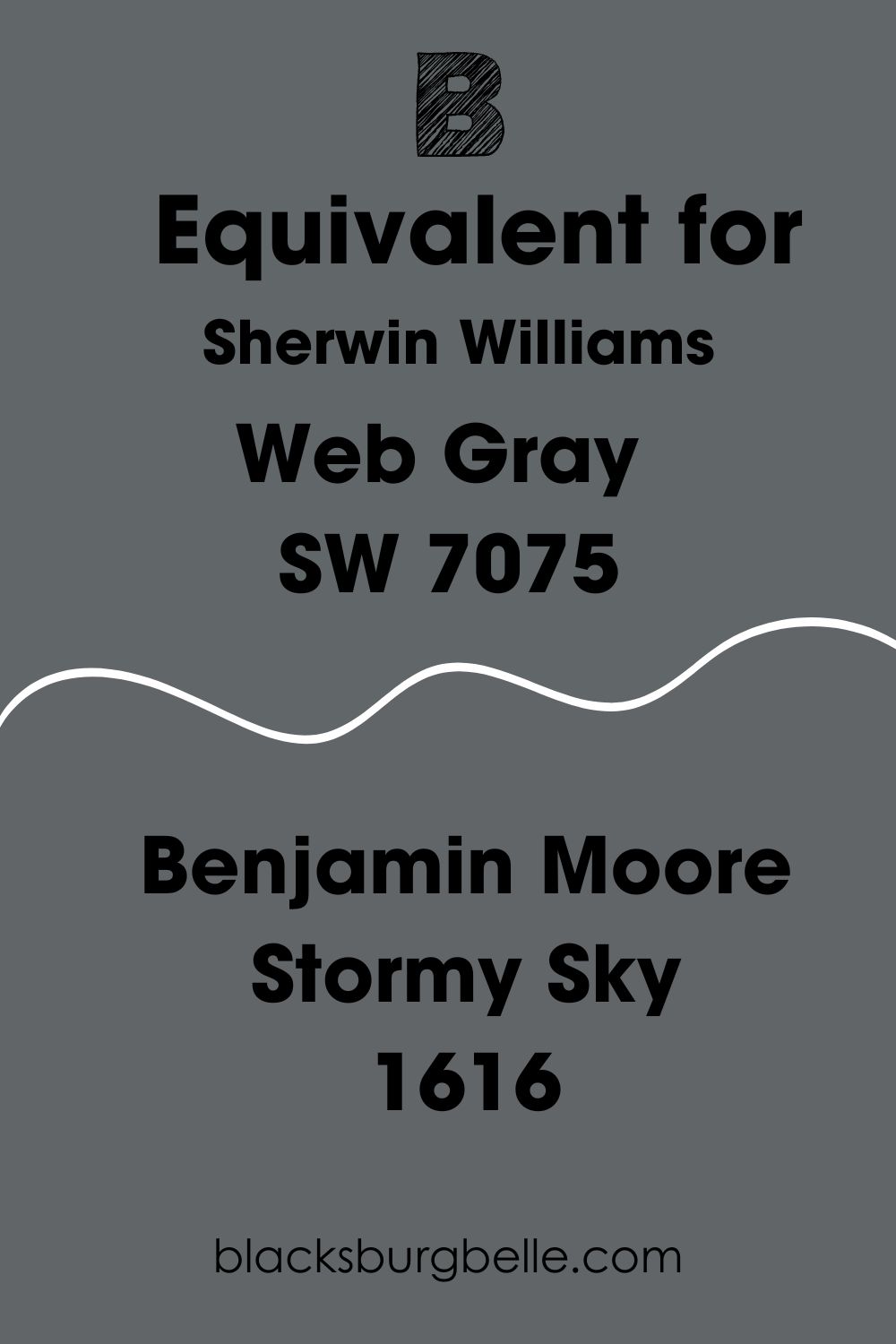 Where Can You Use Web Gray SW 7075
You can use Sherwin Williams Web Gray in any space in your home, both interior and exterior. The dark gray also looks good on furniture and doors. Simply put, Web Gray looks good anywhere you need it.
Sherwin Williams Web Gray Exterior
Web Gray looks cool and sophisticated on exterior walls. It tends to bring out more of its blue tone when paired with cool, crisp white trim. You can notice this in the picture below.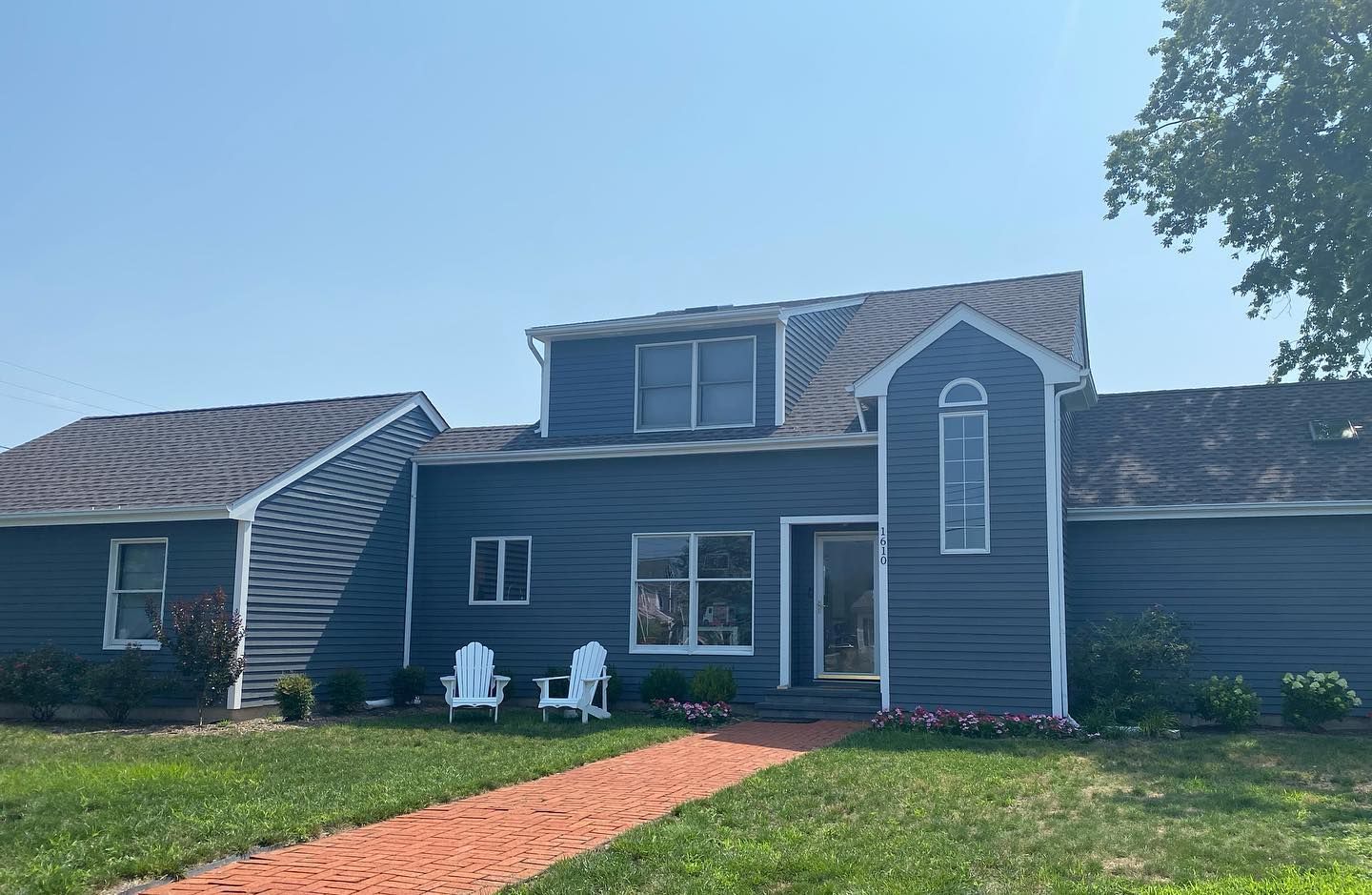 On the other hand, Web Gray can look more on the gray side, like in this picture below. The creamy white trims and time of day contribute to this look.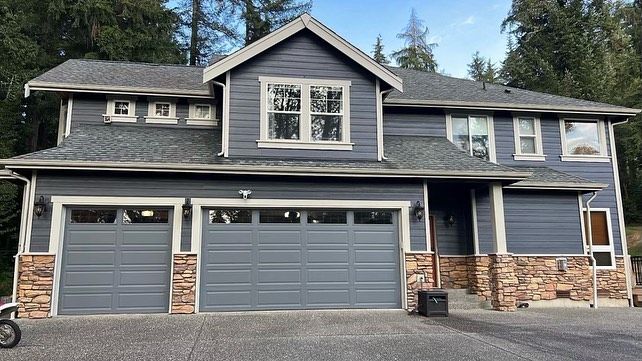 Sherwin Williams Web Gray Interior
Web Gray gives interior spaces a bold and sophisticated look. It contrasts nicely with white paint colors, like in the picture below. Whether you choose to use it on an accent wall, or pair it with a white on the same, the results turn out great.
Also, you can see how the dark neutral looks close to black. That's because of the absence of abundant lighting.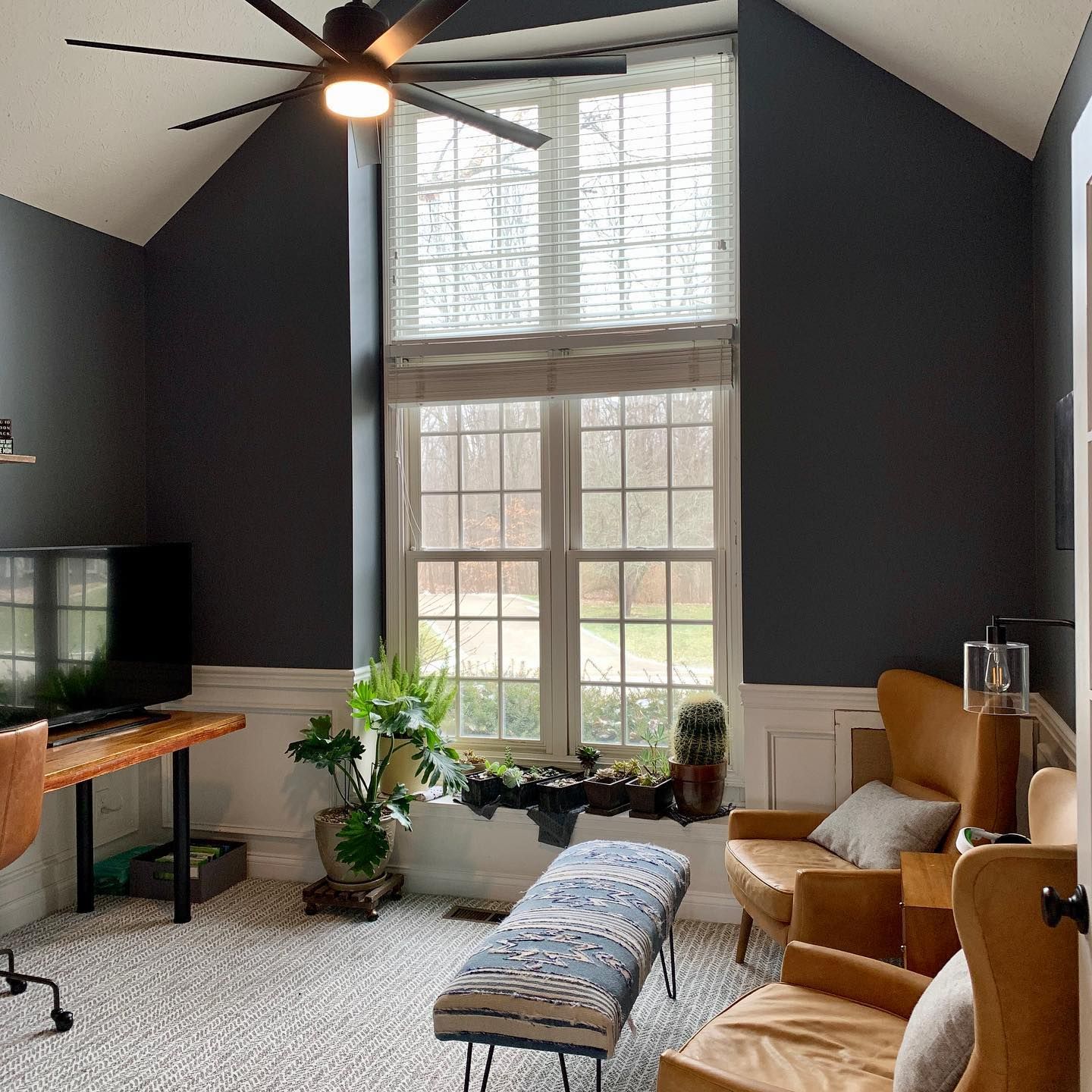 Sherwin Williams Web Gray Furniture
You can get a natural look for your woodwork with Sherwin Williams Web Gray. The dark neutral adds a soft touch to any furniture. With such versatility, you can introduce this color into your space for a relaxed vibe without using it on walls.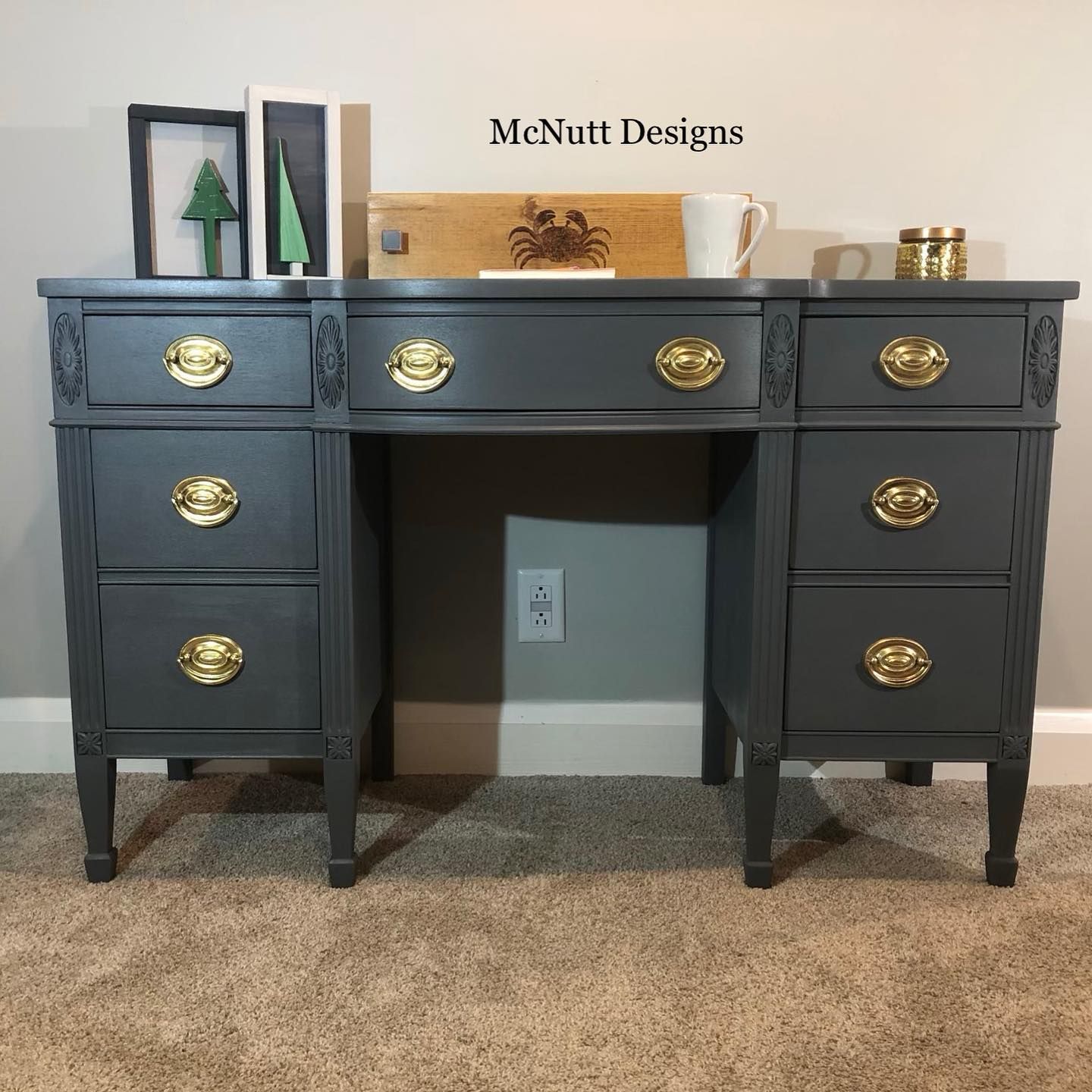 Sherwin Williams Web Gray Door
Web Gray extends its cool bold look to doors too. You can use this to set a welcoming vibe that gives a feeling of relaxed confidence.
Pair the color with a white trim for the best effects in both interior and exterior spaces.
Conclusion
After exploring this lovely paint color thoroughly, we have established its uniqueness and versatility. Remember that the cool, deep gray has blue undertones and a calm, relaxed vibe. It can also add some extra depth and dimension to your space.
Since it goes well in almost any space, you can say it has an impressive versatility.
What I love the most about Web Gray is that it has no hidden surprises. You always know what to expect from it in any space. What about you? What do you like about the paint color? Let me know in the comment section.