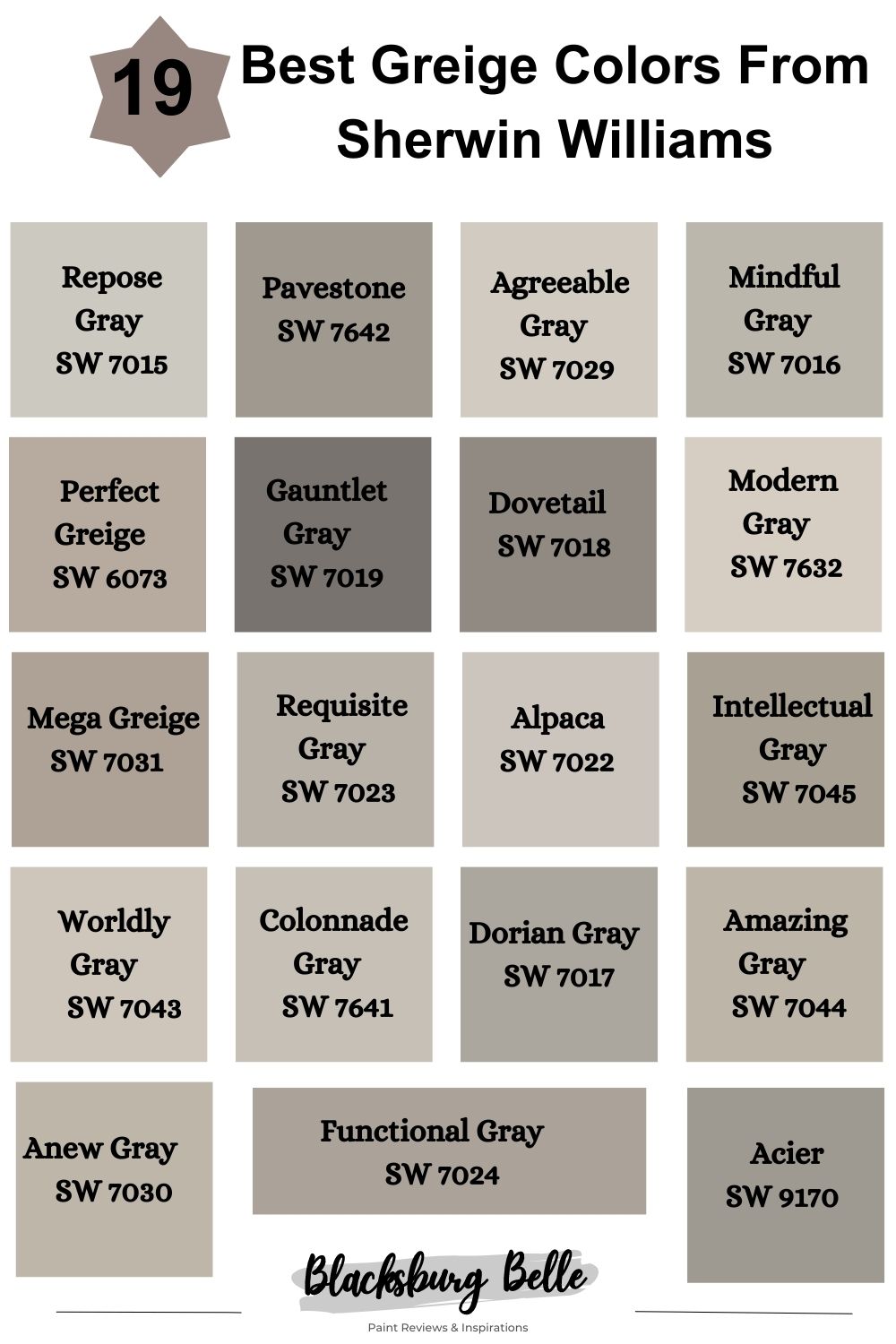 Greige paints may just be the next best paint color around today. It's on every wall, making a huge statement one room at a time. We have decided to keep you in this trend by updating you on 19 of the best Greige Colors from the house of Sherwin Williams.
You'll get familiar with all the stats, so you can make explicit and informed choices and move a step further in creating the space and home of your dream.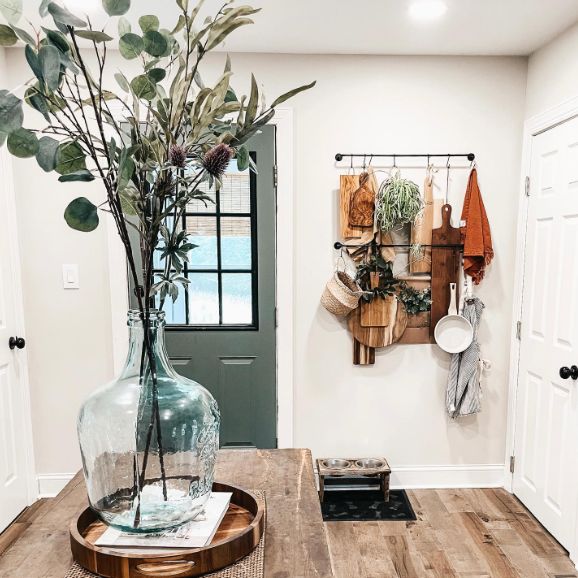 What is Greige Color
It's basic mathematics- some gray and then some beige. Mix them together, and you get greige in its full glory. Wondering why this is even a thing? It's simply because both hues have perfectly married the concept of cool and warm tones, creating a balanced palette that welcomes other colors.
19 Best Greige Colors From Sherwin Williams
hese 19 colors are the crème de la crème of the greige world from the Sherwin Williams paint catalog, and they're very ready to partner with you on your next project. Read up and find your new favorite.
Sherwin Williams Repose Gray
Repose Gray is a stunning greige color with a medium to light LRV of 58, which means it's an all-rounder and would perform amazing anywhere in your home.
The effect of lighting on this paint is very noticeable; you'll get a darker and richer gray feedback when you apply it in an area with a limited light supply, like the first image. It's a different ball game in the kitchen as the walls here lean towards beige due to the inflow of natural light.
Pair your repose gray with whites, blacks, earthy tones, and dark blues to create a sharp contrast and better flow.
Sherwin Williams Pavestone
Sherwin Williams Pavestone is another warm greige that comes with soft green undertones. This color has an LRV of 32 and is right there in the medium deep range, which means you'll see loads of depth in this color but not so overwhelming at the same time.
Keep your interior paint job simple with pavestone. We love the idea of white chairs mixed with wooden textures and the warm lights which appeals to the green hints in this color.
Pavestone holds its own on the outside too, and it's hard to deny the overwhelming influence of the green undertones, including how it picked on the surrounding elements of nature in the second image.
Sherwin Williams Agreeable Gray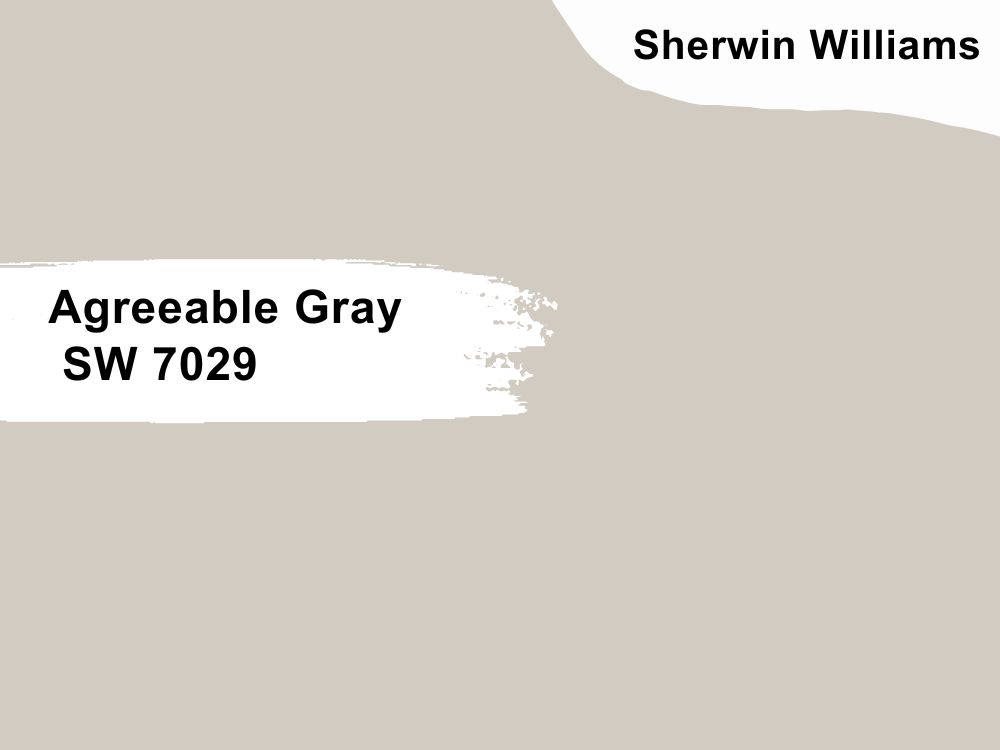 Agreeable Gray is unarguably the most benevolent of all on this list. This bad boy color is welcoming to other hues because it's not too warm and cool. It falls right under the LRV of 60, making it work with any lighting.
You can use agreeable gray anywhere in your home; the only thing it'll leave behind is great satisfaction and a job well done.
Agreeable gray showcases its chameleonic side with these two images including showing off more of its gray side when exposed to light and paired with whites and wooden elements. For the bedroom, agreeable gray falls into character by settling for beige and matching with the dark brown beddings and drawer.
Sherwin Williams Mindful Gray
Be mindful of this color's intense gorgeousness! Sherwin Williams Mindful Gray is a medium dark-toned warm greige with an LRV of 48. This one leans towards its beige property, making pairing with earthy tones and browns easier.
The first picture perfectly represents just how much beige you'll find in your mindful gray, it's quite intriguing how much the gray couch works with the composition, but that's because there's also a side of gray in this hue.
We love the outcome of mindful gray on the drawer and how much it sticks to its gray roots for the final execution.
Sherwin Williams Perfect Greige
Like the name, perfect greige is a medium to dark, warm-leaning greige with an LRV of 42, making it ideal for trims, accent walls, and exteriors. This color works well alongside lighter colors and spaces that receive lots of light.
Here's perfect greige in a kitchen giving off that autumn warmth. We love it in this space because it's more in touch with its beige side due to the direction of the light coming in and surrounding white details. The black island in the kitchen takes the contrast game to the next level with this one.
Sherwin Williams perfect greige is a unique color in the living room as it introduces a fresh, cozy vibe due to its low LRV. We always recommend that you pair this one with cool bright whites.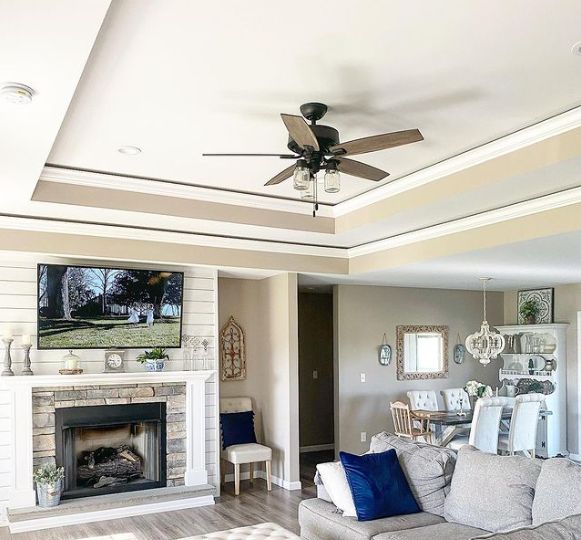 Sherwin Williams Gauntlet Gray
This color is a deep chocolate brown greige with such a strong presence in a home, giving it the range to perform excellently as accent walls, cabinet colors, and exterior, especially for doors.
Gauntlet Gray has an LRV of 17 with violet undertones. This color contrasts with lighter hues and looks rich in bedrooms and select spaces in the house. The bathroom isn't left out like this first image, although we acknowledge that this color is a bold move, the addition of white drawers and other light elements counters the depth effect.
You can replicate this design in your home by using Gauntlet Gray as your fireplace color while surrounding it with bright white walls and furniture.
Sherwin Williams Dovetail
There's nothing meek about dovetail. Now that we've cleared it up, it's important to note that while this color is a dark greige that appeals more to its brown side, you'll still experience undertones of purple, making it perfect for trims, accent walls and even kitchen cabinets.
With its LRV of 26, this dark color absorbs more light than it reflects, making it an excellent choice for outdoor use. We love the powder blue and white accessories in this comfy bedroom with a dovetail accent wall.
Spice up your cooking area with Sherwin Williams Dovetail cabinetry, you can also throw a bit of blue chairs in there. The white wall tiles and kitchen island are the perfect alibi for this space.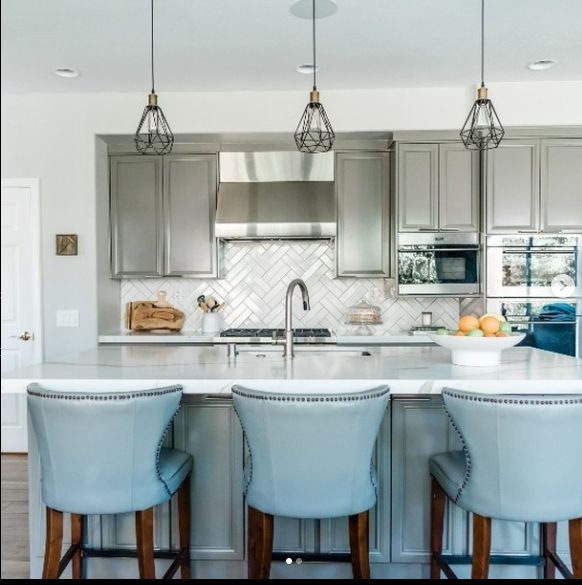 Sherwin Williams Modern Gray
Forget all you think you know about modern gray. The truth is this color is far from gray with its LRV of 62 and deep connection with its beige side. This color is a medium-to-light variant and works excellently with green in any space.
This color is the perfect partner in your minimalistic and modern décor, you can see the faint touches of beige in this color (on the wall) that's also almost washed out due to the intense surrounding light and heavy white accessories.
We get a better view of the beige in modern gray in the second image. We love the white cabinetry and how it helps elevate the appearance of the subtle modern gray walls.
Sherwin Williams Mega Greige
Mega Greige has an LRV of 37 and brings life to a space with its warm characteristics. This color performs excellently on interior and exterior walls and works better with crisp whites and nature-inspired colors.
This color is a fantastic gem for those who desire depth in their well-spaced room. Like the second image where mega greige creates a feeling of intimacy and coolness due to its rich, dark qualities.
You can never be far away from the comfort of home with mega greige on your wall, throw in matching dark accessories and the result will blow your mind.
Sherwin Williams Requisite Gray
Sherwin Williams Requisite Gray is a warm greige from the medium category that leans more into its beige side than gray. It can work as the anchor color around your entire color palette.
Requisite Gray's versatility implies that it can also work on the exterior of your home due to the purple undertones that add an exciting tinge to it. Sherwin Williams Requisite Gray has an LRV of 45.
A dark color like Requisite Gray thrives in a large space like the first image. Notice how the surrounding wooden details draw out the brown tones in this gray. For the second image, we love how the homeowner adds a bit of a twist with the brick details and warm yellow light.
Sherwin Williams Alpaca
Alpaca is quite the multitasker and can work in a traditional, bohemian, or formal setting- its deep warm-cool undertones give it a chance to keep your room cozy and warm at the same time.
It has an LRV of 57, putting it in the middle end of the scale, and this also means you can use it as an accent wall in your home. This color looks fantastic on the walls of the first room, and the inclusion of wooden textures compliments the violet undertones in this color.
The second is much lighter as the bright incoming light works with the white sheets and curtains, which draws out the soft brown hues in this one.
Sherwin Williams Intellectual Gray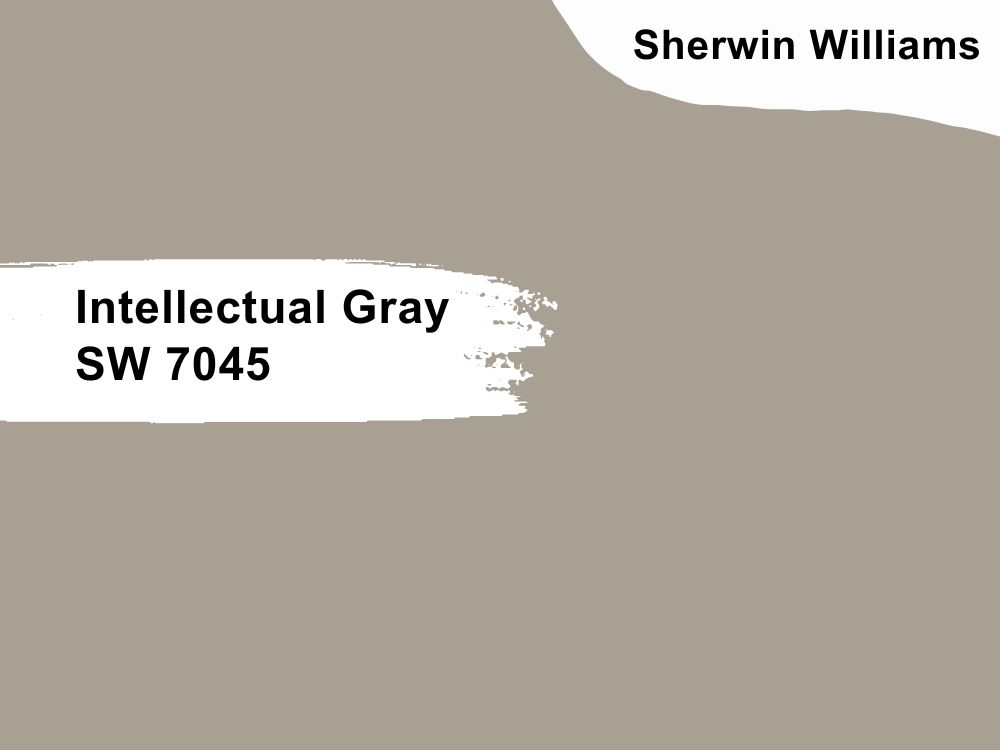 Intellectual Gray is living up to its name and expectations. This color is unique with an LRV 36 and is highly recommended for big spaces as the depth adds a different dimension to the size and makes the room appear smaller.
This greige color has rich green and brown undertones, which means it has skillfully combined elements of warm and cool tones.
Sherwin Williams intellectual gray and aesthetic white joined forces together to deliver this tastefully furnished living room with incredible wooden textures and dark brown accessories.
The greens in this hue aren't unnoticed especially when used outside the house, thanks to the green plants by the door. The big blue door just completes the coastal inspired aesthetics going on in that picture.
Sherwin Williams Worldly Gray
Sherwin Williams Worldly Gray is one of the balanced colors because it's neither too cool nor warm. It belongs to the light end of the scale with an LRV of 57, and if you're looking to showcase the soft, friendly, and inviting beauty of your space, this color is your guy.
Have a calming cooking experience in pure white and worldly gray kitchen. The choice of worldly gray on the cabinet proves that this color can hold its own and not get left in the background.
Because it's a balanced color, you can expect impeccable delivery like this living room. The off white and gray couch, with varying wooden details all lead to a unique minimalist space.
Sherwin Williams Colonnade Gray
Colonnade Gray leans gray more than beige (that's fine), but this doesn't affect the outcome negatively, as you'll get fabulous feedback in your room, especially if you stay in tropical and warmer environments.
Colonnade Gray has an LRV of 53 which puts it in the medium-to-light category and also an excellent pick for small spaces as it instantly opens them up to more light.
Whether with more light or not enough, Colonnade Gray will swiftly adapt to the situation and deliver accordingly. You can decide to include more depth by adding black or dark brown accessories to your space.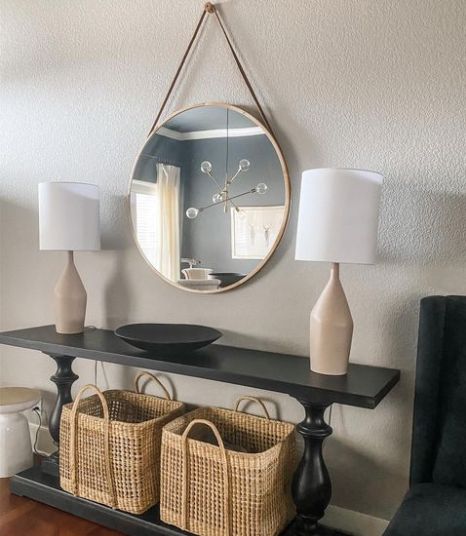 Sherwin Williams Dorian Gray
Think of the crispest greige paint color you've ever seen. Sherwin Williams Dorian Gray embraces its gray properties more and has slight hints of green in it, so when you use it on your walls, it introduces an incredible, flawless vibe that calms your nerves like this modern kitchen. You can blame this on its LRV of 39, which also makes it a dark color, but also suitable for your home exterior, the white trims and wooden details work with the green undertone heavily influenced by the grass.
Sherwin Williams Amazing Gray
Think range and flexibility when you work with amazing gray. This color blends finely between warm and cool tones and then turns that around to look sharp with the whites, creams, and dark trim colors.
This paint color has an LRV of 47, putting it very close to the darker end of the scale, so steer clear of this one if your space is minimal.
Sherwin Williams Anew Gray
Anew gray has a darker-than-average LRV of 47 and a taupe appearance. It has purple undertones with enough depth to work in spaces with loads of natural light. Anew Gray appears warmer when you pair it with warm lighting.
Elevate the coziness and tranquility in your home with Sherwin Williams Anew Gray on your wall. The bright lights coming inside the room opens up the bedroom in the second image and draws out the beige in anew gray further.
Sherwin Williams Functional Gray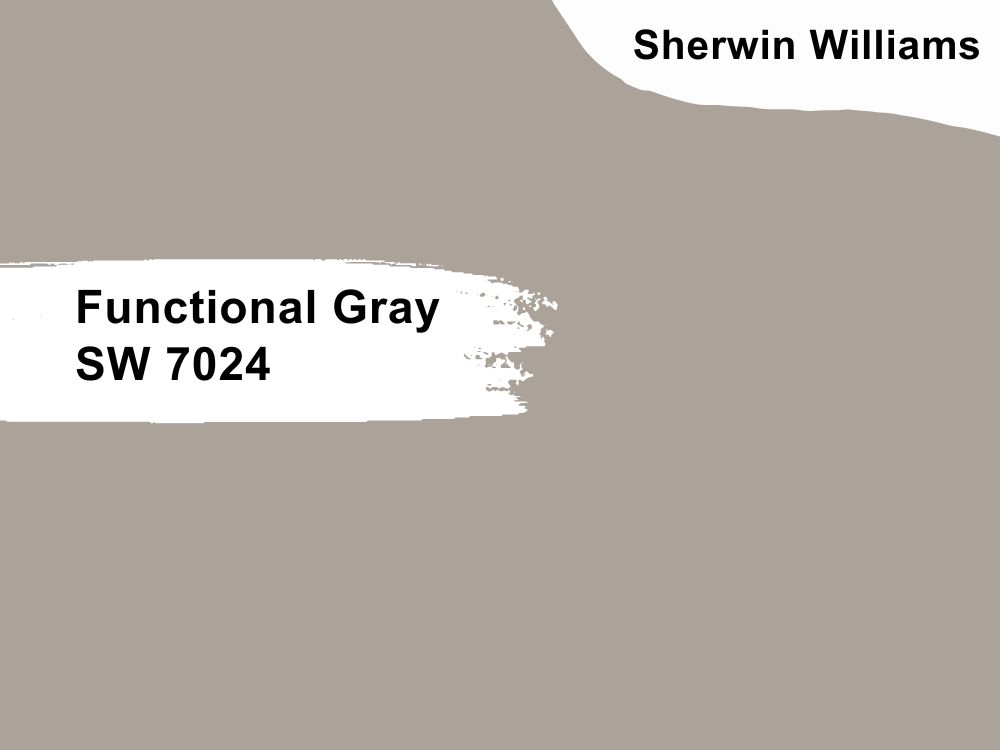 Functional gray has gray clay undertones that add to its quality and gives it a natural finish in spaces. This color has an LRV of 37, putting it on the scale's darker end. This color is perfect for large areas and the exterior as it absorbs excess sunlight perfectly while holding its own.
The effect of lighting is obvious in the two images, for the first, functional gray looks lighter due to incoming natural light and the matching bright accessories. It's a different vibe for the cozy and dark living room, thanks to the dark brown couches that make all the difference.
Sherwin Williams Acier
Acier is medium gray with warm brown undertones that cause a feeling of safety and rest in your home. This color has an LRV of 32, which means it's amazing for large spaces as it'll help close in the walls.
Acier has a touch of violet undertones but is not strong enough to make it appear green, as most taupes do. However, this color also passes as a neutral that can work with almost any other shade in the house.
Not a fan of doing too much? You can take inspiration from the first image and use Acier on your home office cabinetry for that dramatic touch.
Turn your kitchen to a fun area with Acier on the wall, add more warmth with warm lights, warm whites on the cabinetry and a much darker gray for your kitchen island.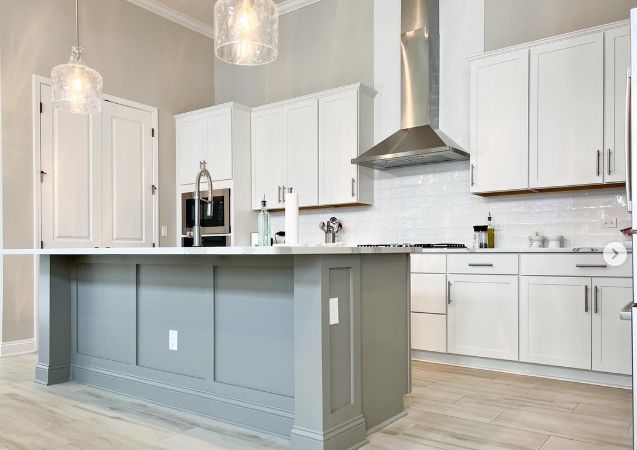 Final Words
Now that you have the winning list, remember to always sample your colors before making the last and final decision of committing. Greige combines the best of both worlds which means it may be tricky to work with or serve as the perfect neutral.
You can get SAMPLIZE paint strips to kick start your journey. Remember that lighting and space are the top things to consider in a paint job, as these factors affect the final appearance of your preferred greige color.