2023 is the year of creativity and experimental interior designing with Green Gray paints instead of the typical black, beige, white, and greige neutrals. Green Gray is a beautiful blend of gray and green colors, and Sherwin-Williams offers many options.
Green Gray, a.k.a. Sage, exists in varying degrees such that some appear grayer or greener depending on the lighting conditions. Minimalistic theme lovers and nature enthusiasts would love using this shade of neutrals because they blend seamlessly into their surroundings.
By following these six steps, learn how to choose the best Sherwin-Williams Green Gray paint, including a few tips on home beautification.
Steps for Choosing the Right Green Gray Paint
The overwhelming options of Green Gray paint at Sherwin-Williams can get confusing for a non-savant, but that's why you're here. Selecting the best shade for your preferred surface requires careful analysis of the space, lighting, the room's purpose, and long-term plans.
Step 1: Analyze The Space and Lighting
Where are you painting green gray? Is it an open or enclosed space, and how big is it? Would the paint be an accent wall, furniture, or complete wall coloring? Those are the first questions to answer before continuing with your paint search.
If the space already has furniture and other wall paints, you must coordinate your new green gray shade with the existing colors. Since all sage paints have at least one undertone, you can highlight your preferred tone with the proper position and lighting.
Step 2: Measure The Room Size And Position
Get professional assistance for this step or DIY using a measuring tape, compass, and pencil. Measure the dimensions of your room and mark them to determine if it's small or big. According to Tutorial Tips Civil 3.04m x 3.04m is small and 4.246m x 4.87m is large.
Small enclosed spaces require the best light to make them appear roomy. In the absence of natural light, you can use a green gray paint with a high Light Reflectance Value (LRV) to brighten the space.
Alternatively, dark green gray paints make rooms look cozier than they're in reality.
Use the compass to get the room's coordinates and identify the North, West, East, and South points in relation to your door and window positions. That'll help you identify the light entry points and use it to your advantage.
East-facing positions receive the brightest light in the morning until noon when the sun moves towards the Southern windows. South-facing sunlight shines until late noon when the sun moves to the West in preparation for sunset.
You'll get the most consistent albeit low light from Northern-facing windows due to their vantage neutral position.
Step 3: Evaluate Your Lighting Options
Don't panic if you have minimal natural sunlight; you can augment your space with artificial lighting. Match warm light to warm green gray paints to intensify the shade and cool light to cool green gray hues for a dimmer outlook.
You can also contrast your paint with opposite lighting for a mixed reflection, ensuring it's well coordinated. Scroll further to learn about undertones and their ability to transform a color into a different shade.
Step 4: Conduct Sample Area Testing
Before settling on a Sherwin-Williams green gray paint, sample the shade against your preferred surface and watch its reflection underneath different lighting conditions. It'll prepare you for the underlying tints and their potential coordinating hues.
Sherwin-Williams offers three sampling options:
The Color Chips
Peel-and-stick strips
The easy-to-use Color-to-Go washable paint
The last sampler is the most realistic and expensive option.
Step 5: Analyze the Long-Term Value of a Paint Color
If you're being economical, don't use light green gray paints in areas with heavy traffic, like dining tables, kitchens, and children's rooms. Instead, use mid-tones to dark LRV sage green paints for those spots as they don't get dirty quickly, making them easy to maintain.
However, if you can change your paints, your oyster is the world of green gray colors in Sherwin-Williams.
Step 6: Apply Finishing Touches
The final step in the pre-selection stage is selecting the right finish for your purpose — room or furniture painting. Distinct finishes work better on specific areas, like gloss, luster, and satin on accents and flat matte on entire walls.
Note that gloss, luster, and satin paints are shinier than a flat matte, which comes out soft and subtle regardless of the green gray shade. Hence you can use shiny trims of the same color against matte finish walls.
Understanding Green Gray Paints
Green Gray paints come in many shades swinging from overtly green to gray tones depending on the amount of either color mixed into the unique hue. However, you'll be surprised to learn some green gray paints have third or fourth colors as overtones.
How's that possible, and how do you know which shade is best for your purpose? Keep reading to understand green gray as a color.
What Are The Undertones?
Undertones are tints in every paint color due to the RGB value (mixture of red, green, and blue colors into an absolute black hue) making up the shade. It's why you can have gray paint with green tints or green paint with gray flashes.
Also, some green gray paints come with more undertones ranging from purple to blue depending on the RGB value. When red and blue contents are as high as the green pigment, you'll get purple nuances in your color.
Finally, note that the RGB value influences the LRV such that colors closer to black are dark and have low LRVs, while those closer to white have high LRVs. The median is 50, while the scale is limited to 3 (black) to 97 (white) since there's no pure white or absolute black paint.
Types of Green Gray Paints
Colors convey moods and feelings which you can highlight with the right coordination. However, it's easy to tell the wrong story with dual tones like green gray which switch shades from sunrise to sunset.
It's important to distinguish the types of green gray paints to avoid making common designing mistakes like creating a gloomy vibe instead of a nurturing aura.
Cool Green Gray Paints
The default mood of green gray paints is "coolness" because it's a blend of two soothing colors, and when they have undertones, the hue is equally cool, like blue. Due to the gray element in this dual-toned color, you can use it as a neutral paint.
Cool green gray paints have medium-light to dark LRV and inspire feelings of calmness in their surroundings. Use this shade for zen areas like your bedroom and bathroom to relax your nerves after a stressful work day.
Some Sherwin-Williams Cool Green Grays include Sea Salt (SW 6204), Conservative Gray (SW 6183), Frostwork (SW 0059), and Cascade Green (SW 0066).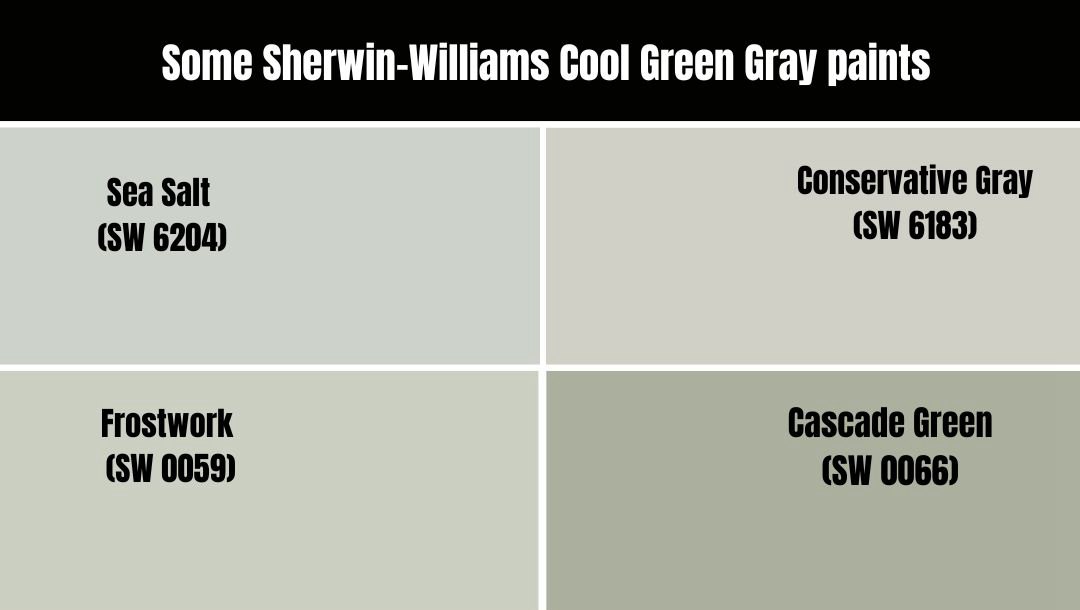 Warm Green Gray Paints
When your green gray paint has a red, yellow, or purple undertone, it's warm. The fiery secondary tints add an extra pizazz to the soothing two-toned neutral sage. Warm green gray paints are unique because they sometimes have different overtones and high LRVs.
Use warm green gray paints to create a vibrant and welcoming vibe in your living rooms, kitchens, and front porches.
Top Sherwin-Williams warm green gray paints include Liveable Green (SW 6176), Softened Green (SW 6177), Grassland (SW 6163), and Clary Sage (SW 6178).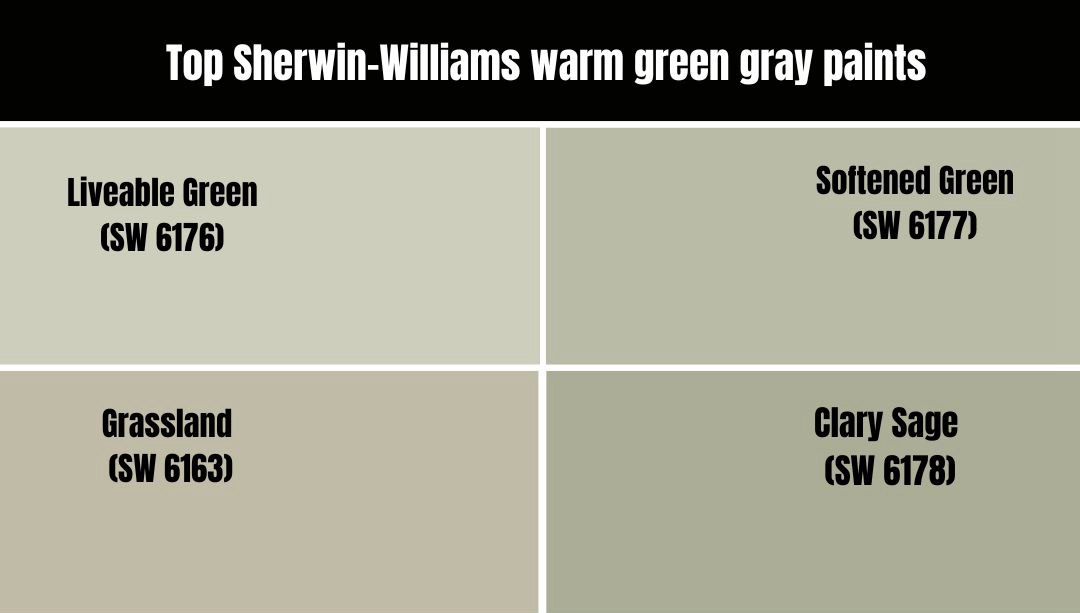 Soft Green Gray Paints
Get the best of both worlds with soft green gray, which can come in light or dark shades. Its softness is in its overtone's subtle aura, which makes this type of sage suitable for background coloring.
Soft green gray isn't the best for highlighting surfaces but works well as overall wall coloring. Popular Sherwin-Williams options include Ripe Olive (SW 6209), Evergreen Fog (SW 9130), Rock Bottom (SW 7062), Pewter Green (SW 6208), Kingston (SW 9677), and Filmy Green (SW 6190).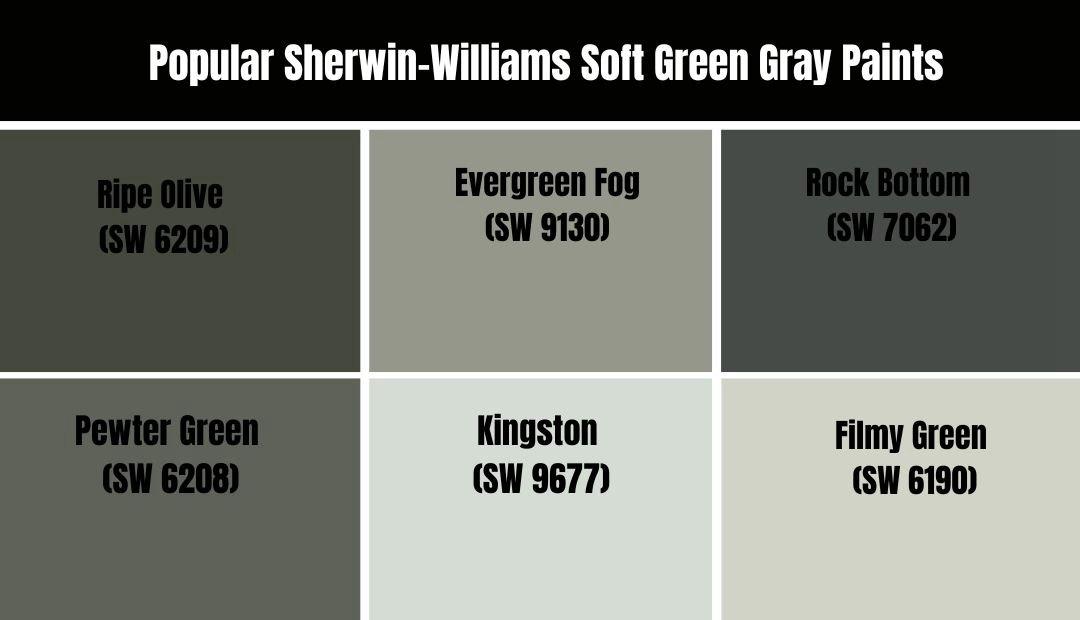 Dark Green Gray Paints
Most green gray paints are dark, meaning they have low LRVs and absorb light rather than reflect it into their surroundings. They're great for studies, game rooms, large living rooms, accent walls, and furniture.
Dark green gray paints can be warm, cool, or soft, depending on their blend of the two primary colors.
Popular Sherwin-Williams dark green gray paints include Shade-Grown (SW 6188), Forestwood (SW 7730), Pewter Green (SW 6208), Thunderous (SW 6201), and Shade Green Light (SW 2851).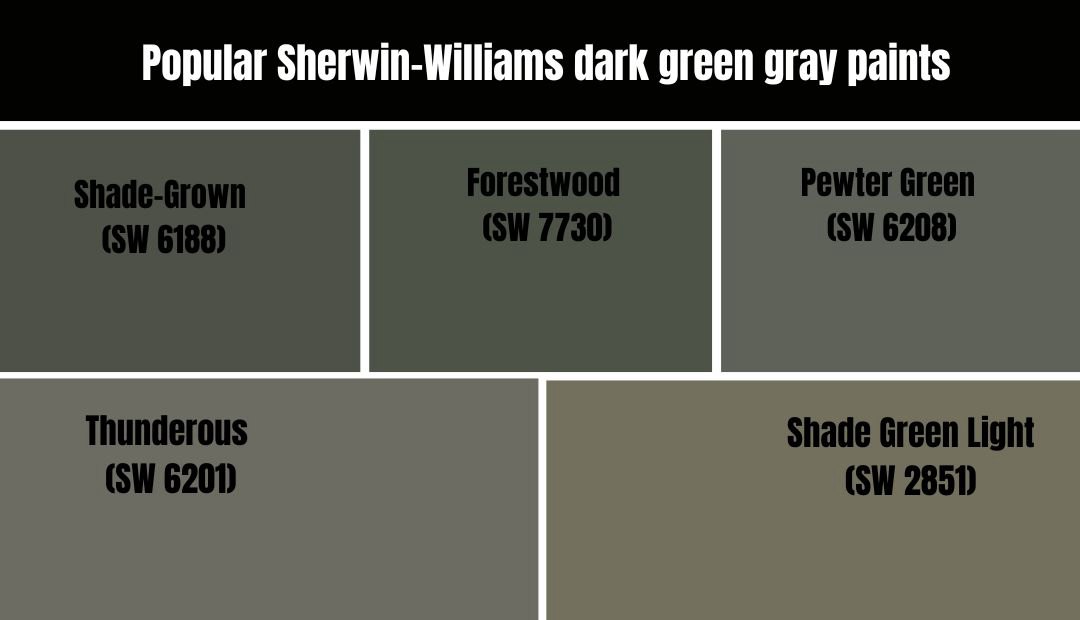 17 Best Sherwin-Williams Green Gray Paint Colors (2023 Trends)
The top Sherwin-Williams green gray paints range from medium-light shades like Honeydew (SW 6328) to dark tones like Shade-Grown (SW 6188).
Honeydew (SW 6428)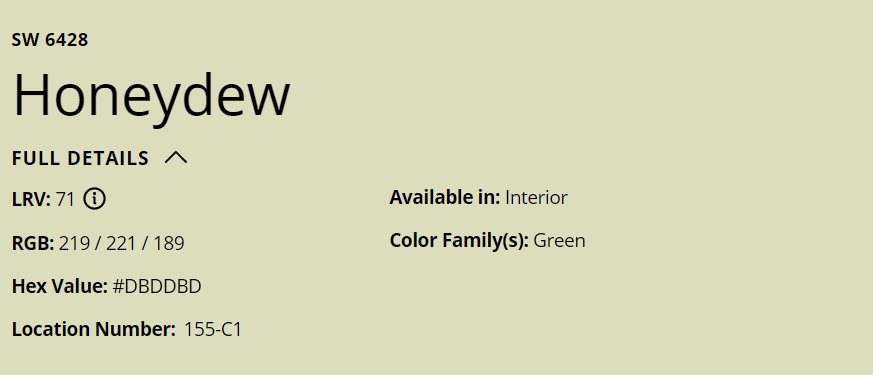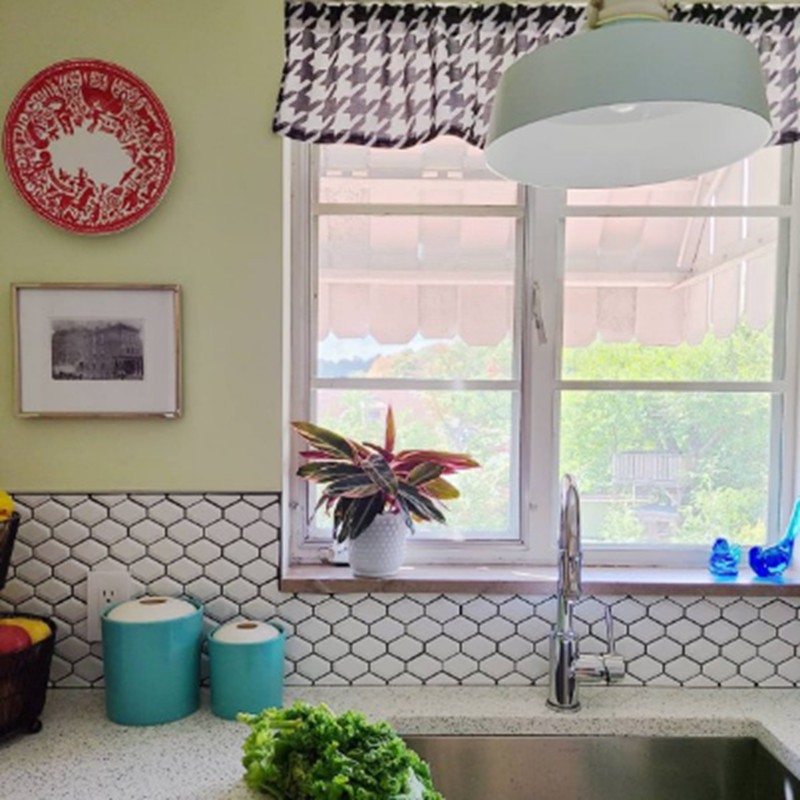 When you want a green gray paint with a burst of yellow, then Honeydew (SW 6428) is the way to go. This chameleon hue transforms from a 71 LRV gray to a beautiful yellowish green under dim or warm lighting.
Highlight the green element in Honeydew with yellow or green accessories in your living room, or tone it down with white and gray in your kitchen. It's a way to inspire cheerfulness and excitement in your surroundings.
Sea Salt (SW 6204)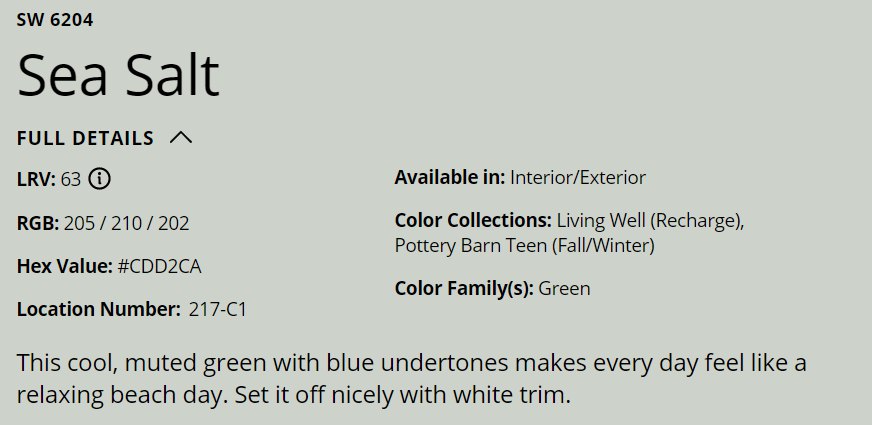 One of the lightest green gray Sherwin-Williams paints is Sea Salt (SW 6204) which has an LRV of 63. This cool two-toned hue has a blue tint that reminds you of a relaxing morning along the beach.
As a mid-toned green gray paint, high LRV white paints like Spare White (SW 6203) or low LRV paints like Summit Gray (SW 7669) highlight the muted undertones. Use Sea Salt in your bedroom, living rooms, and dining rooms.
Comfort Gray (SW 6205)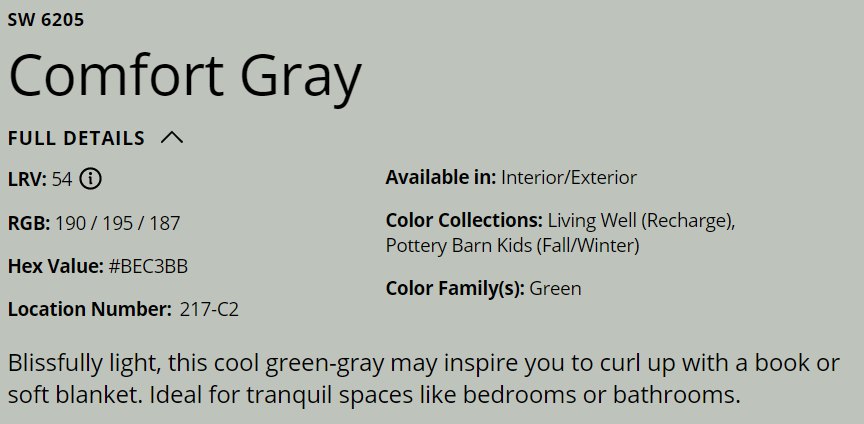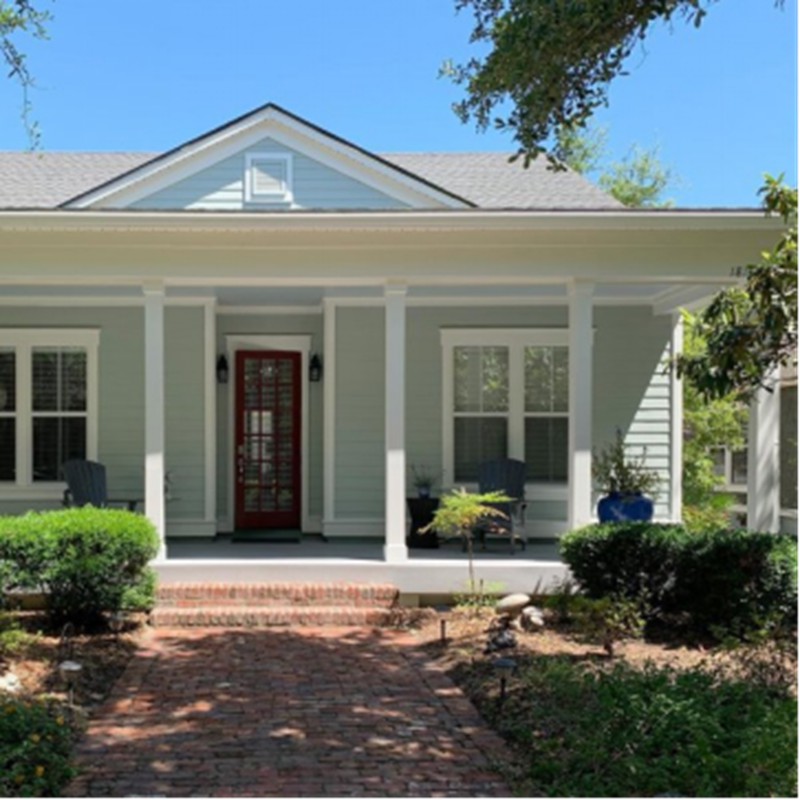 Brighten your room with Comfort Gray (SW 6205)'s cool 54 LRV presence. The cozy neutral tone has a soft blue-green tint that lulls you to sleep under the right weather condition. So, use this paint in your bedroom and bathrooms for a relaxing shower or bath daily.
Recycled Glass (SW 7747)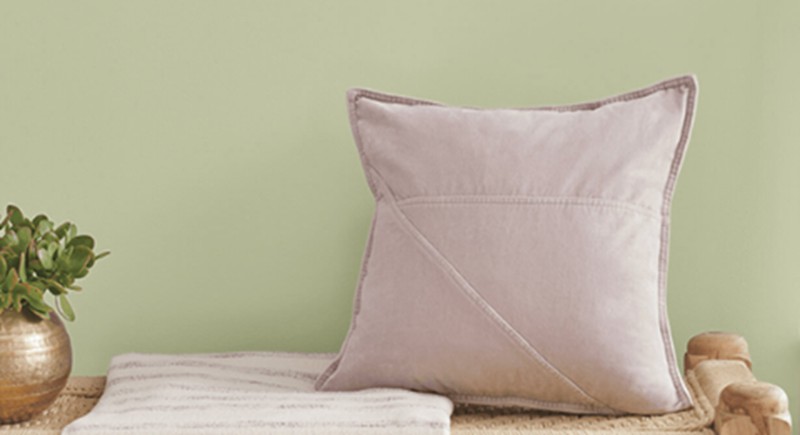 This list is filled with overtly gray paints but it's time to brighten it with a green paint like Recycled Glass (SW 7747) with a gray undertone. It's a timeless color that suits every purpose from living room walls to furniture and bathroom walls.
The best part about using the LRV 51 Recycled Glass is that you can get creative and pair it with a vibrant purple hue or another two-toned gray paint like Repose Gray (SW 7015).
Majolica Green (SW 0013)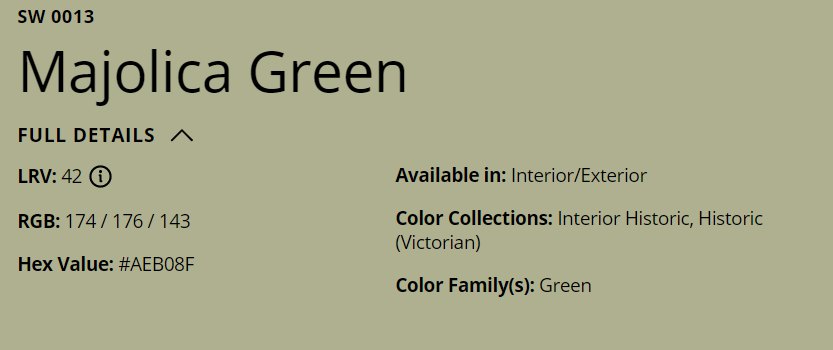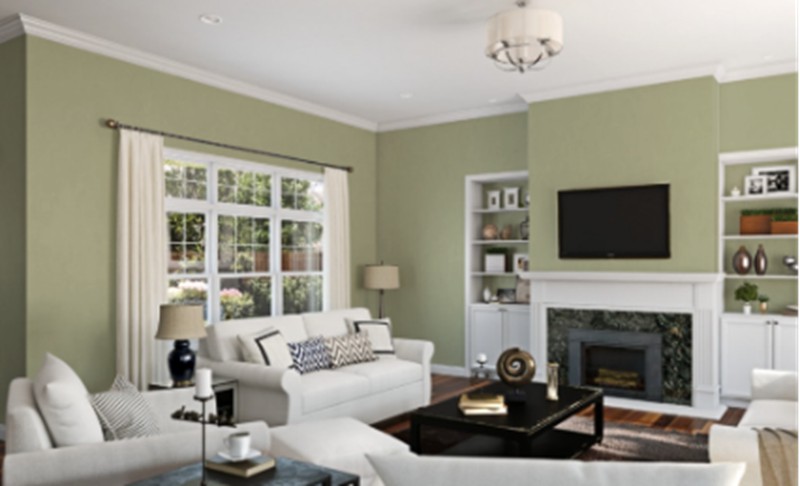 Stay connected to your environment with earthy green gray of the historic Majolica Green (SW 0013). This color is soft with an LRV of 42 making it as close to neutral as you can get. Use Majolica Green in your living room for a Victorian era-themed space.
Pair this color with teal or creamy white to highlight its undertones.
Escape Gray (SW 6185)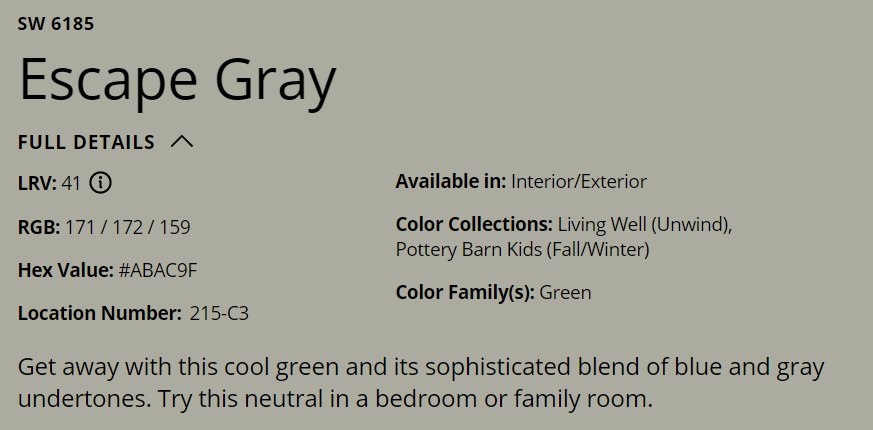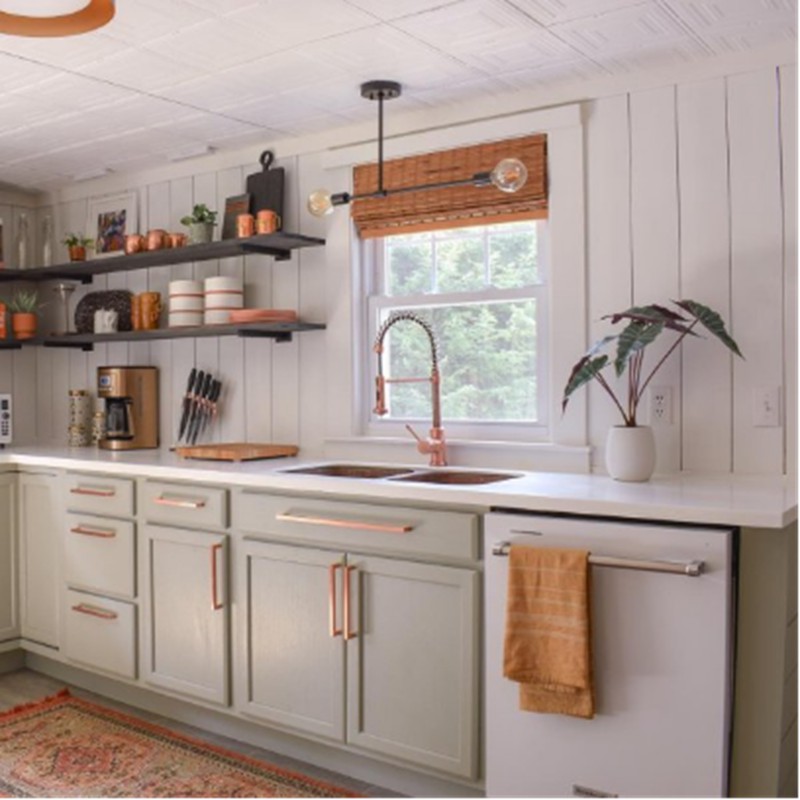 Escape Gray (SW 6185) is a sophisticated dual-toned hue with a hint of blue that gives it a cool overtone. This color has a solid gray overtone that transports you to a cloudy morning along a beachy horizon.
Use Escape Gray in your bathroom, living room, or bedroom to create a calming aura with its mid-toned 41 LRV. This color pairs best with other neutrals and cool green or blue paints to match the undertones.
Acacia Haze (SW 9132)
Acacia Haze (SW 9132) is another popular Sherwin-Williams green gray color and for many reasons. This hue is soft, cozy, and bright despite being medium-dark at 32 LRV. It pairs excellently with beiges and tans whether it's in the bedroom, living room, or bathroom.
Use Acacia Haze for full wall paintings and accent front doors.
Evergreen Fog (SW 9130)
We can't mention green gray without discussing the 2022 color of the year Evergreen Fog (SW 9130). This medium-dark hue is a flawless blend of green, gray, and blue with an overwhelming gray and blue element.
You must pair 30 LRV Evergreen Fog with green paints to tease out the green flashes hidden in its makeup. Use this ever-changing color in your bedroom, dining room, and study, then pair it with wooden and tan trims for a naturalist theme.
Retreat (SW 6207)
Add the vibrant gray Retreat (SW 6207) with a warm green nuance to your home as accent furniture and half walls. This color has an LRV of 21 and is a Spring/Summer color due to its ability to blend with sunny weather.
Pair the Retreat with high LRV green paints or white paints with green tints like Origami White (SW 7636).
Edamame (SW 7729)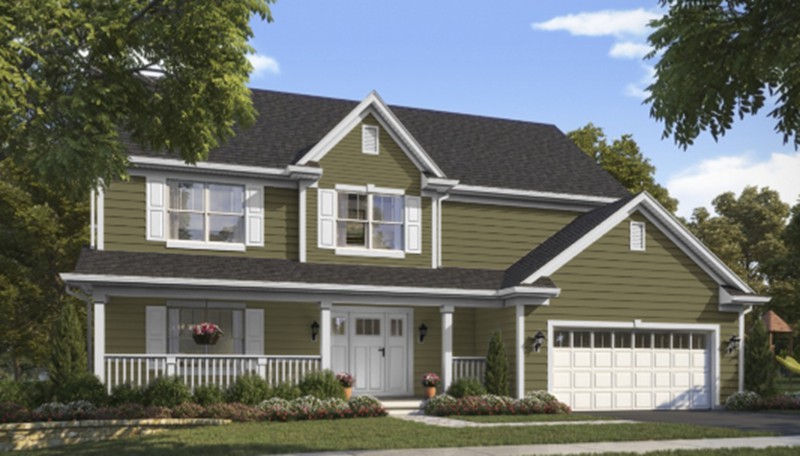 Stay grounded with the rich brown green gray that is Edamame (SW 7729). It's an historical and timeless color fit for exterior painting, accent and half walls. There's a catch though — Edamame's gray tint is muted and requires bright light to highlight its 20 LRV tone.
Use Edamame in rooms or exteriors with South-facing light and pair it with beige, tan or off-white trims and accents. It'll give the color its rightful Victorian era edge. Add some potted plants and greenery outside your home to accentuate its natural hue.
Sage Green Light (SW 2851)
Get the earthy Sage Green Light (SW 2851) to stay connected to nature through paint. It has an olive overtone with a subtle brown and green tint. Sage Green Light is a historical color reminiscent of the suburban lifestyle of the early 1950s.
It's a soft dark green gray paint with an LRV of 16, so use it sparingly unless it's on your exterior. Add brightness with reddish tans and beiges like Roycroft Vellum (SW 2833) and Renwick Golden Oak (SW 2824).
Succulent (SW 9650)
Use Succulent (SW 9650) for its eclectic gray overtone and warm green undertone giving it a 14 LRV. This color is dusty and soft, which makes it a suitable neutral for background painting.
Succulent is excellent for bathrooms, whether a half wall paired with white tiles or a cabinet against a white and tan wall. Since this color is reminiscent of the houseplant, you can elevate its beauty with interior plants and natural decor.
Rosemary (SW 6187)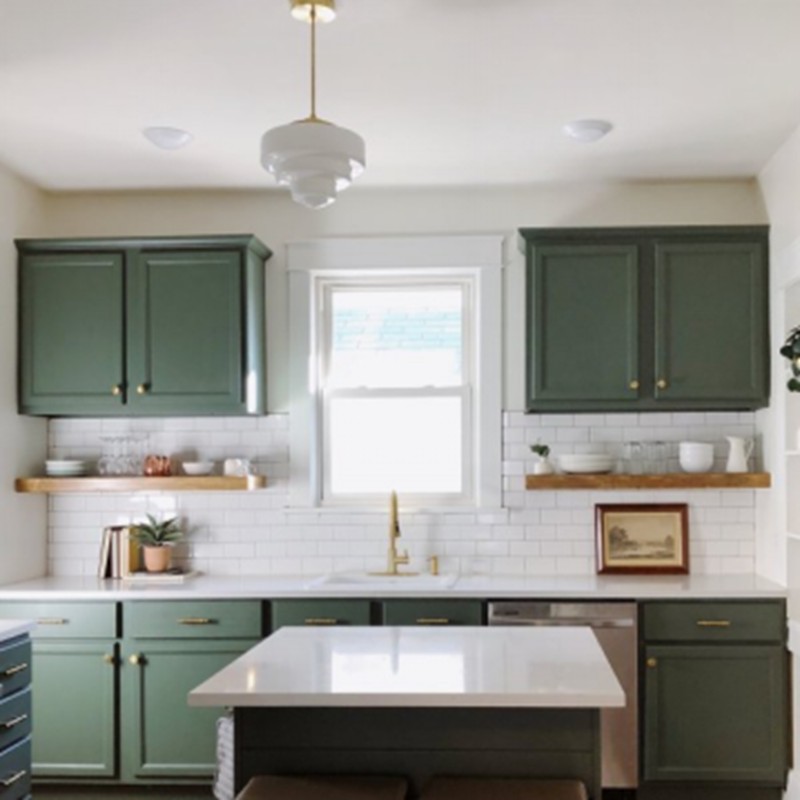 Rosemary (SW 6187) is the best alternative to Pewter Green. They have similar components, although Rosemary is lighter at 14 LRV, thanks to its warm/calm tone. Although Rosemary has flashes of yellow, its gray tint keeps it cool and under dim lighting.
Designers love Rosemary for accents on furniture and half walls, whether in the kitchen or bedroom. Add gold accessories and light tan paints to accentuate the color's beauty.
Pewter Green (SW 6208)
Pewter Green (SW 6208) rivals Evergreen Fog's popularity as Sherwin-Williams leading green gray paint. This 12 LRV paint was the Fall/Winter 2022 leading color for the Rejuvenation collection.
It has a cold gray overtone with occasional green flashes that blend seamlessly in the snowy winter weather. Due to the overtly low LRV, Pewter Green is best paired with high LRV neutrals like Silvermist (SW 7621) or white.
Use Pewter Green in your bathroom, hallway accent wall, and kitchen counters.
Roycroft Bronze Green (SW 2846)
More interior decorators should explore brownish green gray colors like Roycroft Bronze Green (SW 2846). This color gives everything you'll want in a dark neutral from its cool green notes to the warm brown and subtle gray blend.
At a 9 LRV, you already know Roycroft Bronze Green is not for interior wall coloring except as a lone accent wall, furniture or half wall in a large room. Instead, use this paint outdoors and embrace the late 19th and early 20th century vibe it exudes.
Rock Garden (SW 6195)
Have you ever seen an army green paint with a gray undertone like Rock Garden (SW 6195)? It's a classic dark shade at 8 LRV with a surprising twist, and you won't regret trying it out.
Like many dark paints, Rock Garden thrives as an accent wall in the hallway, dining room, or living room. Designers also use this beautiful two-toned green paint on exterior panels and front doors, promising visitors a refreshing experience upon entry.
Using brown and wooden trims with Rock Garden is a no-brainer for a balanced nature-inspired vibe, then add some white edges to maintain the classic theme.
Shade-Grown (SW 6188)
Let's close this list with Shade-Grown (SW 6188), a soft dark green gray paint with an LRV of 8. This color has a subtle earthy vibe with a grayer overtone, while its green note remains a light-triggered tint.
Shade-Grown's RGB value shows that its red and green hues are almost the same quantity hence the flashes of reddish-brown tan underneath its calm gray outlook. Use this color sparingly (as an accent) to highlight its beauty.
Keep the theme neutral with wooden furniture, trims, and beige, cream, and tan paints for total wall paintings.
Conclusion
Green Gray is a refreshing twist on two nature-inspired colors, and it'll be a shame to pass on the opportunity of exploring its various shades. Remember that loving color isn't enough reason to buy it but its relevance to your purpose.
That means you shouldn't use the wrong shade in the wrong position or room size. Also, remember to coordinate your Sherwin-Williams green gray paint with the right hues for improved aesthetics.
Rule of Thumb says most green gray paints pair excellently with tans, wood, and gold accessories. Happy designing.