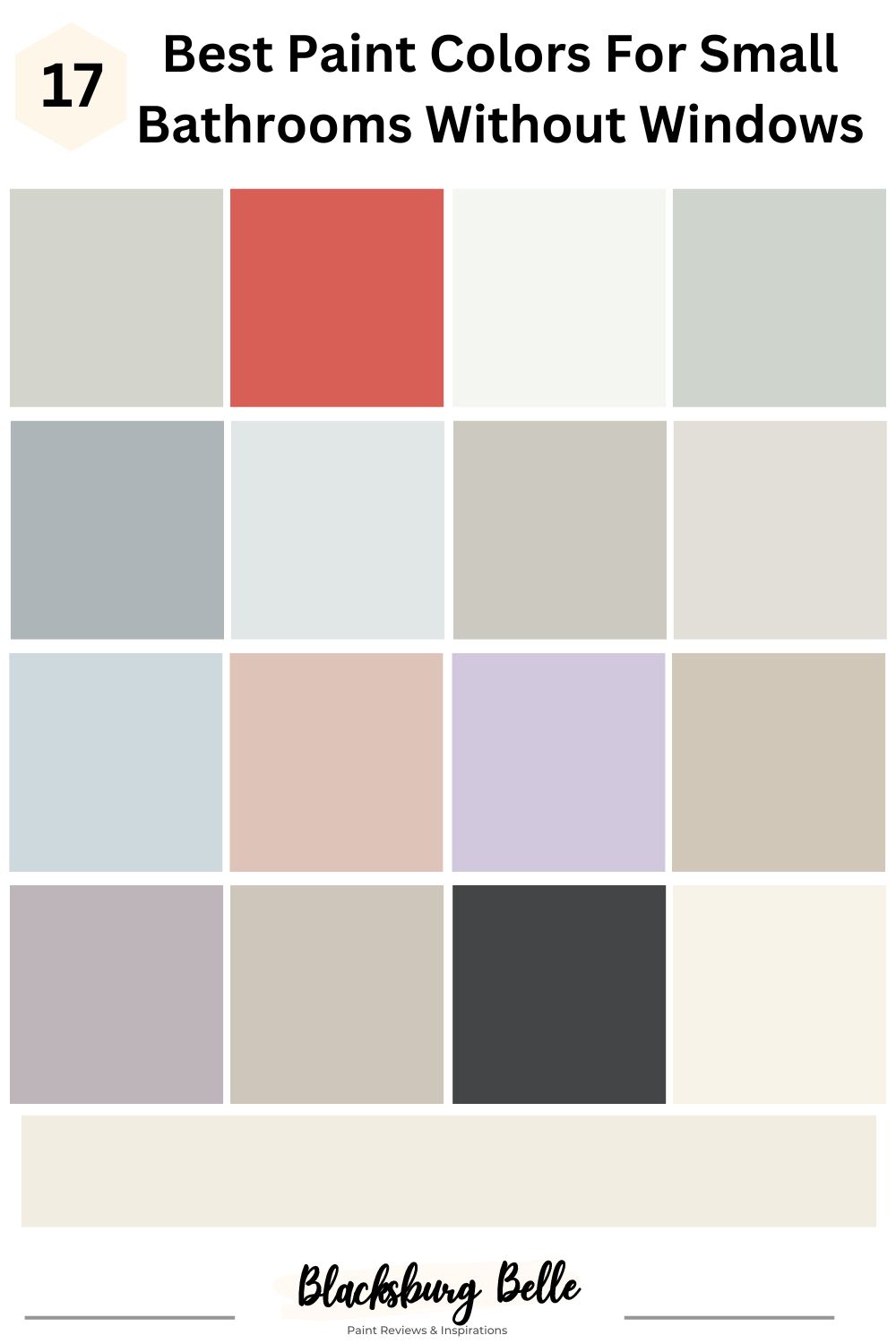 Hold off on that bathroom renovation you've got planned until you read this piece. Here, we have the perfect solution for that small bathroom without a window, saving you money and lots of time.
While we understand that bathrooms are often overlooked in most homes, this is the right place to introduce a bit of personality and an element of surprise. Use the colors on this list to express your creativity and have the most amazing time.
What Colors are Best for Small Bathrooms Without Windows?
The best paint colors for small bathrooms without windows are cool or warm light and bright hues that reflect a great deal of light. These colors come with a high light reflective value, they instantly project your space not to mention give you more room to enjoy the ambiance.
White, light soft grays, neutral, yellow, blue, and bright shades of pink are some of the best colors for bringing life to small bathrooms without windows. Don't be afraid to mix glossy dark colors with lighter tones for dimension and a more sophisticated look.
Light and dark colors can perform excellently in a small bathroom; it all boils down to how creative you can get. When done correctly, dark colors can make your small space appear larger by creating depth, causing the walls to push back and create the illusion of more space.
Factors to Consider Before Settling for a Paint Color for Your Small Windowless Bathrooms
While they only have a little space to work with, working with the paint colors appropriate for small windowless bathrooms can also be tasking when it comes to the issue of creating aesthetic balance and all-around comfort.
Thankfully, you have nothing to worry about. Here, we've put together a list of factors you need to consider before settling on a paint color for your small bathroom without windows.
Invest in Artificial Lighting
This is the most important factor to consider when embarking on a painting project in a small windowless bathroom. The lack of windows means you will get less natural light than expected, so you must make up for that with loads of artificial lighting.
If your bathroom is really dark, please add more artificial lighting; this way, your color gets to reflect light and open up your space further.
To achieve this we recommend that homeowners install wall sconces on mirror sides to provide enough light for use during makeup or another bathroom activity.
Consider the Existing Décor
Another factor you must consider when choosing the best paint color for a small bathroom without windows is the bathroom's setup. Unless you plan to reconstruct your bathroom completely, your wall color must go hand in hand with the surrounding décor.
Since the space is small, you want to avoid adding to the chaos. Pair bold décor with neutral walls, or tone a loud wall color down with wooden tones and gray or black accessories. Also, don't be afraid to Incorporate plants into the arrangement to get that coastal vibe.
Gain Knowledge on Color Psychology
There's a certain vibe you hope to get when you walk into a space, this is the reason why many of us paint our homes anyways. So, take your time to decide what ambiance you aim to achieve and get a color that guarantees that ambiance.
Take for instance, if your aim is to create a coastal-like bathroom, then you should go for blue or blue-green color. Bright whites are the way to go if you desire a fresh, airy vibe. If, however, your vibe is cool, neutral, and spa-like, you should definitely go gray. Opt for pink, creamy whites, dark greens, and blue to make a bold statement.
17 Best Paint Colors For Small Bathrooms Without Windows
Put all despair and confusion aside; the tested and trusted solution for your small windowless bathroom is here. We've carefully selected these paint colors across the major brands on the market to help salvage your small space, increase creativity, and deliver a space that's for you and by you.
Benjamin Moore Paint Colors
The Benjamin Moore brand has been around for over a century, partnering with homeowners and helping them achieve a timeless yet colorful space. The impressive range of Benjamin Moore's colors earned it a top spot on our list.
1. Gray Owl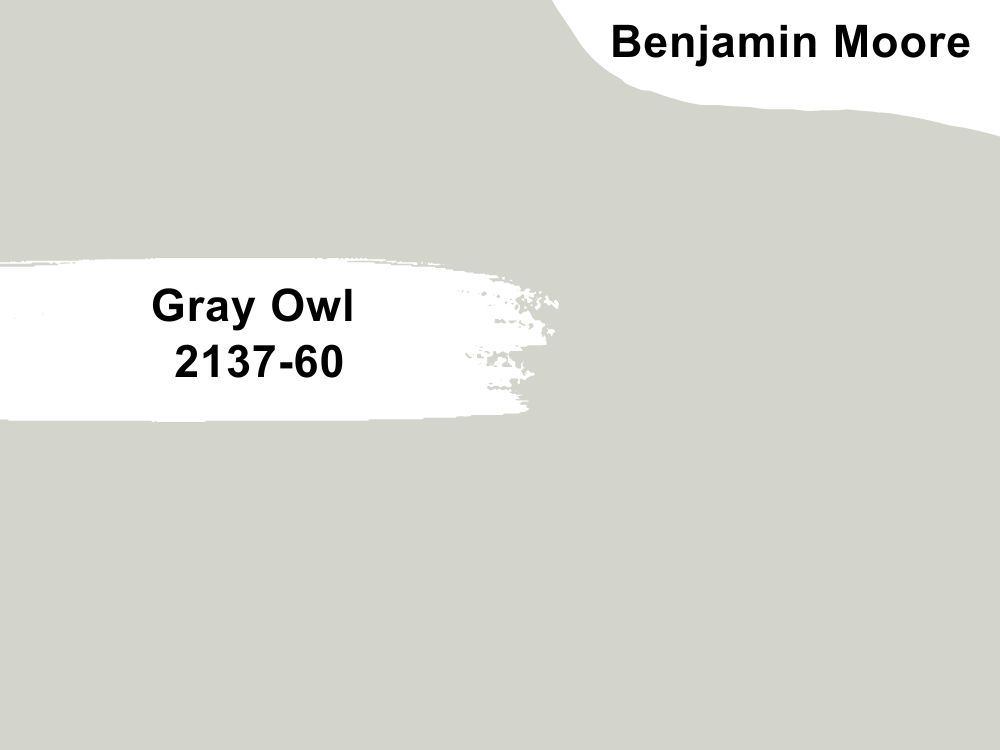 The Gray Owl comes in strong with an LRV of 65.77, reflecting a great deal of light in a small space. This paint color is a gorgeous light gray with hints of green which guarantees a hint of freshness and modernity to any bathroom.
Take note however that this green undertone may also appear blue under certain light conditions, which is a sweet distraction from the warmth the green may add and, in turn, create a neutral backdrop for incoming colors you may decide to add.
We love how the magic Benjamin Moore Gray Owl performed in the bathroom featured above; so diligent in eliminating all signs of cluster and depth yet managing to work well with the brown details in the bathroom- a winner any time.
2. Raspberry Blush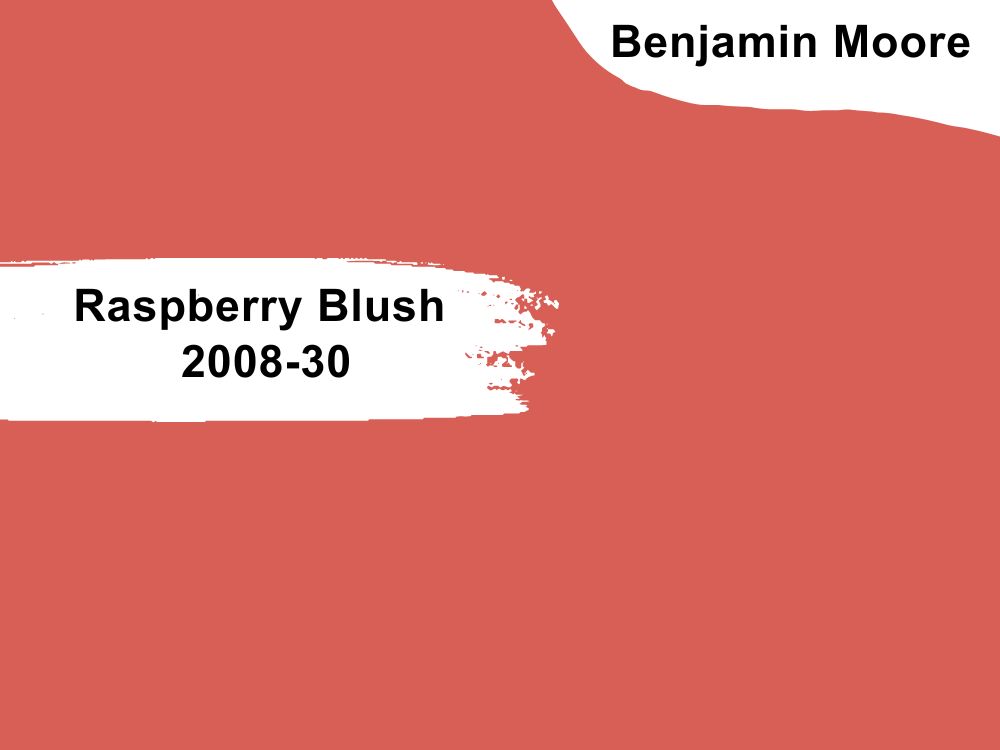 The fact that your bathroom is small and without is no excuse for it should look unappealing. To improve that small windowless bathroom's outlook, the Raspberry Blush paint color from Benjamin Moore is here to help.
This bold and audacious coral laced paint color with undertones of pink and orange comes with an LRV of 22.68, which is quite dark. You'd barely notice this depth when you can get creative like the image above and use it as an accent wall with much brighter colors or accessories.
Make your bathroom feel like a hot day out in fields of rich pink roses by adding some green faux leaves and shades of blue. Remember, adding cool white artificial lights can add more life and brightness to this color.
3. Chantilly Lace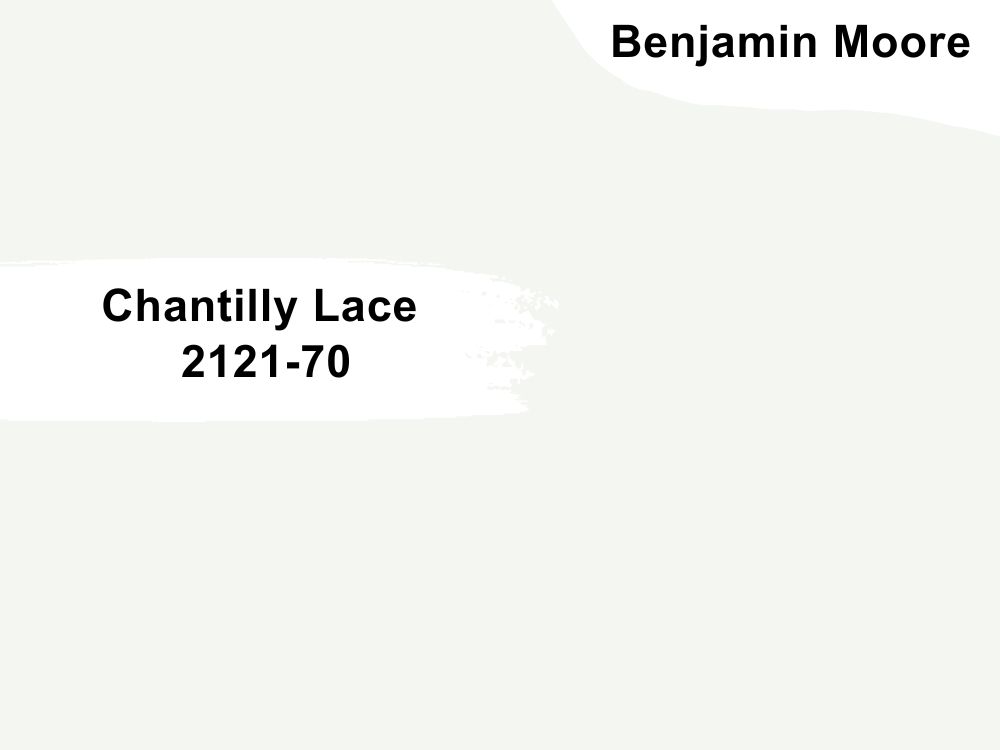 Just like its name, this color is delicate, soft, and a great choice in any and every situation. Benjamin Moore Chantilly Lace is a very flexible color that reads warm or cool depending on the direction of the room and other external factors, which is why it's an excellent choice for your small windowless bathroom, as it lets you morph into different personalities.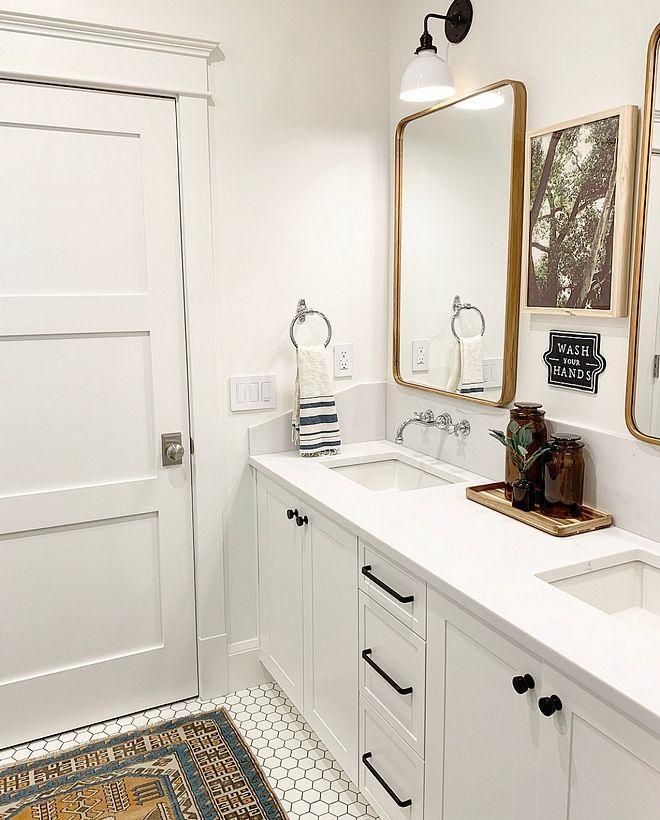 Chantilly Lace has an LRV of 92.2 (that's pretty white) with little to no undertones, making it a great backdrop for many other décors.
The bathroom in the image is completely open and screams space with the touch of chantilly lace from top to bottom. Add a few drops of black and wooden tones here and there to create that perfect contrast- you can also get creative with your center rug and watch it thrive lovingly.
4. Gray Cashmere
Benjamin Moore Gray Cashmere is a gray with blue-green undertones that aims to make your space airy, calm, and stress-free. The gray of many colors, as it's fondly called, has an LRV of 65.57, which makes it a perfect fit for your small windowless bathroom.
If you live in a much warmer region, this color is surely the one for you as it'll make your home feel cool and fresh, and your small bathroom appears larger and airier. Gray Cashmere leans green in this space, thanks to the warm lights in the bathroom. We love the white and black décor that pairs beautifully with this hardworking gray.
Sherwin Williams Paint Colors
Also a crowd favorite, Sherwin Williams paint colors have graced thousands of walls in America. With a constant update of their colors, they've managed to stay right on trend, doling out unique colors year in, year out.
5. Jubilee
Sherwin Williams Jubilee is a slate gray-blue color that feels cool in your bathroom. It has an LRV of 45, which puts it in the medium category. Hence it's not so bright or dark, and if you crave to add some dynamic to it, you can pair Jubilee with a cool white like this bathroom or any light pastel color.
6. Rarified Air
Sherwin Williams Rarified Air is a very light violet pastel paint that you can confuse for white due to its high LRV 75. This chic color has undertones of blue, and if you pair it with a cool white, you'll draw out the cool tones in it further.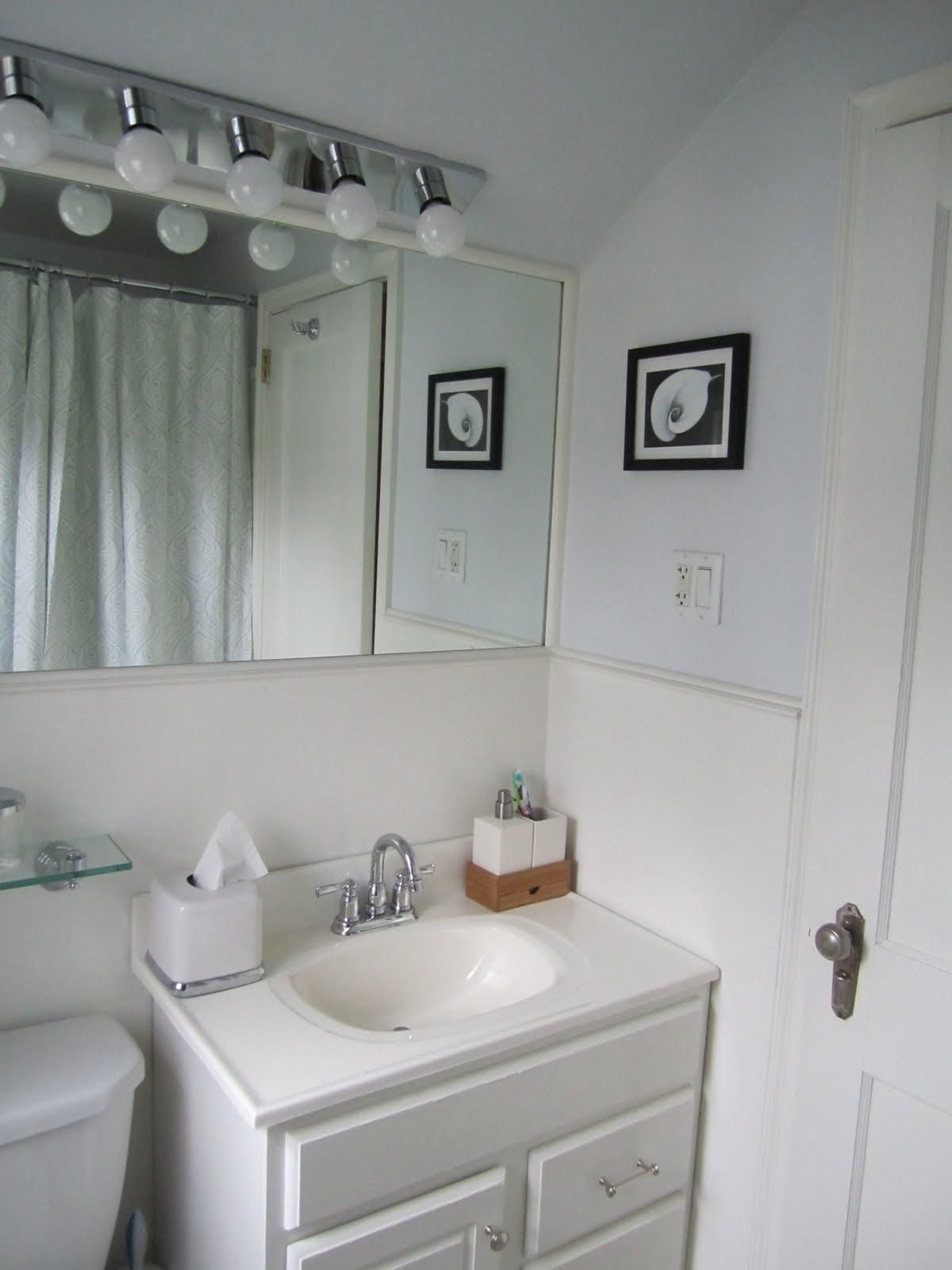 Talk about understanding the assignment! We love the touch of black and silver details in this modern bathroom and how it just adds a bit of personality.
7. Repose Gray
The Repose Gray paint color by Sherwin Williams has an LRV of 58 pushing it a bit ahead of the medium scale. It's a light gray color that fits into almost any space, especially that small windowless bathroom in your home.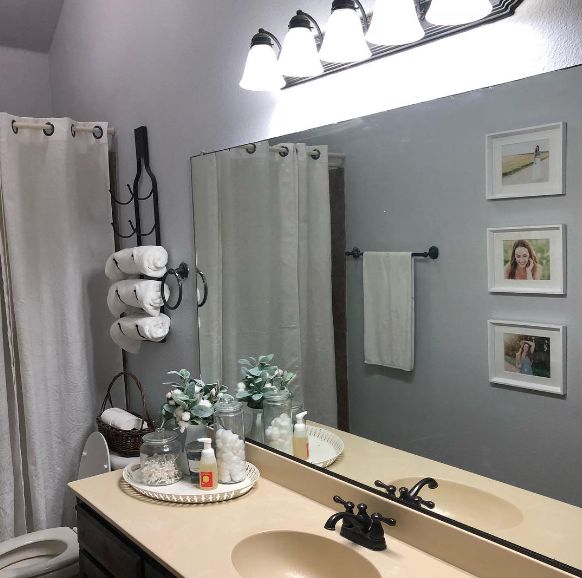 From its coolness that makes your bath a wonderful experience to how beautifully it works with cool whites, beige, and even black to create a balanced space, you can't hate this color.
The illusion Repose Gray creates in this bathroom is one for the books; a peek into the mirror instantly makes the wall appear farther than it originally is, eliminating any feeling of claustrophobia. The white curtain puts a much-needed modern twist on this timeless color.
8. Eider White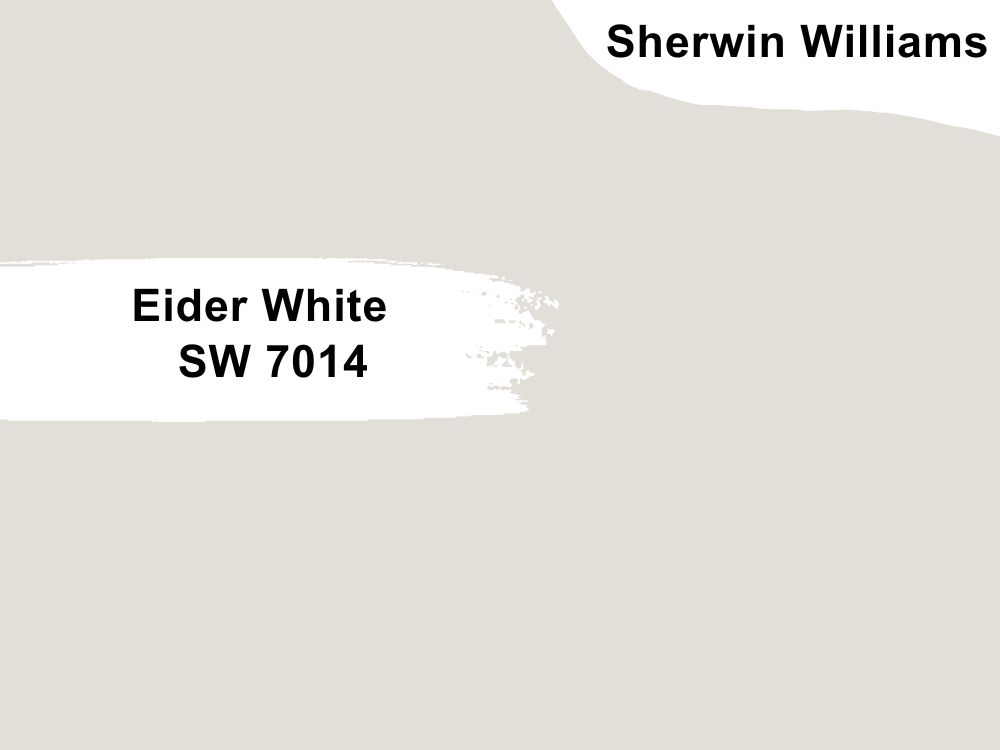 Eider White is a warm, accommodating, and very widely accepted Sherwin Williams off-white color with subtle hints of gray, and you may come across casts of purple and pink. This color has an LRV of 73, which means it'll reflect lots of light when used in a small or big space- that's a win for small, windowless bathrooms.
Eider White works perfectly beside other colors as white itself, but when placed beside a bright white like Sherwin Williams Pure White or High Reflective White, you'll see the stark differences.
Embrace the warmth in Eider White in this bathroom; the soft pink undertones come onto the surface, perfectly contrasting with the Sherwin Williams Naval on the cabinet. Incorporate a white curtain for a more modern touch, and that plant décor on the sink gives us life.
9. Hinting Blue
Blue is a great color for achieving that fresh and airy feel in a small windowless bathroom, and if you want that spa effect in your bath, you should go for a light blue color.
Sherwin Williams' Hinting Blue is a strong candidate in this category with an LRV of 67.74, which means it's a bright, happy blue that'll literally turn your space around. It's also a cool color that works great with browns and white.
10. Pink Shadow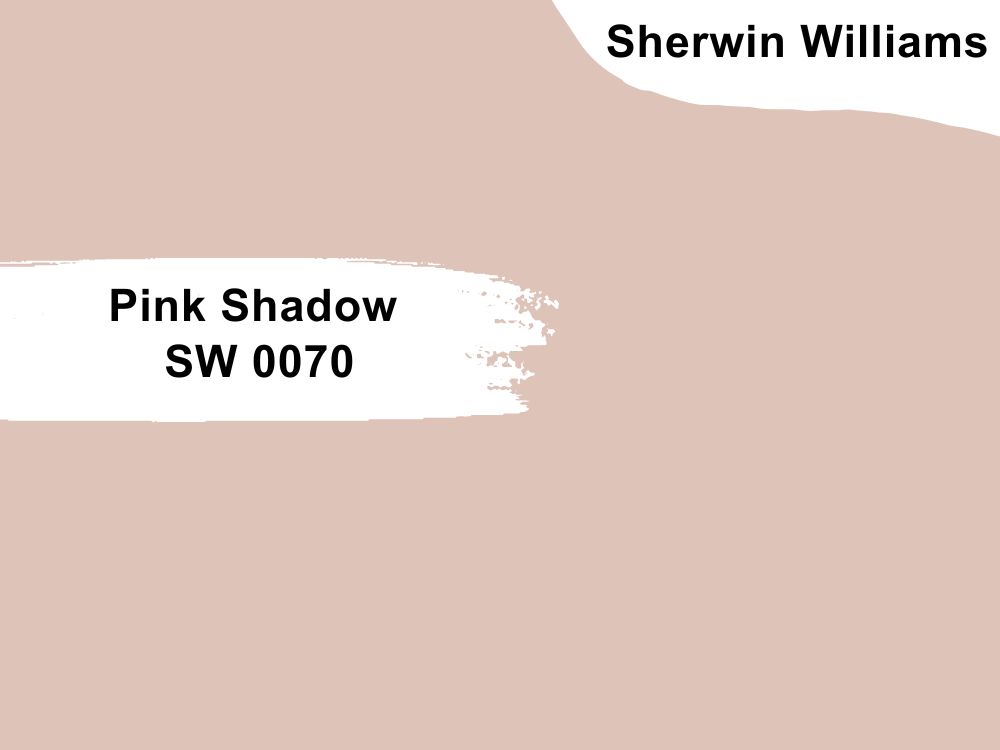 So many things are prettier in pink, including your small bathroom. While this is a rather bold and daring choice, it doesn't negate the fact that you'll leave a lasting first impression with this color in your bathroom.
Sherwin Williams Pink Shadow is the perfect hue for the job, with an LRV of 58 and subtle undertones of red and orange, hence the reason why it's so welcoming to those bright gold accessories on the drawer in the image above and everywhere else in the bathroom.
Aside from ensuring you don't have a boring bathroom, Pink Shadow gives a beautiful and well-needed contrast to the sharp white wall and also leaves an element of style in the bathroom- things sure don't look boring anymore!
11. Lilac Rhapsody
Sherwin Williams's Lilac Rhapsody surely reminds us of a fun sunny day in a field of purple flowers in summer. An astonishing beauty on the walls of this bathroom comes with an LRV of 60 that helps create a balance in this space, especially with the accidental contrast created by the white bathroom accessories.
For more definition, use white as the trim walls in this bathroom, and watch your space come alive.
12. Accessible Beige
Accessible Beige is a balanced beige paint that is also very flexible to perform in varying lighting conditions. This color is soft and is the right neutral for your space, as it gives more than enough room for you to experiment with different accessories.
It is warm and soft in the mornings courtesy of its green and gray properties and leans warm towards evenings, where the slight undertones of beige and red come to play. We won't forget to inform you that accessible beige has an LRV of 58, making your space as cozy as it can be while also reflecting the right amount of light.
We love the flow between the wall, and the dramatic patterned tiles, plus black and white are an amazing choice when pairing tones with accessible beige.
13. Veiled Violet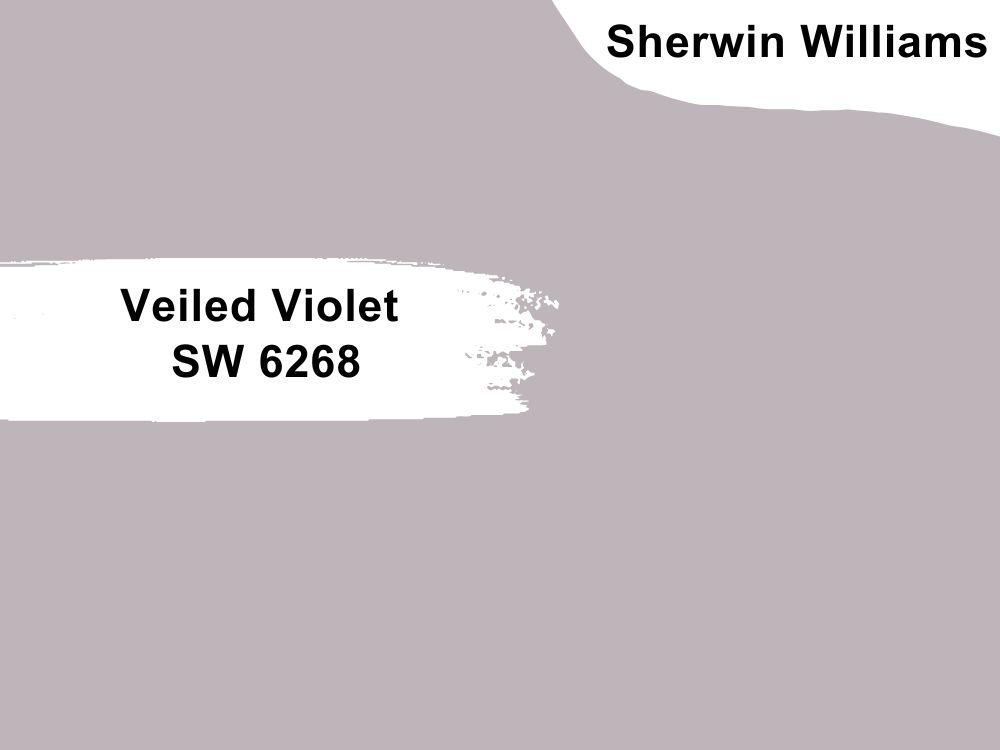 Veiled Violet is a cool violet color with subtle purple and pink undertones, leaving you wanting more of its gentle touch. This color has an LRV of 47, making it a dark to medium tone, but you'd even barely know as it's so pigmented and works great under bright light.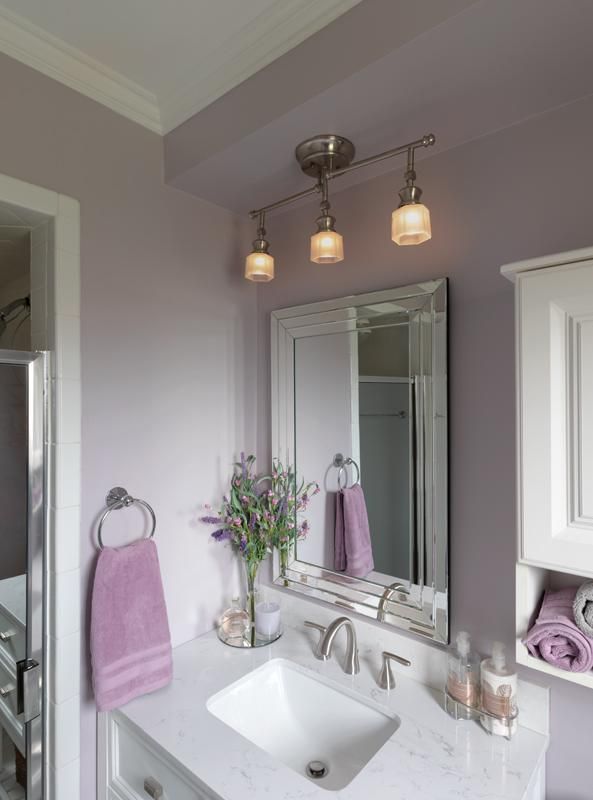 This bathroom has a lot of personality and drama, spicing up the dullness of Sherwin Williams's Veiled Violet. Throw in some fresh flowers into your décor and matching towels.
14. Worldly Gray
Sherwin Williams Worldly Gray is a neutral gray color with peeks of green and violet in it, with an LRV of 57. While it's a warm color, it has the potential to lean into its cooler side when used in a small space like the bathroom in the picture above, but not to worry; you can switch things up with cool, sharp whites and interesting marble tops for your powder room.
The possibilities are endless with worldly gray, and we personally love the depth and dramatic effect it gives in this small bathroom.
Farrow & Ball Paint Colors
This brand is famous for its highly pigmented colors with a quality finish. While there're mixed reviews surrounding their durability, they have good texture and are quite affordable.
15. Off-Black
Wondering how a black color can work in a small bathroom? Well, thank the stars for accent walls and furniture pieces that you can put a twist on. You can decide to give your all-white bathroom a bold pop of color, and what better way than a Farrow & Ball Off-Black vanity?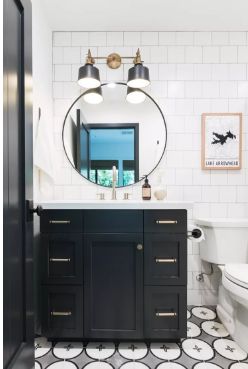 This color will pop in any classic bathroom and add that needed spiciness without being too overwhelming. See how the warm lights and silver handles on the cupboard distract you from the depth of this very dark color.
16. Wimborne White
One of the simplest and easiest ways to turn your small, windowless bathroom into a sanctuary is to switch things up with a fresh white wall. This color easily adds life to your space and makes it feel very clean.
Farrow & Ball Wimborne White is a fresh white with a hint of yellow, putting it in the warm category. It has an LRV of 90.01%, which is absolutely perfect as it'll reflect a lot of light in your space and draw your attention from the size.
Pair this color with brighter whites for a sharp contrast, some faux greens to draw out the yellow, and introduce natural woods to finally tie the look together.
Behr Paint Colors
Homeowners have commended Behr for their budget-friendly prices compared to the first three we worked with. Behr colors are perfect for you if you're not big on durability or coverage.
17. Behr Blank Canvas
Behr Blank Canvas is one of the company's trending colors for 2023, which means you're right in character should you decide to use this one (same as the other colors on this list, if we're being completely honest).
This color has rich and creamy hints of yellow, brown, and gray undertones, which makes it a warm, cozy white with an impressive LRV of 84, but when you compare it with other shades of white at the market, this one has incredible depth.
Nevertheless, this color comes through in this small, windowless bathroom. You can turn your towels into mini accessories and grab a little flower vase for that important pop of color and extra sizzle.
Tips to Make Small Bathrooms Appear Bigger Without Windows
Aside from just painting, the following hacks can help you maximize your windowless bathroom space. Use one or use all, but you'll surely spot the difference.
Choose a minimalist design for your small bathroom to avoid a cluttered space. You can maximize the available space by opting for a cabinet instead of littering things around. This lets you be more organized yet stylish cause you get to paint it and use trendy hardware.
You can create the illusion of a large space by painting your ceilings the same color as your wall. This trick helps extend your eye view as you really won't be able to tell the clear difference between your wall and ceiling. This trick is also best for asymmetrical rooms or angled ceilings, as it helps simplify and bring the space together.
Replace your small mirror with a larger one. The effect is purely psychological, as it'll help strengthen the illusion of a wider space.
Invest in good lighting. They make or mar the appearance of your small bathroom.
Side Note: We can't bring you this far without giving you insight into what LRV means and how it really works. LRV is shorthand for Light Reflective Value, and this becomes important as it represents just how much light a paint color reflects or absorbs.
This is done with the use of a scale that runs from 0-100, with 0 being the darkest and 100 being the lightest. However, as there's no true black or white, experts have adjusted the scale to start from 3-97.
Colors are mainly divided into high LRV or Low LRV; in some cases, we can get a medium LRV that fits perfectly in both small and large spaces.
Sampling Your Paint Color
This step is more important than ever, especially for a small windowless bathroom. You sure can't make the mistake of not testing out your preferred color, or at least be sure you really want to commit to it.
Sampling your paint color is not as complicated as the name; it means you're running a quick demo to fully make up your mind about this hue. Interestingly, SAMPLIZE paint strips have helped simplify the process with their ready-to-use paint strips that you can get in the exact shade you have in mind.
Upon purchase, you can test out these strips in different rooms around the house and under different lighting conditions. This will help you see their undertones and their real-time effects on your space. We strongly suggest you leave the colors on for a few days in order to get an accurate result.
Conclusion
It took us a while to get here, but we've established the possibility of using paint colors from select brands to turn your small, windowless bathroom around and have a swell time. However, we strongly advise you to steer clear of dark colors as they'll only make your space claustrophobic and too small.
With the paints on this list, you can open up your bathroom to receive more light, be more creative and create the illusion of a bigger space.